Alfred John Pepperell
Family
Alfred John Pepperell was born, according to census records, in The Lizard, Cornwall, in or around 1889 (his birth registration record does not appear to have been indexed). He was the second surviving son of James Pepperell and his wife, Georgina Martin. Neither his father nor his mother were natives of Dartmouth - like so many, Alfred came to Dartmouth because of his father's service in the Royal Navy.
James Pepperell was born in Silverton, near Exeter, in 1855. With the consent of his parents, he joined the Navy a month or so short of his sixteenth birthday in 1871, as a Boy 2nd Class, at HMS Impregnable, the boys' training ship at Devonport. His ten-year service engagement began on his eighteenth birthday in 1873, a few months after he had joined HMS Resistance, a steam-powered armoured frigate, in the Channel Fleet. The following year, he was rated Able Seaman.
He was next appointed to HMS Cambridge, gunnery ship off Plymouth, and then in 1877 to HMS Vernon, which had been established the previous year as the Royal Navy's Torpedo training ship. This was followed by four months on HMS Gorgon, a Cyclops class "breastwork monitor" gunship; and then back to HMS Cambridge between September 1878 and May 1879.
During his time on HMS Cambridge, he married Georgina Martin in early 1879, whom he had met in Plymouth, where she was born and brought up. Georgina was the daughter of William and Susan Martin, of St Austell, Cornwall, who had come to Plymouth some time around 1845. William was a blacksmith.
The couple's first child, Georgina, was born on 29th October 1879, and baptised in Holy Trinity Plymouth. But by this time James Pepperell was already serving in the Pacific, on HMS Thetis, a steam corvette. While in the Pacific, the Thetis witnessed, but did not participate in, the Battle of Arica, on 7th June 1880, between Chile and Peru. As one of the neutral ships in the harbour, she took off many women and children from shore while the battle was underway. Subsequently the ship suffered the death of her captain, Prescot William Stephens, from diptheria, on August 12th 1882, while at Callao, Peru.
James returned to England from this eventful trip at the end of Thetis' commission on 24th July 1883. He had done well, being rated Leading Seaman on 1st April 1880 and Petty Officer Second Class on 20th January 1882, with his conduct noted as "exemplary".
While serving on HMS Royal Adelaide, flagship of the Port Admiral Devonport, as "2nd Captain Main Top", James re-engaged in the Navy for a further ten years service, so as to qualify for a pension. Shortly afterwards, he decided to transfer to the Coast Guard Service, at the rate of Boatman. The Coastguard Service offered a number of attractions to a married man with a family - it avoided long appointments overseas, the Coastguard Stations were designed and equipped with living quarters for married men as well as single, and the rates of pay were comparable. On the other hand, it meant frequent moves around the southern coasts of Britain, from one station to another.
On 8th March 1884, he was appointed to the Wyke Regis Coastguard Station, at Weymouth, where the family remained until May 1890. James and Georgina's eldest son, William James, was born a few months after they arrived at Wyke. Birth and death records also indicate that the couple had three more daughters while in Weymouth - Susan, who died when only a few months old in 1885; Lotty, who died when only a few months old in 1887; and Annie, who died in 1889, aged 1.
James was promoted to Commissioned Boatman on 1st April 1888 and two years later the family moved to the Coastguard station at the Lizard, Cornwall, where they remained until 1895. James and Georgina were recorded in the 1891 Census living in Beacon Terrace, Landewednack, the most southerly parish in the British Isles, with three children: Georgina, aged 11; William James, aged 6; and Alfred John, at that time the baby of the family, aged 2. Two more boys were born while they lived at the Lizard, Arthur Edward, in 1891, and Edwin Ernest, in 1893.
On 22nd July 1895, James was promoted to Chief Boatman, and three months later, the family moved to the Coastguard Station at Dartmouth. James and Georgina's last surviving child, Beatrice May, was born in Dartmouth in 1897.
By the time of the 1901 Census, the family had moved once again to Dorset, this time to the station at "Whitenose", or White Nothe, in the parish of Chaldon Herring, near Lulworth Cove on what is now called the Purbeck Heritage Coast. Georgina, the eldest daughter, was now working at home as a dressmaker, but no occupation was recorded for William James, now 16. The other boys, Alfred, Arthur and Edwin were (presumably) still at school, being 12, 10 and 7. Beatrice, the youngest, was 3.
Evidently Georgina (junior) had met her match while the family were living in Dartmouth, for on 9th July 1902, at the parish church in Chaldon Herring, she married Charles Tucker, a postman, from Dartmouth. Charles' father was Thomas Tucker, well-known in Dartmouth, a ship's pilot. Charles Tucker is also on our database, as is his brother, William Henry Tucker.
The following year, Alfred's older brother, William James, also left home, when he married Ada King, of Milverton, Somerset.
On 8th November 1903, James was allowed to re-engage for a further five years service in the Coast Guards, after completing his time for pension. The family moved from Whitenose in Dorset to Babbacombe in Devon in November 1903. On 6th January 1905 he was promoted to Chief Officer. He spent a few months at Felpham, in Sussex, and then returned for his final period of service to Dartmouth on 19th October 1905, as Chief Officer. He retired from the Coast Guards on 9th November 1910.
In the 1911 Census, James, Georgina, and their four younger children, were recorded living at Island House, Bayards Cove, Dartmouth, just near the Lower Ferry. James had added to his naval pension by becoming the agent for a Life Assurance Company, assisted by Alfred, now age 22. Arthur was a grocer's assistant, Edwin had become a shipwright, and Beatrice was still at school.
James and Georgina's married children were also nearby - Georgina (junior) and her husband Charles lived in Dartmouth, at 2 Castle Cottages, South Town, with their daughter Doris May, while William and his wife Ada lived in Paignton, with their son, Albert.
(The 1911 Census also recorded that twelve children were born to James and Georgina, of whom six had died. Census, birth and death records have enabled us to identify nine, as noted above).
Service
Alfred John Pepperell was one of those in Dartmouth who stepped forward at a big recruiting meeting held on 3rd September 1914. He joined the 8th Battalion Devonshire Regiment, along with many others in Devon, including several from Dartmouth. The 8th Battalion was the first of the Kitchener or "Service" Battalions to be formed by the Devonshire Regiment and was filled quickly. Alfred's brother, William James, enlisted only about a fortnight later (his service papers unusually have survived) but was appointed to the 10th (Service) Battalion, the third of the Devonshire Regiment's Kitchener battalions.
Alfred's service papers have not survived but the 1915 Star Medal Roll confirms that he arrived in France with the 8th Battalion on 25th July 1915. For the Battalion's experiences until 8th September 1915, please see the story of Andrew Prettyjohn, killed by sniper fire on that day.
For the Battalion's experiences at the Battle of Loos on 25th September 1915, please see our separate article.
Death
On Wednesday 3rd November 1915, the Western Times reported the following:
Dartmouth Soldiers Missing
Two Dartmouth soldiers, serving with the 8th Battalion Devon Regiment, are officially reported missing, viz Pte S E Fryer and Pte A C (sic) Pepperell.
Subsequent records indicate that Alfred's body was never found. The Army Registers of Soldiers Effects recorded his date of death as "25th September 1915, on or since, death presumed". The 1915 Star Medal Roll (dated 13th November 1919) similarly recorded his death as "death regarded 25th September 1915".
Commemoration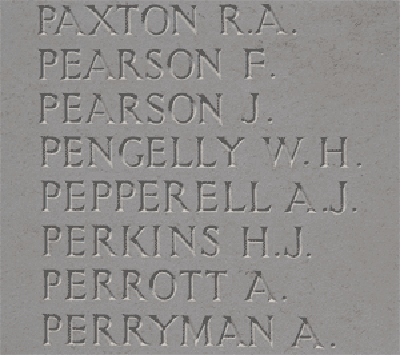 Loos Memorial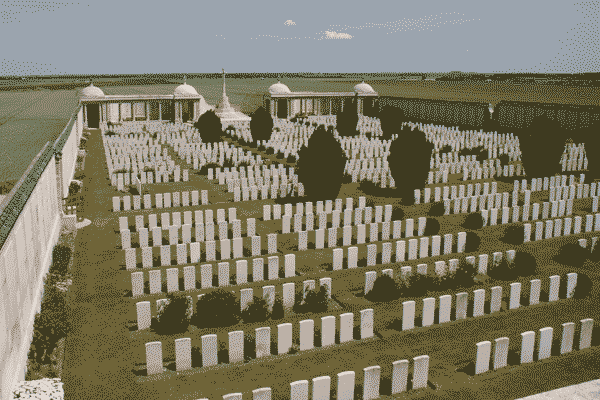 Loos Memorial and Dud Corner Cemetery
Alfred is commemorated in France on the Loos Memorial on the periphery of Dud Corner Cemetery, close to where he died, together with seven other men commemorated in Dartmouth who joined the 8th Battalion Devonshire Regiment when he did, and died, or who are considered to have died, on 25th September 1915:
As one of the 579,206 casualties in the region of Nord-Pas-de-Calais, Alfred is also commemorated on the new memorial at Notre Dame de Lorette, "The Ring of Memory".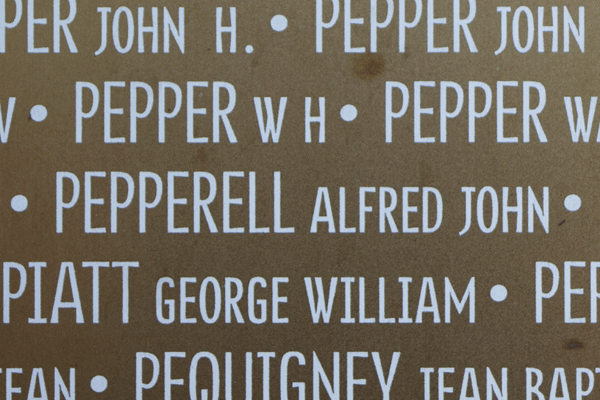 Ring of Memory memorial at Notre Dame de Lorette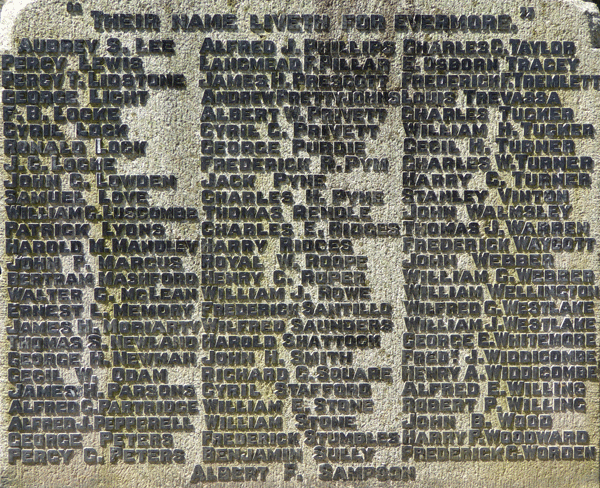 Dartmouth Town Memorial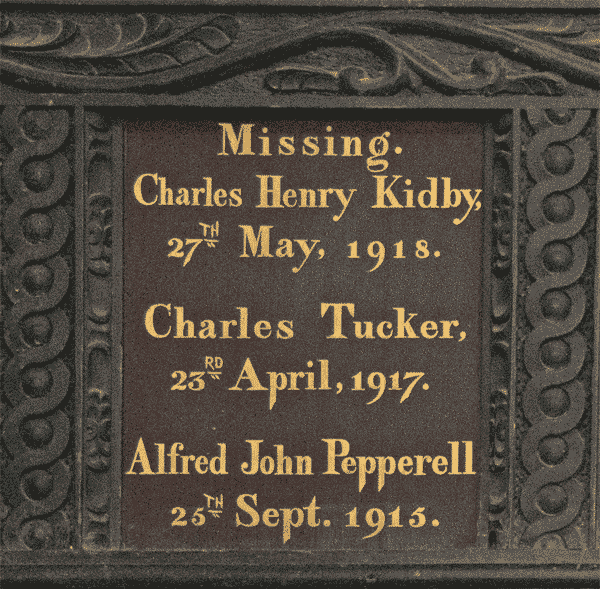 St Petrox Memorial Board
In Dartmouth he is commemorated on the Town War Memorial, on the St Saviour's Memorial Board, and on the St Petrox Memorial Board.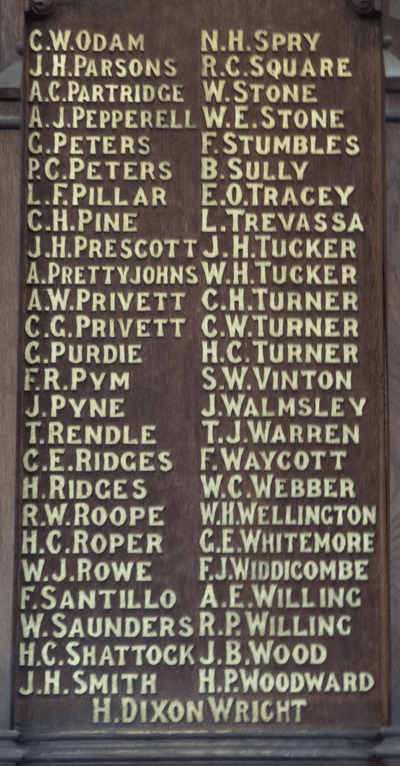 St Saviour's Memorial Board
Alfred's elder brother, William James, survived the war. He served with the 10th Battalion Devonshire Regiment until December 1917, being promoted Lance Corporal in February 1915. The 10th went to France two days before Loos, but just before they reached the front line in October, were reallocated to serve in Salonica. William survived this experience, and was transferred to the Labour Corps in December 1917 and the Tank Corps in April 1918. He was demobilised on 25th March 1919.
Alfred's younger brother, Arthur Edward Pepperell, also served, being called up in 1916. His service papers have also survived. He went to France with the Royal West Kent Regiment in May 1917 and was wounded in action two months later. He was transferred to the Army Service Corps in 1918 and demobilised on 6th March 1919.
In 1939 James and Georgina celebrated their diamond wedding anniversary on 29th March, an event noted in the Western Morning News and in several other newspapers, including the Daily Mirror. They were still living at Island House. Both James and Georgina died in 1941.
Sources
Naval record for James Pepperell downloadable from The National Archives (fee chargeable) references ADM 188/27/53694 and ADM 139/980/17989.
Service papers for William James Pepperell and Arthur Edward Pepperell accessed through subscription websites, fee payable.
Information Held on Database
| | |
| --- | --- |
| Surname: | Pepperell |
| Forenames: | Alfred John |
| Rank: | Private |
| Service Number: | 10789 |
| Military Unit: | 8th Bn Devonshire Regiment |
| Date of Death: | 25 Sep 1915 |
| Age at Death: | 27 |
| Cause of Death: | Killed in action |
| Action Resulting in Death: | Battle of Loos |
| Place of Death: | Loos, France |
| Place of Burial: | Commemorated Loos Memorial, France |
| Born or Lived in Dartmouth? | Yes |
| On Dartmouth War Memorial? | Yes |
| On St Saviour's Memorials? | Yes |
| On St Petrox Memorials? | Yes |
| On Flavel Church Memorials? | No |
| In Longcross Cemetery? | No |
| In St Clement's Churchyard? | No |
| On a Private Memorial? | No |
| On Another Memorial? | No |
---
This information was last updated on Sunday 09 July 2017 at 22:01:18.