John Henry Smith
Family
John Henry Smith was born on 11th January 1886 in Dartmouth and was baptised "John Harry" on 17th February that year, at St Saviour's. He was the son of Samuel Smith and Mary Jane Roper, nee Saunders (sometimes recorded as Sanders).
Samuel was a native of Dartmouth, according to census records. His father William, an engine driver, was born in Totnes, and his mother, Sarah Stapleton, in Brixham. They had come to Dartmouth soon after their marriage in 1854 and all their children were born there. In the 1881 Census, Samuel, aged 19, was recorded as a labourer.
On 20th June 1882, at St Saviour's, Samuel married Mary Jane Roper, a widow with two daughters, Mary Grace and Alice. She had come to Dartmouth from East Allington with her first husband, John, after the birth of their second daughter, but he had died soon after they arrived in the town. Mary Jane was born in West Alvington, but her father and mother had also moved to Dartmouth, where her father John was the foreman in a paint factory.
In quick succession, Samuel and Mary Jane had seven children, all baptised at St Saviour's:
Bessie May Elizabeth, born May 6th 1883, baptised June 6th 1883
William Samuel John born August 18th 1884, baptised September 10th 1884
John Harry born 11th January 1886, baptised 17th February 1886
Emma Rosetta born 23th March 1887, baptised 4th May 1889
Bertha Caroline born 16th August 1888, baptised 9th September 1888
Edward George Frederick born 4th May 1894, baptised 5th July 1894
Alfred Charles born 15th May 1896, baptised 10 June 1896
Samuel seems mostly to have worked as a general labourer, but in the 1891 Census he was recorded as a painter. At the time of the birth of Alfred Charles, he was working, like so many men in Dartmouth, as a coal-lumper. In 1888, at the time of Bertha's birth, they were recorded in Clarence Street, but by the 1891 Census they had moved to the South Embankment.
In 1901, the family were still on the South Embankment. Samuel's occupation was given as "cartman". Still at home were Mary Jane's younger daughter Alice, working as a domestic servant; Bessie, also working in service; William, working as a sailmakers's apprentice; John Henry, working as a "mason's labourer"; and the three youngest children, Bertha, Edward and Alfred, of whom only Edward was recorded as "scholar".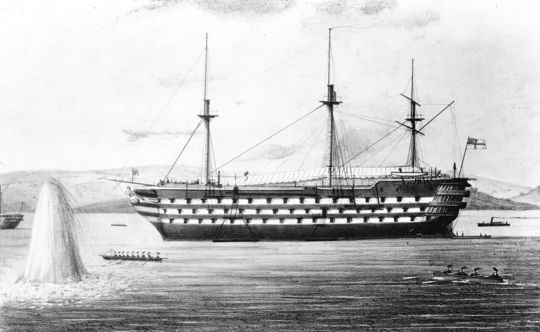 HMS Cambridge firing a torpedo
In 1903, John Henry joined the Navy, serving on HMS Cambridge at Plymouth, as a "domestic 3rd Class", the very bottom of the naval hierarchy, earning 1s 1d per day. Perhaps he wanted to be a seaman but was not considered medically fit. There is very little other information on the record but we do know that he was 5ft 5ins, with light brown hair, dark brown eyes, a "freckled" complexion, and that he had a scar on his forehead.
HMS Cambridge was a triple-decker, 102 gun first rate, launched as HMS Windsor Castle in 1858, and renamed Cambridge when she was moored off Plymouth and became a gunnery ship.
It seems, however, that John Henry and the Navy were not suited, since he was discharged shore "service no longer required" on 10th July 1905, after serving only for a little over two years.
On 30th June 1907, at St Clement's Townstal, John Henry married Edith Millman. Edith was the youngest of four daughters born to William Henry Millman and his wife Susan Jane Lane. William Millman was born in Totnes but Susan Lane came from Dartmouth. William worked as a general labourer, They had moved around the area after they married - their elder daughters were born in Dittisham and the two younger ones in Galmpton - but by the time of the 1891 Census, when Edith was two, the family had moved to Dartmouth and were living in Clarence Street. In all likelihood, John Henry and Edith knew one another from an early age. At the time of their marriage, both their addresses were given as Clarence Hill. John Henry was working as a labourer.
Over the next two years, however, John Henry and Edith suffered a triple bereavement. Edith's mother Susan died early in January 1909 and was buried on 7th January at St Clement's, to be followed three days later by William Samuel John, their first child, who died only three weeks old. Their second child, Ivy Louise, was born early in 1910, but died when just over a year old.
By the time of the 1911 Census, however, their third child, William Henry Smith, was eight months old; and baptism records show that he was baptised on 27th March 1913 at St Saviour's together with his younger sister, Edith Evelyn, born in that year. The Census also recorded Edith's father, William Henry Millman, living with them in Higher Street. The family lived in a two room apartment (census instructions required the kitchen to be counted as a room but not "scullery, landing, lobby, closet or bathroom").
By 1913, John Henry and Edith were living at 2 Flora Cottages, Albert Place, close to his parents, who were recorded there in the 1911 Census. He continued to work as a labourer.
Subsequently he and Edith moved to Foss Street, see below.
Service
John Henry Smith was one of those in Dartmouth who stepped forward at a big recruiting meeting held on 3rd September 1914. His name appears with many others in a list of those "Dartmouth Patriots who have responded to the National Call to Arms during the present great European War", published in the Dartmouth Chronicle of 11th September.
He joined the 8th Battalion Devonshire Regiment, along with many others in Devon, including several from Dartmouth. The 8th Battalion was the first of the Kitchener or "Service" Battalions to be formed by the Devonshire Regiment and was filled quickly. By 8th September the Battalion was in training in Aldershot.
The 1915 Star Medal Roll confirms that John Henry arrived in France with the 8th Battalion on 25th July 1915. For the Battalion's experiences until 8th September 1915, please see the story of Andrew Prettyjohn, killed by sniper fire on that day. John Henry wrote to Edith about Andrew's death, which must have had a considerable impact on all the young men who had joined up from Dartmouth.
For the Battalion's experiences up to, and including the Battle of Loos on 25th September 1915, please see our separate article.
Death
On 22nd October 1915, the Dartmouth Chronicle carried the following report:
Missing Soldier
Having been informed that Pte J H Smith, 8th Devon Regt, living at Foss Street, Dartmouth, had been missing several weeks, the Mayor [Thomas Wilton] last week wrote on behalf of his parents to the Commanding Officer of the regiment, as follows:-
"The parents of this young fellow have not heard from him for the past five weeks, and as this regiment was seriously engaged in the recent action in France, they are anxious for news as to his well-being. I shall be glad, therefore, if you will kindly ascertain, and inform me hereon, and greatly oblige".
This morning Mr Wilton received the following letter from the Commanding Officer:
"With reference to your letter, I regret to have to inform you that Pte J H Smith has been missing from the battalion since September 29th (sic) last. Enquiries have been made to trace him, but up to the present no notification of him having been wounded has been received. Any information received will be forwarded to you immediately. When last seen he was gallantly charging the German trenches on September 25th."
John Henry's date of death may never have been finally confirmed. The 1915 Star Medal Roll (dated 13th November 1919) records his death as "death regarded 25th September 1915". The UK Register of Soldiers' Effects (also 1919) shows his death as "presumed, on or since 25th September 1915".
Commemoration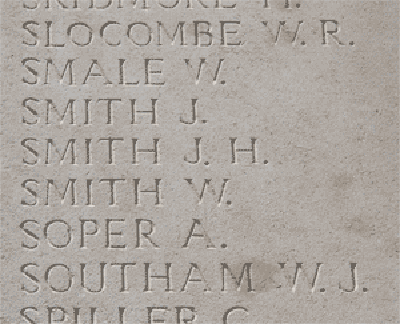 Loos Memorial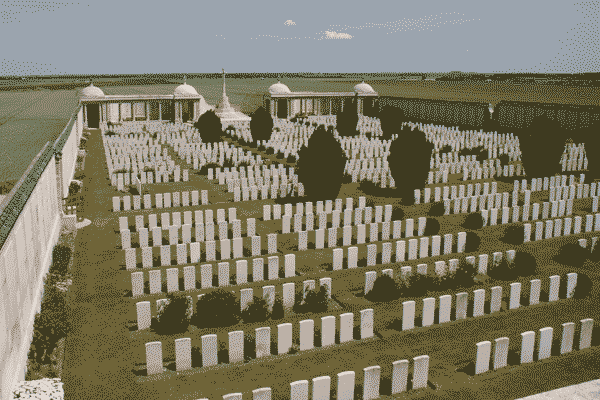 Loos Memorial and Dud Corner Cemetery
John Henry is commemorated in France on the Loos Memorial on the periphery of Dud Corner Cemetery, close to where he died, together with seven other men commemorated in Dartmouth who joined the 8th Battalion Devonshire Regiment when he did, and died, or who are considered to have died, on 25th September 1915:
As one of the 579,206 casualties in the region of Nord-Pas-de-Calais, John Henry is also commemorated on the new memorial at Notre Dame de Lorette, "The Ring of Memory".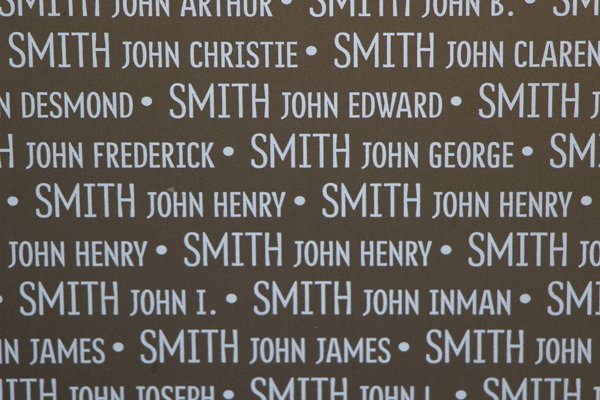 Ring of Memory memorial at Notre Dame de Lorette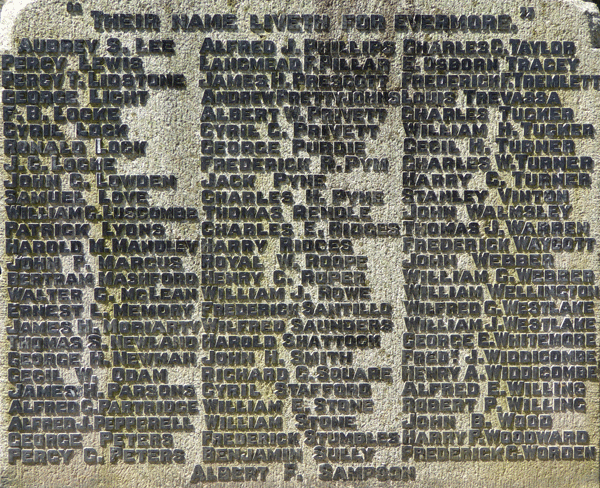 Dartmouth Town Memorial
In Dartmouth he is commemorated on the Town War Memorial and the St Saviour's Memorial Board.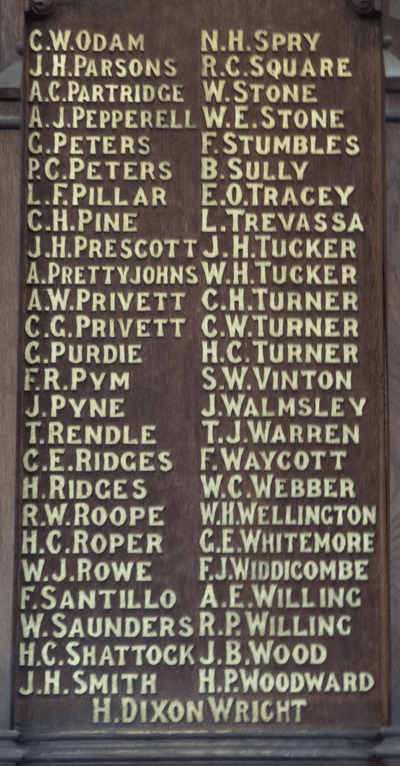 St Saviour's Memorial Board
Sources
Naval record for John Henry Smith available at The National Archives for download, fee chargeable, reference ADM 188/550/361561.
Information Held on Database
| | |
| --- | --- |
| Surname: | Smith |
| Forenames: | John Henry |
| Rank: | Private |
| Service Number: | 10796 |
| Military Unit: | 8th Bn Devonshire Regiment |
| Date of Death: | 25 Sep 1915 |
| Age at Death: | 30 |
| Cause of Death: | Killed in action |
| Action Resulting in Death: | Battle of Loos |
| Place of Death: | Loos, France |
| Place of Burial: | Commemorated Loos Memorial, France |
| Born or Lived in Dartmouth? | Yes |
| On Dartmouth War Memorial? | Yes |
| On St Saviour's Memorials? | Yes |
| On St Petrox Memorials? | No |
| On Flavel Church Memorials? | No |
| In Longcross Cemetery? | No |
| In St Clement's Churchyard? | No |
| On a Private Memorial? | No |
| On Another Memorial? | No |
---
This information was last updated on Sunday 09 July 2017 at 22:16:47.