Aubrey Frederick Samuel Lee
Family
Aubrey Frederick Samuel Lee was born in Dartmouth on 30th June 1896 and baptised at St Saviour's on 22nd June 1898. He was the second son of William Henry Lee and his wife Eliza Hodge.
William Henry Lee was not a native of Dartmouth, but like so many, came to the town because of his service in the Royal Navy. Born in Stoke Damerel, Plymouth, in 1858 (according to his Naval record), he joined the Navy aged 15 ½ as a Boy 2nd Class, commencing a ten year continuous service engagement on his eighteenth birthday in 1876. His first substantial posting was to HMS Defence, an armoured frigate launched in 1861, which was in 1876 serving in the Chanel Fleet, and while there was rated Able Seaman on 1st August 1878.
In 1879 he was appointed to HMS Royal Adelaide, the Devonport flagship; followed by nearly three years on HMS Monarch in the Mediterranean. This seems to have been an eventful time for him, as his naval record shows him first promoted to Leading Seaman and then demoted to Able Seaman, twice. He left Monarch in 1885 when she returned home to England for refit.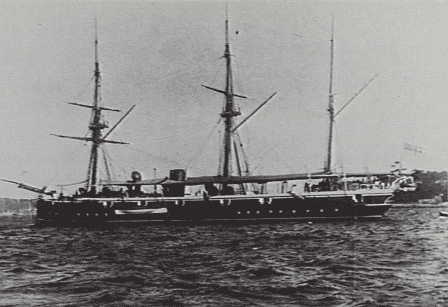 HMS Royalist in 1883
After a further stint on HMS Royal Adelaide in Devonport, during which he extended his service for a further ten years for a pension, he was appointed in 1889 to HMS Royalist, serving on the Australia Station. His time in Australian waters was spent alternating between HMS Royalist, a small warship, and HMS Ringdove, a gunboat, until he reutnred home in 1892.
On 16th September 1892, he was appointed as an Able Seaman to HMS Britannia, and in Dartmouth he met Eliza Hodge. Eliza was the eldest daughter of Robert Hodge, and his wife Eliza Cawley. At the time of Eliza's birth in 1870, in Dittisham, Robert had been a farm worker, but by the time of the 1891 Census he and his family were living in Silver Street, Dartmouth (now Undercliffe) and he was working as a coal lumper.
William Henry and Eliza married at St Clement's Dartmouth on 15th September 1893. He gave a home to Eliza's son Frank, born in 1888 (described in the baptismal records, in the terminology of the period, as "base-born"), and the couple's first son, William Henry junior, was born in 1894. William Henry remained at HMS Britannia until 15th December 1896, and he retired from the Navy shortly afterwards. Seven further children followed William Henry and Aubrey:
Mary Allen, 1898
Annie Ada, 1901
Audrey, 1903
Alfred George and Frank Edward, 1906
Minnie May, 1908
Bert Harold, 1910
At the time of Aubrey's baptism in 1898, the family's address was given as "Slippery Causeway", and William Henry was working as a coal lumper, like his father in law. By the time of the 1901 Census, they were living at Browns Hill, Dartmouth, and William Henry was working as a gardener - "not domestic". By 1911 they were living at 2 Kenwyn Cottage, in Kenwyn Terrace, Townstal, and William had returned to the Royal Naval College, to work as a labourer. William Henry (junior) had joined the Royal Marines, and in 1911 was at the Royal Marines Depot in Walmer, Kent. Aubrey, aged 15, was at home in Dartmouth, apprenticed to a carpenter. The other children (apart from the baby, Bert, 5 months old) were at school.
Service
Aubrey was one of those in Dartmouth who stepped forward at a big recruiting meeting held on 3rd September 1914. His name was listed in the Dartmouth Chronicle of 11th September as one of the "Dartmouth patriots who have responded to the National Call to Arms during the present great European War".
He joined the 8th Battalion Devonshire Regiment, along with many others in Devon, including several from Dartmouth. The 8th Battalion was the first of the Kitchener or "Service" Battalions to be formed by the Devonshire Regiment and was filled quickly. By September, the Battalion was in training at Aldershot.
Here he seems to have gone astray. On 9th November 1914 at the Winchester Assizes he admitted to forging an endorsement on an order for the payment of £1 5s 9d, with intent to defraud, at Aldershot. The offence took place on 9th September, the day after the Battalion had arrived at Aldershot. Perhaps there were some extenuating circumstances, for he was "bound over to be of good behaviour (and to come up for judgement) in £10 for 12 months".
The 8th Battalion's officers apparently saw no problem with him remaining in the Regiment and the 1915 Star Medal Roll confirms that Aubrey arrived in France with the 8th Battalion on 25th July 1915.
For the Battalion's experiences until 8th September 1915, please see the story of Andrew Prettyjohn, killed by sniper fire on that day.
For the Battalion's experiences at the Battle of Loos on 25th September 1915, please see our separate article.
Death
Unlike some of the others from Dartmouth killed at Loos, official records show Aubrey's date of death definitively as "killed in action" on 25th September 1915.
Commemoration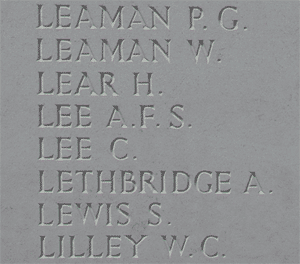 Loos Memorial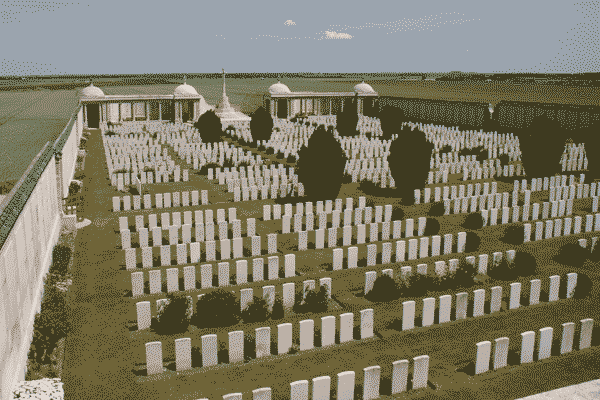 Loos Memorial and Dud Corner Cemetery
Aubrey is commemorated in France on the Loos Memorial on the periphery of Dud Corner Cemetery, close to where he died, together with seven other men commemorated in Dartmouth who joined the 8th Battalion Devonshire Regiment when he did, and died, or who are considered to have died, on 25th September 1915:
As one of the 579,206 casualties in the region of Nord-Pas-de-Calais, Aubrey is also commemorated on the new memorial at Notre Dame de Lorette, "The Ring of Memory".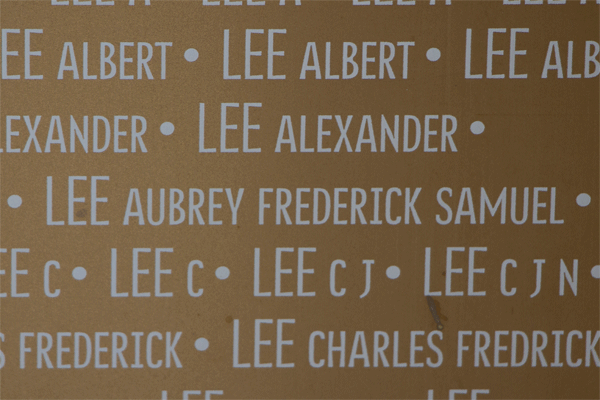 Ring of Memory memorial at Notre Dame de Lorette
In Dartmouth he is commemorated on the Town War Memorial and the St Saviour's Memorial Board.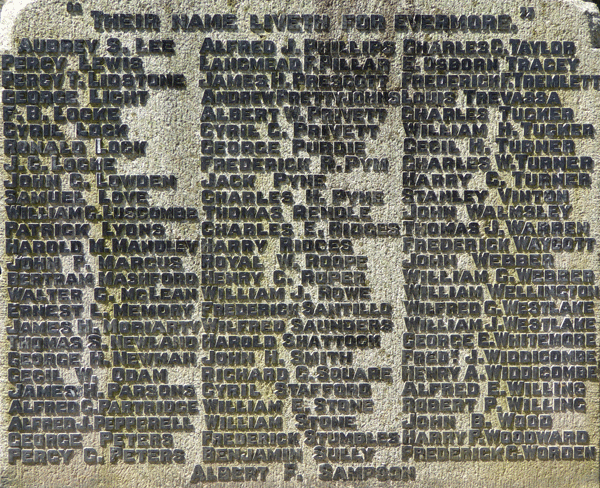 Dartmouth Town Memorial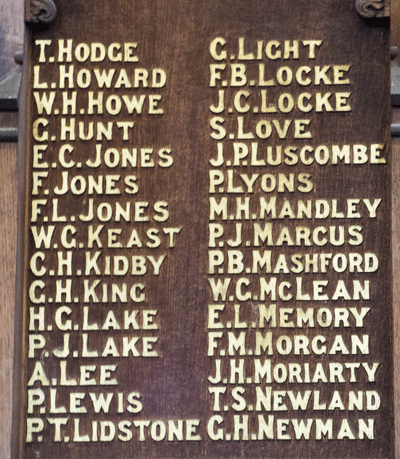 St Saviour's Memorial Board
Aubrey's mother, Eliza, died only a few days after her son, and was buried at St Clement's Townstal on 9th October 1915.
Sources
Naval service record for William Henry Lee obtainable for download from The National Archives (fee payable), reference ADM 188/77/83328
Information Held on Database
| | |
| --- | --- |
| Surname: | Lee |
| Forenames: | Aubrey Frederick Samuel |
| Rank: | Private |
| Service Number: | 10795 |
| Military Unit: | 8th Bn Devonshire Regiment |
| Date of Death: | 25 Sep 1915 |
| Age at Death: | 19 |
| Cause of Death: | Killed in action |
| Action Resulting in Death: | Battle of Loos |
| Place of Death: | Loos, France |
| Place of Burial: | Commemorated Loos Memorial, France |
| Born or Lived in Dartmouth? | Yes |
| On Dartmouth War Memorial? | Yes |
| On St Saviour's Memorials? | Yes |
| On St Petrox Memorials? | No |
| On Flavel Church Memorials? | No |
| In Longcross Cemetery? | No |
| In St Clement's Churchyard? | No |
| On a Private Memorial? | No |
| On Another Memorial? | No |
---
This information was last updated on Sunday 09 July 2017 at 21:46:09.