Frederick George King
Family
Frederick George King was born on 23rd April, 1891, St George's Day, and baptised at St Saviour's, Dartmouth, on 11th June of that year. He was the second of four sons of James Summers King and his wife Mary Elizabeth Bell.
James was not a native of Dartmouth but was born in Bisley, Gloucestershire. Like many others, service in the Royal Navy brought him to the town. James joined the Navy as a Boy Seaman on 10th July 1876, aged 16, and began his ten year continuous service engagement on turning 18, on 12th February 1878. He was rated Able Seaman on 1st October 1881 while serving on HMS Dryad, then on the East Indies Station. Returning home, he was then appointed to HMS Britannia on 21st June 1884.
In 1887, whilst still serving on Britannia, he married Mary Elizabeth Bell. Mary was the daughter of John Bell and his wife Elizabeth Bellett. John Bell was a shipwright, and the son of another John Bell, shipwright, from Dartmouth; Elizabeth Bellett's father, John Bellett, was also a shipwright, from Dartmouth. Mary Elizabeth was the second of their five children, born in Dartmouth on 2nd October 1864 and baptised in St Saviour's on 11th December of that year. In the 1881 Census, she was recorded living with her mother and younger brother, Richard Ernest, in St Saviour's Place. Her mother, who had been widowed, was working as a laundress. Mary Elizabeth was in domestic service.
James and Mary Elizabeth's first child, James Summers King, was born on 6th August 1887, and baptised at St Saviour's on 5th Oct 1887, while James was still serving on HMS Britannia. James signed on for another ten years naval service for a pension in February 1888, and remained at HMS Britannia for four years, during which period Frederick George was born. The 1891 Census recorded James and Mary Elizabeth, with their son James, living in Collaford Lane, Dartmouth, next door to Mary Elizabeth's mother, Elizabeth, still working as a laundress, and Mary Elizabeth's younger brother Richard Ernest, a blacksmith. The 1891 Census was taken on 5th April, so Mary Elizabeth must have been heavily pregnant - Frederick George was born just under three weeks later.
On 19th March 1892, James had to leave his wife and young children, to serve on the other side of the world in Australia, on HMS Dart and HMS Mildura. As her name implies, HMS Dart had previously been a tender for HMS Britannia, but subsequently was allocated to hydrographic survey work in and around Australia. Mildura, named after an Australian town, was a cruiser, also serving on the Australia Station. James' third son, Ernest John, was born soon a few months after his departure, on 7th November 1892.
James returned from Australia in May 1895. His final appointment was at HMS Vivid, the Naval Barracks at Devonport. James and Mary Elizabeth's fourth son, Thomas Richard Henry, was born in Dartmouth on Frederick George's fifth birthday, 23rd April 1896. James retired to a naval pension on 11th February 1898, to settle in Dartmouth, and obtained work as a ferryman. His two youngest sons were baptised at St Saviour's on 12th September 1900, aged eight and four.
But tragically Mary Elizabeth died the following year, aged only 36. She was buried in St Saviour's extension ground in Longcross Cemetery, Dartmouth, on 18th February 1901. Her mother, Elizabeth, moved in to help James with the boys (her youngest son, Richard Ernest Bell, had by then himself joined the Royal Navy). The 1901 Census recorded James, the four boys, and Mary's mother Elizabeth, still in Collaford Lane. James' occupation was recorded as "boatman and [naval] pensioner". By 1911, the family, still including Elizabeth, had moved to St Saviour's Place. James senior worked as a general labourer. James junior and his younger brother Ernest were both working as grocer's porters; Frederick George, as a groom and gardener; and (Thomas Richard) Henry, as a newsagent's errand boy.
Elizabeth Bell died in 1911 and was buried in Longcross Cemetery on 12th November. James King died in 1914, and was buried in the same place on 22nd May, just a few months before the outbreak of war.
Service
Frederick George King was one of those in Dartmouth who stepped forward at a big recruiting meeting held on 3rd September 1914. He joined the 8th Battalion Devonshire Regiment, along with many others in Devon, including several from Dartmouth. The 8th Battalion was the first of the Kitchener or "Service" Battalions to be formed by the Devonshire Regiment and was filled quickly. By 8th September the Battalion was in training in Aldershot.
Frederick's service papers have not survived but the 1915 Star Medal Roll confirms that Frederick arrived in France with the 8th Battalion on 25th July 1915. For the Battalion's experiences until 8th September 1915, please see the story of Andrew Prettyjohn, killed by sniper fire on that day.
For the Battalion's experiences at the Battle of Loos on 25th September 1915, please see our separate article.
Death
The Western Times of Monday 4th October, in a piece headed "Roll of Honour: Casualties in West of England Regiments" included the following:
Dartmouth men in the 8th Devons who have been wounded include Pte F R Pope, who sustained a fractured thigh and wounds in his other leg and right arm; Pte F Fabian, dangerously wounded; Ptes F King, W Bennett, and H Gill, wounded, but not seriously.
The reference to Private F King seems to have been a mistake, because subsequent records indicate uncertainty about what had happened to Frederick, as with many after the battle of Loos.
The Army Registers of Soldiers' Effects recorded his death as "officially accepted as on 25th September 1915", and the 1915 Star Medal Roll (dated 13th November 1919) similarly recorded his death as "death accepted 25th September 1915".
Commemoration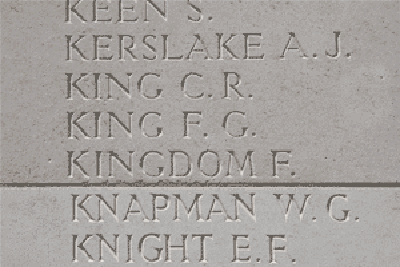 Loos Memorial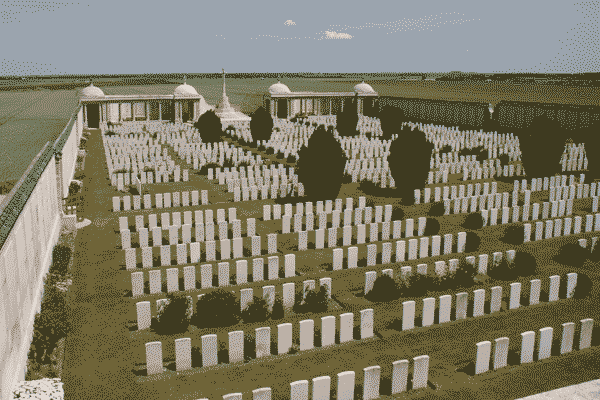 Loos Memorial and Dud Corner Cemetery
Frederick is commemorated in France on the Loos Memorial on the periphery of Dud Corner Cemetery, close to where he died, together with seven other men commemorated in Dartmouth who joined the 8th Battalion Devonshire Regiment when he did, and died, or who are considered to have died, on 25th September 1915:
As one of the 579,206 casualties in the region of Nord-Pas-de-Calais, Frederick is also commemorated on the new memorial at Notre Dame de Lorette, "The Ring of Memory".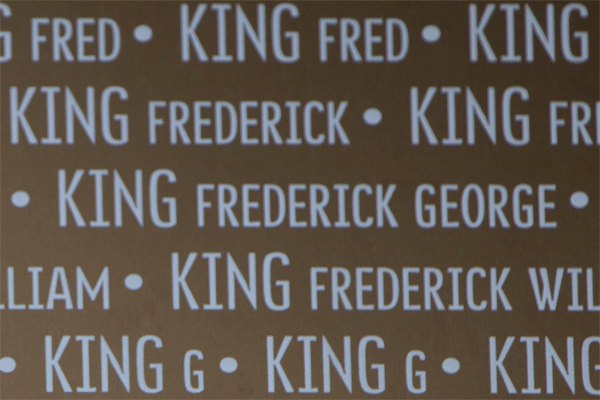 Ring of Memory memorial at Notre Dame de Lorette
In Dartmouth he is commemorated on the Town War Memorial.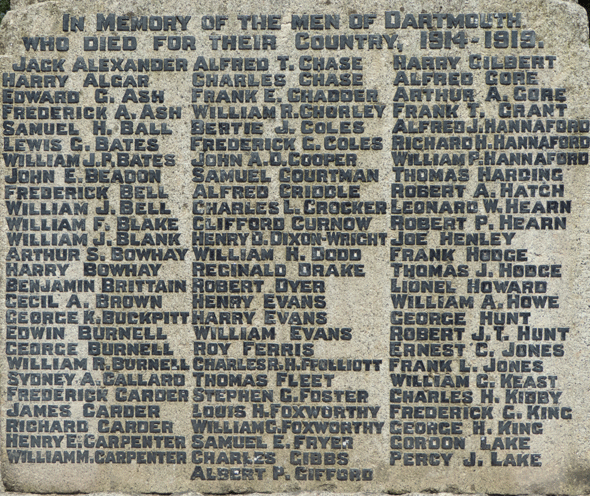 Dartmouth Town Memorial
Sources
Naval record for James King downloadable from The National Archives (fee chargeable) reference ADM 188/108/96848.
Information Held on Database
| | |
| --- | --- |
| Surname: | King |
| Forenames: | Frederick George |
| Rank: | Private |
| Service Number: | 10888 |
| Military Unit: | 8th Bn Devonshire Regiment |
| Date of Death: | 25 Sep 1915 |
| Age at Death: | 24 |
| Cause of Death: | Killed in action |
| Action Resulting in Death: | Battle of Loos |
| Place of Death: | Loos, France |
| Place of Burial: | Commemorated Loos Memorial, France |
| Born or Lived in Dartmouth? | Yes |
| On Dartmouth War Memorial? | Yes |
| On St Saviour's Memorials? | No |
| On St Petrox Memorials? | No |
| On Flavel Church Memorials? | No |
| In Longcross Cemetery? | No |
| In St Clement's Churchyard? | No |
| On a Private Memorial? | No |
| On Another Memorial? | No |
---
This information was last updated on Sunday 09 July 2017 at 18:57:57.