Samuel Edward Fryer
Family
Samuel Edward Fryer was born on 14th October 1896 in Dartmouth. He was the eldest son of Charles Edward Fryer and his wife Jane Widdicombe.
Charles Edward Fryer was not a native of Dartmouth, being born in the village of Hartpury, in Gloucestershire, but came to the town because of his service in the Royal Marines. In the 1881 Census he and his family were recorded living in Cooks Hill, Hartpury. His father Robert, he himself, his cousin James, and a lodger, Alfred, were all "Hay Trussers". His mother and sister worked as dressmakers.
In 1886, aged 20, according to his service record, he left behind the rural life in Gloucestershire, and joined the Royal Marines, enlisting in Bristol. After his initial training, he first "embarked" in 1888 for service on HMS Raleigh, the flagship on the Cape of Good Hope and West Africa station. His second service afloat was on HMS Neptune, a guardship at Holyhead; and his third, beginning on 19th September 1894, was on HMS Britannia, in Dartmouth.
Here he met his wife, Jane Widdicombe. She was the sixth of eight children of Thomas Rodeer Widdicombe and his wife Mary Ann Honeywill. Thomas was from Ashburton and Mary Ann from Buckfastleigh, where they had married on Christmas Day in 1866. They had come to Dartmouth sometime around 1868. Thomas had found work as a farm labourer to begin with but, by the time of the 1881 Census, was a Stoker at the Gas Works at the north end of the town. The family lived nearby, in Silver Street (now Undercliffe).
Jane's mother died in 1890, when Jane was about thirteen. By the time of the 1891 Census, Jane was working in domestic service, though still living at home with her father and other members of her family in Silver Street. Her elder sister Emma was recorded as "housekeeper", presumably having taken over the care of the family after her mother's death. The youngest, Mary Anne, named for her mother, was nine.
Charles and Jane married at St Clements Townstal on 19th July 1896. Charles' aged was recorded as 22, though he was actually about 30. He was still serving at HMS Britannia. Jane was 19. As Samuel was born on 14th October 1896, Jane must have been several months pregnant.
Charles' service at HMS Britannia ended two weeks before Samuel was born, but he did not embark on his next appointment until 10th February 1897, when he joined HMS Algerine, serving on the China Station. He came home when Algerine was recommissioned in February 1900, being borne on the books of HMS Edgar. While he was away, Samuel was baptised at St Saviour's, on 8th March 1899.
Charles' next appointment was HSM Pelorus, in the Channel Fleet, on 22nd August 1900. It seems that at this time, Jane was living with her father. Her second child, Agnes Rose, was born on 23rd February 1901, and baptised at St Saviours on 25th April 1901. The 1901 Census recorded Jane, Samuel and Agnes living with her father Thomas and her youngest sister, Mary Ann, in King's Quay, along from the North Embankment; and it also recorded Charles on board HMS Pelorus in Gibraltar. Charles transferred directly to HMS Prometheus, Pelorus' sister ship, also in the Channel Fleet, when she was commissioned in September 1901.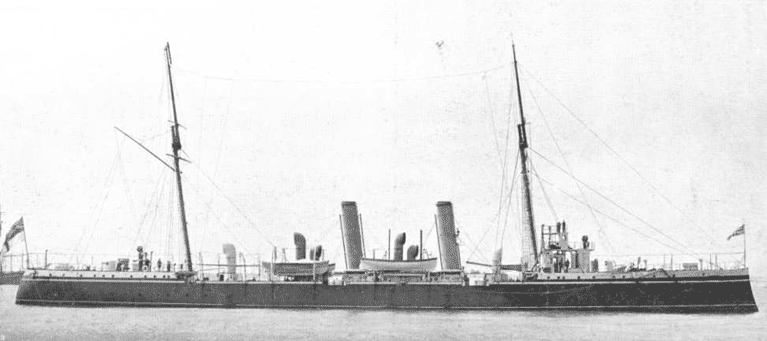 HMS Pelorus in 1896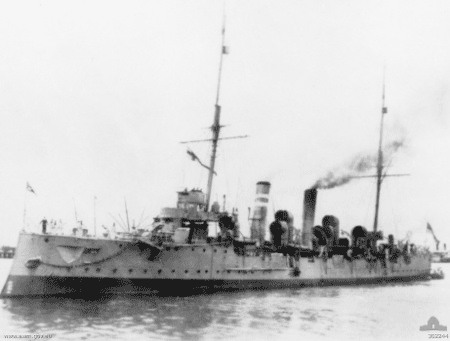 HMS Prometheus in 1913
He must have had home leave during this period, as Winifred Maud was born sometime between April and June 1904. She was baptised at St Saviour's on 3rd November of that year.
Charles left Prometheus on 26th January 1904. His next appointments were to HMS Impregnable, in Devonport, between May and August 1904, then a long period in the Royal Marine barracks in Plymouth, followed by a return to HMS Britannia on 13th April 1906. This was his last posting and he left the Royal Marines on 18th May 1907.
Charles Stanley was born in King's Quay on 9th November 1905 and Thomas Leslie, after Charles had left the Royal Marines, on 2nd March 1908. Charles enrolled in the Royal Fleet Reserve on 24th August 1907, and undertook a week of training every year until 1911. He also obtained employment at the Royal Naval College as a personal servant.
Charles and Jane's last child, Lionel John, was born in or around November 1909, but died when only three months old. He was buried at St Clement's Townstal on 7th March 1910. Six months later, Charles Stanley and Thomas Leslie were baptised at St Saviour's, on 1st September. By this time the family had moved to Clarence Street. They were recorded there in the 1911 Census, together with Jane's father Thomas, who lived with them (described as "boarder"). Charles was still employed at the Royal Naval College. Samuel Edward was an errand boy for a fishmonger. Agnes, Winifred and Charles were at school. Thomas was looked after at home.
The couple's last child, Elsie, was born just after the 1911 Census. But Charles Edward saw very little of his last child, for he died relatively young, aged 46, on 15th June 1912. He was buried in St Clement's Townstal on 19th June.
Service
Samuel Edward was one of those in Dartmouth who stepped forward at a big recruiting meeting held on 3rd September 1914. He joined the 8th Battalion Devonshire Regiment, along with many others in Devon, including several from Dartmouth. Assuming that the date of birth given on his baptismal record is correct, he was a few weeks short of his 18th birthday.
Before the war, it had been the rule that those under nineteen should not be able to join the Regular forces, with a bar on service overseas until twenty years of age. When war broke out, enlistment into the army was altered to a minimum of 18 years, with a bar on going abroad until nineteen. Samuel's papers have not survived, but as with many others, either Samuel overstated his age at this time, or the recruiting sergeant turned a blind eye.
The 8th Battalion was the first of the Kitchener or "Service" Battalions to be formed by the Devonshire Regiment and was filled quickly. By September, the Battalion was in training at Aldershot. The 1915 Star Medal Roll confirms that Samuel arrived in France with the 8th Battalion on 25th July 1915.
For the Battalion's experiences until 8th September 1915, please see the story of Andrew Prettyjohn, killed by sniper fire on that day.
For the Battalion's experiences at the Battle of Loos on 25th September 1915, please see our separate article.
Death
On Wednesday 3rd November 1915, the Western Times reported the following:
Dartmouth Soldiers Missing
Two Dartmouth soldiers, serving with the 8th Battalion Devon Regiment, are officially reported missing, viz Pte S E Fryer and Pte A C (sic) Pepperell.
The family had to wait for over a year after the Battle of Loos before receiving official confirmation of Samuel's death. The Dartmouth Chronicle of 6th October 1916 carried the following announcement:
In Memoriam
Fryer - In Loving Memory of the late Pte T [sic] E Fryer, 8th Devons (previously reported missing, now reported killed) in action on the 25th September 1915. Sadly missed by mother, family and relatives.
Subsequent records indicate that Samuel's body, like Alfred's, was never found. The Army Registers of Soldiers Effects recorded Samuel's date of death as "25th September 1915, on or since, death presumed". The 1915 Star Medal Roll (dated 13th November 1919) similarly recorded his death as "death regarded 25th September 1915".
Commemoration
Loos Memorial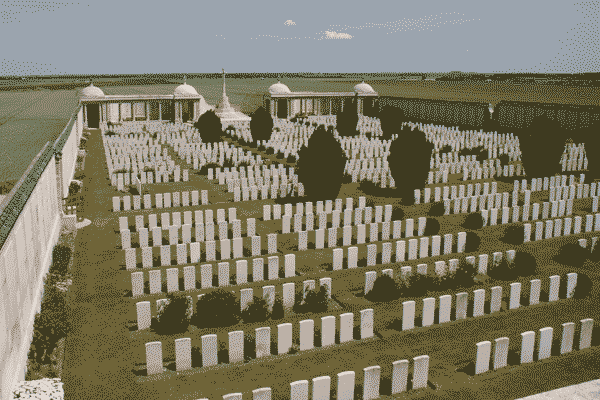 Loos Memorial and Dud Corner Cemetery
Samuel is commemorated in France on the Loos Memorial on the periphery of Dud Corner Cemetery, close to where he died, together with seven other men commemorated in Dartmouth who joined the 8th Battalion Devonshire Regiment when he did, and died, or who are considered to have died, on 25th September 1915:
Jane died less than two years after Samuel, on 23rd February 1917, aged only 39. She was buried beside Charles at St Clements, Townstal.
As one of the 579,206 casualties in the region of Nord-Pas-de-Calais, Samuel is also commemorated on the new memorial at Notre Dame de Lorette, "The Ring of Memory".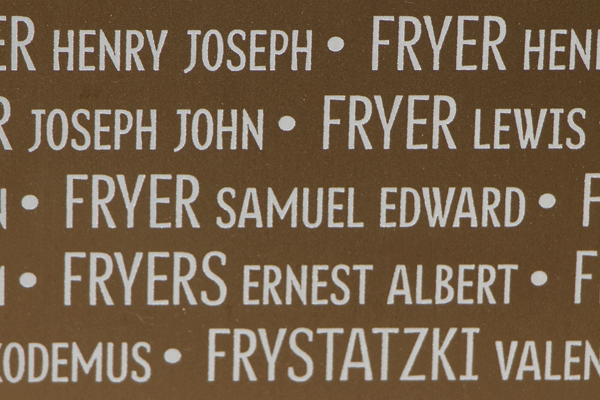 Ring of Memory memorial at Notre Dame de Lorette
In Dartmouth Samuel is commemorated on the Town War Memorial.
Samuel's youngest brother, Thomas Leslie Fryer, also appears on the Town War Memorial, as a casualty in the Second World War. As Chief Officer on the SS Castle Harbour he died when his ship, part of convoy TRIN-19, was sunk by U-160 north-east of Trinidad, on 16th October 1942.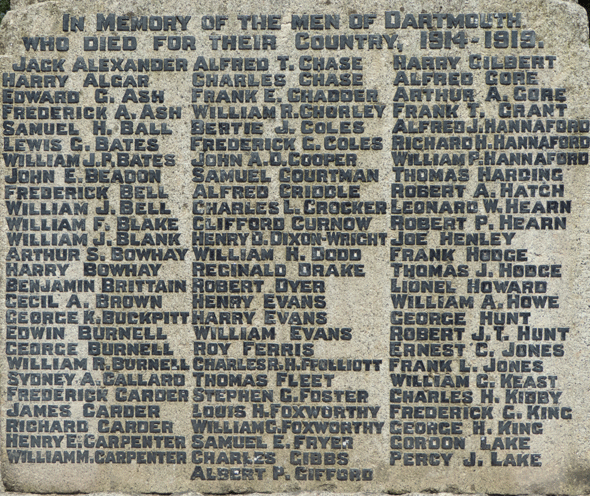 Dartmouth War Memorial 1914-18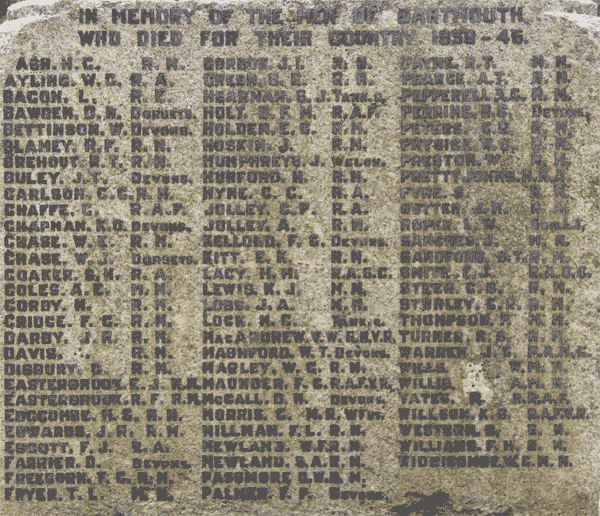 Dartmouth War Memorial 1939-45
Sources
Royal Marine Light Infantry service record for Charles Edward Fryer downloadable from The National Archives (fee payable). Reference ADM 159/67/3855.
Information Held on Database
| | |
| --- | --- |
| Surname: | Fryer |
| Forenames: | Samuel Edward |
| Rank: | Private |
| Service Number: | 10893 |
| Military Unit: | 8th Bn Devonshire Regiment |
| Date of Death: | 25 Sep 1915 |
| Age at Death: | 18 |
| Cause of Death: | Killed in action |
| Action Resulting in Death: | Battle of Loos |
| Place of Death: | Loos, France |
| Place of Burial: | Commemorated Loos Memorial, France |
| Born or Lived in Dartmouth? | Yes |
| On Dartmouth War Memorial? | Yes |
| On St Saviour's Memorials? | No |
| On St Petrox Memorials? | No |
| On Flavel Church Memorials? | No |
| In Longcross Cemetery? | No |
| In St Clement's Churchyard? | No |
| On a Private Memorial? | No |
| On Another Memorial? | No |
---
This information was last updated on Friday 03 November 2017 at 18:05:51.