Nicholas Henry Spry
Nicholas Henry Spry was born in Malborough, near Salcombe, Devon, early in 1897. He was the son of William Spry and his wife Edith Ann Doney. It seems to have been the Coast Guard service which brought this couple together and which brought them to Dartmouth.
William Spry was born in Landulph, Cornwall on 20th April 1860, where his father, Matthias, was a waterman. In 1875, aged 15, he joined the Royal Navy as a Boy 2nd Class at HMS Implacable, Devonport, and three years later, on reaching the age of 18, he joined the Navy for ten years. While serving on HMS Alexandra, in the Mediterranean Fleet, he was rated Able Seaman, and was present at the bombardment of Alexandria, in July 1882. He was also recorded on board at the time of the 1881 Census.
After time ashore his next major posting was to HMS Bellerophon, which, after an extensive refit, was serving on the North America and West Indies Squadron. During his time on Bellerophon he signed on to complete a further twelve years service for a pension.
He came home on 20th June 1889 and appears to have transferred immediately to the Coast Guard Service as a Boatman, being appointed to the station at Torcross from the following day. Six months later, on 21st November 1889, he married Edith Ann Doney, at St Saviour's Dartmouth.
Edith's father, Joshua Doney, was also in the Coast Guard Service - and this may have been how she met William. At the time of Edith's birth in 1867, Joshua and his wife Ann were living in Morice Town, Devonport, where he was an engine fitter, most likely in the Naval Dockyards. On 1st January 1873, Joshua had joined the Navy on a ten-year engagement as a Stoker, aged 31 (according to his naval record). In 1879 he transferred to the Coast Guard service as a Boatman, and the family moved to Gallaway Coast Guard Station, at Lydd, in Kent, where they were recorded in the 1881 Census. Joshua was appointed to Dungeness Coast Guard station, nearby, in 1879, where he served until 1889, being promoted to Commissioned Boatman on 1st July 1883. While at Dungeness he had engaged in 1882 to serve for a further period to complete time for pension - he completed his service in 1890 whilst serving at Kingston, Shoreham, in Sussex.
Edith must thus have been thoroughly familiar with life in the Coast Guard service, involving a series of postings around Britain's southern coast. The couple began their married life at Torcross, where they were recorded in the 1891 Census at the Coast Guard station, together with their eldest son, William Joshua Harold, born in 1890 and baptised at Stokenham on 4th January 1891. On 19th January 1892, William was appointed to the Coast Guard station at Dartmouth, where the couple's second child, Lillian Edith Laura Spry, was born, and baptised at St Petrox on 23rd June of that year.
The family remained in Dartmouth for three years. Their third child, Frederick Edward Moyes Spry, was born there in 1894; and on 1st July 1895, William was promoted to Commissioned Boatman. Shortly after, in August, the family moved to the Coast Guard Station at Hope Cove, near Salcombe, where they remained for the next five years, and where Nicholas Henry was born in 1897.
In January 1900, the family moved back to Torcross for three years, and William was promoted to Chief Boatman in May 1903. Next was two years at Mothecombe, overlooking the estuary of the River Erme, near Holbeton, followed by three years at Dungeness. While at Dungeness, William was promoted to Chief Petty Officer, in 1908. His final posting in the Coast Guard service was back at Salcombe, in November 1908, until he retired to pension in December 1910.
The 1911 Census found William, Edith, Lilian and Nicholas living at 1 Coronation Road, Salcombe. Lilian was working as a Dressmaker, and Nicholas, aged 14, as a Grocer's Errand Boy. The Census form recorded that the couple had had five children, one of whom had died - unfortunately we have not been able to trace the birth or death of their fifth child. Nicholas' elder brothers had both followed their father and grandfather, and joined the Navy; William Joshua in 1907 as a Stoker, and Frederick in 1911 as a Cook.
Service
At the outbreak of war William was recalled (or volunteered) for service and was appointed to the Mumbles Coast Guard station at the entrance to Swansea Bay. William and Frederick were already serving and Nicholas was not slow to follow.
Unfortunately his service papers have not survived, but his service number, 10408, suggests that he enlisted towards the end of August 1914 (number 10387 enlisted on 31st August, and 10412 attested on 29th August), joining Kitchener's Army when recruiting was at its height. Soldiers Died in the Great War states that he enlisted in Exeter. Nicholas would have been aged 17 on enlisting.
Before the war, it had been the rule that those under nineteen should not be able to join the Regular forces, with a bar on service overseas until twenty years of age. When war broke out, enlistment into the army was altered to a minimum of 18 years, with a bar on going abroad until nineteen. Nicholas' papers have not survived, but as with many others, either Nicholas overstated his age at this time, or the recruiting sergeant turned a blind eye.
He joined the 8th Battalion Devonshire Regiment, along with many others in Devon, including several from Dartmouth. The 8th Battalion was the first of the Kitchener or "Service" Battalions to be formed by the Devonshire Regiment and was filled quickly. By 8th September the Battalion was in training in Aldershot.
The 1915 Star Medal Roll confirms that Nicholas arrived in France with the 8th Battalion on 25th July 1915. For the Battalion's experiences until 8th September 1915, please see the story of Andrew Prettyjohn, killed by sniper fire on that day. For the Battalion's experiences up to, and including the Battle of Loos on 25th September 1915, in which Nicholas was killed, please see our separate article.
Death
Nicholas' records show that he was killed in action on 25th September, the first day of the battle. He was 18.
Commemoration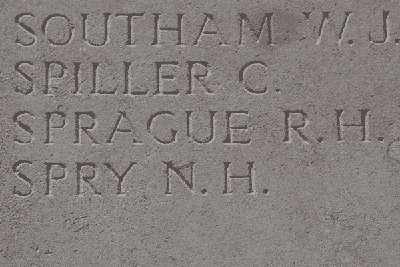 Loos Memorial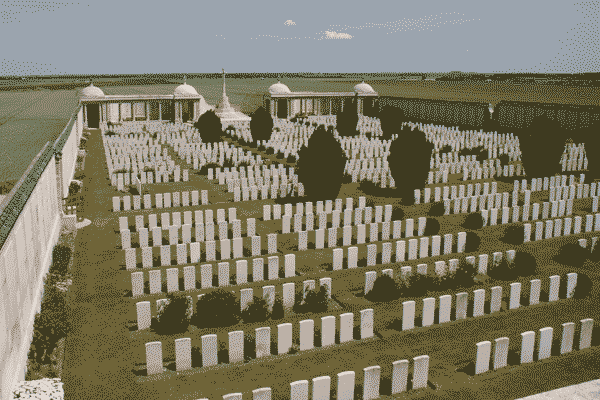 Loos Memorial and Dud Corner Cemetery
Nicholas is commemorated in France on the Loos Memorial on the periphery of Dud Corner Cemetery, close to where he died, together with seven other men from Dartmouth who joined the 8th Battalion Devonshire Regiment when he did, and died, or who are considered to have died, on 25th September 1915:
As one of the 579,206 casualties in the region of Nord-Pas-de-Calais, Nicholas is also commemorated on the new memorial at Notre Dame de Lorette, "The Ring of Memory".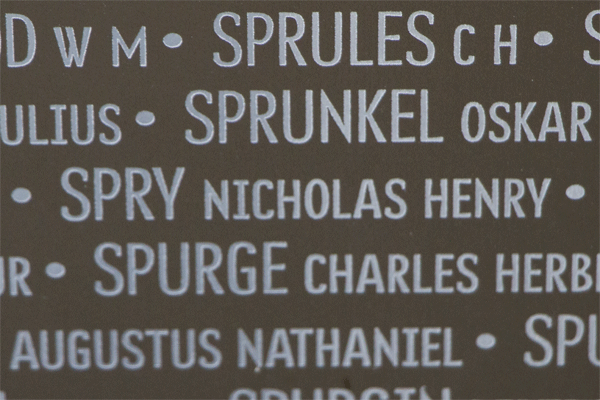 Ring of Memory memorial at Notre Dame de Lorette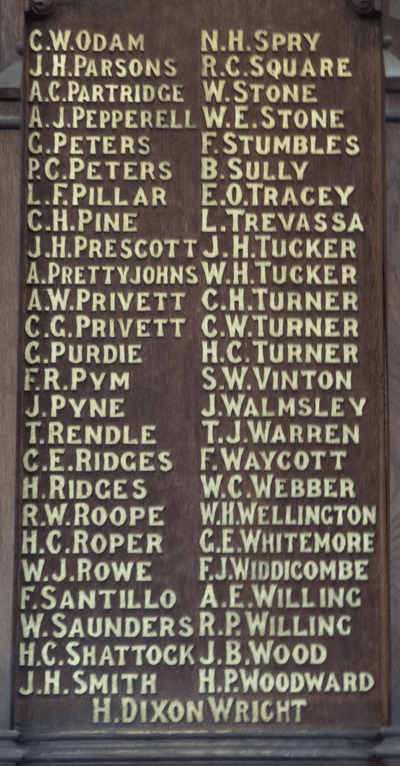 St Saviour's Memorial Board
William Spry, Nicholas' father, served in the Royal Navy during the war until 1916. At some point before his death on 21st July 1919, he and Edith moved to Dartmouth, and he was buried in St Clement's, Townstal. This may account for Nicholas's name appearing on the St Saviour's Memorial Board in Dartmouth, though it was not included on the Town War Memorial. However, he is commemorated on the Town War Memorial in Salcombe.
Both Nicholas' brothers survived the war and continued their naval careers.
Sources
Naval Record for William Spry available for download (fee chargeable) from The National Archives, reference ADM 188/100/92030.
Naval Record for Joshua Doney available for download (fee chargeable) from The National Archives, references ADM 139/1015/21412 and ADM 188/71/79677.
Salcombe History Society, War Memorial: names and pictures of those commemorated.
Information Held on Database
| | |
| --- | --- |
| Surname: | Spry |
| Forenames: | Nicholas Henry |
| Rank: | Private |
| Service Number: | 10408 |
| Military Unit: | C Coy, 8th Bn Devonshire Regiment |
| Date of Death: | 25 Sep 1915 |
| Age at Death: | 18 |
| Cause of Death: | Killed in action |
| Action Resulting in Death: | Battle of Loos |
| Place of Death: | Loos, France |
| Place of Burial: | Commemorated Loos Memorial, France |
| Born or Lived in Dartmouth? | Yes |
| On Dartmouth War Memorial? | No |
| On St Saviour's Memorials? | Yes |
| On St Petrox Memorials? | No |
| On Flavel Church Memorials? | No |
| In Longcross Cemetery? | No |
| In St Clement's Churchyard? | No |
| On a Private Memorial? | No |
| On Another Memorial? | Yes |
| Name of Other Memorial: | Salcombe Town War Memorial |
---
This information was last updated on Sunday 09 July 2017 at 22:25:40.