William Henry Tucker
Family
William Henry Tucker was born on 15th February 1866 in Dartmouth and baptised at St Petrox on 6th May that year. He was the second child and eldest son of Thomas Tucker and his wife Sarah Ann Pope.
Thomas Tucker was born in Brixham in 1841. Like his father, John Tucker, and grandfather, Thomas Tucker, he was a mariner. He came to Dartmouth around 1860 and lived there for the rest of his life. In 1863, he married Sarah Ann Pope, the daughter of milkman James Bates Pope and his wife Grace Rooper. The couple had eleven children, the last of whom, Robert, died in infancy.
By the time of his death in 1930, aged 91, Thomas was well-known in Dartmouth, and much of the following is derived from his obituary in the Dartmouth Chronicle of 19th December of that year. Thomas went to sea with Captain James Reed Tolman, of the Dartmouth & Torbay Steam Packet Company, in ships trading with the West Indies and the Mediterranean. In January 1866, Thomas survived the great Torbay gale in which hurricane force winds struck a fleet of seventy-nine merchant and fishing vessels sheltering in Torbay, and many Brixham trawlers were lost. Only 11 vessels were saved and over 100 lives were lost.
The following year, Thomas became a Trinity House Pilot, and apart from a brief interruption, remained a pilot until his retirement in 1900. He was chosen to pilot Castle Mail Packet Company steamers, and so would travel up to London every fortnight and come back to Dartmouth on the steamer. This meant a swift arrival into Dartmouth for the steamer, and a quick turnround for the next part of the voyage, to South Africa. The obituary additionally reported that:
when residing at Bayard's Cove, Mr Tucker had the unique experience of seeing a barque, which was entering the port during rough weather, being driven against the quay, the bowsprit of the vessel crashing through his bedroom window, happily no-one being in the room at the time.
Service
William Henry followed his father to sea, though chose the Royal Navy rather than the merchant service. He joined HMS Lion as a Boy 2nd Class on 20th January 1882, a few weeks short of his sixteenth birthday. The Navy recorded his date of birth as 20th August 1866, so he apparently understated his age by six months (assuming the date of birth on his baptismal record to be correct). Lion was an old warship used as a tender to HMS Implacable, which was at that time the Boys Training Ship at Devonport.
On completion of his training, William was rated up to Boy Seaman 1st Class, on 20th June 1883. He was sent to HMS Agincourt in the Channel Squadron on 28th January 1884 and rated up to Ordinary Seaman on what the Navy thought was his eighteenth birthday on 20th August of that year. This was also the point at which his ten year continuous service engagement began. At this point, according to his naval record, he was 5ft 8ins with brown hair, grey eyes and a fair complexion, having grown nearly 5 ins since he joined HMS Lion.
His first appointment was to HMS Royal Adelaide, a 104 gun first rate wooden sailing ship, launched nearly sixty years earlier in 1828. She was still in commission as the flagship of the Port Admiral Devonport. On 28th October 1884, he went to HMS Valiant, an armoured frigate built along similar lines to HMS Warrior (the first ocean-going ironclad ship with an iron hull). By the time William joined her, Valiant was the first reserve guardship for Southern Ireland, at the end of her service. She was decommissioned in 1885 and William was appointed to HMS Shannon, launched in 1875 as Britain's first armoured cruiser, both steam and sail-powered. Shannon had not been a success and so had spent very little time on the overseas stations for which she had been designed. By 1883 she was a coastguard ship. While on HMS Shannon, William was rated up to Able Seaman, on 5th January 1887.
From 21st October 1888, William was back on the books of Royal Adelaide at Devonport, until 16th February 1889, when he was appointed to HMS Conquest. This period of time perhaps covered his journey out to Hong Kong, where Conquest was recommissioned in April for service on the East Indies Station. At this point William's naval career became more eventful. Conquest was involved in policing the East African slave trade. Several newspapers reported her running aground on the island of Pemba, in the Zanzibar Archipelago, after making "an important capture of slave dhows, and freeing a large number of slaves" .. "since the blockade has been raised the slave trade has been brisker than ever, and the slaves that have been prevented from "running" for so long are now shipped off in large numbers, and the officers and men of Her Majesty's ships on the East Indies station are looking forward to a good harvest in the shape of prize money".
On 22nd November 1890 the Exeter and Plymouth Gazette reported that Conquest had been involved in a fight at Witu, on the coast of East Africa. In June of that year a British protectorate had been declared in East Africa and shortly after, Germany ceded Witu and its territory to Britain. However, in unrest against these changes, a number of merchants were murdered. HMS Conquest was involved as part of a punitive expedition using Indian troops against the ruler of Witu, who was deposed and died soon after. Slavery was abolished in the territory in 1891 - British newspapers reported the view of Captain Henderson of HMS Conquest that "the establishment of the British protectorate, the Imperial British East Africa Company, and the German colony in east Africa have quite altered the aspects of the slave trade in that region so that 'it is on its last legs' ".
However, the men of HMS Conquest herself evidently regarded Captain Henderson as something close to a slave-driver, since the Portsmouth Evening News of Monday 6th July 1891 reported complaints from them that he was inconsiderate "in working them in scorching sun several hours a day beyond the hours usually worked on board a man of war, and of finding fault unnecessarily with everything and everybody in the ship".
William was to return to this part of the world during his time on HMS Goliath, when relations with the Germans in East Africa were considerably less co-operative.
Perhaps he was relieved to get back to the UK in 1892, where his next appointment was back on HMS Lion, where he had trained. He was rated up to Leading Seaman on 16th March 1893 and was discharged shore on 19th September 1894, his first period of continuous service having come to an end.
On 6th October 1894 in St Peter's Stoke Fleming, William married Louisa Abraham, the youngest of three children of John Tamlin Abraham, an agricultural labourer, and his wife Ann Finch. Louisa was born on 12th December 1866 and baptised at Churchstow, near Kingsbridge, on 17th February 1867. Her brother and sister, William and Elizabeth, were the witnesses at her wedding.
John Abraham had died in 1877 and it seems that soon after, the children had to leave home to seek work for themselves, while their mother found work in domestic service in and around her home village of Stoke Fleming. By 1881 Louisa, aged 14, was working as a servant in Dartmouth, in the house of John Way, a Painter, his wife Elizabeth and their two children. (Coincidentally she was living just two doors away from Rosina Balkham, who was also 14, and also working as a servant. Rosina was the mother of Royal William Roope, who also served on HMS Goliath). Louisa's brother and sister also moved to Dartmouth.
In 1891 Louisa was still working in domestic service, but had moved to Beckenham, Kent, where she worked for Edward L F Jennings and his wife Elizabeth, née Baker. Elizabeth Baker was the daughter of Hill Baker, a Wine Merchant from Dartmouth. Perhaps Louisa had worked for her family in Dartmouth and then moved with Elizabeth when she married Edward in 1888.
Very soon after his wedding, William volunteered for a further period of continuous service to qualify for a pension, beginning on 1st November 1894. This meant that almost immediately, he was sent away from home. He began his second naval career at Portsmouth, where he joined HMS Achilles as a Leading Seaman on 20th November 1894. Achilles was on her way back to Malta after bringing troops home from the Mediterranean. Back in Portsmouth by 12th March 1895, he was then appointed to HMS Crescent, a cruiser launched three years earlier, having been rated up to Petty Officer 2nd Class. Crescent had been in Australia. She came back to Portsmouth on her way to Bermuda, where she was due to serve on the North America and West Indies Station. William was in the Caribbean for two years. Crescent returned to Portsmouth in September 1897 and William left her on 15th October.
While he was in the Caribbean on HMS Crescent, his first child, Florence Elizabeth, was born. She was baptised at St Saviours, Dartmouth, on 3rd October 1895. The home address was Clarence House.
Whether by luck or not, William's next appointment, at the beginning of 1898, was to HMS Britannia, in Dartmouth, where he remained until 28th January 1901. He was promoted Petty Officer 1st Class early on in this appointment, on 26th May 1898.
While he was at Britannia, two more children were born, William Henry on 3rd March 1899 and Ann Beatrice on 21st January 1900. Sadly, Ann Beatrice died the following year. This must have made it doubly difficult when William was appointed on 29th January 1901 for sea service on HMS Hood. Hood was a pre-dreadnought battleship, commissioned in 1893. Since December 1900 she had been serving as port guard ship at Pembroke Dock, but she rejoined the Mediterranean Fleet at the end of 1901. She participated in combined exercises with the Channel Squadron and the Cruiser Squadron of the coasts of Cephalonia and Morea in late 1902, but two days before the exercises ended she damaged her rudder on the seabed. She went first to Malta for temporary repairs, then on to England for permanent repairs at Chatham, beginning on 5 December 1902. William came home with her and left her on the date she went into Chatham.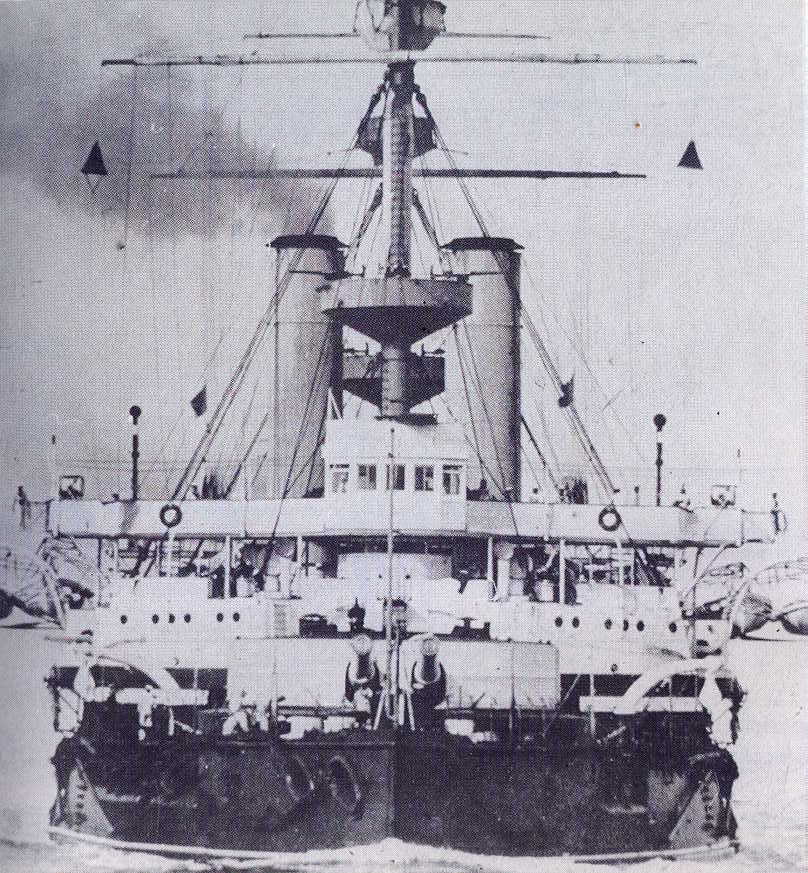 HMS Hood in 1901
His next appointment was once again back in Dartmouth at HMS Britannia, until 7th November 1904, when he retired from the Navy to pension. With a growing family to provide for, he took on a Royal Fleet Reserve commitment to return to service in time of emergency. He also obtained work at the Royal Naval College as a Messenger, as the St Saviour baptism records show:
7th April 1904, born Nov 15th 1903, Leslie John, son of William Henry and Louisa Tucker, Lake St, Petty Officer RN
25th June 1905, born May [no day given] 1905, Hilda May, daughter of William Henry and Louisa Tucker, Lake St, Pensioner RN
7th November 1907, born 29 September 1906, Ernest Abraham, son of William Henry and Louisa Tucker, 2 Victoria Road, Messenger RN College
25th March 1909, born Feb 5th 1909, Leonard Finch, son of William Henry and Louisa Tucker, Victoria Terrace, Victoria Road Dartmouth, College Messenger. Sadly, Leonard died the following year, aged 1.
In 1911 the family were recorded living at Orange Dell, Higher Victoria Road, Dartmouth. William was still working as a Messenger at the Naval College. His eldest daughter, Florence, aged 15, was working as a domestic servant, as her mother had done; William, Leslie and Hilda were all at school; Ernest was the baby of the family, aged 3.
William's father and mother, Thomas and Sarah Ann Tucker, lived in Lake Street, Dartmouth, and many of William's brothers and sisters also remained in Dartmouth. His younger brother Charles Tucker is also on our database. His story will be published in 2017.
Death
On 2nd August 1914, William was appointed to HMS Goliath, as Petty Officer 1st Class. For his service on HMS Goliath, and his death during the Dardanelles naval operation, please see our separate article here.
Commemoration
An announcement of William's death appeared in the Dartmouth Chronicle on 28th May 1915:
Tucker, May 13th, on HMS Goliath, William Henry Tucker, 1st Class PO, RFR, age 49, dearly loved husband of Louisa Tucker of Orange Dell, Victoria Road. Deeply mourned by his wife and family, mother, father, brother and sisters.
In the paper's edition of 4th June, Louisa placed the following notice of thanks:
Mrs W H Tucker and family thank their relatives and many friends for kind letters and sympathy in their recent sad and sudden bereavement. Orange Dell, Victoria Road, Dartmouth.
In May 1921, to mark the anniversary of the loss, two notices appeared in the Chronicle "In Memoriam":
Tucker - In loving memory of my dear husband, William Henry Tucker, who lost his life May 13th 1915, on HMS Goliath; also fondly remembered by his children and father, mother, brothers and sisters.
Tucker - In loving remembrance of our dear brother, W H Tucker, 1st Class PO, reported missing after the sinking of HMS Goliath in the Dardanelles May 13th 1915. Never forgotten by his sisters Sarah and Laura, brothers in law George and Bob. Until we meet again.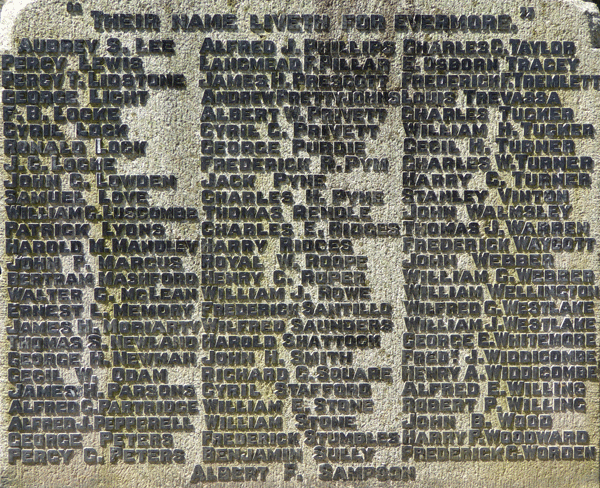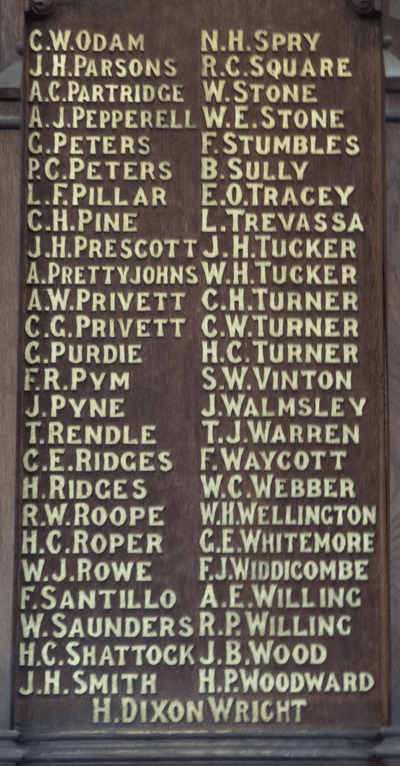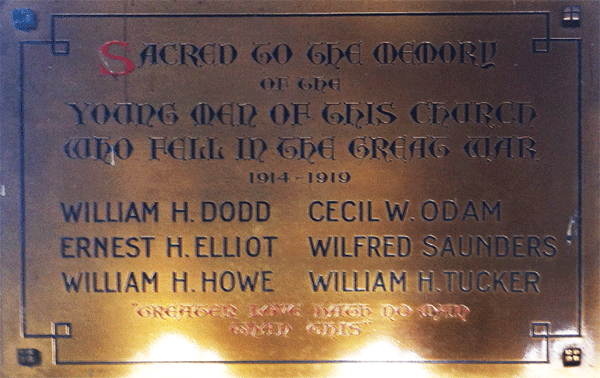 William is commemorated in Dartmouth on the Town War Memorial, on the St Saviour's Memorial Board, and on the Flavel Church Memorial Plaque. His father Thomas Tucker was a regular worshipper at the Flavel Congregational Church.
Like all those who sailed from Plymouth during the First World War, but were lost at sea, William is commemorated on the Plymouth Naval Memorial on The Hoe.
Louisa was buried in St Clements Townstal, as are many other members of the Tucker family, including William's mother and father.
Sources
William Henry Tucker's naval record can be downloaded from the National Archives (fee payable) reference ADM/152/118635
Some family information accessed on "A South Devon Tucker Family"
Information Held on Database
| | |
| --- | --- |
| Surname: | Tucker |
| Forenames: | William Henry |
| Rank: | Petty Officer 1st Class RN |
| Service Number: | 118635 |
| Military Unit: | HMS Goliath |
| Date of Death: | 13 May 1915 |
| Age at Death: | 49 |
| Cause of Death: | Killed in action |
| Action Resulting in Death: | Naval support to military operations |
| Place of Death: | Dardanelles |
| Place of Burial: | Commemorated Plymouth Naval Memorial |
| Born or Lived in Dartmouth? | Yes |
| On Dartmouth War Memorial? | Yes |
| On St Saviour's Memorials? | Yes |
| On St Petrox Memorials? | No |
| On Flavel Church Memorials? | Yes |
| In Longcross Cemetery? | No |
| In St Clement's Churchyard? | No |
| On a Private Memorial? | No |
| On Another Memorial? | No |
---
This information was last updated on Tuesday 01 November 2016 at 15:46:12.