Royal William Roope
Family
According to his naval service record, Royal William Roope was born on 8th August 1885, in Dartmouth. However, his birth was registered between June and September 1886, suggesting that he overstated his age when joining the Navy.
Royal William was the eldest son of Royal Brown Roope and his wife, Rosina Maddeford Balkham. The source of the unusual first name shared by father and son is not known. Rosina was from Dartmouth but Royal Brown was from Norwich - although Roope is an old Dartmouth name, there does not appear to be any close connection between his family and other Dartmouth Roopes. Royal Brown's father William was an agricultural labourer, born in Cringleford on the southern outskirts of Norwich; his mother, Charlotte Brown(e), was born in Costessey (sometimes called Cossey), nearby.
Royal Brown Roope was born in 1859 and joined the Navy as a Boy 2nd Class in 1876. While serving in HMS Impregnable, the boys' training establishment at Devonport, he was rated Leading Seaman on 11th June 1884. He married Rosina Balkham in 1884 at about the same time. Rosina was the daughter of William Balkham and Rosina Maddeford. At the time of the baptism in St Saviours of five of his children, including Rosina, on 11th April 1873, William was a fisherman; by 1881 and 1891, he was a Stoker or Fireman; and by 1901 and 1911, he was the engine driver of a steamship. In 1881, three years before her marriage to Royal Brown, Rosina Balkham was a general servant in the household of Emma Julia Love, a widow, and her daughter, in Spithead, Dartmouth.
After their marriage, Royal Brown and Rosina made their home in Dartmouth. Royal William was born in 1886, named for his father and both his grandfathers. The following year, perhaps because of his marriage, Royal Brown signed on to complete a further ten years service, in order to qualify for a pension. He also transferred to the Coastguard, as a Boatman, thus avoiding long periods away from home whilst the children were growing up.
The couple's second child, Edwin, was born in Dartmouth in 1890, but by the time of the 1891 Census, when Royal William was four, the family had moved to the Coastguard station at Kingsgate (now part of Broadstairs), Thanet, Kent. From Kingsgate, they moved along the Kent coast to Margate, where their first daughter Louisa Rosina was born. Their other four surviving children were born at the Coastguard station at Epple Bay, Birchington-on-Sea:
Laura Elizabeth, 1894
Violet Isabelle, 1895
Hubert Arthur, 1897
Ivan Horace, 1899
Royal William thus spent most of his childhood on the Thanet coast.
On 5th April 1898 Royal Brown retired from the Coastguard, having completed a little over twenty years of service in the Royal Navy. Some time between the birth of their son Ivan and the time of the 1901 Census, the family moved back to Dartmouth, where they were recorded living in Above Town. Royal Brown was a "coal worker (above ground)". Royal William is recorded with the rest of his family in that Census, with no information about his occupation. However, he was also recorded in the Census at HMS Impregnable, for he had joined the Navy on 15th December 1900 - see below.
In the 1911 Census, Royal Brown and Rosina Maddeford Roope were recorded living at Prospect House, Above Town, Dartmouth. Royal Brown was working as a "labourer coaling steamers". At home were five of their children. The elder girls, Louisa and Laura, were working as domestic servants. Edwin, Royal's younger brother, was working as a mess servant at the Royal Naval College, in Dartmouth. He had married in 1910 and had a baby daughter. His wife, Gertrude Maude Roope, was recorded with baby Gertrude May in two rooms in 1 Kemps Lane, Lower Street, Dartmouth.
Service
Following in his father's footsteps, Royal William joined HMS Impregnable as a Boy 2nd Class on 15th December 1900. He was aged only 14, but evidently, overstated his age so as to be able to join sooner. His naval service record gives his previous occupation as "shop boy". He was 5ft 0¾ins with brown hair, blue eyes and a "ruddy" complexion.
He completed his training on 19th September 1901, becoming a Boy 1st Class. He remained at Impregnable until May 1902 and then moved to HMS Agincourt for a couple of months, until appointed to his first battleship, HMS Collingwood, at that time Coastguard ship at Bantry. From there he moved to HMS Ocean, on the China Station, on 1st March 1903. Ocean was a Canopus-class pre-dreadnought battleship, a sister ship to HMS Goliath, designed for service in the Far East and thus smaller and lighter than their predecessors, the Majestic class. Ocean too met her end in the Dardanelles, on 18th March 1915, in the naval attempt to force the Straits by all-out attack (see our Gallipoli timeline).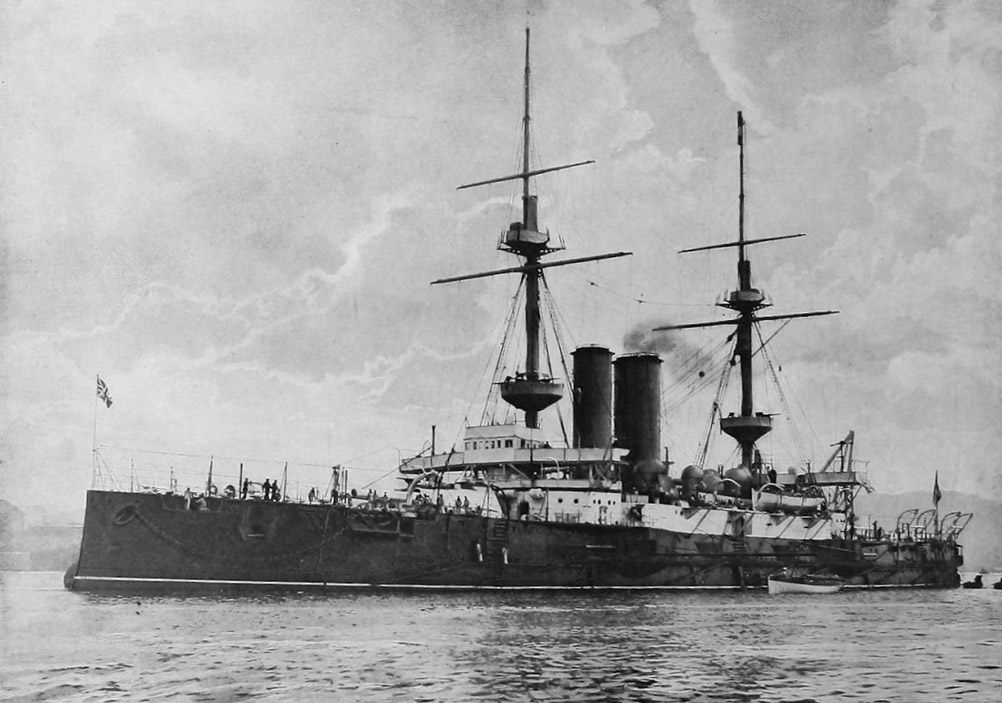 HMS Ocean
While serving on Ocean he passed what the Navy thought was his eighteenth birthday, on 8th August 1903, and was rated up to Ordinary Seaman, beginning his twelve year continuous service engagement. By then he had grown a further 5½ ins.
During his time on Ocean, he seems to have decided (or perhaps was told) to become a Signalman, rather than follow the Seaman route on which he had embarked when joining the Navy as a boy. On 15th December 1904 he was rated as "Acting Signalman"; and shortly after he was sent home to the UK on HMS Amphitrite for signals training, in Devonport. He became a Qualified Signalman on 13th March 1906. Kings Regulations 1913 (though a little later in date) gives an indication of what was involved - he had to have a "fair knowledge of the contents of the different signal books; and be proficient in the different methods of Visual Signalling, Semaphore, Heliograph, Flag waving, Flashing, and Sounder".
From 10th July 1906 he was appointed to HMS Implacable, a pre-dreadnought battleship at that time in the Mediterranean Fleet. On 31st August 1907 he returned to HMS Impregnable, becoming Leading Signalman on 28th September of that year (indicating he had demonstrated "thorough proficiency" in signalling). He was appointed to the Royal Naval College (HMS Espiegle), in Dartmouth, for nine months in 1908. Perhaps it was during this period that he met his wife - prior to this he had spent little time in Dartmouth, except (presumably) during periods of leave, even though he was born in the town.
His next two postings were overseas: HMS Egmont, the naval base ship in the Grand Harbour in Malta, followed by HMS Bacchante, an armoured cruiser, in the Mediterranean, until 2nd May 1910.
On returning to the UK, some time during May or June of 1910 he married Eva Maud Lidster, one of seven surviving children of William Lidster and his wife Melinda Ellen Crocker. Eva was baptised in the parish of St Petrox, Dartmouth, on 14th June 1888. At that time her father was recorded as a labourer; by 1911, however, he was the foreman in a paint works. Both her father and mother were born in Dartmouth.
Royal William was fortunate in that his next appointment was once again at the Royal Naval College (HMS Pomone), where he remained until 26th January 1912, enabling him and Eva to have some period of married life together. In the 1911 Census, the couple were recorded living in two rooms in Clarence Street (excluding hall, kitchen, bathroom, and scullery etc). Their first child, William Royal Arthur Roope, evidently known in the family as Arthur (see below), was born early in 1912.
From February to August 1912 Royal William was at the Naval Base at Devonport; after which he was once again sent overseas, with an appointment to HMS Cornwallis on 13th August 1912, based at Gibraltar. He had passed for Yeoman of Signals on 16th August 1910, just before his appointment to the Naval College; but he had to wait until 4th December 1913 to achieve this rating, while on Cornwallis. Kings Regulations 1913 state the requirement:
sufficient experience as leading signalman
very good character
fit to take charge of the signal staff of a cruiser not allowed a Signal Boatswain
a certain standard of education
very good knowledge of the contents of the different Signal Books; thoroughly proficient in the various methods of Visual Signalling, Semaphore, Heliograph, Flag Waving, Flashing, and Telegraphy (with wires)
[able to] write up the Signal Log and understand ordinary printed instructions on technical matters
His daughter Doris was born in 1913 while he was in Gibraltar.
On 9th March 1914, Cornwallis (which served alongside Goliath in the Dardanelles the night the latter was sunk) was reduced to a nucleus crew in the 6th Battle Squadron Second Fleet, and Royal William returned to the UK. His naval service record shows that from 10th March 1914 to 29 July 1914 he was appointed to HMS Vivid I, one of the accounting centres for the Royal Naval Base at Devonport, but also sometimes used when men were between postings, in transit or on leave. He could not of course know that this would be his last opportunity to see his wife and children. His next and final appointment was to HMS Goliath.
His father, Royal Brown Roope, also came out of retirement at the outbreak of war and returned to the Navy (his naval service record does not refer to any reserve commitment so perhaps he volunteered his service once more). The Dartmouth Chronicle listed each week during 1914 and 1915 those serving with HM Forces. The list appearing on 13th November 1914 recorded R B Roope at HMS Impregnable.
His naval record shows he was appointed to HMS Impregnable, at Devonport, on 5th September 1914 and that he remained there until 8th January 1916. He was then appointed to man the batteries on Western Steep Holm, an island lying in the Bristol Channel (its Victorian fortifications on the island were updated during the First World War), until 30th June 1916. He then seems to have suffered ill-health, as on 30th July 1916 he was invalided out of the Navy, from Plymouth Hospital, due to a hernia. He died in 1934, in Plymouth. Rosina outlived both her husband and her son and died in 1946.
Death
On 30th July 1914, Royal William Roope was appointed to HMS Goliath, as Yeoman of Signals. For his service on HMS Goliath, and his death during the Dardanelles naval operation, please see our separate article here.
Commemoration
An announcement of Royal William's death appeared in the Dartmouth Chronicle on 28th May:
Roope, May 13th, by sinking of HMS Goliath, Yeo of Sig R W Roope, dearly beloved and devoted husband of Eva M Roope, and loving daddy of Arthur and Doris, age 28
We did not think, dear husband
The day you went away
Your loving smile would smile in death
You said goodbye for aye
In fact, Royal William was 29.
In the paper's June 11th edition, Eva placed the following notice of thanks:
Mrs R W Roope desires to thank her relatives and many friends for kind letters and sympathy in her recent sad and sudden bereavement.
2 Coombe Cottages
Sandquay
Dartmouth
In May 1921, Eva placed a notice in the Chronicle "In Memoriam":
Roope - in loving memory of my dear husband, Royal William Roope (Yeo. of Sigs.) who lost his life in the Dardanelles on HMS Goliath, May 13th 1915. Never forgotten by his wife and children, Arthur and Doris. RIP.
Though death divides, fond memories cling
Eva died in Dartmouth in 1944.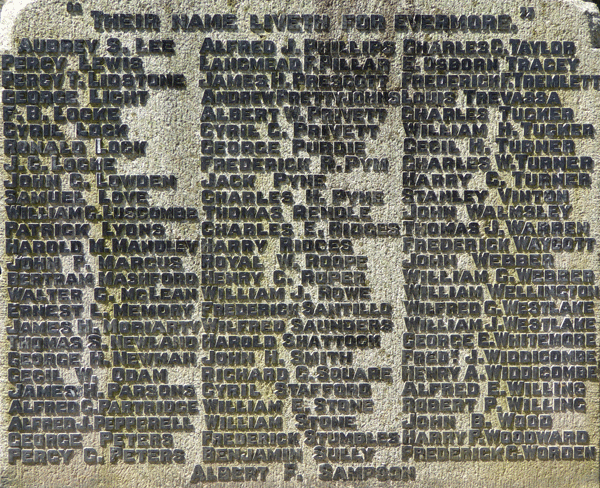 Royal William is commemorated in Dartmouth on the Town War Memorial and on the St Saviour's Memorial Board.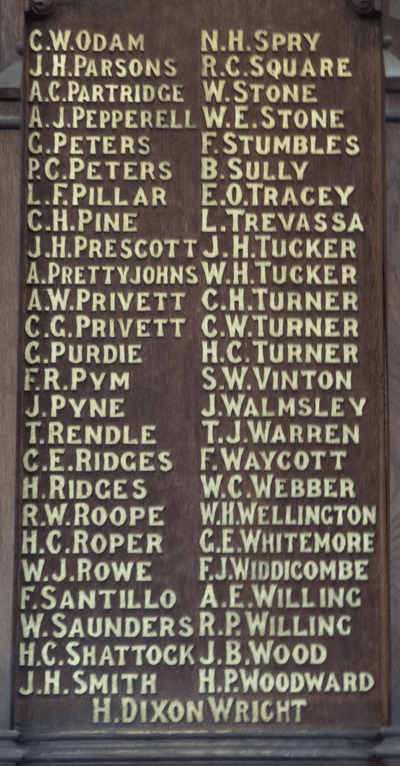 Like all those who sailed from Plymouth during the First World War, but were lost at sea, Royal William is commemorated on the Plymouth Naval Memorial on The Hoe.
Sources
Royal William Roope's naval record can be downloaded from the National Archives (fee payable) reference ADM 188/372/212615
The naval record of Royal Brown Roope is similarly available reference ADM 188/103/94065
Kings Regulations and Admiralty Instructions 1913 Appendix Signals
Birchington Heritage Trust pictures of Epple Bay and Coastguard Cottages
Information Held on Database
| | |
| --- | --- |
| Surname: | Roope |
| Forenames: | Royal William |
| Rank: | Yeoman of Signals RN |
| Service Number: | 212615 |
| Military Unit: | HMS Goliath |
| Date of Death: | 13 May 1915 |
| Age at Death: | 29 |
| Cause of Death: | Killed in action |
| Action Resulting in Death: | Naval support to military operations |
| Place of Death: | Dardanelles |
| Place of Burial: | Commemorated Plymouth Naval Memorial |
| Born or Lived in Dartmouth? | Yes |
| On Dartmouth War Memorial? | Yes |
| On St Saviour's Memorials? | Yes |
| On St Petrox Memorials? | No |
| On Flavel Church Memorials? | No |
| In Longcross Cemetery? | No |
| In St Clement's Churchyard? | No |
| On a Private Memorial? | No |
| On Another Memorial? | No |
---
This information was last updated on Friday 15 May 2015 at 22:05:18.