Samuel Courtman
Family
Samuel Courtman was born in Dartmouth on 28th June 1886 and baptised at St Petrox on 8th August of that year. He was the fifth child and second son of Charles Courtman and Elizabeth Ellen Kerswell.
Charles Courtman was born in 1857 in Chatham, Kent, where his father, Samuel, was a Warder at the prison. The Courtman family came to the south-west sometime between 1861 and 1870, the baptism of Charles' elder brother Henry, when Samuel Courtman (senior) was recorded as Chief Warder at Dartmoor Prison. In the 1871 Census the family was recorded living in Prison Road, Princetown.
Charles joined the Royal Navy aged 17 as a Domestic 3rd Class on 1st June 1874, beginning his career in HMS Royal Adelaide, a wooden first rate launched in 1828, which was commissioned for harbour service in 1862 and was the flagship at Devonport. After two years in Royal Adelaide he moved to HMS Britannia, in Dartmouth, on 1st April 1876, and remained there for the rest of his career. He worked as a Cadets Servant; and it seems he also had a musical talent, for (according to his son's marriage certificate) he also served in the ship's band as a Bandsman - indeed, this may have been the principal reason for his service in the Navy - domestic work served to fill in the rest of the bandsmen's time.
In 1879 Charles married Elizabeth Ellen Kerswell, known as Ellen. Ellen was born and brought up in Dartmouth. She was a younger daughter of Manoah Kerswell, a sailor, and his wife Mary Susan Masters. By the age of 13 she was working as a domestic servant - the 1871 Census recorded her in South Town Dartmouth, as the maid in the house of Isaac Beale and his wife Frances.
 Charles and Ellen began married life in Bayards Cove, Dartmouth. Ellen soon had a growing family to care for - during the next ten years, the couple had seven children, all recorded in the St Petrox baptism registers:
Jane Feltham, 9th March 1880
Nelly Ann, 9th October 1881
John Charles, 13th September 1883
Florence Mary, 7th December 1884
Samuel, 8th August 1886
Henry, 25th November 1887 (sadly, Henry died only a few months later)
George Reuben, 6th January 1889
Charles was recorded on the books of HMS Dapper, tender to HMS Britannia, in the 1881 Census, though he was not on board on Census night. He thus served alongside John Philip Marcus and Charles Gibbs.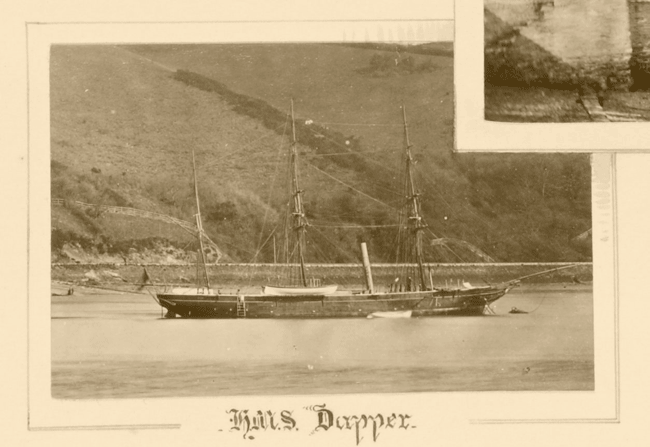 By 1890 the family had moved to Collaford Lane, close to St Saviour's Church in the centre of Dartmouth. The Navy had agreed that Charles would be retained in "Britannia" until he had completed time for a pension, which (according to his naval record) was expected to be around May 1897. Perhaps this arrangement was because he was already unwell, but sadly, Charles never benefitted from his pension. His naval service record shows that he died at home on 3rd August 1890 of "Phthisis", a term usually meaning tuberculosis (though also applied to any progressive wasting disease), aged only 34.
Ellen was pregnant with the couple's last child at the time Charles died. Elizabeth Kerswell Courtman (usually known in the family as Bessie) was born on 15th December 1890 and baptised at St Petrox on 22nd February 1891. The 1891 Census, taken a few weeks later, recorded Ellen in St Saviour's Place with seven children under the age of 12, the youngest five months old.
In 1895 Ellen married a second time. Her husband was James O'Brien, who had served in the Navy and had found work in HMS Britannia. His first wife had died in 1893, leaving him with four children, the youngest of whom was only two. It is possible, however, that this second marriage was unsuccessful - the 1901 Census recorded Ellen and her three youngest children, Samuel, George and Bessie, living on their own in South Ford Road. Ellen, although recorded as "married", was also recorded as the "head of household". She kept the family going by taking in washing. No occupation was recorded for Samuel, by then aged 14, so apparently he had not yet started work, but was not at school either.
Ellen's husband was still in Dartmouth, however. In June and July 1900 the Dartmouth Chronicle had reported the huge reception given to James' son, William John O'Brien, when he returned home injured from fighting in the Boer War, On the 29th June the Chronicle reported:
Last night, Bugler O'Brien, King's Quay, Dartmouth, had a tremendous reception on his arrival home from Plymouth. He was met at Kingswear by some volunteers from No 1 Company 2nd Devon Volunteer Artillery, in a gig, with the Union Jack hoisted, and rowed to the Embankment, where, at the Post Office steps, a huge crowd awaited him .... With his father and brother he entered a carriage and accompanied by the Subscription Band ... the Fire Brigade, and volunteers, a huge procession paraded the town and escorted him to his home. Thousands of people were in the street, and cheered themselves hoarse. Nothing to equal it has been seen in Dartmouth for years ... On reaching King's Quay the Bugler's father addressed the crowd, and said he thanked God his son had returned.
William John O'Brien was 18. He had joined the RMLI at Plymouth aged 14 in October 1896, and according to the Chronicle, had left Plymouth for South Africa in November 1897. In 1899 he had been wounded in the advance to raise the siege of Kimberley. Shortly after he joined the Naval Brigade, and having fought at Modder River and Magersfontein, was wounded again at Paardeberg on 20th February 1900. The bullet remained embedded in his body and it was thought too dangerous to remove it, so he was sent back to the Royal Naval Hospital in Plymouth, from which he came to Dartmouth, with the bullet still in place. (He nonetheless survived and transferred to the Royal Navy in 1911, and served through the First World War).
James O'Brien was still in Dartmouth in November 1907 when he tried, but failed, to obtain a seat on the Town Council, as "the candidate of the working man". The Dartmouth Chronicle reported that he was not seen "as a serious candidate".
Samuel, meanwhile, had married, on 1st June 1907 at St Clements. His wife was Caroline ("Carrie") Stumbles, daughter of William Hardy Stumbles and his wife, Annie Elizabeth Edmonds, from South Pool, near Kingsbridge. (For the Stumbles family, see the story of Caroline's younger brother, Frederick Edmonds Stumbles, killed at the Battle of Jutland in 1916).
Although Samuel's older brother, John, followed his father into the Navy in 1899, Samuel chose to remain in Dartmouth, and obtained work at the Warfleet Brewery. At the time of his marriage he was a Cellarman there. Samuel and Caroline's first child, Vera Kathleen, was born on 14th February 1908, and baptised at St Saviour's on 21st February 1909; at this time, the couple lived on Clarence Hill.
By 1911, Samuel, Carrie and Vera had moved to 5 Ford Vale, Dartmouth. Samuel continued to work as a Cellarman at the Brewery. Also living with them was Samuel's youngest sister Bessie, working as a nursemaid for a private family, and Ellen. Ellen was now a widow (her surname was recorded by Samuel on his Census form as "Courtman") - so it seems that James O'Brien had died by that time, though we have been unable to trace his date of death. Her occupation was given as "House Keeper" - whether for her son or for someone else is not clear. Samuel's younger brother George had moved to Exeter by 1911, where he worked as a "groom and gardener" (the Census does not state for whom); though he returned to Dartmouth in 1912 to marry; his wife was Edith Cole.
Later in 1912, Carrie gave birth to twins; Florence Nancy and Charles Frederick, who very sadly died only a short time after they were born.
Service
Like so many, Samuel's Army service papers have not survived. However, the Dartmouth Chronicle of 5th November 1915 included Samuel's name in the list of "Dartmouth men who are now serving in HM Forces". This was the period in which the "Derby Scheme" (or "Group Scheme") came into operation (see the story of Thomas Charles), as the Government's final attempt to boost further voluntary recruitment, before moving to conscription. It seems that Samuel chose to volunteer immediately, rather than to attest with an obligation to serve later - the Dartmouth Chronicle's list clearly differentiates between those who had volunteered and those who had deferred their service under the scheme, and enlisted in the Army Reserve. Soldiers Died in the Great War records that he enlisted in Newton Abbot.
The Chronicle's list shows Samuel as a member of 3rd Battalion Devonshire Regiment. As this was the training battalion of the Regiment it indicates that he was by then undergoing his initial training. The Devonshire Regiment's Victory and British War Medal Roll shows that he was first posted to the 1st Battalion. This is the same pattern as that of Sydney Callard, who volunteered at about the same time, so they may have joined the 1st Battalion together. When Samuel joined the Battalion in France is not known, but must have been some time during the first half of 1916. For the activities of the 1st Battalion during 1916, see the story of George Peters.
By the time of his death, however, Samuel had transferred to the Regiment's 9th Battalion, which included several men with Dartmouth connections. For that Battalion's experiences to the very beginning of 1917, see the stories of Robert Phillips Willing, Ernest Leonard Memory, and Thomas Alfred Smith.
The 9th Devons had begun 1917 still in the Somme sector, but for most of January 1917 to the end of February, they were in reserve. During this period several drafts arrived, to rebuild the Battalion to full strength, so Samuel may have joined them at this time. There is no reference in the Battalion's War Diary to any draft arriving from the 1st Battalion as such.
For much of March, the Battalion was in Brigade support, employed in working parties taking ammunition and stores up to the front line and in working on the light railway at Auchonvillers, near Beaumont Hamel. Meanwhile, the German retirement to the new fortified positions of the Hindenburg line had begun.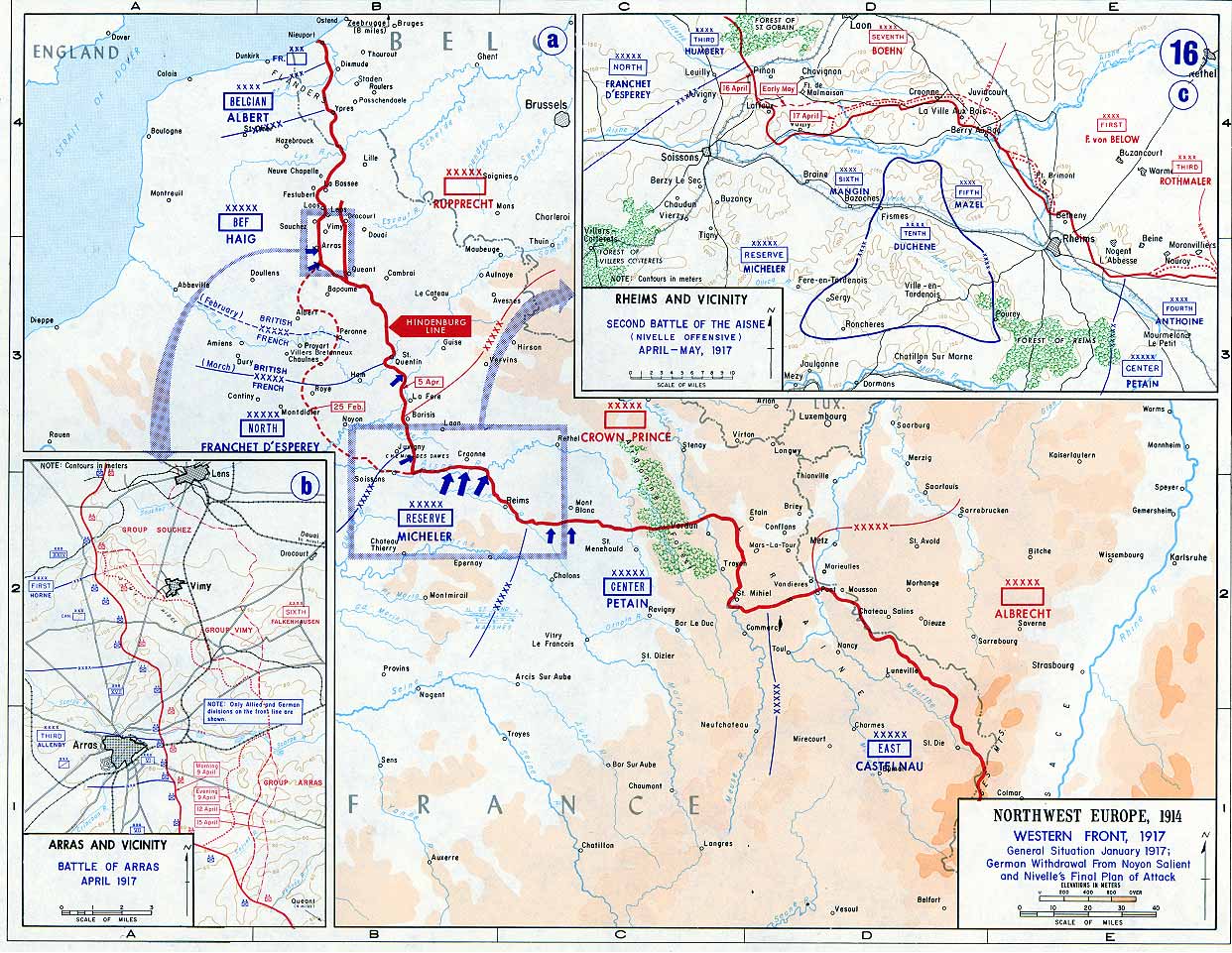 The Western Front in 1917
By the time the Devons were back in the front line on 20th March, as the Regimental History puts it, "the situation map [was] more changed than in any period since trench warfare had begun". The front line to which they were allocated had moved a considerable distance, north-east of the village of Mory, well to the north of Bapaume. When they arrived in the front line, they immediately began to push forward patrols towards the village of Ecoust-Saint-Mein, which had become an outpost of the Hindenburg Line system between Croisilles and Doignies. The patrols "reported enemy holding village strongly". On 23rd March, the Battalion War Diary records that "during the night the enemy attacked one of our advanced posts but was driven off leaving three dead".
Each day during their tour the Battalion sent out patrols, and contined to find the village of Ecoust strongly held. On 26th March nine men were killed and eight wounded, before they were relieved by the 8th Devons, who took over the task. For their experience, see the story of Harry Bowhay, killed on 28th March.
Death
On 2nd April 1917 an attack was made by 22nd Brigade, including the 8th and 9th Devons, on Ecoust. According to the Regimental History:
The position was formidable; the substantial belt of wire which covered the village lay in a hollow invisible from any observation post, and its destruction was, therefore, very difficult. There were believed to be two gaps in it, but these were on the roads leading into the village from Mory and Vraucourt, and, as was discovered later, machine- gun posts in front of the wire protected both of them ... it was decided to form up the attacking troops just short of the machine-gun posts, so that they should have hardly any distance to cover when the barrage opened. The barrage was to start 200 yards from the advanced line and to move 100 yards every three minutes.
The 9th Battalion attacked on the left of the village ie to the north-west; their first objective was some houses on the road to Croisilles, and their second the railway embankment north of Ecoust. The 8th Devons attacked the village itself, with the aim of reaching the railway station to the north-east of the village.
Owing to a bright moonlit night, the attack was delayed until 5.15am, just before dawn. For the 9th Devons, numbers 1 and 2 Companies were in front; number 4 Company was in support, and number 3 Company in reserve. Samuel was in Number 2 Company.
The Battalion War Diary records that:
First objective was reached successfully and the support company moved up and consolidated. Numbers 1 and 2 Companies pushed on towards second objective but being held up by our own barrage [which was falling short] and also by snipers and machine gun fire [those who had reached the furthest ahead] were compelled in the course of the afternoon to fall back to the line of the railway embankment ... The heaviest casualties were inflicted upon Numbers 1 and 2 Companies, Number 1 Company especially being considerably impeded by uncut wire on the left of the village and round the cemetery. Both companies also suffered considerably from the fire of enemy machine guns of which at least three were taken by the Battalion.
To their right, the 8th Devons had been involved in heavy house to house fighting in the village, but had succeeded in taking it, and later in the day, despite heavy casualties, fought off a counter-attack successfully, and the village was held.
Casualties for the 9th Devons, according to the Battalion War Diary, were four officers killed, including Captain Inchbald leading Number 2 Company, and 16 men killed and 8 missing; 68 men were wounded. Samuel was one of those killed. According to the letter sent to Carrie from the new CO of Number 2 Company (reported in the Dartmouth Chronicle), "his death was absolutely instantaneous ... he proved himself to the end a gallant soldier, and a credit to his King and country".
Under the heading "Dartmouth Heroes: Their Lives for their Country: Privates S Courtman and Harry Bowhay", the Dartmouth Chronicle of 20th April 1917 published the news of the death of the two men from the town who had died in the attack on Ecoust, though they could not report it as such. The deaths column also carried an announcement from Ellen:
Courtman: April 2nd 1917, Killed in Action in France, Pte S Courtman (Samuel) beloved son of Ellen Courtman and the late Charles Courtman, of Dartmouth.
Had he asked, well we know
We should cry, "O spare this blow";
Yes, with streaming tears should pray,
"Lord, we love him, let him stay".
Commemoration
Along with twelve others from the 9th Devons killed during the attack on Ecoust-Saint-Mein, Samuel is commemorated on the Arras Memorial, one of nearly 35,000 men who died in the Arras Sector between the spring of 1916 and early August 1917, and who have no known grave. Twelve men of the 9th Devons, including Captain Inchbald, were buried in the cemetery at Ecoust, very close to where they fell (they were later moved to a bigger cemetery nearby).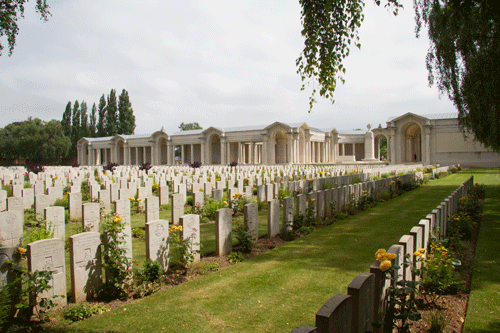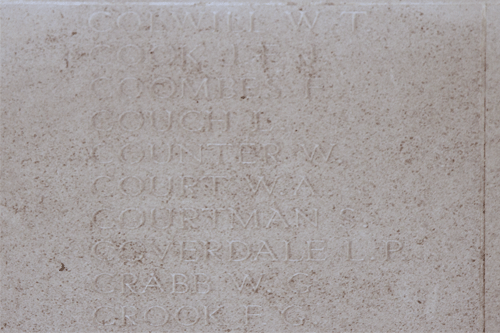 Arras Cemetery and Memorial
As one of the 579,206 casualties in the region of Nord-Pas-de-Calais, Samuel is also commemorated on the new memorial at Notre Dame de Lorette, "The Ring of Memory".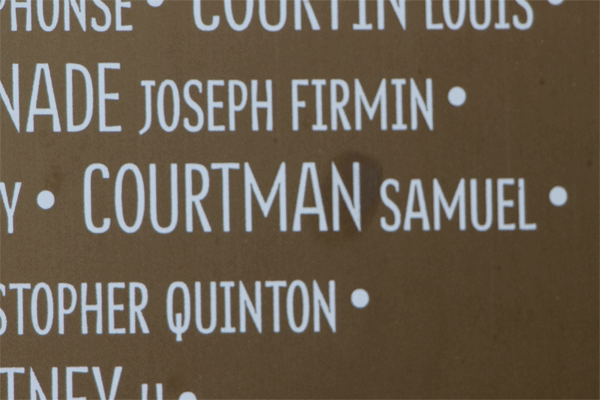 Ring of Memory memorial at Notre Dame de Lorette
In Dartmouth, Samuel is commemorated on the Town War Memorial and the St Saviours Memorial Board.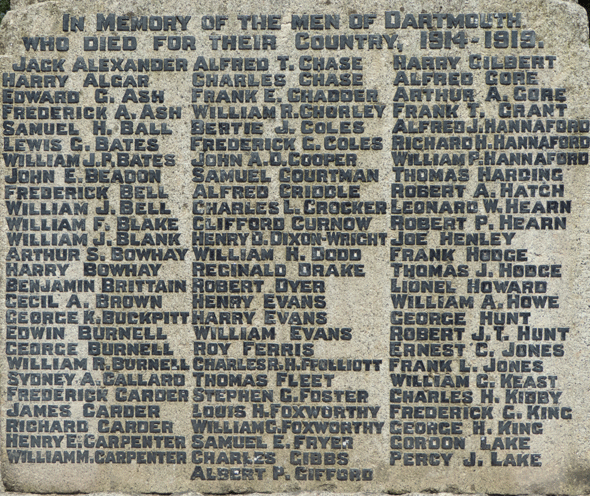 Dartmouth Town Memorial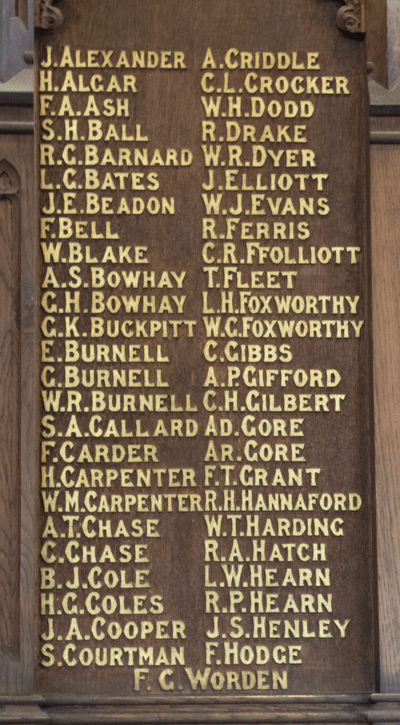 St Saviour's Memorial Board
Sources
War Diary of the 9th Battalion Devonshire Regiment, downloadable from The National Archives, fee payable, reference: WO 95/1656/1
The Devonshire Regiment 1914-1918, compiled by C T Atkinson, publ 1926, London and Exeter
Information Held on Database
| | |
| --- | --- |
| Surname: | Courtman |
| Forenames: | Samuel |
| Rank: | Private |
| Service Number: | 20666 |
| Military Unit: | 9th Bn Devonshire Regiment |
| Date of Death: | 02 Apr 1917 |
| Age at Death: | 30 |
| Cause of Death: | Killed in action |
| Action Resulting in Death: | Advance on Ecoust |
| Place of Death: | Ecoust, France |
| Place of Burial: | Commemorated Arras Memorial France |
| Born or Lived in Dartmouth? | Yes |
| On Dartmouth War Memorial? | Yes |
| On St Saviour's Memorials? | Yes |
| On St Petrox Memorials? | No |
| On Flavel Church Memorials? | No |
| In Longcross Cemetery? | No |
| In St Clement's Churchyard? | No |
| On a Private Memorial? | No |
| On Another Memorial? | No |
---
This information was last updated on Sunday 09 July 2017 at 17:16:51.