Sydney Abraham Callard
Family
Sydney Abraham Callard was born in Dartmouth towards the end of 1880. He was the youngest son of Samuel Callard, a labourer, and his second wife, Elizabeth Bell, née Peek.
Samuel Callard (senior) was born in Totnes where he lived and worked on the river as a boatman and lighterman. He married his first wife, Susan Maria Hawkins, on 17th June 1855, at St Mary's Totnes. Samuel and Susan had four daughters, but only one survived into adulthood. The St Mary's baptism and burial records show:
Ellen Maria Callard, baptised 7th June 1857, buried 9th June 1857, aged four months
Elizabeth Susan Callard, baptised 8th August 1858, buried 23rd October 1860, aged two
Sarah Ann Callard, baptised 2nd August 1863, buried 27th July 1866 aged three
Minnie Ellen Callard, baptised 27th December 1868
So the 1871 Census recorded only Samuel, Susan and Minnie, aged two, living at St Peter's Quay, Totnes. Samuel was still working as a lighterman.
When Minnie was seven, her mother Susan died, aged only 42; she too was buried at St Mary's, Totnes, on 22nd December 1875. Samuel and Minnie moved to Dartmouth, where he met Elizabeth Honor Bell, née Peek.
Elizabeth Peek was the daughter of Amos Peek and his wife Susan Treby, and was born and brought up in Dartmouth. Amos was also a bargeman and lighterman, so perhaps this was how Samuel and Elizabeth met. Elizabeth was also widowed; her first husband, Edward Alford Bell, was a shipwright and mason, from Dartmouth, and they had married in St Saviours on 8th December 1861. Elizabeth had five sons by her first marriage: Edward Andrew, John Amos, William Henry, George Alford, and Frederick Thomas, only a baby when his father died. They were all baptised at St Saviours on 21st March 1872, a few months after their father's early death in 1871, aged 35.
Samuel and Elizabeth were married in 1878. Their first son, Charles Samuel, was born in 1879, followed by Sydney about eighteen months later. The 1881 Census recorded the combined family living in Oxford Slip, off Lower Street, Dartmouth. Edward and John, Elizabeth's oldest boys, were both working as labourers, as was Samuel. William, George, Frederick, Minnie, and even Charles, aged 2, were all "scholars". Sydney, the baby of the family, was 5 months old.
By the time of the 1891 Census, the two eldest Bell brothers had left home and both had married. Elizabeth's third son, William Henry Bell, had died, aged 21, in 1888. The rest of the family still lived in Oxford Slip and Samuel still worked as a general labourer, as did his stepson Frederick. Minnie now worked in domestic service. Charles and Sydney were still at school. Their immediate neighbours in Oxford Slip were the Chase family, including Charles Henry, also on our database.
In 1901, the family were recorded in Lower Street. Though he was 69 years old, Samuel was now working as a coal-lumper, like his neighbour Charles Chase (senior). At home were Minnie, who took in washing at home; Charles, who was a fisherman, and Sydney, who worked as a labourer. The family's other neighbours were the Trevassas. Louis Trevassa is also on our database.
On 22nd January 1910, Sydney married Alice Maud Hodge, at St Clements Townstal. By this time, Sydney was working as a clerk, and living in Higher Street. Alice worked in domestic service, and lived in Clarence Hill. Alice was the daughter of John Thomas Hodge, a labourer, and his wife Sarah, and had been born and brought up in Dartmouth. See the stories of her two brothers, Thomas John Hodge and Frank Hodge. The 1911 Census recorded them living in a two-room apartment in Bayards Cove. Sydney's occupation was described as "SS Boarding Clerk" in the "coaling industry", so he was presumably working for one of the coal companies in Dartmouth.
Sydney's father Samuel had died in 1908, but his mother, aged 73, lived in Higher Street, nearby. Minnie, Frederick and Charles were all married and living in Dartmouth.
Service
Sydney's service records have not survived, like so many. However, his name was published in the Dartmouth Chronicle of 3rd December 1915 as one of those who had recently volunteered to serve. Although this was the time at which the "Derby Scheme" was being implemented (see the story of Thomas Charles) it would appear that Sydney was not recruited under this scheme but had joined up in the usual way. The paper reported that he had joined the 3rd Battalion of the Devonshire Regiment, the training battalion for the regulars of the Regiment, and he was posted to the 1st Battalion some time during the first part of 1916. When he joined them is not known.
The 1st Battalion had arrived on the Somme very early, on 31st July 1915. For their experiences during 1915 and 1916, including their involvement in the Battle of the Somme, see the story of George Peters.
Along with George Peters, Sydney was reported wounded in a casualty list dated 28th October 1916, which appeared in the Western Morning News on that day and in the Western Times on 30th October 1916. Although it does not explicitly say so, the names of those from the 1st Bn Devonshire Regiment appear to be those killed or wounded during the battle of Morval, fought on 25th September 1916.
Death
There are no records surviving of Sydney's progress along the "casualty evacuation chain" but it would seem that he reached one of the hospitals in Béthune before he died. Wounded were treated at the town's general hospital and at the College Saint Vaast, a school which was taken over as a hospital and became the location of the 33rd Casualty Clearing Station.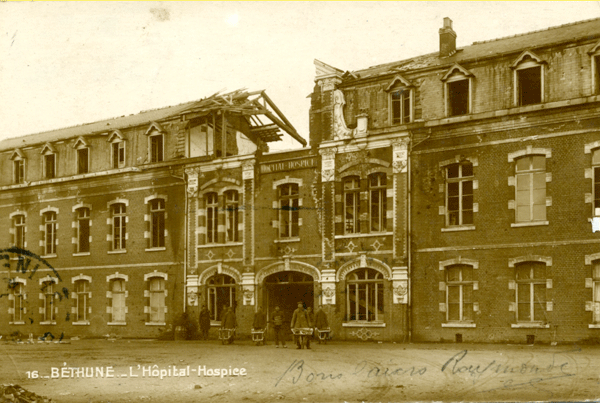 The Hospital in Béthune
Sydney died of his wounds on 5th January 1917, and Alice placed an announcement in the Dartmouth Chronicle of the following week (Sydney's age appers to be incorrect):
Deaths
Callard - January 5th 1917 died of wounds in France, Pte S Callard, 1st Devon Regt, the dearly beloved husband of A Callard, Bayards Cove, Dartmouth, age 33 years.
This was followed in the edition of 26th January 1917 by an announcement from his mother:
Callard - January 5th 1917, died of wounds in France, Private Sydney A Callard, 1st Devon Regt, aged 33 years. Deeply mourned by his mother and only brother Charley, and his four step-brothers.
He did his duty and died for his country.
Elizabeth had already lost two of her grandsons: Frederick Bell and William John Bell (though William's death had yet to be confirmed).
News of Sydney's death reached his family well before it was officially announced in a casualty list published at the end of January, which the Dartmouth Chronicle also recorded, in its edition of February 2nd 1917:
Died of wounds: In Monday night's casualty list Pte S A Callard 20338 (Dartmouth) of the Devon Regt was reported to have died of wounds.
Commemoration
Sydney was buried in Béthune Town Cemetery and his grave is marked with a Commonwealth War Graves Commission headstone.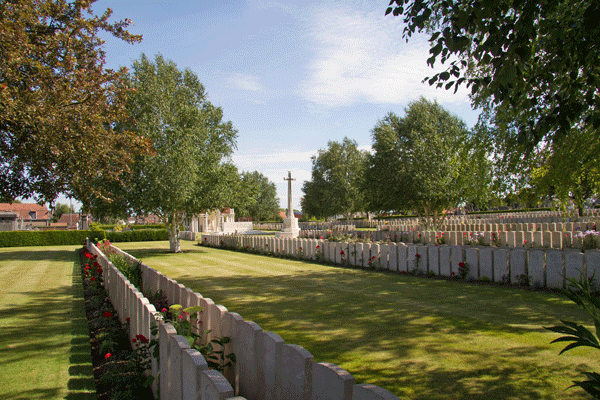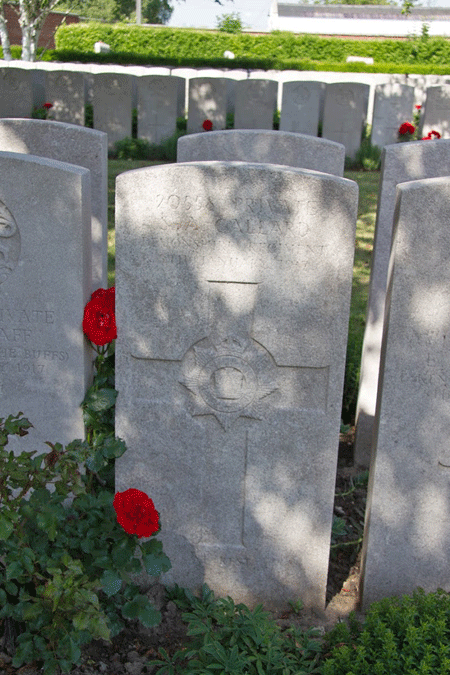 As one of the 579,206 casualties in the region of Nord-Pas-de-Calais, Sydney is also commemorated on the new memorial at Notre Dame de Lorette, "The Ring of Memory".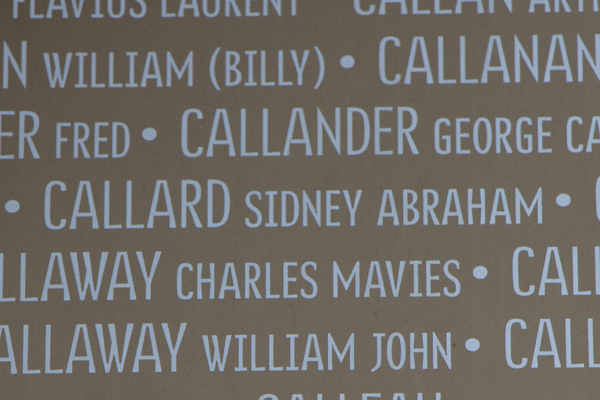 Ring of Memory memorial at Notre Dame de Lorette
In Dartmouth he is commemorated on the Town War Memorial, on the St Saviour's Memorial Board, and on the St Petrox Memorial Boards.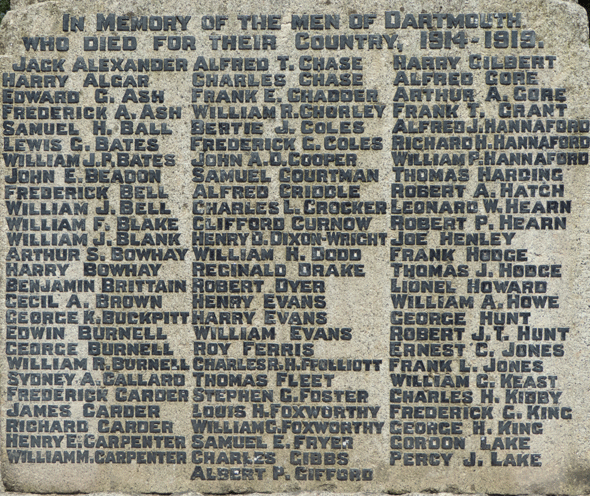 Dartmouth Town Memorial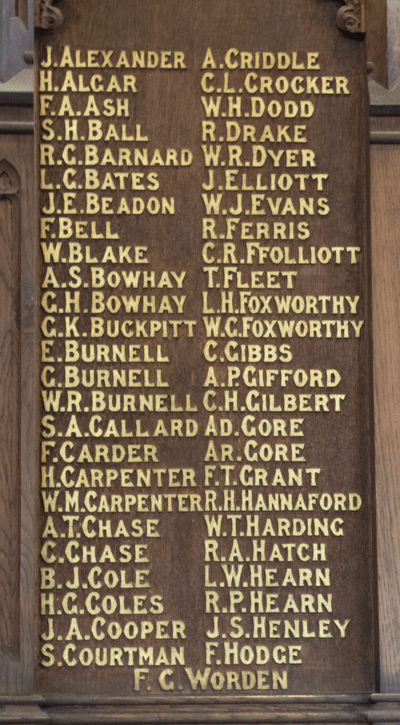 St Saviour's Memorial Board
Information Held on Database
| | |
| --- | --- |
| Surname: | Callard |
| Forenames: | Sydney Abraham |
| Rank: | Private |
| Service Number: | 20558 |
| Military Unit: | 1st Bn Devonshire Regiment |
| Date of Death: | 05 Jan 1917 |
| Age at Death: | 36 |
| Cause of Death: | Died of wounds |
| Action Resulting in Death: | Battle of the Somme |
| Place of Death: | Béthune, France |
| Place of Burial: | Béthune Town Cemetery, France |
| Born or Lived in Dartmouth? | Yes |
| On Dartmouth War Memorial? | Yes |
| On St Saviour's Memorials? | Yes |
| On St Petrox Memorials? | Yes |
| On Flavel Church Memorials? | No |
| In Longcross Cemetery? | No |
| In St Clement's Churchyard? | No |
| On a Private Memorial? | No |
| On Another Memorial? | No |
---
This information was last updated on Friday 02 November 2018 at 18:42:33.