Louis Trevassa
Family
Louis Trevassa was born in Dartmouth on 29th October 1884 and baptised in St Saviours on 21st December of that year. He was the only surviving son of Louis Trevassa (senior) and his wife Susanna Lavers.
Louis Trevassa (senior), according to UK census records, was born on the island of Madeira, Portugal. He was a sailor, and presumably came to Dartmouth because of this. In 1883, he married Susannah Lavers, born in Dartmouth in 1852. She was the youngest daughter of Richard Lavers, a labourer, and his wife Matilda Torr. At the time of her marriage to Louis, Susannah already had two daughters, Mary Jane and Kate, born in 1876 and 1880 respectively, both baptised in St Saviours on 13th October 1880. In the 1881 Census, Susannah was recorded living in Oxford Slip, Dartmouth, with her father Richard, by then widowed, and her two daughters.
Louis and Susannah's first child was Amelia Lewis [sic], baptised in that name at St Saviours on 4th July 1883, soon after her parents' marriage. The baptism register gave the surname as "Trevisa", which was also the form of the name used when Louis married. However, the child's name was registered in civil records as Amelia Louise Trevassa.
Louis was born the following year. At that time his father was still working as a sailor, but later he became a coal lumper. In 1890, when he was one of a team of three bringing an empty coal hulk to Dartmouth, Louis (senior) witnessed a tragic accident. He gave evidence to the inquest, reported in the Dartmouth Chronicle of 18th April. The story provides a small insight into the working conditions of the time:
I live at Newcomen Road, Dartmouth, and am a coal-lumper. I have known Charles Balkham for seven or eight years, and have been in his company lately working at coal-lumping. I was with him on Friday last at about 6pm, when we left in the steamtug Hauley to bring home a hulk for the Channel Coaling Company, the name of the hulk being the Jane. We left Portsmouth in the hulk on Saturday, and on board were deceased [Balkham], George Adams and myself. Our duties were to steer and look out. I was steering when Balkham said he felt sleepy and should go below and lie down. I saw him going down the hatchway, and he took up the ladder and carried it forward. He had a lamp in his hand, and was smoking a short clay pipe. The lamp was an ordinary tin one, burning paraffin, and the flame is not protected by glass. He lit his pipe, took the lamp, and went into the forecastle. I had previously advised him not to go below, but to sleep on deck as Adams was doing. He gave me a watch from 8 to 12.
George Adams awoke about 11 o'clock, and went below, and on his returning on deck he said "Charley is burnt to death", and on looking down the hatchway I saw a little fire. I hailed the tug for a bucket. The tug was immediately eased, and I told of the accident, but the wind was blowing so hard, with a heavy sea, that she could not come alongside. The hulk was a shell, and we kept everything we had with us on deck. We could not have heard a call from the forecastle as the wind was aft. We arrived at Dartmouth on Sunday morning about 6.30 and the accident was reported to the police.
George Adams and John Perring, the master of the Hauley, gave similar evidence. When the body was found, the lamp was still hanging from the beam, and the hatchway was open, so fumes from the paraffin were ruled out. Evidence from the doctor, who had been called when the hulk arrived in Dartmouth, confirmed that all the clothing on Balkham's upper body was burnt, in particular on the right hand side, where his pipe was found in his jacket. The doctor surmised that Balkham had put a lighted pipe in his pocket, fallen asleep, and been suffocated by fumes while he slept. The jury returned a verdict of Accidental Death, and Charles Balkham was buried in St Petrox cemetery. Members of the Brixham Battery of the Royal Naval Reserve, to which he belonged, acted as bearers, and many coal-lumpers attended the funeral.
In the 1891 Census, Louis, Susannah, and three children were still living in Newcomen House, Newcomen Road. Louis gave his occupation as "night watchman", indicating that he was employed on one or more coal hulks at night. Kate, Amelia and Louis were all still of school age, but Mary Jane, now aged 15, had left home and gone into domestic service in Dartmouth. Also living with the family was Richard Lavers, Susannah's father.
Another daughter, Maria Isabel, was born the following year, and was baptised at St Petrox on 24th August 1892. Frank was born three years later, and was also baptised there, on 4th September 1895; in the register, Louis (senior) was described as "coal-lumper" in 1892 and "sailor" in 1895. Coal-lumpers were casual labourers, so he would have taken other work at sea if it was available and paid reasonably well.
In October 1896, the Dartmouth Chronicle reported that "while gathering chestnuts at Old Mill yesterday a lad named Trevassa fell from a tree and was badly injured. He was taken to his home in Lower Street". This must have been Louis (junior), by then aged 12 - he does not seem to have incurred lasting damage. But, sadly, his brother Frank died as a little boy, aged only five. He was buried at Longcross on 12th March 1901.
At the time of the 1901 Census, taken only a few weeks after Frank's death, the family lived in Lower Street. Louis (senior) gave his occupation as "merchant sailor"; Louis (junior), now 16, was working as a labourer. All the girls apart from Maria Isabel, the youngest, had left home: Mary Jane had married William John Crocker the previous year, and lived in Woolwich, in east London. Amelia was in domestic service in Woolwich, having followed her elder sister there. Kate had also left home for domestic service, but had found a position in Dartmouth, working for a chemist and his family in Duke Street. The following year she too married; her husband, William Miller, was from Dartmouth. In 1903, Kate and William Miller were the witnesses at Amelia's marriage to James Hannaford, of Dartmouth.
Service
Although Louis (junior)'s service records have not survived, his service number (15031) indicates that he joined the Royal Garrison Artillery as a Gunner sometime during 1903. Comparison with surviving records for men with close service numbers suggests that he attested early in May. "Soldiers Died in the Great War" records that he enlisted in Plymouth.
The Royal Garrison Artillery had come into being in 1899, when the Royal Artillery was split into three arms:
the Royal Field Artillery, the largest branch, providing lighter and medium artillery near the front line
the Royal Horse Artillery, providing artillery support to the cavalry
the Royal Garrison Artillery, manning the largest guns, to begin with, those mounted in coastal and colonial forts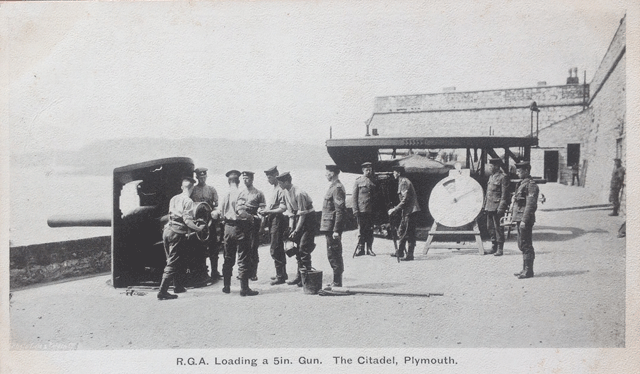 No information has yet come to light about where Louis served after he first joined. Although the period of engagement at this time was twelve years, usually recruits served a much shorter period "with the colours" and then transferred to the reserve. The men with similar numbers to Louis who remained in the RGA all transferred to the reserve in 1906, and it is possible that Louis followed the same pattern. As a reservist, he would have returned to civilian life, but had to be ready to be recalled if needed. He had certainly left the Army by 1908, since records show that he joined the Great Western Railway as a porter on 20th February 1908, though he did not stay long - he resigned two months later, on 20th April.
Marriage
In 1910, Louis (junior) married Mary Elizabeth Perrow. Their first child, Lewis William Cyril, was born on 28th April 1910, and baptised at St Saviours on 19th May of that year. Mary Elizabeth was born in Cornworthy in 1885. She was a younger daughter of William Henry Perrow and his wife Anna Amelia Martin. William was a general labourer. At the time of the 1891 and 1901 censuses, the Perrows lived in Paignton.
Louis and Mary Elizabeth began their married life in two rooms in Higher Street, Dartmouth. In the 1911 Census, Mary Elizabeth, with baby Lewis William, was recorded both with her husband in Dartmouth, and with her parents in Colley End, Paignton. Louis was now working alongside his father, Louis (senior), as a coal-lumper in Dartmouth - Louis and Susanna, with their youngest daughter Maria Isabel, lived in Higher Street too, not far away. Louis and Mary's second child, Barbara Florence Violet, was born later that year, on 6th November 1911, and baptised in St Saviours on 11th January 1912.
Louis then obtained work as a stoker at the Electricity Works in Newton Abbot, and so he and Mary Elizabeth moved away from Dartmouth. Their third child, Ivy May Isabelle, was born on 28th March 1914, and baptised at St Leonards, Wolborough, on 20th June 1914. At that time the family lived at 20 Union St, in the centre of Newton Abbot.
5th Siege Battery RGA
At the outbreak of war, Louis was still a member of the Reserves, and was mobilised immediately, probably rejoining at Fort Efford, Plymouth, on 4th or 5th August 1914. Although his complete service record has not survived, it has been possible to piece together the outline of his service.
On mobilisation, Louis was posted to 5th Siege Battery. 5th Siege Battery was created on 25th August 1914 from the pre-war 107 (Siege) Company, as a mobile siege battery for service in the field, with four six-inch howitzers. The Battery embarked from Plymouth on 27th September as part of 2nd Siege Brigade, and disembarked at St Nazaire two days later, where it remained until 19th October 1914. Assuming the date shown on his Medal Index Card is correct, Louis joined the Battery at St Nazaire on 17th October 1914.
5th Siege Battery then moved north to Armentieres and came into action on 24th October attached to 6th Division, as the fighting spread northwards at the Battles of La Bassee, Armentieres and Messines, during what is now called "the race to the sea". By December, as the conflict solidified into trench warfare all along the front, the Battery was attached to the 8th Division - the right section was east of Laventie, and the left section at Vielle Chapelle, each section comprising two six inch howitzers. The men were billeted in farms nearby.
5th Siege Battery remained in action at Vielle Chapelle and Laventie during January and February 1915, and in March, took part in the Battle of Neuve Chapelle. For the background to this action, see the story of James Maddick Moses Tuckerman, who died during the battle. The 5th Siege Battery war diary recorded:
10th March 1915: The Battery from a position near Vielle Chapelle with VIII Division took part in the bombardment and battle of Neuve Chapelle. In this bombardment the Battery fired 320 rounds, its chief objective was the front line German trenches, when the shooting was so successful that our infantry walked into them without any opposition. During the night battery moved SE to a position under 3000x from German lines.
March 11th - 16th: Battery assisted in repelling counter attacks of Germans in Neuve Chapelle and also came into action against works and houses fortified by them.
Although the initial attack was indeed successful and Neuve Chapelle was taken, the "breakthrough" objective of the Aubers Ridge was not reached, and casualties were high.
The 5th Siege Battery war diary recorded two casualties on 12th March 1915, No 12197 Gr Harvey J, and No 15031 Gr Trevassa T [sic], both "wounded by a German shell".
A member of the Royal Army Medical Corps attached to 5th Siege Battery at the time, mentioned the incident in an interview with his local newspaper, the Rushden Echo, on 23rd July 1915 (though he did not quote the individuals by name):
The battery to which I am attached has not been out of action since October 25th ...[and] I have had plenty of narrow escapes. One such was the day following the big scrap at Neuve Chapelle. We had gone out with a water cart with the intention of getting water for the battery and on the return journey had got to within about 30 yards of the battery when an enemy shrapnel shell, commonly called a coal-box, fell and busted about 20 yards in front of us. Fortunately none of us were hit ... You couldn't see our heels for dust as we made for cover. On the same day another of these coal boxes fell on the edge of the field where the battery was situated and this slightly wounded two of the chaps but did no damage to the guns.
Louis' name duly appeared in the casualty list published in newspapers on April 5th 1915, and the Dartmouth Chronicle of 16th April 1915 was able to report his arrival at an English hospital:
Dartmouth Soldier Wounded
A Dartmouth soldier, Louis Trevassa, of the Royal Garrison Artillery, who was wounded in one of his legs while on active service on the Continent, is now in a hospital maintained by the Grand Duchess of Russia. The Mayor and Mayoress of Dartmouth (Mr and Mrs T Wilton) recently visited the hospital and had a chat with Trevassa.
Although the medical infrastructure at this stage of the war was not yet completed developed, Louis' return to England suggests that his wound may have been more serious than the RAMC man had suggested - or perhaps complications developed. But he was at least being well-looked after.
The Grand Duchess George of Russia, the daughter of the King of Greece (and an aunt of HRH the Duke of Edinburgh) was stranded in Harrogate when the war began. She had brought her daughter, Princess Xenia, to the baths for her health, but was warned against returning to Russia, by her husband and others. So she remained in Harrogate, and decided to found a hospital. Eventually there were five of her establishments in the town, treating the wounded. The Grand Duchess deeply involved herself not only in the management of the hospitals, but also in the nursing of patients, and brought in a collection of royal relations to assist.
Thomas Wilton, elected Mayor of Dartmouth soon after the outbreak of war, held office throughout the conflict and took a close interest in the men from the town who were serving. He had lost his second son, Captain Harold Wilton early in the war.
116th Siege Battery
How long Louis remained in these somewhat unusual surroundings is not known; perhaps he was able to return to Devon for further convalescence. It seems that he next joined 116th Siege Battery, which went to France on 18th June 1916 as part of 77th Brigade RGA, with six 6-inch guns. He may perhaps have gone overseas again at the same time.
By August of 1916, 116th Siege Battery was on the Somme, near Mametz. But unfortunately the war diary of 116th Siege Battery consists only of three pages from May 1917, and the war diary of 77th Brigade RGA begins in December 1916, so we know little about his experiences at this time.
A fragmentary surviving casualty record shows that while serving with 116th Siege Battery, Louis was admitted to No 9 General Hospital Rouen on 5th November 1916, suffering from "myalgia", or chronic muscle pain. This is a symptom of many diseases or medical problems, but in the First World War was frequently related to the conditions of trench warfare, being particularly associated with typhus. Alternatively, the term was sometimes used (euphemistically or otherwise) to recognise the effects of continued exposure to artillery fire, or "shell shock". In Louis' case, no further details are known, nor is it known how long it took him to recover and where and when he returned to duty. By the time of his death, he was serving with 15th Siege Battery, which it is assumed that he joined sometime during 1917.
15th Siege Battery
15th Siege Battery went to France on 11th July 1915 armed with four 6-inch howitzers; in June 1916, it was rearmed with four 6-inch breech-loading howitzers. By the latter part of 1917, the Battery was at the Third Battle of Ypres (see the story of Richard Cleland Square, a member of 33rd Siege Battery). Siege Batteries were frequently reallocated to different Artillery Groups, depending upon where they were most needed. From 14th August 1917 to 6th October 1917, 15th Siege Battery was part of 21st Heavy Artillery Group, and then transferred to 42nd Heavy Artillery Group.
By the end of October, responsibility for trying to achieve something positive out of the continuing battle had passed to the Canadian Corps, which launched the final phase of the fighting on 26th October 1917, in what became known as the Second Battle of Passchendaele. Further south, a "diversionary" attack was mounted by the British Fifth and Seventh Divisions - see the story of Charles Walter Turner. Fortunately, the Canadians had more success.
On 29th October 1917, having arrived in the Ypres area from France a fortnight earlier, the 2nd Canadian Heavy Artillery Group relieved 42nd Heavy Artillery Group, and took command of 15th Siege Battery.
On 30th October 1917, according to the Canadian Corps Heavy Artillery war diary:
All groups placed a barrage in conjunction with the field artillery and the HAs of the 1st Anzac and 18th Corps in support of further operations by the 3rd and 4th Canadian Divisions, counter batteries assisting in the barrage and placing heavy neutralising fire on Hostile Bties, responding to many NF Calls and 5 GF Calls on trains. Following the barrage, a protective barrage was placed while our infantry were consolidating, and SOS Calls were responded to at Noon and again at 5pm when the enemy made unsuccessful counter-attacks. Bursts of fire were placed on assembly areas and concentrations on enemy troops advancing ... north of Passchendaele and between Vegetable Farm and Mosselmarkt... The 4th Division on the right speedily gained all their objectives, but the 3rd Division were held up on the left ... however, after severe fighting, most of the objectives were gained...
A further attack by the 1st and 2nd Canadian Divisions was made on 6th November:
A barrage was placed by all calibres on the enemy lines in conjunction with the Field Artillery, Machine Guns and artillery of the 1st Anzac and 2nd Corps, in support of the attack by the 1st and 2nd Canadian Divisions on Passchendaele Ridge. The enemy artillery had been active throughout the night on our battery positions, tracks and forward areas, but quietened down about an hour before zero. His reply, however, opened speedily and attained full intensity about ten minutes after zero ... Our counter-batteries carried out a vigorous programme of neutralisation of HBs and cooperated in the barrage. During the day they responded to 70 NF Calls sent down by the RFC.
The infantry speedily gained their objectives ... A protective barrage was placed whilst the infantry were consolidating their positions along the whole front at 9.5am ... concentrations were placed on hostile assembly areas and harassing fire kept up on roads and approaches ...
In between, "harassing fire" continued on strong points, centres of activity, and roads and railways, counter-battery fire continued against enemy artillery positions, and support to infantry operations provided.
A third attack was launched on 10th November:
A barrage was placed by all calibres on the enemy lines in support of an attack by the 1st and 2nd Canadian Divisions in conjunction with the 2nd Corps on the left, on the enemy positions on the ridge to the north of Passchendaele ... The weather conditions were very bad, heavy rain preventing both aerial and ground observation and making the progress of the infantry very difficult ... At 2.45pm all Groups responded to an SOS on the 1st Canadian Division Front, when the enemy launched a counter-attack, which was, however, broken up by artillery and MG fire. Throughout the day, the enemy's approaches and assembly areas were harassed, and Counter Batteries were engaged continuously in placing bursts of neutralising fire on hostile batteries and during a break in the clouds shortly after noon, seven NF Calls sent by a Patrol Machine were responded to. Otherwise, aeroplane observation was impossible.
In the intense fire and counter-fire, casualties were suffered amongst the artillery units every day of these operations. As Louis' name appeared in an official casualty list of 14th November, it seems likely that he was wounded during the early stages of this final phase of Third Ypres. Exactly when he was wounded is not recorded, but a fragment of a casualty report for the week ending 19th November 1917 lists him in 2nd Australian General Hospital, Wimereux, Boulogne as "still dangerously ill", suffering from a gunshot wound (most likely shrapnel).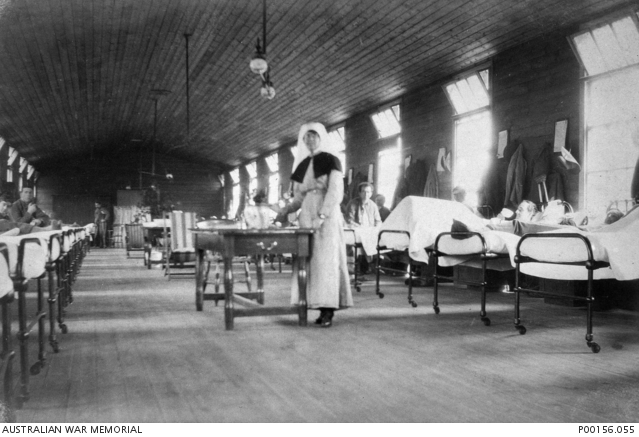 2nd Australian General Hospital
Death
Louis died of his wounds at the hospital in Wimereux on 11th February 1918, some three months after he was wounded. His deterioration was apparently sudden - a short (slightly inaccurate) piece was published in the Western Times of 19th February 1918, reporting that Mary Elizabeth had tried to see him before he died, but sadly did not reach Wimereux in time:
As a Reservist, Pte G [sic] Trevassa who was then employed at the Newton Electricity Works, was called up at the outbreak of war ... He has been wounded on two occasions, but recovered, and returned to the trenches. A few days ago, however, he received fatal shell wounds. His wife, who resides at Paignton, proceeded to France, but he had passed away before her arrival.
With Louis away, Mary Elizabeth had returned to Paignton, to live with her parents at Colley End. When he died, she was pregnant with their fourth child; Doris Charlotte was born on 5th May 1918.
News of Louis' death reached Dartmouth very quickly - an announcement appeared in the Dartmouth Chronicle just three days later, on 15th February 1918:
Trevassa: In loving memory of our dear brother, Gunner Louis Trevassa, aged 34, who died of wounds at No 2 Australian Hospital in France, 11th February 1918. Sadly missed by his wife, father and sisters.
His end was peace.
Louis' mother, Susan, had died in 1913.
Commemoration
Louis was buried in the Communal Cemetery at Wimereux, used for burials by the medical units based at Boulogne and Wimereux until June 1918. His grave is marked by a Commonwealth War Graves Commission headstone. Because of the sandy soil, the headstones lie flat upon the graves.
Communal Cemetery at Wimereux
On the headstone, Mary Elizabeth commissioned the words: "Gone, but not forgotten by his wife and children".
In Dartmouth, Louis is commemorated on the Town War Memorial and on the St Saviour's Memorial Board.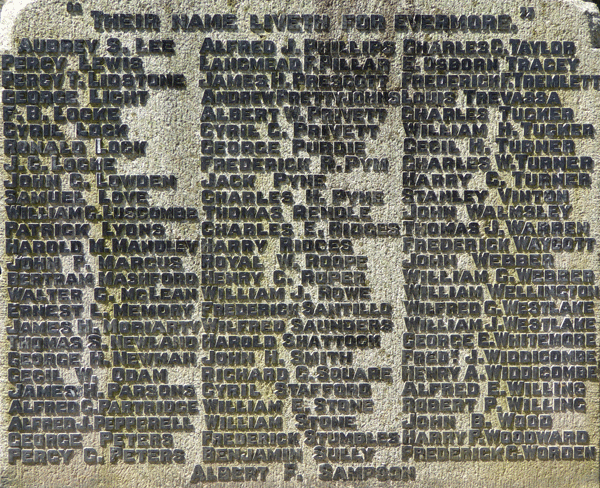 Dartmouth Town Memorial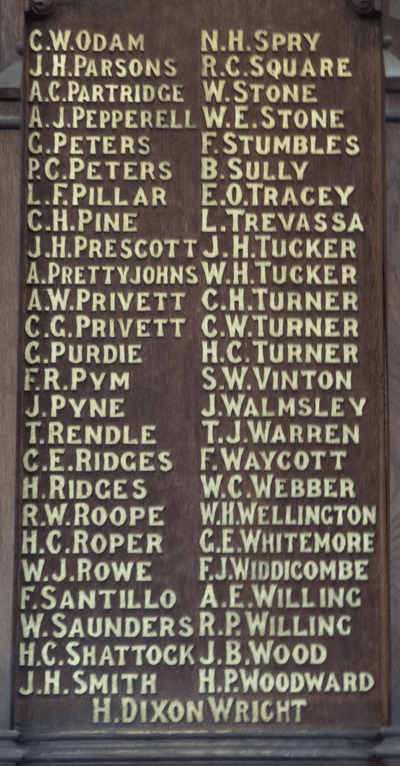 St Saviour's Memorial Board
Louis is also commemorated on the War Memorial in Newton Abbot, alongside his colleague in the RGA, Richard Cleland Square.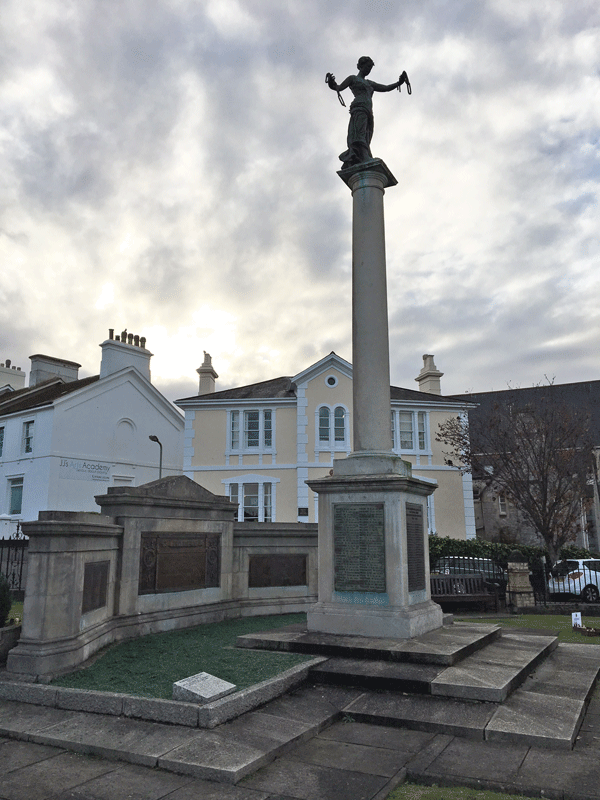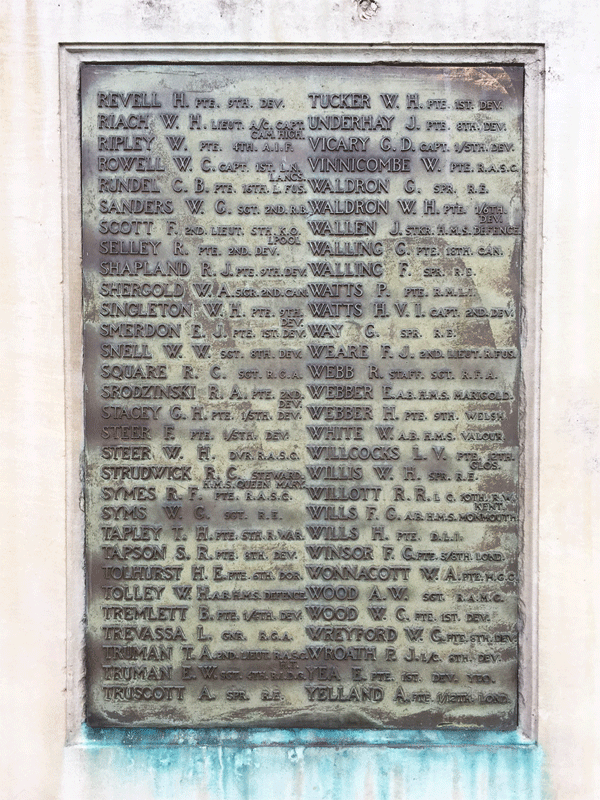 Newton Abbot War Memorial
Sources
Many thanks to Steve Fayers for his help in providing information about Louis' service and about 5th Siege Battery.
War Diaries for Royal Garrison Artillery units are available to download from the National Archives, fee payable, references:
War Diary 5 Siege Battery Royal Garrison Artillery: WO 95/543/5
War Diary 116 Siege Battery Royal Garrison Artillery: WO 95/324/5
The War Diary of the Canadian Corps Heavy Artillery, 1st October 1917-28th February 1919, is available online from Library and Archives Canada (follow the instructions on how to search)
Daily Telegraph Article on Princess Maria of Greece and Denmark, Grand Duchess Maria Georgievna of Russia
Note: Some surviving service records (including casualty returns) were spelt "Travassa" and the name appears in Soldiers Died in the Great War as "Travasse". Other records (such as census records and birth/marriage/death indices etc) show yet more spellings. We have used "Trevassa", as this is the spelling on Dartmouth memorials and used by the Commonwealth War Graves Commission.
Information Held on Database
| | |
| --- | --- |
| Surname: | Trevassa |
| Forenames: | Louis |
| Rank: | Gunner |
| Service Number: | 15031 |
| Military Unit: | 5th, 116th, 15th Siege Battery Royal Garrison Artillery |
| Date of Death: | 11 Feb 1918 |
| Age at Death: | 33 |
| Cause of Death: | Died of wounds |
| Action Resulting in Death: | Third Battle of Ypres |
| Place of Death: | 2nd Australian General Hospital, Wimereux |
| Place of Burial: | Wimereaux Cemetery, France |
| Born or Lived in Dartmouth? | Yes |
| On Dartmouth War Memorial? | Yes |
| On St Saviour's Memorials? | Yes |
| On St Petrox Memorials? | No |
| On Flavel Church Memorials? | No |
| In Longcross Cemetery? | No |
| In St Clement's Churchyard? | No |
| On a Private Memorial? | No |
| On Another Memorial? | Yes |
| Name of Other Memorial: | Newton Abbot Memorial |
---
This information was last updated on Monday 21 May 2018 at 15:58:23.