Richard Cleland Square
Family
Richard Cleland Square was born in Dartmouth on 20th March 1892 and baptised at St Petrox on 20th April of that year. He was the youngest son of Henry Square and his wife, Ann Christie Cleland.
Henry Square was the second son of John Henry Square, a successful solicitor in Kingsbridge. He was educated at Sherborne School, and on 18th June 1874, having passed the necessary examinations, was articled as a Clerk to his father for five years. He went into practice in his own right as a solicitor in 1881, his father helping him to establish a practice in Dartmouth. The following year he married, the wedding being the subject of much interest locally. The Western Times of Saturday 22nd April 1882 reported that:
The village of Stoke Fleming presented an unusually gay appearance on Thursday morning, and long before 11 o'clock the pretty church was crowded with an eager and fashionable congregation to witness the marriage of Miss A C Cleland, daughter of Capt. Cleland, a well-known and much respected resident of Dartmouth, and Mr Harry Square, son of Mr J Square, of Kingsbridge. The bride arrived soon after 11am, leaning on the arm of her father, and attired in a charming gown of white brocade; the bodice and train were made of the brocade, and the skirt of flounces of Brussels lace and satin. She wore a wreath of orange blossom, and a long tulle embroidered veil. The bridesmaids were in pretty gowns of pale blue nun's cloth, trimmed with cream lace and broad sashes of blue moire, with cream and blue hats to match; each wore a handsome locket and chain, and carried baskets of Marshal Neil roses and choice flowers, the gift of the bridegroom ... After the ceremony the wedding party drove to Rock Hill, Capt. Cleland's residence, near Dartmouth, where a sumptuous breakfast was laid ... Some of the presents of jewellery, plate and china were very valuable.
Ann was the youngest daughter of Richard Browne Cleland, who came to Dartmouth in 1858 after a successful career in the merchant navy, during which he captained Sir Samuel Cunard's first transatlantic ocean liners, including the RMS Britannia and RMS Caledonia. He was Mayor of Dartmouth in 1860-61 and 1861-62, subsequently serving as an Alderman for many years. Soon after his arrival in Dartmouth, Richard Cleland built Rock Hill, in Warfleet, opposite Ravensbury, and he and his family lived there for several years.
In 1887, he built another house for himself, called Penlee Villa at that time, on Matt's Point, overlooking Blackpool Sands. Henry and Ann Square moved into Rock Hill, and were recorded there in the 1891 Census, with their five children:
twins Annie Cleland and Mary Blanche Cleland, baptised privately at Stoke Fleming on 30th November 1882
Henry Cleland, baptised at Stoke Fleming on 29th November 1885
Jean Cleland, baptised at Stoke Fleming on 23rd January 1887
Margaret Isabel, baptised at St Petrox, Dartmouth, on 17th November 1890
Sadly, their second son, named John Henry for Henry's father, born at Rock Hill on 19th May 1888, died there on 11th April the following year, aged 11 months.
Richard Browne Cleland died at Penlee on 27th February 1892 "after a somewhat protracted illness", according to his obituary in the Dartmouth Chronicle (4th March 1872), and was buried at Stoke Fleming. Richard Cleland Square was born three weeks later, at Rock Hill, and named for his maternal grandfather.
At about the time of his marriage, Henry Square had obtained the receivership of a substantial estate in Thurlestone, owned by the Brunskill family, which was being administered in Chancery. Until it was wound up in 1900, this generated a steady and sizeable income - about £300 per year. On the strength of it he opened his own practice in Dartmouth, while continuing to work closely with his father. That year he was appointed Borough Treasurer in Dartmouth, treasurer to the Urban Sanitary Authority, and to the Port Sanitary Authority, his father and brother standing surety for him. Although he was the only applicant for the post, it can have done no harm to his application that his father in law, Richard Cleland, was an Alderman; Henry held these posts until 1897. Henry was appointed Commissioner for Oaths in 1887, and the following year joined the Committee of the new Dartmouth Cottage Hospital as treasurer. He was elected to the Board of Guardians in 1901. Meantime, his legal practice continued to grow, and he opened a practice in Paignton in 1900.
Richard was thus born and brought up in comfortable circumstances. The family continued to live at Rock Hill - Henry, Ann, and Annie were recorded there at the time of the 1901 Census. The other children were at various schools - Henry (junior) was at Kingsbridge Grammar School; Mary, Jean and Margaret were boarding at Stroud Ladies College, Beeches Green; and Richard, aged 9, was the only boy, and youngest pupil (on the night of the Census) at a small private boarding school in Paignton.
In 1903 Henry bought the legal practice of Onesimus Bartlett, a Paignton solicitor, with whom he had worked when Borough Treasurer. Onesimus Bartlett had been Dartmouth's Town Clerk since 1883 (also Clerk to the Urban Sanitary Authority and Port Sanitary Authority), but in 1903 was convicted of fraudulently misappropriating the money of one of his clients, and was sentenced to three years' penal servitude.
But gradually, things began to go wrong for Henry. The circumstances were described in a bankruptcy case of 1908, which was closely connected to his arrest for fraud at more or less the same time - indeed, Henry was unable to attend the first creditors meeting on 27th February, because he had been committed for trial, and, not being able to obtain bail, was in prison in Exeter. The Official Receiver did not think it "advisable to put the estate to the expense of bringing him to Paignton" (Dartmouth Chronicle 28th February 1908).
At the first creditors' meeting, the Official Receiver said that:
Debtor appeared to have adopted a course which had been a stumbling block to a large number of men - indulging in betting and gambling on the Stock Exchange ... the bankrupt was connected with a syndicate known in Paignton as the Tip-top Rubber Heel Company ... [contributing] £80 to the original capital, just a quarter. The company became involved in litigation with a London firm, and judgement was given against them for £368 and costs. [One of the four parties in the syndicate] paid £100 and filed his petition at Plymouth, leaving the other three to settle the matter as best they could.
Henry had "become aware of his insolvency early in 1907". In May 1907 he sold both his practices, for £1,100 (receiving £900 at the time with the balance to come over the next two years). Rock Hill was apparently sold (or possibly let), and the family moved to Kingsbridge. The practices had generated an income of £700-£750 per year, which the Official Receiver commented "seemed exceedingly good, derived from professional practice with which no appointments were connected". However, since moving to Kingsbridge, "debtor had done very little", other than sell his furniture to pay the rent. Two houses he owned in Paignton were mortgaged; he had sold his watch "and bought a cheaper one". He also owed his wife £740.
Henry's liabilities as assessed at that stage totalled £3,171 5s 3d, while his assets were "2s 5d balance at the bank, a watch, furniture at Kingsbridge valued at £59, out of which the landlord's rent had to come, and a small quantity of furniture at Paignton". Equivalent monetary values are problematic, but the Bank of England inflation calculator gives a value in 2016 of about £350,000 for Henry's liabilities. The next stage of the bankruptcy case was adjourned pending the outcome of the criminal proceedings, brought by one of Henry's clients, a Mrs Lyde, of Paignton.
On 22nd June 1908 Henry Square pleaded guilty at the Devon Assizes "to a series of charges of unlawfully converting large sums of money to his own use at Paignton, and was further charged with unlawfully obtaining the sums by false pretences". Mrs Lyde was an old lady, widowed, and comfortably off. Henry had acted as her "confidential man of business" for many years; she trusted him, and "signed anything he put before her". He had defrauded Mrs Lyde in two ways - firstly, by saying that he had good investments available, usually a mortgage secured on land, and thereby obtaining sums of money from her to (ostensibly) loan to others; and secondly, by going to other clients to say that Mrs Lyde wished to borrow money from them, using as security some property she no longer in fact owned, but whose title deeds she had retained and to which Henry had access. The money thus obtained had been used to fund his increasing debts. There were six charges of fraudulent conversion and seven of false pretences - Henry pleaded guilty to two.
In seeking mitigation, Henry's defence counsel argued that
It was some slight extenuation in prisoner's favour that he had faced the matter and [in pleading guilty] he had endeavoured to spare Mrs Lyde the trouble and expense of having to prove the cases ... He was not instructed to ask his lordship's pity for prisoner himself ... but on account of prisoner's father and family ... his lordship would probably be surprised to hear that he had a father still living, well over 90 years of age, at Dartmouth, and that he had been well respected in the county throughout his life; he was said to be the oldest solicitor in England. Mr Square had six children, all of whom were living, and the matter must be very bitter to them ... Prisoner lived an honourable life until the year 1903 ... it was because he found himself ... in difficulties on the Stock Exchange that he began the course of fraud which had brought him where he now stood [he had taken Mrs Lyde's money] to pay off his indebtedness to stockbrokers ... with the intention of returning the money ... To those who knew Mr Square in days gone by, who saw him in the days of his prosperity, and who saw him now, it must be apparently that he had already been heavily punished ... His lordship only had to look at prisoner to see how broken a man he was.
Mr Justice Phillimore responded that
he could send prisoner for seven years' penal servitude for most of the offences separately, but ... taking into consideration all that prisoner's counsel had said, and all that prisoner's family must suffer as well as the other poor people, and remembering that prisoner had been in prison some months, he could not make the sentence less than one of penal servitude for six years (Exeter and Plymouth Gazette 23rd June 1908).
At the public examination in his bankruptcy case, held the following month, which Henry attended from Exeter Prison in charge of two warders, Mrs Lyde was the principal creditor, for £12,421. At the end of the examination, the "Official Receiver remarked that he had no observations to make, the case being sufficiently sad". Henry was "struck off" the solicitors' rolls for professional misconduct in October, and removed from the roll of notaries public in December.
The case was widely reported in newspapers, not just those in the south-west. Ann Square's financial interests may have been protected to some degree because, at the time of her marriage, Richard Cleland had settled £2000 in trust for his daughter, requiring all property subsequently acquired to be subject to the trust. The reports of the case indicate that, although Henry had not wholly complied with this condition, nevertheless the trustees were still acting on Ann's behalf - indeed, she was listed as one of Henry's debtors. Nonetheless, the effect on her and the children, must indeed have been devastating.
It is probably no coincidence that Richard (junior) was apprenticed to the shipping company Scrutton Sons & Company shortly after his father's conviction. On 20th October 1908, aged sixteen years and seven months, he joined the company for three years. Scruttons were a merchant shipping company trading principally to the West Indies. Perhaps Richard was keen to follow in his grandfather's footsteps, and to develop a career in the merchant navy - but the arrangement must also have had the advantage of getting him well away from all the difficulties at home.
By 1911, Ann Square was living at Pembroke Lodge, 4 Station Road, Newton Abbot. Clearly the family was in reduced circumstances. With her were her eldest daughters Annie and Mary Blanche, who described herself as a "boarding house keeper", and her son Henry Cleland, who, aged 25, was working as an engine fitter on the Great Western Railway. Her youngest daughter Margaret was working as a domestic nurse (or nanny) in the household of Reverend William Webber Preedy, in Exeter. Jean had emigrated to Canada in 1908.
No occupation was given for Ann on the Census form, who may well have been in poor health - she died soon after the Census, on 12th July 1911, in Newton Abbot.
On the night of the 1911 census, Richard, coincidentally, was in Dartmouth - or strictly speaking, just outside the entrance to the port. Aged 19, he was in the final stages of his apprenticeship, on board the Scrutton & Sons steamship Spheroid, on her way from London to the West Indies. The Customs Officer recorded on the ship's census form that:
This vessel the Spheroid SS of London called off the Port of Dartmouth during the early hours of Monday the 3rd inst for Mails on her voyage from London to W Indies, and did not come within the limits of the Harbour. The schedule was brought into Dartmouth and handed me by the man who took the mails to the ship during the night ...
The 1911 Census also records Henry Square as a prisoner in Maidstone Prison - "solicitor struck off roll". However, on 30th August 1912 he was released, not quite two years before the due date of 18th June 1914. On 16th September 1912 he remarried, at the Registry Office in Exeter, in the name of Henry Square. His second wife was Jessie Seymour, from Holcombe, near Dawlish.
Henry's service
On 1st October 1914, aged 58, Henry attested for the Remount Company of the Army Service Corps in Brentwood, giving his name as Henry Edward Sanders and that of his wife as Jessie Seymour Sanders. He joined the Army Service Corps in Woolwich the following day, and was ranked Foreman Corporal. Twelve days later he was on his way to No 2 Base Remount Depot at Le Havre, in France. The Remounts Service was responsible for the provisioning of horses and mules to all other army units, and generally consisted of older men. Henry's attestation form states that he had tried to join up before, but had been rejected because he was over age.
Henry served at the Base Remount Depot for about eighteen months, but was discharged on 12th May 1916 "no longer physically fit for war service" due to emphysema, with the acting rank of Sergeant.
Richard's service
It seems that Richard had remained in the merchant navy until a little after the outbreak of war, for his attestation papers, which have survived in his army service record, show that his "trade or calling" was that of Seaman. His medical record shows that he had also picked up other useful skills, for he was also described as "motor driver (6 months)". He volunteered to join the Army at Newton Abbot on 9th November 1914. For the period, he was unusually tall, at 5ft 11ins; the same height as his father.
He joined the Royal Garrison Artillery and reported to Fort Rowner, Gosport, the following day, for initial training. He was posted first to 21 Company, Leith, responsible for Scottish coastal defences, on 4th December 1914, and then to 33rd Siege Battery on 13th February 1915.
Marriage
Whilst still training with 33rd Siege Battery, in Leith, and having been appointed Acting Bombardier on 4th April 1915 (equivalent to Lance Corporal), Richard came back to Dartmouth. On 17th April 1915 he married Bessie Carlile Ward at St Saviours. Bessie was the only daughter of John Ward and his second wife, Bessie Wilcox. John Ward was born in Ireland and had joined the Royal Navy as a Boy 2nd Class in 1868. He came to Dartmouth in 1877 when he joined HMS Britannia as a Leading Seaman. The following year he was rated Petty Officer 1st Class and Quartermaster in June, and in December married his first wife, Maria Coaker, at St Petrox, Dartmouth.
In 1879 John left Dartmouth for HMS Royal Adelaide, but was back in HMS Britannia by 1882, where he remained. Sadly Maria died only two weeks after the birth of John Samuel, their fourth child, in 1887. John remarried in 1889, in Brixham, and his second wife Bessie took on the care of his young family. Bessie's daughter, also named Bessie, was born in Brixham on 15th July 1892.
John was invalided out of the Navy in 1893, but continued to work at the Royal Naval College. At the time of the 1901 Census he was working as a Cadets Servant and in 1911, aged 61, he was working as a College Cleaner. His naval service record shows that he briefly rejoined the Royal Navy very shortly after the outbreak of war (notwithstanding his age) and served at the College for a short period.
Richard and Bessie settled at Riversea, Above Town, Dartmouth, close to Bessie's parents, who also lived in Above Town. 33rd Siege Battery remained in England until 8th August 1915, and it seems that Richard was able to obtain leave before the departure for France, for the couple's only child, Nancy Isabel, was born on 16th March 1916. Richard was given a short period of leave to England from 19th - 27th February 1916, so he must have seen Bessie only a couple of weeks before their baby was born. His records show that he also had a week's leave early in 1917 (26th January - 5th February) when he (presumably) saw his daughter for the first and only time.
Siege Batteries in the Royal Garrison Artilley were equipped with heavy howitzers, which fired large high explosive shells. 33rd Siege Battery was armed with four 8-inch howitzers, which had entered service in February 1915, to meet the need for heavy artillery. The Battery went out to the Western Front with 26th Heavy Artillery Brigade (or Group) (HAG), but during the period of Richard's service, was reallocated to several different Artillery Groups, depending where it was needed:
15th HAG 5th April 1916
40th HAG 14th June 1916 (Northern Heavy Group) - for the beginning of the Battle of the Somme
36th HAG 26th July 1916
45th HAG 12th December 1916
14th HAG 21st March 1917
9th HAG 29th March 1917
51st HAG 16th May 1917 (joined 20th May 1917)
73rd HAG 12th June 1917
Richard did well, being promoted Bombardier on 6th June 1916, acting Corporal on 6th February 1917 immediately after his return from leave, and Corporal on 23rd February 1917.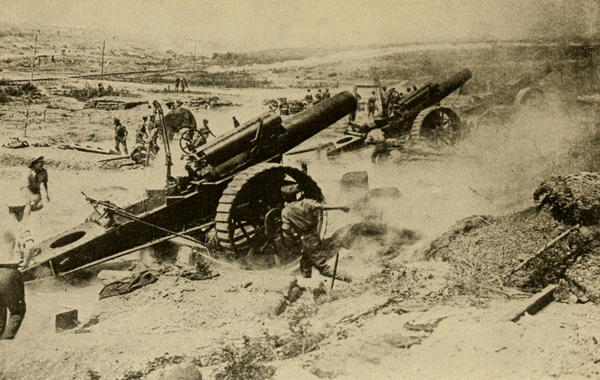 Three 8-inch howitzers (Marks I-V) in action
On 22nd June 1917, the Battery joined 88th Heavy Artillery Group, and on 30th June 1917, the number of howitzers increased to six. Heavy artillery was essential not only to destroy heavily defended positions, in support of attacking troops, but as the war progressed, was used increasingly on "counter battery work" - destroying or neutralising enemy guns. From the references quoted below, it appears that by 1917, 33rd Siege Battery was being used predominantly in this latter role, working with spotter aircraft to identify targets and assess success.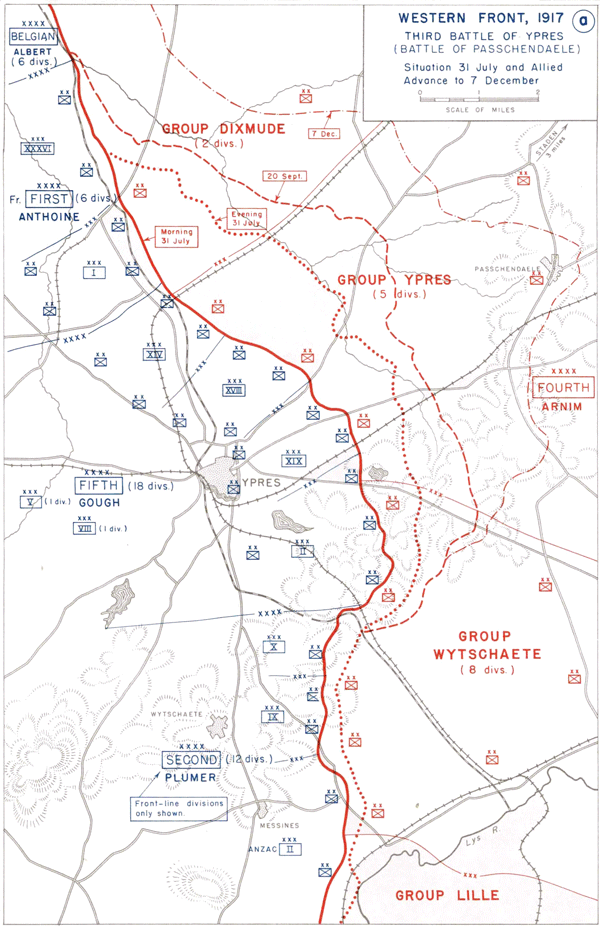 The opening day of the Third Battle of Ypres
88th Heavy Artillery Group joined II Corps, Fifth Army, on 12th June 1917, as part of the build up for the Flanders Offensive, known to posterity as "Third Ypres". (For the background, see the story of William John Farrow Bates, who died on the first day of the battle). II Corps were located on the right of Fifth Army's front, to the south of Ypres; the heavy artillery was well to the rear.
The 88 HAGroup war diary does not mention 33rd Siege Battery every day, but the following references give some idea of the Battery's activity, as preparations continued for the opening day of "Third Ypres".
14th July 1917: 33 Siege Battery (8" How[itzers]) fired 350 rounds. Aeroplane shoot on [map reference] JW53 - very good results ...
15th July 1917: 33 Siege Battery (8" How) had a very successful aeroplane shoot. Hostile battery so much damaged that Observer could not recognise the gun pits. 350 rounds fired ...
16th July 1917: 33 Siege Battery (8" How) had another very successful aeroplane shoot - Fired 350 rounds - and damaged Hostile Battery considerably ...
17th July 1917: 33 Siege Battery (8" How) fired 350 rounds with Aeroplane observation on [map reference] JX2 - Target absolutely destroyed
23rd July 1917: 33 Siege Battery (8" How) 350 rounds - [one of three] successful aeroplane shoots ... Hostile Battery position appeared demolished and approaches very badly damaged.
30th July 1917: 33 Siege Battery (8" How) fired 493 rounds Counter Battery on selected targets.
Richard was promoted Acting Sergeant on 23rd July 1917, as the massive bombardment before the attack intensified.
On 31st July, as the infantry attack went forward, 88 Group's War Diary reported:
3.51am: "Z" Day - Attack by 5th Army - 73 12", 723 8" and 2375 6" rounds fired, neutralising hostile batteries during attack. Very bad visibility. Very successful neutralisation. 9.2" Gun fired 34 rounds on selected long range points, roads, HQs. Both neutralising and bombardment shoots were continued during the day with very great success ... [during the morning] 2169 8" and 6" How[itzer ] rounds fired ... but owing to bad visibility it was practically impossible to get any observations.
During the next five days the bombardment continued, though at a far lesser rate - total 8" rounds fired were:
1st August: 329
2nd August: 184
3rd August: 98
4th August: 152
5th August: 167
Death
The Group War Diary makes no reference to the circumstances of Richard's death, but a series of letters written to Bessie afterward, and published in the Dartmouth Chronicle on 17th August 1917, give an account of what happened:
From the Rev J W Isherwood, Church of England chaplain with the Forces:
"Dear Mrs Square, - It is with the deepest regret that I have to inform you of the death of your husband, Sergeant Square. He was in his dug-out yesterday (August 6th) when a shell fell in an ammunition dump just near, causing it to explode. A piece of shell penetrated the dug-out and struck him on the head, causing instant death. He was buried this morning by the side of many other brave comrades in the Huts Military Cemetery. His death is keenly felt by the whole battery as a great loss, and the officers all speak of him in the very highest terms ..."
From Lieutenant L B Wallace, 33rd Siege Battery RGA:
"Dear Mrs Square, - No doubt you will have heard from the War Office of the death in action of your husband, Sergeant R C Square, and I hope you will accept my sympathy in your terrible loss. I have known your husband for 2½ years, and I have never met a finer soldier - always cheerful and willing. I had been talking to him about ten minutes before it happened, and he had left me and gone into his dug-out, where he was hit by a piece of shell and killed instantly. That was on the 6th, and he has just been buried today in the Military Cemetery near at hand. A cross is being put up by the battery and you can be sure that the grave will be well looked after ... I think, Mrs Square, that it will be some consolation for you to know how much your husband was liked and respected in the battery - in fact, to show you what the officers thought of him, his name had been put forward for a commission. It is very hard to express myself in a letter, but my sympathy is sincere and heartfelt."
From Major Knight, RGA:
"Dear Mrs Square, - I regret very much to inform you that your husband, Sergeant Square, was killed on the 6th instant. He was hit by a piece of shell and killed instantly. It was very sad to lose him, as he was a splendid fellow and one of the very best we had in the battery. He had been with the battery so long that it is a very great loss ... Allow me to offer my deepest sympathy in your sad bereavement on behalf of the officers and men of the battery."
Bessie placed an accompanying announcement:
Square: Killed in action on August 6th, in France, Richard Cleland Square, age 25, Sergt RGA, beloved husband of B C Square, "Riversea", Above Town, Dartmouth.
In fact, Richard had been killed in Belgium. As the Chaplain's letter stated, Richard was buried in The Huts Cemetery, six miles to the south-west of Ypres, which, as Lt Wallace's letter indicates, was close to the Battery's position. According to the Commonwealth War Graves Commission, nearly two thirds of the burials in the cemetery are of gunners, as many artillery positions existed nearby.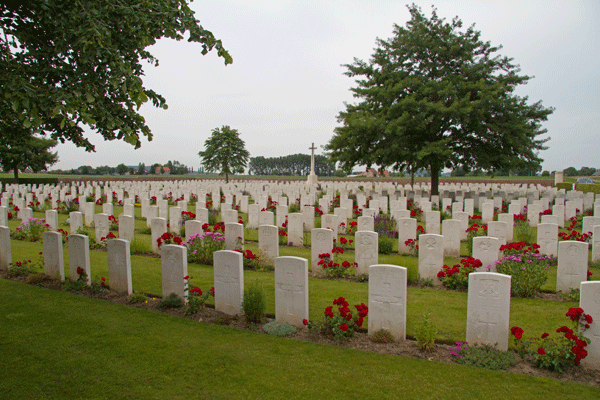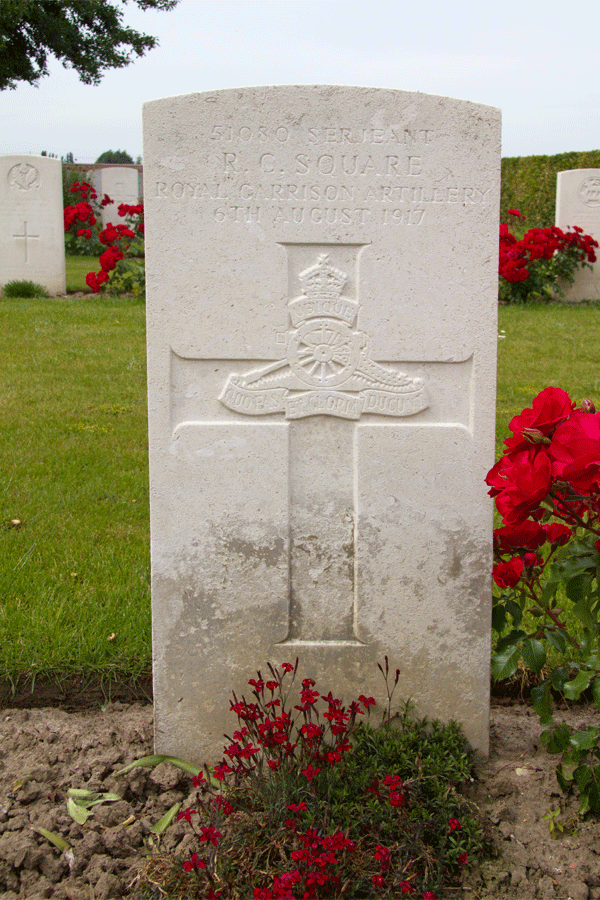 The Huts Cemetery
In December 1917, Bessie received Richard's effects: his identity disc, his letters, a holdall containing two razors, a hairbrush, shaving brush, comb, two tooth brushes, laces, a toilet bottle, his housewife, a mirror in a wooden frame, a writing pad and loose paper, and a registered envelope.
In January 1918, authority was posthumously given for Richard to be promoted to the substantive rank of Sergeant, with effect from 23rd July 1917.
Commemoration
Richard is commemorated in Dartmouth on the Town War Memorial, on the St Saviour's Memorial Board, and on the St Petrox War Memorial.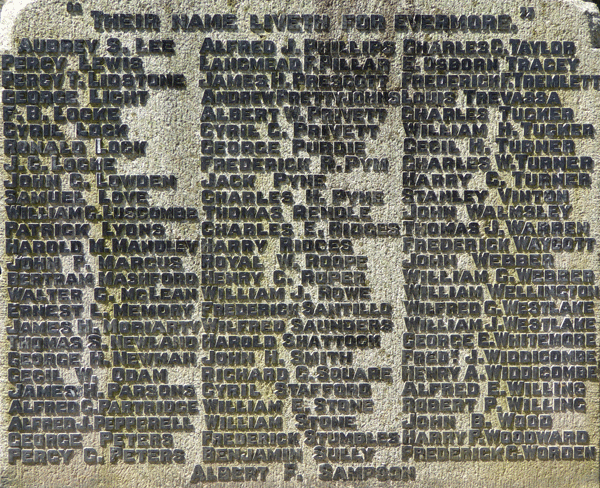 Dartmouth Town Memorial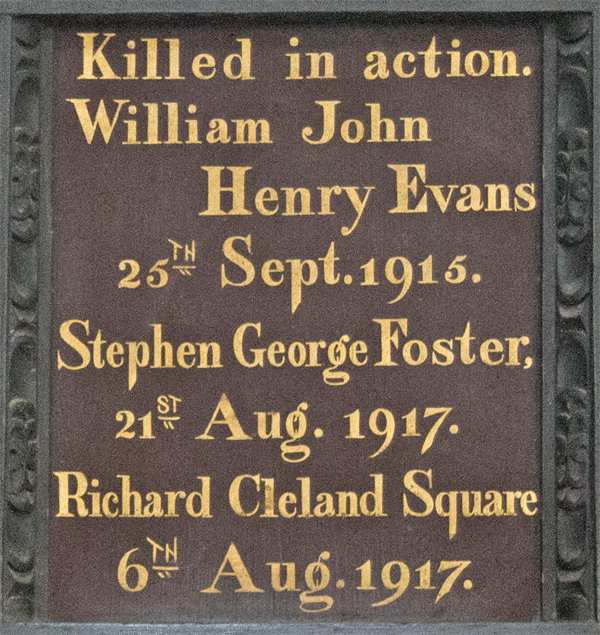 St Petrox Memorial Board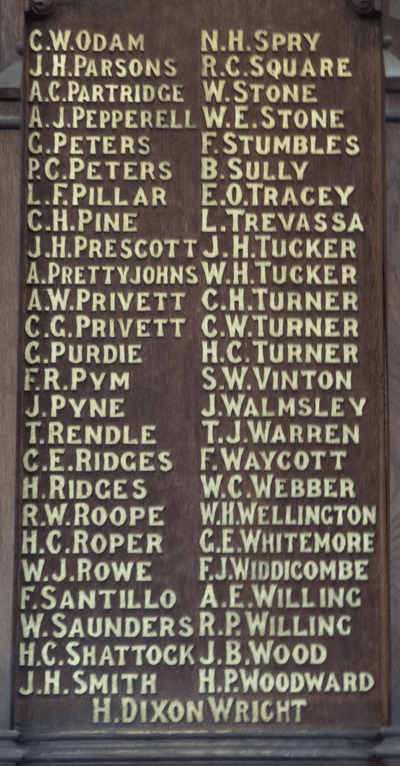 St Saviour's Memorial Board
He is also commemorated on the Newton Abbot War Memorial, perhaps because his sisters Annie and Mary Blanche were still living in Newton Abbot after the war.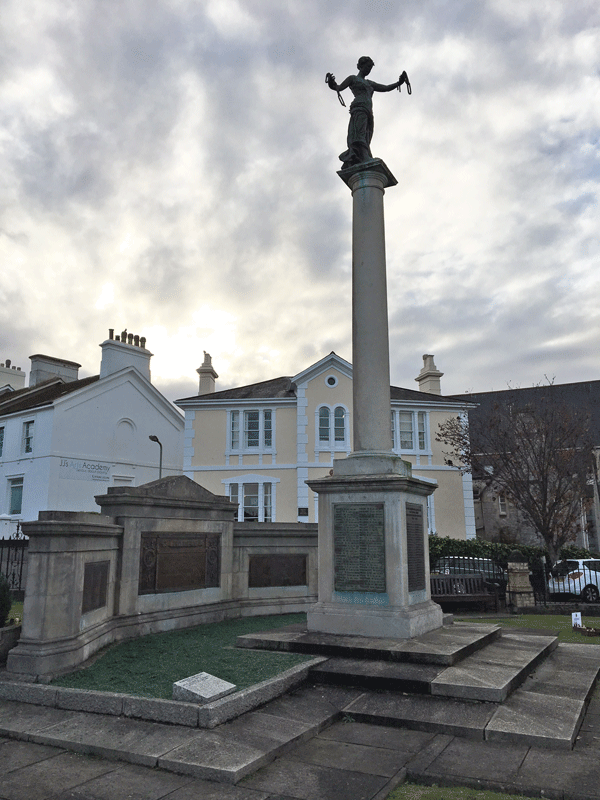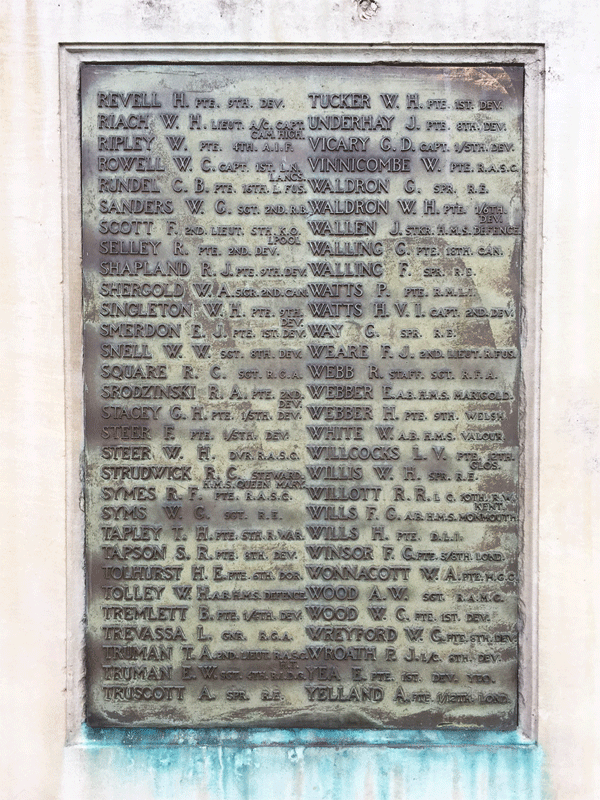 Newton Abbot War Memorial
Sources
Army Service record for Richard Cleland Square from the National Archives, accessed through subscription websites
Army Service record for Henry Square, in the name of Henry Edward Sanders, from the National Archives, accessed through subscription websites
Naval Service record for John Ward from the National Archives, fee payable for download, references ADM 139/713/31252 and ADM 188/59/73000
War Diary of 88 Brigade Royal Garrison Artillery February 1917 - 31 March 1919 from the National Archives, fee payable for download, reference WO 95/396/4
Long Long Trail website:
Information Held on Database
| | |
| --- | --- |
| Surname: | Square |
| Forenames: | Richard Cleland |
| Rank: | Sergeant |
| Service Number: | 51080 |
| Military Unit: | 33rd Siege Battery Royal Artillery |
| Date of Death: | 06 Aug 1917 |
| Age at Death: | 25 |
| Cause of Death: | Killed in action |
| Action Resulting in Death: | Third Battle of Ypres |
| Place of Death: | Ypres |
| Place of Burial: | The Huts Cemetery, Belgium |
| Born or Lived in Dartmouth? | Yes |
| On Dartmouth War Memorial? | Yes |
| On St Saviour's Memorials? | Yes |
| On St Petrox Memorials? | Yes |
| On Flavel Church Memorials? | No |
| In Longcross Cemetery? | No |
| In St Clement's Churchyard? | No |
| On a Private Memorial? | No |
| On Another Memorial? | Yes |
| Name of Other Memorial: | Newton Abbot War Memorial |
---
This information was last updated on Saturday 19 August 2017 at 19:12:34.