Frederick Thomas Bell
Frederick Thomas Bell was born in Dartmouth around September 1898. He was the son of another Frederick Thomas Bell and his wife, Mary Emma Cole, both of whom were born in the town.
Frederick Thomas Bell senior was the youngest son of Edward Bell, a shipwright and mason, and his wife Elizabeth Peek. The Bells had lived in Dartmouth for at least three generations. Frederick, an "infant", and his four older brothers were all baptised in St Saviour's, Dartmouth, on 21st March 1872, a few months after their father's early death, age 35. When Frederick was seven, his mother married again. Her second husband was Samuel Callard, a labourer and coal lumper, who had moved to Dartmouth from Totnes with his daughter, after the death of his first wife. Elizabeth had two more boys, Charles and Sydney. Sydney is also on our database. The 1881 and 1891 Censuses recorded the family living in "Oxford Slip", now Oxford Street. In 1891, their next door neighbours were the Chase family (Charles Chase is also on our database). At that time, Frederick was recorded as a "general labourer".
Towards the end of 1895 Frederick Thomas senior married Mary Emma Cole. Mary Emma was the youngest daughter of John Cole and his wife Anna (sometimes Hannah) Susan Ponsford. She was born in 1875 and baptised in St Saviour's on 21st February 1877. Her father John was able to turn his hand to many trades in Dartmouth, being variously described in baptism and census records as "mariner", "labourer", "fisherman" and "waterman". He came from Strete and his wife from Churston Ferrers, but the couple had moved to Dartmouth by the time of the birth of their eldest son, another John, in 1861. They lived at the other end of Dartmouth from the Bells, in Coombe Cottages, where Mary Emma was born.
By 1901 Frederick Thomas and Mary Emma were also living in Coombe Cottages, convenient for Frederick's job, as a "labourer in ship yard" (the Census does not identify which yard). Living with them and Frederick Thomas junior was Mary's father, John, as her mother had died three years earlier. In the 1911 Census, the family was recorded at Dart View Terrace. Their second son, Alfred John E Bell, was born in 1903; and a third child was also born and had died between 1901 and 1911 (we have not been able to identify the name and date). Frederick Thomas senior was by this stage working as "captain of tug" in the "towing industry"; Frederick Thomas junior, at the date of the Census aged 12, was still at school.
Service
We know from the report of his death in the Dartmouth Chronicle that by August 1914 Frederick Thomas junior had joined Messrs Philip & Son Ltd, one of Dartmouth's leading shipbuilding firms, as a junior clerk. Evidently he responded quickly to the "National Call to Arms" of the first few weeks of the war. His name was published in the Dartmouth Chronicle of 16th October 1914 as one of 27 names joining the 7th Battalion of the Devonshire Regiment (Cyclists).
The military application of the bicycle had been explored by armies as soon as bicycles became sufficiently robust, essentially because they enabled infantry to carry more equipment and travel longer distances, and - where the terrain was suitable - could be a cost-effective substitute for horse-mounted troops. Cycles had been used by both sides in the Boer War. The relative cheapness of bicycles, and the problems encountered in finding sufficient trained riders and horses for the Volunteer yeomanry, had even led Army staff in 1904 to suggest converting the yeomanry into a force of military cyclists, and in 1906 Douglas Haig argued for a special cyclist unit to serve with the cavalry division, indicating that fully-trained cyclists were seen as complementary to cavalry.
The 7th Battalion of the Devonshire Regiment had been created in 1908 as part of the Territorial Force established by the Haldane Reforms. The 5th Volunteer Battalion had a cyclist company based at Torquay and this was used as the nucleus of a new Cyclist Battalion. By 1914 there were several cyclist companies based around Devon; "F" Company was based at Dartmouth and the Battalion's "war station" was at Totnes.
At the outbreak of war the 7th Battalion had just finished its annual training at Churston Race Course, Paignton, and was, on 3rd August, at Battalion and Company headquarters. Their first duty was to carry out coastal patrols, and detachments were sent all along the coast from Lands End to Lyme Regis. But within a week the Battalion were brought together at Newton Abbot and sent by rail to the north-east coast of England, which was considered more exposed to the possibility of enemy attack.
Their headquarters were established at Seaton Carew and they were responsible for coastal defence from Scarborough in Yorkshire to Seaton Delaval in Northumberland. Here they found themselves involved in helping to save some of the passengers and crew of the Hospital Ship Rohilla when she was wrecked off Whitby, on 30th October 1914, for which they received formal thanks from the Admiralty.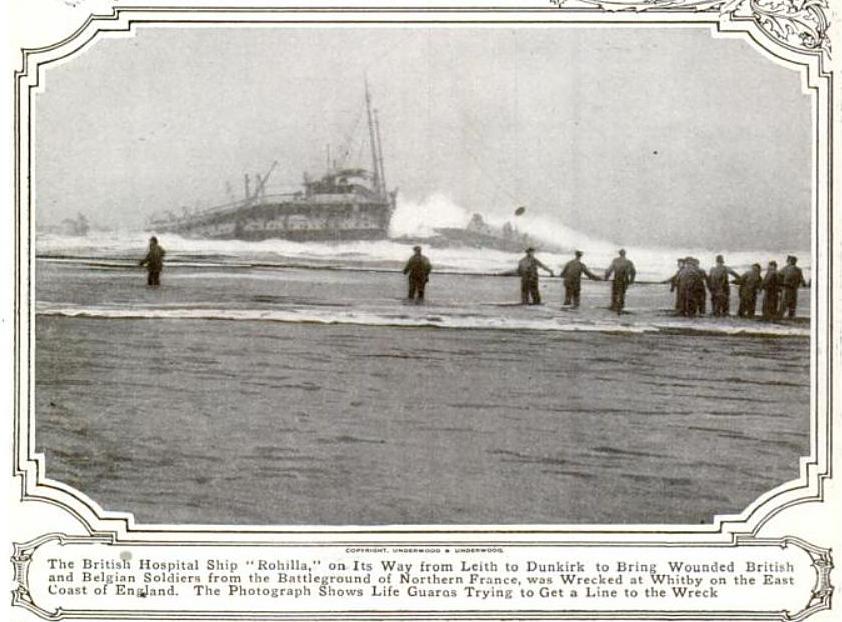 They again found themselves in the thick of the action when, on 16th December, the German Navy shelled Scarborough, Hartlepool and Whitby. The Dartmouth Chronicle's Christmas Day 1914 issue carried the following account, from a letter written by Sergeant L Foxworthy to his parents:
I am glad to say I am safe and sound. I had an awful job. I am stationed at the Coastguard station now, and I had just had my breakfast and was going out when "Bang" went the first shot. So I ran out to see what the row was, and just as I got outside the second shot came, and down I went, but it was only the shock that knocked me down. I laid still for a minute or so, to get my breath, and then I thought it was time to make a shift. So I crawled along and got under the shelter of a house. There I met a Boy Scout who was wounded in both legs, so I laid down with him and bound up his wounds as best I could. I then waited for the firing to stop. When it did, what a sight! I shall never forget it. But we were lucky with only one killed - a coastguard. One of my chaps was very slightly wounded, and the Scout rather badly so. I have got a piece of the shell that knocked me down. It was stuck in the ground by my side. The shell exploded about three yards in front of me, and the shock was awful, so you can guess how lucky I was not to be killed.
The attack killed 137 and wounded 592, many of whom were civilians. For their services during and after the raids, "F" Company received many tributes, proudly reported in the Dartmouth Chronicle.
By the end of February 1915 the 7th Battalion had left the north-east coast and were once again based in Devon. In the meantime, a reserve or "second line" Cyclists battalion was raised at Totnes, from September 1914, to accommodate those Territorials not willing or able to serve overseas, to accommodate surplus recruits, and to meet the requirement for training and for continuing home defence. Although both Battalions remained in the UK for the duration of the war, both also sent many drafts overseas to other battalions of the Devonshire Regiment, while early in 1915, when the Army Cycling Corps was set up, 70 men from the 7th Battalion, plus their officers, transferred to it.
At the time he was reported to have joined the Battalion, Frederick must have been barely sixteen. The age for recruitment into the Regular Army was eighteen (and for overseas service nineteen). For the Territorial Force, the recruitment age was seventeen. However, their pre-war attestation forms did not ask for a statement of age, and many offices were still using these in the early weeks of the war. Perhaps Frederick was one of many to overstate his age, or perhaps he was allowed to join nevertheless - many recruiting sergeants were prepared to take a relaxed view in the face of an enthusiastic recruit and the 7th Battalion was considerably under-establishment at the outbreak of war. After all, there was no commitment to overseas service in the Territorial Force, so Frederick and his parents may have thought that this would be an ideal way for him to make a contribution without undue risk at such a young age.
It is not known whether Frederick joined the 1st/7th Battalion in the northeast - he may first have joined the reserve Battalion at Totnes for training - but certainly by February 1915 he was with them in Devon.
Death
Frederick's sudden death was reported in the Dartmouth Chronicle of 16th April 1915:
Death of a Dartmouth Territorial
We regret to have to record the death at Branscombe Beer, near Seaton, of a Dartmouth Territorial, Private F Bell, 7th Battalion Devon Regiment (Cyclists), son of Mr and Mrs F T Bell, Sandquay Terrace.
Pte Bell ... was taken ill suddenly at Branscombe Beer the week before last, and after a very short illness passed away ... The deepest sympathy is felt with his parents in their very sad bereavement. Deceased was in his seventeenth year.
Frederick's parents placed two announcements the following week:
Death: Bell, April 5th, at Branscombe, near Beer, after a short and painful illness, Frederick Thomas, the dearly beloved son of F and E Bell, aged 16 years and 7 months.
Thanks: Mr and Mrs F Bell and family, 3 Sandquay Terrace, wish to thank all kind friends for their sympathy in their sad bereavement.
Frederick was buried on 8th April 1915 in the churchyard of St Winifred, Branscombe.
Memorial
It seems that after Frederick's death his immediate family moved to Plymouth, for Frederick Thomas senior died there in 1918. In 1919 Mary Emma married again - her second husband was John Tozer King - also in Plymouth.
Nonetheless, Frederick is commemorated in Dartmouth on the Town War Memorial and on the St Saviour's Memorial. He was one of the youngest of those who died while serving their country.
Sources
The Devonshire Regiment 1914-1918, C T Atkinson, pub 1926 Exeter and London
Regimental Museum for the Regiments of Devon and Dorset: The 1/7th and 2/7th (Cyclist) Battalions, Devonshire Regiment
The Long Long Trail: The Army Cyclist Corps
Doctrine and Reform in the British Cavalry 1880-1918, by Stephen Badsey (Birmingham Studies in First World War History), publ 2008 Ashgate
Information Held on Database
| | |
| --- | --- |
| Surname: | Bell |
| Forenames: | Frederick |
| Rank: | Private |
| Service Number: | 1171 |
| Military Unit: | 1/7th Cyclist Battalion Devonshire Regiment |
| Date of Death: | 05 Apr 1915 |
| Age at Death: | 16 |
| Cause of Death: | Disease |
| Action Resulting in Death: | |
| Place of Death: | Branscombe |
| Place of Burial: | St Winifred's Churchyard Branscombe Devon |
| Born or Lived in Dartmouth? | Yes |
| On Dartmouth War Memorial? | Yes |
| On St Saviour's Memorials? | Yes |
| On St Petrox Memorials? | No |
| On Flavel Church Memorials? | No |
| In Longcross Cemetery? | No |
| In St Clement's Churchyard? | No |
| On a Private Memorial? | No |
| On Another Memorial? | No |
---
This information was last updated on Saturday 04 April 2015 at 22:02:02.