Charles Chase
Family
Charles Henry Chase was born in Dartmouth in 1884. He was the youngest son, and the seventh of eight children, of Charles Henry Chase (senior) and his wife Mary Jane Cole.
Charles Henry (senior) was also born and brought up in Dartmouth as the youngest son in a large family. The 1871 Census recorded him living in Lower Street with his parents, John and Sarah, the last of their children to leave home. He worked as a mason.
In 1873 Charles Henry (senior) married Mary Jane Cole, from Slapton. Her father William Farley Cole was a fisherman and farm labourer. She came to Dartmouth to work in domestic service - at the time of the 1871 Census, she was the general servant in the household of James Voisey, a builder, in "New Road" - now Victoria Street. It's reasonable to assume that they met in Dartmouth - perhaps Charles Henry worked in James Voisey's building business.
Their first child, Elizabeth Ann, was born on 23rd October 1873, followed two years later by Robert Henry, on 5th March 1875. Both these children were baptised on 16th May 1875 at St Saviours, Dartmouth. Charles Henry continued to work as a mason. Three boys followed - Alfred Charles on 14th April 1878; Sidney William on 12th February 1879, and Frederick Charles Henry, on 8th February 1881 - all of them taken to St Saviour's for their baptism on 14th September 1881. The register records that they lived in "Brough's Slip", one of the many small streets leading down to the river.
Joining them at St Saviour's were Charles Henry's older brother John, with his wife Charlotte, who baptised their two younger children Charlotte Melinda, born on 13th March 1877, and Thomas Arthur, born on 13th June 1879, on the same day. Thomas Arthur Chase is also on our database.
Other members of the extended Chase family lived close by. In the 1881 Census, taken a few months earlier, Charles, Mary and their five children were recorded at Smith Slip, off Lower Street. Charles' parents, John and Sarah, shared the house with them (there was also another family in the property). Just up the street was another of Charles' older brothers, Thomas, a sailor, with his wife and six children. Charles and Mary's sixth child, Ernest, was born the following year, and joined by Charles Henry (junior) in 1884. The last child, Mabel, was born in 1887.
By the time of the 1891 Census, only the four younger children were still at home. Charles no longer worked as a mason, getting by on labouring work - the Census recorded him as "neither employer nor employed", presumably indicating that he worked as casual labour. Next door to the Chase family, now in Oxford Slip, was the Callard family, including Charles Henry (junior)'s close contemporary Sydney Abraham Callard, also on our database.
By 1901, Charles Henry (senior) worked as a coal-lumper - a hard trade, with much uncertainty. Because there were always three or four companies competing to provide ships coming into Dartmouth with coal, lumpers were casually employed. When a ship came into harbour to coal, the lumpers raced to the coaling hulk in 6 or 8-oared gigs, kept moored against the quay wall. The winning gang got the job. At the turn of the 20th century, a gradual decline in the tonnage of ships coming into Dartmouth, and in the amount of coal shipped to Dartmouth for bunkering, meant that the trade became even harder. For Charles Henry (junior), it seems that life on a farm, though also hard work, was a better prospect. The 1901 recorded him living and working as a "teamster" at Little Dartmouth farm, south of the town, run by Sampson Channon. His older brother Sidney also lived and worked there.
The next glimpse of Charles is in the 1911 Census and it is puzzling, because he was recorded as an "inmate" in the Totnes Workhouse. Had he been in the infirmary, he would have been recorded as a "patient". Virtually no records survive for Totnes workhouse so it is not known how long he stayed there or for what reason he was admitted. His mother and father still lived in Dartmouth, with his younger sister Mabel and her children; and by this time several of his brothers had married, and had made their homes in Dartmouth.
Service
Perhaps difficulties in finding work, or in supporting himself, made the prospect of joining up an attractive one for Charles. On 4th September 1914, a large recruiting meeting was held in Dartmouth, with bands, and dignitaries, and crowds. Charles' name appears in the first list published in the Dartmouth Chronicle, on 11th September 1914, of "Dartmouth patriots who have responded to the National Call to Arms during the present great European War".
Together with many of those who stepped forward, Charles enlisted in the 8th Battalion Devonshire Regiment. His service papers have not survived, but we know from the 1914/1915 Star Medal Roll that he arrived in France with them on 25th July 1915. For the early days of the Battalion, see the story of Andrew Prettyjohn. For the Battalion's role in the Battle of Loos on 25th September 1915, see our separate article on the battle. For their experiences after Loos, and on the Somme during the early part of 1916, see the story of Albert George Burnell.
Death
For the 8th Devons part in the Battle of the Somme, see the story of William Mark Carpenter. It seems that Charles died of wounds incurred in the same incident in which William Mark Carpenter was killed, in the advance to Ginchy on 4/5th September. The 8th Devons War Diary records that there were 12 casualties from shell fire as the 8th Devons moved up to relieve 21st Manchesters preparatory to an attack on the village.
In a letter sent by Corporal Theodore Veale, VC, to Alderman Peek of Dartmouth, which was reported in the Western Morning News and Western Times of 20th and 21st September, he provided news of two Dartmouth men, Pte Wm Carpenter and "Pte Chase", saying that they had both been killed on September 5th in France when:
a whole lot of German shells came over at once and exploded near the Devon soldiers, several of whom were buried. They were all got out alive except the two mentioned, who when extricated, were found to be dead.
In fact, the available records state that Charles died of wounds on 25th September at the 2nd Casualty Clearing Station, which was at that time in Bailleul. As his service file has not survived, it is not known for certain when he was wounded. However, the 8th Battalion was withdrawn on 7th September for ten days rest, after their attacks at Ginchy. They then moved away from the Somme, going into the line just to the north of Armentières, on 25th September. No casualties are reported in the Battalion's War Diary after those following the attacks on Ginchy.
No other casualties in the name of Chase are recorded for the Devonshire Regiment during this period (other than Charles himself) so it seems most likely that Theodore Veale was referring to Charles in his letter. Perhaps when Charles was extricated from the explosion he was at first thought to be dead, hence Corporal Veale's letter, but was subsequently found to have been severely wounded.
Although Commonwealth War Grave Commission records give Charles' age at death as 24, he was in fact 32. It is possible that he understated his age on joining the Army - the maximum age for recruitment first announced was 30, subsequently raised to 35 for those with no prior military experience.
Commemoration
Charles is buried in the Bailleul Communal Cemetery Extension, opened in April 1915 on the east side of the communal cemetery, and used up to April 1918 by the many casualty clearing stations based in the town.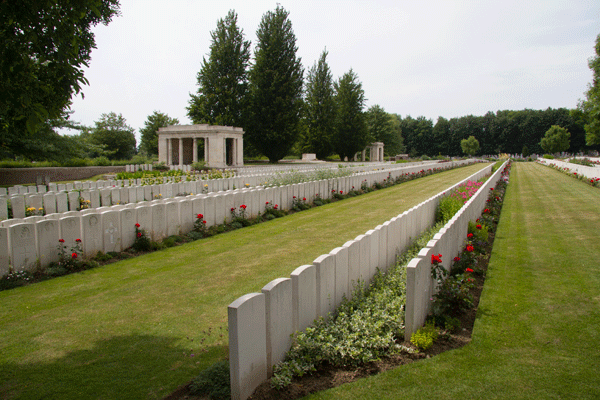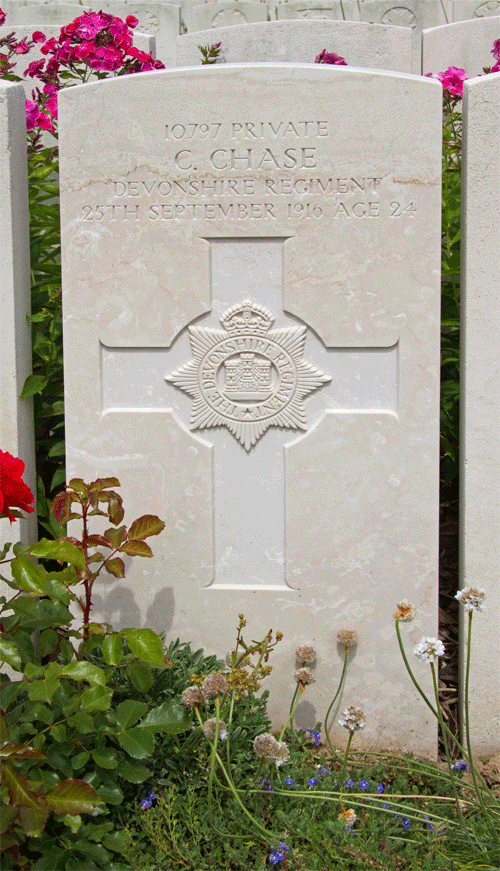 In Dartmouth, Charles is commemorated on the Town War Memorial and the St Saviours War Memorial Board.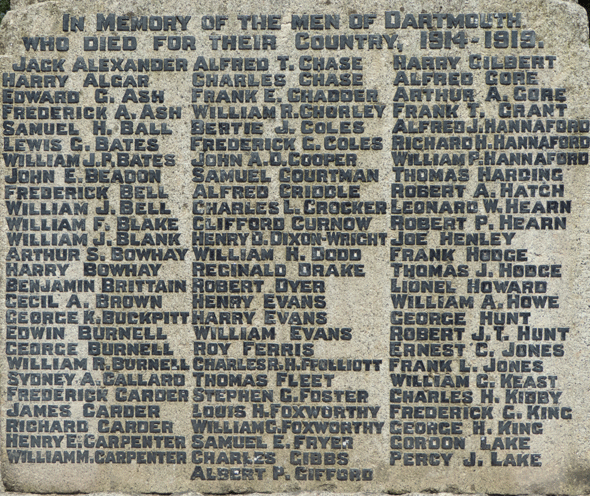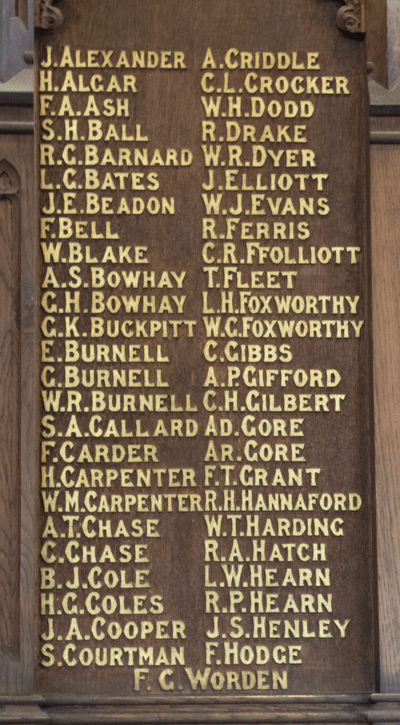 Charles' elder brother, Robert Henry Chase, also volunteered to serve. On 20th August 1915, the Chronicle included his name in a list of those joining the "Devon Labourers attached to the RE". His service record has survived, though in a fragmentary state. It shows that he joined the 1st Labour Battalion Royal Engineers as a "Pioneer" on 12th August 1915 and arrived in France only a few days later, and soon after his brother, on 21st August 1915. He transferred to the Labour Corps when it was set up in 1917. He survived the war.
Robert Henry's service papers include a letter from Thomas Wilton, Mayor of Dartmouth, to the Commanding Officer of the Labour Corps requesting that Robert's home leave be extended because of his mother Mary Jane's death on 12th December 1917 and her funeral on 17th December 1917. Charles Henry (senior) had died earlier that year.
Sources
War Diary of 8th Battalion Devonshire Regiment, July 1915-November 1917, available from the National Archives, fee payable for download, reference WO 95/1655/2
The Devonshire Regiment 1914-1918, complied by C T Atkinson, publ 1926, Exeter and London
Information Held on Database
| | |
| --- | --- |
| Surname: | Chase |
| Forenames: | Charles |
| Rank: | Private |
| Service Number: | 10797 |
| Military Unit: | 8th Bn Devonshire Regiment |
| Date of Death: | 25 Sep 1916 |
| Age at Death: | 32 |
| Cause of Death: | Died of wounds |
| Action Resulting in Death: | Battle of the Somme |
| Place of Death: | Bailleul |
| Place of Burial: | Bailleul Cemetery, France |
| Born or Lived in Dartmouth? | Yes |
| On Dartmouth War Memorial? | Yes |
| On St Saviour's Memorials? | Yes |
| On St Petrox Memorials? | No |
| On Flavel Church Memorials? | No |
| In Longcross Cemetery? | No |
| In St Clement's Churchyard? | No |
| On a Private Memorial? | No |
| On Another Memorial? | No |
---
This information was last updated on Tuesday 01 November 2016 at 15:51:20.