Albert George Burnell
Family
Albert George Burnell (George, as he was known in the family) was not a native of Dartmouth but was born in Schull, County Cork, in Ireland, in 1888, where his father, William Burnell, was serving with the Coastguard Service.
William Burnell came originally from Paignton, Devon. He came from a labouring background but chose to make the Navy his career. He joined aged 15 in 1870, volunteering for a ten year continuous engagement, with effect from 7th May 1873. On completion of his training, he was appointed to HMS Revenge, at that time, the guardship at Queenstown, his first service in Ireland, but by the end of 1874 was back in England on the books of Royal Adelaide, flagship of the Port Admiral, Devonport. On 4th January 1875, he married Mary Ann May, at St Mary's Collaton, just outside Paignton. The couple's first child, Charlotte, had been born on 13th October 1874. She was baptised a little over a year later, on 17th October 1875, at St John's Paignton.
William was rated Able Seaman on 23rd June 1875, and about six months later had his first taste of global travel with an appointment to HMS London. London was at that time the harbour guard and storeship at Zanzibar, where she served as the Royal Navy's base for suppression of the slave trade on the East Coast of Africa. He returned to the UK in 1878, and was appointed to the less exotic surroundings of HMS Cambridge, the gunnery training ship at Devonport. His final posting in the Navy was to HMS Northumberland, an armoured frigate, on 15th September 1880, in the Channel Fleet. She had just undergone a refit during which her five masts were replaced with three, and she was given a partial rearmament.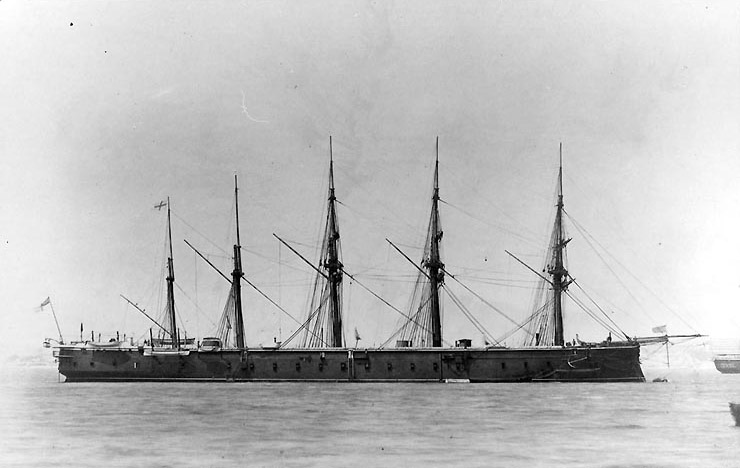 Northumberland with five masts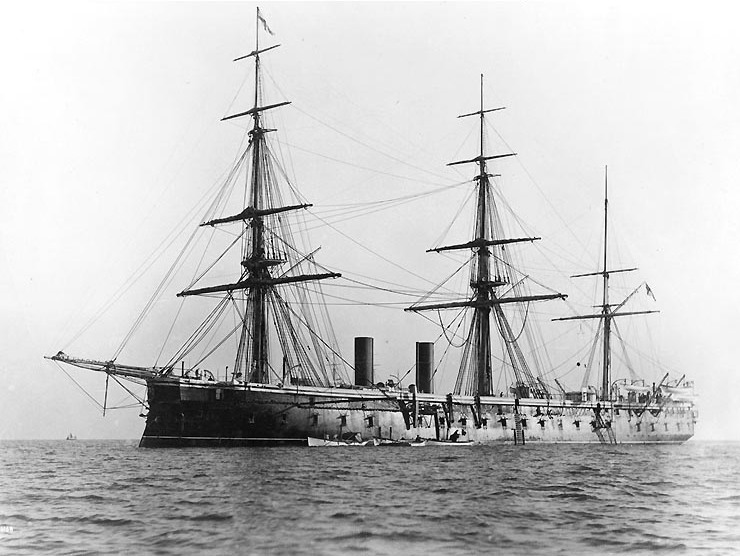 Northumberland with three masts in 1890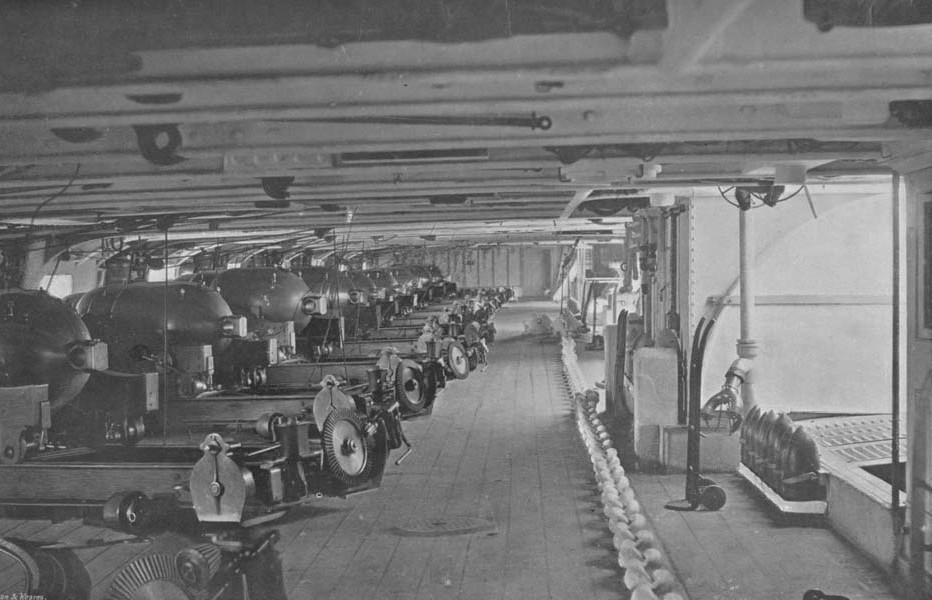 Northumberland's 18 8-inch guns on the main deck
The 1881 Census duly recorded William on board HMS Northumberland. Mary Ann, in the meantime, was living with her parents, Robert and Dianna May, in Paignton. With her were Charlotte, aged 6, and Minnie May, aged 1. Minnie May was baptised at St John's, Paignton, on 28th March 1880, a couple of months after her birth.
William left Northumberland on 30th June 1881, having decided to transfer to the Coastguard Service. Although this would still mean fairly frequent moves, the family could stay together, as Coastguards were provided with family accommodation. On 6th July 1881 he was appointed as a Boatman to the Coastguard Station at Schull, County Cork, where he remained until June 1889. While there, he extended his service for another ten years on 7th May 1883, to qualify for a pension.
Three children were born in Schull while the family lived there: William Robert, in 1883; Gertrude Mary, in 1886; and Albert George, in 1888. But the family must have had at least one trip back to England during this time, for Edith Maria's birth was registered in England in 1884 and she was baptised at St Mary's Collaton, where William and Mary Anne had married, on 10th August 1884.
On 19th June 1889 William was appointed as Commissioned Boatman to the Coastguard Station at Ardglass, at the other end of Ireland on the north-east coast near Belfast. May Charlotte and Edwin John, the two youngest of the couple's eight children, were born there in 1889 and 1892.
How long William remained at Ardglass is not shown on his naval service record, but by the time of the 1901 Census William was Chief Boatman at the Coastguard Station in Salcombe. Charlotte seems to have been away from home; Edith was working at home "on her own account" - in what capacity is not stated; William was a bus-conductor; Gertrude a dressmaker; and George (as he was evidently called within the family) was already working at 13, as a Telegram Messenger.
On 29th January 1903, in Holy Trinity Salcombe, Charlotte married John Edward Harris, a Postman, from Dartmouth. Her sister Minnie and (most probably) her brother William were their witnesses. John had been born in Dartmouth in 1877 where his father worked as a Cadet's servant at HMS Britannia. John and Charlotte made their home in Dartmouth, where John continued to work as a Postman. When William retired from the Coast Guard, he and Mary Anne went to live in Dartmouth with them. The 1911 Census recorded a full household at 3 Alexandra Cottages, Above Town, Dartmouth - in the seven room house were John and Charlotte, and their three children, William, Winifred and Edwin; and also William and Mary Anne, Gertrude, (Albert) George, and Edwin. Gertrude continued to work as a dressmaker and Edwin was a stationer's assistant.
William (junior) by this time had left home, had married in 1906, and was working in Essex. Edith married in 1909, and was working with her husband, Arthur Pile, as a hairdresser, in Woolwich. Finally, Minnie May had married Frederick Mitchelmore, an Engine Room Artificer in the Navy, in 1910. In 1911, newly married, she was living in Devonport, with her sister May to keep her company while her husband was away at sea.
George was recorded as an assistant grocer. The Dartmouth Chronicle, when announcing his death, said that "he was prior to the outbreak of war employed as an assistant in the grocery store of Mr Tyrer of Brixham".
Service
George's service records have not survived, but, according to the Dartmouth Chronicle, George volunteered soon after the outbreak of war, and this is confirmed by his service number. Soldiers Died In the Great War records that he enlisted in Exeter. He joined the 8th Battalion Devonshire Regiment, along with many others from Dartmouth. His entry on the Medal Roll for the Regiment confirms that he went to France on 25th July 1915.
For the Battalion's experiences until early September 1915, please see the story of Andrew Prettyjohn killed by sniper fire on 8th September.
The Battalion went on to fight in the Battle of Loos, on 25th and 26th September 1915. There they sustained severe losses. Eight of those killed were from Dartmouth. For the Battalion's experience there, please see our article on the Battle.
George's brother Edwin also joined the Devonshire Regiment, in the 9th Battalion. Although the 8th and 9th Battalions fought alongside each other at Loos, he did not go to France until 1st October 1915. He is also on our database and his story will be published in 2017.
After the Battle of Loos, the 8th Devons went into billets at Beuvry. But they were not left to rest for long. On 1st October they received orders to move a little way north, to the sector of the line around Cambrin, just south of the Béthune-La Bassée canal. The line was quiet. They cleared the field of arms and ammunition and constructed fire trenches. Over the next few days new officers joined and on 7th October 300 NCOs and men. The new arrivals were sent to Beuvry for training in bombing (grenade throwing). On 10th October they were relieved from the trenches and went into billets at Essars for a few days rest.
On 14th October they were back in the line at Cambrin where there was a "very heavy bombardment by our artillery". The following day, the first of those who had been casualties at Loos rejoined the Battalion. On 16th October, they marched to billets in the Tobacco Factory at Béthune, where more men joined. On 17th October they marched to other billets, in Ecleme, north west of Béthune.
By 21st October they had returned to the front line, this time beside the canal near Cuinchy. They were shelled "occasionally", and on 23rd October five men were wounded by rifle grenades. On 24th October, the 20th Brigade (of which the 8th Devons were a part) lost its commanding officer when Brigadier General Trefusis was mortally wounded by a sniper. That day they were relieved and went back into billets at Essars. The Brigadier was buried the following day.
They remained in Essars until 1st November, when they returned to the trenches at Cuinchy. The weather was extremely wet and the trench parapets and paradoses fell in. When they marched to billets in Bernenchon on 4th November the greatcoats were carried in lorries because they were so wet and muddy. According to the Regimental History: "the worst feature of the wet was ... "trench feet" ... and one of the chief tasks of the officers was to see that the instructions about the men greasing their feet were strictly obeyed. It was a standing joke in the 8th that the trench-foot grease was often issued by mistake for the ration butter [as] both were issued in the same kind of tins".
From Bernenchon they went to Essars and then back into the trenches at Givenchy. It remained extremely wet. On 9th November, they had two killed and four wounded. They were relieved by the 9th Devons, once again going into billets at Essars. After a further short stint in the trenches on 12-13th November, from which they were again relieved by 9th Devons, they went back to Bernenchon. Whilst there, they attended a Gas Demonstration: "all available officers and NCOs and men attended and went through a trench filled with Gas. The test was very successful and useful, especially to those who had not experienced Gas before" (8th Battalion War Diary).
On 22nd November the Battalion marched to Le Hamel and the following day went into the line at Festubert, where they worked "day and night" and "in water" to build up the trenches. During this period they were shelled daily. After a week of this they were again relieved by the 9th Devons and went into billets at Contraine by way of Festubert. Here they met their new Commanding Officer, Brigadier General Deverell. They were on their way to the Somme, where they arrived on 7th December, with 23 Officers and 695 other ranks, still well below full strength.
From 7th to 29th December they were in training at Ailly sur Somme, where they enjoyed route marches, drills, lectures, visits from the divisional band, baths and clean blankets, and a visit from the Mayor of Exeter on 20th December. On Christmas Day there was "a plentiful supply of Turkeys, plum pudding etc". More men arrived to build up the strength of the Battalion the day after.
On 30th December they marched from Ailly sur Somme to billets at Fourdrindy, and on 4th January, from there to Pont Remy, where training continued and more reinforcements arrived. On 29th January they were back at Ailly; from there they marched on 1st February to Cardonnette, on 2nd to La Houssoye, and on 3rd to Méaulte.
On 4th February, they were back in the trenches at Becordel, after two and a half months respite. They were by this stage back up to establishment.
Death
The Regimental History observes that "the opening months of 1916 were ... barren of striking incidents for the 8th and 9th Devons". The 8th Devons War Diary records, tersely, the following, for 5th-10th February:
5th: Trenches. On our right were the Manchester Regiment, on our left the 2nd Border Regiment, occupying D1 and 3 respectively.
6th: Trenches. Ditto
7th: Trenches. Ditto
8th: Trenches. Ditto
9th: Trenches. Ditto
10th: Trenches.
There is no mention in the Battalion War Diary of George's death or of any casualties during this period.
For the Burnell family, however, 10th February was not "barren of incident". A letter from Edwin to his sister, Charlotte (reported in the Dartmouth Chronicle) carried the news that George had been instantaneously killed by shrapnel on that day, whilst on sentry duty. According to his letter, Edwin was notified the following day of his brother's death, and saw his body at the mortuary, the funeral taking place at half-past three o'clock in the afternoon with full honours.
The newspaper expressed deepest sympathy with George's bereaved parents and other members of the family.
In addition to the report of George's death, the following announcements appeared in the Dartmouth Chronicle of 18th February:
Deaths
Burnell - Killed while on sentry duty on the 10th inst, in France, Private Albert George Burnell, the beloved second son of Mrs and Mrs W Burnell, General Post Office, Dartmouth, aged 27 years
Thanks
Mr and Mrs W Burnell desire to tender their sincere thanks for the many expressions of sympathy received on the occasion of their sad bereavement.
Official notice of George's death was published in the casualty lists on 3rd March 1916.
Commemoration
George is buried close to where he fell in Dartmoor Cemetery, Becordel-Becourt (the name was changed to Dartmoor in May 1916 at the request of the 8th and 9th Battalions of the Devonshire Regiment).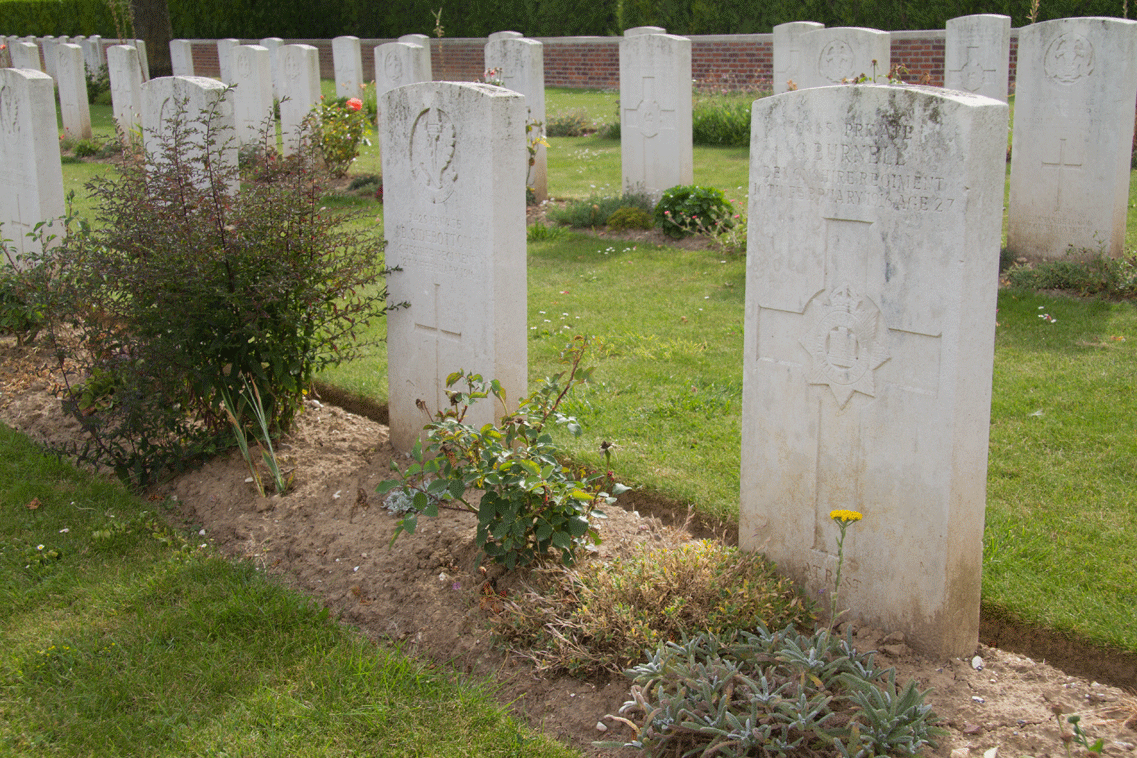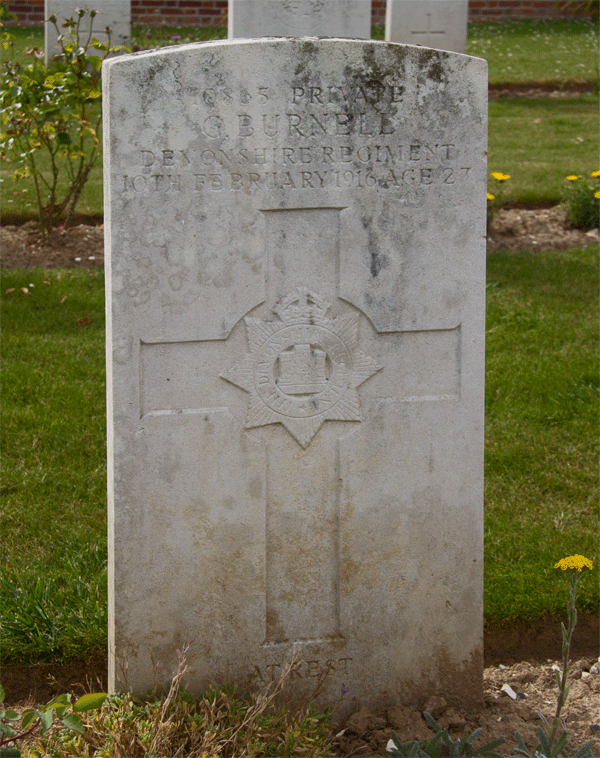 He is commemorated in Dartmouth, with his brothers Edwin and William (whose stories will also be published in 2017), on the Town War Memorial, the St Saviour's War Memorial Board, and on a panel on the St Petrox Memorial.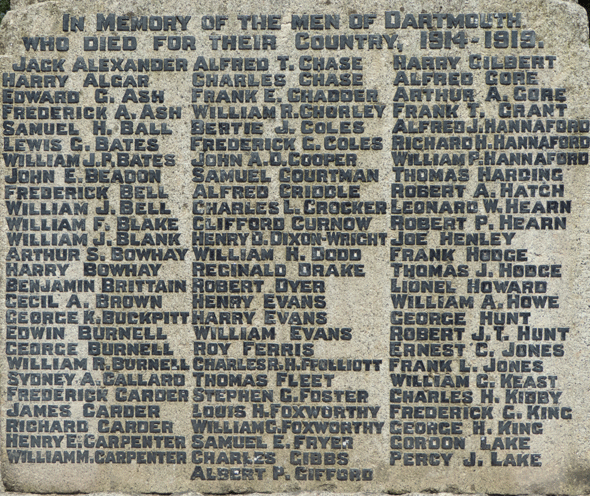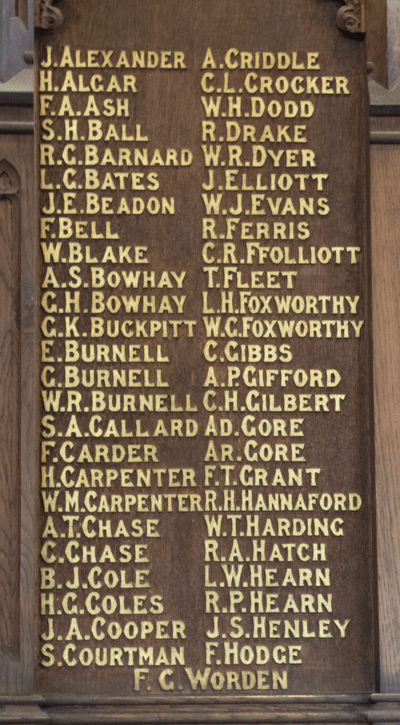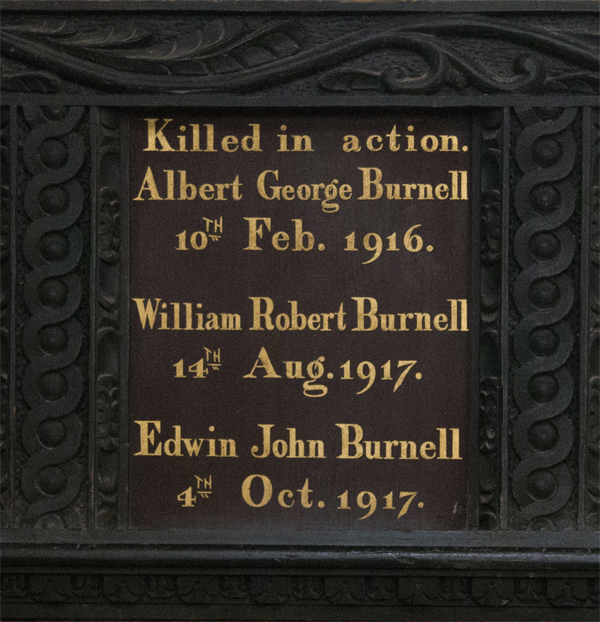 Burnell Brothers Memorial Board in St Petrox
Sources
William Burnell's naval service records are downloadable from the National Archives, fee chargeable, references ADM 139/919/11890 and ADM 188/56/70893
The War Diary of the 8th Battalion Devonshire Regiment is available for download from the National Archives (fee payable) reference WO 95/1655/2
The Devonshire Regiment 1914-1918 by C T Atkinson, publ Eland Bros Exeter, 1926
Information Held on Database
| | |
| --- | --- |
| Surname: | Burnell |
| Forenames: | Albert George |
| Alternative Forenames: | George |
| Rank: | Private |
| Service Number: | 10865 |
| Military Unit: | 8th Bn Devonshire Regiment |
| Date of Death: | 10 Feb 1916 |
| Age at Death: | 27 |
| Cause of Death: | Killed in action |
| Action Resulting in Death: | Sentry duty |
| Place of Death: | Becordel, France |
| Place of Burial: | Dartmoor Cemetery, Becordel-Becourt, France |
| Born or Lived in Dartmouth? | Yes |
| On Dartmouth War Memorial? | Yes |
| On St Saviour's Memorials? | Yes |
| On St Petrox Memorials? | Yes |
| On Flavel Church Memorials? | No |
| In Longcross Cemetery? | No |
| In St Clement's Churchyard? | No |
| On a Private Memorial? | No |
| On Another Memorial? | No |
---
This information was last updated on Tuesday 01 November 2016 at 15:11:06.