Thomas Charles
Thomas Charles does not appear on any public memorials in Dartmouth. He is on our database because his death was announced in the Dartmouth Chronicle.
The following is what we have so far been able to establish; research into his story continues.
Family
According to information given on his marriage certificate, Thomas Charles was born in 1894, and was the son of John Charles, a general labourer, who had died by the time Thomas married. "Soldiers Died in the Great War" states that Thomas was born in Redruth, Cornwall. However, so far, we have been able to identify neither Thomas, nor his father, in census records (or indeed, any other records).
Thomas' connection to Dartmouth was through his wife, Olive May Webber. Olive was born in Dartmouth on 12th December 1896. She was the youngest daughter of Charles Webber and his wife, Sarah Ball Jarvis. Charles was born in Harberton and Sarah in Salcombe. They married in Plymouth and first settled in Sarah's home, Salcombe. They moved to Dartmouth in 1883, where Charles worked as a coal lumper. Two of Olive's older brothers, William Charles Webber and John Samuel Webber, are also on our database.
When Thomas came to Dartmouth is not known. However, on Christmas Day 1915, he married Olive at the Wesleyan Chapel in Kingswear. Olive was working in domestic service, as a housekeeper; Thomas as a general labourer. They both lived in Newcomen Road, Dartmouth. One of Olive's elder sisters, Mary Jane Hanlon, was a witness; the other was Charles Webber (probably her father rather than her brother).
The Derby Scheme
Thomas Charles' service papers, like so many, have not survived. However, his name appeared in the Dartmouth Chronicle of 24th December 1915 in a list of men who had joined the "Army Reserve". This means that he had enlisted in the Army under the "Derby Scheme" (officially, the Group Scheme).
By the spring of 1915, it was clear that voluntary recruitment would not be sufficient to meet the likely need for manpower - but there was still a great deal of resistance to the idea of compulsory military service. The Government passed a National Registration Act in July 1915 to identify the numbers of men between the ages of 15 and 65 engaged in each trade. All those in this age range who were not already in the military were obliged to register and give details of their employment. The forms completed by men engaged in essential war industries, such as coal mining, munitions, railways, and certain branches of agriculture, were marked with a black star.
The results of the census were published in September. The register showed that just over 5m men of military age were not in the forces. 2.18m were single and 2.83m were married. Of the single men, only 0.69m were in "starred" occupations. So even without the married men, nearly 1.5m men were - theoretically - available for military service almost at once.
That month, the numbers recruited voluntarily were the lowest monthly total so far. At the same time, the Army suffered heavy casualties at Loos, which included some of the "New Army" Battalions (including the 8th and 9th Devons - see our article on the battle). Lord Kitchener advised the Government that even to keep existing units at strength required 35,000 recruits a week, well above the actual weekly average. The Government decided to have one last attempt to continue with voluntary recruitment. But it was widely recognised that if this failed, conscription would be introduced.
Edward Stanley, Lord Derby, was appointed in October as Director-General of Recruiting, to use the information on the National Register to bring in recruits. He developed a scheme in which (other than in Ireland) every man between the ages of 18 and 41 was informed that they could choose either to enlist voluntarily immediately, or to attest with an obligation to come if called up later on. Attested men would be split into two categories, single and married, and each was subdivided into 23 groups according to age - commitments were given that the youngest married men would not be summoned until all 23 age groups of single men had been called up. The last day of registration for the scheme was 15th December 1915 (it was extended several times in December because a flood of men came forward at the last minute).
Those who were accepted for service and chose to defer it were called Class "A" (those joining voluntarily immediately were Class "B"). Class A men were given a day's army pay for the attestation day and a grey armband with a red crown to wear as a sign they had volunteered. They were officially transferred into the Army Reserve and were sent back home until they were called up.
During December 1915, the Dartmouth Chronicle published several lists of those who had volunteered under the Derby Scheme and had enlisted in the Army Reserve - it appears that Thomas Charles enlisted near to the last date of registration. This undoubtedly influenced the date of his marriage, which occurred very soon after. If he was born in 1894 (as indicated by the age he gave when he married) then he will have been classified as "Group 4". The mobilisation date for that group was 20th January 1916, though not all men were called up at the date at which their Group was first mobilised.
Service
All we know about Thomas' service is that he was, apparently, a member of the 9th Battalion Devonshire Regiment at the time of his death. According to their War Diary, the 9th Battalion received drafts of reinforcements on 13th May, and on 12th and 18th June. Allowing time for his initial training in England after he was called up, Thomas presumably joined as part of one of these drafts. He can have been with the 9th Devons only a very short time.
Death
On 1st July 1916, the 9th Battalion attacked in the southern sector of the British line on the Somme, with the objective of taking the western part of Mametz. For an account of the attack, please see the story of Robert Phillips Willing.
Many of the Battalion's casualties occurred as they left Mansel Copse, the location of the British front line, and many, though not all, of those who died were buried in a cemetery created from the old front line trench a few days after the battle, as in the case of Robert Willing. Casualties after the attack totalled eight officers killed and nine wounded; and of the men, 141 were killed, 55 were missing, and 267 wounded.
The 9th Battalion was withdrawn immediately afterward for rest and reorganisation, a period during which they were joined by 486 more men, coming from almost every other West Country and Southern Regment. It appears that Thomas was reported missing during this period - one of the 55.
The Dartmouth Chronicle reported on 18th August 1916:
The recent casualty lists contain the name of Pte T Charles, of Dartmouth (Devon Regt) who is stated to be "missing".
A similar report appeared in the Western Times on the same day.
Olive had to wait over a year to receive final news of her husband's death. The Western Times reported on Saturday 8th September 1917 that T Charles of Dartmouth was "previously reported missing now reported killed".
The Soldiers' Effects Records show that Pte 16822 Thomas Charles of the 9th Battalion Devonshire Regiment was "presumed dead 1st July 1916". Effects went to his widow and sole legatee "Olive M". Evidently his date of death was not known, and as he had been reported missing after 1st July 1916, this date was attributed to the death.
Burial and Commemoration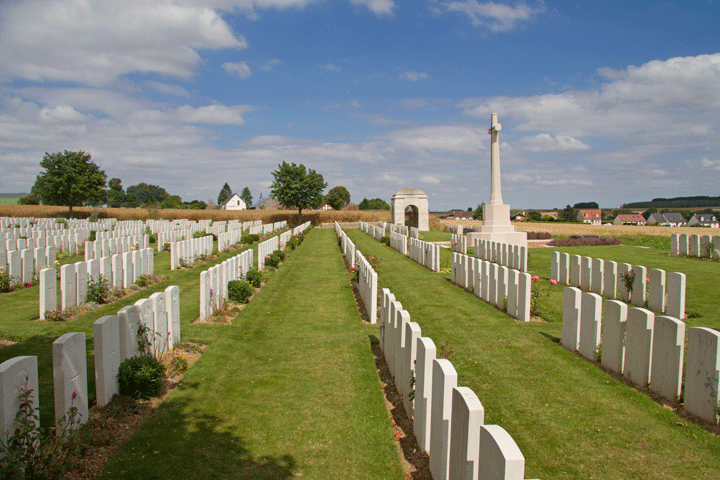 Thomas is buried in Ovillers Military Cemetery.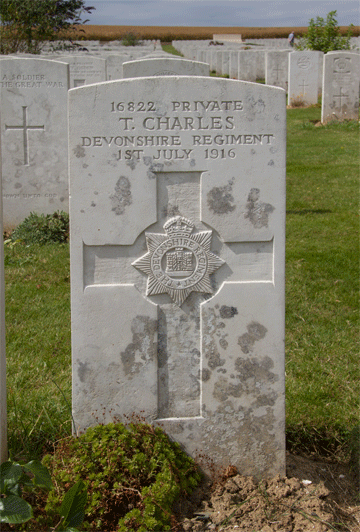 A Commonwealth War Graves Commission "Burial Return" recording the concentration of burials into the Cemetery after the war states that the body now recorded as that of Thomas Charles was first identified as "Officer Devons" and then as "16822 Pte T Thomas 10 Devons" (sic). The CWGC have advised that the co-ordinates for the original burial given on the Burial Return indicate that the body was originally buried in a location west of Ovillers-la Boisselle and south-east of Authuille Wood. This seems odd, because this location is quite some distance from where the 9th Battalion attacked, and hence from where Thomas presumably went missing. It is the area of the Somme front where the 2nd Battalion of the Devonshire Regiment attacked on 1st July 1916, and suffered massive casualties - see the story of Thomas' brother-in-law, William Charles Webber.
Although the 9th Battalion's War Diary records that 46 members of 2nd Devons joined 9th Devons during the period immediately after 1st July 1916 (see the story of Ernest Leonard Memory), there is no record in either Battalion's War Diary of members of 9th Devons joining 2nd Devons before the attack. Research continues to try to clarify the circumstances of Thomas' burial.
After the war, there seems to have been some confusion about Thomas' name. The original War Graves Commission Graves Registration Report form for Ovillers Military Cemetery showed the name of soldier number 16822 Devonshire Regiment as "Pte C Thomas". By the time the register for Ovillers Military Cemetery was published, the name had been corrected. However, "Soldiers Died in the Great War", prepared by the War Office in 1921, records the name of soldier number 16822 as "Charles Thomas", and states that he was a member of the 9th Battalion Devonshire Regiment and was killed in action on 1st July 1916. The Regimental History, compiled by C T Atkinson in 1926, appears to have used this information, since it too records the name of soldier number 16822 as "Charles Thomas".
Olive married again in 1917, after Thomas' death was confirmed. She and her second husband, Frederick Charles Skews, settled in Devonport. This may be the reason that Thomas Charles was not commemorated on any public memorial in Dartmouth.
Sources
War Diary of the 9th Battalion Devonshire Regiment downloadable from the National Archives, fee payable, reference: WO 95/1656/1
For the Derby scheme:
Kitchener's Army: The raising of the New Armies 1914-1916, by Peter Simkins, Pen & Sword Military, 2014
Information Held on Database
| | |
| --- | --- |
| Surname: | Charles |
| Forenames: | Thomas |
| Rank: | Private |
| Service Number: | 16822 |
| Military Unit: | 9th Bn Devonshire Regiment |
| Date of Death: | 01 Jul 1916 |
| Age at Death: | 21 |
| Cause of Death: | Killed in action |
| Action Resulting in Death: | Battle of the Somme |
| Place of Death: | |
| Place of Burial: | Buried Ovillers Military Cemetery, France |
| Born or Lived in Dartmouth? | Not Known |
| On Dartmouth War Memorial? | No |
| On St Saviour's Memorials? | No |
| On St Petrox Memorials? | No |
| On Flavel Church Memorials? | No |
| In Longcross Cemetery? | No |
| In St Clement's Churchyard? | No |
| On a Private Memorial? | No |
| On Another Memorial? | Yes |
| Name of Other Memorial: | Dartmouth Chronicle Obituary |
---
This information was last updated on Sunday 23 October 2016 at 17:12:33.