(William) Ernest Leonard Memory
William Ernest Leonard Memory (also spelt Memery) was born in Dartmouth on 14th May 1892 and baptized at St Saviours two months later, on 14th July. His father, William Robert Memory, was a general labourer, born in Cornworthy, near Dartmouth; his mother, Anna Maria Ferris, came from Strete, between Dartmouth and Kingsbridge.
William Robert had moved to Dartmouth with his family some time before 1881; Anna, aged only 13 in 1881, was employed as a domestic servant in Above Town, in the house of Arthur Crocker, a grocer, and his wife Mary. They married at St Clement's Townstal, on 5th January 1890. William was a labourer and Anna still a servant - they both lived in Townstal. Their eldest daughter, Ellen Florence Beatrice, usually called Florence (or Florrie) was born on 8th March 1890 and baptised at St Saviours on 30th April 1890 (the record is in the name of Ferris). Anna already had a daughter when she married, named as Mary in the 1891 Census, and as Annie in later Censuses. At the time of the 1891 Census, the family lived in Higher Street, Dartmouth, and William Robert worked as a Gardener.
Ernest was the next to be born and the eldest son (he appears not to have used the name William). Next was Gertrude May Eveline, born in 1895, and baptised at St Saviours on 21st March of that year. She was followed by Arthur James, who was baptised on 13th August 1896, and who sadly lived only a few months. By the time of his baptism, the family had moved to Crowthers Hill.
By the time of the 1901 Census, two more boys had arrived - Lewis John Ferris, named for Anna Maria's father, but usually called John, was born on 31st October 1897; and Albert Edward Leslie, usually called Leslie, was born on 18th April 1899. The family was still living in Crowther's Hill, and William Robert continued to work as a general labourer.
The family continued to grow: Frederick Charles Robert was born on 5th May 1903 and baptised on 2nd July of that year at St Saviours; Levi Horace was born on 12th February 1904, but baptised at St Saviours along with his younger sister Victoria Alexandra Ena (usually known as Ena) on 29th November 1906. She had been born six weeks or so earlier, on 11th October 1906. Finally, Eli Leonard was born on Boxing Day, 1908, and baptised on 18th February 1909, at St Saviours. By this time, the family had moved to Clarence Hill. William Robert was still working as a labourer.
The 1911 Census recorded them all living in four rooms (including the kitchen) in Clarence Hill. William Robert worked as a general labourer for Dartmouth Town Council, though (according to the Census form) he had lost his sight in one eye. Annie had moved away, to work in domestic service in Torquay for a retired Naval Commander and his wife. The other two elder girls, Florrie and Gertie, both worked as general servants, but were both still living at home. Ernest , aged 20, was a grocer's assistant. John, Leslie, Fred and Levi were at school; the two youngest had not yet started.
Ernest's service papers, like so many, have not survived, so it is not known what his occupation was by the time he enlisted. However, we know that he had moved away from Dartmouth, because "Soldiers Died in the Great War" records that his place of residence was Lee Moor, north of Plymouth. This suggests that he may have been employed at the china clay works there.
Service
Ernest enlisted in Plymouth, and joined the Devonshire Regiment. According to the Regiment's Medal Rolls, he was first posted to the 2nd Battalion, and then transferred to the 9th Battalion. The 9th Battalion went to France on 27th July 1915 (see the story of Alfred Edgar Willing). There is no date given for his arrival in theatre on Ernest's Medal Index Card, indicating that he did not go to France until 1916.
The 9th Battalion went into the attack on 1st July 1916 in the southern sector of the Somme front, opposite the village of Mametz (see the story of Robert Phillips Willing). Although the attack was successful, the 9th suffered heavy casualties - eight officers killed, nine wounded; 141 men killed, 55 missing, and 267 wounded. After this it was withdrawn for rest and reorganization.
During this period the 9th Devons were joined by "no less than 486 men, coming from almost every other West Country and Southern Regiment". On 11th July, the list of those arriving includes "25 other ranks 2nd Devon Regt", and on 12th July, "21 other ranks 2nd Devons" so this was perhaps when Ernest joined 9th Battalion. Whether he had joined 2nd Devons in France, and transferred there, is not known (there is no mention of any transfers out at this time in the War Diary of 2nd Devons - indeed, they were themselves receiving reinforcements following their casualties on 1st July).
If Ernest joined the 9th at this time, he found himself in the front line immediately. On 11th July, the 9th Battalion joined the new front line, going through Fricourt to Caterpillar Valley, where they held the Brigade front until the attack on Bazentin le Grand. While the troops leading the forthcoming assault were training and rehearsing the planned night-time attack, 9th Devons sent out fighting patrols, but encountered very little enemy activity.
As the attack went in, they went into reserve, and remained there. Though they were not actively engaged, they suffered from the German counter-barrage, with nearly 90 casualties, though only 15 killed. Four days later, in the attack on High Wood, No 1 company of the 9th was placed under the command of 2nd Gordons when they needed reinforcements. Like the 8th Devons, they were able to reach Black Road, their first objective, but suffered heavy casualties in trying to reach Wood Lane, their second objective, and eventually were withdrawn (for a fuller account of the action, see our general article here).
As we do not know Ernest's company, we do not know whether he was directly involved in the attack on High Wood. The remainder of the 9th Battalion stayed in the rear.
After High Wood, the whole Brigade was withdrawn from the front line to the rear at Ailly sur Somme, for rest, recuperation, training, and brigade sports. But even there the 9th's Battalion's casualties did not stop. On 2nd August "an accident, presumably due to premature bursting of a No 5 Mills Grenade at bombing practice", resulted in the wounding of two senior NCOs and three men. One of the NCOs, Sgt R J Melhuish, DCM, died of his wounds. The following day, another similar accident caused the death of one man and the wounding of another. On 7th August, another man was wounded by the accidental discharge of a rifle, and on 10th August, an officer was accidentally wounded by a bullet during a demonstration of the action of a Lewis gun.
According to the Regimental History, by the end of August, over 20 officers had joined the 9th, with enough men to bring it up to 800. This enabled some of those who had joined in early July to return to their units. Some of those joining were men who had recovered after being wounded, but, as the accident record perhaps indicates, many of those coming into the Battalion had little experience. The unprecedented casualty levels required urgent measures.
7th Division was originally planned to be part of the attack with the new weapon on the Somme, the tank, in the middle of September. However, the need to ensure that all the remaining "start-line" objectives were taken before the next major advance, brought them back to the front line sooner. One of these objectives was the village of Ginchy, "a small straggling set of pulverized ruins surrounded by the shell-blasted remains of fruit trees". It was a strong point in depth behind the German second line position. Ginchy had been taken by 22nd Brigade (also part of 7th Division) that morning, but it had been lost almost immediately due to a fierce counter-attack (see the story of Robert Anderson Hatch).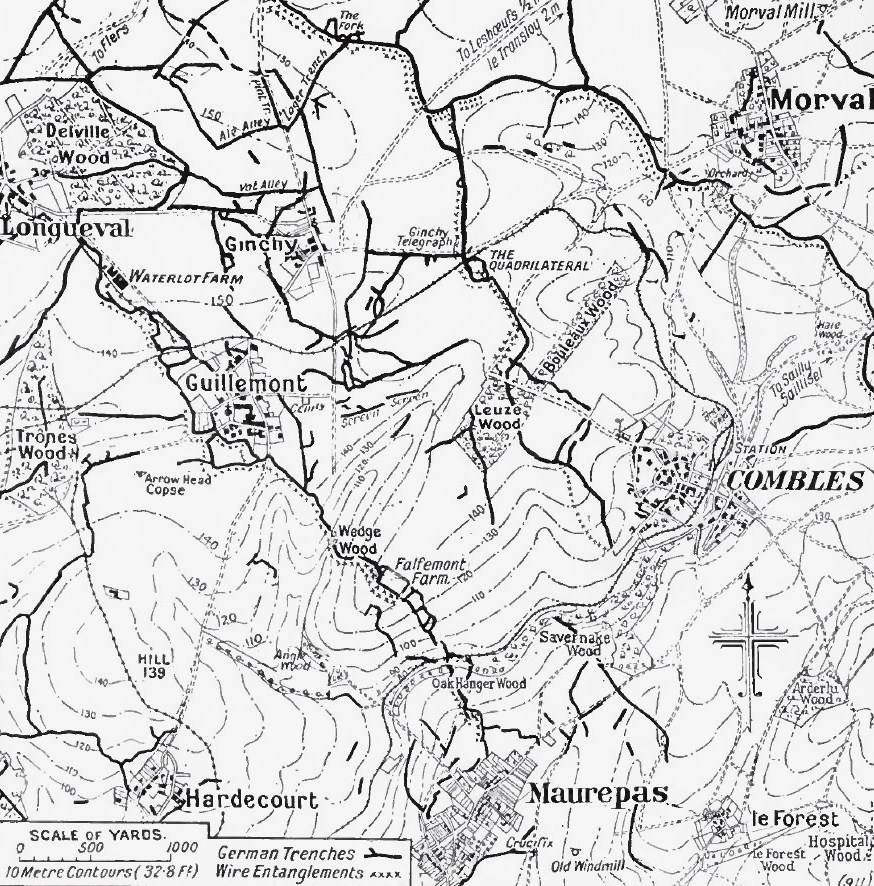 Somme Area from Longueval to Combles
On 3rd September 1916, after church, and according to the Regimental History, whilst the officers of the 8th and 9th Devons were in the middle of a strenuous football match, orders arrived for both Battalions to return to the front line. The Brigade was bussed to Mametz - the 9th Devons leaving at 7.25pm and the 8th Devons at 7.45pm, and then marched to Montauban.
Death
The route to Ginchy was long, over broken ground in the dark. At Bernafay Wood, they drew picks, shovels and water, and at the Quarry, north of Bernafay, they stopped to draw detonated bombs in place of the undetonated ones they had been issued in Mametz. By the time they reached the assembly points to the south-west of Ginchy, it was getting light.
Nos 1 and 2 Companies were to occupy Porter Trench, attack the village, and secure the eastern edge, with the road leading to Guillemont on their right. Nos 3 and 4 Companies were to occupy Stout Trench; No 3 Company was then to extend the line from the church, in the centre of the village, to the Northern end; No 4 Company was to throw a defensive flank back on the left towards Delville Wood.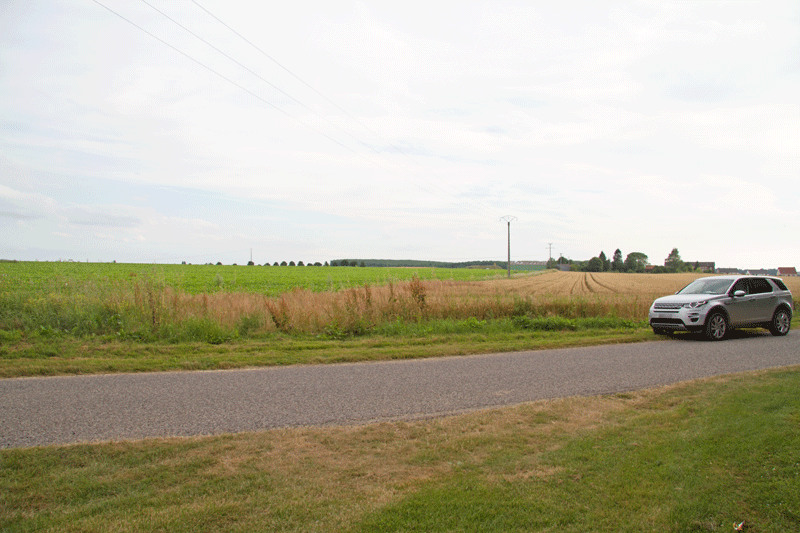 Porter and Stout Trenches extended from a position just in front of the car towards the skyline at the left of this picture.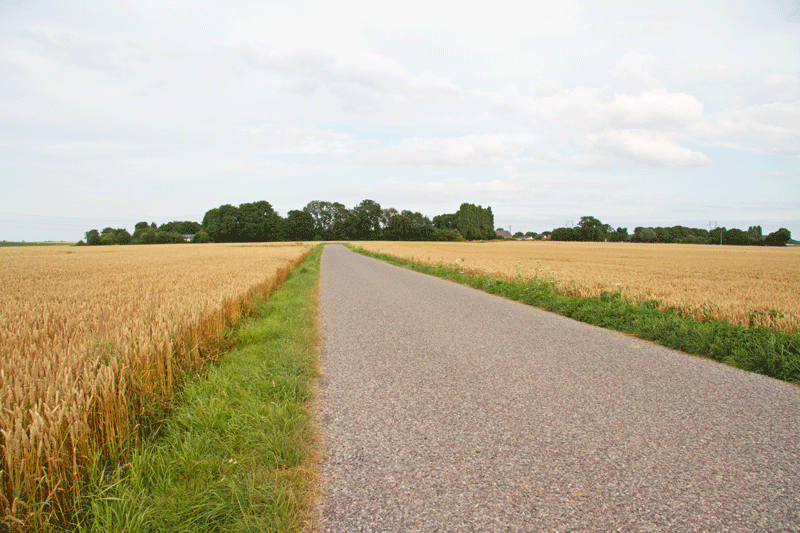 The view towards Ginchy from the position of the Porter and Stout Trenches.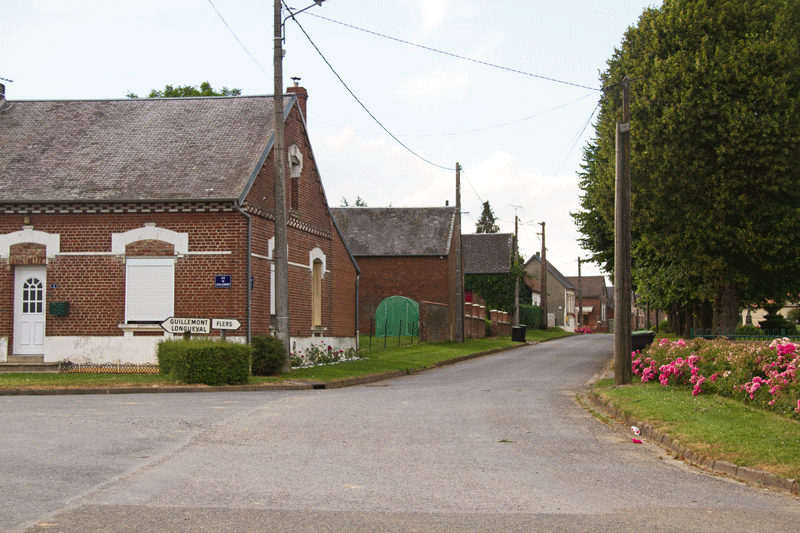 The middle of Ginchy (photo taken in July 2016).
Unfortunately, Nos 1 and 2 Companies failed to reach Porter Trench, assembling by mistake further back in ZZ Trench, east of Waterlot Farm. Nos 3 and 4 Companies, due to assemble in Stout Trench, did so 100 yards behind ZZ. They thus had further to go to reach Ginchy.
Nonetheless, to begin with, the leading companies had some success. A report was sent back at 9.10am by the officer commanding No 3 Company that the companies had reached the ruins of Ginchy and "appeared to be doing well", though sustaining heavy casualties. However, at 10.08am a runner was sent back to report that the advance was held up by heavy machine gun and rifle fire and that reinforcements were needed. One company of 2nd Borders, in Brigade reserve, was sent up. By 12.35pm, however, a further report indicated that the attack had faltered - one company commander was killed and two wounded, and the men of both regiments (Devons and Borders) "were very much done up owing to the very heavy and accurage barrage and machine gun fire and had suffered heavy casualties". The remnants attempted to dig in but a German counter-attack then forced them back to ZZ Trench, where they remained until they were relieved. The village was too strongly held for a single battalion to take.
The newly reconstituted 9th had once again been badly mauled - three officers were killed and twelve wounded, and about 300 of the men (a little under half) were casualties. As the Regimental History comments: "It had been a disastrous business for the 9th".
The 9th Battalion was withdrawn to Montauban, and the 8th Battalion came forward, together with 2nd Gordons (for the 8th Devons at Ginchy, see the story of William Marks Carpenter).
The shattered Battalion, many of whom had been in action for the first time, was allowed very little rest, however. On 6th September, mustering seven officers from those who had previously been left out of the action, and a little over 400 men, they were called back to support the 2nd Gordons, attacking to the south of the village, on the right of 8th Devons.
The overall plan was much as before: the 2nd Gordons, supported by 9th Devons, were to take Ginchy, while the 8th Devons were to take the remaining enemy trenches between Delville Wood and Ginchy and form a defensive flank to the north of the main attack.
Because of reports that remnants of 22 Brigade and 9th Devons were still holding out in the village, there was no preliminary bombardment. Instead, the 2nd Gordons were to attack before dawn, in an attempt to surprise the defence. The attack would follow immediately behind a creeping barrage. However, the Gordons' two leading companies lost their way in the darkness, and there was a delay as they were brought back to their starting positions. The attack was made at 6.30am, but reached a standstill 100 yards short of the village, under heavy fire from the defenders.
The attack was renewed at 2pm, this time with a preliminary barrage, and reinforced by two companies of 9th Devons. Together with the Gordons, these two companies cleared the orchards to the north of the village, and 30 prisoners were taken. Exactly what happened next is unclear, because all the officers of these two companies became casualties. There was heavy resistance, and in addition, British artillery was firing short, and also causing casualties. Machine guns were called for, and another company of the 9th Devons was sent in, but this was not enough to defeat a determined German counter-attack. A little after 5pm, the Germans had recaptured the village.
Casualties were another eight officers - one killed, one missing believed killed, and six wounded, and over 100 men. As the Regimental History puts it succinctly: "For the time it [the 9th] had clearly shot its bolt".
The Soldiers' Effects Register gives the date of Ernest's death as 4th/6th September 1916, presumably indicating doubt about whether he had been killed in the first or the second of the 9th Battalion's attacks on Ginchy. However, later Commonwealth War Graves Commission records show the date of his death as 6th September, and this is the date we have used on our database.
Also killed on that day was another Dartmouth man in the 9th Battalion, Percy Lewis.
Commemoration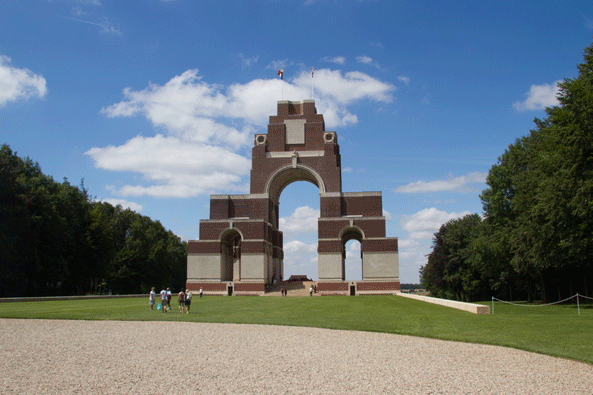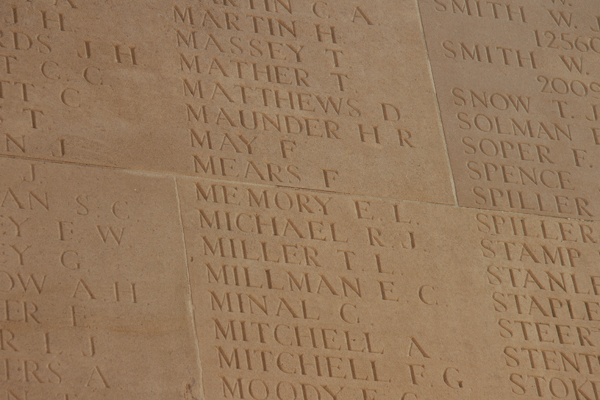 Ernest is one of more than 72,000 men commemorated on the Thiepval Memorial, the Memorial to the Missing of the Somme, for those dying in the Somme sector before 20th March 1918 and who have no known grave.
In Dartmouth, he is commemorated on the Town War Memorial and the St Saviours War Memorial Board.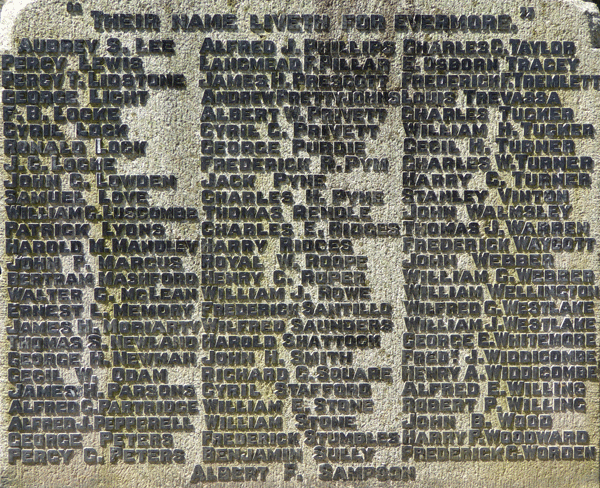 Dartmouth Town Memorial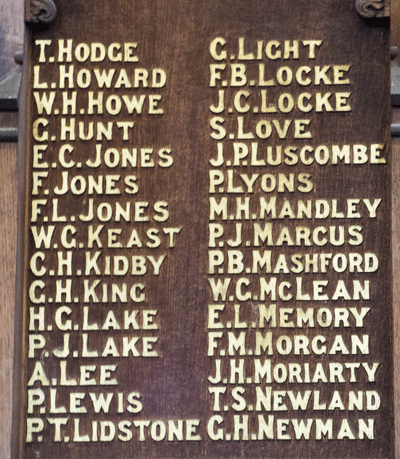 St Saviour's Memorial Board
Sources
War Diary of the 9th Battalion Devonshire Regiment downloadable from the National Archives, fee payable, reference: WO 95/1656/1
The Devonshire Regiment 1914-1918, compiled by C T Atkinson, publ. 1926, London and Exeter
West Country Regiments on the Somme, by Tim Saunders, publ. 2004, Pen & Sword Books
Information Held on Database
| | |
| --- | --- |
| Surname: | Memory |
| Forenames: | Ernest Leonard |
| Rank: | Private |
| Service Number: | 22037 |
| Military Unit: | 9th Bn Devonshire Regiment |
| Date of Death: | 06 Sep 1916 |
| Age at Death: | |
| Cause of Death: | Killed in action |
| Action Resulting in Death: | |
| Place of Death: | |
| Place of Burial: | Commemorated Thiepval Memorial, France |
| Born or Lived in Dartmouth? | Yes |
| On Dartmouth War Memorial? | Yes |
| On St Saviour's Memorials? | Yes |
| On St Petrox Memorials? | No |
| On Flavel Church Memorials? | No |
| In Longcross Cemetery? | No |
| In St Clement's Churchyard? | No |
| On a Private Memorial? | No |
| On Another Memorial? | No |
---
This information was last updated on Friday 09 September 2016 at 23:11:35.