Alfred Edgar Willing
Alfred Edgar Willing was not a native of Dartmouth (though his grandfather, George Callard was born in the town); nor, it seems, did he ever live here. He and his brother, Robert Phillips Willing are commemorated on memorials in Dartmouth because his parents came to live in the town during or soon after the war.
Family
Alfred Edgar Willing was born in Torquay, Devon in 1886. He was the oldest of four boys born to Robert Phillips Willing and his wife, Alice Mahala Callard.
Robert Phillips Willing came originally from Loddiswell, near Kingsbridge. He was the eldest son of Charles Thomas Willing and his wife Marianne Stroud. Charles Willing farmed at Reads Farm. According to the 1871 Census, he farmed 135 acres, employing three men, one boy, and one woman. He did not, however, go into the family farm, leaving that to his brother. Instead he became an architect.
In 1886 he married Alice Mahala Callard in Stoke Damerel, Plymouth. Alice was born in Torquay, one of seven daughters of George Callard and Elizabeth Brook. George Callard was born and brought up in Dartmouth. He began his working life as a farmworker, in Stoke Fleming. He moved to Torquay some time before his marriage to Elizabeth Brook, in 1859, when he was recorded as a "Fly driver" (a fly being a type of carriage). Subsequently he obtained work as a coachman.
Robert and Alice settled first in Torquay, where their first two children were born, Alfred Edgar sometime between October and December of 1886, and Lawrence Charles, early in 1889. By the 1891 Census, the family had moved to 35 Albert St, Abergavenny, Monmouthshire. Robert was working as an "architect's clerk". With him and Alice were Lawrence, aged 2, and the latest baby, William Stroud, aged one month. Perhaps because of the baby's birth, Alfred, aged 4, was living with his grandparents, George and Elizabeth Callard, in Torquay.
Alfred's youngest brother, Robert Phillips Willing, was also born in Abergavenny, on 13th May 1893. He and William (born 1st March 1891) were baptised at St Mary's Abergavenny, on 14th June 1893. The family had moved to 2 Cambridge Terrace and Robert had progressed to "Assistant Architect".
Alfred was admitted to Hereford Road Junior Boys School, Abergavenny, on 3rd May 1897, and Lawrence joined him there six months later. The family's address at that time was Ashton House, Oxford Street. Robert had previously attended a school in Castle Street, Abergavenny. The Hereford Road register states that Robert and Lawrence left the school in November 1898, because they had "left town". Evidently they moved to Merthyr Tydfil - all four boys are on the registers of Twynyrodyn Junior School, Merthyr Tydfil.
In the 1901 Census Robert and the three younger boys were recorded living at 13 Highland View, Twynyrodyn, Merthyr Tydfil. Alice's name was not included, perhaps by oversight of the enumerator - she does not seem to have been recorded elsewhere. Robert was an "architect's assistant". By coincidence, Alfred, age 14, was recorded in this census with his other grandmother, Marianne Willing, who continued to farm at Reads Farm, Loddiswell, after the death of her husband.
By the time of the 1911 Census records, Alfred had left home. He was working as an upholsterer, living as a "boarder" in 2 Wyvern Terrace, Llandrindod Radnorshire. British Trade Union membership registers record him in 1914 as a member of the Cardiff Branch of the National Union of Railwaymen, working as a carpenter.
William, his younger brother, had also left home and was working as a shop assistant in Cardiff. The 1911 Census recorded him and his brother Robert, who was visiting him, and was also a shop assistant, at 64 Glenroy Street, Cardiff.
Their parents, Robert and Alice, were still in Merthyr Tydfil, though at a different address - 18 New Castle St, Merthyr. Robert was now an architect with the Borough Council. Lawrence still lived at home. He worked as a wholesale clothiers assistant. According to family information, Robert Phillips Willing was responsible, on behalf of the Council, for the conversion of Cyfarthfa Castle, built by the Crawshay family, ironmasters in Merthyr. The castle was sold to the local council in 1908. Part of the ground floor was converted to a museum, which still operates, and the remainder became a secondary school.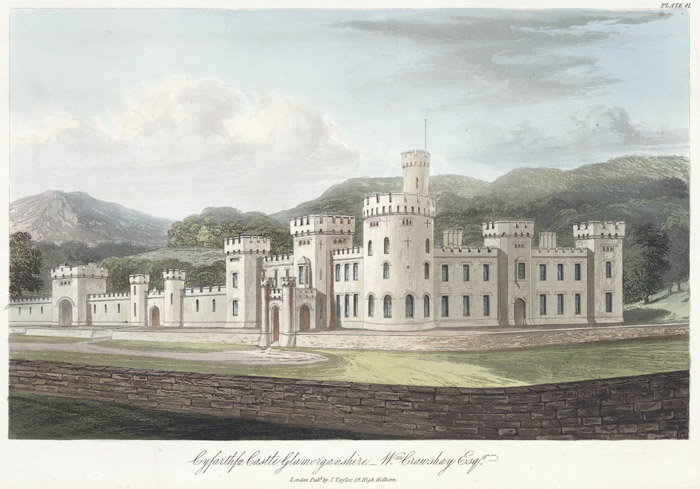 Service
Alfred's service papers have not survived but a comparison of his service number with those of others with surviving papers suggests he enlisted early in September (and indeed that his brother Robert enlisted at much the same time). Both enlisted in Cardiff.
The 9th Battalion of the Devonshire Regiment, to which which both brothers were allocated, was formed in September 1914 at Rushmoor, near Aldershot. According to the Regimental History, of the 500 initial recruits who arrived at Rushmoor, only about 20 came from Devon, the majority being from Wales, and some from Birmingham. He continues:
Towards the end of September the 8th and 9th made their first real appearance, on parade as battalions when the King and Queen, accompanied by Lord Kitchener, inspected the "New Army" units at Aldershot upon the Queen's Parade. The spectacle was most remarkable; most battalions were still without any uniform, to say nothing of equipment and rifles, but already beginning to bear themselves like soldiers ...
On 2nd October the 9th Battalion moved to the National Rifle Association's grounds at Bisley and remained there for two months, using Pirbright Common as its training ground; at the end of November, when their Bisley quarters had become cold and wet, they moved into barracks at Aldershot for the next three months, mvoing on 24th February to Haslemere "where it was most hospitably welcomed, and soon found itself extremely comfortably established". Finally, in April, it was moved to Bordon, Hampshire, where there was training in bombing, trench warfare and night operations.
On July 27th, the Battalion began its journey to France, disembarking at Le Havre on 28th July, and three days later they arrived at Wizernes, near the front line, joining the 8th Battalion there. The 8th and 9th Battalions both joined the Seventh Division, replacing two Guards' Battalions, which had been transferred to the newly formed Guards Division. The 9th was first attached to companies in the line of 22nd Brigade for a 48 hour tour of instruction, and then given a sector of the front line to hold, from north-west of Chapelle St Roch to south-west of Port Arthur, taken at Festubert earlier in the year. On 4th September, they moved south of the La Bassee canal, relieving the Ninth Division on the front east of Vermelles. Unfortunately, the Battalion's War Diary for August and the first two weeks of September is missing - the first available page begins on 17th September, when "the Battalion moved by companies from Gonnehem to Fouquereuil ... weather fine but close".
They remained at Fouquereuil until 23rd September, when they moved to Verquin, and began the preparation for the forthcoming battle: inspecting kit, testing smoke helmets, drawing grenades. At 11pm on 24th September, they moved into their positions in the trenches. The 9th were in brigade reserve.
The Battle of Loos
For the action of the 8th and 9th Battalions at Loos on 25th and 26th September (and the wider background to the battle) please see our general article.
At 3am on 27th September, the 9th Battalion retired to the original British front line - "Old support" and "Curly Crescent" trenches. At 7pm, they were sent to dig in the forward trenches, and then retired once more to "old support" and "Curly Crescent". On the evening of 28th September, they were "working on support trench in the rear of Gun Trench" and then retired yet again to "old support" and "Curly Crescent". On 29th September, at 6pm, they were ordered to proceed to the front line and stand to arms. They occupied the front line until 2.30am on 30th September, when they were relieved by the Royal Welch Fusiliers, and "marched out of trenches independently to Noyelles, and thence by Battalion into billets at Beuvry". On 1st October, they took over trenches at Cambrin, in the northernmost sector of the line at this point.
There is no mention in the 9th Battalion's War Diary of any casualties during the period from 17th September to 1st October, a period which includes the Battle of Loos. However, according to the Regimental History, their losses from the battle totalled 15 officers and 461 men, of whom 59 were killed, 76 were missing and 326 wounded.
Death
What happened to Alfred in the battle is not known. But after it was over, evidently he was one of those missing. The Western Times of 3rd November 1915 carried a list of 48 names of soldiers in the 9th Battalion reported as missing "under date October 23rd", of whom the last was A E Willing.
The Army Register of Soldiers' Effects records his death as "on or since 30th September 1915, death presumed". The 1914-1915 Star Medal roll records his death as "death regarded 30th September 1915".
His brother Robert survived Loos, to die at the Somme. His story will be published next July.
Commemoration
Like all those from the 8th Battalion commemorated in Dartmouth who died on, or as a result of Loos, Alfred is commemorated on the Loos Memorial to the Missing.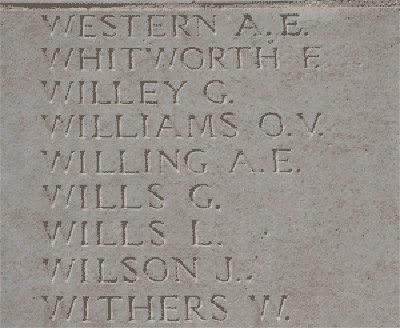 Loos Memorial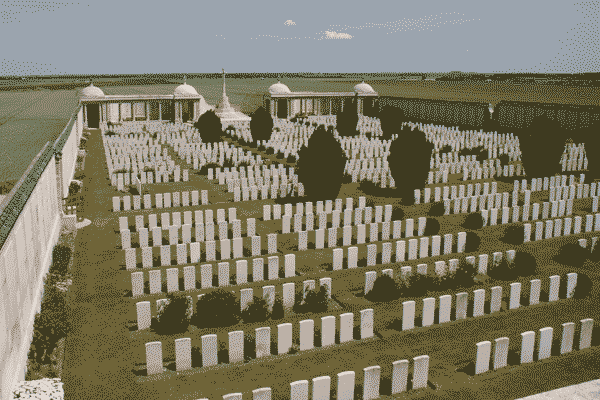 Loos Memorial and Dud Corner Cemetery
As one of the 579,206 casualties in the region of Nord-Pas-de-Calais, Alfred is also commemorated on the new memorial at Notre Dame de Lorette, "The Ring of Memory".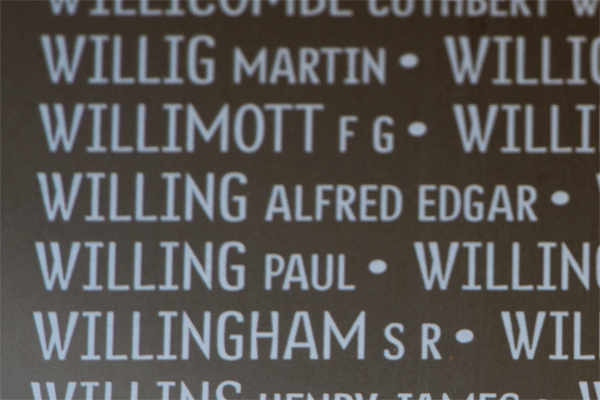 Ring of Memory memorial at Notre Dame de Lorette
In Dartmouth Alfred (and indeed his brother Robert) is commemorated on the Town War Memorial and the St Saviour's Memorial Board.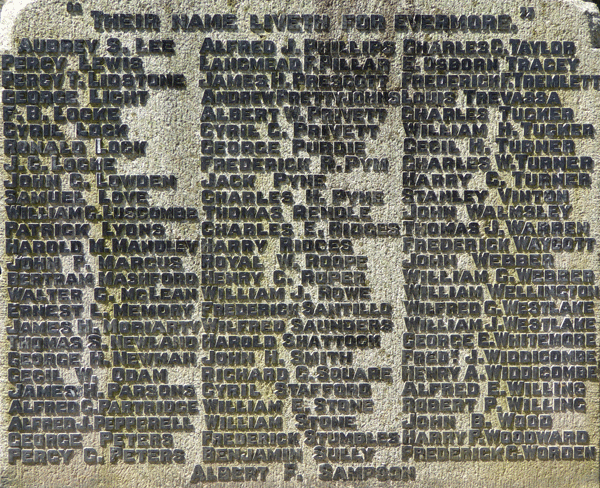 Dartmouth Town Memorial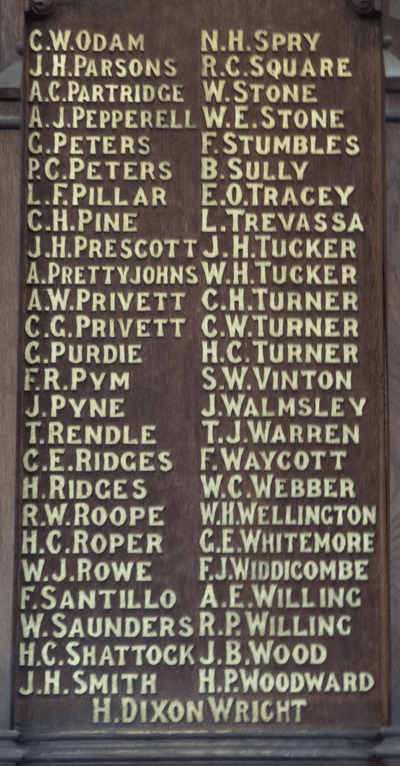 St Saviour's Memorial Board
Robert and Alice Willing appear to have moved to Dartmouth some time before 1919, when Alfred and Robert's names appeared in the Dartmouth Chronicle on a "provisional list of the names of the men of Dartmouth who lost their lives whilst on active service in the great war 1914-1919". In the register drawn up after the war by the Imperial War Graves Commission (as it then was) for those commemorated on the Loos Memorial, their address was given as 3 Glyndell Terrace, Dartmouth.
Sources
The Devonshire Regiment 1914-1918, by C T Atkinson, publ Eland Bros Exeter and Simpkin, Marshall, Hamilton, Kent & Co Ltd, 1926.
The War Diary of the 9th Battalion Devonshire Regiment September 1915-December 1916, downloadable from The National Archives (fee payable) reference WO 95/1656/1.
A picture of Alfred and Robert Willing may be seen on the "Roll of Honour" section of the website heardfamilyhistory.org.uk.
Information Held on Database
| | |
| --- | --- |
| Surname: | Willing |
| Forenames: | Alfred Edgar |
| Rank: | Private |
| Service Number: | 11724 |
| Military Unit: | 9th Bn Devonshire Regiment |
| Date of Death: | 30 Sep 1915 |
| Age at Death: | 29 |
| Cause of Death: | Killed in action |
| Action Resulting in Death: | Battle of Loos |
| Place of Death: | |
| Place of Burial: | Commemorated Loos Memorial, France |
| Born or Lived in Dartmouth? | Yes |
| On Dartmouth War Memorial? | Yes |
| On St Saviour's Memorials? | Yes |
| On St Petrox Memorials? | No |
| On Flavel Church Memorials? | No |
| In Longcross Cemetery? | No |
| In St Clement's Churchyard? | No |
| On a Private Memorial? | No |
| On Another Memorial? | No |
---
This information was last updated on Sunday 09 July 2017 at 23:00:37.