Percy Lewis
Family
Percy Lewis was born in Dartmouth on 16th December 1879 and baptised on 4th February 1880 at St Saviours. He was the son of Isabella Lewis. The baptism record provides no name for his father. However, the column for "quality, trade or profession" is completed with the words "gentleman's servant HMS Britannia". It is unclear whether this describes Isabella's occupation, or that of Percy's unnamed father.
Isabella, Percy's mother, was born in Dartmouth in 1851. She was the second surviving daughter of William Charles Short Lewis and his wife Isabella Mauchimer (this name was spelt many different ways but seems to have been a variant of Mitchelmore), both of whom were born in the town, who had married in 1845. William Lewis, also known as Charles Lewis, was a merchant seaman, having gone to sea as a Boy, aged 12, in 1837. He was awarded his Mate's Certificate in 1852 and his Master's Certificate in 1858. According to a short piece published in the Dartmouth Chronicle when he died, he had "accomplished in 1851 what was considered at that time a remarkable feat. He took out to Australia, at the time of the gold rush, the smallest schooner that up to that time had made the voyage from England". He later [when?] became the Harbourmaster for Dartmouth, holding the appointment for over twenty years.
On 3rd February 1881, when Percy was eleven months old, his mother Isabella married William Matters, a Baker, at the Congregational Chapel, Dittisham. William's first wife, Isabella Lewis Heath, had died six months earlier, and William had three young children. In the 1881 Census, the family were recorded living in Lower Street, next door to the Albion Inn (Percy's age was given incorrectly as four).
Though she and William Matters had three daughters - Elsie, born late in 1881; Hilda, born in November 1882; and Isabella (known as Bella), born in June 1884; Isabella's marriage was not happy. The following report appeared in the Dartmouth Chronicle (and other papers also) on 2nd October 1885:
A Brutal Assault on a Wife
At the Paignton Petty Sessions, yesterday, before Rear Admiral Dawkins (in the chair) Major Harlow Turner, and N Baker Esq, Wm Matters of Kingswear, and formerly of St George's Square Dartmouth, was charged with committing an aggravated assault upon his wife, who was in bodily fear and asked for an order of separation.
Mr P Hockin appeared for the prosecution and Mr Nelson for the defendant.
Isabella Matters, wife of the defendant, said she had been married since 1881. On Sept 25th her husband went to Dartmouth Market. When he came back she was upstairs. In consquence of a noise she came down, and heard from her child that defendant had taken out the dinner and thrown it into the grate. She spoke to him about breaking the plate, and he took her by the neck and threw her into the street. She got up and attempted to go into the house again, and the defendant struck her on the head with his fist several times, and refused to let her come in. She leant her head against the window-sill and the defendant came behind her and kicked her, seriously injuring her.
In answer to Mr Nelson, prosecutrix stated that her life had not been a happy one. Her husband had never complained of her being lazy.
Witnesses, including the doctor who had been called to attend to Isabella, testified to the assault and to the severe injuries. Mr Nelson, for William Matters, did not deny the assault, but claimed provocation. The judges, however, sided with Isabella, agreeing that an aggravated assault had been committed, and sending William to prison for 28 days, with a judicial separation on his return, and a requirement that he pay 7s per week maintenance for Isabella and the children.
Isabella's circumstances seem to have deteriorated after this. The 1891 Census recorded her and the three girls, Elsie, Hilda and Bella, in the Workhouse at Totnes. She was described as "wife of William Matters, Baker, Dartmouth". Perhaps he had failed to keep up the maintenance payments ordered by the Court. We have not been able to trace him in the 1891 Census.
Percy, however, had found a home with his grandfather William Charles. His grandmother Isabella had died in 1886, but very soon afterwards his grandfather had married again. His step-grandmother, Harriet Church, née Prowse, came from Sherford. There was already a family connection between the Lewis and Prowse families, as William Charles' younger daughter Mary Jane was married to John Prowse, Harriet's younger brother. Harriet had married in London, but on being widowed in 1875, had come to Dartmouth to live with her parents, Robert and Mary Ann Prowse.
William, Harriet and Percy, aged 11, were recorded living in Bayards Cove in the 1891 Census. William, a well-known figure in Dartmouth, was the Harbour Master.
Some time before the time of the next Census, Percy left Dartmouth, in search of work. In 1901, he was recorded in a boarding house in Redruth, working as a grocer's assistant. Also in the boarding house was one Roland Burrow, a grocer's manager, presumably Percy's boss. The company for which they worked is not recorded. He was still in the same line of work in 1911, when the Census recorded him, aged 30, living in a boarding house at 87 Halcyon Road, Newton Abbot.
Percy's grandfather William Charles died on 7th January 1902, the passing of "another old Dartmothian" marked in the Dartmouth Chronicle "with exceeding regret". Harriet moved to live with her sister Elizabeth, who also lived in Dartmouth, having married John Emanuel Hearn in 1869 (see the story of Robert Prowse Hearn). Harriet died at her sister's house in 1915.
For Percy's mother Isabella, in the meantime, things had improved. At the time of the 1901 Census, she was living in a cottage in Buckfast, Buckfastleigh, with her three daughters. She worked as a wool sorter, and her daughters as serge weavers, in one of the wool factories in the town. It seems that William Matters had died (though we have not been able to trace his date of death) because she was recorded as a widow. Shortly afterwards, on 22nd May 1901, she married again. Her second husband was Alexander Pope Fletcher, Spinner, living in Higher Town, Buckfastleigh. He was somewhat older than her; his father, of the same name, had been a schoolmaster. In the 1911 Census, Alexander and Isabella were living in Bridge Street Buckfastleigh.
Service
Percy's Service papers have not survived, so we do not know when he joined the Devonshire Regiment, although "Soldiers Died in the Great War" records that he enlisted in Plymouth. He was posted to the 9th Battalion. His Medal Index Card shows no date of entry to France, indicating that he did not arrive there until some time during 1916.
The 9th Battalion's War Diary for 1916 records 2nd Lt R Butland, with 102 other ranks joining on 13th May; nine other ranks joining on 25th May; five on 12th June; and 60 on 18th June. So Percy may have arrived with the Battalion in time for the attack on the first day of the Somme. For the experiences of the 9th Battalion up to, and including, that day, see the story of Robert Phillips Willing.
Although the attack was successful, the 9th suffered heavy casualties - eight officers killed, nine wounded; 141 men killed, 55 missing, and 267 wounded. After this it was withdrawn for rest and reorganization, and during this period the 9th Devons were joined by men from a large number of West Country and Southern Regiments. It is likely that one of these was Ernest Leonard Memory, also on our database, who transferred from the 2nd Battalion to the 9th.
According to the Regimental History, by the end of August, over 20 officers had joined the 9th, with enough men to bring it up to 800. This enabled some of those who had joined in early July to return to their units. Some of those joining were men who had recovered after being wounded, but many of those coming into the Battalion had little experience. However, the unprecedented casualty levels required urgent measures.
Whatever point he arrived with the Battalion, we know that Percy was involved in the attack on Ginchy. For the description of this action, please see the story of Ernest Leonard Memory.
Death
The Soldiers Effects Register gives the date of Percy's death as 4th/6th September 1916, presumably indicating doubt about whether he had been killed in action during the first or the second of the 9th Battalion's attacks on Ginchy. The Commonwealth War Graves Commission similarly record Percy's date of death in this way. We have used 6th September on our database.
Percy was buried on the battlefield. Subsequently his grave was brought in to Delville Wood Cemetery, made after the Armistice, in which almost all the burials date from July, August and September 1916. The position taken by 9th Battalion as they assembled for the attack on Ginchy is between Delville Wood and the village, so he lies very close to where he died. He also lies alongside 34 others from 9th Battalion.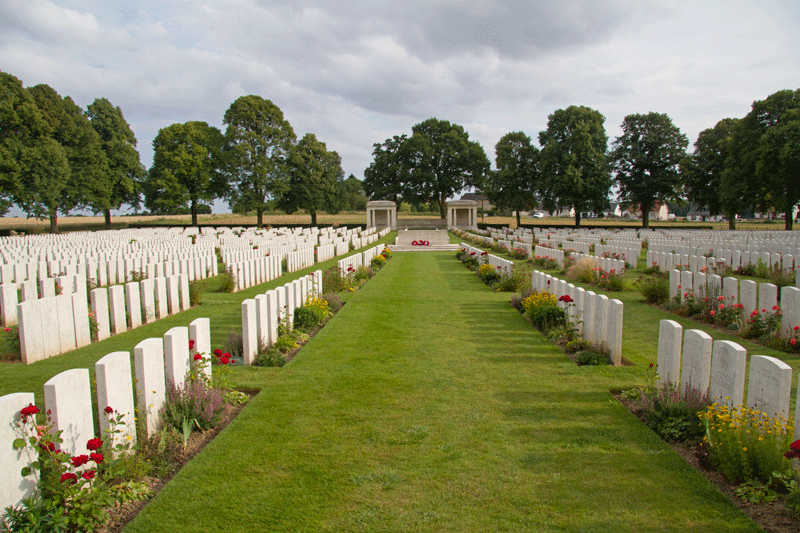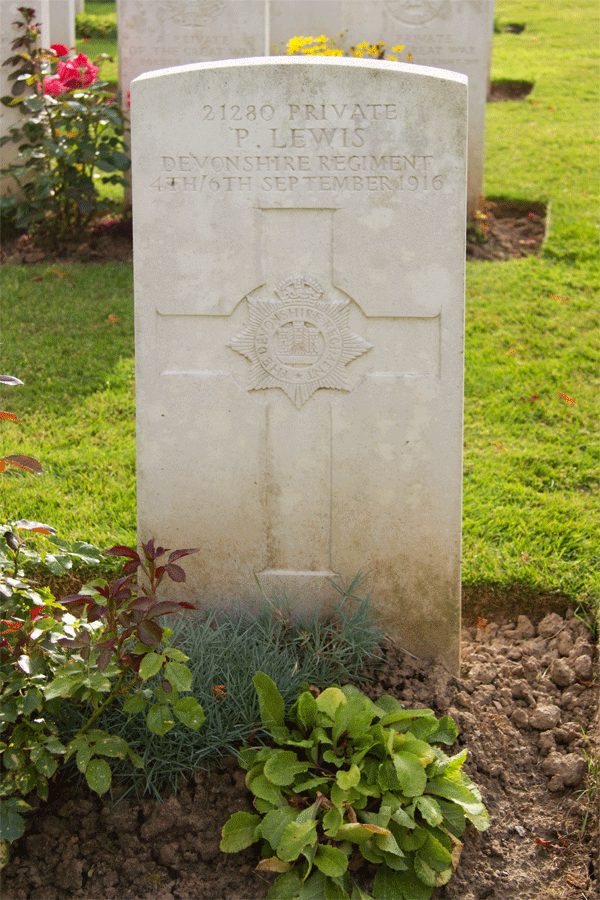 Commemoration
In Dartmouth, Percy is commemorated on the Town War Memorial and the St Saviours War Memorial Board.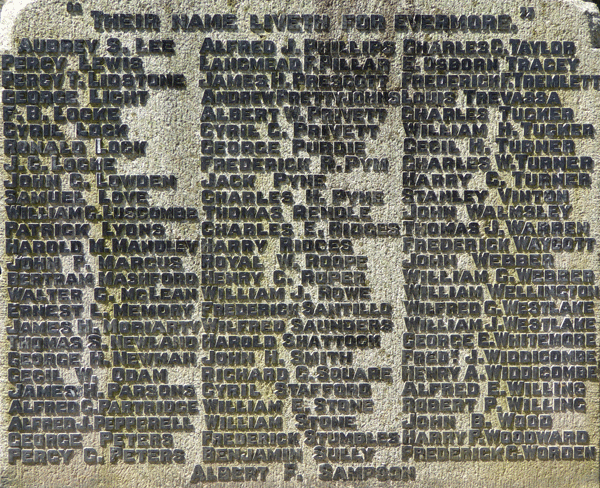 Dartmouth Town Memorial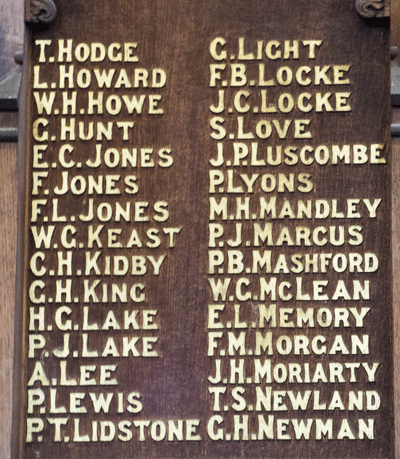 St Saviour's Memorial Board
Sources
War Diary of the 9th Battalion Devonshire Regiment downloadable from the National Archives, fee payable, reference: WO 95/1656/1
The Devonshire Regiment 1914-1918, compiled by C T Atkinson, publ. 1926, London and Exeter
West Country Regiments on the Somme, by Tim Saunders, publ. 2004, Pen & Sword Books
Information Held on Database
| | |
| --- | --- |
| Surname: | Lewis |
| Forenames: | Percy |
| Rank: | Private |
| Service Number: | 21280 |
| Military Unit: | 9th Bn Devonshire Regiment |
| Date of Death: | 06 Sep 1916 |
| Age at Death: | |
| Cause of Death: | Killed in action |
| Action Resulting in Death: | |
| Place of Death: | |
| Place of Burial: | Buried Delville Wood Cemetery, Longueval (Somme) |
| Born or Lived in Dartmouth? | Yes |
| On Dartmouth War Memorial? | Yes |
| On St Saviour's Memorials? | Yes |
| On St Petrox Memorials? | No |
| On Flavel Church Memorials? | No |
| In Longcross Cemetery? | No |
| In St Clement's Churchyard? | No |
| On a Private Memorial? | No |
| On Another Memorial? | No |
---
This information was last updated on Tuesday 01 November 2016 at 15:45:21.