John Philip Marcus
John Philip Marcus was born in Dartmouth and baptised in St Saviours on 2nd July 1873. He was the eldest son of John Philip Marcus and his second wife, Louisa Renouf.
John Marcus senior was born in St Helier, Jersey, and baptised Jean Philippe Marcus on 26th February 1837. He was the eldest son of Benjamin Marcus, a clock and watchmaker, who came to Jersey from Prussia some time before 1836, the date of his marriage to Jersey born Sophie Coutanche.
John senior did not follow his father into the clockmaking business but became a shoemaker. On 13th August 1860, he married his first wife, Hannah Beale Miller, daughter of James Miller, a Bank of England clerk, in St Saviour, Jersey; their first child, a boy, George Herbert Marcus, was born only a few months later, on 5th November 1860. At the time of the 1861 Census, he, Hannah, and the baby George lived in Oxford Road, St Helier, with Hannah's older sisters, Caroline and Eleanor Miller.
Sadly, Hannah died in 1865, when George was a few weeks short of his fifth birthday. John senior married again on 9th May 1867, again in St Helier. His second wife, Louisa Renouf, was the daughter of Frederick Clement Renouf, a farmer, and was born in St Helier in 1841. The marriage record shows that, by this time, John had abandoned shoemaking for music - his occupation was given as "professor of music", presumably indicating that he earned his living through teaching music. A daughter, Louisa Ann, was born in 1868; joined by a second, Margaret Milton, in 1869, and a third, Isabella Rebecca, in 1870.
It seems, however, that teaching music did not provide sufficient steady income to fund a growing family. Only a few months after Isabella's birth in May 1870, John came to Dartmouth - naval service records show that he joined HMS Britannia, the officer training ship, as a Cadet Servant 2nd Class, on 23rd September 1870. It appears that, for a couple of years, Louisa and the children remained in St Helier. The 1871 Census recorded Louisa and three children (George, Louisa and Margaret) living at 3 Spring Cottage, with John's father and mother, Benjamin and Sophie Marcus, and one of his brothers, Philip. The baby, Isabella, was living at her other grandparents' house, La Fantaisie, in St Peter's, Jersey. She was perhaps already in poor health - sadly she died in Jersey in 1872. Louisa and the remaining children moved to Dartmouth, some time before the birth there of John Philip in 1873.
John Marcus' naval service records show that he transferred to a continuous service engagement on 1st January 1873, whilst continuing to serve in HMS Britannia as a "domestic". From 10th November 1874, he served in the Navy as a shoemaker, his previous trade. But he also continued with his music, being employed as a member of the ship's band. John and Louisa lived in Crowthers Hill, Dartmouth, and six children were born there during the next seven years:
John Philip, baptised St Saviours 2nd July 1873
Sophia Isabella, born 7th September 1874 (she does not seem to appear in Dartmouth baptism records)
Anne Elizabeth, born 3rd January 1876, baptised St Saviours 19th April 1876
Frederick Benjamin, baptised St Saviours 11th April 1877
Hannah Louisa, born 25th March 1878, baptised St Saviours 25th August 1880
Philip Edward, born 1st August 1880, baptised St Saviours with Hannah, on 25th August 1880
In the baptism records John was described as "Musician" rather than his naval trade of "Shoemaker".
John appeared twice in the 1881 Census, serving in HMS Dapper, tender to HMS Britannia, as a shoemaker, alongside his eldest son George, who served as a tailor; and at home in Crowthers Hill with Louisa and the children (including George, who also appeared twice).
A colleague of John's in HMS Dapper was Charles William Gibbs, one of the contingent of Royal Marines - see the story of Charles Gibbs.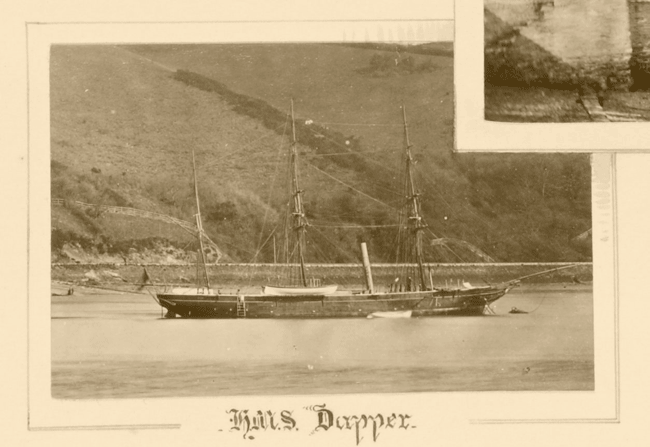 Similarly, in the 1891 Census, John appeared both in HMS Britannia (though recorded as "not on board on the night of the census") and at home in Crowthers Hill with John Philip, Frederick and Hannah. John Philip, aged 18, was by now a plumber's apprentice. His mother Louisa, together with his sister Ann Elizabeth, and younger brother Philip were at that time staying in Jersey, with Louisa's sister Elizabeth Aspinall. Margaret and Sophia had also left home and were both in service in the same house in Ramsgate. Margaret, aged 22, was the "nurse", or nanny, to the four children of Richard Coleman; Sophia, aged 16, was the general servant of the household.
John left the Navy six months later, on 28th October 1891, having served for twenty-one years, and thus entitled to a pension. After his retirement, he contined to work as a shoemaker and bootmaker, on his own account.
Marriage
On 14th December 1899, John Philip married Elizabeth Veale, at St Clements Townstal. Elizabeth was also born and brought up in Dartmouth. She was the second of ten children (seven girls and three boys) of Charles Walter Veale, a Master Builder, and his wife Harriet Devereaux. In the 1891 Census, "Bessie", as she was called, was a dressmaker. The Veale family lived two doors away from the Marcus family in Crowthers Hill.
At the time of his marriage, John Philip was described as a "Steward", and together with other information, this indicates that he had started work in the Merchant Navy. However, he also seems to have continued to work as a plumber when on shore. At the time of the 1901 Census, Elizabeth was still living with her parents, Charles and Harriet, in 2 Horsa Terrace, South Ford Road; John Philip was not recorded there, and does not seem to have been recorded anywhere else, so in all likelihood he was away at sea. The couple's only child, John Philip Charles (named for both his grandfathers) was born at Horsa Terrace on 1st November 1903, and was baptised at St Saviour's on 29th November 1903. John Philip gave his occupation on that occasion as Plumber rather than Steward.
By 1911, John Philip, Elizabeth, and their son were living at 7 Victoria Terrace, Dartmouth. John Philip was a "Ship's Steward" in the Merchant Service.
Outbreak of War
At the outbreak of war, John Philip was still working in the Merchant Navy. Unfortunately, there are no records for individual merchant seafarers from this period bringing together all the ships in which a person served. But some idea of his activity may be obtained from the "1915 Crew Lists" database, which show him among the crew of the cargo ship Exmouth, sailing from Cardiff to Rio de Janeiro, and back, between 15th December 1914 and 11th May 1915. John Philip's address was given as 1 Harbour Sea View, Dartmouth; he was employed as the Steward. He left the ship on 9th April 1915, in London, before it returned to Cardiff. The record shows that his previous voyage in 1914 was also in the Exmouth, along with several of the crew, including the Master, Richard Gill.
His next ship in that year was the cargo ship Isle of Jura, where he was also employed as a Steward, sailing from Cardiff on 30th April 1915, to America (a specific port is not given) and returning to North Shields on 23rd November 1915.
It is also interesting to use the 1915 Crew Lists to view the SS Luciline, the steam tanker in which John Philip was serving at the time of his death in 1917. Luciline was built in 1899 for the Luciline Navigation Co to carry petroleum in bulk. A picture of her may be seen here.
Between June 1914 and November 1915 Luciline completed five transatlantic voyages. That year, she was a frequent visitor to Dartmouth:
17th June 1914 North Shields to New York, returning to Cardiff 7th January 1915
14th January 1915, Cardiff to Philadelphia, returning to Cardiff 8th March 1915
12th March 1915, Cardiff to New York, returning to Dartmouth 23rd April 1915
23rd April 1915, Dartmouth to Philadelphia, returning to Dartmouth 20th September 1915
23rd September 1915, Dartmouth to New York, returning to Tilbury 9th November 1915
Her voyages during 1916 may also be at least partially reconstructed from newspaper reports (several different newspapers used):
New York, January 19th, [arrival] Luciline, from Rouen
Reported 25th February, sailed, Luciline, from New York
Reported 18th March, Luciline at New York from Rouen and Dartmouth
New York, April 27th, arrival [of] Luciline [from] Ferrol
New York, June 11th, arrival [of] Luciline [from] Rouen
New York, June 20th, sailed Luciline [for] Le Havre
New York, July 27th, arrival [of] Luciline from Rouen
New York, August 1st, sailed Luciline [for] Bordeaux
New York, September 4th, arrival [of] Luciline [from] Bordeaux
No further voyages were reported after that date. We know that her route brought her to Dartmouth some time during July 1916, because the Dartmouth Chronicle of 21st July 1916 reported that a young member of the crew had died of pneumonia at the Cottage Hospital:
Sailor's death in hospital: Albert Sado died in the Dartmouth cottage hospital from pneumonia, from which he had been suffering on the SS Luciline for ten days previously. He was the son of a Russian living at Upper Holloway London and was only 17 years of age. The funeral took place at the Cemetery on Tuesday afternoon, the lad's father and mother and sister being the mourners.
The Chronicle had unfortunately reported the name incorrectly. The death was that of Abraham Sadzavska. He was buried at Longcross on 18th July 1916.
Death
On 31st January 1917, the Imperial German government announced that unrestricted submarine warfare on any and all shipping entering the war zone would begin that night at midnight. This development was widely expected to bring the United States into the war against Germany, when U-boats began sinking American ships.
In the meantime, the "massacre of merchant shipping ... began in earnest", as Robert Massie puts it. To force Britain to surrender through lack of essential supplies, the German Navy had calculated that 600,000 tons of shipping needed to be sunk every month. In February, 520,000 tons was sunk; in March, 564,000 tons. Losses included neutral as well as allied shipping.
The campaign was carried out by U-boats. Large ocean-going diesel-powered submarines, capable of remaining at sea for four to six weeks, operated in the Western Approaches - the area between Western Ireland, Lands End and the Bay of Biscay - and smaller submarines operated in the Channel and the North Sea.
U 61, an ocean-going submarine, was launched in 22nd July 1916 and commissioned on 2nd December 1916 under command of Kapitanleutnant Victor Dieckmann. During his first patrol, Dieckmann scored his first hit on 2nd March 1917, when he sank the Norwegian steamer Edvard Grieg in the North Sea, off Norway, with 15 casualties. The following day he sank the Danish steamer Rosborg, off Orkney. She was en route with maize from Baltimore to Aarhus, via Kirkwall. There were six casualties.
By 9th March 1917, Dieckmann was in the Western Approaches. That day he stopped a Norwegian sailing vessel, carrying petrol from New York to Liverpool, and sank her, southwest of Fastnet. There were no casualties. His next hit, the following day, was a Portuguese steamer, the Angola, from Cardiff to Lisbon, with coal. Casualties are not known.
On 13th March 1917, he hit three British ships, off the western coast of Ireland: the Luciline was the first. She was on her accustomed route from New York to Le Havre, carrying a cargo of naphtha. She was not sunk, but damaged, and subsequently, was salvaged, refloated and repaired. But there were 14 casualties; the records state that John Philip was killed outright by the explosion when the torpedo hit the ship, and twelve other crew members also died, "supposed drowned". The fourteenth casualty, George Jurgenstein, was alive when taken aboard HMS Lavender, a rescue ship, but died of exposure shortly afterward.
Dieckmann then sank the British steamer Northwaite, on her way to Dublin with phosphate, this time without casualties. He used his last torpedo on the "Q" ship Warner, with fifteen casualties. "Q" ships were small armed vessels, disguised to look like merchant shipping. They were intended to lure submarines close in, to attack, and then to drop the disguise at the last minute so that they could attack themselves. In the case of Warner, she was sunk before she could attack.
The members of the crew of the Luciline who had died came from many countries, not just Britain - Spain, Brazil, Peru, Latvia, Japan, and Portugal. When the news of the attack on the ship reached Britain, it was reported that "one of the men on board was an American" - President Wilson had said that no final declaration of war would be made until an "overt act" by the German authorities in effect forced his hand. But the Luciline did not prove to be that act. In the event, three more weeks passed before that decision was finally made - the Senate voted for war on 4th April 1917, on President Wilson's recommendation, and the House of Representatives confirmed the decision on 6th April.
Commemoration
John Philip is commemorated on the Tower Hill Mercantile Marine Memorial, alongside the other members of the crew of the Luciline who died and were lost at sea.
In Dartmouth, he is commemorated on the Town War Memorial and the St Saviour's War Memorial Board (on the latter the initial letters of his Christian names are transposed, clearly an error).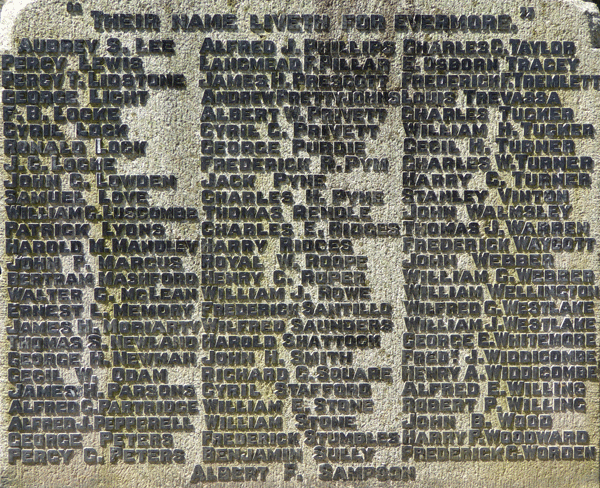 Dartmouth Town Memorial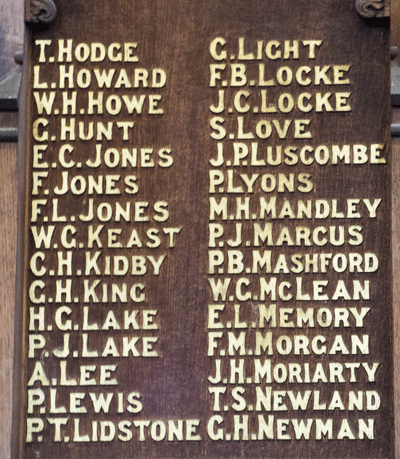 St Saviour's Memorial Board
Both John Philip's parents died before the war, Louisa in 1904 and John in 1910. Elizabeth remarried in 1918. She remained in Dartmouth.
Sources
Family history information for Jersey accessed through subscription websites and free on "Jerripedia"
Naval service record for John Marcus (senior) available from the National Archives, fee payable for download, reference: ADM 188/35/58281
Other records accessed through subscription websites
National Maritime Museum: Crew Lists of the British Merchant Navy - 1915
Information about U 61 and ships hit from uboat.net
Castles of Steel, by Robert Massie, publ Vintage, 2007
Information Held on Database
| | |
| --- | --- |
| Surname: | Marcus |
| Forenames: | John Philip |
| Rank: | Steward |
| Service Number: | |
| Military Unit: | SS Luciline, Mercantile Marine |
| Date of Death: | 13 Mar 1917 |
| Age at Death: | 42 |
| Cause of Death: | Explosion following torpedo hit |
| Action Resulting in Death: | Attack by enemy submarine |
| Place of Death: | Off West Coast of Ireland |
| Place of Burial: | |
| Born or Lived in Dartmouth? | Yes |
| On Dartmouth War Memorial? | Yes |
| On St Saviour's Memorials? | Yes |
| On St Petrox Memorials? | No |
| On Flavel Church Memorials? | No |
| In Longcross Cemetery? | No |
| In St Clement's Churchyard? | No |
| On a Private Memorial? | No |
| On Another Memorial? | No |
---
This information was last updated on Tuesday 14 March 2017 at 13:03:42.