Charles Gibbs
Family
Charles Gibbs was born in Dartmouth on 22nd March 1880 (according to his baptism record). He was the youngest son of Charles William Gibbs and his wife Fanny Pethick. Charles came from Exeter and Fanny from Stratton, in Cornwall - they had married in Exeter in 1864. Charles joined the Royal Marines (we have not been able to trace his RM service record so do not have the exact date) and the 1871 Census recorded him and Fanny living in Newport Street, East Stonehouse, with their two eldest children, Samuel and Mary. Both had been baptised at St George's, East Stonehouse, on 7th November 1869 - Samuel aged 3 (born 31st May 1866) and Mary a couple of months (born 19th September 1869). Their third child, Fanny (junior) was born on 12th February 1872, and baptised three weeks later at the Wesleyan Methodist Chapel Stonehouse (Edgecombe Street/Union Street).
At some point between 1872 and 1875, when their fourth child, Edith, was born, the family moved to Dartmouth, in all probability because Charles William was appointed to HMS Britannia at that time. Emily, their fifth child, was born in 1877, and Charles three years later. The 1881 Census recorded Charles William as one of the contingent of Royal Marines in HMS Dapper, a gunboat which was a tender to HMS Britannia. The family lived in South Ford Lane. Samuel, the eldest, was already working as a labourer, aged 14. The four girls were all listed as "scholars". Charles, the baby of the family, was aged 1.
Charles and Emily were both baptised at St Saviour's in July 1885, though not on the same day - Charles was baptised on 10th July 1885 and Emily a couple of weeks later, on 26th July. The register records that Charles William Gibbs was, by that date, deceased - the circumstances are not known. It seems that, following her husband's early death, Fanny was able to place Edith and Emily at the Royal British Female Orphan Asylum in Devonport. Girls were admitted between the ages of 7-13 and trained for domestic service, being placed from the age of 16. They were both recorded there in the 1891 Census. Charles remained at home with his mother in South Ford Lane, and she obtained work as a laundress. Mary, the oldest girl, had married James William Pyne in 1889, and settled in Dartmouth. James worked as a coal lumper. Fanny junior was working in domestic service many miles away in Leyton, Essex. We have not been able to trace Charles' older brother Samuel.
By the time of the 1901 Census, the family was back together again in South Ford Road. Fanny junior, Edith and Emily were all working as laundresses. Their mother had no occupation recorded, other than looking after one of Mary's children, her grandson Charles Henry Pyne. Charles was recorded living at home and working as a "Wardroom servant Domestic RN".
Visiting the family on the night of the Census was Albert Alfred Cox, a sailor who was at that time appointed to HMS Britannia. Albert and Fanny junior married the following year.
Service
Charles' naval service record is a little difficult to read but it appears that he joined HMS Britannia as a Domestic 3rd Class some time during 1897, giving his date of birth as 22nd March 1878, thus overstating his age by two years. On 5th June 1902, he was rated Domestic 2nd class. At that time, Britannia was still the old warship moored in the river Dart, though the foundation stone of the new College had been laid some three months earlier. His naval record states that he was 5ft 4¾ ins, with light brown hair, hazel eyes and a "fresh" complexion.
It seems that, whilst serving on Britannia, he came to the notice of Charles FitzGerald Sowerby - an association which at first proved highly favourable to his naval career but which, ultimately, caused his death. Charles Sowerby had been appointed to Britannia while still a Commander, but on 1st January 1905 was promoted to the rank of Captain and two days later was appointed in command of HMS Isis. Isis was an Eclipse-class cruiser which was at that time a naval cadet training ship - cadets went to sea for the second part of their training, following the shore-based initial training at the Royal Naval College. Charles Gibbs was also appointed to Isis on 3rd January 1905, as Domestic 1st Class. The Isis took him to the West Indies and the Mediterranean, as well as to several destinations around the British Isles.
The previous year Charles had married Ethel Elizabeth Crook Richards. Ethel came from Paignton where her father, Robert Richards, worked at the Gas Works. In the 1901 Census, Ethel was recorded working as a dressmaker. Charles and Ethel's son Charles Arthur was born in the last quarter of 1904, in Dartmouth.
On 20th April 1907, Captain Sowerby was appointed in command of HMS Cumberland, a Monmouth-class cruiser which, after a refit, had become the naval cadet training ship. Ten days later Charles Gibbs joined HMS Cumberland and became Captain's Steward on 1st October of that year. He remained on Cumberland for just over a year, leaving the ship on 24th April 1908 a little before Captain Sowerby.
Captain Sowerby's next appointment was a temporary job in the Naval Intelligence Department in Whitehall, and it seems that during this time Charles was allocated to the Royal Naval Base at Devonport (though this time in his record may also cover a period of shore leave). On 11th November 1908 Captain Sowerby became the Naval Attache in Washington and Charles once again went with him. They were in Washington until June 1912 when they both returned to England.
The excitement of foreign travel and the benefits of a posting in America were not open to Ethel, however, who remained in England, in Devonport. The 1911 Census shows Ethel living in a small apartment with the couple's second child, a daughter, Eileen, aged 2, at 49 Beatrice Avenue, Keyham Barton. Ethel was not completely alone, however, for a few doors down the street was Charles' elder sister Fanny, whose husband Albert was at that time also based in Devonport. Perhaps for reasons of space, or because Ethel found it difficult to manage on her own, Charles and Ethel's son Arthur (as he was evidently known) was recorded living with Ethel's parents, Robert and Mary Jane Richards, in Paignton. By the time of Charles' death, Ethel had returned to Paignton.
Charles' naval record then shows a gap of several months between the end of the Washington appointment and his next - and as it turned out - and final post. Captain Sowerby's next appointment was to HMS Indefatigable on 24th February 1913 and Charles followed him on board as an Officers' Steward 1st Class on 8th March 1913.
For the rest of his (and Captain Sowerby's) service on HMS Indefatigable, including the ship's fate at the Battle of Jutland, see our separate article here.
Death
On 16th June 1916 the following announcement appeared in the Dartmouth Chronicle, proudly noting the association with HMS Indefatigable's Captain:
Gibbs: May 31st, killed in action on HMS Indefatigable, Charles, younger son of the late Charles Gibbs, RMLI, of Dartmouth, and dearly-loved husband of Ethel Gibbs, 8 Bay View, Preston, Paignton, aged 36 years (for 13 years steward to the late Capt C F Sowerby RN).
Commemoration
Charles is commemorated on the Town War Memorial and on the St Saviour's Memorial Board.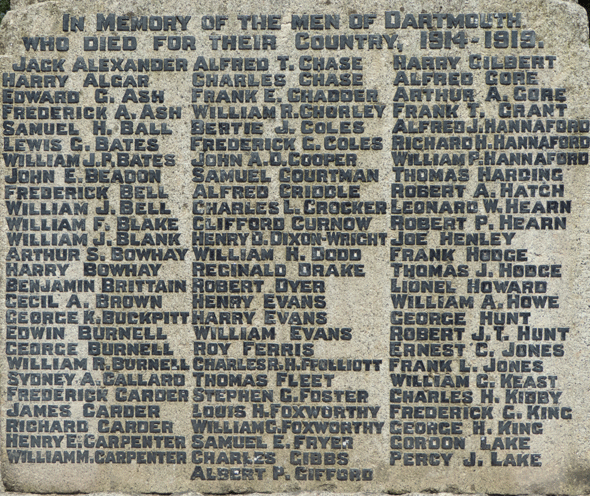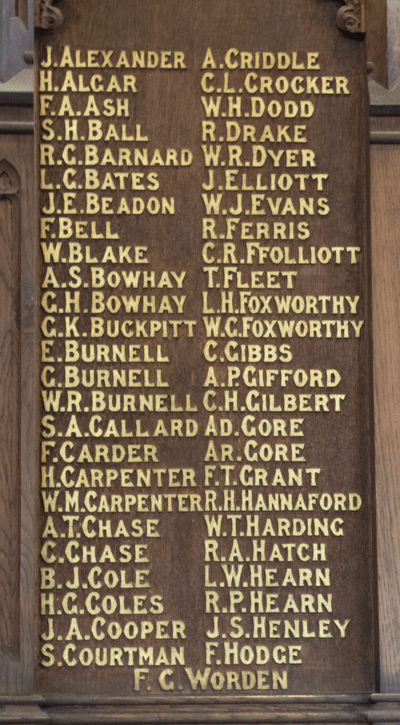 As one of those who sailed from Plymouth lost at sea and having no known grave, he is also commemorated on the Plymouth Naval Memorial.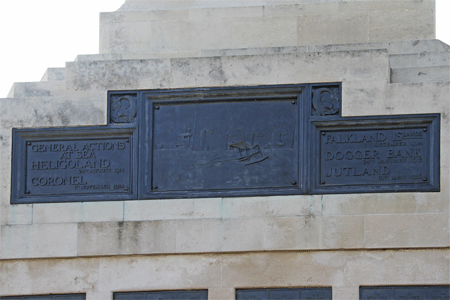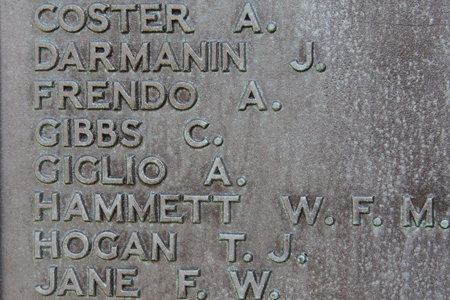 Plymouth Naval Memorial
Sources
Naval service record available for download from The National Archives, fee payable: Charles Gibbs: ADM 188/539/356185
Information Held on Database
| | |
| --- | --- |
| Surname: | Gibbs |
| Forenames: | Charles |
| Rank: | Officers Steward 1st Class RN |
| Service Number: | 356185 |
| Military Unit: | HMS Indefatigable |
| Date of Death: | 31 May 1916 |
| Age at Death: | 36 |
| Cause of Death: | Killed in action |
| Action Resulting in Death: | Battle of Jutland |
| Place of Death: | North Sea |
| Place of Burial: | Commemorated Plymouth Naval Memorial |
| Born or Lived in Dartmouth? | Yes |
| On Dartmouth War Memorial? | Yes |
| On St Saviour's Memorials? | Yes |
| On St Petrox Memorials? | No |
| On Flavel Church Memorials? | No |
| In Longcross Cemetery? | No |
| In St Clement's Churchyard? | No |
| On a Private Memorial? | No |
| On Another Memorial? | No |
---
This information was last updated on Monday 30 May 2016 at 23:07:52.