Thomas Alfred Smith
Family
Thomas Alfred Smith was born in Dartmouth in 1877. He was the sixth child, and youngest son, of Richard Egg Smith and his wife Louisa Alford Bell.
Richard Egg Smith was born and brought up in Dartmouth, to which his father, William Smith, had moved from Dittisham. The 1851 Census recorded William as a carpenter, employing two men. Richard followed his father's trade, but did not at first work with his father. Instead, on 5th September 1856, Richard volunteered to join the Navy, joining HMS Nautilus (at that time a tender to the boys training ship HMS Impregnable) as a 1st Class Boy, for a period of ten years. However, the life does not seem to have suited him. In the 1861 Census, he was back in Dartmouth with his parents, though recorded as a carpenter in "His Majesty's Navy"; and his naval service record shows that he was authorised to purchase his discharge on 9th July 1861.
After leaving the Navy, Richard continued to work as a carpenter and joiner in Dartmouth. On 14th April 1863, according to the Western Daily Mercury, he married Louisa Alford Bell, at the Wesleyan Chapel in Dartmouth. Louisa was born and brought up in the town, where her family had lived for at least three generations (our database includes the stories of two of her extended family, William John Bell and Frederick Thomas Bell).
The 1871 and 1881 Censuses recorded the family in Clarence Street and Smith Street respectively, and show that Richard and Louisa had seven children, all born in Dartmouth:
William John, born 1864
Emma Louisa, born 1866
Richard George, born 1869
Amy Alford, born 1872
Mary Ann, born 1874
Thomas Alfred, born 1877
Sarah Jane, born 1882
On 29th September 1883, Louisa died, at the family home in Smith Street, aged only 39. Though the youngest of the children, Sarah Jane, was under two, Richard did not marry again; perhaps his older daughters, Emma and Amy, took on the role of looking after her, and running the house. At the time of the 1891 Census, Richard, Amy, Mary, Thomas and Sarah Jane were recorded still living in Smith Street, where Richard still worked as a Carpenter. Thomas, now aged 14, had begun his working life as a baker's assistant. No occupation was recorded for Amy, but Emma was nearby, working as a servant at the Royal Dart Hotel, just across the river in Kingswear. Richard George had joined the Navy only a few weeks after his mother's death; William we have not been able to trace.
Sometime between 1891 and 1893, Richard and at least some of his family appear to have moved away from Dartmouth, apparently to Hertfordshire. Why they made the move is not known, but it seems to have led Thomas to make a decision about his future. On 5th December 1893, Thomas joined the regular Army, enlisting with the Bedfordshire Regiment as number 4746. The record for this period of service has survived, so we know that he gave as his next of kin his father Richard, his elder brothers William and "George", and his elder sisters Emma and Amy. The address recorded for all of them was Weston, near Stevenage, Hertfordshire. He gave his age as 18 years and 1 month, and was able to pass convincingly as a year older than his real age of 17 because he was nearly 5' 8", five inches above the minimum. The attestation form states that he had hazel eyes, brown hair and a "fresh" complexion.
The usual terms of enlistment at this period were seven or eight years' service with the colours and four or five on the reserve. Thomas' active service was rather longer. After a short period of training, he was posted first to the 2nd Battalion in February 1894, which was at that time at home in England. During 1895 he completed a course in "transport duties", and at the end of the year was posted to the 1st Battalion, which was serving in India. He remained with the 1st Battalion in India for seven years (thus avoiding the Boer War) but his record tells us only that he completed a course in Butchery in 1901.
He returned to England on 4th December 1902, having done nine years with the colours; but was not transferred to the reserve until about a year later. Having served out the rest of his twelve-year engagement on the reserve, he then chose to extend his reserve service commitment, transferring to "Section D" for four years from 2nd January 1906. Reserve service meant an annual training commitment, and the possibility of being called up if there was a general mobilisation, but it also meant regular pay, of 3s 6d per week.
While Thomas was away in India, his sister Amy met and married a local boy from Weston, George Herbert Edwards, a gardener. The 1901 Census recorded Amy, George, their three little girls, and Thomas' father, Richard, living in the village of Graveley, on the Great North Road in Hertfordshire. Presumably on first leaving the Army, Thomas came home to his father and sister, but he also had family connections in Devon. His mother's younger sister Hannah had married John Wood Lambshead, an agricultural labourer, from Dawlish, in 1881; and in Dawlish, there was labouring work available on the railways. So Thomas moved to Devon. It seems also that his younger sister, Sarah Jane, moved there too - sadly she died, aged only 21, and was buried at St Gregory the Great in Dawlish in 1903.
On 24th August 1907, Thomas married his first cousin Hannah Bell Lambshead at the church of St Gregory the Great. Hannah was 25, and had been born and brought up in Dawlish. At the time of their marriage, Thomas was working as a labourer, but shortly afterward, Thomas was able to obtain regular work at the new Royal Naval College in Dartmouth, as a member of the domestic staff. This may have been through family connections, as his brother George, who had been invalided out of the Navy in 1905, subsequently obtained work as a cleaner at the College.
Sadly, Thomas and Hannah's first child, a boy, was born prematurely, and died when only one day old. The register of St Gregory the Great records the burial on 8th May 1908 of "a male child of Thomas Alfred and Hannah Bell Smith - not baptised". This was three days after the inquest was held in Dawlish, which was reported in several south-western papers. The doctor "attributed death to inanition from premature birth" and "the jury returned a verdict accordingly". This suggests that the baby was so premature that he was unable to feed (babies younger than 32-34 weeks are unable to suck and swallow properly). It may also have been the case that Thomas and Hannah did not have access to all the professional care and advice that they needed when the baby was born - but the newspaper reports, which are all very brief, do not provide any further details.
Thomas and Hannah's next child, Edith Janie, was born on 15th August 1909, and baptised at St Mark's, Dawlish, on 2nd September of that year. Thomas continued to work at the Royal Naval College, while Hannah, it would seem, remained in Dawlish with her parents. The 1911 Census recorded Hannah (shown as "Annie") and Edith Janie living with John and Hannah Lambshead at 4 Brook Street, Dawlish. Thomas, however, was recorded living at the Royal Naval College, where he worked as a "domestic bootcleaner". (One of his colleagues there was John Westlake, father of William Westlake and Wilfred Westlake, both of whom are on our database).
Hannah must have been pregnant at the time of the census, because shortly afterwards, the couple's second daughter was born. She was named Hannah Louisa, for both her grandmothers, and was baptised at St Mark's, Dawlish, on 21st May 1911. A third daughter, named Dorothy, was born in 1915, and baptised at St Gregory the Great, Dawlish, on 30th May of that year. By that time, Thomas and Hannah lived at 5 Swan Cottages, in Dawlish, although Thomas continued to work at the Naval College, so he must have been away from home much of the time.
By the time of the 1911 Census, Thomas' sister Amy and her family had also moved from Hertfordshire to Dawlish. The Census recorded Herbert, Amy, and four of their children living at 6 Coast Guard Station, Exeter Road, Dawlish, where Herbert worked as a gardener. Thomas' father Richard, however, appears to have stayed in Hertfordshire - he died there in 1914.
The family connection with Dartmouth was also maintained through Thomas' elder brother George. At the time of the 1911 Census, he and his wife Ida, and their four children, lived in Kingswear, and later records indicate that they remained in Dartmouth.
Service
Although Thomas' service record for his time with the Bedfordshire Regiment still survives, that for his wartime service with the Devonshire Regiment does not, so we do not know when he joined the Army. At the time of the baptism of his daughter Dorothy in May 1915, he was still working at the Royal Naval College, and the Medal Rolls for the Regiment show that he did not go overseas during 1915.
The Soldiers' Effects Register recorded his service number as "3/22145", but other records have the number without the prefix. Comparison with other similar numbers for men in the Devonshire Regiment whose service papers have survived suggests that Thomas may have been enlisted into the 3rd Battalion, where his experience as an ex-regular may have been valuable, despite his age. Whether he volunteered, or was called up, is not known, nor is there any record of when in 1916 he went to France. According to "Soldiers Died in the Great War", he enlisted in Exeter, and lived in Dawlish.
There is also some doubt about the Battalion in which he served when he was sent to France. According to the Medal Rolls, he served only in the 1st Battalion; according to all other available records, he was serving in the 9th Battalion at the time of his death. Given the location of both Battalions in the latter part of 1916, it is the 9th Battalion that seems more likely to be the one to which he was sent.
The 9th Battalion included several men with Dartmouth connections. For their experiences from their arrival in France up to, and including, the first day of the Battle of the Somme (1st July 1916) see the story of Robert Phillips Willing. For their experiences up to the attack on the village of Ginchy, on 4-6th September 1916, see the story of Ernest Leonard Memory.
The 9th Battalion's War Diary records that on 8th September 1916, the 9th came out of the line for ten days rest, and during that time they received two drafts, one of 93 men from 3rd Battalion Devonshire Regiment, and the other of 137 men from the Leicestershire and South Staffordshire Regiments. It is possible that the draft from the Devonshire Regiment included Thomas.
On 18th September, the 9th was moved away from the Somme, northwards to the sector of the front line near Armentieres, where they remained for six weeks. The Regimental History describes this period as "on the whole ... uneventful ... the trenches were strong and well-constructed ... there was always plenty of work, but the enemy was not aggressive and ... casualties kept low".
After a fortnight's rest at the beginning of November, they were once again moved back to the Somme, taking several days to get there. While on the march, they received another draft, this time of 140 men, with two more joining the following day and eight more a few days later. On 27th November, they went into the front line, just east of the ruins at Beaumont Hamel, above the right bank of the Ancre.
As the Regimental History puts it:
By this time, the great offensive was over, and the six weeks which followed [their] return to the battle-front brought them nothing more than the normal in trench-warfare, though more than normal exertions were required to keep the trenches in repair, and the awful conditions under which the men lived in the front line constituted a great strain on their health and endurance. Feet suffered especially from the all-pervading mud, and only by inter-company reliefs every 24 hours could sickness and bad feet be kept down ... The trenches were in a terrible state; much damaged in the November fighting they were sticky in the drier parts and full of semi-liquid mud in the wetter. By continual hard work [they] made them rather more habitable; they blessed the Germans not a little for the splendid dugouts, which provided a real degree of comfort and shelter in the reserve trenches, and they were fortunate in having an inactive and unenterprising enemy opposite them.
Christmas Day 1916 saw them "in close support dugouts" and on Boxing Day they were in the front line; on 27th December, the "enemy's artillery was very active and shorts from our own guns [were] falling in our lines".
During this period they received two further drafts, one of 15 men, and the other of 96 men from the Divisional Depot Base, the majority of whom were "old Expeditionary Force men wounded".
On 1st January 1917, by way of New Year greeting, they suffered a surprise attack when an advanced post at the junction of two trenches, Serre and New Munich, was surprised and taken suddenly by German troops. An attempt to retake the post was driven back by machine-gun fire. The Battalion was relieved in the front line the following day, moving back to "close support", but a party of 50 men was left behind to retake the post. This was achieved on 5th January, as the rest of the Battalion was relieved from "close support" to move further back into reserve. During this operation, one officer and ten men were wounded, and five men were killed.
Death
On the same day, 5th January 1917, available medical records show that Thomas was admitted to a casualty clearing station with a fever. His condition worsened quickly - reporting Thomas' death, the Dawlish Gazette of 20th January 1917 described his decline:
The widow, who has been living in Dawlish of late with her three children, aged 7, 6, and 2, received a letter from one of the nurses at a base hospital, dated the 9th inst, stating that her husband was seriously ill with blood-poisoning. Following quickly on this letter came a telegram conveying the sad news of his death on the 13th inst. She has since received a letter, dated the 13th, stating that her husband was very much worse and unconscious.
The Soldiers' Effects Register confirms the cause of death as septaecaemia. There is no indication that this was caused by the action that took place the day on which Thomas was admitted to hospital - indeed, it suggests that he was amongst those who left the trenches on 2nd January, since he was at the casualty clearing station three days later. Although the precise cause is not known, his infection is highly likely to be related to the conditions in the trenches at the time. The Battalion War Diary shows that, despite efforts to deal with the situation by inter-company reliefs during spells in the front line, levels of sickness were running much higher than casualties at this period.
Thomas died at the casualty clearing station, and was buried in the military cemetery at Puchevillers, north-east of Amiens, and to the west of Beaumont Hamel, where the Battalion was in the line. At this period, 3rd and 44th Casualty Clearing Stations were based there.
News was passed to the family in Dartmouth, and the Dartmouth Chronicle reported Thomas' death on 19th January 1917:
Died in Hospital: Mrs Smith, of 5 Swan Court Dawlish, has received the sad news that her husband, Private T A Smith, who for many years worked at the Royal Naval College at Dartmouth, has died in hospital in France. He leaves a wife and three young children.
The following announcement was also placed in the paper:
Death: Smith - January 13th - In an hospital in France, Private T A Smith, husband of Mrs A Smith, of 5 Swan Court, Dawlish (formerly employed at the RN College, Dartmouth). Greatly missed.
Hannah was pregnant at the time of Thomas' death and, whether by cause or coincidence, gave birth to a son less than a week after receiving the news of her husband's death. The Dawlish Gazette further reported that:
We are informed that the widow gave birth to another child, a boy, at mid-day on Thursday (18th January 1917)
The little boy was named Alfred Stanley Smith.
Commemoration
Thomas' grave in Puchevillers Cemetery is now marked with a Commonwealth War Graves Commission headstone.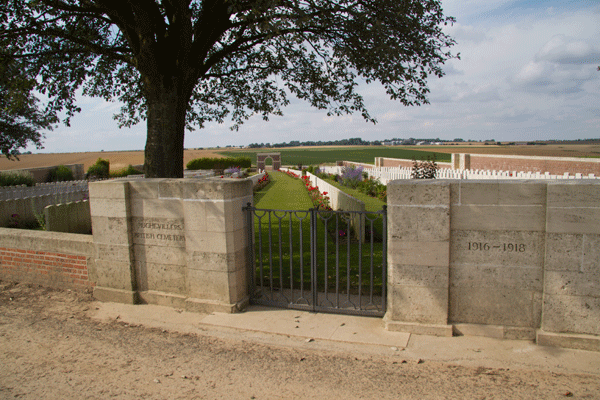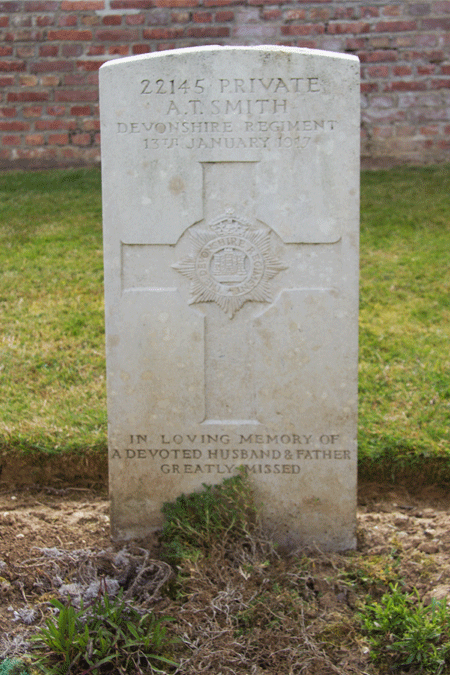 At Hannah's request, the headstone was engraved "In loving memory of a devoted husband and father. Greatly missed".
In Devon, Thomas is commemorated on the Dawlish War Memorial. He does not appear on public memorials in Dartmouth, but is included on our database because his obituary appeared in the Dartmouth Chronicle.
Sources
The Dawlish World War One Project also commemorates Thomas Alfred Smith and includes the extracts from the Dawlish Gazette quoted above:
Thomas Alfred Smith's record of service in the Bedfordshire Regiment is available from subscription websites.
Naval service records are available for download from The National Archives, fee payable:
War Diary of the 9th Battalion Devonshire Regiment downloadable from The National Archives, fee payable, reference: WO 95/1656/1
The Devonshire Regiment 1914-1918, compiled by C T Atkinson, publ. 1926, London and Exeter.
The Bedfordshire Regiment in the Great War provides extensive information on the Regiment's History before as well as during the Great War.
Army Service Numbers 1881-1918
Reserves of the Regular Army from the Long Long Trail
Note:
Soldiers Died in the Great War gives Thomas' date of death as 15th January 1917, and this reference has also been used in the compilation of the Roll of Honour for the Devonshire Regiment's History, see above. However, all other sources, including the Commonwealth War Graves Commission, together with the contemporary newspaper accounts, give the date of death as 13th January 1917, so we have used that date on our database.
Information Held on Database
| | |
| --- | --- |
| Surname: | Smith |
| Forenames: | Thomas Alfred |
| Rank: | Private |
| Service Number: | 22145 |
| Military Unit: | 9th Bn Devonshire Regiment |
| Date of Death: | 13 Jan 1917 |
| Age at Death: | 41 |
| Cause of Death: | Septaecaemia |
| Action Resulting in Death: | |
| Place of Death: | Near Amiens, France |
| Place of Burial: | Buried Puchevillers Cemetery, France |
| Born or Lived in Dartmouth? | Yes |
| On Dartmouth War Memorial? | No |
| On St Saviour's Memorials? | No |
| On St Petrox Memorials? | No |
| On Flavel Church Memorials? | No |
| In Longcross Cemetery? | No |
| In St Clement's Churchyard? | No |
| On a Private Memorial? | No |
| On Another Memorial? | Yes |
| Name of Other Memorial: | Dawlish War Memorial, Dartmouth Chronicle Obituary |
---
This information was last updated on Sunday 22 January 2017 at 20:29:15.