(William) James Westlake
Of the eight men from Dartmouth who died aboard HMS Monmouth on 1st November, seven were in the Navy, and one, William James Westlake, was in the Royal Marines. However, he came from a Naval family - at the time of his death his father, John Westlake, and two of his brothers, "Jack" (John junior) and George were also on active service with the Navy. They survived the war. His youngest brother, Wilfred, joined the Navy in 1916, and is also on our database here.
Family
William James Westlake, who was known in the family as James, was born on 1st July 1895 in Dungeness, near Lydd, in the Romney Marshes in Kent. He was the third of five brothers, the surviving sons of John H. Westlake and his wife Selina (a sixth child had died by the time of the 1911 Census).
John H Westlake was born in St Budeaux, Plympton (now a suburb of Plymouth) in 1866. He had spent almost all his working life in the Navy, joining HMS Lion as a Boy 2nd Class in 1881, aged 15, for a continuous service engagement of ten years starting in 1884. Around 1887 (according to his 1911 Census return) he married his wife Selina (as yet, however, we have been unable to trace the record of the marriage). He was promoted to Able Seaman on 1st April of that year. In 1893 he joined the Coastguard Service, and was posted to Dungeness, where the three younger children were born. His final posting in the Coastguard Service was to Dartmouth, so the family came to live here in 1905.
As a retired sailor he was able to find employment at the Royal Naval College as a domestic servant. The 1911 Census return for the College listed him as a boot-cleaner. The family lived at that time at 2 Jessamine Cottage, South Town. Apart from John, Selina, and the three younger boys, including James, the household also included Alfred, the eldest boy, and his wife Bessie, and their baby daughter, also called Selina. Alfred also worked at the Royal Naval College.
Service
James Westlake enlisted as a private in the Royal Marines on 5th March 1912 at Exeter. We know from his service papers that he was 5' 6", with grey eyes and fair hair, and that he had an old injury to his left middle finger. As did many young men joining the services, he overstated his age on enlistment by over a year, so that he would be over 18 on joining. He had previously been a butcher's assistant (hence, presumably, the finger injury). His religion was "Wesleyan".
He received his initial training at Deal but was transferred to Plymouth Division on 21st December 1912. His service record shows a short period of sea service on
HMS Talbot for three weeks in July/August 1913; followed by a second period of eleven months, on HMS Defence, from 2nd September 1913 to 29th March 1914, immediately followed by HMS Cornwall, from 30th March 1914 to 29th July 1914.
HMS Defence was before the war the flagship in the Mediterranean, under Rear Admiral Ernest Troubridge. HMS Cornwall returned to England in July 1914 for the Fleet review, in which James will have participated.
After two days ashore in Plymouth, he embarked upon HMS Monmouth on 1st August 1914. Both HMS Cornwall, and HMS Defence, were involved in what was to follow.
Death
For James' time on HMS Monmouth, and his death at the Battle of Coronel, please see our separate article here.
At the time of James' death, his father, who was in the Royal Fleet Reserve, had been appointed to HMS Illustrious, having qualified as a Petty Officer on 14th September 1915.
His elder brother Jack, who had joined the Navy in 1909, was serving as a Stoker on HMS Tiger, having joined her on 3rd October 1914.
His younger brother George, who had joined the Navy in 1912, was serving as a Ordinary Seaman on HMS New Zealand, which had already been in action under Admiral Beatty, at the Battle of Heligoland Bight on 28th August 1914.
All four Westlakes were included in the list of those serving in the Forces published in the Dartmouth Chronicle on 16th October 1914.
Commemoration
An announcement of James' death appeared in the Dartmouth Chronicle of 27th November 1914.
Westlake - November 1st, on HMS Monmouth, James Westlake, the beloved son of John and Selina Westlake, aged 19 years and 4 months. Sadly missed by his sweetheart Bessie, sister-in law, and brothers.
Blessed are they that sleep in the deep.
The date of birth used in our database has been inferred from this announcement. It matches the date of birth registration (July-September 1895) and census records.
James (as William J Westlake) is commemorated on the Town War Memorial.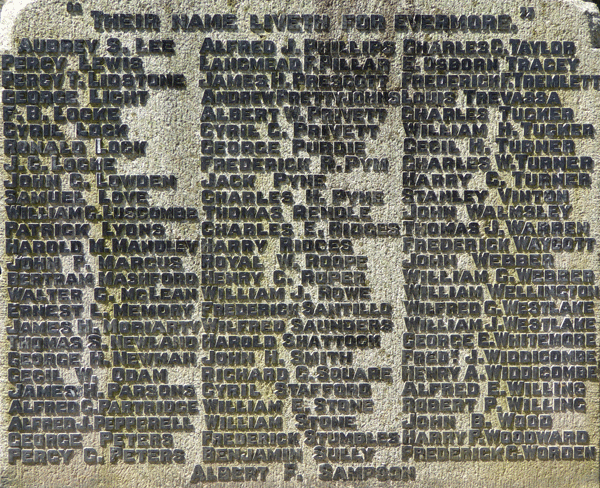 Dartmouth Town Memorial
By the time the memorial was erected, John and Selina Westlake had moved back to St Budeaux, Plymouth, where he had been born. However, the eldest brother, Alfred, and his wife Bessie, remained in Dartmouth - both are buried in Long Cross Cemetery. It would seem from the wording that the announcement of James' death was placed by them, and it seems reasonable to assume that they ensured after the war that James (and his youngest brother Wilfred) were remembered in Dartmouth.
Like all those who sailed from Plymouth during the First World War, but who have no known grave, James is commemorated on the Plymouth Naval Memorial on The Hoe.
Sources
The Westlake family's service records can be downloaded from the National Archives (fee payable):
William James Westlake: ADM 159/157/1560
John Westlake (senior): ADM 188/148/116590
John Westlake (junior - Jack): ADM 188/654/3548 and ADM 188/901/17173
George Westlake: ADM 188/689/21420 and ADM 188/974/56760
Information Held on Database
| | |
| --- | --- |
| Surname: | Westlake |
| Forenames: | William James |
| Rank: | Private Royal Marines Light Infantry |
| Service Number: | 15630 |
| Military Unit: | HMS Monmouth |
| Date of Death: | 01 Nov 1914 |
| Age at Death: | 19 |
| Cause of Death: | Killed in action |
| Action Resulting in Death: | Battle of Coronel |
| Place of Death: | |
| Place of Burial: | Commemorated Plymouth Naval Memorial |
| Born or Lived in Dartmouth? | Yes |
| On Dartmouth War Memorial? | Yes |
| On St Saviour's Memorials? | No |
| On St Petrox Memorials? | No |
| On Flavel Church Memorials? | No |
| In Longcross Cemetery? | No |
| In St Clement's Churchyard? | No |
| On a Private Memorial? | No |
| On Another Memorial? | No |
---
This information was last updated on Sunday 14 February 2016 at 18:10:19.