Wilfred Grey Westlake
Wilfred Grey Westlake was born on 7th May 1900 in Romney Marsh, Kent. He was the fourth of five brothers, sons of John Westlake and his wife Selina Ward. He came from a Naval family - at the time of his death, his father, John Westlake, and two of his brothers, "Jack" (John junior) and George were also on active service with the Navy.
Wilfred's second eldest brother, William James Westlake, also commemorated in Dartmouth, died when HMS Monmouth was lost at the Battle of Coronel, on 1st November 1914. He was in the Royal Marines. Please see his story and the family background here.
The family had moved to Dartmouth on John Westlake's final posting in the Coastguard Service. On retirement from active service he had obtained employment at HMS Britannia, the Royal Naval College in Dartmouth, as a domestic servant. Wilfred's oldest brother Alfred also worked there.
It is quite likely therefore that the Westlake family will have known the Sampson family. Wilfred joined the Navy at HMS Impregnable the day before Fred Sampson, whom we commemorated on 13th February 2016, and whose father Albert also worked at the Royal Naval College.
Service and Death
The loss of one of his elder brothers did not deter Wilfred from a naval career. He joined HMS Impregnable as a Boy 2nd Class on 7th February 1916, three months short of his sixteenth birthday. He joined as early as he could - the entry age, according to Kings Regulations and Admiralty Instructions 1913, was over 15 ¾ and under 16 ¾. He was 4' 10" tall, with brown hair, blue eyes, and a "fresh" complexion. Previously he had been a Ferryboat Boy.
The entry requirements were not onerous - the only formal requirements were his parents' consent and being able to read and write. The minimum standard to be met, according to Kings Regulations, was that the candidate "shall be able to read a passage from Standard II Reading Book; to write a passage of not more than six lines from the same book, slowly read once, and then dictated word by word; and to sign his name legibly".
Wilfred's time in the Navy lasted two weeks. On 20th February 1916 he died in the Royal Naval Hospital Plymouth from "cerebro-spinal meningitis".
The following announcement appeared in the Dartmouth Chronicle on 25th February 1916:
Westlake - February 20th, at the Royal Naval Hospital Devonport, Wilfred, youngest and dearly beloved son of John and Selina Westlake, of Dartmouth, after a short illness, age 16 years.
The newspaper evidently made an error as Wilfred was still over two months from his sixteenth birthday.
At the time of Wilfred's death, his father, John Westlake was on board HMS Vengeance, which he had joined on 16th December 1915, from HMS Illustrious. HMS Vengeance left Devonport just after Christmas on 30th December 1915 for a deployment to the Cape and East Africa, and while there, supported operations leading to the capture of Dar es Salaam in 1916. In February 1917, Vengeance returned to the UK and was paid off. John Westlake left her on 5th March 1917 and was transferred back to the Royal Fleet Reserve. He was not called up again, being fully demobilised on 13th March 1919.
"Jack" Westlake (John junior, Wifred's second oldest brother) had moved from HMS Tiger to HMS King Alfred. The ship was on convoy protection duties between 14th September 1915 and 21st January 1917. He survived the war and remained in the Navy until 1926.
George Westlake, Wilfred's third oldest brother, was on HMS New Zealand, which had been gifted to the Royal Navy by the New Zealand government. She was in action twice, at the Battle of Heligoland Bight on 28th August 1914, and at the Battle of Dogger Bank, on 23rd January 1915. He left her on 26th May 1916, five days before the Battle of Jutland, during which the ship sustained a hit, but was not sunk. George also survived the war, remaining in the Navy until 1929, and then going on loan to the Royal Australian Navy.
Alfred, William's oldest brother, volunteered for service after the outbreak of war and joined the 24th Battalion Royal Fusiliers. He had gone overseas on 11th November 1915 and was serving on the Western Front at the time of Wilfred's death.
Commemoration
Wilfred is buried in St Budeaux Churchyard, Plymouth, where, according to Commonwealth War Graves Commission records, he is commemorated on a private memorial. John and Selina Westlake moved back to St Budeaux (where John was born) some time after Wilfred's death.
In Dartmouth, Wilfred is commemorated on the Town War memorial.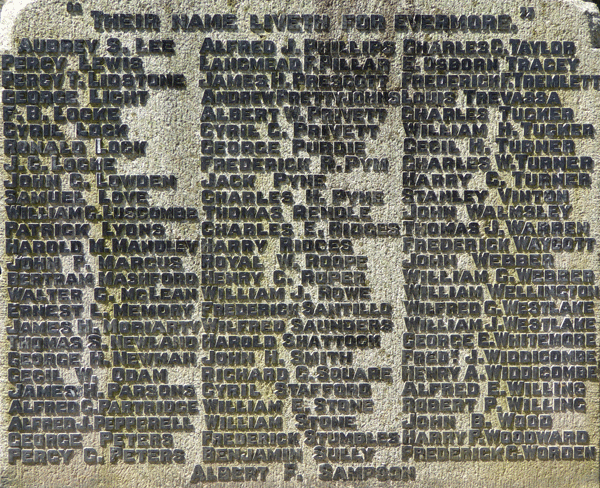 Dartmouth Town Memorial
Alfred, Wilfred's eldest brother, and his wife Bessie and family remained in Dartmouth, and it is likely that they ensured that after the war, Wilfred (and his brother William James) were remembered in the town.
Sources
Naval service record for Wilfred Grey Westlake available for download from The National Archives (fee payable), reference ADM 188/745/49392.
For the service records of other members of the family, please see the story of William James Westlake.
Kings Regulations and Admiralty Instructions - 1913 - Appendix, Seamen
Information Held on Database
| | |
| --- | --- |
| Surname: | Westlake |
| Forenames: | Wilfred Grey |
| Rank: | Boy 2nd Class RN |
| Service Number: | J/49392 |
| Military Unit: | HMS Impregnable |
| Date of Death: | 20 Feb 1916 |
| Age at Death: | 15 |
| Cause of Death: | Disease: meningitis |
| Action Resulting in Death: | |
| Place of Death: | Royal Naval Hospital Plymouth |
| Place of Burial: | Buried St Budeaux Churchyard, Plymouth |
| Born or Lived in Dartmouth? | Yes |
| On Dartmouth War Memorial? | Yes |
| On St Saviour's Memorials? | No |
| On St Petrox Memorials? | No |
| On Flavel Church Memorials? | No |
| In Longcross Cemetery? | No |
| In St Clement's Churchyard? | No |
| On a Private Memorial? | No |
| On Another Memorial? | No |
---
This information was last updated on Monday 15 February 2016 at 18:51:46.