Albert Frederick Sampson
Family
Albert Frederick Sampson ("Fred") was born in Dartmouth on 7th November 1900 and baptised at St Saviour's Dartmouth on 25th April 1901. He was the son of Albert Sampson and his wife Beatrice Harris.
Albert's father, Albert Sampson senior, was also born and brought up in Dartmouth. The 1871 and 1881 Censuses recorded him living with his grandparents, Aaron and Harriet Sampson, on Clarence Hill. In 1891 he was living in a boarding house in Crowthers Hill and working as a mariner. However, by the time of his marriage at St Clements, Townstal, on 20th April 1897, he was working as a "Gentlemen's servant" and living in South Ford Lane. Subsequent census returns indicate that Albert worked at the Royal Naval College looking after the Naval Cadets.
Beatrice had come to Dartmouth from Devoran, Cornwall, by what route is unknown. At her marriage her father's name was recorded as Edward Harris, Engineer.
Albert and Beatrice had two children. Albert junior was born in 1900 and his younger sister Hilda Beatrice Nina five years later, on 4th December 1905. She was baptised at St Saviour's on 18th February 1906. By this date the family had moved to 10 Elm Grove Terrace, Victoria Road, Dartmouth, where they were also recorded at the time of the 1911 Census.
Service and Death
On 8th February 1916, aged a little over 15, Fred joined the Navy as a Boy 2nd Class, at HMS Impregnable, the ratings training establishment at Devonport. His naval record shows that he was 5' 3 ¾", with red hair and blue eyes. Previous to joining the Navy, he had been employed as a cabin boy in the merchant marine. Five days later he was dead "from acute quinsy in RN Hospital Plymouth". A duplicate naval record gives a little more detail - a peritonsilar abscess, or acute tonsilitis, followed by heart failure.
The following announcement appeared in the Dartmouth Chronicle of 25th February 1916:
Deaths
Sampson - February 13th, at the Royal Naval Barracks, Devonport, Fred, the beloved and only son of Albert and Beatrice Sampson, aged 15.
Sadly missed
Thanks
Mr and Mrs Sampson wish to thank all kind friends for sympathy shown to them in their recent sad bereavement, and for floral tributes sent.
A similar message appeared in the Dartmouth Chronicle of 18th February 1921:
In Memoriam
In ever loving memory of Fred, the dearly beloved son of Albert and Beatrice Sampson, who died February 13th 1916. Still sadly missed by his loving father, mother and sister Nina.
Only those who have loved and lost know the meaning of "gone".
Commemoration
Albert is buried in the churchyard at St Clements, Townstal, Dartmouth, where his grave is marked by a Commonwealth War Graves Commission headstone. He is commemorated on the Town War Memorial.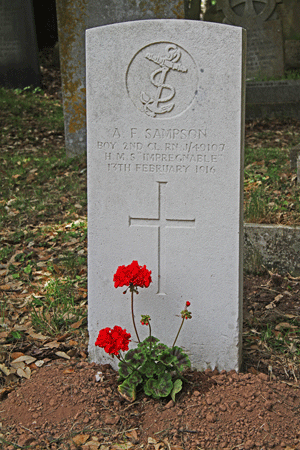 Headstone in St Clements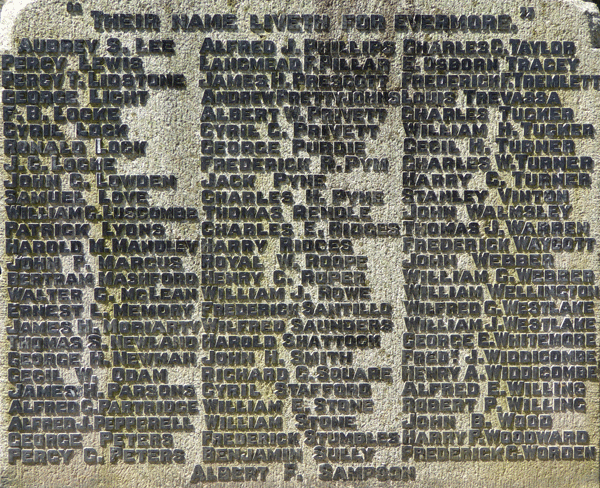 Dartmouth Town Memorial
Albert holds two sad records on our database; he was the youngest to die in service during the Great War, and has the service record of shortest duration.
Sources:
There are two naval service records in Albert's name at The National Archives:
ADM 188/745/49107, and ADM 188/746/49713.
Each describes the cause of death in a slightly different way. The second (49713) is marked "cancelled".
Information Held on Database
| | |
| --- | --- |
| Surname: | Sampson |
| Forenames: | Albert Frederick |
| Rank: | Boy 2nd Class RN |
| Service Number: | J/49107 |
| Military Unit: | HMS Impregnable |
| Date of Death: | 13 Feb 1916 |
| Age at Death: | 15 |
| Cause of Death: | Disease: Peritonsilar abscess |
| Action Resulting in Death: | |
| Place of Death: | RN Hospital Plymouth |
| Place of Burial: | St Clements Churchyard |
| Born or Lived in Dartmouth? | Yes |
| On Dartmouth War Memorial? | Yes |
| On St Saviour's Memorials? | No |
| On St Petrox Memorials? | No |
| On Flavel Church Memorials? | No |
| In Longcross Cemetery? | No |
| In St Clement's Churchyard? | Yes |
| On a Private Memorial? | No |
| On Another Memorial? | No |
---
This information was last updated on Saturday 13 February 2016 at 21:59:57.