George Henry Bowhay
Family
George Henry Bowhay, known in the family as Henry or Harry, was born on 10th October 1896 in Dartmouth, and baptised at St Petrox on 8th January 1897. He was the fourth son and sixth child of Albert Francis Bowhay and his wife, Eliza Sanders.
Albert Bowhay was born in Cornworthy, near Dartmouth. His family moved to Dartmouth some time between 1861 and 1871, when they were recorded living in Higher Street. Aged only 11, Albert was already out working, as an errand boy. His father, Charles, was a coal porter.
Ten years later the 1881 Census recorded Albert as a labourer. At that time he was still living at home with his parents, Charles and Elizabeth, and five younger brothers and sisters. However, a few months later that year, on 10th November, he married Eliza Sanders at St Clements Townstal. By this time, he had found work as an Engine Driver.
Eliza was the daughter of William Sanders, a labourer, and his wife Sophia Rickard. She was born and brought up in Milton Abbot, near Tavistock, but by 1881 had moved to Dartmouth, where, aged 22, she was the cook at The Keep, at that time owned by the Misses Ann, Susanna and Elizabeth Eales.
Albert and Eliza's first child, Frederick Sanders, was born in 1882, followed by Maud Eliza in 1884. By the time of the birth of their third child, William John, in 1886, Albert and Eliza were living in Warfleet, near the Brewery, owned at that time by Jasper Bartlett, who also ran a grocery store in the town. Albert was a waggoner, presumably for the Brewery. Their fourth child, Mary Jane, was born in 1888. The 1891 Census showed the family still living in Warfleet, at Warfleet Cottage (now Rock Cottage). Albert's occupation was described on this occasion as "Driver of Grocer's Wagon".
However, by 1895, when Harry's elder brother Arthur Sanders was born, Albert had changed his line of work to become a Dairyman, and the family had moved to Crowthers Hill, where they were recorded in the 1901 Census. The eldest, Frederick, became a butcher, running his own shop in Victoria Road, but as they grew up, the rest of the family all worked on Albert's small dairy farm.
Albert's enterprise did not escape the attention of the authorities in Dartmouth. In 1902, he was summoned to the Petty Sessions by the Totnes Board of Guardians to defend his refusal to pay more towards the support of his mother, Elizabeth Ann Bowhay, who was being supported by the Totnes Union - she lived in the Almshouses in Victoria Road. The 1901 Census recorded that she was, like all the Almshouse inhabitants, "in receipt of parish relief".
According to the Dartmouth Chronicle's report of 28th February 1902, the Union had taken on the support of Albert's mother in 1898 because she was widowed and unable to work. The Guardians were paying her 2s 6d per week and an agreement had been reached at the time that Albert would contribute 1s per week towards her maintenance. However, they had visited his house and now thought that he could support his mother completely, or at least pay a higher contribution. In the hearing he was described as a "dairy keeper and market gardener"; the property he owned was rated at £42 per annum; and it was established that he kept a horse and cart and seven cows, and had recently bought a field and slaughter-house, though Albert said Eliza had bought the property with a mortgage, and that the purchase was nothing to do with him.
The case was adjourned for a week so that the agreement could be produced; but at the subsequent hearing, Albert first denied that the signature on the agreement was his and then attempted to argue that the clause enabling the Board of Guardians to terminate the agreement at any time had been added to the paper after he had signed it. The Board of Guardians, meanwhile, had not helped themselves by sending a demand in error for Albert to pay 2s 6d towards the support of his father, enabling Albert to point out that the demand was nullified because his father had long since died. Nonetheless, the magistrates ordered that Albert should increase his contribution to the cost of his mother's upkeep to 1s 6d, and he was also ordered to pay that day's court costs, though he was allowed 1s expenses. His mother was still living in the Almshouses in 1911.
Albert and his family remained at at Rock Cottage, Crowthers Hill, where the 1911 Census recorded the small farm as a family enterprise: (William) John worked as a horseman on the farm; Mary Jane was in the dairy; Arthur was a farm assistant; and (George) Henry was the milk boy. The youngest of the family, Marjorie Barbara, born in 1906, was still at school, but doubtless lent a hand too. By 1916, Albert had 20 acres of land, much of which had to be tilled by hand because it was on a steep hillside; ten cows, one horse, and some pigs and poultry.
Service
Harry Bowhay's service papers have not survived so we do not know when he joined the Army. However, in April 1916, his elder brother William John Bowhay applied for exemption from call-up, having enlisted (voluntarily) under the Derby Scheme in late 1915, and having opted for deferred service. His mobilisation was due at the end of May. The Dartmouth Chronicle of 7th April 1916 recorded the hearing of the Dartmouth Military Tribunal, set up under the scheme to consider such applications. William John still worked for his father on the farm, and part of his case for exemption was that two of his brothers had already joined up. (His other argument was that farmers were being encouraged to "till every inch of their land" to produce sufficient food to sustain the country).
His elder brother, Frederick, a butcher, had been before the Tribunal the previous week, also seeking exemption on the grounds that if he served, he would have to close his business because he could get no one else to run it. Albert, now aged 56, argued that he could not help because he "superintended" the farm, but did not work on it. Eliza was described as "in bed ill, and had been all the winter" - in fact, she died shortly after the hearing.
From the columns of the Dartmouth Chronicle listing the names of those serving in the Forces, we know that Harry's older brother, Arthur Sanders Bowhay, had joined the 3rd/7th Battalion of the Devonshire Regiment (Cyclists) by 25th June 1915. He is also on our database. It would appear that by April 1916, Harry had also joined, or been called up. The Military Service Act of 27th January 1916 had introduced conscription, with effect from 2nd March 1916, for all unmarried or widowed British men residing in the British Isles aged between 19 and 41 on 2nd November 1915 (the act was extended to married men, and the lower age dropped to 18, on 25th May 1916). Harry was aged 19 years and a little over three weeks by 2nd November 1915, so conscription would have applied to him immediately in March, if he had not already volunteered.
According to Soldiers Died in the Great War, Harry enlisted in Dartmouth. He joined the 8th Battalion of the Devonshire Regiment, which many men from Dartmouth had joined at the start of the war. For the 8th Devons story to September 1916, see the story of William Marks Carpenter. The battalion had fought at Loos and the Somme, and had suffered many casualties. We don't know when Harry went overseas, but it was perhaps most likely to have been some time during the end of 1916 or in the first few weeks of 1917.
After the attempt to take the village of Ginchy between 3rd to 7th September 1916, in which the Battalion had lost heavily, there had been a period of rest out of the line. Drafts totalling 39 other ranks were received, including "a few from Devonport", according to the Battalion War Diary, "well-trained". However, losses for September (including sick) totalled 166 other ranks, so the Battalion was well below proper "trench strength".
On 18th September, they were moved northwards, away from the Somme, going into the line near Armentieres. This sector of the front line was quiet and casualties were low. Two months later they were marched south again and on the way 75 other ranks arrived from the 11th Battalion, Devonshire Regiment. The 11th had become a second training and reserve battalion for the front line battalions of the Regiment in 1915. From August 1916 it was transferred to the Army-wide Training Reserve, so this contingent arriving with the 8th Devons may have been amongst the last before the transfer.
On 24th November 1916 the 8th Battalion was back in the front line on the Somme, but this time north of the Albert-Bapaume road at Beaumont-Hamel. The situation here was also quiet - the main battle was against extremely cold and horribly wet and muddy conditions, and consequently high levels of sickness, despite 24 hourly inter-company reliefs. The 8th Devons were turn and turn about with the 9th Devons (see the story of Thomas Alfred Smith). A further draft of 55 other ranks joined on 3rd December, "mostly new recruits from Training Reserve but good material on the whole"; and 32 other ranks joined on 28th December, "all returned wounded men" from the four Devon Battalions in France (1st, 2nd, 8th and 9th).
When not in the front line, the 8th Devons were engaged on a near continuous basis on fatigue parties under the Royal Engineers. On Christmas Day 1916, however, they had a welcome day off - they enjoyed Christmas dinner in their companies, and "every man had beer and pudding and presents from [the] Mayoress of Exeter, socks, chocolate etc". Casualties for December were three other ranks killed and 23 wounded, but these were exceeded by sickness, which claimed two officers and 54 other ranks.
On 15th January 1917, after a period of rest and training, they were back in the front line, which, according to the Regimental History: "was further forward now than they had left it, but in bad condition, not improved by the snow that covered the ground and made it necessary for men on patrol to wear white "camouflage shirts"". New enemy positions were carefully reconnoitred, but this tour of duty was short.
From 20th January to the end of February, both the 8th and 9th Devons were in reserve, "reorganising" and training as successive drafts of reinforcements arrived and were integrated into their companies. Although the 8th Devons gradually approached full-strength, the sick-rate remained high: in January there were seven officers and 370 other ranks sick; in February, 149 other ranks sick.
On 2nd March 1917, the 8th Devons moved into the line at Puisieux, north of Beaumont-Hamel, which had been taken by British forces two days earlier. They began to reconnoitre the village of Bucquoy, the next village northwards on the road to Arras. The German retirement to the new fortified positions of the Hindenburg Line had begun, but British forces were ordered to regain contact - patrols were active and there were frequent encounters with the enemy rear-guard. After only four days, however, the 8th Devons were out of the line again for a fortnight's rest and training. During that short time, as the Regimental History puts it: "the situation map [was] more changed than in any period since trench warfare began". The position of the new, shorter, defensive line to which the Germans had retired meant that the 8th Devons "had quite a long march to make to reach the new outpost line south-west of Ecoust".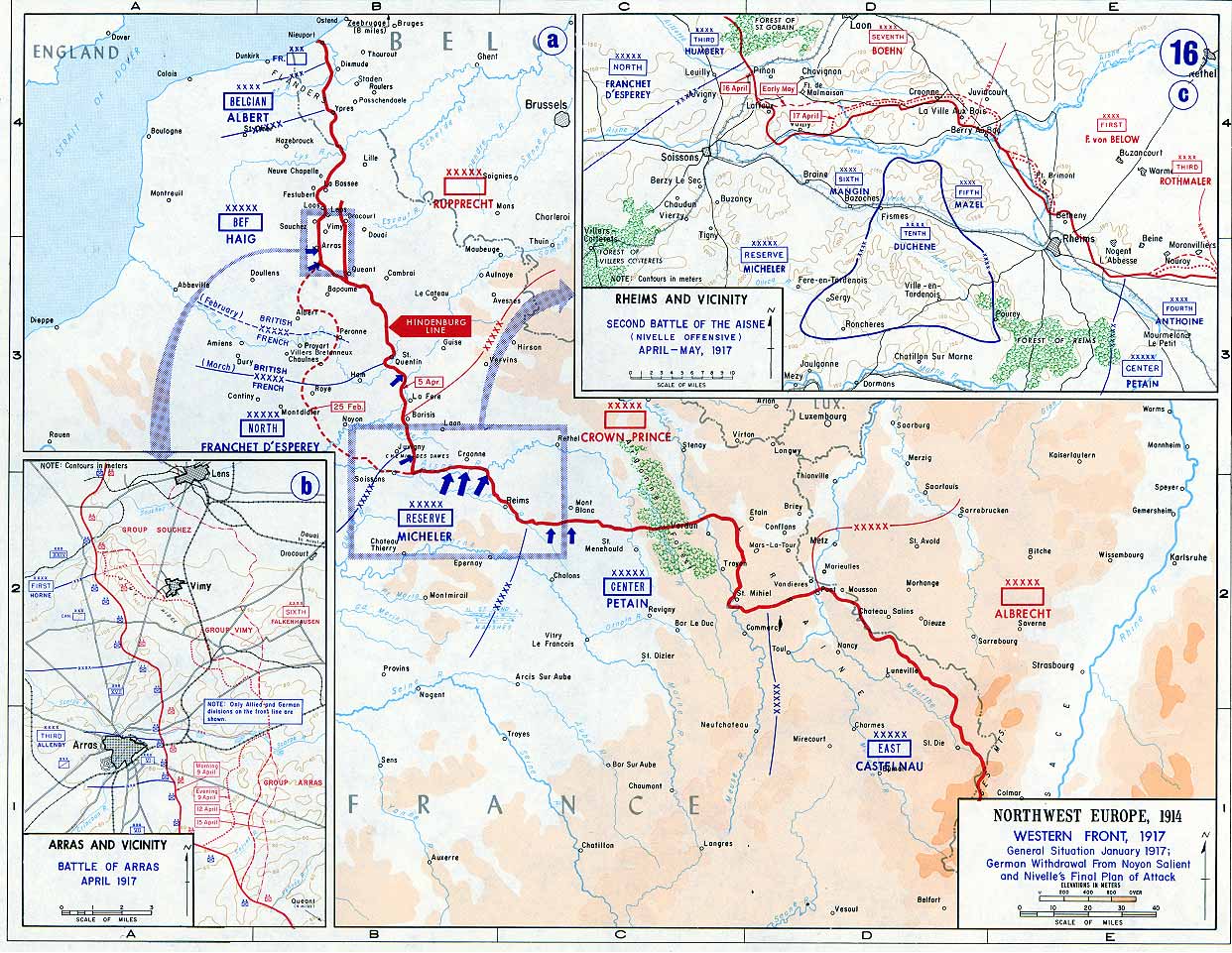 The Western Front in 1917
Death
The 8th Devons were briefly in touch with the enemy on 20th March during a two-day duty in the front line and then again during a second short tour beginning on 26th March, when they sent fighting patrols forward and met stiff resistance, causing nine casualties.
On 28th March, according to the Battalion War Diary:
"A" Company advanced their posts in the direction of the windmill [south of Ecoust] in support of an attack on Croisilles [east of Ecoust]. The advance was quite successful, but the post at the windmill had to withdraw owing to heavy fire and the failure of the attack on the left [Croisilles]. "A" Company lost nine killed and seven wounded in this operation ... During the day posts and lines of approach were shelled ...
Nonetheless, the Battalion had left "a good jumping off line" from which others could take the attack forward. They left the line that evening, going into billets in Ervillers and then Courcelles.
Later records show Harry was one of those killed in action on 28th March. CWGC records show nine men from 8th Devons killed in action on that day, one of whom is reported as a member of "A" Company, matching the account on the War Diary. Though there appears to be no record of Harry's company, this suggests that he was killed in "A" Company's advance on the windmill at Ecoust.
News of Harry's death reached Dartmouth quickly. In the Dartmouth Chronicle of 13th April 1917, three announcements appeared - Harry's death had coincided with the first anniversary of the death of his mother, Eliza:
Deaths:
Bowhay - In fond remembrance of Private G H Bowhay (Harry) the youngest beloved son of Albert Bowhay and the late Eliza Bowhay, Rock Cottage Dairy, who was killed in action in France March 28th 1917, aged 20.
Rest well, brave heart, by stream and hill,
Where many a hero's grave grown green,
You live in hearts that love you still,
You live with Christ in realms unseen.
---
Bowhay - In dearest memory of "Mother" the dearly beloved wife of Albert Bowhay, who died at Rock Cottage Dairy, April 12th 1916.
"Thy will be done"
No partings yonder, time and space never
Again shall sunder, hearts cannot sever,
Dearer and fonder hands clasp for ever.
---
Bowhay - In loving memory of our dear Mother Eliza Bowhay, who died April 12th 1916. Sadly missed and fondly remembered by her loving son and daughter in law, Fred and Pops.
"Thy will be done"
Also of our dear brother Harry, who was killed in action on March 28th 1917:
His cheery ways and smiling face
Are a pleasure to recall.
On 2nd April 1917, an attack was made on Ecoust by 22nd Brigade, led by the 8th and 9th Devons. Samuel Courtman, of 9th Devons, was killed during the action.
Under the heading "Dartmouth Heroes: Their Lives for their Country: Privates S Courtman and Harry Bowhay", the Dartmouth Chronicle of 20th April 1917 published together the news of the deaths of the two men from the town who had fought to take Ecoust, though the newspaper did not identify the specific action.
The Chronicle included the text of a letter to Albert from Second Lt Alan Monk, of the 8th Devons, which gives the impression that the writer had come to know Harry well, and liked him:
He was a member of my platoon, and I always found him not only most reliable, but also so cheerful and willing and full of courage. He got on splendidly with the other men, and we shall indeed miss him very much. I assure you of my deepest sympathy, and trust that you may have every consolation possible in your sorrow".
Second Lt Monk, who was not much older than Harry, died later in 1917, killed in action during the Third Battle of Ypres.
Commemoration
Together with the other eight men from 8th Devons killed on 28th March, Harry is commemorated on the Arras Memorial, which includes the names of almost 35000 men from the UK, South Africa and New Zealand who died in the Arras sector between the spring of 1916 and 7th August 1918, and have no known grave.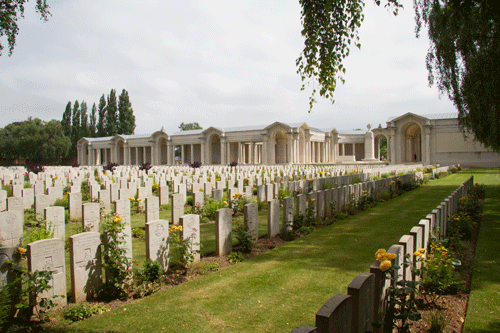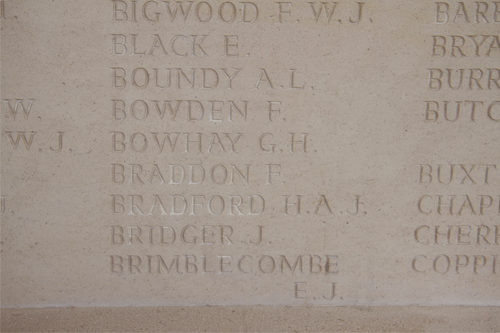 As one of the 579,206 casualties in the region of Nord-Pas-de-Calais, Harry is also commemorated on the new memorial at Notre Dame de Lorette, "The Ring of Memory".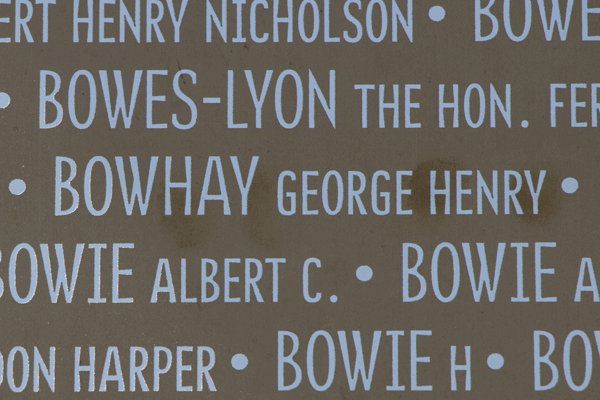 Ring of Memory memorial at Notre Dame de Lorette
In Dartmouth, he is commemorated on the Town War Memorial, and the St Saviour's Memorial Board.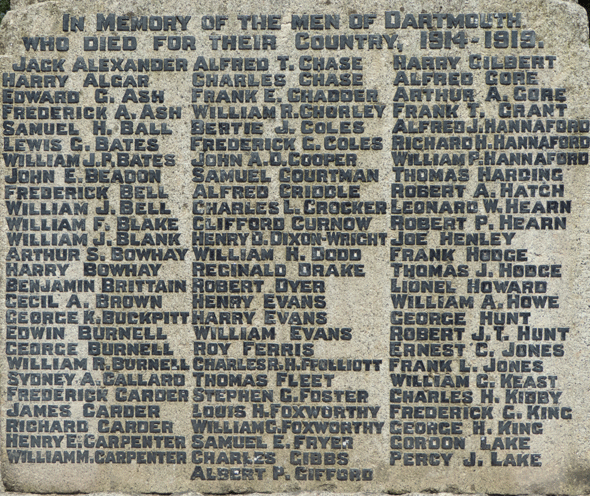 Dartmouth Town Memorial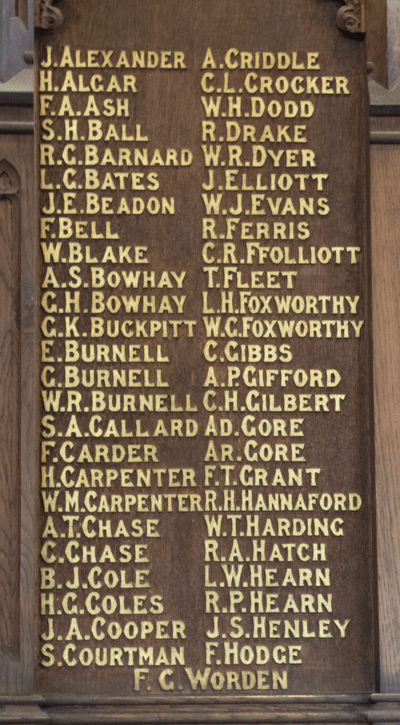 St Saviour's Memorial Board
Harry's brother Frederick Sanders Bowhay was called up eventually in October 1917 and was sent to the Royal Engineers. He served at home for the rest of the war and was then sent to Egypt in 1919, returning to the UK in August of that year, and to his butcher's business in Dartmouth.
We have not so far been able to trace whether (William) John Bowhay was called up.
Arthur Sanders Bowhay will be commemorated on the centenary of his death on 30th May 1918.
Sources
War Diary of the 8th Battalion Devonshire Regiment, July 1915 - November 1917, downloadable from the National Archives, fee payable, reference: WO95/1655/2
The Devonshire Regiment 1914-1918, compiled by C T Atkinson, publ 1926, London and Exeter
Information Held on Database
| | |
| --- | --- |
| Surname: | Bowhay |
| Forenames: | George Henry |
| Alternative Forenames: | Harry |
| Rank: | Private |
| Service Number: | 30599 |
| Military Unit: | 8th Bn Devonshire Regiment |
| Date of Death: | 28 Mar 1917 |
| Age at Death: | 20 |
| Cause of Death: | Killed in action |
| Action Resulting in Death: | Advance on Ecoust |
| Place of Death: | Ecoust, France |
| Place of Burial: | Commemorated Arras Memorial France |
| Born or Lived in Dartmouth? | Yes |
| On Dartmouth War Memorial? | Yes |
| On St Saviour's Memorials? | Yes |
| On St Petrox Memorials? | No |
| On Flavel Church Memorials? | No |
| In Longcross Cemetery? | No |
| In St Clement's Churchyard? | No |
| On a Private Memorial? | No |
| On Another Memorial? | No |
---
This information was last updated on Sunday 09 July 2017 at 16:56:38.