Harold Gordon Lake
Family
Harold Gordon Lake was born in Honiton, Devon, in 1895. He was the son of Daniel Lake and his wife, Bessie Howard, the third of four boys.
Daniel and Bessie were both born and brought up in Crediton. Daniel's father, James, had worked as an agricultural labourer, but Daniel and his brothers became shoemakers - at that period, shoemaking was one of the principal industries in the town. The 1881 Census recorded Daniel aged 18, and his brother Lewis, aged 16, living with their parents in Tolleys, Crediton, and both working as "riveters". A book on shoemaking written at about this time observed:
The use of machinery has effected … a revolution in the trade. The old-fashioned Shoemaker … has almost disappeared … His place and function are now, for the most part, occupied by the "cutter" and the "clicker", the "riveter" and the "machine-girl".
Bessie was the eldest of a large family. Her father, William Howard, also worked as a shoemaker. Bessie had left school aged eleven "to go into service" (according to the school register; by the time of the 1881 Census, aged 17, she was working as a live-in domestic servant for a widowed lady and her daughter, in Exeter.
Daniel and Bessie married on 28th August 1887 at Holy Cross, Crediton, Daniel giving his occupation as "shoemaker". At the time, both lived in Crediton; however, shortly after their marriage they moved to King Street, Honiton, where their eldest son, Leo Albert Howard Lake, was born. They brought him back to Crediton to be baptized, at Holy Cross, on 30th December 1888.
The 1891 Census recorded Daniel, Bessie and Leo still iving in King Street, Honiton, next door to the National School. Daniel continued to work as a shoemaker. Also living with them was Ethel Howard, Bessie's younger sister, age 9; and helping to make ends meet were three lodgers, all shoemakers, one of whom was Walter Howard, Bessie's brother. It seems likely that they were all employed in the same shoemaking concern.
A second boy, Frederick William, was born in 1893, and baptized in Honiton on 17th March 1894, followed by Harold Gordon, in 1895, and Horace Gilbert, in 1897. Two years later, the family moved to Elm Terrace, Honiton. The move may have been associated with Daniel changing to a very different line of work, as an insurance agent. The 1901 Census shows that, next door to the Lakes in Elm Terrace, were Daniel's colleagues and immediate superiors - Edwin Coombe, "Assurance Assistant Superintendent", and George Bray, the Superintendent of the Crediton office of Pearl Life Assurance. Harold Gordon (who appears to have been known as Gordon) and Horace Gilbert (sometimes known as Gilbert) were both baptized together at the parish church in Honiton on 27th October 1901 - Gordon was seven, and Gilbert four.
Some time around 1904, according to Electoral Registers, the Lake family moved to Dartmouth, where it appears Daniel returned to his previous trade. By the time of the 1911 Census, they lived at 4 Orchard Terrace, Victoria Road. Daniel worked as a boot maker and repairer. Gordon's oldest brother Leo, who was a boilermaker, was living in lodgings in Southampton, where he worked for a shipbuilder, but the other boys were still at home. Frederick William, age 17, was a ships blacksmith in a shipbuilding firm, and Gordon, aged 16, worked as a "Moulder" at an "Engineering Works". Unfortunately the census form does not record which of Dartmouth's shipbuilding and engineering companies these were. Gilbert, aged 13, worked as an office boy. The family were still living in Orchard Terrace in 1914.
Service
Gordon Lake's individual service papers have not survived, but both "G Lake" and "H Lake" were listed as privates in "F" Company of the 7th Battalion Devonshire Regiment (Cyclists) in the Dartmouth Chronicle of 25th September 1914. Horace's service papers have survived, and show that he had joined the Cyclists on 11th March 1913, aged one month short of 16, as a boy bugler. Gordon's service in the Territorial Force entitled him to receive the Territorial Force Medal, indicating that he had joined prior to 30th September 1914. It seems that Frederick Lake also joined the Cyclists very soon after the outbreak of war, because the name of "F Lake" is included in the list of those joining the Battalion, which was published in the Dartmouth Chronicle on 16th October 1914.
The 7th Battalion of the Devonshire Regiment had been created in 1908 as part of the Territorial Force and by 1914 there were several cyclist companies based around Devon. "F" Company was based at Dartmouth, very much a part of the local scene - see the story of Harold Mandley, who joined them in 1910.
At the outbreak of war, the 7th Battalion had just finished its annual training at Churston Race Course, Paignton, and on 3rd August 1914 was at Battalion and Company Headquarters. The unit was mobilised on 5th August 1914, and detachments were sent all along the coast from Lands End to Lyme Regis to carry out coastal patrols. Very soon, however, "F" Company was sent to the east coast, where the invasion risk was assessed to be greater. They were based at Whitby, and were responsible for coastal defence from Scarborough to Seaton Delaval, Northumberland.
They soon found themselves involved in helping to save some of the passengers and crew of the Hospital Ship Rohilla when she was wrecked off Whitby on 30th October 1914, for which they received formal thanks from the Admiralty. "F" Company once again assisted the civil powers when, on 16th December 1914, the German Navy shelled Scarborough, Hartlepool and Whitby - see the story of Frederick Thomas Bell.
As part of the Territorial Force, members of the 7th Battalion had no liability for service overseas. However, many members voluntarily undertook to serve abroad. Gordon's younger brother Gilbert, however, was still under-age, and his service papers show that on 17th May 1915, he was "attached for duty with Simpson Strickland & Co, of Dartmouth", the shipbuilding and engineering firm, by whom he was employed. He did not go overseas at all, being discharged in March 1917 after the completion of the four years service to which he had committed himself when he joined in 1913. It seems, however, that Gordon did agree to serve overseas.
By this time the Cyclists had returned to Devon from the North-East, and in December 1915 they moved from Devon to Kent, continuing with their roles of coastal defence and assistance to the civil powers as required. In 1916, around one hundred men from the Devon Cyclists, having volunteered (or been persuaded) to serve overseas, were transferred to serve with the Worcestershire Regiment. Several men from Dartmouth joined the 2/8th Battalion. and we know from the surviving papers of one of them, Frederick George Coles, that this took place on or around 18th May 1916. The Worcestershire Regiment service numbers of the Dartmouth men who transferred, including Gordon and his brother Frederick, are all close, suggesting that they transferred at the same time:
The 2/8th Battalion of the Worcestershire Regiment landed at Le Havre on 25th May 1916, arriving in the front line for instruction in trench warfare near Neuve Chapelle on 1st June 1916. For their experiences until early August, see the stories of Frederick Coles, who was posted to the 1/8th Worcesters on 3rd August, and Pat Lyons, shot while on patrol duty on 7th August 1916. (Joseph Henley left the Battalion after being wounded, most likely sometime in June).
On 18th August 1916, 183rd Infantry Brigade (which included the 2/8th Battalion) took over the line at Neuve Chapelle. The 2/8th Worcesters remained in this sector of the line on trench duty, turn and turn about with the 2/7th Worcesters, until the end of October. They moved to the Somme in mid-November, arriving on the battlefront north of Courcelette on 19th November, in severe winter conditions. Although they were not involved in any major offensive, things were still fairly active when they went into the front line on 30th November:
on 1st December, they captured two prisoners; in exchanges of shelling, two men were killed and four wounded.
on 2nd December one man was shot and another died of wounds sustained the previous day
on 3rd December, three men were killed by shellfire
on 4th December two men, both ex-Devon cyclists, were killed by shellfire, and two officers were wounded, including the MO, possibly when assisting in that incident
Casualties continued when they were in support at Wellington Huts, where they provided working parties digging trenches. Finally on 14th December, they came out of the line, and were fortunate to have Christmas well away from the trenches. However, they were back in support on 28th December, once again providing working parties, repairing barbed wire entanglements near Courcelette. They began 1917 holding trenches in front of Grandcourt, sending out parties to improve the wire in front of their positions; on the night of 5th January, six men went into No Mans Land to repair wire and were hit by a hail of machine gun bullets. Four men were wounded, one (an NCO) mortally.
On 7th January 1917, they came out of the line for a rest and (no doubt) much-needed baths. In cold and snowy weather, they began a 40 mile march to Domvast, near Abbeville, well behind the lines. By 23rd January they were training in tents, due to the harsh weather conditions.
In mid-February they moved from the Ancre southward to the other end of the Somme front, relieving French troops on 18th February, near the village of Ablaincourt-Pressoire. Here the main issue was the conditions - the thaw began soon after they arrived, and the trenches turned almost immediately to mud; because communication trenches were exposed, it was difficult to get rations up except at night, and sickness levels rose - during the month of February over 100 men were evacuated sick.
After a period in the rear resting and training, they took over the line once more on 15th March. By this time the Germans had begun the preparation for their planned withdrawal to the Hindenburg Line. On 15th and 16th March, the 2/8th Worcesters' nightly patrols encountered stiff resistance from the German front line, but on 17th March 1917, they walked into empty trenches at Chaulnes.
Suddenly, the 2/8th Worcesters were on the move - for the next few days they advanced through deserted and devastated country previously occupied by German troops, repairing roads, filling in mine craters, and clearing trees. They crossed the Somme at Bethencourt, where Henry V is thought to have crossed before the Battle of Agincourt (the Battalion's 2iC thought "they might have been the next British troops to do so"), and on 28th March, marched northwards to Monchy Lagache, to consolidate new front line positions. That night, after dark, a patrol was sent into the ruined village of Attily, west of St Quentin; on 31st March, another patrol found that the village of Marteville was empty; as they moved forward, they found the next village, Vermand, empty too. It was a mass of smouldering ruins, which they occupied and entrenched.
However, as they neared the Germans' new line of fortifications, they began to encounter the German rearguard. On the following day, their posts were heavily shelled, and a German cavalry patrol was driven off. On 2nd April, they were in support to an attack by 2/7th Worcesters and 2/4th and 2/6th Gloucesters forward of Villeveque (just east of Attily), which met with little opposition; afterwards, they remained in Villeveque making repairs to craters between Villeveque and Marteville.
On 6th April, it was the 2/8th's turn to take the front line in an attack on a position known as Hill 120, south of Berthaucourt, northeast of St Quentin. Approaching the position from the south-west and west, they attacked under heavy artillery fire at 11.45pm. After crossing the valley, they pushed up the slope of the hill and occupied the crest-line. However, attacks by neighbouring battalions had failed, and the 2/8th were forced to consolidate a "more or less triangular position of which the apex was on the reverse slope of the captured crest". They were able to hold the position the following day, although a further enemy attack developed; and were able to hand it over when relieved. But the British advance was allowed to go no further - the Germans had reached their intended positions, and strongly attacked any attempt to establish a new British line too close. Further, attempting a breakthrough in this sector was not a British priority.
For much of April the 2/8th were to the rear of the new front line, repairing roads around Athies and elsewhere. Pte Edmund Tompkins, an ex-Devonshire Regiment Cyclist from Crediton, wrote home to his parents:
We are out of the line for a rest at present and I think we deserve it, for we have had a very strenuous time for a month … We are in a small town now which the Hun has left in a fearful state, and I should say would put the San Francisco earthquake quite in the shade … every crossroads and almost every corner there is an enormous crater where [the Germans] have blown up the road to hinder our advance.
On 2nd May, 183rd Brigade took over the sector of the new front line, just to the west of St Quentin. The 2/8th were in reserve and began the work of strengthening the defences there, digging trenches and laying wire. However, on 15/16th May, 61st Division was relieved by the French; reinforcements were needed for the continuing fighting south of Arras. On 24th May, the 2/8th Worcesters arrived by bus in billets in Arras. But they did not get as far as the front line in Arras - they very soon heard that the 61st Division would instead be transferred to Flanders, where forces were now assembling for the summer offensive, to be known to posterity as the Third Battle of Ypres. They spent the next few weeks in a series of training camps well to the rear, gradually moving northwards. As the battle opened on 31st July, they continued to train.
For an account of the first day of the battle, see the stories of Richard Carder, who was part of 51st Division, attacking to the north of Ypres, and William Bates, part of 8th Division, attacking to the south of the city. To the north, the village of Langemarck, beyond the River Steenbeck, had been taken in a follow up attack from 14th-16th August - see the stories of William Burnell and Reginald Bawden.
The 2/8th Worcesters came into the line on 17th August, when 61st Division relieved the 36th (Ulster) Division, near Wieltje, north east of Ypres, holding a position between Pommern Castle and Spree Farm. The tour was short, as they were relieved in turn during the night of 20/21st August, but they had endured very heavy shelling with six men killed and 14 wounded on 19th August. Casualties continued when they were in Ypres North Camp.
On 24th August, they once again went into the battle, relieving 2/7th Worcesters in the support lines. Following the capture of Langemarck, the fighting at Third Ypres took the form of small-scale, piecemeal attacks, to try to improve the overall position for the next large-scale offensive and remove vulnerability in the line held in the meantime. It fell to 2/8th Worcesters (and their sister battalion 2/7th) to contribute to one of these small-scale attacks.
On the nights of 24th and 25th August, the 2/7th Worcesters had twice attacked a fortified farmhouse called Aisne Farm, north of the village of Frezenburg, but the attack had failed both times. On 26th August, the day was spent making revised plans, this time with the 2/8th Worcesters in the front line, and from new forward positions. There was extremely heavy rain overnight and in the morning: the Regimental History describes the conditions:
The state of the ground, bad enough before, became worse. The great bog of shell-holes had become impassable, a vast wilderness strewn with corpses and dotted at intervals by wrecks of smashed tanks.
All morning the attacking companies had waited in shell-holes "which the pouring rain had converted into slimy ponds", according to the Regimental History. They were unable to move because the ground was under direct observation and swept by enemy machine gun fire. At 1.55pm the barrage started and the attack began through the mud; but slipping and sliding, they were unable to keep up with the barrage, even though this had been set very low, and rifles became clogged with mud. The attacking companies were hit by machine gun fire on front and flank and the attack was brought to a standstill.
At nightfall they were ordered to dig in, and later were relieved by 2/7th Worcestershires. Losses were heavy - 3 officers killed, five wounded, 52 killed, 86 other ranks wounded.
For three days the 2/7th and 2/8th remained in frontline and support positions, while the rain fell. Eventually on 1st September they were relieved (in more ways than one) and moved back into camps near Vlamertinghe. From 7th-12th September, they were in reserve, providing working parties to the front and support lines, still hazardous - when the transport lines were bombed and shelled, one man was killed and six were wounded - and left the Third Ypres battlefield area altogether on 13th September.
After a week's resting and training, they moved back to the Arras area on 19th September, and five days later, took over front line trenches in the "Greenland Hill" section of the line, north of the River Scarpe and north of Roeux, for "routine" trench duty.
On 30th September they underwent a heavy barrage of trench mortars and artillery, and the enemy were seen lining up in No Mans Land - however, they were successfully held off by artillery and Lewis gun fire. Otherwise, the tour was reasonably quiet. This was followed by several tours in the line just nearby, at the Chemical Works, Roeux (scene of extremely heavy fighting earlier that year) and at Fampoux. On 15th November, "D" Company carried out a successful trench raid in which an enemy dugout was blown up, but four men were killed and eight wounded, one of whom died. Their next tour was back at Greenland Hill - this was relatively quiet until the end, when enemy shelling and sniper fire killed two and wounded four.
The Battle of Cambrai
When back in billets in Arras, 2/8th Worcesters found themselves once again suddenly on the move. 61st Division had been ordered at once to the Cambrai area. For the background to the Battle of Cambrai, see the story of Samuel Love. The battle had begun on 20th November, and a significant advance had been achieved in many areas - the first line system of the Hindenburg Line had been overrun to a depth of around three to four miles. However, the ground won in the attack had created a major new salient, approximately nine miles wide and four miles deep, and acutely vulnerable to attacks on both sides. On the morning of 30th November, a major German counter-attack began; and in consequence, 61st Division was brought up from Arras as quickly as possible. They arrived by train at Bapaume at 11am on 30th November and were bussed up to Ruyalcourt; 183rd Brigade then marched to Metz and into Havrincourt Wood, where they remained under cover all night and the following day.
After dark on 1st December, they were ordered to advance to reinforce 20th Division, which had been driven back from its front line with heavy loss, and was now holding on to the crest line above Gonnelieu. When they reached the front line at La Vacquerie the 20th Division were found to be so exhausted that two companies from 2/8th Worcesters, which was the reserve battalion, were sent forward, in addition to those planned.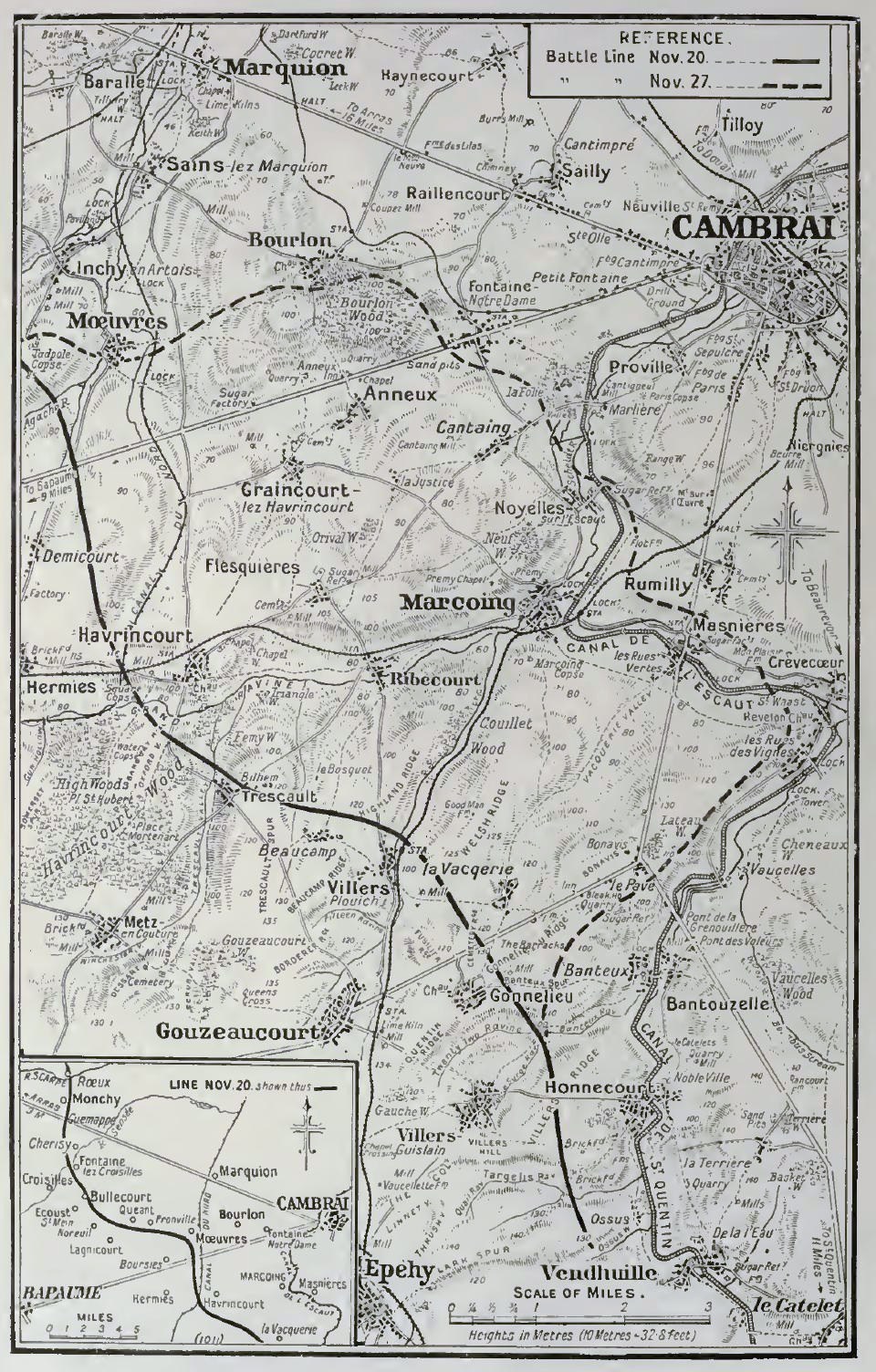 The Cambrai Area in 1917
The following account is drawn from the Regimental History. Fighting during the day had created a position in which the line to be held by the 183rd Brigade formed a pronounced salient, facing Gonnelieu. The 2/8th Worcesters were on the northern flank, "A" and "B" Companies having come up into the line, holding a sunken road just east of the Hindenburg Line trenches which had been captured at the outset of the battle. "C" Company was in close support; "D" Company and Battalion HQ were behind La Vacquerie in a redoubt known as "Corner Work".
The German counter-attack was renewed on 2nd December. German bombing parties worked up the slopes from Vacquerie Valley and attacked the eastern face of the salient in the first dim light. On the left of the Brigade front, the 2/8th Worcs repulsed the initial attack, but near the angle of the salient the enemy succeeded in establishing a foothold at two points in the line.
Two more attacks followed at half-hour intervals; then died away as daylight grew, but the position on the ridge was heavily shelled. At 3pm enemy artillery increased to an intense barrage and behind it followed another infantry attack. The angle of the salient was broken, and enemy troops broke through, at the apex of the salient and into the 2/8th Worcesters' front line on the left of the British front. After sharp fighting, the front line companies of the 2/8th Worcs withdrew, reorganized, and after dark, counter-attacked and regained their original line, the enemy having withdrawn. Losses were severe.
Reinforcements then came up and the 2/8th were withdrawn to reserve, except "D" Company which remained in the "Corner Work" redoubt, with one platoon of "A" Company, together with men from the Royal Warwickshire Regiment.
On the morning of 3rd December, there was an intense enemy bombardment, followed by a further infantry attack. A fierce struggle developed around the garrison in "Corner Work". German bombers worked up the communication trench on either side, and defeat seemed certain. The almost obliterated Redoubt was abandoned and the defence continued in the trenches on either side.
"C" Company of 2/8th Worcesters (which had been in support) was then sent up and attacked the enemy in "Corner Work", and was able to drive them out, at 2.15pm joining up with the remaining members of the garrison. Taking the British counter-counter-attack further was not possible, as the village of La Vacquerie was now held in force by the Germans, and there were not enough men to attempt to recapture it. As darkness fell the front line companies were brought back to the old British front line and those holding the position at "Corner Work" were relieved at 3am on 4th December. The 2/8th (what remained of them) were withdrawn to reserve, and on 5th December, returned to Havrincourt Wood.
The casualties for the 2nd and 3rd December reported in the war diary were:
two officers and ten men known to be killed
nine officers and 89 men known to be wounded
two officers and 36 men missing
Death
It seems that Gordon was reported after the battle as missing - his name appeared as such in a casualty list published on 17th January 1918. It seems that his fate remained uncertain for some time; in the Army Register of Soldiers' Effects, his date of death was stated to be "officially accepted as 5th December 1917 at Ligny". This is some distance from where the action took place, though still in the Cambrai area.
Soldiers Died in the Great War recorded that Gordon died of wounds on 5th December 1917; and Commonwealth War Graves Commission grave registration records show that he was one of 106 British soldiers originally buried in Selvigny German Cemetery, which is near Ligny. The grave registration form shows that his grave was marked with a German cross and his date of death was recorded as 5th December 1917.
We know from the reported experiences of others wounded in the action on 2nd December that they had to be left behind when their fellow soldiers withdrew from the front line to the strongpoint of "Corner Work". Some stretcher bearers remained with the wounded men in cellars and managed to return them to British lines. But it would seem they could not do this for everyone; and that when Gordon was wounded, he was taken to a German medical station, where he died, shortly after the action in which he had fought.
Commemoration
After the war, British graves at Selvigny German Cemetery (and several others) were brought into Honnechy Cemetery, east of Cambrai. This too was originally a German cemetery near a German hospital centre until it was captured by British forces late in 1918. In 1922-3, German graves were removed to another burial ground, and the cemetery was remade by the concentration of British graves almost entirely from German cemeteries.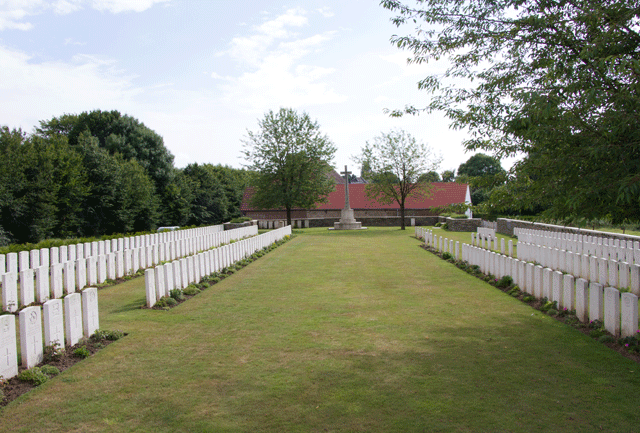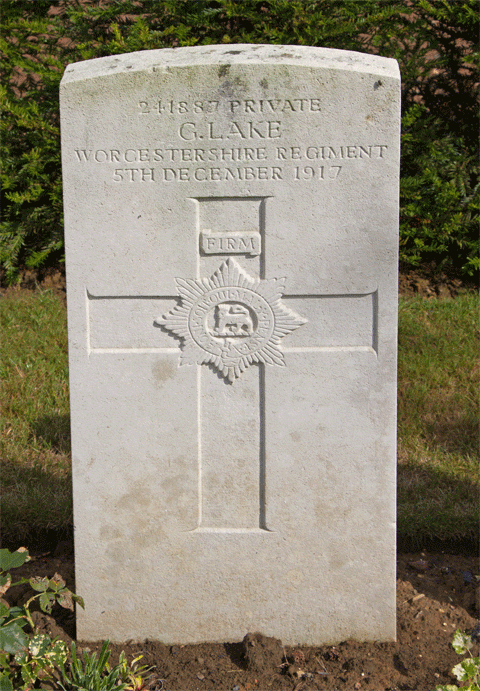 Honnechy Cemetery
In Dartmouth, Gordon is commemorated on the Town War Memorial as "Gordon Lake", and on the St Saviours Memorial Board as "H G Lake",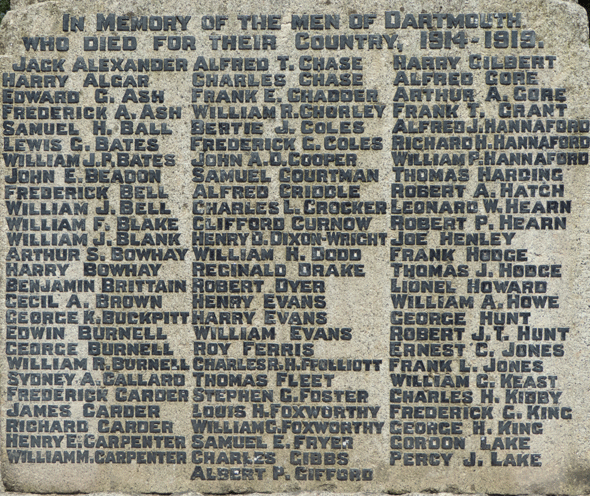 Dartmouth Town Memorial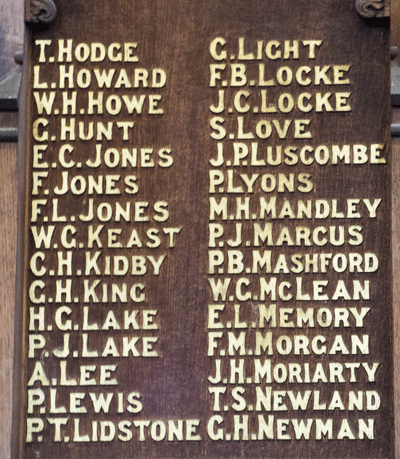 St Saviour's Memorial Board
Gordon's brother Frederick remained in the 2/8th Worcesters and ended the war as a Sergeant. His name appears immediately above Gordon's in the Worcestershire Regiment Medal Roll.
His elder brother Leo also served throughout the war with the Devonshire Regiment. He was awarded the Silver War Badge in March 1919, having been discharged in January 1919.
Sources
8th Worcesters 100, an excellent Facebook page commemorating the men of the 1/8th, 2/8th and 3/8th Battalions of the Worcestershire Regiment
The Worcestershire Regiment in the Great War, by Captain H FitzM. Stacke, MC, Vol 1, publ 1928, reprinted 2003 Naval & Military Press
Information Held on Database
| | |
| --- | --- |
| Surname: | Lake |
| Forenames: | Harold Gordon |
| Alternative Forenames: | Gordon |
| Rank: | Private |
| Service Number: | 241887 |
| Military Unit: | 2/8th Bn Worcestershire Regiment |
| Date of Death: | 05 Dec 1917 |
| Age at Death: | 22 |
| Cause of Death: | Died of wounds |
| Action Resulting in Death: | Battle of Cambrai |
| Place of Death: | Near Cambrai, France |
| Place of Burial: | Honnechy Cemetery, France |
| Born or Lived in Dartmouth? | Yes |
| On Dartmouth War Memorial? | Yes |
| On St Saviour's Memorials? | Yes |
| On St Petrox Memorials? | No |
| On Flavel Church Memorials? | No |
| In Longcross Cemetery? | No |
| In St Clement's Churchyard? | No |
| On a Private Memorial? | No |
| On Another Memorial? | No |
---
This information was last updated on Sunday 25 March 2018 at 17:10:07.