Frederick George Coles
Family
Frederick George Coles (sometimes recorded as Cole) was born on 13th December 1886 in Dartmouth. He was the eldest son of William John Cole, or Coles, and his second wife, Emma Jane Williams.
William John came originally from Plymouth, and began his working life there, as a block and spar maker in the shipbuilding industry. The 1871 Census recorded him living with his father and mother, William and Mary Cole, and his sisters, in 36 Notte Street. However, some time during the 1870s, he moved to Dartmouth, to continue his trade there. In Dartmouth he met Louisa Petherbridge, the daughter of Emmanuel Petherbridge, a blacksmith and his wife, Harriet Coursens. Louisa was born and brought up in Dartmouth. Although her parents were still alive, Louisa and her elder sisters Harriet and Charlotte lived with their grandmother, Harriet Ferris, a greengrocer and fish dealer in Higher Street.
William and Louisa married on 13th July 1879 at the Baptist Chapel, Dartmouth. Their first child, William Charles, was born on 18th January 1881. At the time of the 1881 Census, William John, Louisa and the baby were living in Smith Street, next door but one to Louisa's mother, Harriet Petherbridge, who was working as a fishdealer, her husband Emmanuel having died a few weeks earlier.
Sadly William John's first marriage did not last long. On 14th March 1885, Louisa died, aged only 32. When William John took his young son to be baptised at St Saviour's three weeks later, on 5th April, the mother's name was left blank. But William did not take long to marry again. About a year later, on 28th March 1886, he married Emma Jane Williams, at the Wesleyan Chapel in Dartmouth. Emma, though living in Dartmouth at the time of her marriage, was born in Ugborough. She was the eldest daughter of George Williams, a labourer, and his wife Mary Jane. At the time of the 1871 Census, she and her family lived in Ashprington; by 1881, she had started her working life, being employed as a servant at the Dartmouth Inn in Totnes.
The 1891 Census recorded William John, Emma Jane, and three children living in South Parade, Dartmouth. William continued to work in the shipbuilding trade as a blockmaker. Emma was caring for William Charles, her stepson; Frederick George, aged 4, and a one day old baby. The census enumerator recorded the baby's name as James but when the baby was baptised, on 28th October 1892 at St Saviour's, he was given the name Ernest John (the enumerator may have made a mistake, or perhaps William and Emma changed their minds).
Instead the name James Henry was given to the next baby, born four months later on 17th February 1893. Sadly he lived only a few months - he was privately baptised on 10th December 1893, only a few weeks before his death. But Frederick soon had more brothers and sisters. Family information refers to eleven boys and three girls; at the time of the 1911 Census, William John stated that there were twelve children of the marriage, of whom four had died. So far, in addition to Frederick, Ernest and James, we have identified from census and baptism records:
Bessie Olivia, born 1895, baptised St Saviour's 12th September 1895. Bessie was recorded with her parents, Frederick, Ernest, Bertie and Joseph in the 1901 Census, but died two months later, aged 6.
Bertie James, born 1897, "received into the church" on 27th November 1903 at St Saviour's, when his younger brother Albert was baptised. Bertie James is also on our database
Joseph Henry, born 1899 (he does not seem to appear in the baptism records)
Albert Edward, born 1902, and baptised on 27th November 1903
Arthur Leonard, born 1904, and baptised privately on 18th January 1905 - he died a month later
John Samuel, born 1906, and baptised at St Saviour's on 11th June 1908 together with his younger brother Leonard Percy, born 1907
Minnie Gertrude, born 1909 and baptised at St Saviour's on 6th April 1911
The family lived for some time at Hardy's Cottages, behind the Embankment (demolished in 1938), but by the time of the 1911 Census had moved to 30 Lower Street. William John, age 60, was still working in the shipbuilding industry, as a "block and spar maker". Frederick had gone into a similar line of work, but had left home, having moved to Devonport to work in the Naval Dockyard as a Shipwright. In 1911 he was living on his own at 9 Portland Place, Morrice Town, Devonport; but at the date of the Census he only had a few more bachelor days remaining - he married Alice Maude Mary Palmer, at St Mark's, Ford, Devonport, on 15th April 1911.
Alice was the daughter of Edmund Palmer and his wife Caroline Tozer. Edmund came originally from West Teignmouth, and Caroline from Devonport. Edmund had joined the Navy as an Ordinary Seaman in 1873. He married Caroline in Devonport in 1879, while serving in HMS Cambridge, the gunnery training ship moored off Plymouth. Shortly afterward, he transferred to the Coastguard Service, as a Boatman. This took him, Caroline, and their son Edmund, to Ireland in 1885. Alice was born in 1887 whilst her father was serving in the Coastguard station at Raughley (or Rockley), County Sligo.
However, when Alice was not yet two, her father died, of heart disease, on 8th January 1889. Caroline returned to Devonport with her two children and found a home with her sister and brother-in-law, Samuel and Mary Ann Rogers. Samuel was a boatswain in the Navy, a warrant officer, and evidently supported a considerable extended family. In the 1891 Census, his household in Devonport included:
Samuel, his wife Mary Ann and his daughter Lilly
his father John
his wife's parents, John and Caroline Tozer
his widowed sister in law Caroline, with her two children Edmund and Alice
his brother in law Thomas and his sister in law Eliza, both unmarried
Alice was brought up in her uncle and aunt's house and continued to live with them after her mother died in 1908. The 1911 Census recorded her living with her uncle, aunt, and cousins, at 39 Ryder Place Devonport, just before her marriage to Frederick.
For the next three years Frederick continued to work at Devonport Dockyard as a shipwright in the civilian workforce, but on 12th February 1914 he joined the Navy as a 2nd Class Shipwright. We know from his naval service record that he was 5ft 10 ½ins tall with black hair, blue eyes and a "fresh" complexion. He spent six weeks in HMS Good Hope, at that time in reserve, and just under four weeks in HMS Southampton, a light cruiser. However, his time in the Navy was short - he was invalided out of the service on 4th June 1914, less than three months after joining. His naval service record provides no further detail.
Service
Frederick's Army service papers are amongst the few that have survived, so we know that on 7th August 1914, three days after the outbreak of war, Frederick attested at Dartmouth as a member of the 7th Battalion Devonshire Regiment (Cyclists). He had moved back to Dartmouth from Devonport and was working as a shipwright for the Dartmouth shipbuilding and engineering firm, Philip & Sons. According to his attestation form, he had served in the 7th Battalion before, but records relating to that period of service have not survived.
The 7th Battalion of the Devonshire Regiment had been created in 1908 as part of the Territorial Force, for home defence, and so its members had no liability to serve overseas. Most territorials, however, soon volunteered (or were persuaded) to undertake to serve abroad, and Frederick was no exception - he signed the form accepting liability for overseas service on 26th September 1914. By this time, he and the rest of "F" Company, which before the war had been based at Dartmouth, were in Whitby, responsible for coastal defence from Scarborough to Seaton Delaval, Northumberland. For the activities of "F" Company during the first few months of the war, see the story of Frederick Bell.
It seems that while Frederick was away, all was not well at home. A letter from the War Office dated 25th March 1915 survives in his service file informing the Officer i/c Territorial Force Records that "a Police Report has been received ... relative to the persistent drinking and dissolute conduct of the wife of Private F G Cole, 7th Battalion Devonshire Regiment, and that the issue of separation allowance to this woman has been stopped"; and requesting that the information was passed to Frederick. Other papers show that this unwelcome news was duly communicated, but there is nothing in the file to indicate his reaction (or indeed, whether the police report was accurate). It is possible, however, that a clue may be found in the appointment of his mother Emma, rather than his wife Alice, as his sole legatee.
Whatever happened in his private life, it does not seem to have prevented his own progress. He was appointed Lance Corporal (though unpaid) in the 7th Battalion on 12th May 1915, by which time his company had returned to Devon from the north-east. On 5th July 1915, whilst based at Seaton, in Devon, he signed a further form agreeing to "serve in the Territorial Force during the present period of embodiment in any corps or any unit of a corps to which I may be transferred or drafted with a view to service overseas". Meanwhile, the Cyclists themselves were still recruiting; on 23rd September 1915 the following appeared in the Western Times:
An opportunity occurs for men to join the popular 7th Devon Regiment (Cyclists) ... a really popular unit which has always attracted the best class of men. Applicants should be 19 years of age or more and are expected to sign for Imperial service. The training quarters for the winter will probably be at Paignton. The usual rates of pay and separation allowances are made. The officers are popular, the work pleasant, and any young fellow looking for a regiment to join will be fortunate if he is accepted for this one.
In December 1915, the Devon Cyclists moved from Devon to Kent, continuing with their role of coastal defence and assistance to the civil powers as required, and in 1916 and 1917 their area of operations extended north to Suffolk. The Battalion as such never left England, though many members transferred to front line units.
Frederick's turn came on 18th May 1916, when he transferred to the 2nd/8th (Service) Battalion of the Worcestershire Regiment, with the number 5559; he was confirmed in his rank of Lance Corporal shortly afterwards. According to a social media site commemorating the 8th Worcesters (see sources below), one hundred men from the Devon Cyclists volunteered at this time to serve with the Worcestershire Regiment. Those transferring to 2nd/8th Worcesters landed at Le Havre on 25th May 1916 with the rest of the Battalion, part of 61st Division.
Frederick's service papers do not record when he went to France, but assuming he went with to France with them, Frederick had his first experience of the trenches on 1st June, at near Neuve Chapelle, where the Battalion were given their instruction in trench warfare by units of 35th Division. On 11th June they went into the trenches with full responsibility for holding the line, for four days, and during this period three of Frederick's colleagues from the 1st/7th Devons were killed, less than three weeks after their arrival in France. The 2nd/8th Worcesters then went into reserve, supplying working parties to the front line, repairing trenches, bringing up rations and material, and also undergoing training.
The 2nd/8th were back in the front line at Fauquissart, near Laventie, on 10th July 1916, when another ex-Devon Cyclist was killed, this time an officer, Lt Richard Ball, who had joined the Cyclists as a private and was commissioned whilst serving with them. Another ex-Cyclist followed on 14th July. The following day they were back in billets. They were not involved in leading 61st Division's attack on Fromelles, though carrying parties from the Battalion were required to take up trench mortar ammunition to the front line, and some were detached to man trench mortar batteries, with consequent casualties. Yet another ex-Devon Cyclist died on 17th July when communication trenches were shelled. The Fromelles attack took place on 19th July 1916, and was a disastrous failure. Subsequently the 2nd/8th were involved in bringing in the wounded in darkness, while under fire.
On 26th July 1916, they were back in the trenches at Fauquissart, Laventie, and another of Frederick's comrades from the Devon Cyclists was killed two days later. A trench raid was mounted on 29th July, but when the German front line was reached, it was found to be empty; all members of the raiding parties returned safely. On 1st August, they were relieved by 2nd/7th Worcesters, and returned to billets in Laventie.
However, Frederick did not remain any further with the 2nd/8th Battalion. According to his service record, on 3rd August 1916 he transferred again within the Worcestershire Regiment, being "absorbed into the establishment of paid Lance Corporals" in the 1st/8th (Service) Battalion. At the time he transferred, the 1st/8th Battalion Worcestershire Regiment was on the Somme, serving in 144th Brigade in the 48th Division. They had entered the battle on 16th July - the Battalion War Diary reporting:
The first day of 48th Division's share in the great offensive. Even now it would hardly be called "field fighting" nor "open warfare". For it chiefly consisted in "nibbling" trenches bit by bit.
The 8th Worcesters were in divisional reserve. However:
All ranks looked eagerly to the day when their turn should come to meet the enemy in fair fight after the comparitively tame and wearying monotony of trench garrison work for 11th months.
48th Division had taken over from 32nd Division in the attack on the fortified village of Ovillers, just west of the Albert-Bapaume road (part of the phase of the fighting called the Battle of Bazentin Ridge). The garrison surrendered that day. For 1st/8th Worcesters, there followed three days in reserve, after which they were brought forward to form a large working party consisting of 18 officers and 580 other ranks from all companies.
While digging a new communication trench up the main road from La Boisselle to the position in front of the village of Pozieres (near the site of the Pozieres memorial) they were shelled by a new type of gas shell. The shells exploded with little noise, and many men were late in putting on their gas protection helmets, because they were unfamiliar with the smell of the gas used. Only a relatively few were affected immediately by the gas - two officers and 36 other ranks - but the following day, when they had returned to billets, only 18 men in the entire Battalion (apart from the transport, signallers and HQ personnel, who had not been part of the working party) were not affected. The Regimental History says that:
Everywhere men were vomiting or helpless with pain ... those not actually sick were incapable of any exertion, and all idea of sending the Battalion up to the fighting line had to be abandoned. For a few days [they] remained in billets, while one after another the officers and men collapsed. When another seventy men had been admitted to hospital, it was decided to send the Battalion right back to recuperate.
Exceptionally, they were allowed to go to the seaside, where it was hoped the fresh air, exercise and relaxation would help them recover more quickly. But the effects still had not fully worn off by the time they were ordered back to the front line on 21st August, and many men were still unable to do much. After a medical examination, one officer and 382 other ranks were pronounced unfit for duty, and were retained with the Battalion Transport. Frederick's service papers do not show when he arrived with the Battalion, but it was presumably at about this time. On 21st August, a reinforcement of 74 men joined the Battalion at Bouzincourt, as they returned to the front line from the seaside; 23 men arrived on 24th August.
On 27th August, when they went into the line near Beaumont-Hamel, the four companies were each only 75 strong (a full establishment would have been about 200). Fortunately things were fairly quiet during this period, though three men were killed and two wounded by shellfire on 30th August, as barbed wire entanglements in front of the line were repaired. One of those killed was another member of the Devon Cyclists, who had transferred to the 2nd/7th Worcestershires, and then, after being wounded, to the 1st/8th. There were further casualties on 2nd September when the area behind the line was shelled, including more gas.
The Battalion was relieved on 5th September, and joined up with the "gas cases", who had remained in rear. During this rest period, one officer and 432 other ranks who had been gassed were finally evacuated for proper rest. The effect of the gas was to cause irregular action of the heart, making physical exercise impossible without risk of collapse. Most men eventually recovered, but only after extended convalescence.
The remainder of the Battalion, including all the new arrivals, were focused on training - route marches, musketry training, training in bayonet fighting, and in open warfare. More new arrivals joined on 24th September, and on 28th September, members of the Worcester Yeomanry were compulsorily transferred. They arrived over the next few days, having had two years training as cavalry, but "in some cases only a fortnight as infantry", according to the War Diary. Training continued until 9th October, when the Battalion moved up closer to the front line, and on 16th October, they returned to front line duties at Hebuterne. Frederick was in "A" Company, which was in reserve in "The Keep", a fortified farm complex in Hebuterne village.
They were in the front line for only a few days. Although it was fairly quiet, they sustained casualties from enemy artillery fire as they left the trenches for their billets at Beaudricourt. On 24th October, after worship, they were inspected by their Commanding Officer, Lt Col Carr, and spent the afternoon playing inter-platoon football matches. More training followed, though interrupted by the bad weather experienced across the entire Somme area at this period, which made their camp at Bresle extremely uncomfortable. On their way back to the line, they marched through Albert, past Albert Cathedral and its "Leaning Virgin".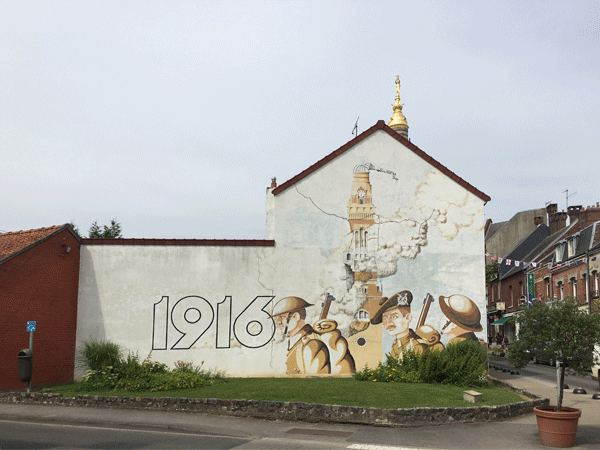 Present day Virgin of Albert and commemorative mural on nearby house showing picture of Leaning Virgin
Death
On 2nd November, the 1st/8th went into the line at Le Sars, on the Albert-Bapaume Road. Three days later, on 5th November, they found themselves observing the attack by the 50th (Northumbrian) Division on the Butte de Warlencourt, to the right of their position. This feature of the battlefield was (and is) an ancient prehistoric burial mound, which, at around 50 feet high, provided a useful observation point for German forces. It was heavily garrisoned and had resisted numerous attacks for some weeks. The Butte was taken, after extremely heavy fighting, but then lost to a fierce German counter-attack.
During the action, in which the Worcesters did not directly participate, they were nonetheless heavily shelled, sustaining casualties of 8 killed and 51 wounded (one of whom died later). They were withdrawn from the front line on 6th November to support trenches, and after a day's rest, including baths, they were involved on 8th and 9th November in providing working parties, clearing the village of Martinpuich and salvaging materials, and clearing communication trenches between Martinpuich and Le Sars.
According to the Battalion's casualty list (which unusually has survived) Frederick was one of two men from "A" Company who were wounded on 8th November whilst involved in one of these working parties. However, the account of Frederick's wounding in his own service papers states that he received a gunshot wound to the spine on 10th November "at Contalmaison". On that day, according to the War Diary, "the Battalion was relieved by the 4th Bn Ox & Bucks LI and marched back to rest billets at Peake Wood Camp". Peake Wood was the name given by the army to a copse just south of the village of Contalmaison (now marked by Peake Wood Cemetery). No casualties were recorded in the Battalion's War Diary on either day.
The casualty list records that Frederick was transferred to England on 20th November 1916, so he must have received his first treatment in France. Frederick's own papers do not contain any records of intermediate places of treatment, but show that he arrived at the Royal Victoria Hospital, Netley, near Southampton, on 21st November 1916. Whatever the exact date on which he was wounded, the statement by the RAMC Medical Officer completing his records after he died shows how serious his wound was:
He sustained a wound of the spinal column, which had caused a complete transverse lesion of the spinal cord at about the 6th-7th dorsal nerve. The bladder had become infected before admission and he steadily went downhill and died on 13th December 1916. No post mortem examination was made.
Frederick died on his thirtieth birthday. He was buried in the military cemetery at the hospital. News of his wounding appeared in published casualty lists the day before he died; and of his death, on 17th January 1917.
Commemoration
Frederick's grave in Netley Military Cemetery is marked by a Commonwealth War Graves Commission headstone and a photograph of it may be seen here on a website about the hospital and the cemetery.
In Dartmouth he is commemorated on the town War Memorial, and on the St Saviour's Memorial Board, with an incorrect first initial as H G Coles.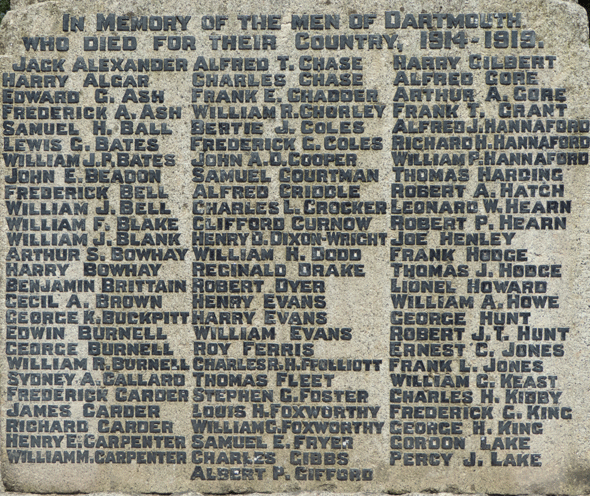 Dartmouth Town Memorial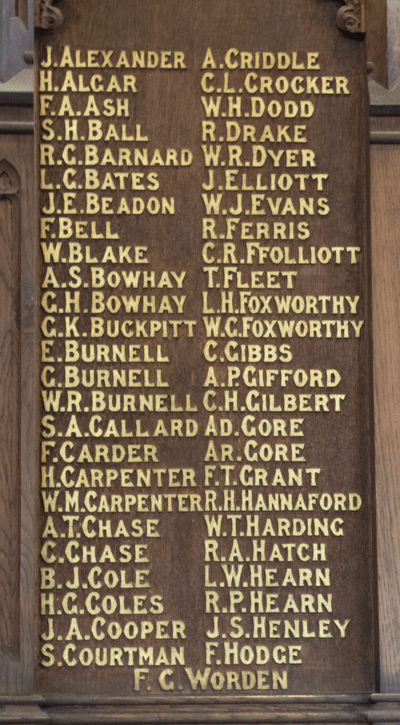 St Saviour's Memorial Board
Sources
Naval Service Records are available for download from The National Archives, fee payable, references:
Frederick's Army service papers are available from subscription websites.
The 1st/7th and 2nd/7th (Cyclist) Battalions Devonshire Regiment
Much of the information used above about Frederick's period of service with the 2nd/8th and 1st/8th Worcesters has been obtained from the excellent Facebook site 8th Worcesters 100. It commemorates Territorial soldiers who served in the 1st/8th, 2nd/8th and 3rd/8th Battalions, The Worcestershire Regiment, day by day during the course of the Great War
The Worcestershire Regiment in the Great War, Vol 1, by Captain H. FitzM. Stacke MC publ 1928, reprinted 2002 Naval & Military Press
The 1st/8th Battalion War Diary is obtainable for download from the National Archives, fee payable, reference WO 95/2759/2
Somme 1916, A Battlefield Companion, by Gerald Gliddon, publ 2016, The History Press
The Somme, by Peter Hart, publ 2006, Cassell
Information Held on Database
| | |
| --- | --- |
| Surname: | Coles |
| Forenames: | Frederick George |
| Rank: | Lance Corporal |
| Service Number: | 5559 |
| Military Unit: | 1/8th Bn Worcestershire Regiment |
| Date of Death: | 13 Dec 1916 |
| Age at Death: | 30 |
| Cause of Death: | Died of wounds |
| Action Resulting in Death: | Battle of the Somme |
| Place of Death: | Royal Victoria Hospital, Netley, near Southampton |
| Place of Burial: | Buried Netley Military Cemetery, Hampshire |
| Born or Lived in Dartmouth? | Yes |
| On Dartmouth War Memorial? | Yes |
| On St Saviour's Memorials? | Yes |
| On St Petrox Memorials? | No |
| On Flavel Church Memorials? | No |
| In Longcross Cemetery? | No |
| In St Clement's Churchyard? | No |
| On a Private Memorial? | No |
| On Another Memorial? | No |
---
This information was last updated on Thursday 23 February 2017 at 15:14:10.