Bertie James Coles
Family
Bertie James Coles (sometimes recorded as Cole) was born in 1897 in Dartmouth. He was the son of William John Cole, or Coles, and his second wife, Emma Jane Williams. For his family background, see the story of his eldest brother, Frederick George Coles.
We pick up Bertie's story at the 1911 Census, when the family was recorded living in three rooms at 30 Lower Street, Dartmouth. Frederick had left home to work in Devonport, but Bertie's elder brother Ernest was still in Dartmouth, working as a shipwright's apprentice; his stepbrother William Charles also still lived at home, and worked as a labourer. Bertie had begun his working life too, as an errand boy, aged 13. Five younger children were at school or at home.
From information published in the Dartmouth Chronicle at the time of Bertie's death, he later obtained work with the River Dart Steamboat Company, as an engineer.
Service
Unfortunately, like so many, Bertie's service papers have not survived, so we do not know when he joined the Army. Available records show that he did not serve during 1914 or 1915 and this is consistent with his age.
Conscription was introduced by the Military Service Act of January 1916 and extended with new conditions in further legislation of 25th May 1916. The first act brought in conscription with effect from 2nd March 1916, for all unmarried or widowed British men residing in the British Isles aged between 19 and 41 on 2nd November 1915. Bertie would have been 18 on that date. However, the second piece of legislation extended the scope of those liable for conscription to all men who had attained the age of 18 by 4th August 1914 (but who were not yet 41). Bertie met this condition, and so would have been called up shortly after the act became law, unless of course he had by then already volunteered. His service number, 28761, is earlier than that of Harry Bowhay (30599), who was a few months older when he joined the Regiment, suggesting perhaps that Bertie may have joined up before he was called up.
Bertie joined the 8th Battalion of the Devonshire Regiment, a unit which included many Dartmouth men. For the 8th Devons' experiences to September 1916, see the story of William Marks Carpenter. The Battalion had fought at Loos and the Somme, and had suffered many casualties. For their experiences in late 1916 and early 1917, see Harry Bowhay's story. Harry was killed in the 8th Devons' advance on Ecoust St Mein, south-east of Arras, on 28th March 1917; another Dartmouth man, Samuel Courtman, in the 9th Devons, was killed five days later in a second attack on Ecoust, involving both the 8th and 9th Devons.
After the attack the 8th Devons moved further back behind the lines to Ablainzeville for two weeks break from the fighting. The 8th Battalion's War Diary records that two drafts of reserves joined during this period. If Bertie was not already with the Battalion, this date looks the most likely time for him to have joined - 79 other ranks came from the 3rd Battalion of the Devonshire Regiment on 9th April, and a week later, 117 men from Devon, Hampshire and Wiltshire Training Reserve.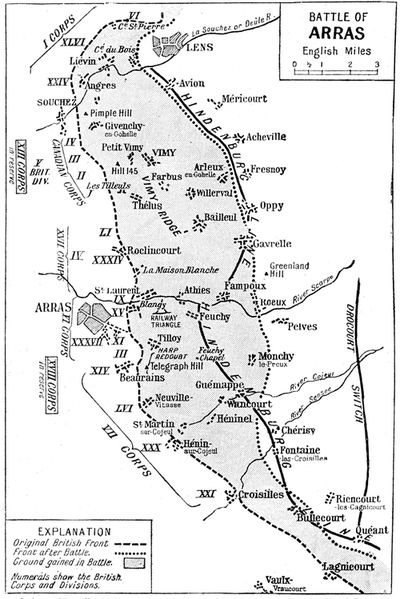 On 20th April 1917, they went into the line. By this time it had been pushed a little further forward, and Ecoust St Mein was behind them. They now faced the village of Bullecourt, which had been incorporated into the new German defensive line, called by the British the Hindenburg Line. With the intention of assisting the major offensive at Arras further north, Bullecourt had been attacked on 11th April 1917, but with heavy losses. It was attacked again on 3rd May, in "two weeks of fighting of the fiercest nature, within which six British and Australian divisions participated" (see the Long Long Trail website).
On 3rd May 1917, the 8th Devons were in support to the 7th Division, and so came into the attack until 4th May - however, this was abandoned after meeting intense enemy resistance. The 9th Devons took the lead in the second wave of the attack on 7th May, and were able to push forward a small amount. C and D companies of the 8th Devons then took over from the 9th Devons and mounted a further attack at 11am on 8th May, which again met very stiff resistance. On 9th May, at 12 noon, A and B companies were brought forward to mount a fresh attack, together with C company - D company was held back having "suffered severely from shell fire". According to the Regimental History:
The 8th had the satisfaction of having distinctly improved the position in Bullecourt when they handed over, that evening, to the Gordons [but] They had had to pay a heavy price. [Five officers] had been killed, 57 men were killed or missing, six officers wounded, with 184 men.
Battered but not bowed, the 8th Devons moved to billets in Courcelles to rest, and then back to Ablainzeville, where they remained training and contributing to working parties. Bullecourt finally fell on 17th May, after more heavy casualties (fighting in which Australian forces played a major part), and this brought to an end the Arras Offensive.
Death
In the middle of June, the 8th Devons were back at the front, holding Bullecourt. After the fighting they had been through, the Battalion was well below full strength. The new front line needed work so that it could be held securely. The Regimental History states that the sector was, by then, "quiet" - but not quiet enough. The Battalion War Diary records the next two days:
Ecoust 15th June 1917: RE fatigues in the line. 2Lt Johnson killed, two other ranks killed, three wounded. Intermittent shelling. Very hot and sunny.
Ecoust 16th June 1917: RE fatigues in the line. Three OR killed, 9 OR wounded, very hot and sunny.
One of the three men killed on 16th June 1917 was Bertie. His mother received a letter from his Company Sergeant Major, which was printed in the Dartmouth Chronicle of 29th June 1917, explaining what had happened to him. The terms in which the letter is expressed suggest a genuine sense of loss - it is not just the usual stock phrases. The paper drew attention to the death the previous December of Bertie's elder brother Frederick:
Dartmouth Brothers Killed
One in December: Another in June
We much regret to hear that Mrs Coles, of Higher Clarence Hill, has received the sad intelligence that her son, Private Bertie James Coles, has been killed at the front. This is the second son Mrs Coles has lost in the war, for on December 13th last Lce Cpl Frederick George Coles died in Netley Hospital as a result of wounds received in action. He was thirty years of age, but Bertie was only twenty.
On Wednesday morning Mrs Coles received the following letter from Company Sergeant Major Parker, who is apparently in charge of the platoon of the Devons in which Private Coles was serving:
"Regarding your dear son and boy who was killed on the 16th inst. No doubt you have heard the sad news by this time, but I really thought it only my duty to write you a few lines of consolation, and to tell you how your dear boy died. It is with a sad heart that I write this letter, as I can fully realise your great sorrow. Your dear boy was killed at 12.50 on the 16th June. Whilst working in the trenches, he was hit by a shell and killed instantaneously; so he suffered no pain whatever. He was brought back behind the lines and was buried by the chaplain beside several of the men who belonged to the regiment, and who gave their lives round here during the late fierce fighting. All the officers, nco's and men of the Company send their heartfelt sympathy to you in your bereavement, and I know it will be a little consolation for you to know that he died fighting for his God, King and Country. I must say we miss your lad so much. He was always so jolly, and I fancy so young. He was "a sticker", never sick, and he always did his work well. He was a very clean soldier, and was liked by everyone. My heart goes out to you in your great trouble, which I hope God will give you strength to bear."
Private Bertie Coles was formerly employed by the River Dart Steamboat Company as an engineer on their steamers.
Bertie was buried in the small cemetery of Ecoust St Mein, alongside James Medlen, another member of the 8th Devons killed the same day. The cemetery was begun in April 1917, after the capture of the village by the 8th and 9th Devons.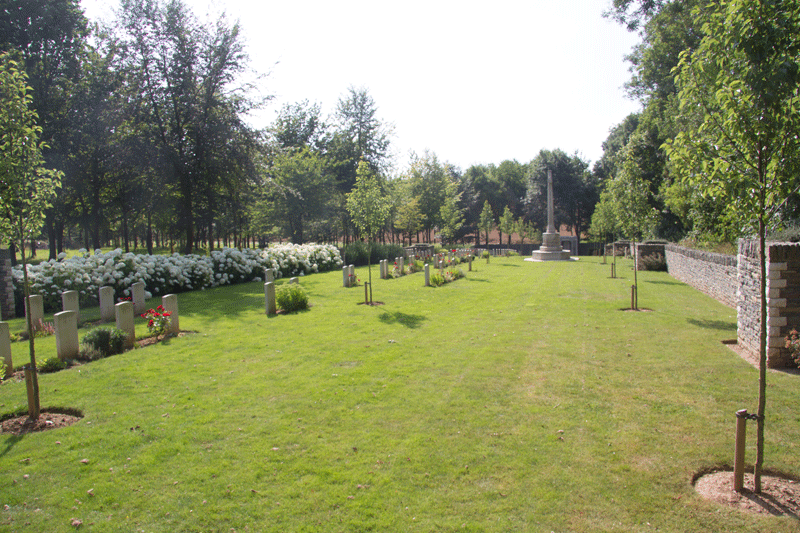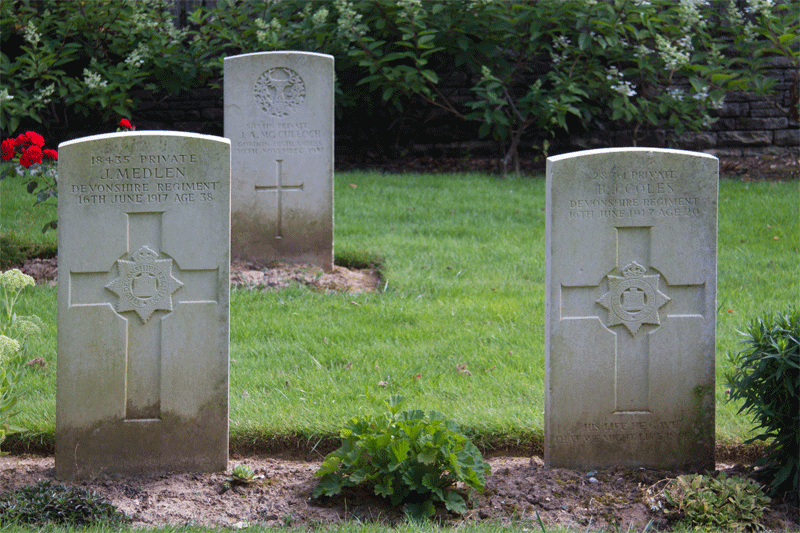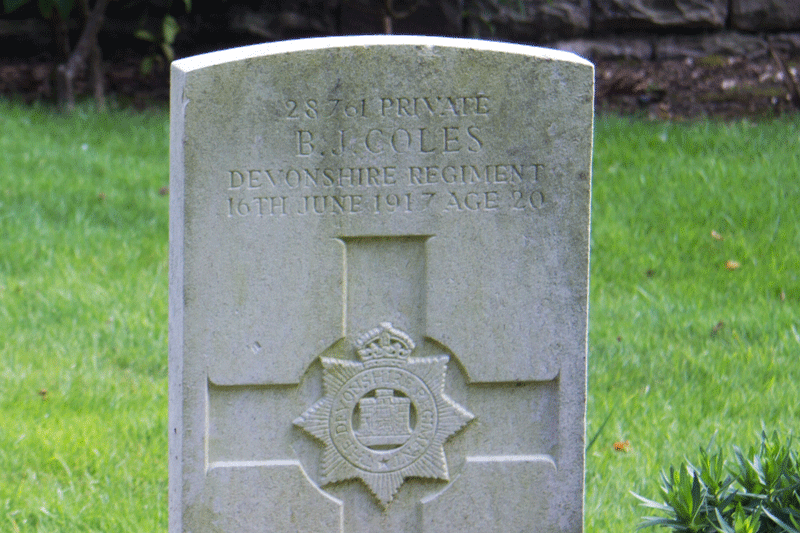 Commemoration
In Dartmouth Bertie is commemorated with his brother Frederick on the Town War Memorial and the St Saviours Memorial Board.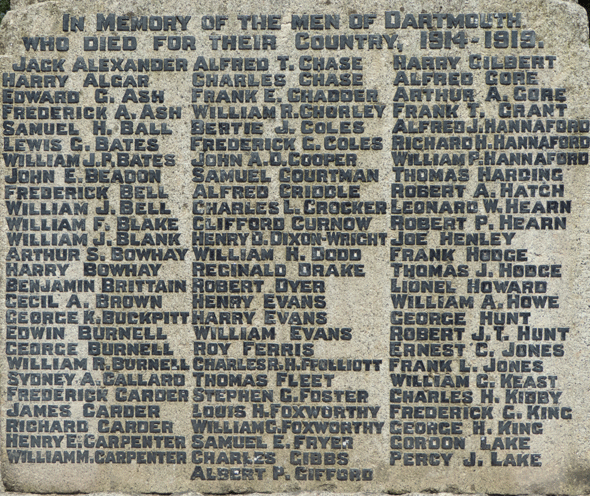 Dartmouth Town Memorial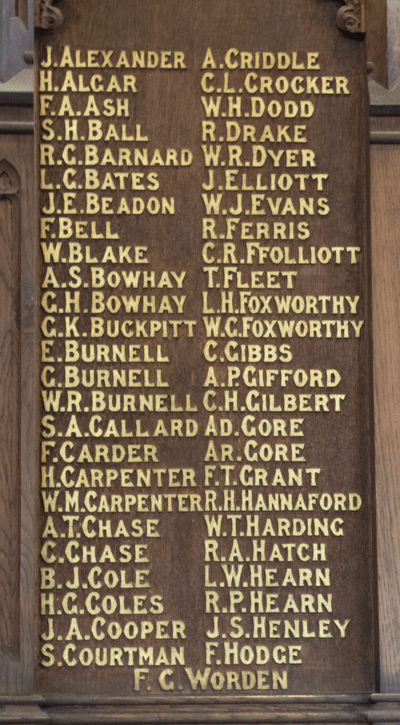 St Saviour's Memorial Board
As one of the 579,206 casualties in the region of Nord-Pas-de-Calais, Bertie is also commemorated on the new memorial at Notre Dame de Lorette, "The Ring of Memory".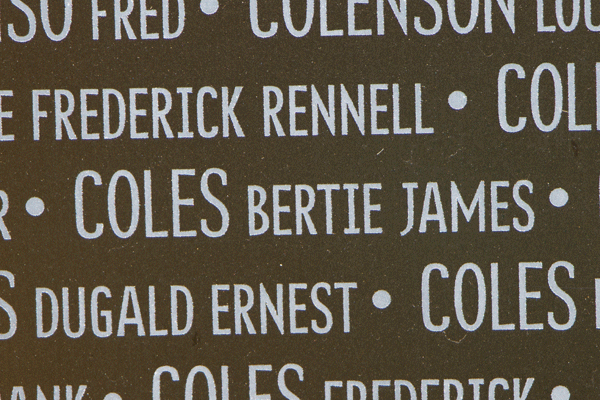 Ring of Memory memorial at Notre Dame de Lorette
Sources
War Diary of the 8th Battalion Devonshire Regiment, July 1915-November 1917, downloadable from the National Archives, fee payable, reference: WO95/1655/2
The Devonshire Regiment 1914-1918, compiled by C T Atkinson, publ 1926, London and Exeter
Gazetter of the Western Front, Bullecourt, on the Long Long Trail website
Information Held on Database
| | |
| --- | --- |
| Surname: | Coles |
| Forenames: | Bertie James |
| Rank: | Private |
| Service Number: | 28761 |
| Military Unit: | 8th Bn Devonshire Regiment |
| Date of Death: | 16 Jun 1917 |
| Age at Death: | 20 |
| Cause of Death: | Killed in action |
| Action Resulting in Death: | Trench duty |
| Place of Death: | Bullecourt |
| Place of Burial: | Ecoust St Mein Cemetery, France |
| Born or Lived in Dartmouth? | Yes |
| On Dartmouth War Memorial? | Yes |
| On St Saviour's Memorials? | Yes |
| On St Petrox Memorials? | No |
| On Flavel Church Memorials? | No |
| In Longcross Cemetery? | No |
| In St Clement's Churchyard? | No |
| On a Private Memorial? | No |
| On Another Memorial? | Yes |
| Name of Other Memorial: | "The Ring of Memory" at Notre Dame de Lorette |
---
This information was last updated on Sunday 09 July 2017 at 17:12:17.