Patrick Lyons
Family
Patrick Lyons was born in 1891 in Malborough, Kingsbridge. Like many of the men on our database, his father's service in the Coastguard (following on from service in the Navy) brought him to Dartmouth.
Patrick was the second youngest son of John Lyons and his wife Abina Hunter. John was born in Monkstown, Cork, Ireland. He joined the Navy as a Boy 1st Class on 1st January 1873 and was rated Ordinary Seaman on 12th August 1874. While serving in HMS Newcastle, a frigate both steam and sail powered, he became a member of the "Sailmaker's Crew", and was rated Sailmaker's Mate a little over two years later. The 1881 Census recorded him as Sailmaker's Mate aboard HMS Falcon, a gun vessel, also both steam and sail powered, in Malta.
In 1882, John Lyons married Abina Hunter, who also came from County Cork in Ireland; and the following year, he transferred to the Coastguard service as a Boatman, beginning his service at St Mawes, near Falmouth, Cornwall. The timing of this move is likely to be no coincidence, as family accommodation was provided as part of the job, enabling families to stay together, even though the service still involved fairly frequent moves.
John and Abina remained in Falmouth until 22nd October 1890 and five children were born during their time there - their only daughter Ellen, and four boys - John, William, Edward, and Timothy. John was then appointed as Commissioned Boatman to the Coastguard station at Hope Cove, near Salcombe. Patrick was born shortly after the family's move there.
John's next move, in 1893, brought the family to Dartmouth, where their last son, Joseph, was born, and they remained in the town until 1899, when he was transferred once more to Cornwall, this time to Polkerris, near Fowey. The 1901 Census recorded the family living in the Coastguard cottages in the village. By this time, two of the children had left home - Ellen was working in domestic service in Wales, while John and Abina had been able to secure a place at Greenwich Hospital School for their eldest son, John Francis. He joined the Navy on 13th April 1901 as a Boy 2nd Class. William James (known as James) was still at home, but had already begun his working life, being employed aged 13 as a gardener's assistant. The three younger boys, including Patrick, then aged 10, were still at school.
On 12th November 1902 John Lyons (senior) was promoted Chief Boatman and the family moved again, this time to Beer, in Devon. They remained in Beer until John retired from the Coastguard Service in 1906. John and Abina now had had to find a home of their own, and they decided to move back to Dartmouth. The 1911 Census recorded them living at Evelyn Cottage, Board School Steps. Living with them were their two youngest sons, now both of working age. Patrick had joined one of Dartmouth's two major shipbuilding and engineering firms, Phillips & Son, as an apprentice boilermaker riveter. Joseph was a baker's apprentice.
James had remained in Beer, where he continued to work as a gardener; Timothy had followed his older brother John into the Navy. Ellen had married in 1906, and lived with her husband Samuel Griffiths in Cheltenham. We have not been able to locate Edward in 1911.
Service
Patrick's service papers have not survived. However, we know from the piece published in the Dartmouth Chronicle at the time of his death (see below) that prior to his service in the Worcestershire Regiment he was a member of the 7th Battalion Devonshire Regiment (Cyclists) based in Dartmouth. His name appears in the Dartmouth Chronicle in the list of those joining the Cyclists soon after the start of the war, published in the newspaper on 16th October 1914.
The 7th Battalion of the Devonshire Regiment had been created in 1908 as part of the Territorial Force and by 1914 there were several cyclist companies based around Devon. "F" Company, headed by Captain Alan Goodridge, was based in Dartmouth, very much a part of the local scene - see the story of Harold Mandley, who joined them in 1910. With the outbreak of war, the unit was mobilised and detachments were sent all along the South coast from Lands End to Lyme Regis, to carry out coastal patrols. Very soon, however, "F" Company was sent to the East coast, where the invasion risk was assessed to be greater. They were based at Whitby, and were responsible for coastal defence from Scarborough to Seaton Delaval, Northumberland.
They soon found themselves involved in helping to save some of the passengers and crew of the Hospital Ship Rohilla when she was wrecked off Whitby on 30th October 1914, for which they received formal thanks from the Admiralty. "F" Company once again assisted the civil powers when, on 16th December 1914, the German Navy shelled Scarborough, Hartlepool, and Whitby - see the story of Frederick Thomas Bell one of Patrick's colleagues at Phillips & Son, who had also joined the 7th Battalion at about the same time as Patrick. The Cyclists returned to Devon from the North East early in 1915. In December 1915, they moved from Devon to Kent, continuing with their roles of coastal defence and assistance to the civil powers as required.
As part of the Territorial Force, members of the 7th Battalion had no liability for service overseas. But with the introduction of conscription early in 1916, the requirement to honour the restriction on overseas service for men in the Territorial Force no longer applied. In any case, many members of the 7th Battalion had voluntarily undertaken to serve abroad. In 1916, around 100 men from the Devon Cyclists, including Patrick, were transferred to serve with the Worcestershire Regiment. Several men from Dartmouth joined the 2nd/8th Battalion, and we know from the surviving papers of one of them, Frederick George Coles, that this took place on or around 18th May 1916. The Worcestershire Regiment service numbers of the Dartmouth men who transferred are all close, suggesting that they transferred at the same time:
The 2nd/8th Battalion of the Worcestershire Regiment had been authorised on 31st August 1914 as a second line battalion of the Territorial Force. Like the 7th Devons, they were involved during 1915 in home defence. In January 1916, they took part in an exercise against "an invading force of all arms which had landed at Southend and was moving on Billericay with the intention of cutting the London main line railway".
However, once the restriction on overseas service for men in the Territorial Force had been lifted, such battalions were available for the front line, and in May 1916, having incorporated the group from the Devon Cyclists only a few days earlier, they went to France, landing at Le Havre on 25th May 1916.
Together with other Territorial Force units, they went as part of 183rd Brigade in the 61st Division, arriving on the front line for instruction in trench warfare on 1st June at Neuve Chapelle, and holding a sector of the line on their own a few days later. On 14th June, they suffered their first casualties, when an enemy bombing party attacked "Duck's Bill Crater" (near Givenchy-les-la Bassee) - two men were killed and one wounded, but the crater was successfully reoccupied. Some three weeks of "rest" followed, during which they provided working parties elsewhere in the line.
On 10th July they moved into trenches at Fauquissart, opposite the Aubers Ridge, for five days. This sector of the front had seen heavy fighting during the previous year, but at the time Patrick arrived there, was considered suitable for troops new to the front line to develop their experience.
The 2nd/8th went into billets at Estaires on 15th July, and then Laventie, nearby, on 20th July. They were thus not amongst those battalions of the 61st Division which, together with the 5th Australian Division, also newly arrived in France, suffered very heavy casualties in a disastrous attack at Fromelles on 19th/20th July. This was intended to exploit perceived weaknesses in the German defence thought to have resulted from their need to redeploy forces in response to the Somme offensive; and to prevent any further redeployment of German reinforcements to the Somme. However, the German line was still well-defended by experienced troops. Although some units of the 61st Division reached the German wire, none succeeded in entering the line; the Australians were able to capture their sector of the line, but then were subject to intense counter-attack. The 61st Division suffered over 1,500 killed or wounded; the Australian War Memorial today describes the battle as "the worst 24 hours in Australia's entire history" and "a staggering disaster".
The 2nd/8th were back in the line on 25th July for five days, returning to billets at Laventie. No doubt because of the casualties suffered by the other battalions in the division, this time their "rest" period was short - they took over trenches at Fauquissart on 5th August. Nor was the line quiet - as they took over, they suffered three men killed and one wounded. On 6th August, three more men were wounded.
Death
On the night of 7th August 1916, Patrick took part in a trench raid. The aim was to enter the German front line trenches to capture prisoners. Their target entry point had previously been found unoccupied but on the night of the raid the parapet was fully manned, covering an enemy working party. The raiding company was instructed to outflank and cut off this strong covering party, but while they were attempting to do this, a bell rang from a listening post, at 11.30pm, and apparently this gave the enemy warning of the raid. They opened fire on No Man's Land. The raiding party withdrew but there had been several casualties. One of them was Patrick, by this time ranked Sergeant; the raiding party was able to bring back his body, equipment and rifle.
The War Diary reported, briefly:
Patrol by C Coy to enemy's wire. Two OR killed four OR wounded.
The following article appeared in the Dartmouth Chronicle on 18th August 1916:
He Did His Duty
Dartmouth Sergeant Falls in Action
We deeply regret to record the news of the death of Sergt Patrick Lyons, the youngest son but one of Mr and Mrs Lyons, Evelyn Cottage, Board School Steps, Dartmouth, who was shot in the face by a German machine gun whilst on patrol duty at the Front. The sad intelligence was conveyed to his father and mother in a letter from 2nd Lt Constable, of the Worcesters, to which regiment Sergeant Lyons had been attached. He writes:
"It is with the greatest regret that I write to sympathise with you on the death of your son. In times like these I always feel that consolation seems useless. He died, shot in the face, doing his duty to the last. At the moment he was out on patrol, with many others of us, having been chosen as one of the best men in the Company. As my Platoon Sergeant (in which capacity he has been acting in the last few days) he always did his duty faithfully, and I had long ago realised that I could trust him implicitly to carry out any work well. I feel that we have lost a friend and a soldier who can never be replaced. He was buried in the cemetery behind the lines with many other heroes who have died, as he did, for their country's sake. The officers, ncos, and men all join with me in assuring you of our deepest sympathy".
John and Abina also received letters of sympathy from the Devonshire Regiment, which had evidently received a report of Patrick's death. The Chronicle observed that "Sergt "Pat" Lyons, who was only 25 years of age last March, was one of the best known of Dartmouth Territorials", and reported that:
Another letter, from Sergt Wollacott, of the Devons, says:
"Sergt Lyons was shot by a machine gun bullet. I am sure, Mrs Lyons, this will be a great blow to you, and it is a great blow to me also, as we have been such great friends ever since we were stationed at Dartmouth. He will be sadly missed by all the ncos and men and also by the Battalion officers. He did his duty".
Mrs Lyons has also received a sympathetic letter from Major Alan Goodridge, under whom her son served in the Territorials. In expressing his profound regret Major Goodridge writes:
"You have the satisfaction of knowing that he gave his life for his country, which sacrifice is very acceptable to God, and I am sure you can leave him in His safe keeping".
The Lyons family were members of the Catholic Church of St John the Baptist in Dartmouth and, after the news of Patrick's death was received, the Rev Father Daniels conducted a Requiem Mass for him. The Chronicle reported that "the church was draped in black and a catafalque was erected, covered with the Union Jack".
Commemoration
Patrick is buried in Laventie cemetery, La Gorgue. According to the Commonwealth War Graves Commission:
The men of the 61st (2nd South Midland) Division of the British Army began burying their fallen comrades at this site in the latter half of June 1916. Over 80 members of the Division who were killed or mortally wounded during the Battle of Fromelles (July 19 1916) were laid to rest here, and the cemetery was used by British units holding this part of the line throughout 1916 and 1917.
This may account for 2nd Lt Constable's reference to the cemetery in which Patrick was buried containing the bodies of "many other heroes who died for their country's sake".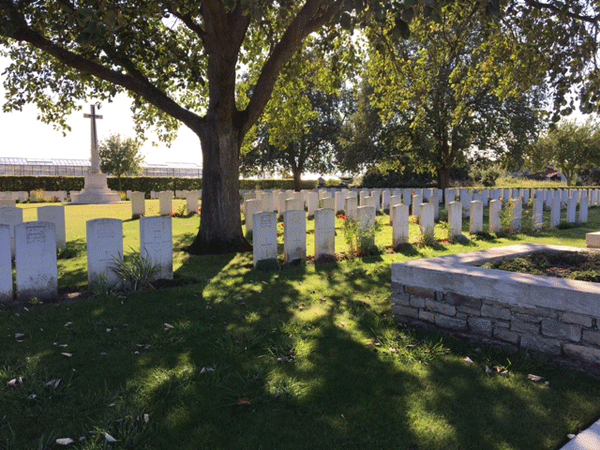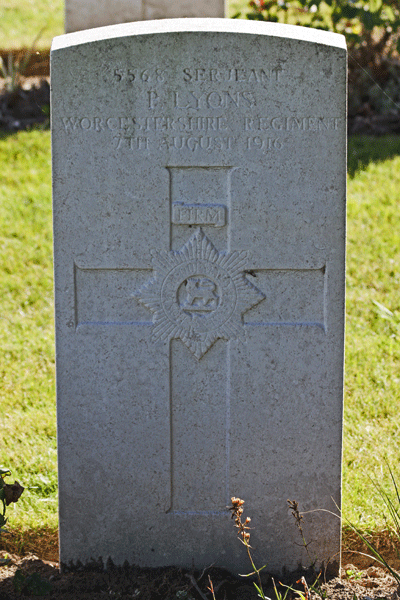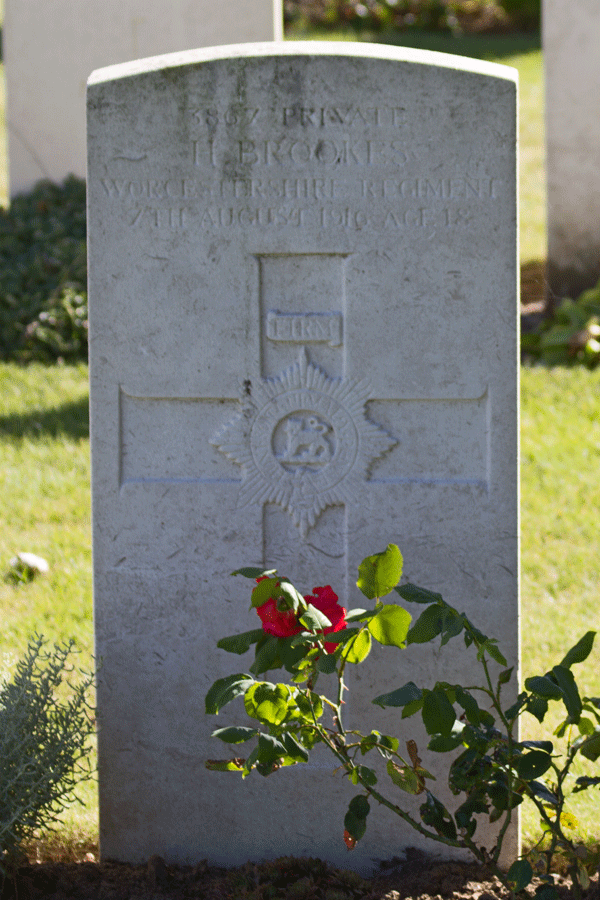 Buried alongside Patrick is Private Herbert Brookes, of the 2nd/8th Worcestershires, presumably the other man killed on the same day as part of C Company's patrol. Also buried in the same row are the three men in the Battalion killed two days earlier, on 5th August 1916: Privates A E Gwillam and John Harris, and Lance Corporal E W James.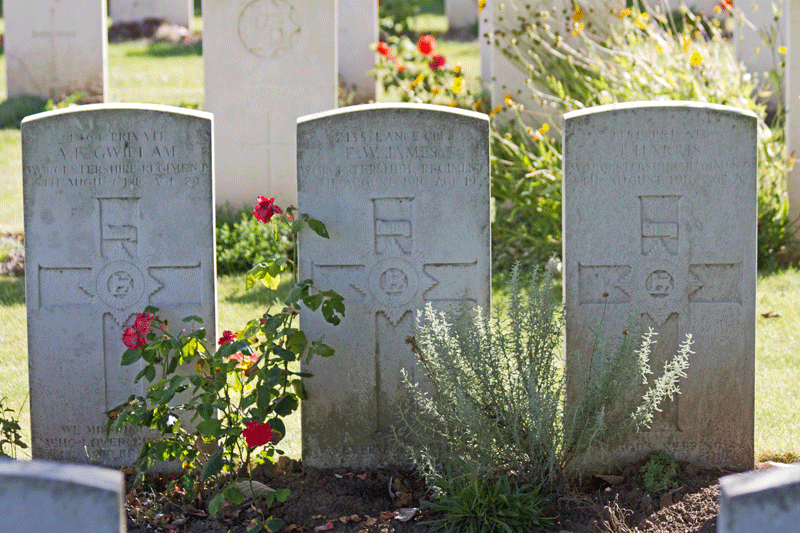 As one of the 579,206 casualties in the region of Nord-Pas-de-Calais, Patrick is also commemorated on the new memorial at Notre Dame de Lorette, "The Ring of Memory".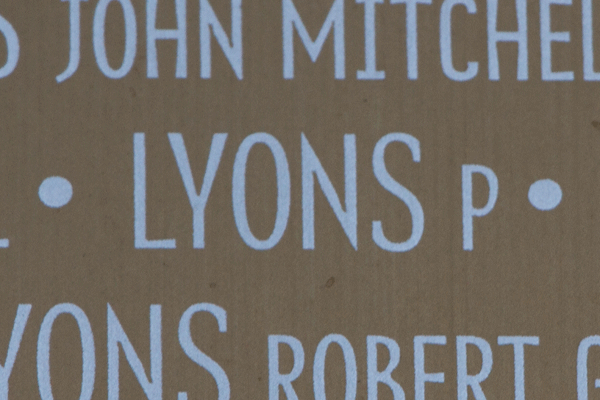 Ring of Memory memorial at Notre Dame de Lorette
In Dartmouth, Patrick is commemorated on the Town War Memorial and the St Saviours Memorial Board.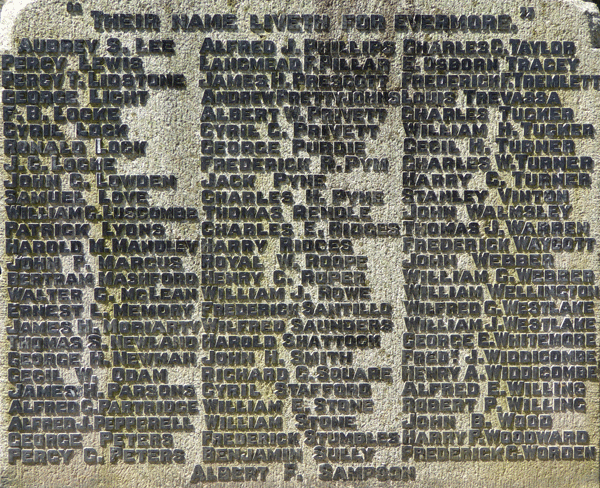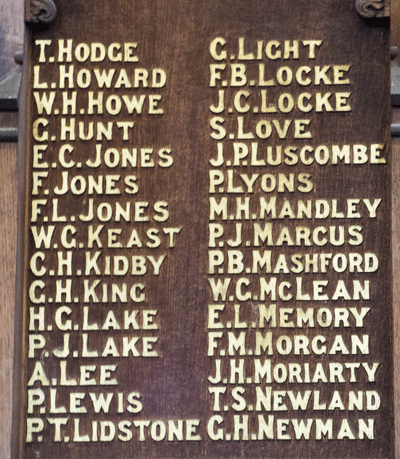 He is also commemorated in the Catholic Church of St John the Baptist on a private memorial, alongside that of his mother, who died in 1920. The memorial was the gift of his colleagues in the Boilermakers' Society.

Patrick's brothers, John and Timothy, serving in the Navy, both survived the war, though John was invalided out in 1919 with "ataxia" and "paraplegia". At the time of Patrick's death he was serving in HMS London, in the Mediterranean, having been part of the Dardanelles Fleet. Timothy was serving in HMS New Zealand in the Grand Fleet (see our article on the Battle of Jutland).
Sources
War Diary of 2nd/8th Battalion Worcestershire Regiment available for download from the National Archives, fee payable, reference WO 95/3060/4
8th Worcesters 100, an excellent Facebook page commemorating the men of the 1/8th, 2/8th, and 3/8th Battalions of the Worcestershire Regiment.
Australian War Memorial Wartime Issue 36 - Disaster at Fromelles
Naval service records available for download from the National Archives, fee payable, references:
Information Held on Database
| | |
| --- | --- |
| Surname: | Lyons |
| Forenames: | Patrick |
| Rank: | Sergeant |
| Service Number: | 5568 |
| Military Unit: | 2/8th Bn Worcestershire Regiment |
| Date of Death: | 07 Aug 1916 |
| Age at Death: | 25 |
| Cause of Death: | Killed in action |
| Action Resulting in Death: | Trench raid |
| Place of Death: | Fauquissart, France |
| Place of Burial: | Buried Laventie Military Cemetery, La Gorgue, France |
| Born or Lived in Dartmouth? | Yes |
| On Dartmouth War Memorial? | Yes |
| On St Saviour's Memorials? | Yes |
| On St Petrox Memorials? | No |
| On Flavel Church Memorials? | No |
| In Longcross Cemetery? | No |
| In St Clement's Churchyard? | No |
| On a Private Memorial? | Yes |
| Name of Private Memorial: | Catholic Church of St John the Baptist, Dartmouth |
| On Another Memorial? | No |
---
This information was last updated on Monday 14 May 2018 at 23:27:43.