Benjamin Sully
Family
Benjamin Sully was born in Dartmouth in 1898. He was the youngest son of Robert John Sully and his wife Elizabeth Smith.
Robert Sully came from Somerset, where his father and mother, Henry and Elizabeth Sully, ran a baker, grocery and drapery shop in the village of Lydeard St Lawrence. At the time of the 1881 Census, when he was fifteen, Robert too worked as a baker, most likely in the family shop. However, he seems later to have acquired some engineering training - when he joined the Somerset Light Infantry in April 1888, at the age of 22, he gave his previous occupation as "Engine Driver". The surviving service records shows that Robert's time in the Army was brief - he purchased his discharge (at a cost of £18) just over a year later. Once more in civilian life, at the time of the 1891 Census, he lived in Spaxton, Somerset, with his elder brother Ernest and younger sister Medora, and worked as a mechanical engineer - the Census gives no clue as to the particular field of employment.
Robert seems to have moved to Dartmouth soon afterwards; on Christmas Eve, 1892, he married Elizabeth Smith, at St Clements, Townstal. The entry in the marriage register gave his occupation as "Engineer", and his residence as New Road.
Elizabeth Smith was born in Dartmouth, one of four children of Daniel James Lewis Smith and his wife Elizabeth, also born Smith. Daniel, also known as James, joined the Navy in 1860, and married Elizabeth in St Petrox, Dartmouth, the following year. The family remained in Dartmouth for several years, but when Daniel transferred to the Coastguard Service, they moved to Ireland. From (at least) 1873 until his retirement in 1883, he was based at the Coastguard Station at Tarbert, on the River Shannon. The family then moved back to England - by the time of the 1891 Census, they were back in Dartmouth, where they lived in New Road. Elizabeth (junior) worked as a dressmaker.
Robert and Elizabeth soon had a growing family. Henry James was born in 1893, William George in 1895, Ada in 1896, and Benjamin in 1898. In 1895 and 1896, crew records show that Robert was the Engineer aboard the tug Pendennis, owned by Renwick and Wilton. The Pendennis operated out of Dartmouth, towing other vessels in and out of port, or operating between Brixham and Guernsey, or on the River Dart. (One of the partners owning Renwick and Wilton was Thomas Wilton, who had come to Dartmouth from South Shields - see the story of Harold Wilton).
By the time of the 1901 Census, however, the family had moved to Taunton, most likely due to Robert having to obtain other work, though he continued to work as a Marine Engineer. Renwick and Wilton had sold the Pendennis the year before. The Census records that Elizabeth's mother, Elizabeth Smith, was staying with them at the time (she and her husband had moved to Cornwall to live with another of her daughters), perhaps because Elizabeth was expecting her fifth child. Medora Annie was born shortly after the Census was taken.
By 1904, Robert, Elizabeth and the children had returned to Dartmouth. Their sixth and last child, Patricia Mary, was born in 1904, but sadly died when only five months old. She was buried at Longcross Cemetery on 28th November of that year. Electoral Registers show the family living in Above Town in 1906, moving to Crowthers Hill in 1908, and to 2 Britannia Cottages, back in Above Town, by the time of the 1911 Census. In the census form, Robert described his occupation as Mechanical Engineer. Henry, aged 18, was an apprentice boat-builder; William, aged 17, an apprentice cabinet maker, and Ada, age 16, an apprentice dressmaker. No occupation was recorded for Benjamin, who had not yet begun his working life, while Medora, aged 10, was still at school. Also living with them was a cousin, Minnie Pound, aged 68 and in need of care, as she was blind.
Newspaper reports of the time show that, by 1907, Robert was the Second Officer of the Dartmouth Corporation Fire Brigade. At a dinner in 1909, he was reported as saying, in a speech to the company, that "he believed Fire Brigades occupied a much higher status in the opinions of the people than they formerly did, and he also thought there was a greater recognition of their usefulness … the Fire Brigade at Dartmouth did not have so many fires to attend to as brigades in neighbouring towns, and indeed there were scarcely sufficient to keep them in training … It was necessary to have constant training in order to keep efficient". Three years later there was a major fire in a old building in the Newcomen Road, housing seven families, 34 people in all - see the story of Frederick Arthur Ash. Second Officer R J Sully was one of those who "responded smartly to the call" with the town's steam fire engine.
Service
At the outbreak of war, all four male members of the Sully family volunteered to serve. According to the Dartmouth Chronicle of 25th September 1914, Henry joined the RAMC, and William joined the Royal Artillery as a Driver. By April of 1915, Robert had joined the Motor Transport Section of the Army Service Corps.
The Chronicle also reported, on 24th September 1915, that Benjamin had joined the Royal Field Artillery. Benjamin's individual service papers, like so many, have not survived. However, it would appear from the Devonshire Regiment British War and Victory Medal roll that he first joined, not the Royal Field Artillery, but the 8th Battalion of the Devonshire Regiment. Comparison of Benjamin's first service number (20215) with the service numbers of those whose records have survived confirms the report in the Chronicle that he joined up around September 1915. Available records show that Benjamin did not go overseas during 1915, and that he was listed as wounded in a casualty list of 9th August 1916. It seems reasonable to conclude that Benjamin joined the 8th Devons in France sometime during the first half of 1916. He must only have been seventeen years of age on joining up, and only eighteen on arriving in France.
The 8th Devons included many Dartmouth men, both early in the war and later, so their experiences may be followed through a succession of the stories we have published so far:
Benjamin's appearance in a casualty list of 9th August 1916 indicates that he was probably wounded either during the 8th Devons involvement on the first day of the Somme, during the action at Bazentin-le-Grand on 14th July 1916, or just possibly, during the action at High Wood on 20th July 1916 - one of nearly 550 casualties sustained by the Battalion during the first three weeks of July. No information has yet come to light about the nature of his wound, how long he took to recover, or whether he was able to return to Dartmouth before once again being called back for service.
The Devonshire Regiment Medal Roll shows that, on his recovery, Benjamin was posted to the 16th Battalion, with a new service number, 346052. The 16th Battalion was formed on 4th January 1917 from the combination of two Territorial Force units, the Royal 1st Devon Yeomanry, and the Royal North Devon Hussars, which were part of the Egypt Expeditionary Force. At the same time, new Territorial Force numbers were allocated, those in the block 340001-350000 being allocated to the 16th Battalion - Benjamin was posted to the unit after this was done. Drafts arrived in Egypt during the first few months of 1917, to bring the 16th Devons up to full strength, so it seems likely that this was when Benjamin arrived in Egypt. The Chronicle reported at the time of Benjamin's death that the ship carrying him to Egypt was torpedoed; and also, perhaps more happily, that his brother Henry was serving in Palestine and Egypt at the same time.
Another Dartmouth man posted to the 16th Battalion was Henry Chard Roper, and the experiences of the 16th Battalion in the Palestine campaign are described in his story.
Death
Both Benjamin Sully and Henry Roper were among the 140 killed or missing after the 16th Devons' attempt to recapture and hold the village of Beit Ur El-Foqa, on 3rd December 1917, during the advance on Jerusalem through the Judean Hills. However, it seems that Benjamin's body was later identified. On 21st December 1917, the Dartmouth Chronicle reported he was missing:
Missing in Palestine - Information has just been received that Private Benjamin Sully, youngest son of Sergt Major and Mrs Sully, of Above Town, has been missing since the entry of the British troops into Jerusalem, with whom he has been serving. Private Sully had previously been wounded in France, and the ship that carried him to Palestine was torpedoed. His brother, Lce Corpl J H Sully [sic], has lately been transferred from Palestine to the Royal Flying Corps, and is now in Egypt. There is another brother serving in France.
But the Chronicle was soon able to update its readers. On 4th January 1918, the paper reported:
Killed in Palestine
We very much regret to hear that Private B Sully, youngest son of Sergt Major Sully and Mrs Sully, of Above Town, who was recently reported missing, has been killed in action in Palestine.
Robert and Elizabeth placed the sad announcement:
Sully - Killed in Palestine, Private B Sully, youngest son of Sgt Major Sully and Mrs Sully, Above Town, Dartmouth.
Benjamin was nineteen when he died. His father, and both his brothers, survived the war.
Commemoration
Benjamin is buried in the Jerusalem War Cemetery. This was begun immediately after the occupation of the city, and later enlarged to take graves from the battlefield and other smaller cemeteries. Pictures of the Cemetery may be seen on the Commonwealth War Graves Commission website.
In Dartmouth, Benjamin is commemorated on the Town War Memorial, the St Saviour's Memorial Board, and on the Memorial Panel in the Flavel Chapel.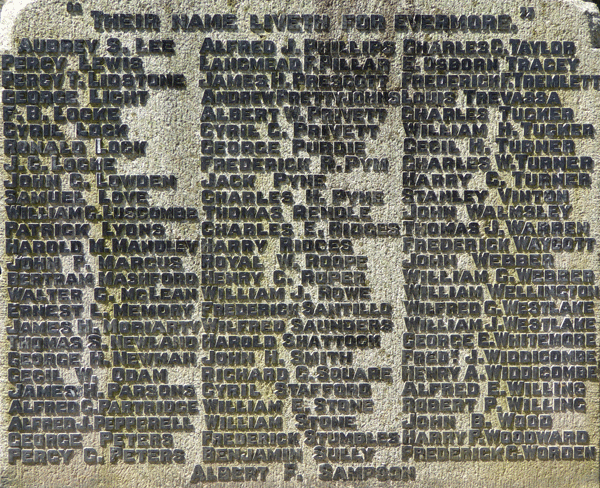 Dartmouth Town Memorial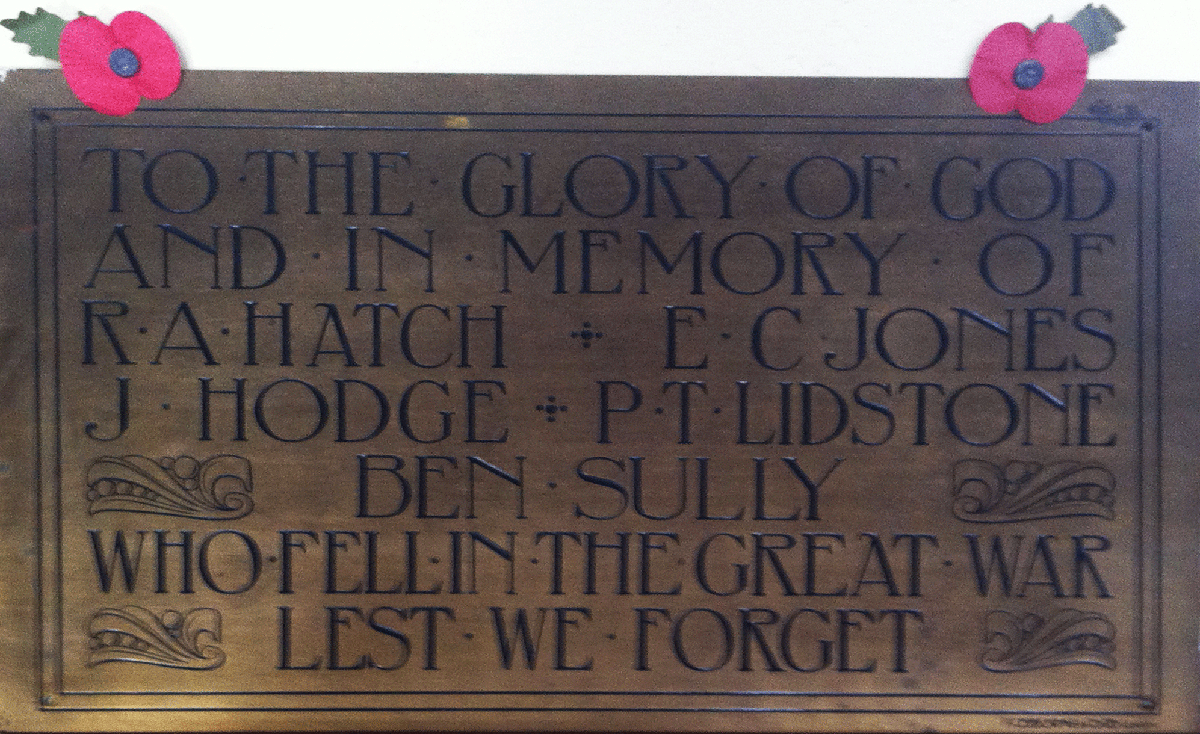 Flavel Chapel Memorial Board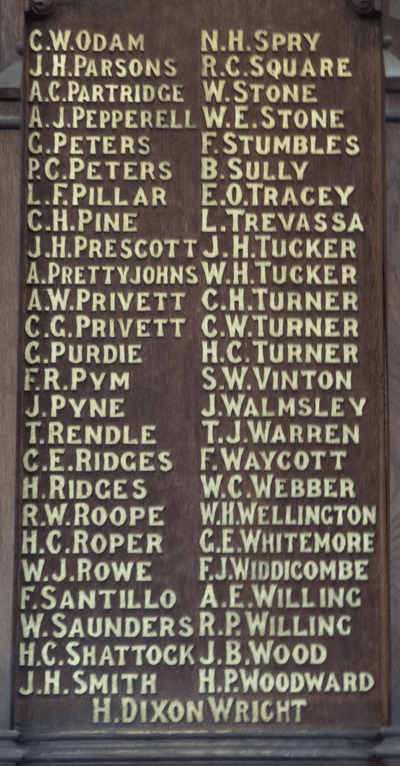 St Saviour's Memorial Board
Sources
The Army service record for Robert Sully 1888-9 is available from the National Archives, accessed through subscription websites.
The Naval Service Record for Daniel James Lewis Smith is available from the National Archives, fee payable for download, in the name of James Smith, references ADM 139/534/13381 and ADM 188/63/75248
Information Held on Database
| | |
| --- | --- |
| Surname: | Sully |
| Forenames: | Benjamin |
| Rank: | Private |
| Service Number: | 346052 |
| Military Unit: | 16th Bn Devonshire Regiment |
| Date of Death: | 03 Dec 1917 |
| Age at Death: | 19 |
| Cause of Death: | Killed in action |
| Action Resulting in Death: | Advance to Jerusalem |
| Place of Death: | Beit Ur El-Foqa, Israel |
| Place of Burial: | Jerusalem War Cemetery, Israel |
| Born or Lived in Dartmouth? | Yes |
| On Dartmouth War Memorial? | Yes |
| On St Saviour's Memorials? | Yes |
| On St Petrox Memorials? | No |
| On Flavel Church Memorials? | Yes |
| In Longcross Cemetery? | No |
| In St Clement's Churchyard? | No |
| On a Private Memorial? | No |
| On Another Memorial? | No |
---
This information was last updated on Wednesday 21 March 2018 at 21:57:36.