Frederick Arthur Ash
Family
Frederick Arthur Ash was born in Brixham in 1890, the sixth of ten children of George Henry and his wife Sarah Wollacott. George was born and brought up in Brixham, and he and Sarah married there on 4th August 1881. Sarah was born in St Mary Church, Torquay, but had come to Brixham to work in domestic service. At the time of their marriage, George worked as a labourer, and he was still recorded as such at the time of Frederick's birth. By the time of the 1891 Census, however, he was working in a paint manufacturer in Brixham.
Seven of George and Sarah's children were born in Brixham, and all were baptised at Brixham St Mary:
Edward George, born 25th November 1881, baptised 15th January 1882
Sarah, born 22nd March 1883, baptised 6th September, 1883
Charles Henry, born 12th April 1885, baptised 28th May 1885
John, born 30th September 1886, baptised 13th January 1887
James, born 20th October 1888, baptised 31st January 1889
Frederick Arthur, born 23rd August 1890, baptised 25th September 1890
The seventh, Ernest Matthew, was born on April 24th 1892, but apparently failed to thrive. He was baptised privately at Brixham St Mary on 2nd October 1892 and was buried five days later.
The family left Brixham after Ernest Matthew's death and came to Dartmouth, where Frederick's younger brother William was born in 1893. Three further children, all girls, were born in Dartmouth. Emma was born on 11th March 1895, but died when only five days old, on 16th March, having been baptised at St Saviour the day before. Edith Annie, George and Sarah's tenth child, was born on 2nd April 1897 and baptised on 15th February 1899 in St Saviours, and Rose, the last of the family, was born on 8th December 1898, and baptised along with her sister. Frederick was thus brought up in Dartmouth. At the time of his sisters' baptisms, the family lived in Silver Street (now Undercliff), and George was once again working as a labourer.
Sadly, Frederick's mother Sarah died only a few days after his tenth birthday, on 2nd September 1900, aged only 43. She was buried at St Clements Townstal two days later. It seems that Frederick's elder sister Sarah took on the role of looking after the older children, including Frederick. In 1901, George, now a widower, and working as a general labourer, was recorded in Silver Street with Sarah and five of her brothers, including Frederick. Sarah, now 18, was recorded as a "housekeeper" - most likely because she was responsible for looking after the family home.
Edward George, the eldest, had already left home, having joined the Navy before his mother's death, on 10th February 1900. He is also on our database - he survived the war, but died of nephritis in 1920 whilst serving on HMS Marlborough in the Black Sea. The two little girls, Edith Annie and the baby, Rose were not recorded at home in Silver Street. Rose was with her uncle and aunt in Brixham; Edith Annie's whereabouts are not known.
Frederick followed his eldest brother, Edward, into the Navy. His other brothers remained in Dartmouth. By 1911 George had moved from Silver Street to 2 St Elmo Cottages, Lake Street, and was working as a "coal porter" (or coal lumper). Living with him were James, who was a foreman in Dawes' mineral water factory; William, who was a Plater's Labourer in an "Engineering Works"; and Rose, aged 12, and still at school.
Frederick's brother Charles had married Maud Mary Ann Cole in 1906. By 1911 they were living in two rooms in Newcomen House, Newcomen Road and he was, like his father, a "coal worker". John married Hannah Eliza Weeks at the Flavel Congregational Church on 12th Feb 1911. The 1911 Census reported him and his new wife living "at the back of the Butterwalk". John also worked as a coal porter, though by 1916, when he volunteered for the Inland Water Transport Corps of the Royal Engineers, he had become a "waterman".
Maud Mary Ann became famous the following year, when Newcomen House caught fire in the early hours of 25th March 1912. According to the report in the Dartmouth Chronicle (29th March 1912) Charles and Maud were able to escape from their rooms through those of a neighbour; Charles jumped from the building and was injured; Maud was able to exit by using the neighbours' staircase. She then re-entered the burning building to rescue her mother, who was lodging with her and Charles, and also their neighbour, Herbert Callard. She then twice tried to rescue Herbert Callard's wife and children, including a baby only ten days old, but was unable to reach them because of thick smoke. For her bravery she received awards from the Society for the Protection of Life from Fire, and from the Carnegie Heroes Trust.
Service
Frederick joined the Navy on 26th April 1909, aged 18. His service record states that he was 5ft 3¼ ins tall, with dark brown hair, grey eyes and a "dark" complexion. He had previously been working as a Fitters' Labourer.
He began his training as a Stoker 2nd class at Devonport, after which his first appointments were to HMS Sutlej, in the reserve fleet, from August to November 1909, and HMS Niobe (before she joined the Canadian Navy). On 14th December 1909 he joined the Monmouth-class armoured cruiser HMS Kent, on the China Station, and was recorded on board at the time of the 1911 Census. He was rated Stoker 1st Class on 24th November, while on Kent.
On his return to the UK he was appointed to HMS Royal Arthur, an elderly cruiser at that time in the Home Fleet, and on 9th February 1912 to Devonport. His next posting brought him home to Dartmouth, to HMS Pomone, a light cruiser attached to the Royal Naval College. This enabled him to attend the wedding of his brother James to Lily Violet Hayman, at which he acted as a witness, on 21st December 1913 at St Clements, Townstal. He remained in HMS Pomone until June 1914, and on 23rd June, joined HMS Indefatigable.
For his service on the ship, including the ship's fate at the Battle of Jutland, see our separate article here.
Some time during the third quarter of 1915, Frederick was able to obtain leave to return to Dartmouth to marry Gertrude Burridge, the youngest daughter of Hermon Burridge, a coal labourer, and his wife Florence Scoble. Hermon was originally from Exmouth and Florence was from Dartmouth. Gertrude was born in Dartmouth in 1892. In 1901 she and her family lived in Crowther's Hill. By 1911, she was working as a waitress at the Commercial Hotel in Dartmouth, along with her brother, William Folliott Burridge, who was the Boot Boy there. Frederick and Gertrude's son Frederick was born early in 1915.
Gertrude's younger brother, Frank Herman Burridge, also joined the Navy, and was also appointed to HMS Indefatigable as a Stoker, very soon after joining the service, on 17th June 1913. However, he left the ship on 27th August 1915. By the time of the Battle of Jutland, he was serving on HMS Nicator, an "M" class destroyer - so he is presumed to have been present at the battle. He survived the war and remained in the Navy.
Frederick's younger brother William followed him and Edward into the Navy, also serving as a Stoker. At the time of Frederick's death, he was serving in HMS Sunfish, an elderly torpedo boat destroyer allocated to the Devonport Local Defence Flotilla. He also survived the war and remained in the Navy.
Death
The following announcement of Frederick's death appeared in the Dartmouth Chronicle of 16th June 1916:
Ash - May 31st, killed in action on HMS Indefatigable, Frederick Arthur, the dearly beloved husband of Gertrude and darling daddy of Freddy.
Into the sea of battle
He bravely took his place
And fought and died for England
And the honour of his race.
Gertrude remarried in 1921. Her second husband was Richard Jones. At the time the Plymouth Naval Memorial Register was produced, she was living in Anzac Street, Dartmouth.
Commemoration
Frederick is commemorated in Dartmouth on the Town War Memorial and on the St Saviour's War Memorial Board.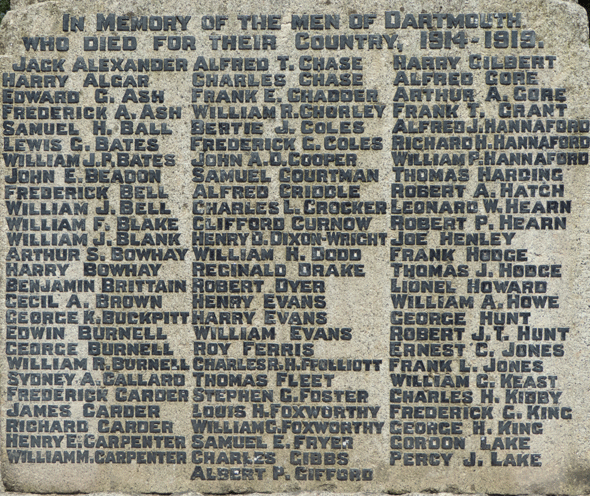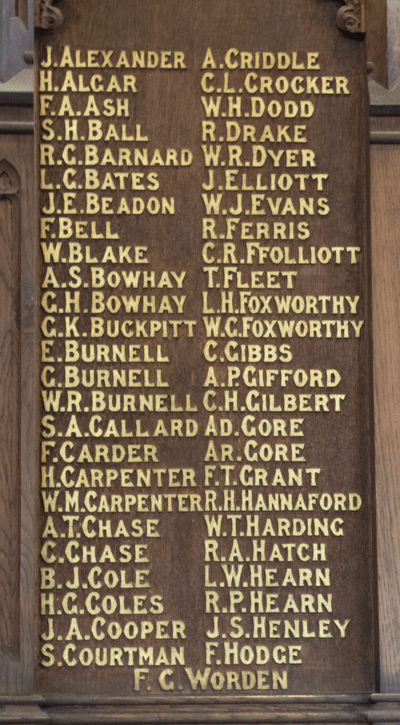 As one of those who sailed from Plymouth who was lost at sea with no known grave, he is also commemorated on the Plymouth Naval Memorial.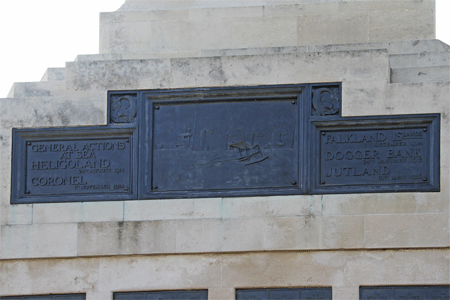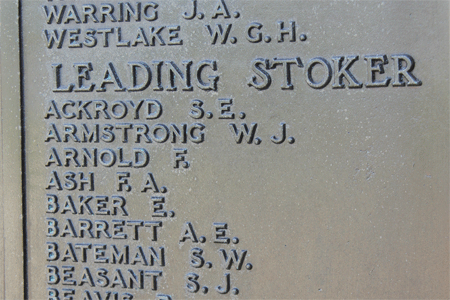 Plymouth Naval Memorial
Sources
Naval service records available for download from The National Archives, fee payable:
Information Held on Database
| | |
| --- | --- |
| Surname: | Ash |
| Forenames: | Frederick Arthur |
| Rank: | Leading Stoker RN |
| Service Number: | K/2587 |
| Military Unit: | HMS Indefatigable |
| Date of Death: | 31 May 1916 |
| Age at Death: | 25 |
| Cause of Death: | Killed in action |
| Action Resulting in Death: | Battle of Jutland |
| Place of Death: | North Sea |
| Place of Burial: | Commemorated on Plymouth Naval Memorial |
| Born or Lived in Dartmouth? | Yes |
| On Dartmouth War Memorial? | Yes |
| On St Saviour's Memorials? | Yes |
| On St Petrox Memorials? | No |
| On Flavel Church Memorials? | No |
| In Longcross Cemetery? | No |
| In St Clement's Churchyard? | No |
| On a Private Memorial? | No |
| On Another Memorial? | Yes |
| Name of Other Memorial: | Plymouth Naval Memorial |
---
This information was last updated on Monday 30 May 2016 at 23:03:31.