Frank Thomas Grant
Frank Thomas Grant was born in 1897 in Annandale, New South Wales, Australia, the son of Frank Thomas Grant (senior) and his wife, Annie Louisa Evans. It may seem odd that someone born and brought up in Australia is commemorated on the Dartmouth War Memorial, but Frank's connection with Dartmouth was through his grandfather, William Grant, and his uncles and aunts, particularly his uncle, William John Grant. Because of that connection, the war brought Frank to Dartmouth, though for only a brief visit.
Family
Frank's grandfather, Willam Grant, a shoemaker, came to Dartmouth from Crediton with his wife Eliza and their eight surviving children early in 1880, and opened a boot and shoe shop. Frank Thomas (senior) was born in 1864. He was the eldest surviving son and went into his father's trade, being recorded in the 1881 census as a "shoe clicker", responsible for cutting the leather into the parts making up a shoe. Although he was recorded visiting his grandparents in Crediton when that census was taken, with one of his younger brothers, Frederick William, it seems likely that he was working in his father's business in Duke Street, Dartmouth. The rest of the family was recorded there - William Grant's second son, William John, aged 15, was also working in the shoemaking business.
According to family information, Frank Thomas (senior) married Annie Louise Evans in 1882 in Devon (though we have not been able to locate the marriage record). However, by 1891, Frank and Annie had emigrated to Australia. Their eldest daughter Edith May was born that year in Surry Hills, a central suburb of Sydney.
The rest of the family remained in England. William John married Ellen Carthew, at St Saviour's, Dartmouth, on Christmas Day in 1889, and the 1891 Census recorded them both living in Kingswear, where he opened his own business as a shoemaker. But in 1892, William Grant (senior) died suddenly - the Dartmouth Chronicle of 2nd December 1892 recorded:
Sudden Death of a Dartmouth Tradesman
On Wednesday morning, Mr William Grant, shoemaker, of Parade House, died very suddenly. He rose as usual at half-past seven and went downstairs to light the gas stove and put the kettle on, but shortly after eight when his daughter rose and went down she could see nothing of him anywhere. She immediately called her mother, who went to a closet where she was shocked to find her husband dead. He had been in his usual health right up to the time of his death, which makes the unfortunate occurrence all the more painful for his family, for whom much sympathy is felt. Very quiet and unassuming as he was, Mr Grant was much liked and respected by his fellow townsmen, to whom the news of his sudden demise came as a great shock.
An inquest was held later that day. The doctor called when William Grant's body was found, said that he thought the death was due to a heart attack. The Jury returned a verdict of death by natural causes. William Grant was buried at St Clements, Townstal, on 3rd December 1892.
Eliza and William John then ran the business together for a while, until William John took it over completely. On 22nd May 1896, an advertisement appeared in the Dartmouth Chronicle:
William J Grant, Fashionable Boot and Shoemaker, Parade House, New Ground, Dartmouth
Begs to inform his numerous friends and public generally that he has succeeded to the business of E Grant & Son, and that it will in future be carried on by himself as William J Grant, and he hopes by judicious buying and careful attention to all orders, to be able to supply goods at the lowest possible prices.
WJG wishes to accept this opportunity for thanking the customers of E Grant & Son and W Grant, Kingswear, for their support in the past, and hopes by care and attention to still further merit their favours in the future.
BESPOKE ORDERS, and all kinds of REPAIRS most carefully and promptly attended to, at reasonable charges.
The 1901 Census recorded William John and his wife Ellen living in 2 Parade House, Duke Street, where he continued to run the boot and shoemaking business. He and his wife had no children.
Also still in Dartmouth was (Levi) Alfred, who worked in a drapery business. He lived with his wife, Lavinia Walls, and their two children, Frank William and Winifred Maud, in Above Town.
Their mother, Eliza, having handed over the boot and shoe business to William John, at that time ran a boarding house in Dartmouth, named "Belvedere". Her two youngest daughters, (Alice) Maud and (Ethel) Sarah, continued to live with her; Maud worked in a drapery business (perhaps with her elder brother), while Sarah taught in a school. Eliza died on 12th March 1904, and was buried beside her husband in St Clements, Townstal.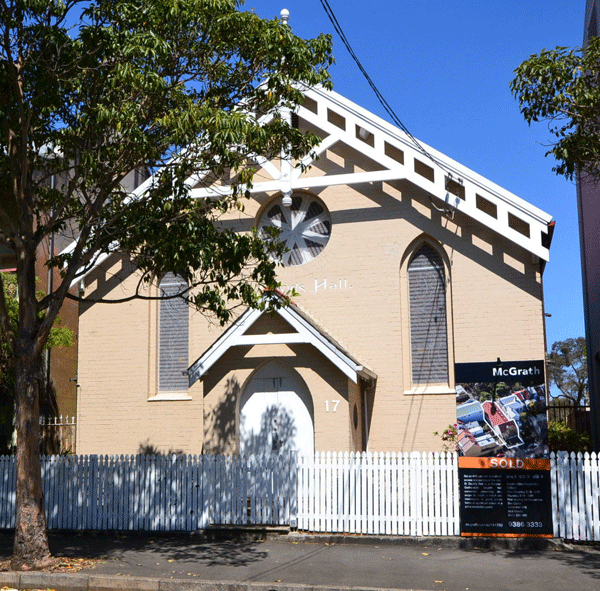 St David's
In Australia, meanwhile, Frank Thomas (senior) and Annie Louisa had a baby boy, whom they named Frank Joseph, on 15th April 1894. He was baptised at the little church of St David's, Arthur Street, Surry Hills (now closed). Frank and Annie lived nearby at 306 Riley Street; Frank continued to work as a shoe clicker.
By 1896, Frank and Annie had moved a little way out of the centre of Sydney, to the suburb of Annandale, north of the Parramatta Road. They found a home at 133 Nelson Street, but sadly their son Frank Joseph died there in August of that year, aged only two. He was buried at the Rookwood Necropolis, in Sydney. Frank Thomas (junior) was born about six months later, early in 1897.
By the time of the birth of Ethel Maude on 13th March 1900, the family was living at 44 Albion Street, Annandale. She was baptised at the recently completed St Aidan's church, in Johnston Street, Annandale, on 4th April 1900. Frank and Annie's two youngest children were also baptised at St Aidan's: Alfred William Frederick on 30th September 1903 (born 26th July) and John Bede on 6th March 1907 (born 12th January). By 1903 the family had moved to 173 Annandale Street, where they remained until 1917. Frank Thomas (junior) attended the public school in Annandale and then worked as a carter.
Service
Frank Thomas' service papers have survived and are held at the National Archives of Australia, so there is much more surviving detail for his service than for many of those commemorated in Dartmouth. He enlisted on 17th August 1915, at the Army camp at Warwick Farm, some 30km west of the centre of Sydney. His service papers show that he was a serving member of the 31st Battalion of the Australian Militia, and that he was 5ft 6½ins tall, with brown eyes, dark hair and a "dark" complexion. He was appointed to "B" Company of 2nd Battalion, the Australian Imperial Force, at the rank of Private. He was 18 years old. Amongst his mates, he was apparently known as "Jerry" (see below).
Frank received his early training with the 2nd Battalion in Australia, transferring from "B" Company to "C" Company on 24th January 1916 and then again to "A" Company three weeks later. On 1st March 1916, according to his papers, he was posted to the 16th Reinforcement of the 2nd Battalion, in preparation for going overseas.
The 2nd Battalion was among the first infantry units raised for the AIF. It was recruited from New South Wales, along with with the 1st, 3rd and 4th Battalions, and formed the 1st Brigade. The Battalion had fought at Gallipoli until the ANZAC evacuation in December 1915, and sailed for France and the Western Front from Egypt in March 1916.
The 16th Reinforcements departed Sydney in the SS Makarini on 1st April 1916 and HMAT Nestor on 9th April 1916; from Frank's service papers, it seems he travelled in the Makarini. He disembarked at Suez a month later. The delights of foreign travel had proved tempting - while en route, he went absent without leave in Colombo (for some unspecified period - presumably not long) and had to forfeit three days pay. (Frank outlived the Makarini by several months - she was mined and sunk 15 miles west of Dunkirk on 15th January 1917, on her way back to Sydney from London. Fortunately on that occasion she was carrying cargo, not troops, though she lost two of her crew.)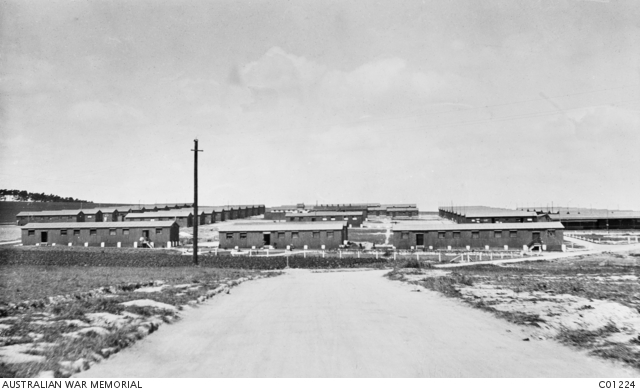 Parkhouse Depot
Frank remained in Suez for almost the whole of May 1916. On 28th May, he transferred to the Cyclists Training Battalion, and the following day, embarked in HMT Briton to travel from Alexandria to Plymouth, arriving on 8th June 1916, his first sight of the "old country". From Plymouth, he was taken to Parkhouse, the Australian Army Service Corps Depot, on Salisbury Plain. Perhaps these rather forbidding surroundings did not appeal to him, since his papers record that on 17th June, he was "drunk whilst on parade", earning himself six days detention.
On 7th September 1916 he was transferred back to the 2nd Battalion from the Cyclists Training Battalion, and on 30th September 1916, "proceeded overseas to France". Having arrived at Etaples on 1st October 1916, he joined the 30th Battalion AIF on 15th Oct 1916.
The 30th Battalion was at that time near Armentieres, in billets at Strazeele. The Battalion's War diary records the arrival of a party of 46 reinforcements from the 5th Australian Base Depot. A week after this, the battalion was transferred to the Somme, arriving in the front line at Mametz Wood on 22nd October 1916. They were due to participate in an attack but on 28th October the operation was postponed for two days and on 30th October postponed again "until further orders" due to very bad weather. They remained in the front line until the evening of 4th November, followed by three weeks "rest" in a succession of camps and billets, until returning to the front line at Trones Wood on 24th November for another short tour of four days. On 29th November 1916, they arrived in camp at Montauban.
The very cold and wet conditions of the winter of 1916/1917 on the Somme must have come as a nasty shock to those like Frank with no previous experience. He did not last long, being sent to hospital with trench foot on 1st December 1916. The following day he was back in Etaples, this time at the 1st Canadian General Hospital. They sent him back to England for further treatment, and he arrived at the war hospital in Northampton on 4th December 1916. His condition must have been quite bad, for he remained there for three months, being given two weeks leave on 12th March 1917, with instructions to report to AIF Command Depot No 1 at Perham Down on 27th March 1917.
It seems that during this leave he took the opportunity to visit Dartmouth, visiting his uncle and aunt, William and Ellen Grant, and also meeting many other people. Such was his enjoyment that he overstayed his leave by 24 hours, earning himself seven days "confined to camp", and losing two days pay, when he returned to Perham Down. On 15th April 1917 he was transferred to AIF Command Depot No 3 at Hurdcott, not far away on Salisbury Plain, but was still not fully fit. He was posted to the 62nd Battalion on 25th April 1917, returning once again to Perham Down.
Frank was finally assessed fit enough to resume active service six months after his initial hospitalisation. On 12th June 1917 he was sent to the AIF's Overseas Training Brigade, at Perham Down, to be trained up for his return to the trenches. He spent a week there before being sent back to France, crossing from Southampton to Le Havre on 20th/21st June 1917, this time to reinforce the 30th Battalion. He spent three weeks at the 5th Australian Base Depot before joining the 30th Battalion on 13th July 1917.
The 30th Battalion was part of the 5th Division of the AIF. It had been fortunate during the first part of 1917, missing much of the heavy fighting in which the AIF was engaged. On 13th July the Battalion was in training at Senlis; the unit's War Diary records that 17 other ranks were taken on strength on 14th July 1917, one of them presumably being Frank. From later information (see below) it appears that he was a member of a Lewis Gun team; the War Diary records that on 19th July 1917 "the Lewis Gunners carried on practices on range V16C". The 30th Battalion remained at Senlis until 30th July 1917, moving to new billets at Le Croquet, Blaringhem, south-east of St Omer, and continuing intensive training.
On 4th August 1917, the Battalion did a 12-mile route march. Although, according to the War Diary, the "men marched well, no trouble experienced with men dropping out from the march", two other ranks were evacuated sick the following day, one of whom appears to have been Frank, who was admitted to hospital at Le Havre on 5th August 1917 with a slight injury to his left buttock. He rejoined his unit a week later.
While the 30th Battalion AIF was at Senlis and Blaringhem, the Third Battle of Ypres had begun. For the background to this offensive, see the story of William John Farrow Bates of the 2nd Devons, killed on the opening day on 31st July 1917. On 25th August 1917, General Haig transferred responsibility for planning the next stage of the offensive to General Plumer, commanding Second Army, from General Gough, commanding Fifth Army. General Plumer first wanted three weeks preparation, before a series of "bite and hold" attacks, in four steps, each followed by a six-day pause, to allow for consolidation, defence against any counter attack, and preparation of the next step. The I Anzac Corps and the British Army's X Corps would lead the attack, with II Anzac Corps in reserve.
As the weather improved, the 30th Battalion continued its training, practising attack formations day after day at Blaringhem. The barrage was represented by "flags moving forward"; men representing the enemy were distributed over the area to be attacked to represent "pill-boxes" and "machine gun positions". The 30th and 31st Battalions worked together, the 31st "leapfrogging" through the 30th. "Counter-attacks coming from flanks" were practised, and lectures were given on the "new gas" and other topics. On 17th September, the 8th Brigade, including the 30th Battalion, was moved eastward to Steenvoorde, closer to the battle area, and the next day into a "very comfortable" camp at Abele, near Poperinge. On 19th September, officers inspected a model of the ground to be attacked.
The first "bite and hold" operation began on 20th September 1917 - now called the Battle of Menin Road - with the 1st and 2nd Australian Divisions in the lead. In the meantime, the 30th Battalion continued its training (though some men were detailed to provide cable-laying and burying parties for the 1st Division, with 36 being wounded). Though casualties were heavy, the attack achieved its objectives. The front line was pushed forward 1500-2000 yards and counter-attacks were successfully resisted.
Chateau Segard in 1916, courtesy of Imperial War Museum
The 5th Division took over from the 1st Division in the next phase of "bite and hold", now known as the Battle of Polygon Wood. Accordingly, on 24th September, the 30th Battalion was moved forward from Abele to a mixture of huts and "trench shelters" near Chateau Segard, at Dikkebus, south-west of Ypres.
On 25th September, the Battalion, in Divisional Reserve for the attack the next day, received orders "to hold themselves in readiness to move forward at a moments notice". On the day of the attack itself, they moved forward to a position known as "Half Way House" - "in shell holes dug and improved to hold several men". The War Diary records that "A" and "C" Companies were attached to the 5th Division's signallers for cable-laying, with four men killed and six wounded. Frank may have been included in this activity, because he was in "A" Company.
The Battle of Polygon Wood was also judged a success, for the line was advanced another 1000-1250 yards and almost all the wood was taken, though with heavy casualties. In the evening of 27th September, 30th Battalion moved up into the new front line in Polygon Wood, which they were required to hold during the next three days against the possibility of German counter-attack. The War Diary recorded their success in preventing a counter-attack developing:
... a raid was made on the Battalion's right flank and also the front of 32nd Battalion by the enemy. In response to an SOS signal sent up by them [32nd Bn], the artillery barrage came down on the attacking party. Patrols were pushed out by the 30th Bn and resulted in capturing 1 officer and 70 OR of the 73rd Reserve Infantry Regiment. The raid was beaten off ... aerial activity very great, dropping flares near our positions which were then shelled heavily by the enemy artillery. SOS put up in our sector 11.34 pm. Barrage came down but no counter-attack developed, massing troops being dispersed by it before being able to launch an attack. In reply to this barrage enemy bombarded our support lines heavily with gas shells etc. The shells were very weak and caused little trouble ...
Enemy attacked Bn on right ... Word received that enemy were lining up on tape in readiness to attack. SOS sent up and barrage came down. First wave of enemy got through but were wiped out by our machine and Lewis guns. Barrage stopped rest of attack. Great aerial activity during the day ... planes flying along our lines. Dropping of green flares brought heavy artillery fire on to our front line.... 5 machine guns (light) and 1 machine gun (heavy type) captured during operations during the few days past.
Patrols reported further signes of enemy massing in Polygonbeek. Salvos of Stokes, shells and rifle grenades dispersed them. 5am, our artillery put down a protective barrage which lasted for 1 hour. Enemy bombarded our lines later in reply, especially support lines. Enemy planes in formations up to 14 flying over our lines, anti-aircraft fire drove these off but they returned again. Large number of our planes crossed our line in the direction of the enemy in the afternoon.
At 8.30pm on the evening of 30th September, they handed over the front line to others, returning to the camp at Dikkebus. During this period they had sustained several casualties: 48 men had been killed, and 48 wounded (seven remaining on duty); one man had been "injured", and one was missing, believed to have been wounded and evacuated through another unit. One officer had also been wounded. However, it might have been much worse. The Battalion's War Diary attributed the relatively low casualties to the cover they had arranged:
In holding the front line system, the men were distributed in artillery formation of sections. Those in Polygon Wood camouflaged their shell hole posts with branches of trees etc. Sap heads "T" shaped were dug forward from these shell hole posts all along the Battalion sector, providing good cover from hostile shelling. It was mainly owing to this that the casualties were kept so low.
Frank evidently came through this unscathed. From 1st-7th October the Battalion was in camp near Wipponhoek, and so were not involved in the third phase of the "bite and hold" operations, the Battle of Broodseinde on 4th October, in which the attacking troops of the two ANZAC Corps, together with other forces, continued the advance. (Dartmouth sustained several casualties during this phase: Edwin Burnell, Thomas Rendle, William Langworthy, John Webber, Frederick Widdicombe, and Frederick Worden.)
But following this success the weather broke again. By 7th/8th October, the rain was falling in torrents, and continued to fall, with ground conditions once again becoming next to impossible. Although the 5th Division was spared involvement in the disaster of the Battle of Poelcapelle, the first stage of the attack on the Passchendaele ridge, on 9th October, the 30th Battalion was brought back to the front line that day to relieve the 9th Battalion, part of the 1st Australian Division, north of Polygon Wood. They held this sector of the line until 13th October. As the next phase of the attack on Passchendaele Ridge went forward to their left, on 12th October, the Battalion's War Diary reported:
Our troops cooperated by inflicting loss on targets that presented themselves in field of fire, thus giving support to Division on left flank. Enemy placed barrage on our line in response ... Several casualties caused ... Enemy massing in Celtic wood was dealt with by Stokes Mortars and MGs in cooperation with the artillery. No attack eventuated.
They were relieved on the evening of 13th October. Their second front line tour had again taken its toll - casualties totalled 25 men killed, 37 wounded, two missing, and four evacuated sick to hospital. One officer was killed and one died of his wounds.
Across the front as a whole, the attack of 12th October 1917, now known as the First Battle of Passchendaele, was, in general, an even ghastlier failure than Poelcapelle, and after this it was decided to postpone any further attack until the weather had improved. Responsibility for the next phase was given to the newly arrived Canadian Corps, whose General, Sir Arthur Currie, wanted careful and extensive preparation. The Second Battle of Passchendaele was not launched until 26th October 1917.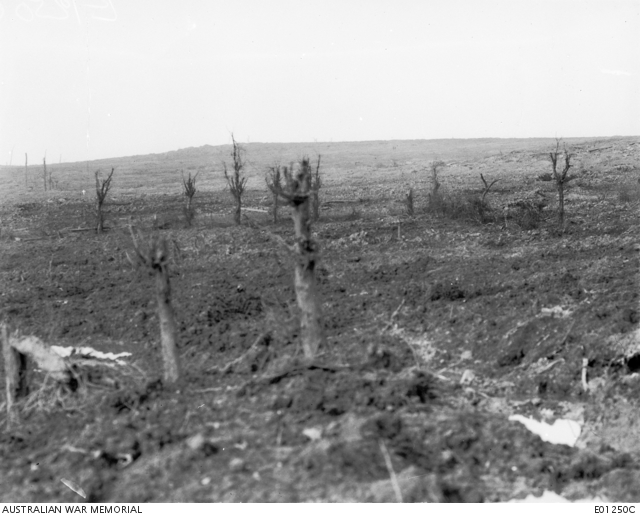 Anzac Ridge looking towards Broodseinde Ridge
In the meantime, knowing that a further attack was likely, German forces subjected every part of the Ypres salient, both the front line and all support areas, to near-continuous and extremely heavy shelling. After leaving the front line, the 30th Battalion had spent three days in Cornwall Camp, at Ouderdom (between Poperinge and Ypres). They all had a much-needed bath and an issue of clean clothes, and equipment was cleaned and overhauled. On 17th October, they moved to "Half Way House", where they were accommodated in dugouts and shelters. For three days they provided carrying parties for "taking duck boards up to the forward area" - on the first day, they were bombed by enemy planes, and on the third, were hit by enemy shelling of nearby artillery positions.
On 21st October, they moved forward from Half Way House to the support line, at Anzac Ridge. The carrying parties continued; on both 22nd and 23rd October, the Battalion War Diary recorded "heavy shelling all day", causing several casualties.
Death
Frank was very badly wounded by shellfire during the night of 22nd/23rd October while the Battalion was based on Anzac Ridge, and died a short time later. The circumstances were described in a letter to Annie Grant from the officer commanding Frank's platoon in "A" Company, Lt Harold Wedd, who wrote to her on 28th October, after the Battalion had returned to camp:
Dear Mrs Grant
Doubtless you have received official advice of your son's death long ere this, but thinking you may like to know the circumstances surrounding same, I am taking this opportunity, the first since your lad died, to give you that information.
At the time we were in support to the front line and were occasionally very heavily shelled. About midnight on 22nd or 23rd inst a shell landed right in the trench where your boy was resting and blew his leg nearly off. He lingered on for a few minutes, during which he was as brave as a lion, but nothing could save him. The doctor did all that could be done but there was no hope. He was buried nearly on Anzac Ridge, not far from Westhoek and Tomebeke and a cross is erected over his grave.
I trust the fact that your lad died on the greatest battlefield the world has known, for his King, Country and Home, will assuage the great sorrow you must bear at his loss. As his officer I can say your lad was a willing worker, cheerful and well loved by all his pals. My platoon has had a very rough time of it and out of the eight boys, including your son, who formed my Lewis Gun team, there only remain three. Under separate cover I am posting you a ring which I understand is a heirloom and is returned at your boy's special request by myself.
Yours in deep sympathy,
Lt Harold Wedd, "A" Company, 30th Bn AIF
The letter was included in Frank's papers because his mother subsequently queried whether the ring had been sent, and asked the Army's administrators to make enquiries. Other effects sent to Annie were Frank's diary, photos, letters and cards.
Several testimonies in the Australian Red Cross Society Wounded and Missing Files also provide further information about Frank's death:
Pte B K Latimer, 4270, 30th AIF, AI, whilst in hospital in England 8th April 1918:
I knew Grant, he was in my platoon, I was not present but I heard from the other chaps that he was badly wounded and died in the dressing station of our Battalion A.M.C. The same shell killed 4 or 5 other chaps as well among them Marshall, Butler, and Dunstan. They were all buried later with an officer killed a few hours earlier. They had a proper burial service. At Polygon Wood or Anzac Ridge, I think the latter but can't quite remember, October 23rd 1918 [sic].
Pte G W Burns, 3916, 25th July 1918
A shell had blown in a dugout at Anzac Ridge where we found him half buried. We pulled him out and found that he has [sic] been badly wounded across the back and down both legs. I helped to carry him to the Dressing Station and left him in charge of the doctor. He was quite conscious, he made no remarks to us but was talking to the Doctor Capt Railton, who is at present with the 8th Field Amb; he lived for about half an hour. I do not know where he was buried.
Grumley T4547 30th Battn:
He [ie the witness] was a special mate of informant and in his section.
[Grant was] About 5'8" in height, of stout build, dark, about 24 years old, and clean shaven, and was known as "Jerry" among his mates. [Witness was] very close to him. Casualty was sitting in his dugout on Anzac Ridge when a shell exploded inside, severely wounding him in the legs. Time 1am. He was immediately taken by Stretcher Bearers to the R.A.P. He was quite conscious, and smoked a cigarette on the way. Died a quarter of an hour after arrival at R.A.P.
His body was carried back to Anzac Ridge and was buried with his comrades, killed by the same shell. The service was read by Captain Richards. A cross was erected.
Frank's service papers confirm that he was buried in an "isolated grave, one mile southwest of Zonnebeke, and 3 ¾miles east of Ypres," alongside another member of 30th Battalion, Pte Benjamin Sanderson (number 3666) who died the same day.
News of Frank's death did not reach his uncle and aunt in Dartmouth until early in 1918. The Dartmouth Chronicle of 11th January 1918 carried the following short piece:
Death of Private F T Grant.
Mr and Mrs W J Grant of Parade House, Dartmouth, have received information that their nephew, Private F T Grant, was killed in action in France on October 23rd. His parents reside in Australia but last spring Private Grant came to Dartmouth on a visit to his uncle and aunt. He was then introduced to many Dartmothians, who will all be genuinely sorry that such a promising young man is no more. He had not yet reached his twenty first birthday.
Commemoration
After the war, in 1920, when isolated graves on the battlefield were brought into larger cemeteries, Frank's body was exhumed and reinterred in Aeroplane Cemetery, in Ypres, along with his colleague, Benjamin Sanderson.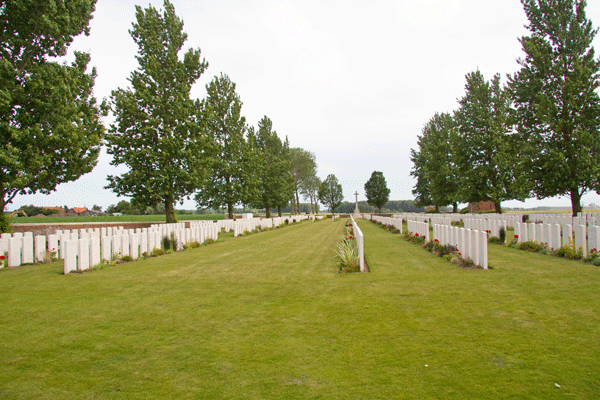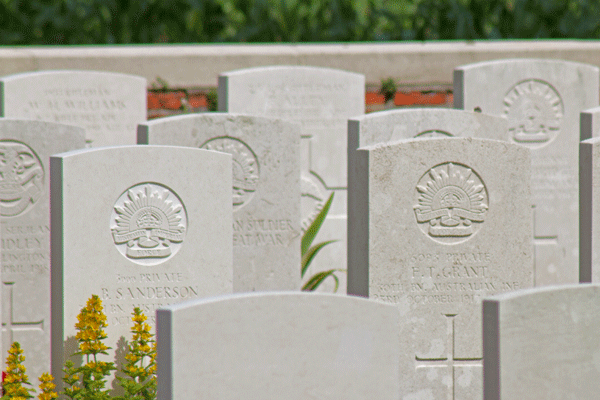 Aeroplane Cemetery
(In a reminder of the war's continuing legacy of destruction, Aeroplane Cemetery was closed to the public when we photographed Frank's grave in 2015, due to unexploded ordnance. The photographs were taken from outside the Cemetery).
Although Frank's parents moved soon after his death from Annandale to Canberra, Frank is commemorated on the War Memorial in Annandale, New South Wales.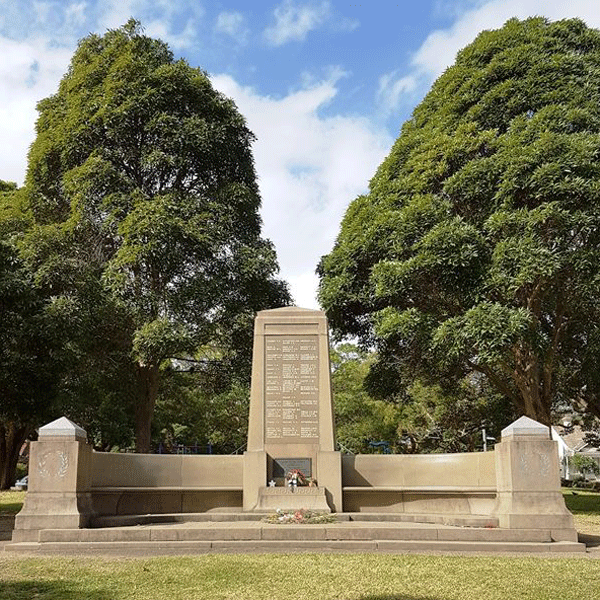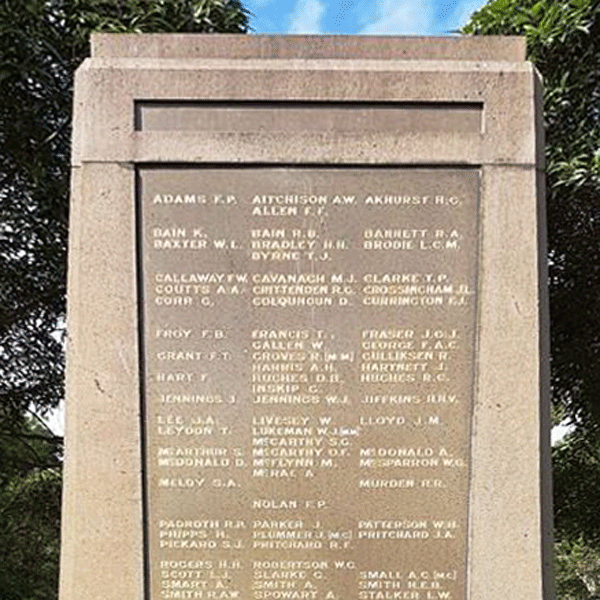 Annandale War Memorial
He is also commemorated on the Australian War Memorial, on panel 117. According to the AWM website, his name will next be projected onto the exterior of the Hall of Memory on 24th November 2017 (see sources below).
In Dartmouth, he is commemorated on the Dartmouth Town Memorial and the St Saviours Memorial Board.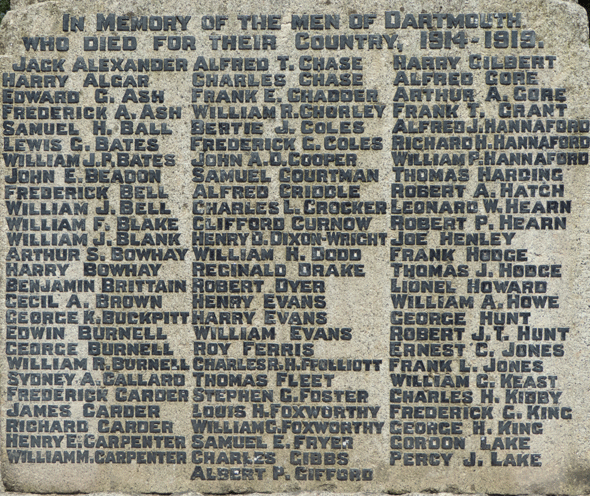 Dartmouth Town Memorial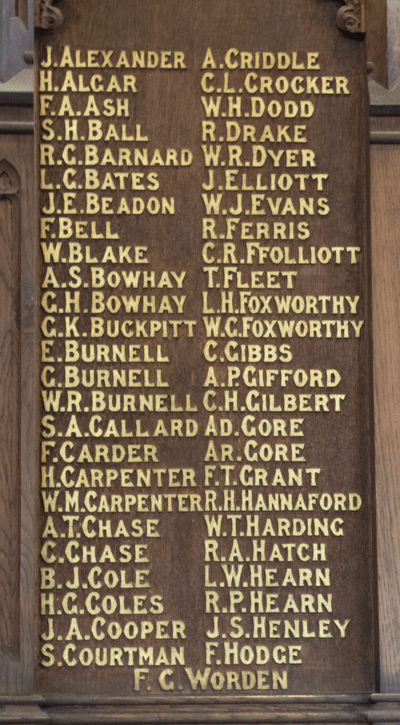 St Saviour's Memorial Board
Sources
The Army service record for Frank Thomas Grant may be viewed online at the Discovering Anzacs website of the National Archives of Australia
The Battalion War Diary for the 30th Australian Infantry Battalion may be viewed on line at the Australian War Memorial, reference AWM4 23/47
The Australian War Memorial Roll of Honour
Register of War Memorials in New South Wales, Annandale War Memorial
Australian Red Cross Wounded and Missing Files for Frank Thomas Grant, held in collections of Australian War Memorial, accessible online
Information Held on Database
| | |
| --- | --- |
| Surname: | Grant |
| Forenames: | Frank Thomas |
| Rank: | Private |
| Service Number: | 5093 |
| Military Unit: | 30th Bn Australian Infantry, Australian Imperial Force |
| Date of Death: | 23 Oct 1917 |
| Age at Death: | 20 |
| Cause of Death: | Killed in action |
| Action Resulting in Death: | Third Battle of Ypres |
| Place of Death: | Anzac Ridge, Near Ypres, Belgium |
| Place of Burial: | Aeroplane Cemetery, Ypres |
| Born or Lived in Dartmouth? | No |
| On Dartmouth War Memorial? | Yes |
| On St Saviour's Memorials? | Yes |
| On St Petrox Memorials? | No |
| On Flavel Church Memorials? | No |
| In Longcross Cemetery? | No |
| In St Clement's Churchyard? | No |
| On a Private Memorial? | No |
| On Another Memorial? | Yes |
| Name of Other Memorial: | Australian War Memorial, Annandale Memorial NSW |
---
This information was last updated on Monday 30 October 2017 at 23:26:18.