Thomas Rendle
Family
Thomas Rendle was born in Dartmouth on 1st February 1877, one of several children of George Rendle and Ann Hambling. George was a farm labourer, born in Blackawton. Whilst working on Great Cotton Farm in Stoke Fleming, he met Ann, from Stoke Fleming, who worked as the dairymaid. They married in 1866.
By the time of the 1881 Census, when Thomas was four, the family had moved to Townstal, where they were recorded in a "Labourer's Cottage" - presumably George worked on Townstal Farm. Thomas began his working life in farming; in 1891, aged 14, he was working as a farm labourer for John Trant, in Stoke Fleming.
In 1895, however, he tried a different career. On 3rd September 1895, he joined the Royal Navy as a Domestic 3rd Class, serving in HMS Britannia - at this time, still accommodated in the old wooden training ships moored in the Dart. His naval service record says that he was 5ft 4½ ins tall, with dark brown hair, grey eyes, and a "dark" complexion. He served in HMS Britannia for just over two years, being discharged shore on 21st October 1897 (domestic servants not yet being employed on continuous service engagements); but was reengaged in Portsmouth, in "HMS Victory I" (the record does not identify the exact establishment) on 7th April 1898 as an Acting Domestic 2nd Class. However, for reasons not stated on his record, he was "discharged to sick quarters" three months later, on 25th July 1898. His naval service record concludes on this date.
Thomas's experience with the Royal Navy seems nonetheless to have given him a certain level of skill in service, for by 1901, he was working as a footman in Elmestree House, in Tetbury, Gloucestershire. The owner, Francis Henry Esq, JP, ran a large establishment: a butler, two footmen (including Thomas), a cook, general servant, a lady's maid, three housemaids, and a kitchenmaid. Separately there was a "forester in woods", whose wife and daughter were the laundress and laundrymaid, and whose son was a gardener; and in the stables were a groom, coachman, and another gardener.
Elmestree was not the only large and generously staffed property in Tetbury. At Upton House nearby, Major Archibald Cosmo Little and his wife also ran a sizeable establishment: a cook, nurse, lady's maid, parlourmaid, two housemaids, and a kitchenmaid; and separately, two coachmen and two "stable helpers". The parlourmaid was Elizabeth Churn (known and recorded as Lizzie), and she and Thomas married at St Mary's, Adderbury, Oxfordshire, on 17th April 1907.
Lizzie was born in Walmley, near Sutton Coldfield, in 1878, the daughter of Charles Churn and his wife Elizabeth Beesley. Charles began his working life as an agricultural labourer in Burford, where he was born, but sometime during his twenties, he joined the police force. By 1881, he was serving as a Police Constable in Sutton Coldfield, moving to Gaydon, Warwickshire, where the family was recorded in the 1891 Census.
By the time of the 1901 Census, Charles had retired from the police force, and he and his wife Elizabeth lived in the village of Warmington, Warwickshire, maintained by his police pension. However, he soon decided on another line of work. He became the licensee of The Plough, in the village of Adderbury, which he and Elizabeth ran for some considerable time. This was presumably why Thomas and Lizzie married in Adderbury.
Thomas and Lizzie settled in Dartmouth after their marriage and Thomas returned to the Royal Naval College, now accommodated in the new building ashore, opened in 1905. He obtained work there as a cadets' servant. Thomas and Lizzie's first child, Thomas William, was born at Flora Cottage, Dartmouth, on 13th May 1908, and baptised on 31st May at St Petrox. By the time of the 1911 Census, the family had moved to 3 Kenwyn Terrace, Townstal - not far from where Thomas had lived as a child. He continued to work as a domestic servant at the Royal Naval College. Lizzie was pregnant with her second child - their daughter Emily was born on 6th May 1911, a month or so after the Census, and baptised at St Clement's Townstal, up the hill.
Service
Thomas's service papers have not survived and there are few other clues giving an indication of when he might have joined or been conscripted. His service number, 290530, is one of those allocated to the 7th Battalion of the Devonshire Regiment (Cyclists) when the Territorial Force infantry was renumbered at the beginning of 1917. A comparison of this number with the numbers of men whose service papers have survived suggest that he may have enlisted in the 2/7th (or possibly the 3/7th) Battalion some time during the latter part of 1915. Furthermore, as this is the only number included for him on the Devonshire Regiment Medal Roll, this indicates that he did not go overseas until after the new number was allocated - some time in 1917.
The Cyclist Battalions, as such, remained in England throughout the war, though sending many drafts overseas. When his time came to leave, Thomas was posted to the 8th Battalion of Devonshire Regiment. How long he served with them in 1917 is not known. For the experiences of the 8th Battalion, including their participation in the Battle of Broodseinde, a phase of the Third Battle of Ypres, from 4th-7th October 1917, see the story of John Samuel Webber who had served with the Battalion since they had gone to France in 1915.
Death
Evidently there was some uncertainty about what had happened to Thomas during the period in which the Devons were in action. Afterwards, Thomas was first reported wounded, in the casualty list of 8th November 1917 (published 13th November 1917). Three weeks later, in a casualty list of 1st December 1917 (published 4th December 1917) he was declared "previously reported wounded now reported missing".
It was not until August the following year that Thomas' fate was officially confirmed. The Western Times of 10th August 1918 carried the news that "Mrs T Rendle, 3 Kenwyn Cottages, Townstal, has been informed by the Army Council that they accept her husband as dead, and they place the death as from October 4th 1917. Mrs Rendle refuses to give up hope, and still believes him to be a prisoner of war."
The Register of Soldiers' Effects thus recorded Thomas Rendle's date of death as "on or since 4th October 1917 death presumed".
Lizzie's refusal to abandon hope of her husband's return may be the reason Thomas appears as an "absent voter" on the Electoral Register for Dartmouth in 1918 and 1919. She remained in Dartmouth after the war.
Commemoration
As one of 35,000 men of British and New Zealand forces who died on the Ypres front between August 1917 and November 1918, whose body was either not found or not identified, Thomas is commemorated on the Tyne Cot Memorial Wall to the Missing, which surrounds the Tyne Cot Cemetery. Tyne Cot was originally a barn, around which were several fortified "pill boxes"; it was captured by the 3rd Australian Division on 4th October 1917, during the Battle of Broodseinde. After the war, most surviving pill-boxes were dynamited by specialist contractors, and the material used to improve local road surfaces. However, the pill-boxes near Tyne Cot Cemetery were not destroyed, to prevent damage to graves, and were subsequently incorporated into the design of the Memorial. Thomas is thus commemorated quite close to where he died.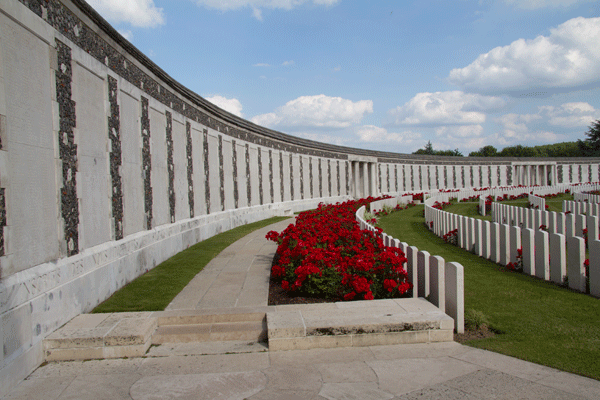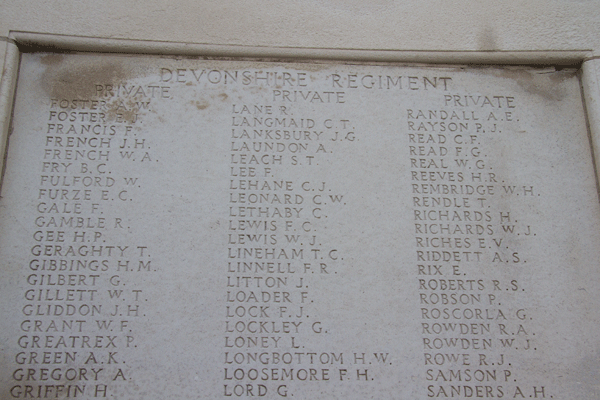 Tyne Cot Memorial
In Dartmouth, Thomas is commemorated on the Town War Memorial and the St Saviour's Memorial Board.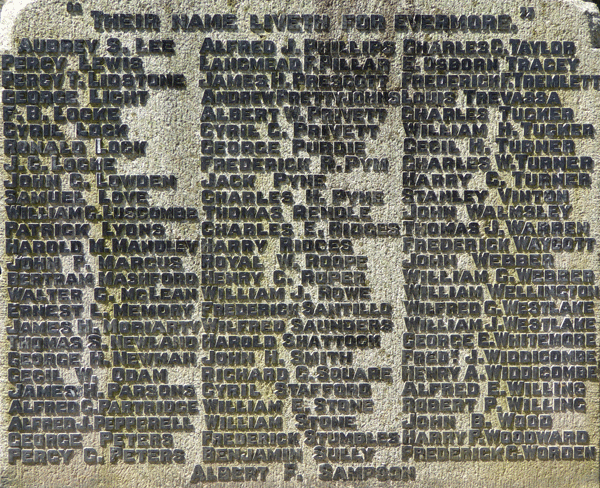 Dartmouth Town Memorial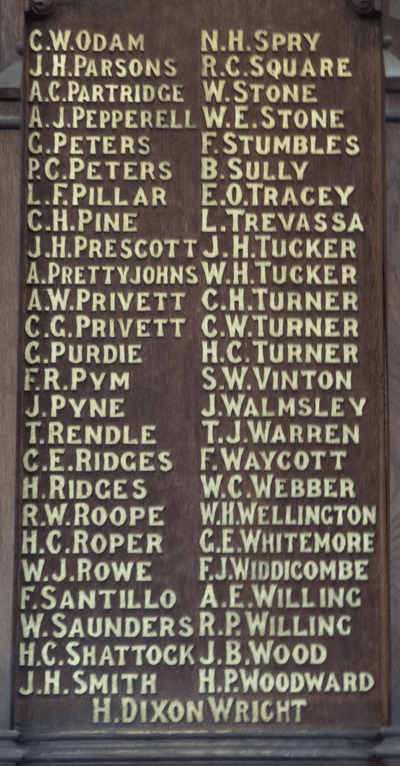 St Saviour's Memorial Board
Sources
Naval service record for Thomas Rendle available from the National Archives, fee payable for download, reference ADM 188/535/354194
The Long Long Trail: Renumbering the Territorial Force infantry in 1917
Note: Soldiers Died in the Great War (as transcribed for subscription websites) gives Thomas Rendle's service number incorrectly as 29053
Information Held on Database
| | |
| --- | --- |
| Surname: | Rendle |
| Forenames: | Thomas |
| Rank: | Private |
| Service Number: | 290530 |
| Military Unit: | 8th Bn Devonshire Regiment |
| Date of Death: | 04 Oct 1917 |
| Age at Death: | 40 |
| Cause of Death: | Killed in action |
| Action Resulting in Death: | Third Battle of Ypres |
| Place of Death: | Beselare, Belgium |
| Place of Burial: | Commemorated Tyne Cot Memorial, Belgium |
| Born or Lived in Dartmouth? | Yes |
| On Dartmouth War Memorial? | Yes |
| On St Saviour's Memorials? | Yes |
| On St Petrox Memorials? | No |
| On Flavel Church Memorials? | No |
| In Longcross Cemetery? | No |
| In St Clement's Churchyard? | No |
| On a Private Memorial? | No |
| On Another Memorial? | No |
---
This information was last updated on Sunday 08 October 2017 at 23:54:53.