William Elliott Stone
Family
William Elliott Stone was born in 1879, the eldest son of Elliott Samuel Stone and his second wife, Kate Adams. Though both his parents came originally from the South Hams, and though he was brought up in Dartmouth and raised his own family there, William was born in Mirfield, Yorkshire.
Elliott Samuel Stone was born in the village of South Pool, on the Kingsbridge estuary, where his father, William, was an agricultural labourer. By the time he was thirteen he too was working, being employed as a carter by a local farmer and blacksmith, Edward Cuming. He continued to find work in farming, and by 1871 was the "indoor farm servant" at Buckyette Farm, Littlehempston, working for George Adams and his widowed mother Jane. Also in the household was Sarah Murch, aged 17, from Batson, Salcombe, working as a domestic servant. The following year, Elliott and Sarah were married. Their daughter Grace was born on 10th December 1872 - it would appear she was named after Sarah's younger sister, who had died at about the same time. According to Census records, Grace was born in South Pool.
When Grace was only two, her mother died. Just over two years later, on 24th January 1877, her father Elliott married again. By that time he was living in Stoke Fleming, near Dartmouth. His second wife was Kate Adams, daughter of William Adams, a shoemaker. Kate was born in Chillington, but her family had moved to Stoke Fleming by the time she was seven.
Elliott and Kate's first child, Matilda Jane, was born on 26th May 1877 and baptised on 5th August 1877 in Stoke Fleming. Elliott was by this time working as a gardener. However, soon afterwards, the family moved to Dartmouth, where, sadly, Matilda died, aged only 15 months, and was buried in St Clements, Townstal, on 6th September 1878. The ceremony was conducted by the Vicar of Townstal and St Saviours, Reverend John Priestley Foster.
John Priestley Foster had come to Dartmouth in 1871 and there followed several years of intense controversy as he became involved in several aspects of the town's activities, whilst also attempting to make widely opposed changes to St Saviours. Towards the end of 1878, he appears to have decided to move on - on 8th November, the Dartmouth Chronicle reported that the news that he was intending to move to Yorkshire "has been received with the greatest satisfaction on all sides, and comes like a gleam of sunshine through the dark cloud so long overshadowing us". Two weeks later, it was confirmed that he had resigned. His next living was that of St Mary's in Mirfield, and indeed, he moved there immediately, for he appears signing the St Mary's baptismal registers in December 1878.
It seems that there may have been some connection between Elliott and Kate Stone and John Priestley Foster, for they too moved to Mirfield round about this time. On 17th April 1879, Kate Stone gave birth to twins, William Elliott and Florence Mabel. They were baptised a month later on 18th May in St Mary's by John Priestley Foster. The family's address was given as Town Gate and Elliott's occupation as "groom and gardener".
However, whatever opportunity had brought the family to Yorkshire seems either not to have materialised or was unsuccessful, for a year later they were back in Devon. Elliott had found gardening work in Ringmore, near Stokeinteignhead, on the south side of the Teign. But here, sadly, they lost Florence Annie, buried aged 18 months in Stokeinteignhead, the day after Christmas Day, 1880. The 1881 Census recorded the family at a cottage in Stokeinteignhead. Elliott's occupation was recorded as "groom and gardener"; Kate was caring for her stepdaughter Grace, aged eight, and William, aged one.
Their connection with Reverend Priestley Foster appears not to have been entirely lost, however, for they named their next child, another boy, partly for him. Alfred John Priestley Stone was born on 16th August 1881 and baptised in Stokeinteignhead on 2nd October 1881. Very soon after, however, Elliott Stone died suddenly in Exeter. He was taken home to South Pool to be buried on 23rd November 1881.
Kate's parents, William and Maria Adams, and their family had in the meantime moved to Dartmouth - by the time of the 1881 Census, they were living in Crowther's Hill. Perhaps for this reason, Kate returned to Dartmouth after Elliott's death. In 1888 she gave birth to another daughter, Emma Olive, baptised on 4th August 1892 at St Saviours. The 1891 Census recorded Kate and her three children - William, Alfred and Emma - living in Crowthers Hill, fairly near her mother, by then widowed. Grace had left home by this time and was working in domestic service in Plymouth. Kate sustained her family by working as a charwoman, as did her mother. In 1894, a fourth daughter was born, Edith May Ford Stone. She was privately baptised on 3rd May 1895 and died shortly afterward. A fifth daughter, Gladys Irene, was born the following year.
In 1901, Kate was still living in Crowthers Hill, fairly close to her mother, and working as a charwoman. Living with her was her son Alfred, now working as a general labourer, and her two surviving daughters, Emma and Gladys, still of school age at twelve and four. She was also looking after a fosterchild, Reginald Kerswell, aged five. William, however, had left home. On 29th April 1900, at St Petrox, Dartmouth, he married Hannah Jane Weatherdon. Hannah was the daughter of Frederick Weatherdon, one of the pilots in Dartmouth Harbour, and had been born and brought up in Dartmouth.
At the time of his marriage William was recorded as a sailor, and later that year was involved in an accident leading to the death of one of his crewmates. The Dartmouth Chronicle of 17th August 1900 reported:
Yachting Fatality at Southampton
Narrow escape of two Dartmouth men
An alarming occurrence, in which three members of the crew of the steam yacht Australia (Mr Gardiner) lying off Southampton, were concerned, and which resulted in one of the three losing his life and the other two having an extremely narrow escape from a like fate, happened near the Town Quay, Southampton. The three men were Charles Thompson, steward; Henry Kemp, engineer; and William Stone, seaman, all of the Australia. The two latter belonged to Dartmouth and the former to Exmouth. They had been on shore for the evening and arrived .... at the Town Quay ... where their boat was moored, ready for the return journey to their ship, about 11.30. The boat capsized ... Police Constable G Richards ... heard their shouts for help ... on arriving near the steps he saw Stone swimming towards him and assisted him on to the quay. Stone said "Look out for my mates" ... the constable saw another man struggling ... Kemp ... Some men in a boat who happened to be near ... assisted by Richards ... took [Kemp] out of the water and got him ashore ... he appeared quite lifeless [but] regained consciousness and was sent to the Infirmary. In the meantime the body of Thompson had been recovered ..."
At the inquest, William stated that:
...Between 11 and 12 he went down to his boat lying at the Town Quay and got into it. The engineer Harry Kemp and the deceased followed almost immediately. They shoved off, and he (witness) got the crutch from the bottom of the boat and shipped it. The next thing he knew was that the boat gave a lurch and they were all in the water. Witness found somebody on top of him. He went down rather deep and when he came up saw the steps and swam for them. When he landed he saw the engineer laid out. They were all three sober.
A doctor gave evidence that Charles Thompson had died due to a heart attack while in the water, and the Coroner recorded that the boat was considered unsafe, "being narrow and crank". The jury recorded a verdict accordingly.
William (as "Elliott Stone") and Hannah were recorded in the 1901 Census living in Above Town, Dartmouth. But, in an odd parallel with his own father's life, he too lost his first wife at a young age. Hannah died on 26th November 1901, aged only 28, at their home at Ivy Bank Cottage. She was buried at Longcross on 1st December. It appears that there were no children of the marriage.
William married again a little over a year later, on 19th January 1903, this time at the parish church in Strete. His second wife was Ethel Eliza Prout, the younger daughter of John James Prout, a labourer, and his wife Harriet Steer. Ethel had also lost her father at a young age - he had died before she was two. At the time of the 1901 Census, Ethel was in domestic service at the Vicarage in Blackawton, and her employer, Reverend Isaac Bonsall, conducted the marriage ceremony.
The couple's first child, Herbert William, was born on 24th July 1904 at the couple's home in Newcomen Road, and baptised at St Saviour's on 6th November 1904. At the time of the birth, William was still working as a yachtsman - however, in the baptism record, he was described as a labourer. Perhaps he was aware, after his brush with drowning in Southampton, that a more secure occupation would be preferable, with a growing family to provide for. The births of four more children, all girls, followed in fairly quick succession: Freda May, in 1906; Edith Grace, in 1908: Ethel Kate, in 1909; and Beatrice Mary, in 1910. At the time of the 1911 Census, the family were living in Floral Cottage, Board School Steps; but William was not at home on Census night. By then, he had obtained work at the Royal Naval College as a "cook's mate", and was recorded amongst the servants and ratings at the College.
William's mother Kate still lived in Crowther's Hill and still worked as a charwoman. His younger brother Alfred also worked as a yachtsman; and Gladys, though only 14, was already working in domestic service. Kate's foster son Reginald was an errand boy for a Dartmouth grocer.
Before William went off to war, he and Ethel had two more children - Wilfred John was born in 1912, and Sydney George after the war had started, in 1914. Their youngest child, William Frederick, was born on 18th May 1916, probably just a little before William was called up - see below.
Service
Like so many, William's service papers have not survived. However, the name "Wm E Stone" is included in a list appearing in the Dartmouth Chronicle of 10th December 1915 of "Dartmouth men who have enlisted under the group system". Also appearing in that list was William's brother Alfred. (William's name also appeared again in a similar list of 24th December 1915). These were men enlisting under the "Derby scheme" - officially, the "Group Scheme". For the background to this last phase of voluntary recruitment, see the story of Thomas Charles, also recruited under the scheme.
Men enlisting under the scheme could choose either to serve immediately, or to attest with an obligation to come if called up later on. Attested men were split into two categories, single and married, and each was subdivided into 23 groups according to age. The last day of registration for the scheme was 15th December 1915 - as William's name appears in the Chronicle of 10th December, he clearly came forward a little before the final deadline. Alfred's service papers have survived and show that he attested on 8th December 1915 - he and William may well have attested together.
Men accepted for service and choosing to defer it were transferred into the Army Reserve and sent back home until they were called up. The youngest men were called up first. Thus, Alfred, born in 1881, was in Group 17. Although the planned mobilisation date for this group was 18th March 1916, his service record shows he was mobilised earlier, on 24th February 1916, to join the Inland Water Transport Corps.
At the time the Derby Scheme was introduced, a commitment was made that the youngest married men would not be called up until all 23 age groups of single men were called up. But as fewer single men came forward under the Derby Scheme than the Government hoped, conscription of single men was introduced under the first Military Service Act on 27th January 1916. From that date, all unmarried or widowed British men, between the ages of 19 and 41, were deemed to have enlisted on 2nd March 1916. The last batch of single men (other than 18 year olds) were called up under the Derby Scheme in March, in parallel with the first men to be summoned under conscription.
But the recruiting returns were still insufficient to maintain the Army at the agreed size or to provide replacements for the casualties expected in the summer offensive. Also, the level of exemptions was running high. March 1916 saw the call-up of younger married men under the Derby Scheme, leading to protests that this failed to honour the Government's previous commitment, and that such men should not be sent to the front when all the single men had not come forward. The Government's response was to introduce general conscription by extending the Military Service Act to married men, and lowering the starting age to 18, on 25th May 1916.
William was a member of the Devonshire Regiment at the time of his death. The Regiment's Medal Rolls show that William joined the 1st Battalion and do not list any other unit. His service number was 26978; some indication of when he may have been mobilised may be derived from looking at men joining the Devonshire Regiment with service numbers close to William's, for whom some service papers have survived. For example, numbers 26957 and 26987, both about the same age as William and both married, were mobilised on 15th and 14th June 1916 respectively. (Unfortunately, neither was posted to the 1st Battalion, so their subsequent experience does not provide a guide).
The 1st Battalion, as a regular army Battalion, had been mobilised at the outbreak of war, going to France on 21st April 1914. They had fought at the Battle of the Aisne in 1914, at Ypres in 1915, and on the Somme in 1916. For their experiences to the Battle of Morval, on 25th September 1916, see the story of George Peters.
According to the Regimental Historian, "from the beginning of October till the spring offensive opened in April 1917, the Devons enjoyed relative quiet". That said, they were still undertaking regular tours in the front line, and sustaining casualties. See the story of Cyril Privett, killed in action on 30th January 1917. During this period, they were in the Cuinchy sector, where they remained until the middle of March.
If William was mobilised around the middle of June 1916, then he most probably arrived in France sometime during the latter part of 1916, and with the Battalion a few weeks later, after spending time at the Base Depot. See the story of Charles Tucker, who enlisted at about the same time and was probably mobilised at about the same time. The Battalion's War Diary records that, between 2nd October and 9th December, a total of 297 reinforcements (other ranks) joined from No 2 Infantry Base Depot in Rouen, mostly in small parties ranging in size from one to 32, though two larger groups, of 110 and 63, arrived on 9th and 13th October. Unfortunately, the War Diary says nothing about whether or not these were trained men, or anything about their previous units, reporting only the numbers and dates of arrival.
However, on 13th December 1916, a large party of 197 reinforcements arrived from the Base Depot. Special arrangements were made for this large group - it was kept as a separate company for training, and known as No 5 Company, moving to billets at Bethune, and remaining there during the periods in which the rest of the Battalion was in the trenches.
Four small parties of reinforcements arrived from the Base Depot between 20th December 1916 - 3rd January 1917, totalling 30, but they were not posted to No 5 Company, suggesting perhaps that they were already trained and could be absorbed into Nos 1-4 Companies quickly.
On 7th January 1917, 100 men from No 5 Company were posted into the other four companies of the Battalion "as trained men"; the rest were sent to the 95th Infantry Brigade Depot at Oblinghem for further instruction. On three days during the next two weeks, a further 102 other ranks joined from the Base Depot, and were sent to No 5 Company at Oblinghem.
On 18th January, 86 men (presumably most of the remainder who had arrived on 13th December) were absorbed as trained men from the Brigade Depot into Nos 1, 2, 3 and 4 Companies; on 6th February, a further 50 reinforcements arrived from Rouen, and were sent to Oblinghem. On 12th February 1917, 46 men completed their training to join the front line companies, followed by 45 men on 24th February; however, 44 men came back into to No 5 Company from the front line companies for further training. A similar exchange between the training company and the front line companies occurred on 3rd March, involving 25 men leaving and 19 men arriving. Finally, all the remaining members of No 5 Company joined the Battalion on 17th March 1917, when they were in billets at Raimbert, presumably being fully absorbed into the Battalion at this point.
The arrangements made for training during this period suggest that the large group arriving in December, plus those arriving between 7th January and 6th February, were new recruits - so perhaps William may have been one of these. However, further small parties of reinforcements continued to arrive from the Base Depot right up to the eve of the action on 23rd April - eleven arrived on 2nd April, five on 5th April, another eleven on 14th April, as the Battalion went into the front line east of the Vimy Ridge, and sixteen on 22nd April. Again, the War Diary is silent about the background of these new arrivals.
The next phase of the Battle of Arras: Subsidiary attack on La Coulotte, 23rd April 1917
The 1st Battalion remained in billets at Raimbert, west of Bethune, until 7th April, when they began a two day march south towards Arras. The 5th Division was in reserve for the start of the Battle of Arras, so the Devons were not brought down to the area until close to the date of the initial attack. For the background to the Battle, and a brief account of the action on 9th April, see the story of Cyril Stafford. The Devons were held in readiness at Villers-au-Bois, but were not required.
From 14th - 19th April, they held the new front line east of the village of Givenchy-en-Gohelle, facing a heavily fortified German defensive line running from the Souchez river through the village of La Coulotte, south of Lens, to the village of Avion. They sustained fairly heavy casualties during this period, being in continuing contact with the enemy. On 19th April they were relieved from the front line, but four days later returned to the same area in the attack on La Coulotte, part of the subsidiary action launched by First Army in support of the larger attack taking place to the east of Arras by Third Army. The attack went in at 4.45am on 23rd April and was a costly failure - it is described in the story of Alfred Charles Partridge, also lost the same day.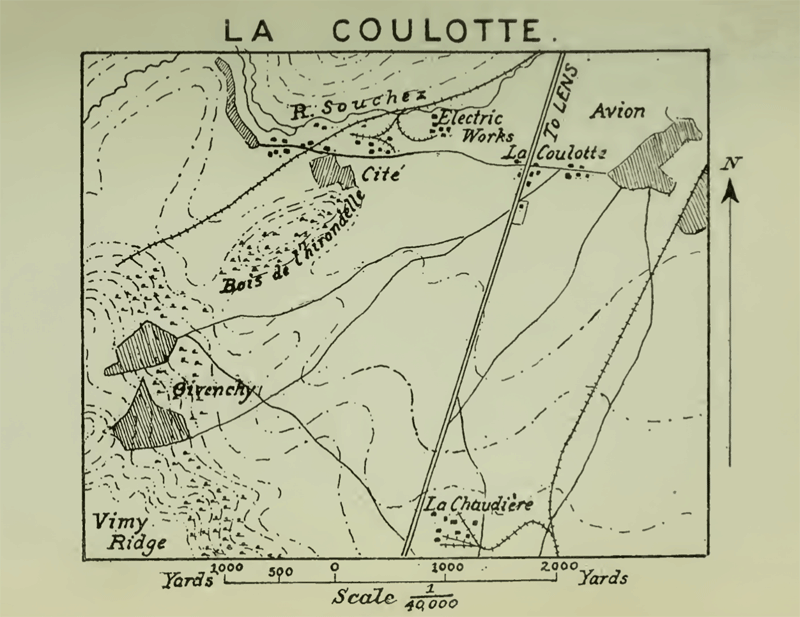 La Coulotte, from the history of the 5th Division in the Great War
Death
The 5th Division's History comments that casualty evacuation was very difficult, and that the routes were heavily shelled, causing many further casualties. This may explain the reports about what had happened to William after the Battle. His name first appeared in a list of wounded from the Devon Regiment published in a casualty list in the Western Times on 28th and 29th May 1917, along with that of Alfred Charles Partridge. The casualty list also included names of men from the Regiment who had been killed, and, although of course the list did not say so, these men were almost all from the 1st Battalion and their dates of death (as we now know) were almost all 23rd April 1917. At that stage, only two names from the Regiment were listed as "missing".
On 9th June 1917 a further list was published in the Western Times of Devon Regiment men declared as "missing" - again, the vast majority of these were from the 1st Battalion and subsequent records show them as having been killed in action (or presumed to have been) on 23rd April 1917. One of these was a third Dartmouth man, Charles Tucker.
On 15th June, a third list was published in the Western Times listing several names from the Devon Regiment, including both William Elliott Stone and Alfred Charles Partridge, as "previously reported wounded, now reported wounded and missing".
It seems that William's body was never found (or if it was found, was never identified). The Soldiers' Effects Register records his death as "23rd April 1917 officially accepted previously reported missing". The Medal Rolls also similarly record "death regarded 23rd April 1917".
Commemoration
William is thus commemorated in France on the Arras Memorial, which records the names of almost 35,000 men dying in the Arras sector between spring 1916 and early August 1918, who have no known grave.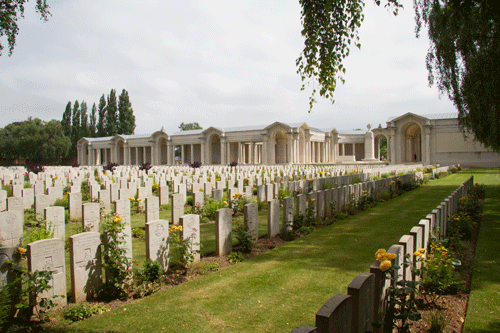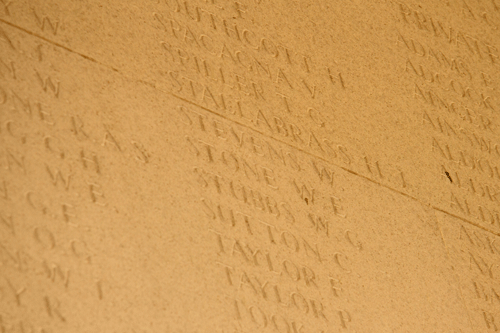 As one of the 579,206 casualties in the region of Nord-Pas-de-Calais, William is also commemorated on the new memorial at Notre Dame de Lorette, "The Ring of Memory".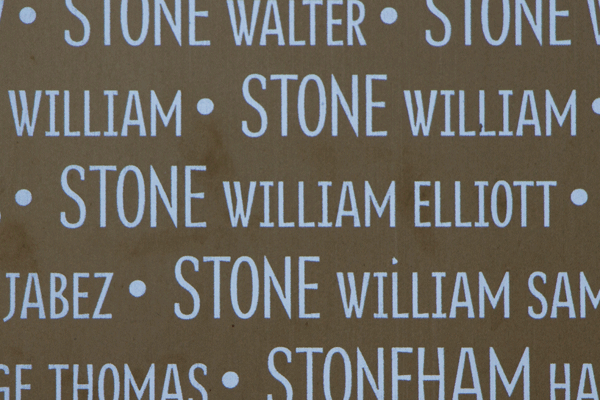 Ring of Memory memorial at Notre Dame de Lorette
In Dartmouth, William is commemorated on the Town War Memorial and the St Saviours War Memorial Board.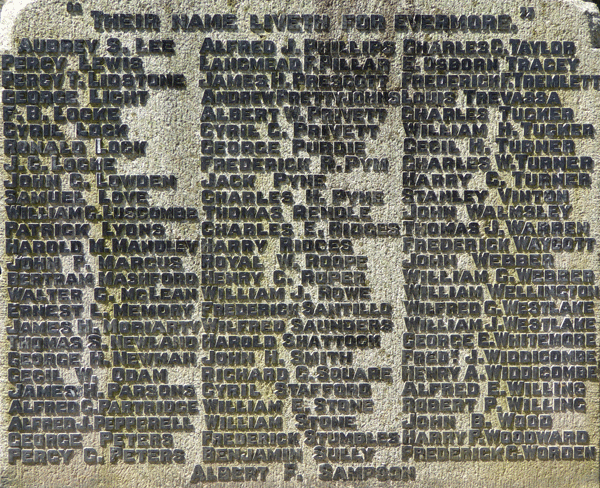 Dartmouth Town Memorial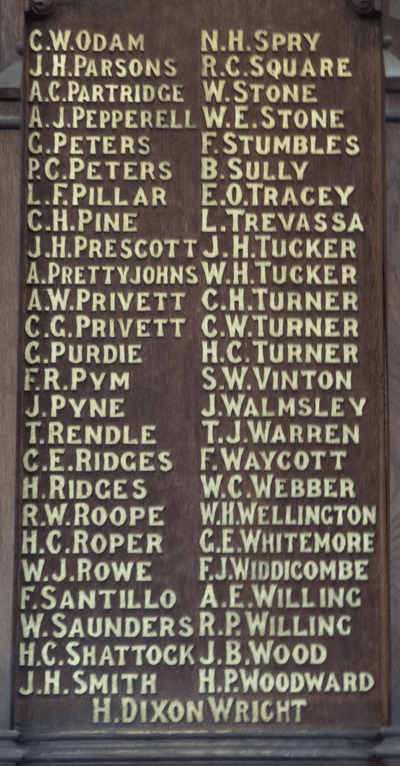 St Saviour's Memorial Board
Sources
War Diary of the 1st Battalion Devonshire Regiment January 1916 - November 1917 available from the National Archives, fee payable for download, reference WO 95/1579/3
The Devonshire Regiment 1914-1918, compiled by C T Atkinson, publ. 1926, Exeter and London
The Fifth Division in the Great War, by Brig Gen A H Hussey CB CMG and Major D S Inman, publ. 1921, London, accessible online from archive.org
The Arras Offensive 9th April - 16th June 1917
The Battle of Arras: an Overview
Information Held on Database
| | |
| --- | --- |
| Surname: | Stone |
| Forenames: | William Elliott |
| Rank: | Private |
| Service Number: | 26978 |
| Military Unit: | 1st Bn Devonshire Regiment |
| Date of Death: | 23 Apr 1917 |
| Age at Death: | 38 |
| Cause of Death: | Killed in action |
| Action Resulting in Death: | Battle of Arras |
| Place of Death: | Near Arras, France |
| Place of Burial: | Commemorated Arras Memorial France |
| Born or Lived in Dartmouth? | Yes |
| On Dartmouth War Memorial? | Yes |
| On St Saviour's Memorials? | Yes |
| On St Petrox Memorials? | No |
| On Flavel Church Memorials? | No |
| In Longcross Cemetery? | No |
| In St Clement's Churchyard? | No |
| On a Private Memorial? | No |
| On Another Memorial? | Yes |
| Name of Other Memorial: | "The Ring of Memory" at Notre Dame de Lorette |
---
This information was last updated on Sunday 09 July 2017 at 22:35:14.