Cyril George Privett
Cyril George Privett was not born in Dartmouth, nor, so far as we know, ever lived in the town. Nevertheless both he and his brother Albert William Privett were commemorated in Dartmouth, because his mother Amelia came to live there when she remarried.
Cyril was born in Gosport in 1895. He was the younger son of Albert Privett and Amelia Eliza Bull, both of whom were from Gosport. Albert (senior), who was a Corporal in the Royal Marines, died when Cyril was not yet two. For the somewhat unusual circumstances, see the story of Cyril's brother Albert.
Cyril's mother Amelia remarried in 1906. Her second husband was Andrew Thomson, from Dundee, in Scotland. When Amelia and Andrew moved to Dartmouth, because Andrew went to work at the Royal Naval College, Cyril did not move with her (so far as Census records indicate). Instead, he remained in Hampshire, living with his paternal grandparents, Charles and Elizabeth Privett, in Bedhampton, north of Portsmouth.
Service
Cyril decided to make the Army his career, and enlisted in the Devonshire Regiment. His service papers have not survived, but Soldiers Died in the Great War states that he enlisted in Chichester, and his service number indicates that he enlisted sometime between May 1913 and March 1914. (Soldiers Died in the Great War gives an incorrect service number, 7810; the correct number, as shown in the Regiment's Medal Rolls and other records, is 9810).
Cyril was thus already serving in the Army at the outbreak of war. The 1st Battalion was in Jersey in August 1914, and went straight to Le Havre, on 21st August 1914. They moved into the front line in September, and fought in the Battle of the Aisne, subsequently fighting near the La Bassée Ridge with heavy losses.
However, Cyril did not go with them, most probably because he was still under 19 in August, the age at which soldiers qualified to proceed on active service. It appears that he was one of a contingent of about 180 young soldiers who were sent back to Exeter from Jersey; the 1914 Star Medal Roll shows that he did not arrive in France until 3rd December 1914. Exactly when he joined the Battalion is not recorded, though quite a large party of reinforcements joined late in January and Cyril may have been one of them. At that time, the 1st Battalion were holding a sector of the newly established front line at Wulverghem, south of Ypres.
Cyril joined the Battalion at about the same time as (Robert) George Peters, one of Dartmouth's earliest recruits after war was declared. For the experiences of the 1st Battalion between early 1915 and September 1916, including the Battle of Morval (part of the Battle of the Somme) see George Peters' story. It seems, therefore, that Cyril had managed to come through the 1st Devons' involvement in the Somme, even though the Battalion had lost nearly 40% of those in action during the three months they had been part of the battle.
According to the Regimental Historian, "from the beginning of October till the spring offensive opened in April 1917, the 1st Devons enjoyed relative quiet". They had left the Somme, and had been moved northwards to the Givenchy and Cuinchy sectors of the line; the conditions were as much of a challenge as the enemy, because the ground where the line ran was very wet; "in many places, the line was held by detached posts, "islands" in the water; nearly everywhere breastworks had to be substituted for trenches, reliefs had to be carried out above ground as communication trenches, where they existed, were generally better adapted for navigation than walking".
Death
On 22nd January 1917, the 1st Devons relieved the 16th Royal Warwicks, in the "Village" line, in the Cuinchy sector. The Battalion's War Diary records, for four successive days, "nothing of note occurred".
On 26th January, the 1st Devons relieved the 1st East Surreys "in the left sub-sector" of the line. Once again, for three days, they were "in trenches, nothing of note occurred".
On 30th January, the 1st Devons were in turn relieved by the 1st East Surreys from the front line, and withdrew to Brigade Reserve billets at Le Quesnoy. At some point on this day, according to all other available records, Cyril was killed "in action", though the War Diary makes no reference to any casualties at all on that day, recording only "To Hospital two other ranks, from Hospital one other rank".
The Regimental Historian observes that, due to the conditions, "neither mining nor raiding was feasible; rapid movement was out of the question; artillery bombardments lost effectiveness when shells buried themselves in the mud without exploding; consequently, it was difficult to do much more than snipe whenever a target offered itself". Perhaps Cyril was just such a target, while the relief was being carried out and cover was limited.
Cyril was buried at Gorre British and Indian Cemetery, used by troops using this sector of the line between spring 1915 and spring 1918.
News reached Dartmouth relatively quickly, before Cyril's name appeared in published casualty lists. The Dartmouth Chronicle of 16th February 1917 carried the following announcement from Cyril's mother Amelia:
Deaths: Privett, January 30th 1917, killed in action Cyril George Privett, 1st Devon Regt, the dearly loved youngest son of Amelia Thomson and beloved brother of Edith Privett, Devonia, South Town, aged 21 years.
A duty nobly done.
Amelia had lost both of her sons within eight months - Cyril's brother Albert had been killed at the Battle of Jutland on 31st May 1916.
Commemoration
Cyril's grave in Gorre Cemetery is marked by a Commonwealth War Graves Commission headstone.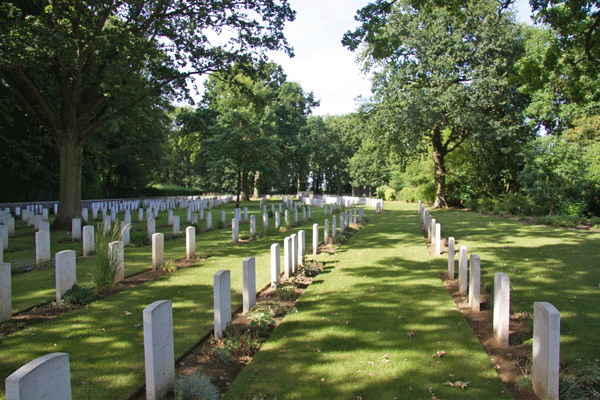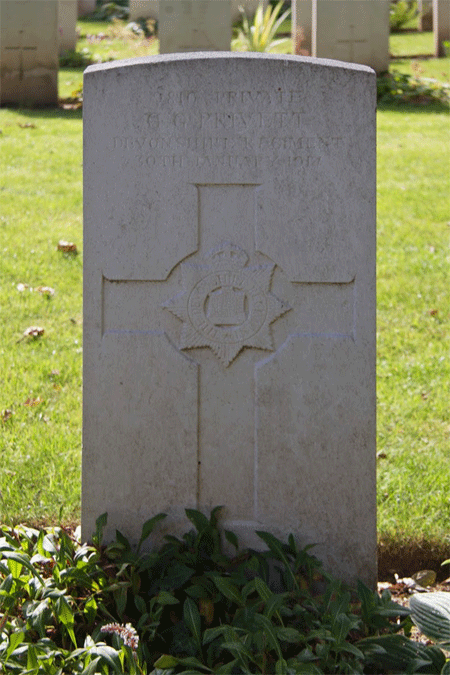 As one of the 579,206 casualties in the region of Nord-Pas-de-Calais, Cyril is also commemorated on the new memorial at Notre Dame de Lorette, "The Ring of Memory".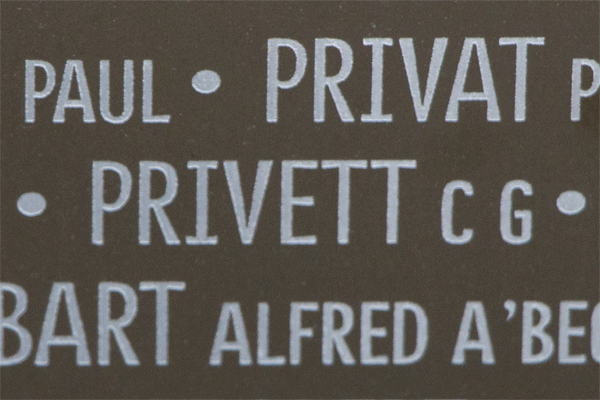 Ring of Memory memorial at Notre Dame de Lorette
In Dartmouth, he is commemorated along with his brother on the Town War Memorial and on the St Saviour's Memorial Board.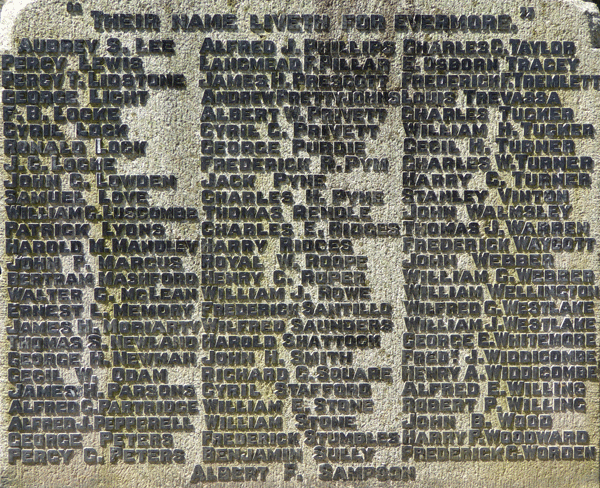 Dartmouth Town Memorial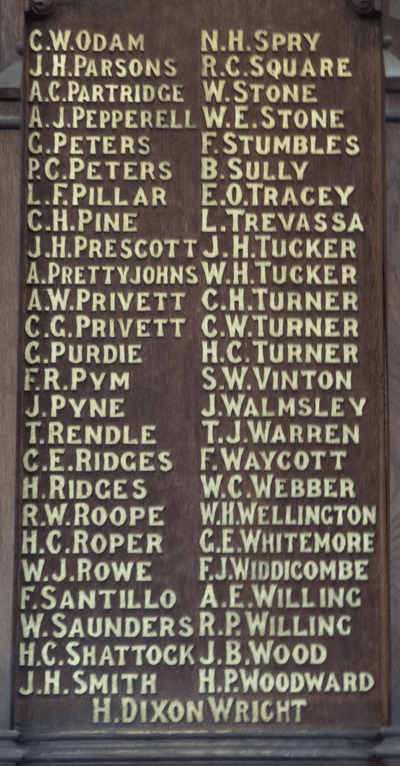 St Saviour's Memorial Board
Sources
The War Diary of the 1st Battalion Devonshire Regiment January 1916 - November 1917 is available for download from the National Archives, fee payable, reference WO 95/1579/3
The Devonshire Regiment 1914-1918, compiled by C T Atkinson, publ 1926, Exeter and London
Information Held on Database
| | |
| --- | --- |
| Surname: | Privett |
| Forenames: | Cyril George |
| Rank: | Private |
| Service Number: | 9810 |
| Military Unit: | 1st Bn Devonshire Regiment |
| Date of Death: | 30 Jan 1917 |
| Age at Death: | 21 |
| Cause of Death: | Killed in action |
| Action Resulting in Death: | |
| Place of Death: | Near Le Quesnoy, France |
| Place of Burial: | Gorre Cemetery, France |
| Born or Lived in Dartmouth? | Yes |
| On Dartmouth War Memorial? | Yes |
| On St Saviour's Memorials? | Yes |
| On St Petrox Memorials? | No |
| On Flavel Church Memorials? | No |
| In Longcross Cemetery? | No |
| In St Clement's Churchyard? | No |
| On a Private Memorial? | No |
| On Another Memorial? | No |
---
This information was last updated on Sunday 09 July 2017 at 22:13:12.