Albert William Privett
Albert William Privett was not born in Dartmouth, nor, so far as we know, ever lived in the town. Nevertheless both he and his brother Cyril George Privett were commemorated in Dartmouth, because his mother Amelia came to live in the town when she remarried.
Family
Albert William Privett was born on 13th October 1890 in Gosport, Hampshire. He was the eldest son of Albert Privett and his wife Amelia Eliza Bull, both born in Gosport.
Albert Privett (senior) was the son of Charles Privett and Elizabeth Gover, both born in Bedhampton, near Portsmouth. Charles Privett had joined the Royal Marine Light Infantry, rising to the rank of Pioneer Sergeant. At the time of the 1871 Census, the family lived in the Royal Marine Light Infantry Barracks at Forton, Gosport (which subsequently became HMS St Vincent), and Charles was a Corporal. When Charles left the Royal Marines, the family settled very close by the Barracks. The 1881 Census recorded them living above the Royal Marine Artillery Arms in Lower Mill Lane, Forton.
Albert (senior) followed his father into the Royal Marine Light Infantry, joining as a Private on 14th April 1885. After his initial training, his first tour at sea was in HMS Sapphire, an Amethyst class wooden screw corvette launched in 1874. From 1883 she was on the China Station. Sapphire and Albert returned to England and was "paid off" on 15th July 1889 to rejoin the Portsmouth Division of the RMLI. On 26th December 1889, he married Amelia Eliza Bull, in Gosport.
Amelia was the daughter of James Bull and his wife Margaret Pycroft. James was a "special labourer" at the Royal Clarence Victualling Yard in Gosport, from which the fleet was provisioned. In the 1871 Census, Amelia and her family were recorded living in "Mill Yard No 1", where grain was milled and baked into bread and other products to be supplied to the fleet.
In 1885, Amelia's elder brother James Bull (junior) married Albert's younger sister, Selina Privett; and the Bulls and the Privett families became even more closely connected as Amelia and Albert married in 1889, followed in 1895 by the marriage of Amelia's younger sister Jane to Albert's younger brother Thomas.
Albert and Amelia settled in Forton. The 1891 Census recorded Albert, Amelia, and Albert William, a babe-in-arms aged 5 months, living in Upper Mill Lane. Next door one way were Amelia's mother and father, James and Margaret Bull, with their younger children; next door the other way were Albert's mother and father, Charles and Elizabeth Privett.
Albert had been promoted to Corporal in 1890. He was based in Portsmouth until October 1892, when he embarked upon a tour of duty in the guardship at Southampton, a role taken first by HMS Invincible, and then by HMS Australia. He was promoted to Lance Sergeant on 30th September 1894. At home, Albert William was joined by a sister, Edith, born on Christmas Eve 1892.
Albert's final tour, as it turned out, was in HMS Volage, in which he embarked on 22nd May 1895. Volage was a corvette built in the late 1860s and was by this date nearly at the end of her career with the Royal Navy. She had been assigned to the Training Squadron. Albert and Amelia's third child, Cyril George, was born at about this time (we do not know the precise date).
The Portsmouth Division of the Training Squadron, Active and Volage, left Portsmouth early on 31st May 1895, joined up with Ruby and Calypso, and was off Guernsey on 6th June. The Guernsey Star reported that "Beyond the usual hilarity shown by "Jack" when he comes ashore and the inevitable grog which is a permanent part of his spree, the behaviour on the whole of the men has been excellent".
The summer cruise of 1895 took the Squadron north, calling at Lerwick, Trondheim and Hammerfest (northern Norway), before returning to England. The winter cruise took them to the West Indies, the Squadron now comprising Active, Volage, Calypso and Champion - an enjoyable itinerary, but not without incident. In the summer of 1896 the Squadron was back again off Guernsey, but Volage hit a rock and had to go back to Portsmouth. Perhaps Albert took the opportunity to see his family one more time before Volage rejoined the squadron a few weeks later, to head once again into northern waters, followed by a winter cruise to the south. On 30th November 1896 the squadron was at Tenerife.
Three weeks later, Albert died in Las Palmas, on 21st December 1896. His service record provides no description of the cause of death but the incident was described in various newspaper accounts of the time in the first few days of 1897.
On Saturday 2nd January 1897, several papers carried the following story:
A Portsmouth correspondent telegraphs that mail advices from Las Palmas dated December 23, received yesterday, state that Lance-Sergeant Privett, RMLI, serving in the Volage, one of the ships of the training squadron, was drinking with some friends on shore and refused to leave, whereupon the proprietor of the establishment shot him with a revolver and he died shortly afterwards. The remains were taken back to the ship and interred with naval honours.
Others carried a fuller account:
Murderous work in the Canaries
Letters received at Portsmouth yesterday from the training squadron at Las Palmas, dated December 23rd, state that on the previous Sunday night a petty officer of the Active was attacked and left insensible just outside the town. The motive was apparently robbery, but no serious consequences are anticipated. The following evening, however, Lance-Sergeant Privett, Royal Marine Light Infantry, was killed under singular circumstances. He visited a cabaret with some bluejackets, and the party refused to leave when requested. Accounts of what happened subsequently are conflicting, but it seems that the proprietor of the shop drew a revolver and shot Privett in the abdomen. The injured man became insensible and died without making a statement. He was buried next afternoon with full naval honours, a party of Spanish riflemen firing a salute over the grave.
The London Daily News of 2nd January 1897 reported additionally that the "wife of the proprietor appeared on the scene and is said to have used abusive language to the men, also threatening to strike one of them".
By the following week, 9th January 1897, a rather different version had emerged. The fullest account appeared in the Rhyl Record and Advertiser, which reported the story as follows:
Further details have come to hand in regard to the shooting of Lance-Sergeant Privett at Las Palmas. Privett entered the Royal Marines in 1885, his father having been a pioneer sergeant before him. His home was at Gosport, where his widow and three young children still reside. According to a letter from the chaplain of the Volage, it appears that the men were leaving the cabaret when the Spanish proprietor, who had been worked into a state of great excitement through the chaff of the Englishmen, fired deliberately into the crowd, hitting Privett, who died before reaching the deck of the Volage. His only remark was: "I am dying: my poor wife." An English officer came upon the scene in time to see the Spaniard with a smoking revolver in his hand. The assailant made no attempt to escape, but the feeling of resentment on the part of the English sailors was so great that had he not been promptly arrested by the Spanish police he would probably have fared badly at the hands of the bluejackets. The deceased's brother is a drill instructor at the Marine Depot, Walmer.
(The last sentence is a reference to Albert's elder brother Charles, a Sergeant Instructor at Walmer at the time).
Whatever the truth of the matter, Amelia was left widowed with three young children. The 1901 Census suggests that she was in some difficulty. She was recorded running an off-licence in Bedford Street, Portsmouth, and Cyril, by then aged six, was the only one of her children living with her, though the others were not far away. Albert William, aged ten, was living with his grandparents James and Margaret Bull, at 79 Melville Road, Gosport. Edith, aged eight, was in the Royal Seamen and Marines Orphan School and Home in St Michael's Road Portsmouth. This was one of a number of establishments receiving funds from the Royal Patriotic Fund, originally set up in 1854 by Queen Victoria to provide support for widows and orphans of British servicemen dying in the Crimean War (pensions were not granted to war widows until 1901).
In 1906 Amelia remarried, in Portsmouth. Her second husband was Andrew Thomson, born in Dundee, Scotland. How they met is not known. By the time of the 1911 Census, she and Andrew had moved to Dartmouth, where he worked as a Cadet Servant at the Royal Naval College. They lived at 4 Willsdene Terrace, Victoria Road. Amelia's daughter Edith lived with them, but both her brothers had remained in Hampshire. Albert William still lived with his grandparents, James and Margaret Bull, at 79 Melville Road Gosport. James had now retired from the Victualling Yard, describing himself on the Census form as "Special Labourer Pensioner Late Clarence Victualling Yard". Albert William worked as a farm labourer. Cyril, aged sixteen, lived with his other grandparents, Charles and Elizabeth Privett, who had by now moved back to Bedhampton, north of Portsmouth, where they were born.
Amelia was widowed a second time in 1914. Andrew Thomson died aged 46 and was buried on 2nd March 1914 at St Clement's Townstal. The burial service was conducted by Reverend Henry Dixon-Wright, at that time Chaplain at the Royal Naval College, presumably because Andrew Thomson worked at the College. Henry Dixon-Wright was also a casualty at the Battle of Jutland, and is also on our database.
Service
Albert William did not follow his father, grandfather and uncles into the Royal Marines, but joined the Navy at Portsmouth as a Stoker on 31st December 1912, aged 22, on a twelve-year continuous service engagement. His naval service record states that he was 5ft 5¼ ins, with brown hair, grey eyes, and a "fresh" complexion. His previous occupation was "labourer".
After six months initial training at Portsmouth he was assigned as a Stoker 2nd Class to HMS Albemarle, at that time a gunnery training ship, from 17th June 1913 to 3rd September 1913. He was appointed to HMS Queen Mary as a Stoker 1st Class on 4th September 1913.
For his service in HMS Queen Mary, including the ship's fate at the Battle of Jutland, see our separate article here.
Cyril in the meantime had enlisted in the Army, joining the 1st Battalion of the Devonshire Regiment. His service papers have not survived but his number indicates that he enlisted sometime betweeen May 1913 and March 1914. His story will be published in 2017.
Death
On 9th June 1916, the following announcement appeared in the Dartmouth Chronicle:
Privett - May 31st, killed in action on HMS Queen Mary, Albert William, dearly loved eldest son of Amelia Thomson, and dear brother of Edith Privett, Devonia, South Town, aged 25 years.
One of God's chosen.
Commemoration
Albert William is commemorated in Dartmouth on the Town War Memorial and on the St Saviour's Memorial Board.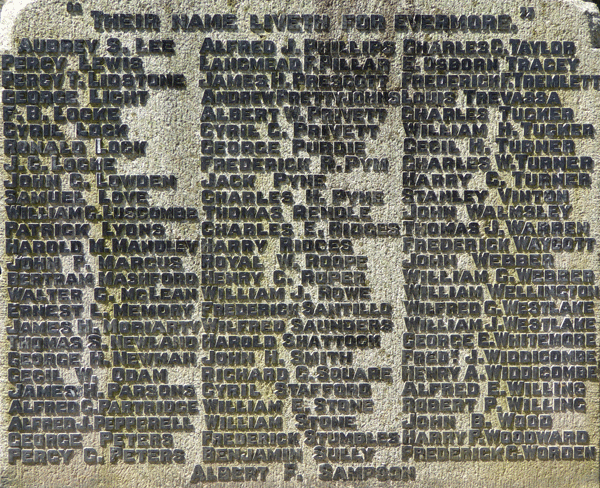 Dartmouth Town Memorial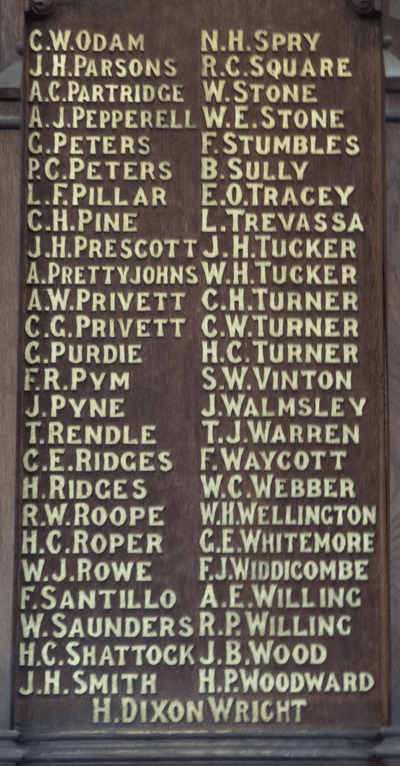 St Saviour's Memorial Board
Because he sailed from Portsmouth, and has no known grave, being lost at sea, he is commemorated on the Portsmouth Naval Memorial, doubly appropriate as this is close to where he was born.
Sources
Naval and Royal Marine service records available for download from The National Archives, fee payable:
Gosport Society: Forton Barracks, including pictures of the barracks in use
Information Held on Database
| | |
| --- | --- |
| Surname: | Privett |
| Forenames: | Albert William |
| Rank: | Stoker 1st Class RN |
| Service Number: | K/17166 |
| Military Unit: | HMS Queen Mary |
| Date of Death: | 31 May 1916 |
| Age at Death: | 25 |
| Cause of Death: | Killed in action |
| Action Resulting in Death: | Battle of Jutland |
| Place of Death: | North Sea |
| Place of Burial: | Commemorated Portsmouth Naval Memorial |
| Born or Lived in Dartmouth? | Yes |
| On Dartmouth War Memorial? | Yes |
| On St Saviour's Memorials? | Yes |
| On St Petrox Memorials? | No |
| On Flavel Church Memorials? | No |
| In Longcross Cemetery? | No |
| In St Clement's Churchyard? | No |
| On a Private Memorial? | No |
| On Another Memorial? | No |
---
This information was last updated on Monday 30 May 2016 at 23:10:51.