Thomas Creber Cole
Thomas Creber Cole was born in Coombe (or Combe), near Stoke Fleming, along the coast from Dartmouth. He is on our database because his death was announced in the Dartmouth Chronicle.
Family
Thomas was born on New Year's Day, 1887, and baptised a little over two months later on 6th March at St Peter's Stoke Fleming. He was the seventh of eight children of Henry Cole and his wife Susan Creber. Henry and Susan had come to Coombe after their marriage in Slapton on Christmas Day, 1873. Henry was an agricultural labourer, born very close by in Slapton; Susan was the daughter of Thomas and Louisa Creber, from Chivelstone, near Kingsbridge.
Henry and Susan appear to have spent the rest of their lives in Coombe where Henry continued to work as a farm labourer. Of their eight children, all of whom were baptised at St Peter's Stoke Fleming, five survived:
Thomas George, born 1875, died age 1 in 1876
William Henry, born 1877
Mary Elizabeth, born 1880
George, born 1882
Anna Maria and Louisa Creber, twins (born on 17th and 18th July, 1884); Anna Maria died early in 1885 and Louisa a little later the same year
Thomas Creber, born 1887
Florence Lily, born 1890
After Florence Lily was born, Thomas spent some time with his maternal grandparents, Thomas and Louisa Creber in Chivelstone, and was recorded there in the 1891 Census, aged 4. In 1901 he was living at home at Coombe with his parents and was already at work, age 14, as a farm labourer. In 1911 he was working as a gardener, still living at home with his parents, along with his elder brother William, a carpenter, and younger sister "Lily".
Thomas' father, Henry died in 1913; his mother Susan continued to live at Coombe Cottage until after the war.
Service
Unfortunately, like so many, Thomas' full service papers have not survived. Piecing together a number of records, it appears that he enlisted in the Devonshire Regiment in the earliest weeks of the war. His service number, 10616, suggests that he enlisted on 1st or 2nd September 1914 (10624 and 10629 enlisted on 2nd September 1914 in Exeter, and 10617 enlisted on 1st September 1914 in Devonport). Soldiers Died in the Great War records that he enlisted in Exeter. He joined Kitchener's Army when recruiting was at its height, and along with many others in Devon, joined the 8th Battalion. His Medal Index Card confirms that he arrived in France on 25th July 1915.
He was alongside several men from Dartmouth and the surrounding area. For the Battalion's experiences until 8th September 1915, please see the story of Andrew Prettyjohn, killed by sniper fire on that day. For the Battalion's experiences up to, and including the Battle of Loos on 25th September 1915, please see our separate article. For their experiences after Loos, until 10th February 1916, see the story of George Burnell, killed on that day by shrapnel whilst on sentry duty. The 8th Battalion was at this time in February already in the front line in the Somme region, near Fricourt.
It seems from subsequent records that Thomas was in the Machine Gun section of the 8th Battalion. At the beginning of the war there were two belt-fed machine guns per infantry battalion or cavalry regiment, and the sections were deployed with their battalions. However, experience proved the need to concentrate these vital resources, for much greater effectiveness. So, the Machine Gun Corps was formed by Royal Warrant on 14th October 1915, with Infantry, Cavalry and Motor Branches (a fourth branch, called the Heavy Branch, followed in March 1916).
The Infantry Branch was formed by the transfer and amalgamation of battalion machine gun sections into specialised brigade machine gun companies; the 20th Machine Gun Company, attached to 20th Brigade and 7th Division, was thus formed from the machine gun sections of the 2nd Bn Border Regiment, 2nd Bn Gordon Highlanders, 8th Bn Devonshire Regiment and 9th Bn Devonshire Regiment, on 10th February 1916. Thomas therefore acquired a new cap badge, with two crossed Vickers guns surmounted by a crown, and a new regimental number, 18524. The 8th Battalion, meanwhile, acquired two of the smaller, light Lewis machine guns.
Death
It seems that at about this time or shortly after, Thomas was wounded. The precise circumstances and date are not known. By 25th February he had reached the 5th Casualty Clearing Station, at La Neuville, outside the town of Corbie, where he died of his wounds.
The following announcement appeared in the Dartmouth Chronicle on 17th March 1916:
Roll of Honour
Deaths
Cole - February 25th at No 5 Casualty Clearing Station Hospital, France, Lce Corporal T C Cole, 5th Devon Regiment, who died from wounds received in action. The dearly beloved son of Mrs S Cole, Coombe, Stokefleming, Dartmouth.
A day of remembrance sad to recall.
The reference to 5th Devon Regiment may have been a newspaper error. Further, the news of Thomas's transfer to the Machine Gun Corps seems not to have reached the hospital, for Commonwealth War Grave Commission records show him as a member of 8th Bn Devonshire Regiment on the date of his death. However, he is on the Machine Gun Corps Medal Rolls for the 1914-15 Star and the British and Victory Medals.
Commemoration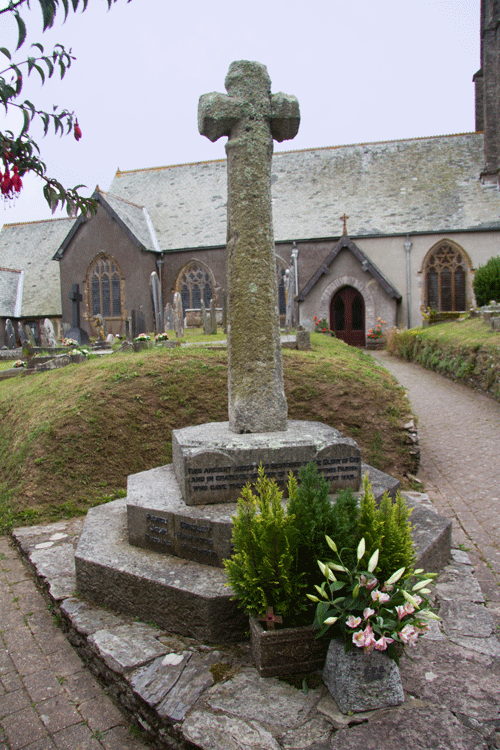 Memorial at St Peter's Church Stoke Fleming
Thomas is buried in Corbie Communal Cemetery, the cemetery used by the Casualty Clearing Station at which he died, where his grave is marked by a Commonwealth War Graves Commission headstone.
In England he is commemorated on the Stoke Fleming War Memorial, where his name appears just above that of Noel Exell, also on our database.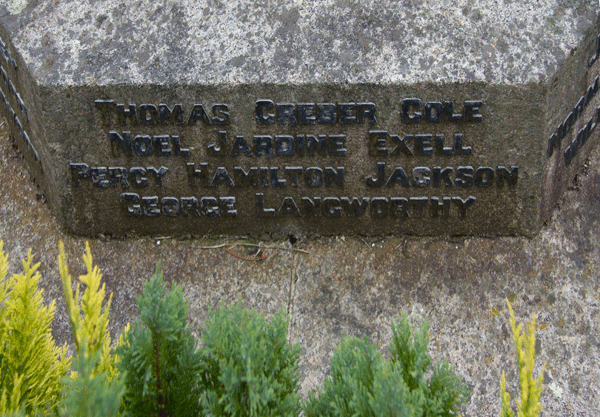 Stoke Fleming War Memorial
Sources
20th Machine Gun Company, Machine Gun Corps from the Vickers Machine Gun Website
Information Held on Database
| | |
| --- | --- |
| Surname: | Cole |
| Forenames: | Thomas Creber |
| Rank: | Corporal |
| Service Number: | 10616 (Devonshire Regiment) and 18254 (Machine Gun Corps, Infantry) |
| Military Unit: | 8th Battalion Devonshire Regiment and Machine Gun Corps (Infantry) |
| Date of Death: | 25 Feb 1916 |
| Age at Death: | 29 |
| Cause of Death: | Died of Wounds |
| Action Resulting in Death: | Not known |
| Place of Death: | 5th Casualty Clearing Station, La Neuville, near Corbie, France |
| Place of Burial: | Corbie Communal Cemetery |
| Born or Lived in Dartmouth? | No |
| On Dartmouth War Memorial? | No |
| On St Saviour's Memorials? | No |
| On St Petrox Memorials? | No |
| On Flavel Church Memorials? | No |
| In Longcross Cemetery? | No |
| In St Clement's Churchyard? | No |
| On a Private Memorial? | No |
| On Another Memorial? | Yes |
| Name of Other Memorial: | Stoke Fleming War Memorial, Dartmouth Chronicle obituary |
---
This information was last updated on Tuesday 16 February 2016 at 22:08:59.