Frederick Carder
Family
Frederick Albert Carder ("Fred") was born on 2nd March 1894 in Dartmouth. He was the youngest child in the large family of Samuel Thomas Carder and Julia Hopson (or Hobson) Triggs. For more on his family, see the story of Ernest James Triggs Carder (James), his elder brother.
In 1911, both of his parents having died two years earlier, Fred, aged 17, lived with James and his wife Elizabeth, and their children, in Gospel Lane, Dartmouth. At that time, he worked as a porter for the Cooperative Stores, but by 1915, he was working as a Baker. James and Elizabeth and their family had moved to Paignton but Fred still lived in Dartmouth, with (presumably) a relative of his mother's - his address on enlistment was given as c/o "Mr Triggs, South Embankment, Dartmouth".
Service
On 7th June 1915, Fred enlisted with the Royal Naval Division, one of four men from Dartmouth to do so at that time, listed in the Dartmouth Chronicle on 18th June 1915. The Royal Naval Division had been formed early in the war as an Infantry Division from the Royal Marine Brigade and Naval Reservists mobilised but surplus to the needs of the Navy. For the early history of the Division, see the story of William Henry Wellington. The RND ran a high-profile recruitment campaign in the first year of the war, to which, apparently, Fred responded.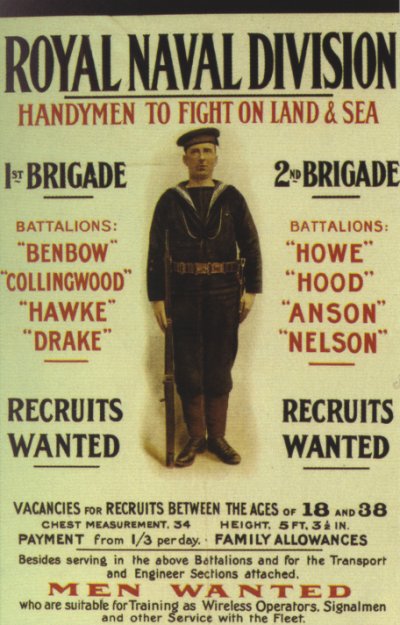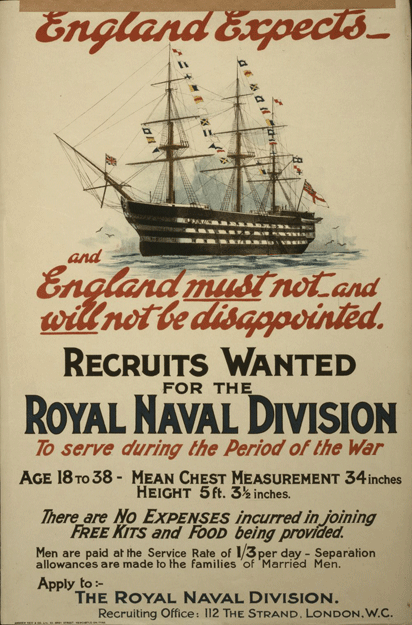 Royal Naval Division recruitment posters
Fred duly reported to the Royal Navy's recruitment depot at the Crystal Palace, Sydenham, and began his service there as an Ordinary Seaman; on 23rd July 1915 he was transferred to the Royal Naval Division's depot at Blandford. In his history of the Royal Naval Division, Douglas Jerrold describes the divisional depot as
entirely self-contained, and isolated from all other troops in training ... [it was] the Division in miniature; all units were represented there, and each supplied each other's wants. It provided its own engineering services, its own medical services, its own hospital, its own rifle range, its own chaplains, its own supply and transport, all responsible solely to the Camp Commandant.
Fred's record does not record in which section he served, but while at Blandford he was rated Able Seaman on 7th September 1915.
After the Royal Naval Division had returned from the Middle East early in 1916, there was some debate about its future. It was eventually decided that it should go to France, where it arrived in May 1916. To bring the Division up to full strength after the losses in Gallipoli, an army brigade was added (the 190th), and the name of the Division changed to the 63rd (RN) Division. However, the Admiralty still retained the right to withdraw men for sea service.
Apparently Frederick was one of those withdrawn - he did not go to France with the rest of the Division but was one of those who either chose, or was picked for, the Navy. On 14th April 1916 he was transferred to the "Stoker Unit" back at the Crystal Palace, from which he was drafted on 4th July 1916 into the Navy, "for hostilities", as a Stoker 2nd Class. From his RND and RN service records we know that he was 5ft 7ins tall, with light auburn/brown hair, blue eyes and a fresh complexion. After more training in Portsmouth, Frederick was appointed on 26th August 1916 to HMS Blake, for the destroyer HMS Broke.
At the outbreak of war, HMS Broke was one of four destroyers under private construction in the United Kingdom for the Chilean Navy. The ships were instead purchased by the Admiralty and completed for the Royal Navy. They were larger than their contemporaries, with heavier armament.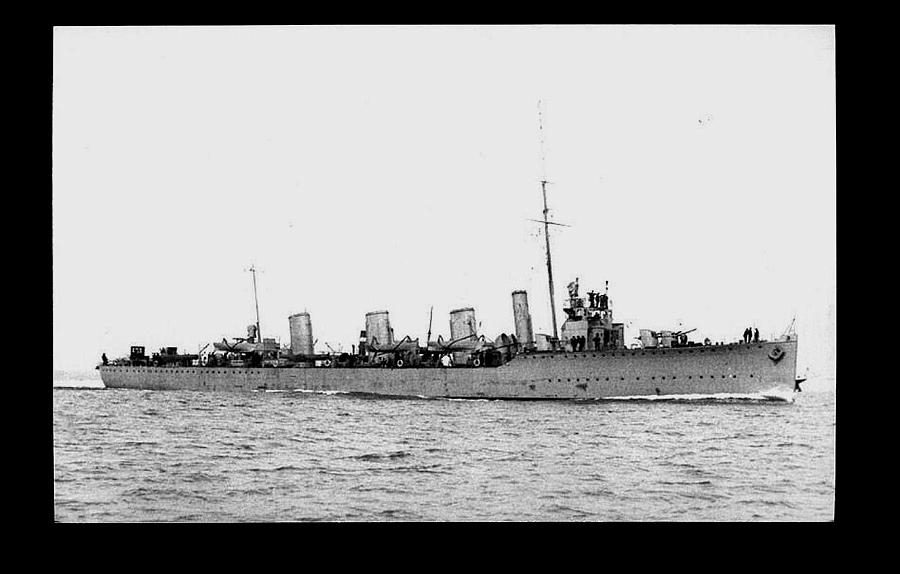 HMS Broke
HMS Broke had fought at the Battle of Jutland, sustaining heavy casualties during the night action when hit by German dreadnoughts Westfalen and Rheinland. Out of control she then collided with HMS Sparrowhawk at high speed. Eventually Broke was able to extricate herself and was just able to get back to Tyneside. Fred must have joined her as she completed her repairs.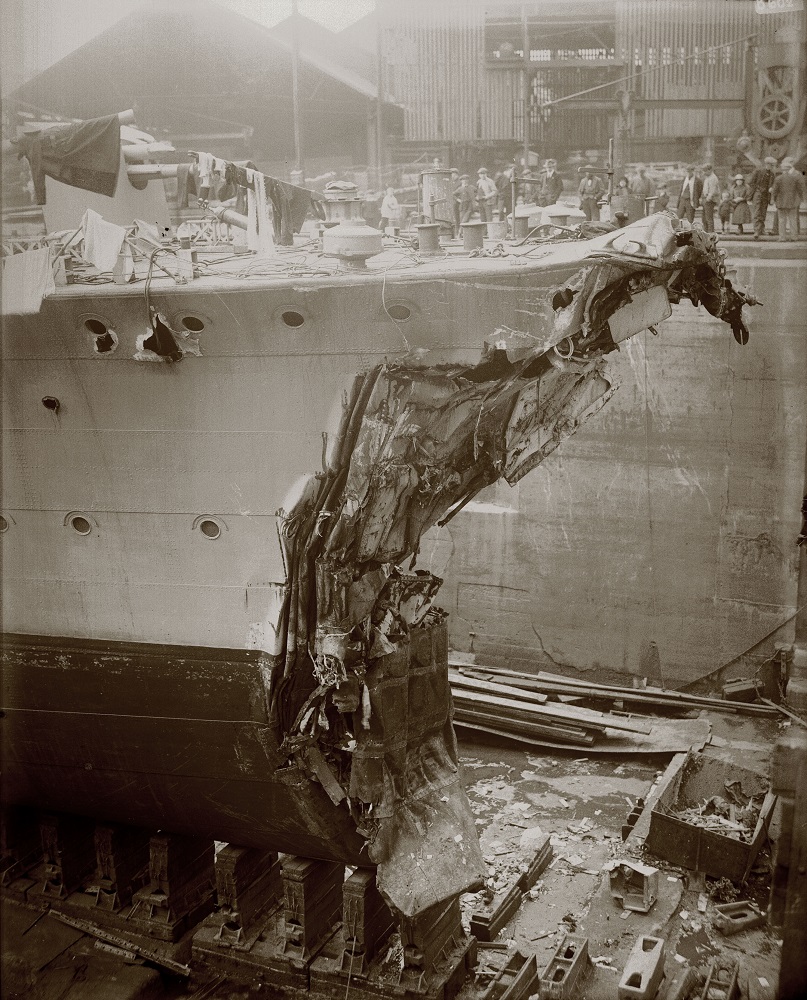 HMS Broke in dry dock on Tyneside
Broke remained with the Grand Fleet until December 1916, transferring from the Fourth Destroyer Flotilla to the Eleventh Destroyer Flotilla in October. She was then transferred to the Dover Patrol, Frederick transferring with her. On 1st January 1917, he was rated Stoker 1st Class.
For more on the Dover Patrol, see the story of Thomas Samuel Newland.
(Second) Battle of Dover Strait
Although, after the Battle of Jutland, the German High Seas Fleet remained pinned down in its home base by the British Grand Fleet, there were twenty-two German destroyers stationed at Zeebrugge and Ostend. In early 1917, the German navy conducted a series of raids on Allied ports in and around the English Channel, in an attempt to regain the offensive at sea. Raids were short, but nonetheless impacted on British morale and prestige. In March 1917, a merchant ship, the SS Greypoint, was sunk while anchored off the Kent coast due to engine trouble.
A new German destroyer force arrived in Flanders during the last week in March, and a further attack on the Dover Straits was planned, with (roughly) half the available force targeting Dover (the "5th half flotilla") and the other half, Calais (the "Z half flotilla). Four British destroyers led by HMS Nugent were patrolling between Calais and no. 7A Buoy of the barrage; while HMS Broke and HMS Swift, the destroyer flotilla leaders, were patrolling between the South Goodwins Light Vessel and no. 5A Buoy. Other Dover patrol ships were near the Downs and in Dover. The night was dark and the sea calm.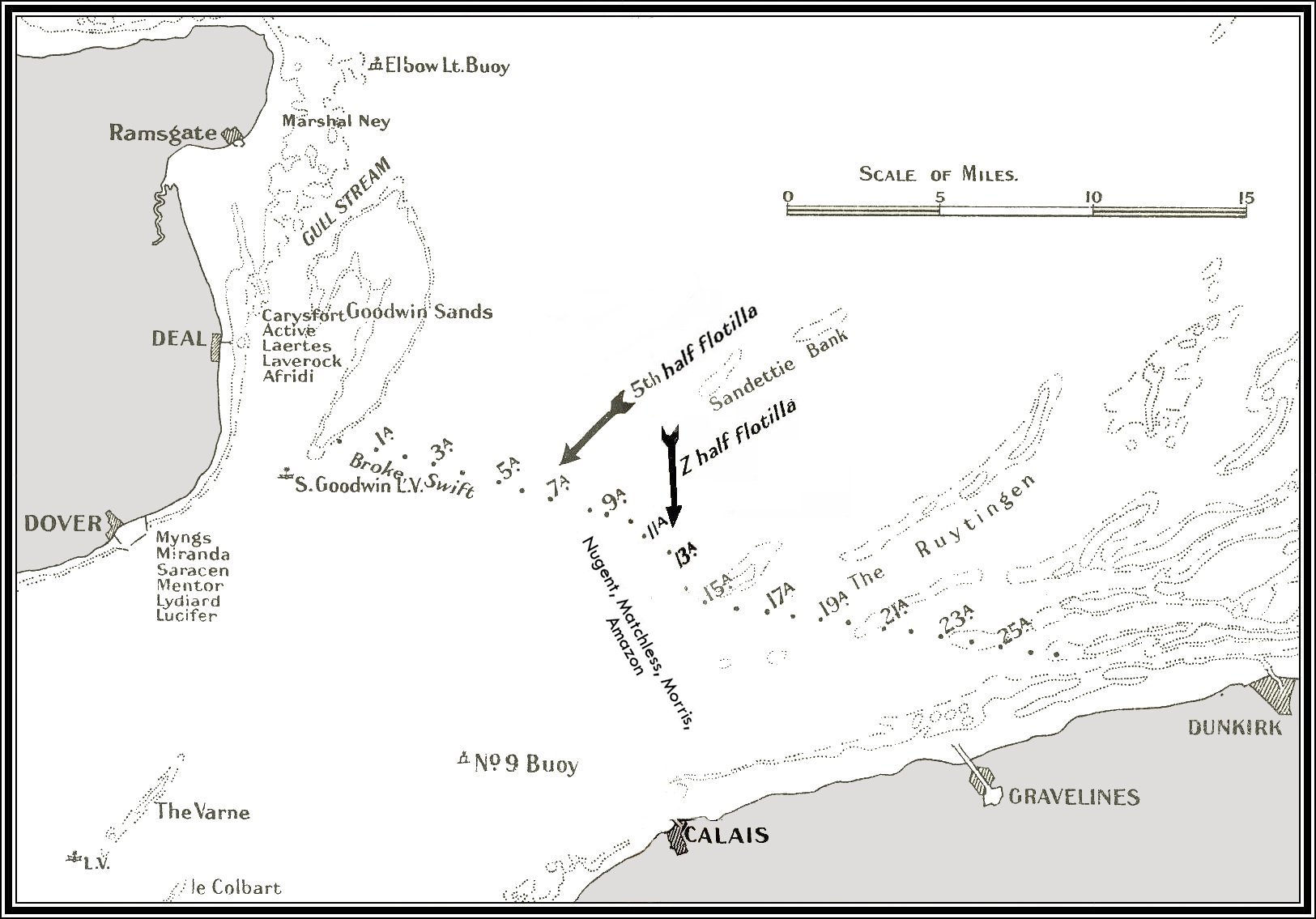 British and German Dispositions in the Dover Straits, April 20th/21st 1917, from naval-history.net.
At 2310, Z half flotilla shelled Calais briefly, and then withdrew; they were not involved in the subsequent action.
At just before 2330, Admiralty trawler Sabreur, to the south-east of Dover, sighted the 5th half flotilla. They opened fire on him and he was hit, but he was able to get away. At 2320, they opened fire on Dover, and the shore batteries responded. German fire was wild and the destroyers based in Dover were held back until it was over. The 5th half flotilla then headed for the barrage, but before reaching it they turned for the southern entrance to the Downs (the sea area between the North and South Foreland). Here they ran into HMS Swift and HMS Broke. In the meantime the reserve destroyers had come out of Dover.
HMS Swift, under Commander Peck, saw the enemy flotilla and simultaneously came under fire. He turned to ram the nearest enemy destroyer but missed. As he went through the German line he was hit several times, but himself hit one of the enemy ships, G85. Although damaged, he then gave chase to the retreating enemy flotilla, but could not maintain contact. Swift then returned to assist Broke.
HMS Broke, under Commander Evans, also turned to ram as soon as he saw the enemy ships, and crashed into G42. The two ships were locked together, and Broke's sailors had to repel German boarders in hand to hand fighting. Broke continued to fire into G42 at point-blank range, and at the same time she was fired upon by the last two German destroyers of the flotilla, also at point-blank range. When Broke got clear, she turned to follow Swift in the pursuit of the remaining ships of the enemy flotilla.
However, it became rapidly apparent that Broke was too damaged to keep up the chase; the boiler rooms were badly damaged, half the bridge was on fire, and enemy shells had exploded a number of cartridges on the deck. Commander Evans turned Broke back towards the G85, which was in flames, and the G42, which was sinking. Both opened fire; Broke returned fire; and silenced them. But at this point Broke's engines stopped altogether and she drifted very close to the burning G85. It was 0120.
Fortunately by this time the reserve destroyers from Dover had come up and they were able to take Broke in tow; a tug was called out from Dover and Broke was taken back into harbour; Swift also got home. The reserve destroyers then sank the two German destroyers and picked up survivors.
Casualties on HMS Broke were 21 killed, including Frederick Carder, and 36 wounded; HMS Swift had suffered rather less, with one killed and four wounded. Both ships were badly damaged. However, the losses to the German navy from the engagement were sufficient to deter any further enemy destroyer raids on the Dover Straits for ten months.
The action of HMS Swift and HMS Broke in sinking two destroyers was widely reported in the press. Commander Evans became known as "Evans of the Broke" and there were frequent references in newspaper columns to the "Heroes of the Broke". Both Commander Evans and Commander Peck received the DSO and were promoted, and there were many other awards to members of the crew.
Exactly how Frederick died in the engagement is not known, but evidently his body was able to be returned to his family for burial. On 27th April 1917 the Dartmouth Chronicle carried his family's discreet announcement of his death:
Carder, April 20th 1917, killed in action on HMS -----, Frederick Carder, youngest son of the late Samuel Carder aged 23. Dearly loved and sadly missed by his sorrowing brothers and sisters - Funeral today at Paignton Cemetery.
The realisation that the town could claim one of HMS Broke's heroes came a little late but three weeks later, on 18th May 1917, the newspaper carried a short report:
A Dartmouth Hero On the Destroyer Broke
At the Town Council meeting on Monday, Councillor Roberts said it was not generally known that a young Dartmothian, Frederick Carder, lost his life on HMS Broke during that brilliant engagement against six German destroyers in the Downs a week or two ago. He was 23 years of age, and the son of the late Mr Samuel Carder, who used to reside in St Saviour's Place.
Commemoration
In Dartmouth, Frederick is commemorated, with his elder brothers Richard and James, on the Town War Memorial and the St Saviour's Memorial Board.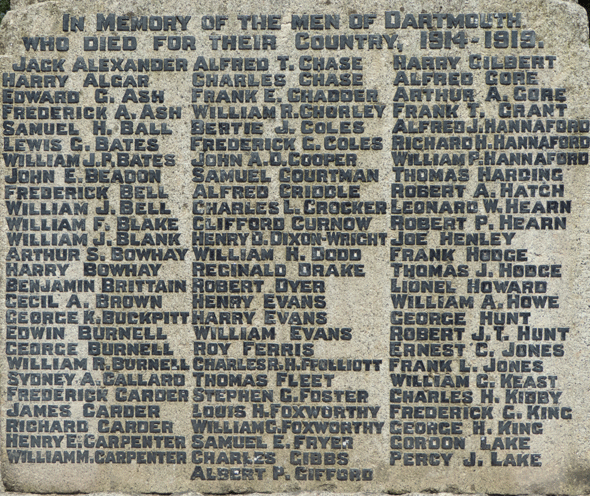 Dartmouth Town Memorial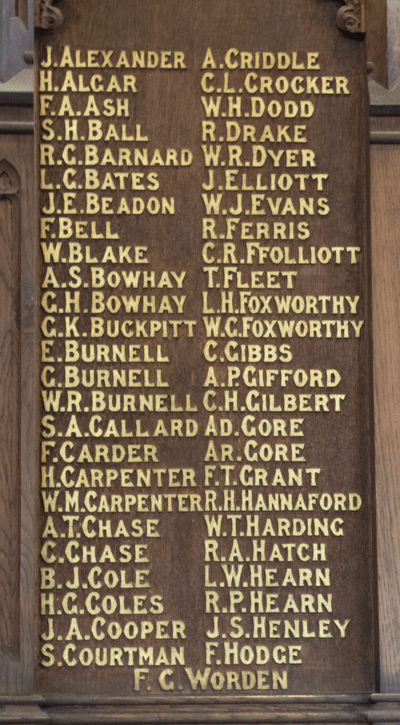 St Saviour's Memorial Board
He is buried in Paignton Cemetery, where his grave is marked by a Commonwealth War Graves Commission headstone. His sister in law Elizabeth, who had lost her husband James in 1916, commissioned an inscription:
"Oh for the shake of a hand and a sound of a voice that is still"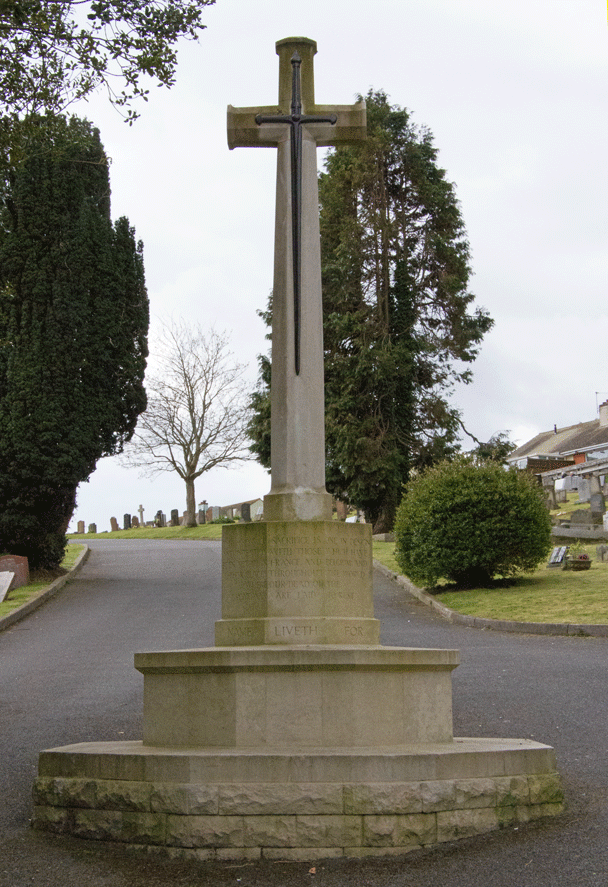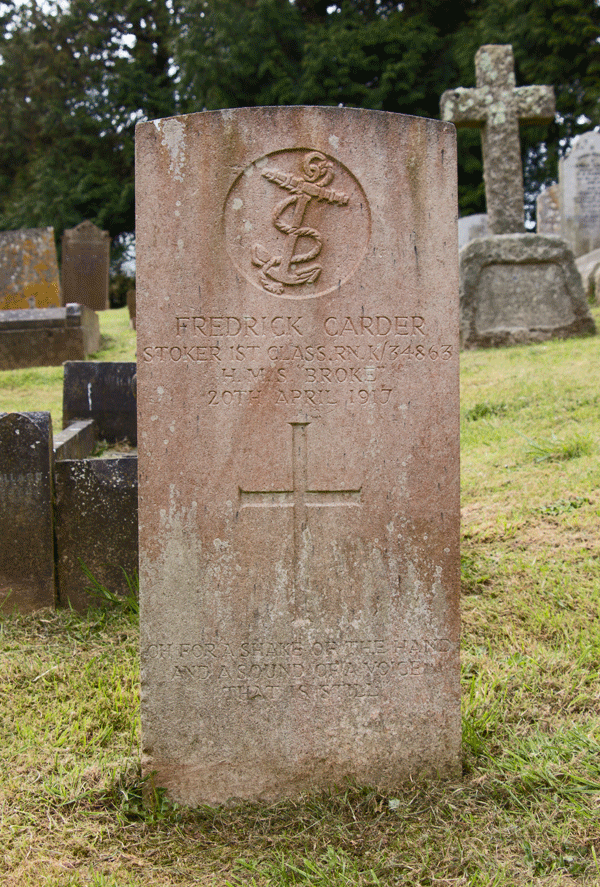 Frederick Carder Headstone, Paignton Cemetery
Sources
The Royal Naval Division Service Record for Frederick Carder is available at the National Archives, fee payable for download, reference ADM 339/1/5877
The Royal Naval Service Record for Frederick Carder is available at the National Archives, fee payable for download, reference ADM 188/936/34863
The above account of the action on 20th/21st April, including naval casualties, is based upon the outline of the battle available at naval-history.net
and on the relevant chapter of History of the Great War - Naval Operations, Volume 4, by Henry Newbolt, also accessed online at naval-history.net
The Royal Naval Division, by Douglas Jerrold, reprint, Naval & Military Press
Information Held on Database
| | |
| --- | --- |
| Surname: | Carder |
| Forenames: | Frederick |
| Rank: | Stoker 1st Class RN |
| Service Number: | K/34863 |
| Military Unit: | HMS Broke |
| Date of Death: | 20 Apr 1917 |
| Age at Death: | 23 |
| Cause of Death: | Killed in action |
| Action Resulting in Death: | Second Battle of Dover Strait |
| Place of Death: | Dover Straits |
| Place of Burial: | Paignton, Devon |
| Born or Lived in Dartmouth? | Yes |
| On Dartmouth War Memorial? | Yes |
| On St Saviour's Memorials? | Yes |
| On St Petrox Memorials? | No |
| On Flavel Church Memorials? | No |
| In Longcross Cemetery? | No |
| In St Clement's Churchyard? | No |
| On a Private Memorial? | No |
| On Another Memorial? | No |
---
This information was last updated on Thursday 20 April 2017 at 14:25:56.