Ernest James Triggs Carder
Family
Ernest James Triggs Carder was born in 1880 in Dartmouth. He was the son of Samuel Thomas Carder and Julia Hopson (or Hobson) Triggs.
Samuel Carder was born in Exmouth. He seems to have come to Dartmouth to work - the 1871 Census recorded him as one of three shipwright apprentices, all from Exmouth, boarding in Clarence St. Samuel married Julia Triggs in 1875; Julia was born in Dartmouth, the daughter of John Triggs, a labourer, and his wife Jane Wotton.
According to census records, Samuel and Julia had a large family. At the time of the 1891 Census, the family lived in Collaford Lane, near St Saviour's. In four rooms were Samuel, by now a fully qualified shipwright, Julia, and eight children:
Edward, age 14
Richard, age 12
James, as he was known in the family, age 11
Samuel (junior) age 9
Sarah Ann, age 7
Percy, age 5
Lionel, age 3
Julia (junior), age 1.
By 1901, Frank and Fred had been added to the family. Both Richard and Fred are also on our database.
The Carders' next door neighbours in 1891 were James and Mary Gore, and their family, including Alfred Francis Gore, who is also on our database.
On 31st March 1907, James married Elizabeth Seward at St Saviours. Elizabeth was slightly older than James and was born in Exeter. Her father, Edward Seward, was a bootmaker. Elizabeth had gone into domestic service in Exeter by the time she was 14, but at the time of her marriage was working in Summerland, Clarence Hill, in Dartmouth.
Their first child, Samuel Seward, was born in 1909 and baptized at St Saviours on 4th November that year. The family's address was Manor House, Above Town; James worked as a labourer. Their second son, Edward John Percy, was born early in 1911, and baptized at St Saviours on 9th August, but sadly died soon afterward. The 1911 Census recorded the family living at Gospel Lane, Dartmouth - James was working as a waggoner for a grocers shop (most probably Bartlett's - see below). Also living with them was James' youngest brother Frederick Carder, who worked as a porter for the Cooperative Stores. Samuel and Julia Carder had died within a few months of each other, in 1909.
By the time of the birth of their third child, Betty Florence, James and Elizabeth had moved to Paignton. Betty was born on 9th July 1915 and baptized at St Michael's Mission Church, Paignton, on 25th July 1915. The family lived at 13 Merritts Flats, and James worked as a Carter.
Service and Death
Conscription for single men had been introduced in January 1916 and in May 1916 it was extended to all men aged 18 to 41. James was called up in June, to the 3rd Battalion (the training battalion) of the Devonshire Regiment. His service papers have not survived, but we know about the sad circumstances of his death from a report in the Dartmouth Chronicle on 4th August 1916 (exactly two years after the start of the war), covering the inquest. The full account is reproduced here:
Dartmouth Soldier's Suicide
Distressing Result of Eczema
Pte Ernest James Triggs Carder was at about 5.30am on Saturday found in a lavatory at Granby Barracks at Devonport, with his throat cut and a razor nearby. P S Pryor was called by the corporal of the guard and found that life was extinct, the body being removed to the Military Station Hospital for an inquest to be held. Sergt Pryor ascertained that deceased joined the army at Paignton, where he was a greengrocer's vanman, and where he leaves a widow and three young children. He was 35 years of age [sic] and had been serving about seven weeks. He had been indisposed and receiving hospital treatment. On Friday night he was seen to go to bed at ten o'clock and was not missed until reveille on Saturday morning. Deceased for some years resided at Dartmouth and was vanman for Messrs J Bartlett & Co, grocers, the Quay.
The inquest was held on Monday at the Military Hospital, Devonport.
Elizabeth Carder, his widow, said her husband was a coal carter, of Paignton, at the time of joining the army on June 14th. In his letters, which were not despondent, he complained that he suffered from eczema in his legs and they did not get better. This seemed to worry him a little. He had never threatened his life. He did not complain about joining up, but was quite willing, and it was his ambition to get on in the army.
Corporal T Stonelake said deceased was a private in his company. He was not so quick, but was a man of good character and tried to do his best. He complained at times of pains in his head. On Friday night at ten deceased was in his bed, but at roll-call on Saturday morning at 5.30 he did not answer. Witness heard that he had been found with his throat cut in a lavatory, and had him removed.
In answer to a juryman, witness said each time he complained of his head he declined to see the doctor. Bandsman Alfred Stevens proved finding the body.
P S Pryor said he was called and found near the body a blood-stained razor quite closed. There was nothing on the body or in his kit to indicate any reason for the act.
Geo. Lionel Preston, surgeon, attached to the hospital, said that life was extinct when the body was brought in at [time illegible], death being due to hemorrhage through the wound in the throat. The surgeon added, in reply to the foreman, that the disease would probably make duty irksome and might affect deceased's mind.
Capt R M Kirkpatrick Cameron gave evidence that deceased had a clean sheet. He had unofficially heard that deceased had complained that he suffered from sleeplessness in consequence of eczema.
The Coroner said the jury would no doubt express their deep and sincere sympathy with the widow and children. Deceased joined up to do his bit willingly and without appeal, and was no doubt suffering from unsound mind consequent on the change in his life, the nature of his complaint, and its consequent cause of sleeplessness.
The jury returned a verdict that deceased took his life while of unsound mind, expressed sympathy with and gave their fees to the widow.
The following week the Chronicle included an announcement of James' death and burial:
Death
Carder: July 29th at Granby Barracks, Devonport [illegible ...] husband of Lizzie Carder, Welk Street, Paignton, and third son of the late Mr and Mrs Samuel Carder, of Dartmouth, age 37, interred at Paignton Cemetery August 5th
Commemoration
James was just as much a victim of the war as those killed or wounded in action. No doubt for this reason, he was commemorated along with his brothers Richard and Frederick on the town War Memorial.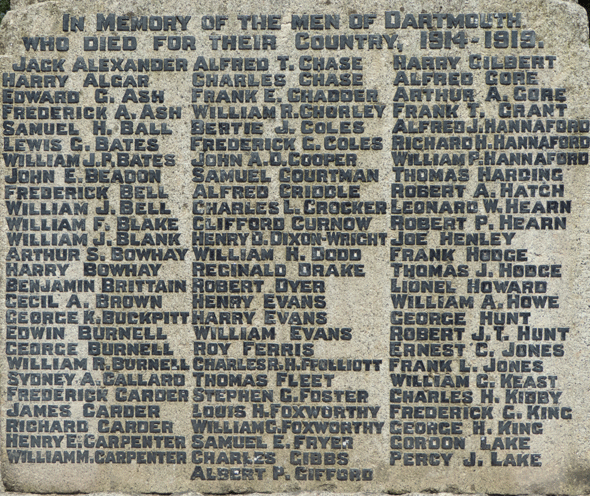 Dartmouth Town Memorial
Along with his brother Richard, he is also commemorated on the Paignton War Memorial.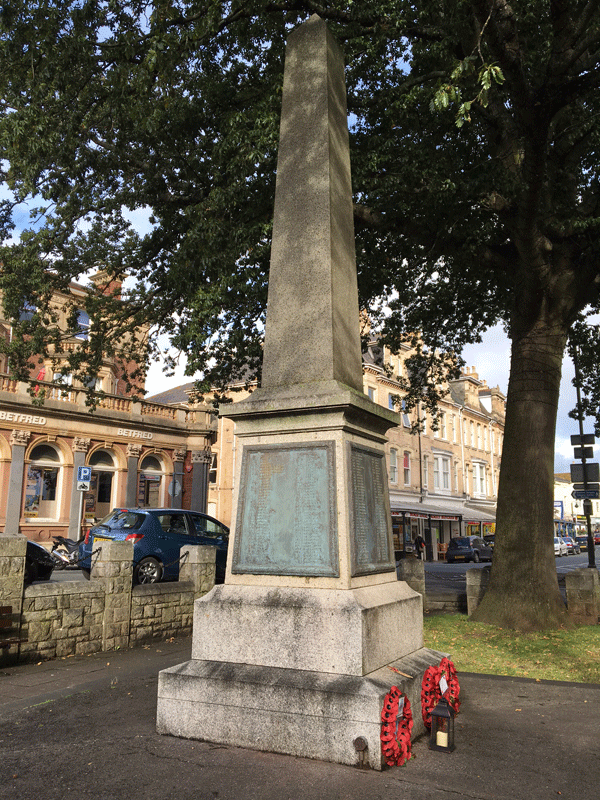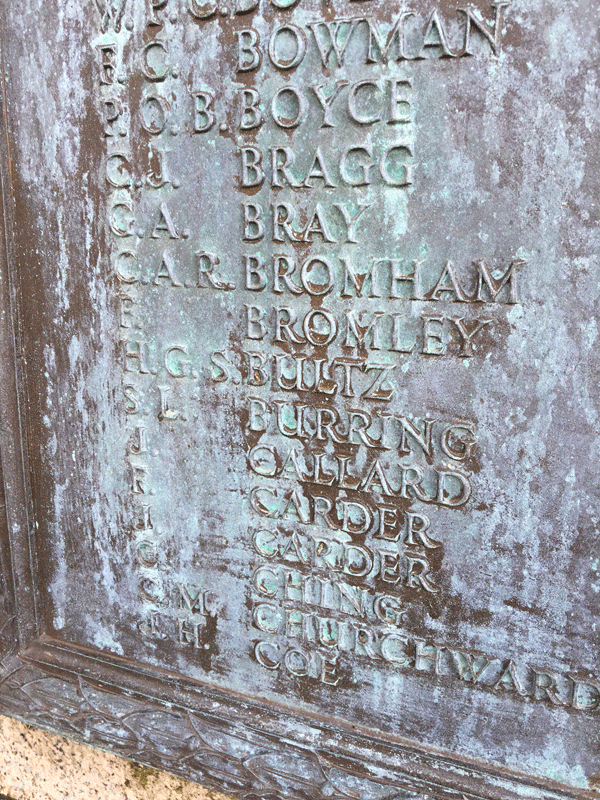 Paignton War Memorial
Sources
Names listed on Paignton War Memorial
Information Held on Database
| | |
| --- | --- |
| Surname: | Carder |
| Forenames: | Ernest James Triggs |
| Alternative Forenames: | James |
| Rank: | Private |
| Service Number: | 26750 |
| Military Unit: | 3rd Bn Devonshire Regiment |
| Date of Death: | 29 Jul 1916 |
| Age at Death: | 37 |
| Cause of Death: | Suicide |
| Action Resulting in Death: | |
| Place of Death: | Granby Barracks Devonport |
| Place of Burial: | Paignton, Devon |
| Born or Lived in Dartmouth? | Yes |
| On Dartmouth War Memorial? | Yes |
| On St Saviour's Memorials? | No |
| On St Petrox Memorials? | No |
| On Flavel Church Memorials? | No |
| In Longcross Cemetery? | No |
| In St Clement's Churchyard? | No |
| On a Private Memorial? | No |
| On Another Memorial? | Yes |
| Name of Other Memorial: | Paignton War Memorial |
---
This information was last updated on Saturday 29 July 2017 at 23:38:04.