Alfred Francis Gore
Family
Alfred Francis Gore was born in Dartmouth on 26th November 1887 and baptised at St Saviour's on 25th January 1888. He was the youngest son of James Gore and his wife Mary Jane Truscott.
James was not a native of Dartmouth, but was born in Chudleigh, in 1846. His father, John Gore, was at that time a labourer, but shortly afterward became a police constable. This took him to Teignmouth and then to Slapton (the Devon Constabulary having been formed in 1856). A Devon Constabulary return for 30th April 1861 records John Gore as a 1st Class Constable at Slapton police station; and the 1861 Census shows him, his wife Sarah, and his four younger children living in the village. James, the eldest at 13, was already working (and living) at Blacklands Farm, Slapton, where he was the cow boy.
By the time of the 1871 Census, John Gore had left the police force and the family had moved to Dartmouth, where he was once again working as a labourer. James joined HMS Britannia as a Cadet Servant 2nd Class on 24th January 1867 and naval records show that he remained there at least until 5th September 1889. His younger brother John also appears to have obtained work from the same source, being recorded as "Cadet servant" in the 1871 Census. He did not apparently join the Navy, but joined the Royal Marines the following year.
On 31st March 1873, James Gore married Mary Jane Truscott at St Paul's Church Wolborough (Newton Abbot). How they met is not known. Mary Jane was born in Truro, Cornwall; her parents, Richard and Mary Ann Truscott, had moved to Newton Abbot from Falmouth some time after 1871. At the time of Mary Jane's marriage to James, Richard Truscott was, apparently, a draper; Census records show him variously as a dock labourer and a cab driver.
James and Mary Jane settled in Dartmouth. The 1881 Census recorded James on board HMS Britannia, while Mary Jane and their three children were living in Crowthers Hill. The couple's first child, Lillian Ella, was born in 1874, followed by Arthur James, in 1877, and Frederick John in 1879; at the time of the 1881 Census, Mary Jane was pregnant with their fourth child, Hubert Robert, born on 23rd May 1881. Close by, in South Town, were James' parents, John and Sarah Gore, with James' two youngest brothers, Charles and Adam. Charles worked as a coal lumper; Adam had become a butcher.
James and Mary Jane's youngest daughter, Olive May, was born in 1885, and Alfred two years later. When Alfred was nearly five, he lost his oldest brother Arthur James in an accident. According to James, who gave evidence at the inquest, Arthur, aged 15, was "in the habit of going with Mr Bartlett's waggoner into the country as an assistant". He would pick up the waggon at Warfleet. On 28th September 1892, he fell while attempting to climb into the slowly moving waggon. Both wheels went over his legs, and his right knee was crushed. Arthur was taken to the Cottage Hospital in Dartmouth, where the knee was splinted and the wound cleaned out, and at first he seemed to be recovering well. But then tetanus set in, as well as pneumonia, and he died on 19th October whilst still at the Cottage Hospital. The inquest verdict was "accidental death". According to the Dartmouth Chronicle's report of the inquest, James was still working as a cadets' servant in HMS Britannia, although naval service records show he had been discharged from the Navy.
Both Alfred's other brothers went into the Navy. Frederick joined as a Boy 2nd Class in 1895; Hubert, following his father, became a Cook in HMS Britannia in 1897, moving to the Royal Naval College when it opened in 1905. The two girls, Lillian and Olive, went into domestic service. In the 1901 Census, both were recorded as servants in the household of George Fleming and his wife Evelyn, at 2 Park Place, Torquay. Lillian, age 26, was the parlourmaid; Olive, aged 15, was the kitchen maid. Both sisters seem to have remained in Torquay, in domestic service, and did not marry.
By 1911, Alfred was also working in Torquay. The Census recorded him as one of three cab drivers living with, and presumably working for, Henry Hunt, "Cab proprietor", at 2 Trafalgar Terrace, St Marychurch Road. But evidently life as a Torquay cab driver failed to offer him what he was looking for, and on 19th April 1912, he embarked upon the Allan Line SS Sicilian at Plymouth, travelling third class, bound for Quebec. Like all the passengers, Canada was his country of "intended future permanent residence". He was unmarried.
On 1st May 1912, he arrived in Quebec City. He declared himself able to read and write, and stated that he had been a cabman but intended to be a factory hand. In answer to the question about whether he had any previous farming experience, he said he had been a stableman. His intended destination was Waterville, a city in southeastern Quebec.
Service
When Britain declared war on Germany, Canada's constitutional position within the British Empire gave the country very little role in formulating foreign policy and no role at all in declaring war or making peace. Canada, like the other Dominions, was thus at war through the action of the British Government. However, Canada reserved the right to decide what form the country's participation should take, and was very willing to offer help to the mother country. Very rapidly the country raised a substantial contingent of volunteers, which arrived in England during October 1914, and which came to form the 1st Canadian Division on its arrival on the Western Front.
Only three days after the first Canadian Contingent had set sail, the Canadian Government offered the British Government a second contingent of 20,000 men, which was, of course, accepted. Fifteen new infantry battalions were to be raised, and to ensure adequate reinforcements, 30,000 men were to be kept continuously under arms in Canada, in addition to those required for home defence. Later the training quota in Canada was increased.
The 24th Battalion Canadian Infantry was authorised on 7th November 1914, and along with the 22nd, 25th and 26th Battalions, was raised from Quebec and the Maritimes (New Brunswick, Nova Scotia and Prince Edward Island), to form the 5th Canadian Brigade. The 24th was linked to, though separate from, the existing Canadian Army Regiment called the Victoria Rifles of Canada.
Alfred volunteered in response to this recruiting drive, and signed his attestation papers in Montreal on 9th February 1915. He had been working as a Labourer. He gave his date of birth as 26th November 1889, understating his age by two years. His papers state that he was 5ft 4ins tall, with fair hair, blue eyes and a "clear" complexion. He gave as his next of kin his father, James Gore, of Higher Street, Dartmouth.

2nd Canadian Expeditionary Force 24th Battalion in Montreal on 22nd February 1915
The Battalion embarked from Montreal on 11th May 1915 aboard SS Cameronia, bringing Alfred back across the Atlantic. They arrived in England on 20th May 1915, to form part of the Second Canadian Division concentrating at Shorncliffe Camp, near Folkestone. On arrival in France, on 15th September 1915, the two Canadian Divisions formed the Canadian Corps, under Lt General Edwin Alderson. Also in the Canadian Corps was Walter Anthony Simpson, whose story we published on 1st December 2015.
On 28th September 1915, the Battalion was in the trenches for the first time, at Wytschaete, south of Ypres. For the next six months or so the Battalion held their sector of the line turn and turn about with the 25th Battalion. Their first significant casualties were incurred during their usual trench routines in February and March 1916. On 12th April, Alfred was granted eight days leave "in the field", during which the Battalion sustained 16 OR killed and 58 OR wounded, as enemy action intensified. He rejoined them as they moved back to Rest Camp.
In the middle of May, after a fortnight's training in Rest Camp, they relieved the 21st Battalion. The line was still very active with enemy shell fire and trench mortar fire, while enemy positions were being constantly improved and strengthened - the intelligence summary of 19th/20th May observed "enemy still very busy improving his positions at night" and "enemy attitude aggressive as far as artillery concerned". Aircraft flew frequently overhead and observation balloons were also frequently seen.
The 24th Battalion likewise spent much time repairing and strengthening their own trenches, and reconnoitring enemy activity, with regular scouting patrols sent out every night. On 23rd/24th May the 24th Battalion was relieved by the 29th Battalion and went into Corps Reserve; on 30th May they were turn about.
Death
On 2nd June 1916, German forces attacked and captured Canadian positions on Mount Sorrel and Tor Top (Hill 62), points on a ridge of slightly higher ground offering observation over the Ypres salient, the town itself, and the approaches to it. As well as the tactical advantage of gaining these positions, the attack was one of several such initiatives intended to tie down Allied resources prior to the offensive expected on the Somme. The Canadian forces suffered very heavy losses, though this did not directly involve the 24th Battalion.
The new Canadian Corps Commander, Lt General Julian Byng, who had taken over command only a few days earlier, mounted a counter-attack on 3rd June to regain the lost positions, but this failed. However, the Canadians were able to stabilise their position and stop the German advance. The 24th Battalion was not directly involved in this part of the action either, but was stood in readiness.
On 3rd June the Battalion War Diary recorded that:
During the night 2nd /3rd June the Bn less two companies stood to in anticipation of any attack developing on our front as a result of enemy attack at Hooge. However night passed quietly.
On 4th June, the Battalion War Diary once again recorded:
heavy shelling of front and support lines ... night of 3rd /4th June, Bn again standing by but night passed quietly in our vicinity.
On 5th June, 5th Canadian Infantry Brigade was relieved by 9th Infantry Brigade and went into Corps Reserve. There was then a reshuffle of positions along the line, in preparation for a further Canadian counter-attack. This brought the 24th Battalion nearer what came to be called the Battle of Mount Sorrel. Two days later, on 7th June, the Battalion:
Left Camp at 7.45pm by lorries to Ypres. Moved up and relieved 2nd Canadian Battalion in trenches from Maple Copse on left to Armagh Wood on the right ... Distribution four companies in front line and immediate support.
It seems, however, that Alfred did not get as far as the front line. During the relief, the War Diary reports briefly:
No 5 Platoon was wiped out passing thro' Zillebeeke, 23 casualties being sustained here.
The extract from the official history of the Battalion describing what happened provides more detail:
On the way to the front line from Ypres, the Battalion was harassed severely by enemy fire. At approximately 11.45pm, "B"Coy, under Lieut. C S B White, was passing in single file along the road in front of the church in Zillebeke when a heavy shell burst in the midst of No 5 Platoon, no warning preceding it, as the sound of its approach had been drowned by the noise of a field battery clattering hurriedly towards the front. When the shell burst, the company commander was hurled into the roadside ditch, but soon recovered his feet and dazedly sought his men. For a moment it seemed that No 5 Platoon had disappeared, but eventually, from a carnage of torn and riven bodies on the road, Lieut. G V Walsh and Company Sergeant Major L A Sewell reported themselves unwounded. Lieut Walsh was suffering from severe concussion, but was able to report the disaster and summon assistance from the rear.
Meanwhile, Lieut White and Company Sergeant Major Sewell strove to move the wounded from the road, which was threatened by further shells and along which the battery of field guns was waiting to advance. Twelve men lay dead on the road, including two of "B" Company's signallers, and eleven severely wounded lay amongst them. Arms and legs were strewn around and in the darkness the nightmare task was to separate the wounded and dying from the dead. The guns must await the clearing from their path of the wounded; exposed to destruction by enemy fire, they could not await removal of the dead.
At last, with the help of stretcher-bearers, summoned by Lieut Walsh from the rear, the wounded were moved from the road. The guns then rumbled forward on their appointed mission; the dead were carried to the roadside to await the completion of arrangements for their burial; and Lieut White and Company Sergeant Major Sewell, after a last survey of a scene which neither will forget so long as life endures, proceeded to join the remaining platoons of "B"Coy in the line.
Alfred is not mentioned in the War Diary (indeed, none of the casualties is named there) but it seems that he was one of those killed. His service papers provide no further details, only recording the date of his death, and the settlement of his outstanding pay to his eldest sister Lillian in Torquay, to whom he had assigned it.
Back in the field, the 24th Battalion was subjected to extremely heavy shelling. Casualties for the tour totalled 111. Meanwhile the Canadian forces were reinforced by heavy artillery and the dismounted British 2nd Cavalry Brigade, and on 12th June and 13th June a successful counter-attack dislodged the German positions on Mount Sorrel and Tor Top. Most of the ground lost was recovered.
The Canadian Hill 62 (Sanctuary Wood) Memorial marks this achievement: "For the Canadian participation in the Defence of Ypres between April and August 1916 and commemoration of the Canadian dead of that period".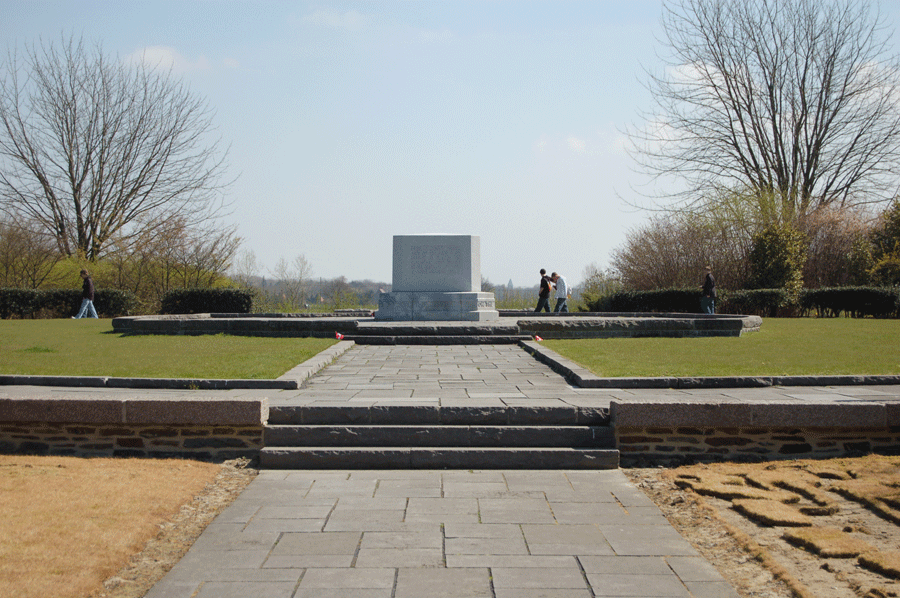 The Canadian Hill 62 (Sanctuary Wood) Memorial
Commemoration
News of Alfred's death did not reach Dartmouth until later in June. On 30th June 1916, the Dartmouth Chronicle reported:
Died a True British Soldier
Dartmouth Soldier's Supreme Sacrifice
Mr A Gore, of Higher Street, Dartmouth, has received a letter from Corporal Walter Innes informing him of the death of his son Alfred in the trenches, which occurred on the night of the 7th inst.
The letter says:- "It is some consolation to you to know that Alfred died a few seconds after he was hit, so that there was no suffering. He was in my section and he was one of the very best boys, loved and respected by all who knew him. He lived and died a true British soldier".
Corporal Innes also states that practically all the boys in the platoon were either killed or wounded.
(The newspaper's reference to "Mr A Gore of Higher Street" should have read "Mr J Gore" - they had apparently confused James with his younger brother Adam).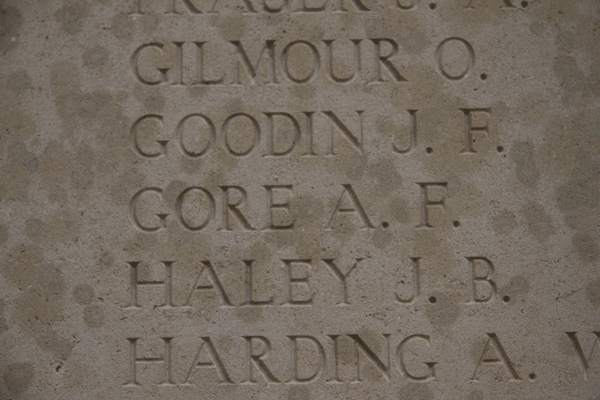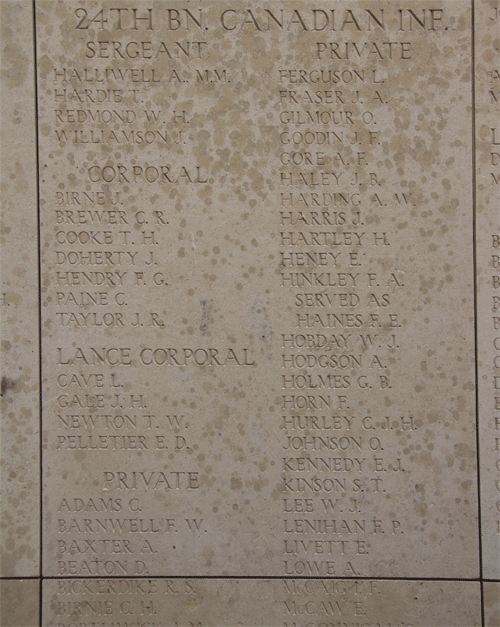 The Commonwealth War Graves Commission database records that sixteen members of 24th Battalion Canadian Infantry died on 7th June 1916. Eleven of them, including Alfred, are amongst those from the Battalion who have no known grave and are commemorated on the Menin Gate at Ypres. Two are recorded as members of B Company, suggesting, when taken together with the information in the War Diary and the history of the Battalion, that this was Alfred's Company also.
Two of those killed in Zillebeke on that day were buried in Zillebeke churchyard and have marked graves - William John Croft and John Carron Sime. There are also six unidentified burials in the churchyard, so it is possible (though perhaps unlikely in the circumstances) that Alfred was also one of those buried there.
Alfred is commemorated on the Canadian Virtual War Memorial and in the First World War Book of Remembrance displayed in the Memorial Chamber of the Peace Tower in Ottawa.
In Dartmouth, Alfred is commemorated on the Town War Memorial and on the St Saviour's Memorial Board as "Ad Gore".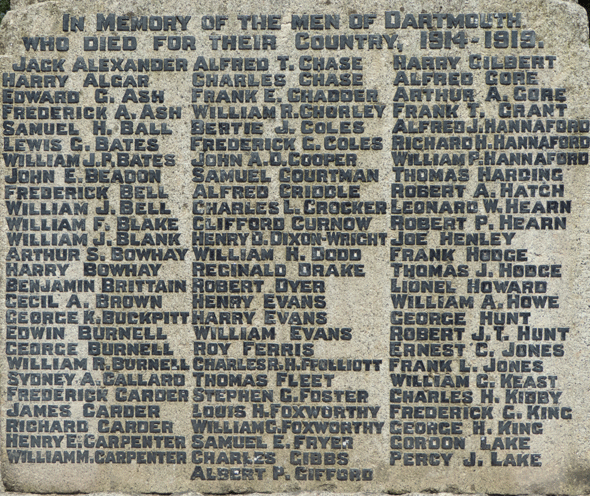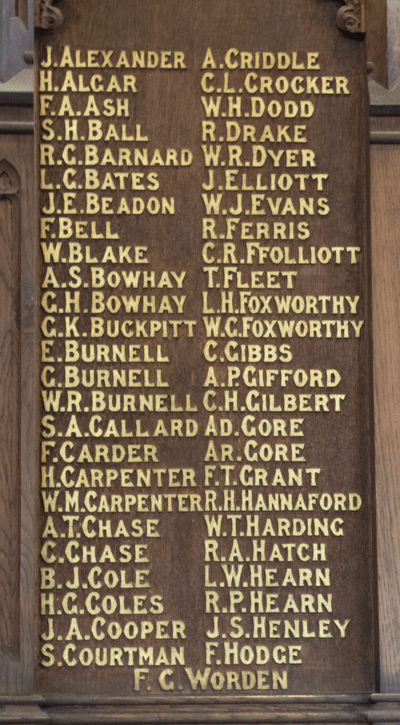 His cousin, Arthur Gore, the son of James Gore's youngest brother Adam, will be commemorated in 2018.
Alfred's brothers Frederick and Hubert both survived the war. Frederick served in the battleship HMS New Zealand until 5th May 1915, and then was invalided out of the Navy with "neurasthenia" on 9th June 1915. Hubert served throughout the war, leaving the Navy in 1922.
Sources
Service papers for Alfred Francis Gore (65376) may be accessed and downloaded from the Soldiers of the First World War database of Library and Archives Canada
See also "published sources" on the same page.
The War Diary for the 24th Battalion may be accessed from Library and Archives Canada
RN Service papers may be obtained from the National Archives, fee payable to download:
History: The 24th Battalion CEF Victoria Rifles of Canada, 1914-1919, edited and compiled by R C Fetherstonhaugh, publ 1930, Gazette Printing Company, Montreal
Aristocrats Go to War: Uncovering the Zillebeke Churchyard Cemetery, by Jerry Murland, pub 2010, Pen & Sword Books
Information Held on Database
| | |
| --- | --- |
| Surname: | Gore |
| Forenames: | Alfred Francis |
| Rank: | Private |
| Service Number: | 65376 |
| Military Unit: | 24th Bn Canadian Infantry |
| Date of Death: | 07 Jun 1916 |
| Age at Death: | 28 |
| Cause of Death: | Killed in action |
| Action Resulting in Death: | Battle of Mount Sorrel |
| Place of Death: | Zillebeke, Belgium |
| Place of Burial: | Commemorated Menin Gate, Ypres |
| Born or Lived in Dartmouth? | Yes |
| On Dartmouth War Memorial? | Yes |
| On St Saviour's Memorials? | Yes |
| On St Petrox Memorials? | No |
| On Flavel Church Memorials? | No |
| In Longcross Cemetery? | No |
| In St Clement's Churchyard? | No |
| On a Private Memorial? | No |
| On Another Memorial? | No |
---
This information was last updated on Monday 06 June 2016 at 17:38:27.