Thomas Samuel Newland
Family
Thomas Samuel Newland was born in Dartmouth in 1890. He was the eldest son of Thomas Enoch Brimmacombe Newland and his wife, Elizabeth Maria Saunders.
Thomas Newland senior was born and brought up in Dartmouth. His father, Samuel Newland, was a sawyer, who had come to Dartmouth from Cornworthy, and his mother, Emma Brimmacombe, was from Exmouth. Samuel had died before Thomas was born. In 1876, Emma had married again, to William Bennett, a labourer.
On 18th May 1890, Thomas Newland (senior) married Elizabeth Maria Saunders at St Clements, Townstal. She was born in Paignton, where her father, William Saunders, was a sailor and fisherman. Thomas Samuel was born a few months after their marriage. In the 1891 Census, Thomas, Elizabeth and the baby, aged 6 months, were recorded living in Above Town, Dartmouth. Thomas worked as a labourer.
Thomas and Elizabeth (or Lizzie, as she was recorded in the 1901 Census) had six children, three boys and three girls: Following Thomas Samuel were:
William John, born 1891
Elizabeth Florence (Lizzie), born 1893
Frederick Enoch (Fred), born 1895
Edith Lilian (Lily), born 1897
Alice, born 1900 (in Paignton)
In 1901, the family lived on South Parade, Dartmouth. Thomas (senior) was a Coal Lumper - a hard trade, with much uncertainty. Because several companies competed to provide ships coming into Dartmouth with coal, lumpers were casually employed. When a ship came in, the lumpers raced to the coaling hulk in 6 or 8-oared gigs, kept moored against the quay wall. The winning gang got the job. At the turn of the 20th century, a gradual decline in the tonnage of ships coming into Dartmouth, and in the amount of coal shipped to Dartmouth for bunkering, meant that the trade became even harder.
Perhaps for this reason, all three boys joined the Royal Navy. Thomas Samuel and William joined almost at the same time, in January and February 1909 respectively - Thomas as a Stoker and William as a Seaman. In 1911, the Census recorded Thomas serving in HMS Cumberland, at Platea harbour, in Greece (see below); William serving in HMS Doris in Gibraltar; and the rest of the family at home in Lower Street, Dartmouth. Elizabeth Florence was working as a housemaid and Frederick as a general labourer; the two younger girls, Lilly and Alice, were still at school. A couple of months after the Census was taken, Frederick joined the Navy too, as a Boy 2nd Class.
Service
Thomas Samuel joined the Navy as a Stoker II in Devonport on a twelve year engagement on 25th January 1909. He overstated his age by about a year on joining, given his date of birth as 3rd October 1889. His naval service record states that he was 5' 4 ½" tall, with dark hair, brown eyes and a "dark" complexion; and that prior to joining, he had worked as a "skilled labourer".
After completing his initial training, he was sent briefly to HMS Diamond, a Gem-class protected cruiser, at that time Senior Officer's ship 3rd Destroyer Flotilla, based at the Nore. On 7th September 1909, he was posted to HMS Cumberland, a Monmouth-class armoured cruiser completed six years earlier, which was the naval officer cadets' seagoing training ship, part of the Home Fleet. HMS Cumberland brought him back to Dartmouth a number of times, but also took him to Scotland, Ireland, Gibraltar, and the Mediterranean.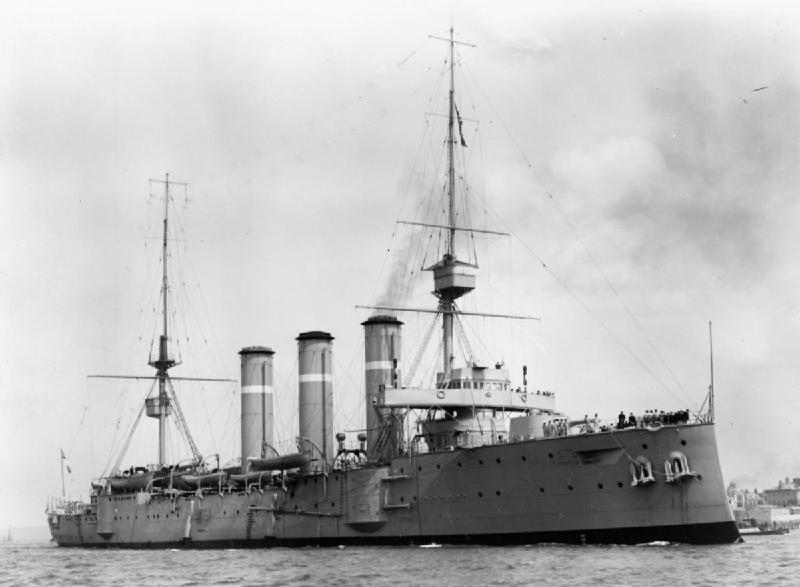 HMS Cumberland
Thomas' next ship, which he joined on 31st October 1911, was HMS Circe, an Alarm-class torpedo gunboat of 1892, which had been converted three years earlier to the role of minesweeper. At the time Thomas joined her, the Navy's regular minesweeping capability was limited to five Alarm class and five Sharpshooter class ex-torpedo gunboats fitted with minesweeping gear - the "Actaeon" sweep. This required two vessels steaming abreast to tow a wire between them, about eight hundred yards in length. Mines cut from their moorings by the wire would then be destroyed by gunfire. Thomas is likely to have spent a good deal of time enabling Circe to steam up and down with Admiralty trawlers practising what was to become a vital skill in a few years time.
Some time between October and December of 1912, Thomas married Catherine Maria ("Katie") Kearney. According to the 1911 Census, Katie was born in Stranraer, Scotland. In 1911, she was a servant in the household of John Murphy, Chief Customs Officer, in Dartmouth. The Murphys lived at "Littlecroft", Kingswear. Katie and Thomas made their home in Plymouth. Their only child, Thomas W F Newland, was born there in 1914, but sadly died very soon after birth.
On 7th March 1914, Thomas joined HMS Roebuck, a "C" class destroyer, completed in 1902. Under Commander in Chief Portstmouth, she was based at Devonport for officer cadet training, a role she continued during the war. Thomas was still serving in her at the outbreak of war, and stayed with her until 18th October 1915. His next, and as it turned out, final ship was HMS Attentive, the lead ship for HMS M27, an M15 class "monitor". These ships were ordered as part of the emergency programme of ship construction in March 1915. Their purpose was shore bombardment and close support for troops, so they were heavily armed in proportion to their size, and with a shallow draft. M27 was launched on 8th September 1915 - Thomas joined her a few weeks later, on 19th October 1915.
M27 served in the Dover Patrol from 1915 to 1918, along with several of her sisters, as part of the Sixth Flotilla. The Dover Patrol's area of operations "extended from the Scheldt to the North Foreland, and from Beachy Head due south to the French coast", around 4000 square miles of water.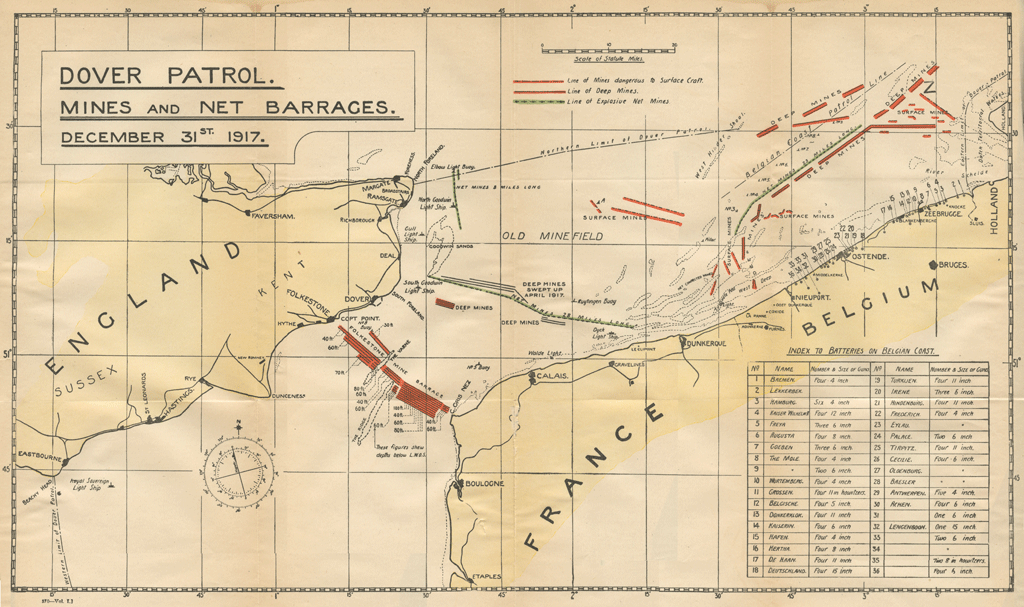 The purpose of the Patrol was to prevent German shipping, especially submarines, from accessing the English Channel, and thus to safeguard the Dunkirk supply line to the Western Front and protect vital merchant shipping using the Channel route. Further, the possibility of an enemy force being landed by sea behind the allied front needed to be guarded against.
The Patrol combined many different resources - cruisers, destroyers, monitors, armed trawlers, minesweepers, armed yachts, motor launches, submarines, seaplanes, aeroplanes and airships. The ships included 24 different sorts of vessel, numbering around 400 in total. In an account of the work of the Patrol written by Admiral Sir Reginald Bacon, who commanded it for most of the war, he commented that:
The force based at Dover, or operating from Dunkirk, was ... of a very miscellaneous character; many vessels were of makeshift nature, to meet needs which were not foreseen, [without] pre-knowledge that the Germans were going to settle down on the Belgian coast within two hours steaming of ... Dover and remain there for three years.
He described the work of the Patrol in five periods to January 1918 (after which he was replaced by Roger Keyes):
April - August 1915: drifting nets to catch submarines, and developing and implementing a system of long-range bombardment. The monitors began to arrive during this period.
August 1915 - March 1916: bombardment by the monitors of Zeebrugge, Ostend, and the coast by Middelkerke and Westende; development of "spotting" from aeroplanes and seaplanes; attempting to counter a substantial increase in minelaying by enemy submarines. Plan for landing behind enemy guns at Ostend developed but not implemented.
April 1916 - October 1916: barrage laid off Belgian coast to supersede the drift nets, which very significantly reduced mining in the Channel; requiring daily patrols off Ostend and Zeebrugge and deploying all the resources of the Dover Command to keep the barrage intact whilst protecting merchant shipping and the Downs (the sea area off the Kent coast between the North and South Foreland, where merchant ships congregated (and still do)).
October 1916 - March 1917: Belgian coast blockade raised due to winter weather; new bombardments of Zeebrugge and Ostend planned; shore landing at Middelkerke planned; net barrage laid from Goodwins to Dunkirk.
March 1917 - January 1918: continuing planning for landing on Belgian coast, ultimately abandoned; second barrage off Belgian coast laid; mine barrage laid from Folkestone to Cap Grisnez; Zeebrugge and Ostend bombarded and Ostend abandoned by Germans as a naval base; plans developed for bombardment of Bruges.
Reginald Bacon made the following observation on the monitors M21 - M27:
They were queer craft. Originally each had one 9.2 [inch] short gun, but these I got changed for either [a] 6-inch or 7.5 [inch] single gun. They steamed about nine knots, nominally ten, drew only six feet of water, and handled well; their engines were generally reliable. But they rolled! ... So great was the velocity of the roll that the 3-pounder cartridge cases were thrown almost vertically out of their boxes into the air.... These vessels were mainly of use in protecting the larger monitors and destroyers on the patrol line from destroyer attack, for which purpose their guns, with a longer range than those of the enemy destroyers and a quicker rate of fire than the [12-inch monitors], were very valuable.
Because the ships rolled so much, and because there was a shortage of heavy artillery in the coastal area, M27's 9.5 inch gun was removed in September 1915 even as she was being completed. She received instead a 6-inch gun from Redoubtable, fitted at Portsmouth in March 1916.
Being able to screen the larger monitors from enemy destroyers relieved the burden on the British destroyers in the Patrol, which were hard-pressed. On several occasions during the summer of 1916 they were able to drive off enemy destroyers from the various vessels supporting the mine barrage off the coast. They also rescued ditched aircraft, sank drifting mines, and also helped the large monitors to aim, by providing a fixed reference point (out of range of the shore batteries).
Death
Thomas spent just over a year in the Dover Patrol. On 22nd October 1916, he was reported missing. Six days later, on 28th October, his body was found in a lock in Dunkirk. A Naval Court of Enquiry determined that death was by drowning and that it was an accident. The date of death was given as the date he had gone missing.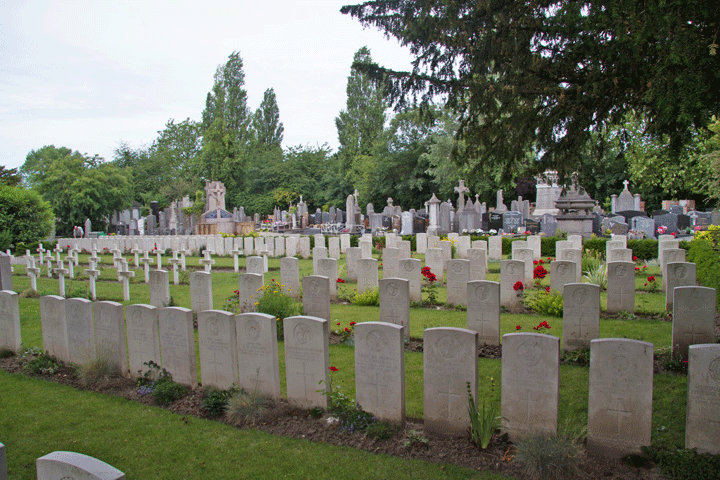 Thomas was buried in Dunkirk Town Cemetery, close to one of his shipmates from HMS M27, James Riordan, who had, oddly, died in similar circumstances in February of 1916.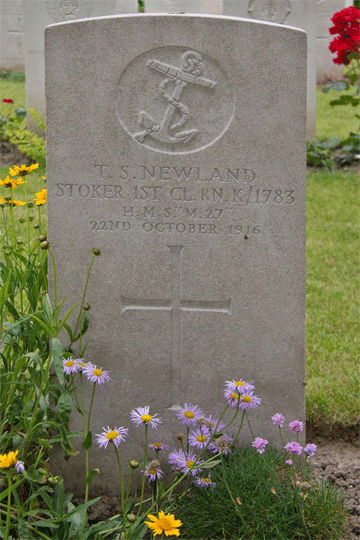 Commemoration
Thomas is commemorated in Dartmouth on the Town War Memorial and on the St Saviour's Memorial Board.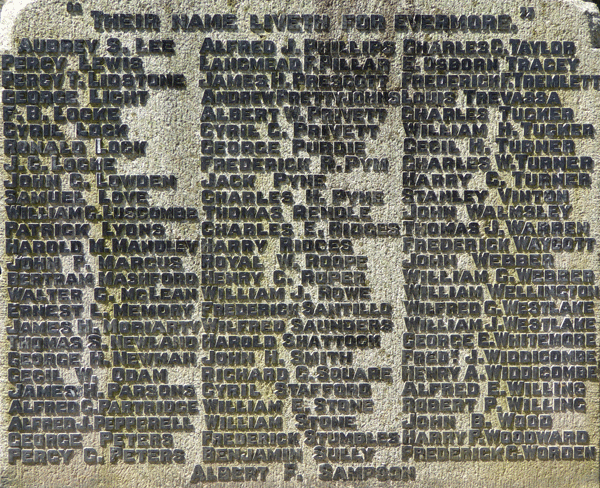 Dartmouth Town Memorial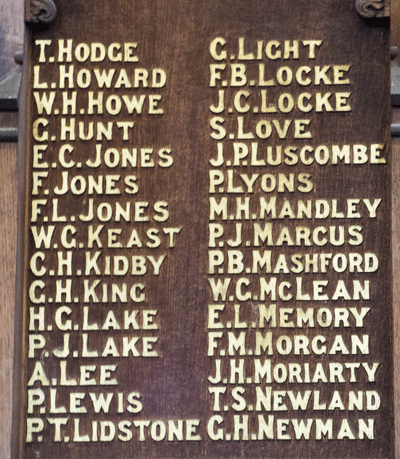 St Saviour's Memorial Board
Although Thomas' brother William had joined the Navy at about the same time, he served only for three years. He joined first as a Seaman and then transferred to become a Stoker, like his brother. On 9th May 1912 he was invalided out of the service due to "adenoids". He married Bessie Maud Prettyjohn(s) at St Saviours in 1913. Bessie's brother Andrew was killed in action in 1915.
Thomas' other brother, Frederick, served throughout the war, but was invalided out of the Navy in 1919 with "double otitis media". In 1919 he married Bessie Prettyjohn's sister Winifred.
Thomas' wife Katie remarried in 1917, to Jesse Hardcastle, another naval seaman. She does not appear to have retained any connection with Dartmouth.
Sources
Naval service records are available from the National Archives, fee payable for download, references:
The Dover Patrol, volumes 1 and 2, by Admiral Sir Reginald Bacon KCB KCVO DSO
Big Gun Monitors, by Ian Buxton, Seaforth Publishing, 2008 (includes a chapter on Small Monitors)
Note: the RN and RM War Graves Roll shows Thomas' date of death as 22nd October 1915. However, all other records are clear that the presumed date of death is 22nd October 1916.
Information Held on Database
| | |
| --- | --- |
| Surname: | Newland |
| Forenames: | Thomas Samuel |
| Rank: | Stoker 1st Class RN |
| Service Number: | K/1783 |
| Military Unit: | HMS Motor Launch 27 |
| Date of Death: | 22 Oct 1916 |
| Age at Death: | 26 |
| Cause of Death: | Drowning in accident |
| Action Resulting in Death: | |
| Place of Death: | Dunkirk |
| Place of Burial: | Buried Dunkirk Cemetery, France |
| Born or Lived in Dartmouth? | Yes |
| On Dartmouth War Memorial? | Yes |
| On St Saviour's Memorials? | Yes |
| On St Petrox Memorials? | No |
| On Flavel Church Memorials? | No |
| In Longcross Cemetery? | No |
| In St Clement's Churchyard? | No |
| On a Private Memorial? | No |
| On Another Memorial? | No |
---
This information was last updated on Friday 21 October 2016 at 22:27:35.