Stanley William Vinton
Family
Stanley William Vinton was born in Dartmouth on 30th April 1898, the second of eight children of William Vinton and his wife, Kate Hosking. His birth was registered in the name of William Stanley Vinton and he was similarly baptised William Stanley, on 20th March 1900 at St Petrox. However, other records, including those of his military service, are in the name of Stanley William, so we have used that name on our database.
Stanley's father William Vinton was born and brought up in Dartmouth, where his parents had moved sometime after the birth of his elder sister Fanny in Launceston in 1866. William's father Thomas, Stanley's grandfather, died in 1874 when William was only four - his mother, Rebecca, found work as a washerwoman and then in domestic service. At the time of the 1891 Census, William and his younger brother Edward were boarding with Robert and Elizabeth Hodge, in Bayards Cove; Rebecca and her daughter Fanny were both in service, working as the cook and the housemaid for Miss Harriett Newman, at South Town House . William was an "Outfitter's Assistant", a line of work he pursued for many years. His brother Edward was an apprentice to a cabinet maker.
On Boxing Day, 1896, William married Kate Hosking at St Petrox, Dartmouth. By that time he lived in Fairview Road; on this occasion William's occupation was described as "clerk". Kate was the daughter of Benjamin Hosking, a boot and shoemaker, and his wife Elizabeth Jenkins. She was born in Redruth, but by the time of the 1891 Census was in domestic service in Paignton, working for the Dyer family as a housemaid. Later she moved to Dartmouth, working at Fairview House.
William and Kate were soon surrounded by a growing family. Their eldest daughter, Gertrude Lily, was born 17th April 1897 and baptised at St Saviours on 29th July 1897. At that time the family lived in 2 Woodbine Villas. Stanley was born just over a year later, and was baptised at St Petrox with his brother Robert on 20th March 1900, born on 20th February. William was described as "shopman" and the family's address was given as Higher Terrace, Dartmouth - possibly an error for "Highland Terrace".
The 1901 Census recorded William, Kate and the three children living at Highland Terrace, Above Town. Visiting that evening was Kate's younger sister, Eliza, who had married Harold Williams the previous year and now had a daughter, Lily; the record of the marriage, which took place at St Barnabas, in Dartmouth, shows that Eliza was resident at Highland Terrace at the time. Perhaps a specific reason for her visit was that William and Kate's fourth child, Violet Irene, was born on 1st April 1901, the day after the Census was taken.
Next to join the family were Maggie, born 20th June 1902; and William Thomas, born 12th June 1903. Together with Violet, they were baptised at St Petrox on 10th February 1904. William was an "Outfitter's Assistant"; the family's address was recorded as "Island Terrace", but this may have been another error for "Highland Terrace".
By the time of the birth of Albert Charles, on 2nd October 1905, the family had moved to South Ford Road. He was baptised privately on 26th February 1907 at St Saviours. William and Kate's last child, Kathleen Rebecca, was born almost exactly a year afterward, on 27th February 1908 (we have not been able to trace a baptism record for her).
They were still living in South Ford Road at the time of the 1911 Census. All except Kathleen, the youngest, were at school. William still worked as an "outfitter's assistant". The photograph below shows the whole family. As Stanley's face has clearly been added in, the photograph was probably taken after the outbreak of war, when he had left home.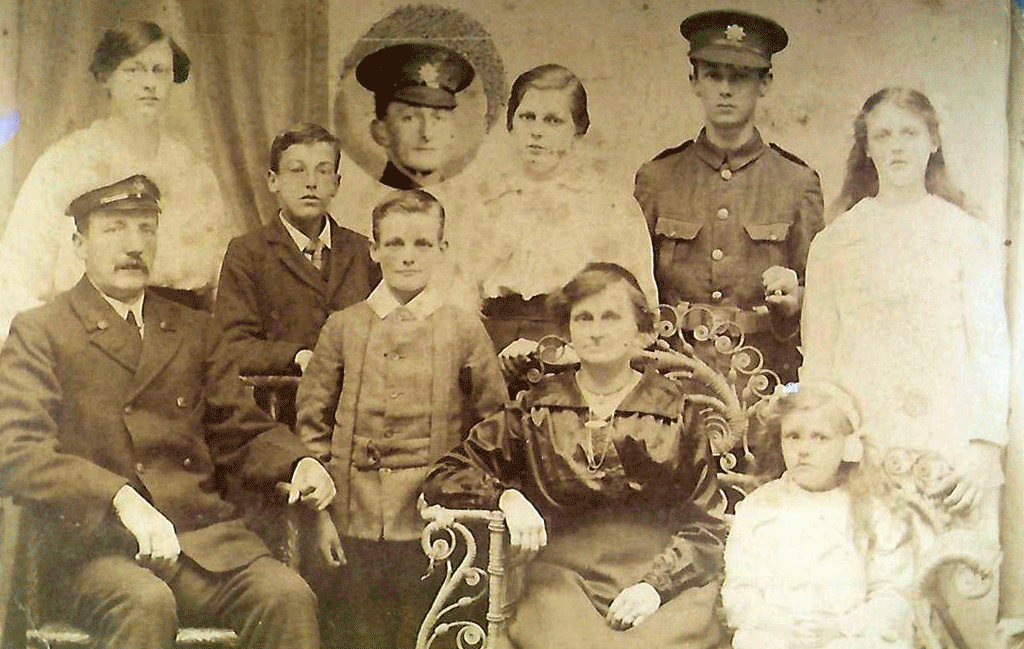 Photograph of family kindly supplied by Hazel Tall
Service
Stanley's individual service records have survived, unlike so many, so we know that he joined the 7th Battalion Devonshire Regiment (Cyclists) before the outbreak of war, on 25th May 1914, signing on for four years. He gave his address as Lister House, South Ford Road, and his age as 17 years 4 months, although he was in fact only just over 16. He was an apprentice shipwright at Phillips & Son, and said he had five years of his apprenticeship to complete (perhaps more compatible with an age of 16 than his declared age). He was of good height, at 5' 6½" (for the period), though one inch below the Army's required chest measurement of 34". Nonetheless he was pronounced fit to join the Territorial Force. It seems that he was keen on the military life, because he had joined the Dartmouth Cadet Company in 1907.
The 7th Battalion had been created as part of the Territorial Force in 1908. By 1914 there were several cyclist companies: F Company was based at Dartmouth, very much part of the local scene. Several men on our website were members before the war - for example, see the story of Harold Mandley who joined them in 1910, and Frederick Coles, who had previously served in the unit and rejoined on 7th August 1914.
At the outbreak of war, the 7th Battalion had just finished its annual training at Churston Race Course, Paignton, and on 3rd August was at Battalion and Company Headquarters. The Cyclists were duly mobilised on 5th August 1914, including Stanley. Detachments were sent all along the coast from Lands End to Lyme Regis to carry out coastal patrols. Very soon, however, they were sent to the north-east coast, where the invasion risk was assessed to be greater. They were based at Whitby, and were responsible for coastal defence from Scarborough to Seaton Delaval, Northumberland. For the experiences of "F" Company in the north-east, see the story of Frederick Thomas Bell. The Dartmouth Chronicle duly listed all the members of "F" Company on 25th September 1914, and again on 16th October 1914, by which time others had joined, and the paper followed their activities with interest.
The Territorials took recruits at 17, but men were not officially eligible to go abroad until they were nineteen. At the beginning of the war, however, recognising that the purpose of the Territorial Force was home defence, there was no obligation to sign up for overseas service. Nonetheless, many members voluntarily undertook to serve abroad, and older men, such as Frederick Coles, were soon encouraged to do so. A large contingent of Devon Cyclists transferred in 1916 to the Worcestershire Regiment, and this included several from Dartmouth. Stanley was not one of these - he remained on home service for nearly three years and was not posted for overseas service until after his nineteenth birthday. Although there is no reference to this issue in Stanley's papers, the timing suggests that by one means or another the Army became aware of his true age, though he clearly was not discharged. After the introduction of conscription in 1916, the limitation on members of the Territorial Force serving overseas was no longer relevant, but the age at which men were sent overseas was strictly observed. It may simply have been decided to keep him at home until he was nineteen.
After their service in the north-east, the 1/7th Battalion returned to Devon, and were based at Seaton. A second battalion had been formed in September 1914, and the Cyclists continued to recruit, advertising in the Western Times on 23rd September 1915:
An opportunity occurs for men to join the popular 7th Devon Regiment (Cyclists) … a really popular unit which has always attracted the best class of men. Applicants should be 19 years of age or more and are expected to sign for Imperial service. The training quarters for the winter will probably be at Paignton. The usual rates of pay and separation allowances are made. The officers are popular, the work pleasant, and any young fellow looking for a regiment to join will be fortunate if he is accepted for this one.
Stanley remained with the 1/7th Battalion. In December 1915, the Battalion moved to Kent, on their bicycles. The Shepton Mallet Journal of 3rd December 1915 reported:
Two Battalions of cyclists of the 7th Devon Regiment passed through the city on Saturday and Tuesday last respectively, on their way to Frome and London. The novel spectacle soon attracted a crowd of sightseers, who cheered the men on their journey.
In Kent they continued with the role of home and coastal defence and assistance to the civil powers as required, and in 1916 and 1917 their area of operations extended north to Suffolk. Stanley was appointed Lance Corporal on 29th July 1916 and Acting Corporal on 25th November 1916.
His papers also show that on 19th June 1917 he qualified to act as a "B&PT instructor". This would appear to be a reference to "Physical and Bayonet Training", which by this time had been greatly expanded in the Army. Bayonet fighting was seen as a good way of inculcating offensive spirit and a good standard of physical fitness was recognised as essential to enable men to cope in the field. By 1916 each Home Command in Britain had a School of Physical and Bayonet Training, to train enough NCOs to keep battalions in shape and thereby, better prepared for the rigours of trench warfare. Physical Training Tables issued by the War Office in 1916 for trained soldiers stated that physical training and bayonet fighting were to be practiced five days a week for one hour a day. A whole battalion could be exercised in one hour, with half doing PT and the other half focused on bayonet fighting. It is a small irony that Stanley had apparently qualified in this role without (presumably) having fought in active combat.
France
Finally it was Stanley's turn to go overseas, and perhaps put his skills into practice. On 25th July 1917 he embarked from Southampton, arriving at Rouen (via Le Havre) the following day. He was posted to the 2nd Battalion of the Devonshire Regiment on 14th August 1917, having, sadly, reverted to the rank of private on joining the BEF. However, it appears that he first spent time at the PT Depot at the Base Depot at Rouen; physical training was an important aspect of the activities organised for men in the depots. Eventually on 19th September 1917, he joined the 2nd Battalion "in the field".
As one of the Devonshire Regiment's two regular Battalions, 2nd Devons had been in Egypt at the outbreak of war. They first arrived in France on 6th November 1914. For their experiences in France and Flanders, see the stories of William Charles Webber, who died of wounds on 18th October 1916, and William John Farrow Bates, killed on the first day of the Third Battle of Ypres, 31st July 1917.
The 2nd Devons had gone back into action in the second phase of Third Ypres, on 16th August, but this time in a support role; nonetheless they had sustained 93 casualties. On 19th August the 8th Division was relieved and went into reserve, for rest, recuperation and reinforcement. They moved into a new sector of the line near Ploegsteert Wood on 31st August 1917.
On 19th September 1917, they were in billets at Le Rossignol, having just spent six days holding the line. The War Diary notes that "a draft of 10 other ranks joined the Battalion", and presumably one of these was Stanley. It may be no coincidence that on 21st September: "all available officers witnessed an exhibition in bayonet fighting by a party of men under the Brigade PT Staff Sgt Major".
During the rest of September, October and most of November, the 2nd Devons remained on trench duty in this sector. When out of the trenches, much time was spent on training and sports. They were not involved in the successive phases of the continuing battle; but nonetheless, as the Regimental History puts it:
The three months which the 2nd Devons spent in this area were marked by vigorous patrolling and some sharp encounters with the enemy. No Man's Land was marshy and wet, intersected by ditches and old trenches and pitted by shell holes … the line was long and mainly held by detached posts … apart from [an attempt] to rush a post known as Moat Farm, which was held by a strong standing patrol … casualties were not high, under 100 for the whole period, and these were about balanced by drafts …
On 17th November, however, they were finally brought back to the last stages of the battle. They arrived in the line north of Passchendaele on 23rd November:
… even more depressing and unattractive in November than they had left it in August … The advance had been pushed to the North of the ruins of Passchendaele, and the line was difficult to reach and to defend when occupied. Even on the ridge the mud was indescribable, and the depressions between the little spurs were mere bogs. The position could only be approached by roads and tracks well-known to the enemy, who kept them under constant shelling, making reliefs and bringing up rations, water and ammunition precarious and costly … It was incredible that anything could have surpassed the horrible winter of 1917-1917, but experience showed it was possible …"
The 2nd Devons had orders to be active in patrolling to see if enemy outposts could be located so that the front line could be advanced a few more yards. It was decided to target a certain strong-point and machine gun. On 25th November, "at 12.20am the front line was advanced about 150 yards" - the new position was "on the crest with an uninterrupted view for about 400 yards with no dead ground between … our positions were very alert and any hostile movement was at once checked by accurate rifle and MG fire". But this was not achieved without cost; two officers and three men were killed, and 14 men were wounded; one officer was missing.
Two days were then spent in the rear of the line in dugouts and shelters "cleaning up and reorganising" and providing carrying parties up to the front line. They returned to hold the new front line on 28th November for another two days. As the Regimental History observes, the process of moving up to the front line was "precarious and costly"; as was holding the line. The War Diary reports sixteen men wounded on 28th November, and eight wounded on 29th November. One of these was Stanley.
His papers state that he was wounded in action on 29th November, suffering a gunshot wound to the left thigh and to the left hand. A later Medical Board, however, recorded that he himself said that the injuries had occurred the previous day, and that the thigh wound was caused by shrapnel and the wound to the hand by a rifle bullet. Either date is compatible with the Battalion's War Diary, which (as is normally the case) does not list other ranks wounded by name. If the injury occurred during the relief, which probably took place at night, this would account for the apparent discrepancy.
Treatment
The casualty evacuation chain was by now well-oiled; Stanley was taken the same day (29th) to 10 Casualty Clearing Station at Remy Siding, near Lijessenthoek, and from there to 53 General Hospital at Wimereux, near Boulogne, where he arrived on 30th November. Here he remained for a week, until taken to England on 6th December, arriving at Bangour Hospital in Edinburgh on 7th December 1917. The report of his treatment in Edinburgh states only that the thigh wound was sutured; Stanley thought he had undergone two operations, though was unclear what they were.
At this point a small piece appeared in the Dartmouth Chronicle of 14th December 1917:
Wounded: Private S Vinton, son of Mr and Mrs Vinton, of South Ford Road, has been wounded in the hand and thigh, but, we are glad to hear, is now progressing favourably. He is in an Edinburgh hospital.
He was discharged from the hospital on 22nd January 1918 as the thigh wound had healed, and for three weeks was "taken on strength as supernumerary" at the Devonshire Regiment Exeter Depot. This may also indicate that he was allowed to go home on leave. On 13th February 1918, he was sent for convalescence to the RAMC Command Dept at Sutton Coldfield. The purpose of these depots was to do everything possible to return men to service by enabling them to take over lighter duties at home or in support areas well behind the front, thereby freeing up a fitter man to go to the front line. If this was not possible, and no treatment could achieve further results, then men would be discharged. Stanley spent four months at Sutton Coldfield. He may perhaps have been cheered to recover his rank (and pay) as Acting Corporal six days after arriving there.
However, no doubt after due care and attention, the eventual decision was that he should be discharged to "Class P(T) reserve". This was a new type of reserve created during the war for men "whose services [were] deemed to be temporarily of more value to the country in civil life rather than in the Army" and who were not lower than medical grade Ciii. As Stanley had been an engineering apprentice, and as he was able to return to Phillip & Son in Dartmouth, who were involved in government shipbuilding contracts and other work, he could readily be said to be "of more value to the country in civil life" so his discharge was justified. He left the Army on 10th June 1918, and, we must assume, returned to his parents and to Dartmouth to begin civilian life.
As a Class P(T) reservist, he was eligible for a pension on grounds of disability or length of service, from the date of his discharge. A Medical Board enquiry was conducted at Great Yarmouth on 7th September 1918 to assess the extent of his disability and his entitlement to pension. There was no question that his wounding had occurred other than on active service (negligence, misconduct or intemperance were excluded). The condition of his wounds was described: "a perfectly healed scar 4 ¾inches long down front L[eft] thigh, and perfectly healed linear scar across palmer fold of L[eft] index finger." However, he also had "slipping cartilage in each knee", which he said had begun at the same time, though there was no documentary evidence of this. Nonethless the Board seems to have agreed that there was a problem at least with his right knee, if not with both, and that this could be regarded as part of the "invalidity" due to war service.
The Medical Board's opinion was that his disability was "permanent"; but the degree of disability was "30%". They were therefore able to confirm that the category of P(T) reservist was appropriate - he was not "permanently unfit" and there was thus a possibility of a return to the Army, notwithstanding the disability. They awarded a pension of 27/6 for 4 weeks, and 8/3 for 30 weeks, to run from 11th June 1918 (the date of his discharge) to 4th February 1919 (subsequently improved slightly to 27/6 for 4 weeks and 11/- for 35 weeks).
In the event, their careful assessment was overtaken by events, first by the end of the war, and secondly, by Stanley's death.
Death
On 2nd December 1918, Stanley died at 109 Clapham Road, Lowestoft, of influenza and bronchopneumonia. It is not clear whether his disability, or his six months or so of trench warfare in the mud and horror of Third Ypres, in any way contributed to his illness and death. Nor has his reason for visiting Lowestoft come to light. His body was returned to Dartmouth and was buried in St Clements Churchyard, where it is now marked by a Commonwealth War Graves Commission headstone. He had served for over four years, but was still only 20.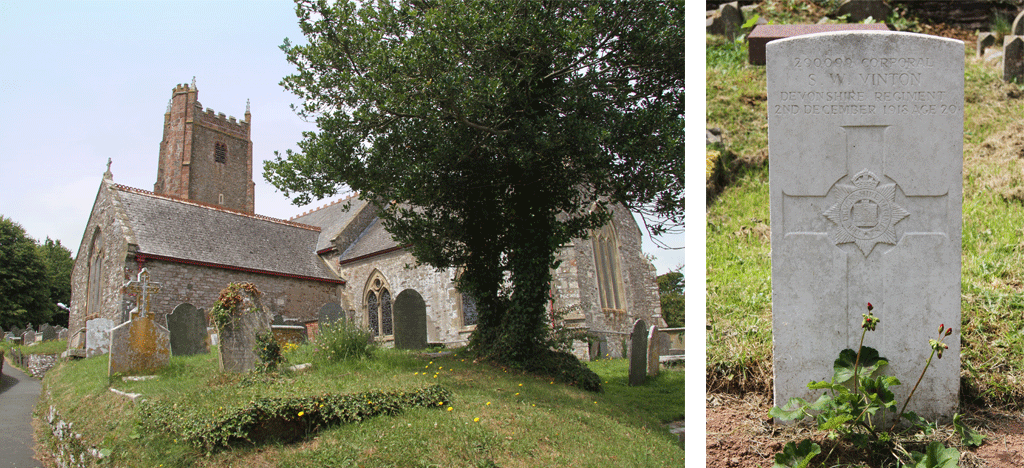 St Clements Church Dartmouth
Commemoration
Stanley is commemorated on the Town War Memorial and the St Saviours Memorial Board.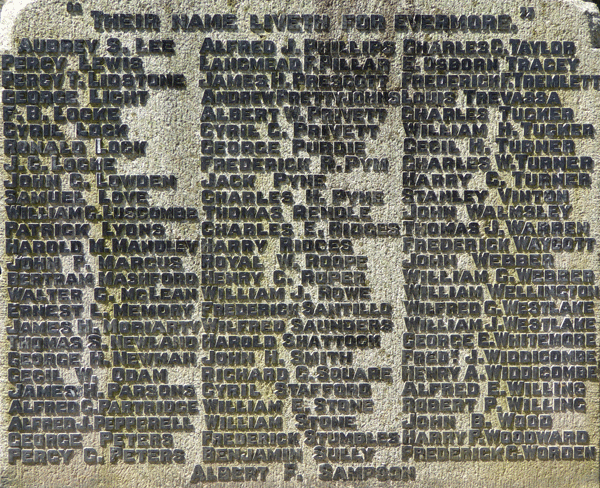 Dartmouth Town Memorial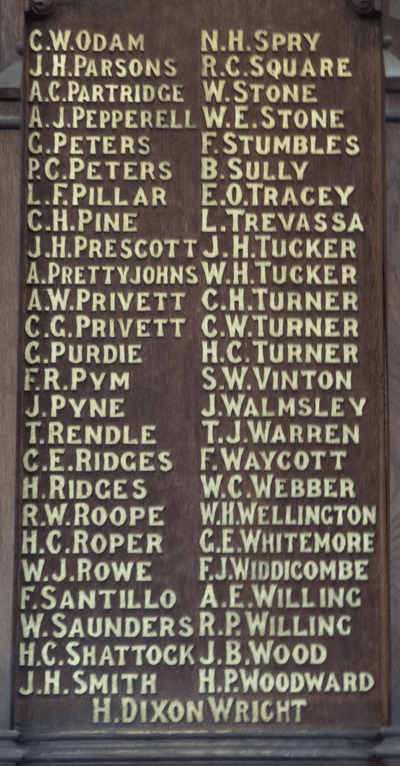 St Saviour's Memorial Board
Sources:
Service Papers for Stanley Vinton, 994 and 290099 Devonshire Regiment, reference National Archives WO363, available through subscription websites
The Second Devons War Diary, by Martin Body, publ 2012, Pollinger In Print
The Devonshire Regiment 1914-1918, complied by C T Atkinson, publ 1926, Eland Bros, Exeter
Information Held on Database
| | |
| --- | --- |
| Surname: | Vinton |
| Forenames: | Stanley William |
| Rank: | Corporal |
| Service Number: | 290099 |
| Military Unit: | 1/7th Cyclist Battalion Devonshire Regiment |
| Date of Death: | 02 Dec 1918 |
| Age at Death: | 20 |
| Cause of Death: | Influenza and bronchopneumonia |
| Action Resulting in Death: | |
| Place of Death: | Lowestoft |
| Place of Burial: | St Clements Churchyard, Dartmouth |
| Born or Lived in Dartmouth? | Yes |
| On Dartmouth War Memorial? | Yes |
| On St Saviour's Memorials? | Yes |
| On St Petrox Memorials? | No |
| On Flavel Church Memorials? | No |
| In Longcross Cemetery? | No |
| In St Clement's Churchyard? | Yes |
| On a Private Memorial? | No |
| On Another Memorial? | No |
---
This information was last updated on Saturday 01 December 2018 at 22:52:14.