Cecil Hall Turner
Cecil Hall Turner was born on 4th February 1884 and baptised at All Saints Babbacombe, Torquay, on 4th March of that year. He was the son of Henry Turner and his wife Elizabeth Rose Hall. At the time of his marriage on 21st February 1881, also at All Saints Babbacombe, Henry Turner was an engineer, and Elizabeth Rose gave her occupation as dressmaker. Henry was born and brought up in Torquay. Elizabeth was born in Cardiff, like her mother, but her father, John William Hall came from Ottery St Mary, Devon,
Six more of the couple's children were baptised at All Saints:
Henry Cresswell, baptised 14th October 1881
Basil, baptised 7th February 1883
Frank Herbert, baptised 22nd December 1887
Herbert Owen, baptised 25th November 1891
Winifred Gwendolen, baptised 6th February 1894
Ivan Leslie, baptised 18th April 1896
In 1891 the family were recorded living at 3 Orient Place, St Mary Church, Torquay. Henry (senior) was a Marine Engineer. The Census showed Henry, Cecil, and Frank. It seems that Basil died when only a few weeks old, in 1883.
By the time of the 1901 Census Henry and Elizabeth had moved to Dartmouth with all their children except Henry Cresswell, who had left home and was working as an engine cleaner for the Great Western Railway. Henry Cresswell is also on our database. His story will be published in 2016.
Henry and Elizabeth lived at 5 Avoca Place South Ford Road, Dartmouth. Henry worked as a Steam Engine Fitter and Cecil, aged 17, had joined him in the same line of work, as he was recorded as a boilermaker. Their next door neighbour was Samuel Buckpitt, one of the uncles of George Kenny Buckpitt, also on our database. The family also had a lodger, Anthony Tolcher, aged 29, a Brass Finisher, perhaps working in the same engineering firm with Henry.
Henry and Elizabeth had two more children, both baptised at St Saviours Dartmouth: Marjorie Gertrude, baptised on 31st October 1901, and Sydney Norman, baptised on 7th June 1906.
Service
On 14th August 1905 Cecil joined the Royal Navy as a Stoker 2nd Class, aged 21, though he appears to have understated his age by a year. The requirements for this rating were not demanding - candidates were required to be:
over 18 and "a desirable man for the service"
fit for the rating and able to read and write fairly
Cecil was 5ft 5 ins with dark hair, brown eyes and a "dark" complexion. He signed on for a twelve year engagement.
After his initial naval training Cecil was appointed to HMS Cornwallis on 27th February 1906. Cornwallis was a Duncan-class pre-dreadnought battleship and, at the time of her completion in 1904 was one of the fastest battleships in the fleet. When Cecil joined her she was part of the Channel Fleet.
While on HMS Cornwallis Cecil decided to become an Engine Room Artificer, the requirements for which were more onerous, but which was considerably better paid (Kings Regulations 1913 quote 1s 8d per day for a Stoker 2nd class, and 5s 6d per day for an Acting Engine Room Artificer 4th Class, the adult entry level). ERAs had to be:
21 to 28
already trained in an engineering trade: Engine Fitter, Boilermaker, Smith or Coppersmith, and "occasionally a Pattern Maker and Moulder may be accepted"
aquainted with the first four rules of arithmetic
able to read and write sufficiently well to note in the Register the particulars of the working of the engines and boilers
to know the names and uses of the different parts of marine engines and understand the use and management of the various gauges
to be able to ascertain the density and height of the water in the boilers
to know what should be done in the event of water passing into the cylinders or a bearing becoming heated
to know how to act in the event of "ordinary" casualties of an engine room.
Evidently Cecil met these requirements (his previous occupation was that of boilermaker and his experience as a Stoker must also have helped). On 6th February 1907 (though the Naval service record is difficult to read) Cecil transferred to HMS Pembroke, the shore establishment at Chatham, as Acting ERA 4th Class.
His first appointment as an ERA was on 25th February 1907 to HMS Attentive, a scout cruiser commissioned eighteen months earlier in 1905. Attentive joined the Nore division of the Home Fleet in March 1907. While Cecil was serving on her, she was involved in a series of accidents during a live firing exercise at night in which she first collided with the destroyer Gala, sinking it, and then with the destroyer Ribble. The damage required her to return to port in Sheerness for repairs.
Cecil therefore found himself back at HMS Pembroke in 1909 and on 20th April he was sent to HMS Tenedos, a training establishment for artificers at Chatham. On 9th May 1909 he was appointed to HMS Speedy, built as a torpedo gun boat but by 1909 converted for minesweeping, and based in Sheerness.
While serving on HMS Speedy, Cecil found time to get married. His wife was Elizabeth Maria Hall, the daughter of John William Hall, plasterer. They married on 3rd April 1910 at St John, Stamford Hill, Haringey, in London. They were both aged 26. Cecil's "residence" was given as HMS Speedy, Sheerness; Elizabeth's as 161 St Anns Road, Tottenham, the home of her elder brother Ernest and his wife Ellen How Cecil and Elizabeth met is not known; there may have been a family connection, as Hall was Cecil's mother's maiden name.
Elizabeth came to live with Cecil's parents in Dartmouth. The 1911 Census recorded Henry and Elizabeth Turner still living at 5 Avoca Place, South Ford Road, Dartmouth, with their younger children Ivan, Marjorie and Sydney, and their daughter-in-law Elizabeth Maria Turner with her new baby, Frank Cecil Turner, one month old. Frank Cecil Turner was born on 16th March 1911 and baptised on 15th April 1911 at St Saviours, Dartmouth.
On 7th June 1911 Cecil was appointed to HMS Halcyon, a Dryad-class torpedo gunboat, of some age by the time he joined her. Although she had been put up for sale, she was recommissioned in 1913 - it would seem from the timing of his appointment that Cecil was involved in the recommissioning process. While serving on HMS Halcyon he was rated up to ERA 3rd Class.
On 2nd September 1913 he was appointed to HMS Actaeon, the torpedo school and auxiliary patrol base at Sheerness, Kent, which was also the depot ship for torpedo boat destroyers. He was rated up to ERA 2nd Class on 5th February 1914.
Late in 1913, or early in 1914, Cecil and Elizabeth had a second child, Ronald Stafford Turner, whose birth was registered in the Medway district.
Death
At the outbreak of war Cecil was still serving on torpedo boat destroyers. Torpedo Boat 10, or HMS Greenfly, was a Cricket-class former coastal destroyer, launched on 15th February 1907. The Cricket class were small torpedo boat destroyers intended to complement the Navy's Tribal-class destroyers. The first twelve were given names, but later were given the numbers TB1 to TB12; the following two batches of 12 boats were only ever given numbers. In 1914 all of them served either in the North Sea Patrol Flotillas or the Nore Local Defence Flotilla.
HM Torpedo Boat No. 10
© IWM (Q 75158)
TB10 was assigned to the Nore Local Defence Flotilla. On 9th June 1915, at midnight, she sailed from Harwich with three other TBs and five destroyers, on patrol off the Thames estuary, searching for reported submarines.
At 3.30pm on 10th June, TB12 hit a mine. She stayed afloat long enough for the other TBs to come to her rescue - when TB10 came alongside, TB12's crew abandoned their boat, and she was taken in tow. But at 16.10 TB10 hit a mine herself. She exploded, broke in half and sank.
Twenty two men, including Cecil, died on TB10. One member of the crew was picked up but died subsequently as a prisoner of war. Twenty three died on TB12, including her commanding officer, Lt Edward Bulteel. Forty one survivors were reported at the time to have been rescued.
It was believed at the time that the boats were torpedoed but subsequently it was identified that the boats had hit mines laid by a German minelaying submarine, UC11, two days earlier. UC11 was sunk later in the war by mines she had laid herself.
In the Dartmouth Chronicle of 18th June 1915 a small piece appeared:
The Loss of Torpedo Boat 10
Presumed Death of a Dartmouth Man
The official list of missing or dead members of the crew of HM Torpedo-boat No 10, which was torpedoed and sunk last week, includes the name of Cecil Hall Turner, ERA, second class, of South Ford Road.
There does not seem to have been any announcement made by the family. Cecil's father, Henry Turner, had died on 17th June 1912 and was buried at St Clements Townstal on 22nd June.
On 6th May 1915, just a month or so before, Cecil and Elizabeth's baby daughter, Joan Patricia, born on 8th March 1915, had been baptised at St Saviour's, Dartmouth. It seems unlikely that she ever saw her father.
Commemoration
Like all those who sailed from Chatham whose deaths occurred at sea and who have no known grave, Cecil is commemorated on the Chatham Naval Memorial.
Also commemorated there is his son Ronald Stafford Turner, NAAFI Canteen Manager, who lost his life when HMS Penelope was torpedoed by German Submarine U410 on 18th February 1944.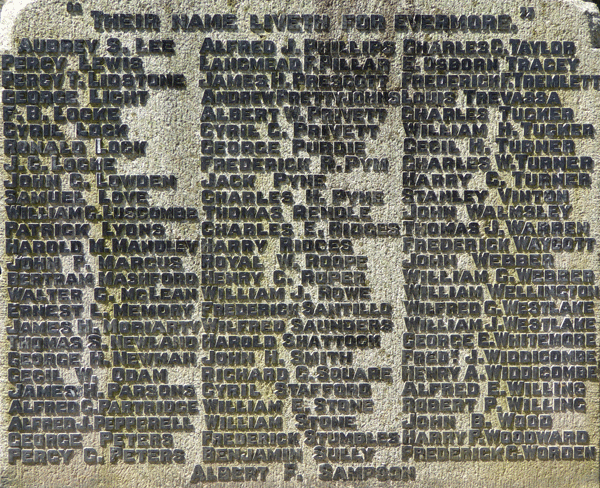 In Dartmouth Cecil is commemorated on the Town War Memorial and on the St Saviour's Memorial Board.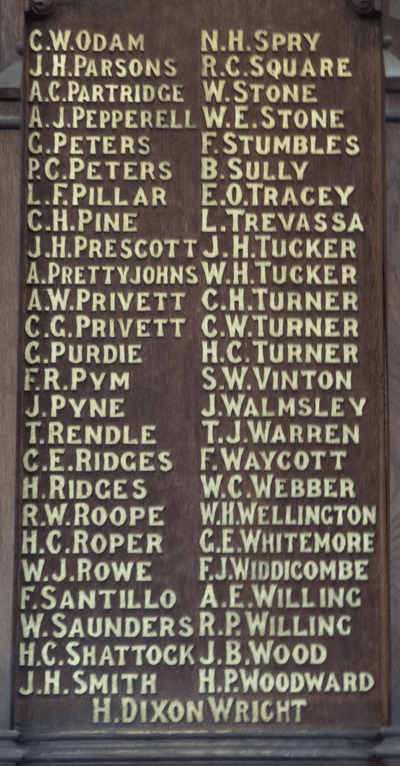 He is also commemorated, with his brother Harry Cresswell Turner, on a private family memorial in St Clement's Churchyard. His mother, Elizabeth Rose Turner, and his wife Elizabeth Maria Turner, were also buried in St Clement's, in 1941.
Sources
Naval service record is downloadable from National Archives (fee payable), reference ADM 188/504/308564
Kings Regulations and Admiralty Instructions 1913:
Naval casualties and information on the loss of TB10 and TB12 from naval-history.net
Information Held on Database
| | |
| --- | --- |
| Surname: | Turner |
| Forenames: | Cecil Hall |
| Rank: | Engine Room Artificer 2nd Class, RN |
| Service Number: | 308654 |
| Military Unit: | HM Torpedo Boat 10 |
| Date of Death: | 10 Jun 1915 |
| Age at Death: | 31 |
| Cause of Death: | Killed in action |
| Action Resulting in Death: | Sunk by mine |
| Place of Death: | Thames Estuary |
| Place of Burial: | Commemorated Chatham Memorial |
| Born or Lived in Dartmouth? | Yes |
| On Dartmouth War Memorial? | Yes |
| On St Saviour's Memorials? | Yes |
| On St Petrox Memorials? | No |
| On Flavel Church Memorials? | No |
| In Longcross Cemetery? | No |
| In St Clement's Churchyard? | No |
| On a Private Memorial? | Yes |
| Name of Private Memorial: | Family Gravestone, St Clement's |
| On Another Memorial? | No |
---
This information was last updated on Wednesday 10 June 2015 at 19:09:29.