Harry Cresswell Turner
Family
Henry Cresswell Turner, known as Harry, was born on 12th August 1881 and baptised two months later on 14th October, at All Saints, Babbacombe, Torquay. He was the eldest son of Henry Turner and his wife, Elizabeth Rose Hall. Henry Turner (senior) was an engineer, born and brought up in Torquay; Elizabeth was born in Newton Poppleford, East Devon, but had moved with her family to Babbacombe when she was a girl. At the time of her marriage to Henry, on 21st February 1881, also at All Saints, Babbacombe, Elizabeth was working as a dressmaker.
Henry and Elizabeth made their home in Babbacombe, and the baptism register of All Saints also recorded six more of their children:
Basil, born 11th January 1883, baptised 7th February 1883 (he sadly died aged only 10 weeks and was buried on 28th March 1883 in Torquay Cemetery)
Cecil Hall, born 4th February 1884, baptised 4th March 1884 (Cecil Hall Turner is also on our database)
Frank Herbert, born 30th October 1887, baptised 22nd December 1887
Herbert Owen, born 18th October 1891, baptised 18th November 1891
Winifred Gwendolen, born 8th January 1894, baptised 6th February 1894
Ivan Leslie, born 23rd March 1896, baptised 18th April 1896
Henry senior continued to work mostly in the engineering industry, though at the time of Frank's birth, he was recorded as a licensed victualler.
At some point after Ivan's birth, the family moved to Dartmouth; and at about this time, Harry obtained work on the railways. He appears in Great Western Railways staff records as a cleaner on the Kingswear steamers (which connected Dartmouth to the Kingswear rail terminus), having joined on 12th November 1900, earning 2s/2d per week. He does not appear to have stayed there long, transferring to Newton Abbot in July the following year, and leaving the GWR's books on 1st October 1901. At the time of the 1901 Census, Harry was a boarder in Newton Abbot, together with another engine cleaner, in the house of Henry Huddeson, railway porter, and his wife Annie.
His mother and father, meanwhile, had moved to 5 Avoca Place, South Ford Road, with his brothers and sister. Another daughter, Marjorie Gertrude, was born there on 9th September 1901, and baptised at St Saviour's on 31st October of that year; the youngest in the family, Sydney Norman, was born on 20th May 1906 and baptised at St Saviour's on 7th June 1906.
On 27th October 1905, the family hit the headlines in the Dartmouth Chronicle when Herbert, not quite fourteen, was presented with the Royal Humane Society's medal for saving a child from drowning in Dartmouth Harbour:
Turner is a member of the Dartmouth Amateur Swimming Club ... A lad named Willie Kellond, aged 10, who was playing on the Embankment, fell into the water about 4.30pm on August 24th. He had been there quite three minutes before [he was] noticed by Turner, who jumped in fully dressed and swam out to the lad and brought him safely to shore, at the risk of his own life. Kellond would undoubtedly have been drowned, as there was no one near that could swim except Turner. There was a depth of about ten feet of water at the time, and a very strong tide was running ... When Kellond was brought to the Embankment steps by Turner, Mr Underhay assisted to get the lads out of the water. The latter stated that Turner could only just reach the shore and was very much exhausted in his exertions.
By the time of the 1911 Census, Harry was working as a farm servant, one of three, at Brendon Barton farm, in the village of Brendon, on Exmoor. Three of his brothers - Cecil, Frank and Herbert - joined the Royal Navy; Ivan became a chauffeur (see further below).
Service
Harry's service papers have not survived but we know he enrolled in the Bedfordshire Regiment and that he enlisted in Bristol. His number, 14868, taken together with other information, suggests that he joined up early in the war. The 1914/1915 Star Medal Roll shows he went to France with the 7th Battalion, Bedfordshire Regiment, arriving 26th July 1915.
The 7th Battalion was formed at Bedford in September 1914, part of Kitchener's Second Army; in February 1915 they were moved into the 54th Brigade of the 18th (Eastern) Division, and went with the 54th Brigade to France. By September 1915, they were already in the southern sector of the Somme, near Fricourt. This was an area where both sides were attempting to mine each other's front line - the 7th Battalion's War Diary reported German mines exploded on 13th, 18th and 19th September, during their first stint in the front line. There were also exchanges of artillery fire, some sniping, and shelling and bombing. (See also the story of Jack Butteris, serving in the 55th Brigade of the same division).
At some point during his service, Harry transferred from the 7th Battalion to the 6th Battalion, with whom he was serving at the time of his death. The 6th Battalion had gone to France as part of 112th Brigade in the 37th Division, arriving within a few days of the 6th, on 30th July 1915. They too were soon on the Somme, going into the trenches north of their sister Battalion, near Foncquevillers, in September 1915. Though the War Diaries of these Battalions refer to other ranks by name on several occasions, and the 7th Battalion's includes named casualty lists, there appears to be no mention of Harry Turner in either, nor any other information which enables the date at which he transferred to be identified.
The Battle of the Somme
The 7th Battalion was the first of the two to be involved in the Battle of the Somme, attacking on the left of the 18th Division's front on 1st July towards the village of Montauban, with the particular target of the fortified strongpoint known as the "Pommiers Redoubt". The attack was successful, though the Battalion lost two officers killed and 15 wounded, while 79 other ranks were killed and 221 wounded (nine of whom died of their wounds). Six were reported missing.
On 16th and 17th July, whilst in reserve, the Battalion was ordered to be ready to participate in an attack on Guillemont, but on 18th July "it was rumoured that 54th Brigade would not be called on ... owing to the heavy casualties it incurred on 1st July...". So it proved - the 7th Bedfords left the Somme three days later, taking a train for St Omer on 22nd July, and marching to the village of Wallon Cappel, near Hazebrouck. There they celebrated the anniversary of their arrival in France on 26th July. The following day they marched to Bailleul. During August, they completed one week in the trenches near Armentieres in mid-August, spending the rest of their time in training, particularly in wood fighting.
They returned to the Somme sector in September, where on 26th and 27th September they were involved in the successful attack on Thiepval and, on 28th and 29th September, the Schwaben Redoubt. Casualties were two officers and, according to the War Diary, "about 110 other ranks". After these two significant actions, they spent most of October either at rest or in training, receiving a draft of 158 other ranks from England on 11th October. They returned to the front line briefly for three days, holding Regina Trench, near Thiepval, between 23rd-25th October; and again in November, for two short periods, but were not involved in any further attacking operations. An attack for which they practiced during October was never carried out, because of the poor weather experienced across the Somme front during this period.
The 6th Battalion was brought into action on 15th July 1916 in an attack on Pozieres, a village on the Albert-Bapaume road, carried out by 112th Brigade as part of 34th Division (the Brigade had transferred to 34th Division on 7th July 1916 because that Division had suffered very heavy losses during the opening day of the Somme). The attack on Pozieres was an assault on the left flank of the main attack on the Bazentin Ridge (for the main attack, see, for example, the story of William Marks Carpenter). Pozieres was extremely strongly fortified and, as it was on a ridge, overlooked the positions of any attackers from almost any likely direction. Although the British front line was advanced, Pozieres itself was not taken (it did not fall until early August, when it was captured by Australian forces, at huge cost). On 15th July, 112th Brigade suffered heavy casualties, in total, 1034 officers and men; the 6th Bedfordshires lost 330 officers and men.
During the early part of August, they were holding the front line at Bazentin-le-Petit, and suffered further casualties. As a result, the 6th Bedfords War Diary records several drafts of reinforcements arriving during July and August:
| | |
| --- | --- |
| 21st July: | 120 |
| 23rd July: | 28 |
| 25th July: | 90 |
| 17th August: | 5 officers and 288 men |
Perhaps Harry transferred to the 6th Bedfords during this period - however, the 6th Bedfords War Diary provides no information about the source of those arriving as reinforcements; and there is no reference in the 7th Bedfords Diary to any "export" of men.
The following day, 6th Battalion were also transferred away from the Somme, arriving on 25th August 1916 in the trenches near Loos, briefly on loan (with the rest of the Brigade) to 40th Division. They remained in this sector during September and early October, returning to the Somme area by the end of October. From 1st-11th November they were billeted in the village of Sarton, north-west of Albert, which was used as a divisional rest station. The Battalion War Diary described these days tersely as "waiting for favourable weather for offensive operations".
Death: Battle of the Ancre
The offensive operations in question constituted the fourth and final phase of the Battle of the Somme, developed with the aim of securing the best possible positions for the winter - and the hope of finally achieving gains that had eluded the Allies since the first day of the Somme. The attack was to be made on either side of the Ancre, as soon as the weather was sufficiently dry to provide reasonable ground conditions. The attack was postponed several times due to poor weather, being finally scheduled for 13th November after two relatively dry days.
As the attack began, the 6th Bedfords were in reserve at Louvencourt. They spent the day marching to Bertrancourt, arriving at 3pm, and then to Mailly-Maillet, arriving at 9pm. Meanwhile, the village of Beaumont Hamel was attacked by 51st Division. It finally fell by late afternoon that day, but the attacking troops were unable to push on to their second objective, Frankfort Trench, which ran north-south behind the village, on the reverse slope of the ridge. Over the next few days Frankfort Trench became the target of a series of poorly planned and badly coordinated attacks.
After the initial successes of 13th November, German reserves were brought up overnight and both Frankfort Trench and the trench in front of it, Munich Trench, were heavily defended. The attack on Frankfort Trench was resumed by 51st Division and 2nd Division early the following morning but some attacking units received their orders late, whilst "friendly fire" casualties were caused by mistakes in the supporting barrage. So this first attack failed.
112th Brigade (including 6th Bedfords) was then loaned to 2nd Division to provide further attacking troops, advancing at 2.45pm. However, once again, other units with whom they were meant to attack received their orders too late, so 6th Bedfordshires and 11th Royal Warwickshires found themselves attacking unsupported. They were unfamiliar with the ground and were exhausted from their approach march of the previous day. Resistance from German forces was extremely fierce.
This second attack failed also. 6thBedfords thus fell back to a position known as Waggon Road, just beyond the village of Beaumont Hamel. The following day, they attacked Munich Trench, whilst other 112th Brigade Battalions attacked Frankfort Trench, but again without success. Once again they withdrew to Waggon Road. On 16th November, whilst entrenched in the position in Waggon Road and waiting for orders to move forward, or retire further, the 6th Bedfords were heavily shelled, sustaining several casualties.
However, the following day, no doubt to their great relief, they were withdrawn behind the line to Mailly-Maillet. Between 18th-25th November, they provided carrying parties to other front line troops between Beaucourt and Beaumont Hamel. On 23rd November, 100 men from 6th Bedfords were added to a sister battalion in 112th Brigade, the 10th Loyal North Lancashires, as yet a further attack was made on Munich and Frankfort Trenches, on a position called "the Triangle".
During this period, a section of Frankfort Trench was taken by a small mixed force of British troops from 32nd Division on 18th November. The garrison held out in a heroic defence for seven days, but were finally overrun on 25th November, and the survivors taken prisoner. At the end of the Battle of the Ancre (which was also the end of the Battle of the Somme) German forces still held both Munich Trench and Frankfort Trench.
The failure of the 2nd and 51st Divisions to take Frankfort Trench on 15th November was the subject of a detailed enquiry. In particular, Major General W G Walker, the officer commanding 2nd Division (to which 112th Brigade had been loaned) stated that the attack on 14th November "had been very hurried" and that he had requested that operations should be delayed for a few hours to permit 112th Brigade's officers to have more time to reconnoitre the ground. A slight delay would not only have assisted reconnaissance; it would have enabled better coordination with artillery fire and amongst the various infantry units. But his proposal was turned down because the senior command (General Sir Hugh Gough, commanding Fifth Army, and Lt General Edward Fanshawe, commanding V Corps) was keen to push on with the attack.
Following the attacks on Frankfort and Munich Trench, Harry was at first reported missing. However, it seems that when the Ancre battlefields were cleared during the spring of 1917 by V Corps, after the German withdrawal to the Hindenberg Line, his body was one of those found and identified. Harry was buried at Waggon Road Cemetery, one of four closely grouped cemeteries created by V Corps which are sited very close to where the action took place, and which mark, in effect, the failed attempt to secure Munich and Frankfort Trench:
Munich Trench
New Munich Trench
Waggon Road
Frankfurt Trench (spelling follows CWGC)
All available records give Harry's date of death as 16th November 1916, so he is presumed to have been killed when the 6th Bedfords were shelled while entrenched in Waggon Road.
Harry's name appeared in a casualty list dated 9th August 1917 as "previously reported missing, now reported killed"; and this was duly reported in the Western Times of 13th August 1917.
Commemoration
Harry's grave is now marked by a Commonwealth War Graves Commission headstone in Waggon Road Cemetery, near Beaumont Hamel.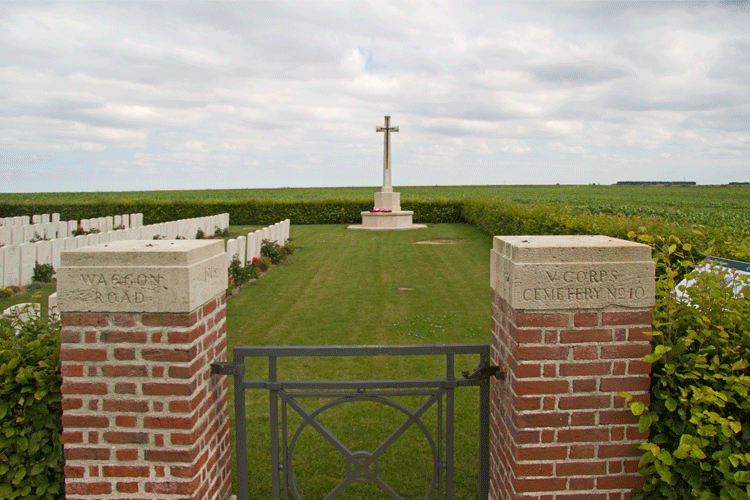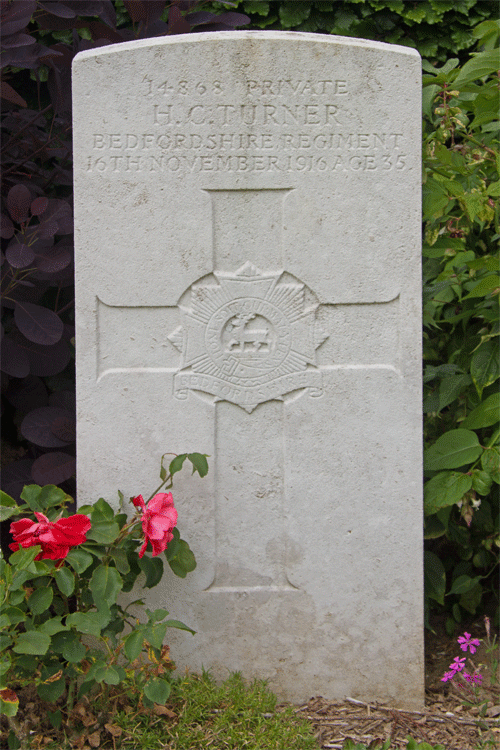 In Dartmouth, he is commemorated on the Town War Memorial and the St Saviour's Memorial Board.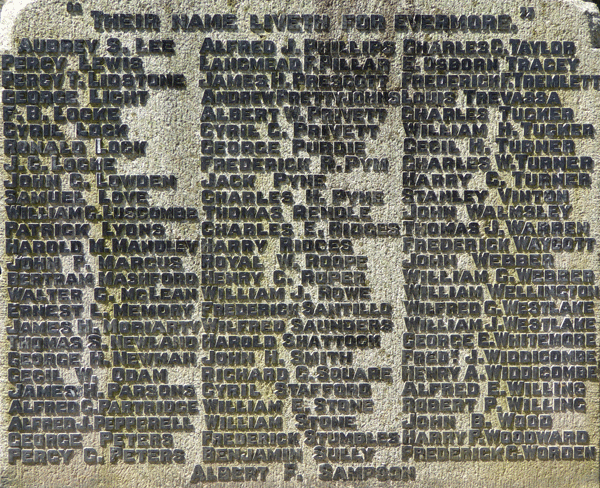 Dartmouth Town Memorial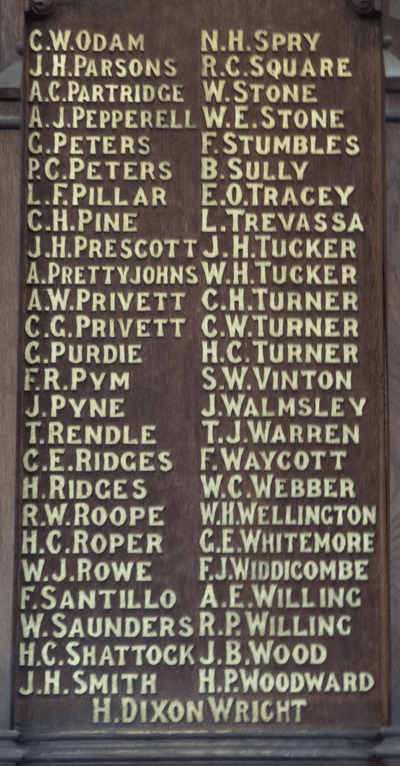 St Saviour's Memorial Board
He is also commemorated with Cecil on a private family memorial in St Clement's Churchyard.
Harry's brother Frank survived the war and was demobilised on 16th October 1919. For most of the war he served in HMS Skirmisher, a scout cruiser, in the North Sea and in the Mediterranean.
His brother Herbert, however, appears to have been discharged from the Navy in 1913 "service no longer required".
Coincidentally, just before Harry was killed in action, a report appeared in the Dartmouth Chronicle of 10th November 1916 of the Military Medal awarded to his youngest brother Ivan, who had joined the Royal Engineers:
Dartmouth Military Medallist
Sapper Ivan L Turner, son of Mrs Turner, of 5 Avoca Place, South Ford Road, Dartmouth, has been awarded the Military Medal…
For conspicuous gallantry and resource during operations from 28th September till October 1st, more especially on 28th September north of Ovillers where he displayed great bravery in repairing telephone lines under heavy fire, and never hesitated to undertake any work, however arduous.
Sapper Turner, before the war was chauffeur to Commander Spencer Cooper, at the Royal Naval College. One of his brothers was drowned on board a torpedo boat which was submarined in the North Sea on June 10th 1915.
Ivan also survived the war.
Sources
Information on the 6th and 7th Battalions of the Bedfordshire Regiment has largely been sourced from the website The Bedfordshire Regiment in the Great War. This includes transcripts of their War Diaries and much other information on the actions in which they took part:
From the Somme to Victory: The British Army's Experience on the Western Front 1916-1918, by Peter Simkins, publ Pen & Sword Books 2014; chapter five - The Battle of the Ancre and the Struggle for Frankfort Trench, November 1916
The Somme, by Peter Hart, publ Cassell, 2006
Somme 1916, A Battlefield Companion, Gerald Gliddon, publ The History Press, 2016.
Information Held on Database
| | |
| --- | --- |
| Surname: | Turner |
| Forenames: | Harry Cresswell |
| Rank: | Private |
| Service Number: | 14868 |
| Military Unit: | 6th Bn Bedfordshire Regiment |
| Date of Death: | 16 Nov 1916 |
| Age at Death: | 35 |
| Cause of Death: | Killed in action |
| Action Resulting in Death: | Battle of the Ancre |
| Place of Death: | Near Beaumont Hamel, France |
| Place of Burial: | Waggon Road Cemetery, Beaumont-Hamel, France |
| Born or Lived in Dartmouth? | No |
| On Dartmouth War Memorial? | Yes |
| On St Saviour's Memorials? | Yes |
| On St Petrox Memorials? | No |
| On Flavel Church Memorials? | No |
| In Longcross Cemetery? | No |
| In St Clement's Churchyard? | Yes |
| On a Private Memorial? | Yes |
| Name of Private Memorial: | St Clement's Churchyard |
| On Another Memorial? | No |
---
This information was last updated on Wednesday 04 January 2017 at 11:20:56.