George Kenny Buckpitt
Although George Kenny Buckpitt is commemorated on two memorials in Dartmouth, he was born thousands of miles away in Tasmania. To understand his connection with the Dartmouth community, it is necessary to go back to his father, Edward Wheaton Buckpitt, grandfather, John Buckpitt, and great-grandfather, Samuel Buckpitt.
Family
John Buckpitt
John Buckpitt was born in Redlap, Stoke Fleming and baptised there on 30th January 1816, the only son of Samuel Buckpitt and his wife Jane Tucker Luckrift. The Buckpitts came from a family known to have been in Blackawton, near Dartmouth, as far back as 1735. Although described as a labourer at the time of his marriage to Jane, by 1841 Samuel Buckpitt was farming at Lower Greenway Farm, on the Greenway Estate, and by 1851 was at Coombe Farm, Stoke Fleming, farming 196 acres and employing three labourers.
On 2nd August 1837 John married Margaret Jane Stranger at St Clements, Dartmouth - he was described as "farmer" and Margaret as "daughter of farmer". During John's lifetime, he and Margaret moved house many times to farms and mills in the district. His first two children, John Henry and Samuel Edwin, were born at Little Cotton Farm in 1838 and 1840 respectively. The family had moved to Capton by the time of the birth of their third child, William Thomas, in 1843, and to Maypool, near Brixham, by the birth of son number four, George Mark. By 1851 they were living next door to John's father Samuel, back in Stoke Fleming, at Coombe, where their first daughter, Mary Jane, was born in 1849. Three further children followed, all born in Stoke Fleming: Edward Wheaton in 1851, Margaret Ann in 1854, and Charles Stranger in 1855.
On 15th January 1860 Margaret died, following the birth and death of a ninth child. By this time John was the miller at North Mill, Slapton, also farming five acres of land. Very soon after Margaret's death, he married Sarah Rebecca Luscombe. In 1871 the Census recorded him as the miller at Gara Bridge, also farming nine acres of land, and in 1881 as the farmer, but not the miller, of nine acres at Blackpool Mill, Stoke Fleming. By 1886 they had moved to Lower Wadstray, Blackawton (see below). Sarah Rebecca died there in February 1886 and was buried in Strete. John died on 8th November 1886 at Wadstray, with a personal estate of £376 11s 3d, and was buried in Strete on 15th November 1886.
By the time of John's death, his family had spread around the world, though several of his children also remained in and around Dartmouth and South Devon. But, as George Kenny Buckpitt's name on the Dartmouth memorials indicates, the family clearly retained a strong sense of connection with each other.
The eldest son, John Henry, was left the tenancy of the farm at Fuge by his grandfather Samuel. The 1881 Census recorded him farming 200 acres, employing two men, two women and one boy, at Lower Fuge Farm and Burlestone Farms, Strete. John Henry married Elizabeth Alice Foale, and they had seven children, the Foale Buckpitts. John passed Fuge on to his eldest son; by 1891 he himself was farming at Manor Farm, Abbotskerswell, where he remained for the rest of his life, becoming Chairman of the Parish Council.
The second son, Samuel Edwin Buckpitt, took a different course. He became a merchant seaman, achieving his Master's Certificate on 11th September 1865, issued at Plymouth. Ten days later he married his first cousin, Rosina Mary Jane Buckpitt, daughter of William Buckpitt, his father's elder brother. According to the obituary published in the Western Morning News on 30th August 1927, Samuel "traded to all parts of the world". Rosina seems to have had a taste for the sea herself. In the 1871 Census, he and Rosina were recorded on board the Schooner "Fling", moored in the West India Dock in London, and both of them are recorded as part-owners of other ships registered in Dartmouth.
Later in life, however, she remained at the couple's home in South Ford Lane, Dartmouth, with her mother, while Samuel was away at sea. The couple had no children. Rosina died in 1893 and in 1894 Samuel Edwin married again. His second wife was Elizabeth Allen Hughes, but that marriage was also childless.
When Samuel retired from the sea he joined the firm of Messrs G H Collins and Co Ltd, and superintended their harbour work at Dartmouth and Portland. He was elected a Dartmouth town councillor in 1888 and remained on the council for many years. Samuel Edwin died in 1927 at the house of his nephew, William Aitken Buckpitt (see below), at Lower Wadstray, where his funeral was held. He was by the time of his death relatively well off.
William Thomas Buckpitt, the third son, decided to seek his fortune in Australia. Gold had been found in Queensland in 1871 and William Thomas joined the rush of those seeking a fortune. He headed for Townsville, Queensland, near the gold fields, where he became a butcher. On 1st September 1874, aged about 31, he married Jane Aitken in Queensland. Jane Aitken was 19, one of the six daughters of Thomas Aitken and Margaret Storey. Thomas Aitken had come to Australia from Scotland and was lucky enough to find gold in the rivers of what subsequently became the Ravenswood Goldfield. After living in Australia for a number of years, he returned to Scotland to marry Margaret. When they returned to Australia they first were dairy farmers near Brisbane, where Jane was born. In 1867 the family moved to Townsville, Queensland, and took up 3500 acres of land around the Ross River, where they established a dairy farm, calling the property the Aitkenvale Estate. Subsequently they sold almost all the land, which became the modern suburb of Aitkenvale.
William and Jane had one son, William Aitken Buckpitt, on 5th November 1875; but Jane died of diptheria only a few months after his birth, on 30th June 1876. Evidently William decided to return home to England for good, but this took time to arrange. In 1878 he travelled back to England, arriving in May 1879, and the following month, he made his first investment in land back home, buying the farm of Lower Wadstray, between Blackawton and Dartmouth, in June. He then went back to Townsville, in Queensland, to sell the property he owned there. Records show him travelling back to Australia with his young son, aged 4, on the Aconcagua, arriving on 5th May 1880. Six months later he married Elizabeth Scott Allen, in Queensland. She was the governess who had been employed by Thomas and Margaret Aitken to teach their six daughters. Lower Wadstray, in the meantime, was let to his sister Mary Jane - see below.
William and Elizabeth, with William junior, appear to have returned more or less immediately to England, as the 1881 Census recorded them living with John and Sarah Buckpitt at Blackpool Mill, Stoke Fleming. By 1883 they were living in Above Town, Dartmouth, and in 1884 they were living at Paddlelake, near Wadstray. Their links with Australia were evidently not forgotten, however, as their three children were named after Australian cities: Sydney Allen, Frederick Hobart, and Samuel Melbourne. By 1891 the family had settled at Middle Wadstray Farm, Blackawton, which William Thomas bought in 1897.
The fourth son, George Mark Buckpitt, emigrated in the opposite direction, to Canada. On 30th June 1875, in Chatsworth, Grey County, Ontario, he married Margaret Jane Coman (or Couman), of Irish extraction but born in Newmarket, Ontario. George had followed his father's trade, and was a Miller. Here he was joined by his sister, Mary Jane. She had married Samuel Soper, a farmer, in 1874. Samuel was the eldest son of another Samuel Soper, farming 95 acres at Torr Farm, Slapton. Whether with a view to emigration, or just perhaps to visit her brother and his new wife, Samuel and Mary Jane travelled to Canada in 1875, giving as their destination Hamilton, Ontario. Their first child, Ernest, was born on 4th February 1877, in Bruce Township, Bruce County, Ontario, on the shores of Lake Huron. Samuel's occupation was recorded as "Farmer". But very sadly, the baby lived only three days. Mary Jane's brother George registered both the birth and death together on 8th February 1877.
By the time of the birth of their next child, Albert Buckpitt Soper, Mary Jane and Samuel were living in Tiverton, Bruce County on 12th May 1879, still close to George and his family. However, although George made his life in Canada, Mary Jane came home again, a little like her other brother William Thomas. The 1881 Census recorded Mary Jane, Samuel, and Albert living in Lower Wadstray, which William Thomas Buckpitt had bought on his return to England in 1879. By the year of their deaths, John and Sarah, Mary Jane's parents, were also living at Lower Wadstray, with Mary Jane and her husband.
Mary Jane and Samuel's second child, Emily Maud, was born on 14th November 1884 but sadly Mary Jane died in 1886 when her daughter was less than eighteen months old. By 1890, when Emily was admitted to school in Slapton, Samuel had moved away from Wadstray, and was farming at Dearswell Farm. In 1894, he married his servant Mary Hendrie, by whom he had a second daughter, Jessie Mary. The Soper family remained at Dearswell Farm at least until 1911.
John and Margaret's younger daughter, Margaret Ann Buckpitt, married John Woodley in 1878. John was the son of Samuel Woodley, who farmed at Seccombe, Halwell. By 1891 John Woodley was the Miller at Malston Mill, Sherford, Kingsbridge; and in 1901 the family were renting Middle Wadstray from Margaret's brother, William Thomas Buckpitt. When William Thomas' eldest son William Aitken Buckpitt married, he took over Lower Wadstray. William Thomas with his remaining family moved into Middle Wadstray, and the Woodleys moved on to another farm. The 1911 Census recorded them in a farm in South Brent.
Edward Wheaton Buckpitt
Edward Wheaton (or Weaton) Buckpitt, born 1851, followed his elder brother Samuel to sea; and this choice of career took him also to a life in Australia.
According to records of his service on the Naomi in 1870, sailing out of Liverpool to Rio de Janeiro, he was indentured as an apprentice seaman on 23rd January 1868. He served on the Naomi from 1868 to 1872, and on the Caranjah, registered at London, from 1872 to 1874, being discharged at Hamburg. His Second Mate's Certificate was awarded on 30th January 1873 from Dartmouth, while he was on the Caranjah. He then joined the Helen, registered in Hobart, sailing from London to Hobart, being discharged there on 3rd April 1875. His certificate as First Mate was issued in Hobart on 10th October 1875.
He seems next to have gone to Queensland - perhaps because William Thomas had already established himself there. On 24th February 1877, Edward married Jane Kenny (or Kenney), in Queensland. The couple had eight children. Their first child, Edward John, was born on Christmas Day 1877 in Queensland, but died only two months later. Perhaps this led them to move away, for by the time of the birth of their second child, Margaret Jane, on 30th December 1878, the couple had moved to Tasmania - her birth was registered in Hobart.
By the time their third child, Catherine Mary, was born on 14th March 1880, the couple had moved to the north west of Tasmania. Her birth was registered in Horton, now the municipality of Circular Head, the far north-west corner of the island. More specifically, we know from his army record that Charles Thomas Buckpitt, the fourth child, was born in Currie Harbour, King Island, off the coast of Tasmania in the Bass Straits, in June 1881. Here the family remained for a while, as we know from a report of a visit to King Island by a party from the Field Naturalists Club of Victoria in 1887 that by then "Mr Buckpitt" was the superintendent lighthouse keeper at Currie Harbour. He "made all things pleasant" for the party when they visited the lighthouse, and the following day provided the party with a horse to help them on their return journey and guided them part of the way.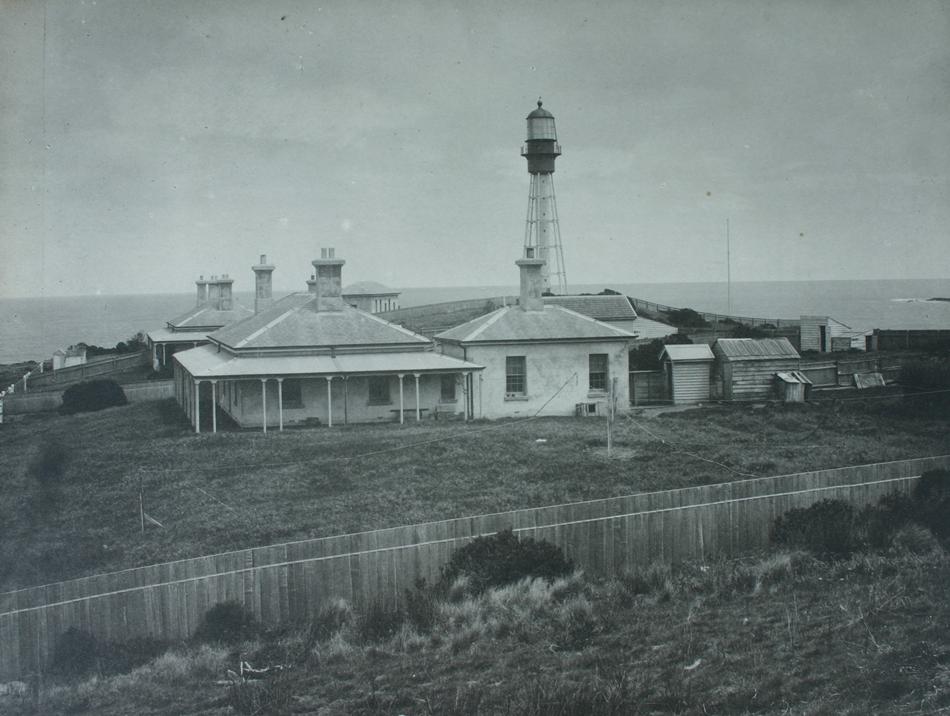 Currie Harbour Lighthouse, King Island 1887
© Museum Victoria
While on King Island, four more children were born (all registered in Horton):
Edwin Wheaton on 1st September 1882
George Kenny on 4th October 1885
Samuel Henry, born 23rd January 1887
Rosina Ann, born 19th October 1889
By the time of the birth of their last child, William Sydney, on 8th October 1893, the family had left King Island as Edward had transferred to Eddystone Point Lighthouse, which had only recently been completed. In 1912 he was recorded as Keeper at Swan Island, off Cape Portland, a little further round the north east coast of Tasmania from Eddystone.
Swan Island was perhaps Edward's last lighthouse, since the 1914 Australian Electoral Rolls recorded him, Jane and their two daughters, Margaret and Rosina, living in Tower Road, New Town, a suburb of Hobart.
Service
George Kenny Buckpitt enlisted in the Australian Imperial Force very soon after the outbreak of war, on 17th August 1914, the same day as his elder brother Charles, though in different places, for Charles lived in Albert Park, Victoria, and George with his parents, in Hobart. Charles was 33 and George 28; Charles was a commercial traveller and George a carpenter. Both had previous military experience - Charles had served in the 3rd Battalion Australian Imperial Reserve between 1900-1905, George had served in the Tasmanian Rangers for eighteen months. Neither was married. Their army records state that Charles was 5ft 9 ins, with a fair complexion, fair hair and blue eyes; and that George was slightly taller, at 5ft 10ins, with a dark complexion, dark brown hair and grey eyes.
George was one of the first draft of recruits to the 12th Battalion, joining A Company with the service number 99. They were sent into camp at Pontville, Tasmania, until due to leave. George's record states that while in camp he was absent without leave from 1st-2nd October - perhaps to go home? - for which he forfeited one days pay and was fined two shillings. Charles joined the 5th Battalion which had its headquarters in Melbourne and trained at various places around the city.
George and Charles left Australia for their service overseas on successive days, George on 20th October 1914 from Hobart, on HMAT Geelong A2, and Charles on 21st October 1914, from Melbourne, on HMAT Orvieto A3. Both the Geelong and the Orvieto were liners, leased by the Australian Government for troop transport, and were part of the first convoy of Australian and New Zealand Imperial Expeditionary Forces, assembling at King George's Sound, Albany, Western Australia. The convoy departed for Colombo on 1st November 1914. By 25th November the convoy was at Aden; on 2nd December the ships went through the Suez Canal, and on 9th December they berthed at Alexandria. Both Battalions then went into Mena Camp at Cairo to begin their training. ANZAC forces were originally intended for France but during March 1915 it was decided to use them in the operation to force the Dardanelles. Please see our Gallipoli timeline.
By 21st April 1915 12th Battalion were at Mudros and on 24th April 1915 they left Mudros on HMT Devanha for their rendezvous off the Gallipoli peninsula. They were part of the "covering force" for the first wave of landings. They arrived at 10pm, where they transferred to destroyers for the landing at ANZAC Cove:
Headquarters, Machine Gun Section, and A Company to HMS Ribble
B Company to HMS Scourge and HMS Foxhound
C Company to HMS Colne and HMS Beagle
D Company to HMS Chelmer and HMS Usk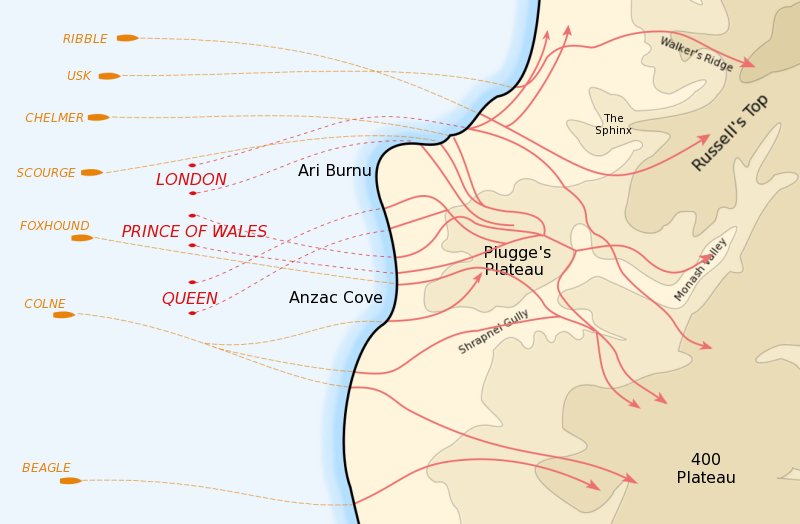 ANZAC covering force landing April 25th 1915
Ribble took George and the rest of A Company as close to the shore as possible, towing the Davanah's lifeboats behind her, into which the men transferred. A steam pinnace then took six boats at a time within 50 yards of the shore, after which the crews then rowed as hard as they could. Captain Fry of 3 Field Ambulance, which was also making the landing via Ribble, recorded the procedure:
[We] transhipped from the HMT Devanha to Torpedo Boat HMS Ribble, together with a company from the 12th Infantry Battalion. HMS Ribble, on the left bank of the Flotilla, approached the coast where landing was made about 4.30 [am]. The disembarkation into the tows [ie the Davannah's lifeboats] was made under rifle fire - two men were wounded in the Torpedo Boat and left behind. The unit disembarked into two boats of second tow about 5am. Landing was effected under heavy shrapnel and rifle fire".
The 12th Battalion War Diary includes a detailed description of the landing operation and the attack on the beach, which encountered stiff resistance:
While loading from destroyers to boats we were heavily shelled from Kaba Tepe and on landing met heavy machine gune and rifle fire from the direction of Fishermen's Hut. Large number of casualties on and before landing. The order of landing from left to right was Headquarters and A Company, D, B, C.
A Company with two platoons D Company pushed forward to 1st Ridge Sq 224 H1. Enemy encountered - Bayonet charge made - enemy retired from their trenches to ridge 1000 yards away - We pursued and opened fire 350 yards from Ridge. Here Col L F Clarke C/O was killed while writing message. Major C H Elliott also wounded. Capt Lalor D Coy took command. Pushed forward over ridge. Enemy discovered in strong force attempting to get round our flank. We retired but meeting reinforcements from 2nd Bn advanced again. Eventually forced to fall back on to defensive line which was being built up. Capt Lalor and Lieut Patterson were killed during the advance with 2nd Bn.
Remaining 2 platoons of D Company sent to right flank by Capt Ross to assist in repelling counter attack. Reinforced by 7th Bn and moved further to the right and joined 9th Bn. The extreme right at 2pm was enfiladed by enemy's artillery but no ground was lost. Remnant retired to beach during night.
B Company meanwhile in the centre reinforced 10th Bn in an enemy trench and held the position all day against Ottoman forces advancing up a gully. At 8pm they were relieved and retired to the beach. The War Diary states that losses were heavy owing to being enfiladed by enemy artillery from the left. C Company was on the extreme right flank to reinforce 9th Bn. They held a ridge all night, retiring to the beach at 9am the following morning.
The following day the war diary records simply: "reinforced right centre - heavy fighting" and on 27th April "remained in same position".
On 28th April, the Battalion "retired to beach to organise" and "bivouaced [on] ridge". Across the ANZAC front, a beachhead had been established, and a line was held; and on that day reinforcements arrived - four battalions of the Royal Naval Division, which further enabled the position to be consolidated, notwithstanding the heavy casualties. On 29th April, the Battalion was able to conduct its first roll call, and the War Diary recorded that there were 8 officers and 472 other ranks present - roughly half its strength. A subsequent report in the War Diary summarised the situation: twenty eight officers and 873 other ranks participated in the attack, three officers and 117 other ranks being held back on HMT Devanha. Known to have been killed were four officers and 25 other ranks. Known wounded were 17 officers, one of whom died three days later, and 286 other ranks. 90 other ranks were still missing.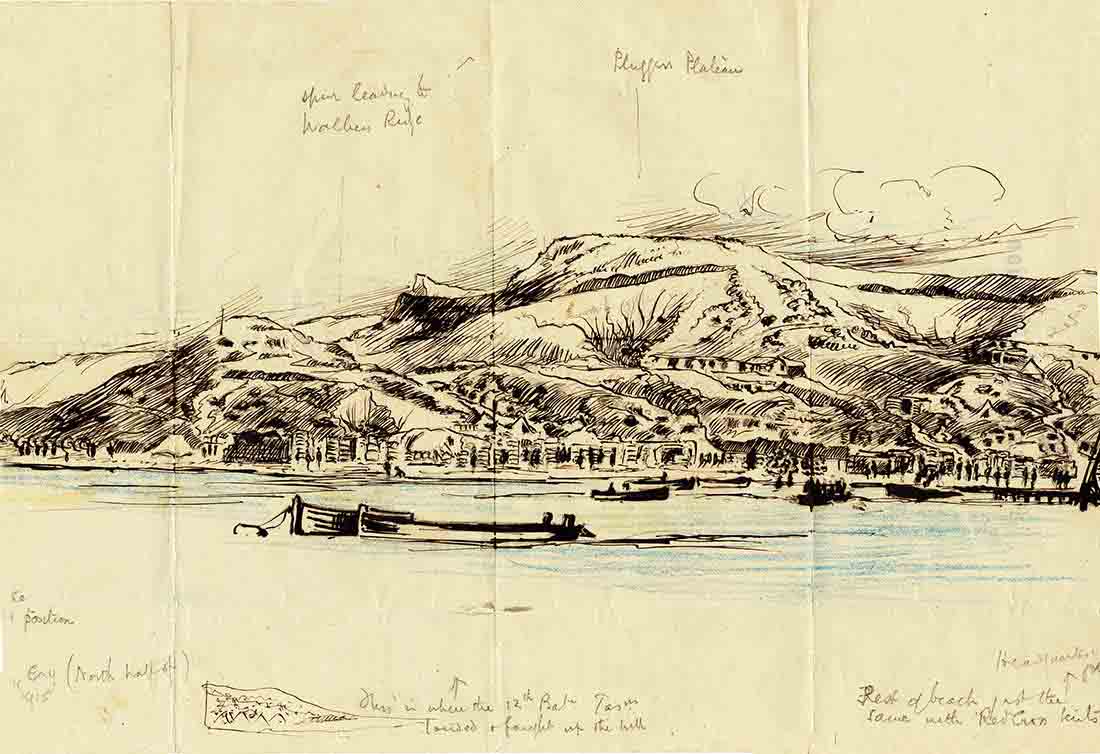 ANZAC Cove, by Major L F S Hore MC, annotated by him. Below Walkers Ridge, on the left of the drawing, he wrote "This is where the 12th Batt. Tasmania landed and fought up the hill".
© Commonwealth of Australia 2012
After the landings, the ANZAC forces were told by Sir Ian Hamilton to "dig, dig, dig, until you are safe". During May therefore, the Battalion followed a routine of short stays in the the trench line to reinforce and consolidate it, followed by equally short stays of "retirement" to the beach. The Battalion was reinforced on 6th, 7th, and 12th May, so recovering some of its losses. On 8th May they "buried dead in front of trenches". In the meantime ANZAC Cove was gradually filled with the necessaries of supply for a large army. By 15th May the trenches for which the Battalion was responsible were completed, and the unit was able to draw other supplies. The Diary recorded that "Rations [are] good - water drawn from pumps near beach carted to trenches in tins. Each man allowed 2 quarts per diem".
On 19th and 21st May the Battalion's position was attacked but the War Diary made no mention of casualties. On 24th May there was "an [unofficial] armistice to bury dead from 8am to 4.30pm". On 29th May at 3.45am "enemy heavily bombarded trenches. Infantry attacked on our left. Repulsed". Water supplies then began to run short and by 3rd June the available ration was well under the two quarts. On 4th June, the Diary noted "Heavy bombardment heard from Southern Army. No movements of enemy to our front". On 5th June, two patrols located the enemy's trenches but found them empty. On 6th June, 12th Battalion's trenches were shelled by enemy artillery. But by then, George's war was over.
Death
There is no mention of casualties in the Battalion War Diary between the tally of losses following the landings, and the date recorded for George's death. At some point on or before 4th June, George sustained a severe gunshot wound to his left forearm and abdomen. His service papers indicate that there was perhaps some initial confusion surrounding the circumstances - George's father received telegram notification on 23rd June 1915 that his son was "wounded not reported seriously no other particulars available" - or perhaps it was just that the paperwork took a long time to catch up with events.
At the time of the landings, the limited forward medical services had been overwhelmed by the large numbers wounded during the operation. Evacuation of the wounded was also delayed by the need to get more troops and supplies into the landing position. Medical resources intended for the field were at first held back on the ships supporting the landing, to provide immediate care for the wounded there. However, it seems that by the time George was injured, No 1 Casualty Clearing Station had been established ashore, since they reported on 4th June that he had been severely wounded (the diary of another man evacuated after the landings, called Ellis Silas, indicates that the ANZAC Casualty Clearing Station was in place by 17th May).
To get to the Clearing Station, if George could not walk (or crawl) himself, he would most likely have been removed from the field, either by men in his unit, or by the unit's stretcher-bearers. They would take wounded to the Battalion aid post. From there, stretcher-bearers from the field ambulances took casualties to field dressing posts; and from there, another relay of bearers took casualties to the main dressing station where they were triaged. If evacuation was necessary, patients were removed to the Casualty Clearing Station, where they were stabilised before being placed on barges for the trip out to the hospital ship. Although the distance from the front line to the beach was short, the terrain made the journey extremely difficult. The narrow tracks up to the line were targets for enemy snipers, and were frequently blocked with movements of men, stores and ammunition going up, conflicting with movement of the wounded going down.
In his diary, Ellis Silas described the clearing station as "a scene of well-ordered confusion; everywhere on the narrow beach are numbers of wounded awaiting their removal to the Hospital Ship. This cannot be carried out until well after sundown, for the enemy is sending a continuous rain of shells in this direction. Ere our transfer to the boats we each have a label pinned on us stating the nature of our wound ...We are put into the boats and are towed away to the Hospital Ships ...The cot cases were hoisted on board by derricks ...Even right out here an occasional shell comes buzzing through the air and drops close alongside.."
So it may have taken some time for George to reach the Casualty Clearing Station after being wounded - and perhaps his condition worsened during the delay. But from there, he seems to have reached the Hospital Ship Sicilia reasonably quickly, for he died from his wounds on board the ship on 5th June 1915, the day after the Clearing Station reported him wounded. He was buried at sea that day, by Chaplain E Teale.
On 13th December 1915 a melancholy package of George's effects were forwarded to his father, consisting of a "pullthrough, coin and testament". Edward duly signed for them on 2nd June 1916. A few weeks earlier, on 14th April 1916, the Army had finally sent confirmation of the particular circumstances of George's death, that he had died "at sea" on 5th June 1915 "of wounds received in action at Gallipoli".
George's brother Charles had also been wounded at Gallipoli, but was more fortunate. On 9th May 1915, he had suffered a gun shot wound to his hand and to his right foot. He was taken by the Braemar Castle to hospital in Malta, where he was admitted on 17th May 1915. He was still recovering in Malta at the time of his brother's death. On 21st August 1915, he was taken to England, and was admitted "slightly sick" to the King George Hospital in Stamford Street, London. He remained in England until May 1916, when he was sent to rejoin the AIF, which was by then in France. He transferred to George's unit, 12th Battalion, at the beginning of 1917.
Despite suffering from sickness on several occasions, and once again being wounded in action, Charles survived the war, serving with distinction. In the closing months of the conflict, he was awarded the Military Medal, for the following action:
"East of Proyart August 23/26th, 1918, when on account of the faulty cartridge, a number 36 rifle grenade fell back in our trench among a party of 5 men, Pte Buckpitt immediately ran to it, picked it up, and threw it on to the parapet where it at once exploded. He undoubtedly saved these men's lives by his quick and brave action. Later he took up an exposed position to better direct the fire of his rifle grenadiers of whom he took charge".
Commemoration
George's death was not noted at the time in Dartmouth, at least publicly. However, his name was on the list published in the Dartmouth Chronicle in 1919 of those who would be named on the Town War Memorial, and indeed, he is commemorated on both the Town War Memorial and the St Saviour's Memorial Board. As described above, there were many members of his extended family living both in the town and nearby, who no doubt wished to see his memory honoured in Dartmouth, even though (so far as is known) he had never visited the town.
George is commemorated on the Town War Memorial and on the St Saviour's Memorial Board.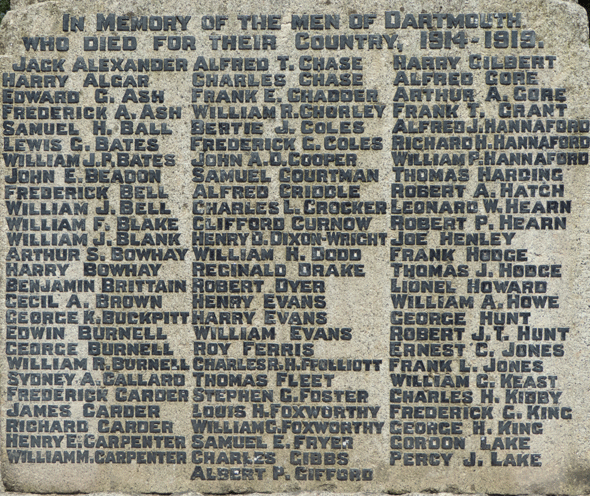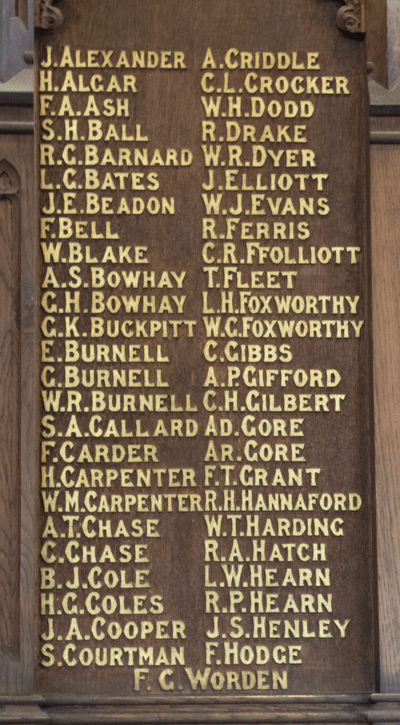 On the Gallipoli Peninsula, he is commemorated on the Lone Pine Memorial.
In Australia, he is commemorated on the Australian War memorial, where his name will be projected onto the façade of the Hall of Memory on several occasions during the centenary of the First World War.
A picture of George from the Tasmanian Mail may be viewed here.
Sources
The Wadstrays, by Irene O'Shea, publ Dartmouth History Research Group, 2011.
Townsville Women brochure on the Townsville City Council website.
Papers relating to issue of First Mate Certificate to Edward Wheaton Buckpitt accessed at Tasmania's Heritage, reference MB2/31/1/41.
The Victorian Naturalist Vol IV no 9 January 1888 Report of Field Naturalists Club of Victoria Expedition to King Island November 1887, available online.
Shipping History of HMAT and HMNZT Transport Ships.
HMS Ribble at the Dardanelles, including recollection of Captain Fry, 3 Field Ambulance.
An artist at Gallipoli - The drawings of Major Hore.
Diary of Ellis Silas: May 1915.
Australian War Memorial Roll of Honour and Name Projections.
Australian Imperial Force Unit War Diaries 1914-1918 War.
Australian Imperial Force Service records may be accessed at no charge at National Archives of Australia.
Information Held on Database
| | |
| --- | --- |
| Surname: | Buckpitt |
| Forenames: | George Kenny |
| Rank: | Private |
| Service Number: | 99 |
| Military Unit: | 12th Bn Australian Infantry, Australian Imperial Force |
| Date of Death: | 05 Jun 1915 |
| Age at Death: | 29 |
| Cause of Death: | Died of wounds |
| Action Resulting in Death: | ANZAC action at Gallipoli |
| Place of Death: | Hospital Ship Sicilia |
| Place of Burial: | At Sea, Commemorated Lone Pine Memorial Gallipoli |
| Born or Lived in Dartmouth? | No |
| On Dartmouth War Memorial? | Yes |
| On St Saviour's Memorials? | Yes |
| On St Petrox Memorials? | No |
| On Flavel Church Memorials? | No |
| In Longcross Cemetery? | No |
| In St Clement's Churchyard? | No |
| On a Private Memorial? | No |
| On Another Memorial? | Yes |
| Name of Other Memorial: | Australian War Memorial |
---
This information was last updated on Thursday 04 June 2015 at 15:38:28.