George Light
Family
George Light was born in Dartmouth on 19th February 1888 and baptised at St Petrox on 24th June of that year. He was the third surviving son of Walter John Lethbridge Light and his wife, Fanny Penny Lavers, both of whom were born in Dartmouth. They married in the parish of St Petrox on 22nd June 1880.
At the time of the 1871 Census, Walter was working as an apprentice fishmonger. At his marriage, he was working as a "hawker"; however, by the time of the baptism of the couple's first child, Laura Kate, at St Petrox on 24th April 1881, he was a shipwright.
Sadly, Laura died only a few months after she was born, but Walter and Fanny's family soon grew. St Petrox records show the following:
Walter John, baptised 30th April 1882
Alfred Charles, born 13th March 1884 and baptised 15th April 1886
Mabel Louisa, born 4th February 1886 and baptised the same day as her brother Alfred
George, born and baptised as above in 1888
Robert Henry, baptised 12th January 1890
Sydney John was born in 1891 but died when only a few months old. At the time of the 1891 Census, the family, including baby Sydney at one month old, lived in Higher Street, and Walter was still working as a shipwright. All the children, except for Robert and the baby, were at school.
By the time of the next Census in 1901, the family had moved to Foss Street and Walter (senior) was working as a coal lumper. Walter (junior), together with a number of other young men, was boarding in the house of James and Elizabeth Pyne in Charles Street, close by. He was working as a Ship's Stoker. Alfred was working as a "deck hand on steam tug". George, aged 13, was presumably still at school, along with his younger brothers Robert and John (though the Census does not record them - or any other children on the page - in the usual way as "scholar").
In 1904 Walter (junior) joined the Navy as a Stoker. Meantime another baby was added to the family on 16th August 1902, named Arthur Stanley Burton. He was baptised with his elder brother John Henry (born, according to the record, on 14th December 1893) at St Saviour's on 9th July 1903. The family was still living in Foss Street and Walter was still working as a coal lumper. By the time of the 1911 Census the family had moved back to Higher Street and Walter was once again working as a shipwright. Alfred was now working as a coal lumper, and George as his father had once done, as a "hawker". The Census enumerator inserted the word "vegetable" on the form so he was perhaps selling fruit and vegetables in the market. John, his next younger brother, was a "waggon boy". We know from other records that he worked on a farm in Stoke Fleming. Stanley, the youngest, was still at school. Mabel was working in domestic service, one of two servants in the house of Alan Goodridge, dental surgeon, in Dartmouth, at 5 Carlton Terrace.
Service
George joined the Navy on 14th July 1914, only a couple of weeks before the outbreak of war. His naval service record states that he was 5ft 6ins in height, and had light brown hair, blue eyes and a "fresh" complexion. His previous occupation was given as "fruit vendor".
George joined the Royal Naval College ("HMS Pomone") as an Officers Steward 3rd Class. After three months training at Devonport, he was sent to what his naval record calls "HMS Revenge (Old)". This was the pre-dreadnought battleship of this name launched in 1892, which in 1913 had been scheduled for disposal. At the outbreak of war she was given a reprieve and brought back into service for use in coastal bombardment off the coast of Belgium. She was assigned to the Channel Fleet's 6th Battle Squadron. George had his first taste of action when Revenge bombarded German troops on 22nd November 1914 and German heavy artillery batteries on 15th-16th December. On 2nd August 1915, after a refit, she was renamed Redoutable (a new battleship, launched on 29th May 1915 having been named HMS Revenge). Redoubtable returned to combat on 7th September to bombard German barracks and gun positions at Westende, and was herself hit during this action, causing another refit.
While in Revenge/Redoubtable, George transferred to the role of Officers Cook. After a week's leave ashore during October 1915, he was appointed as Officers Cook to HMS Defence on 19th October 1915.
For the rest of his service in HMS Defence, including the ship's fate at the Battle of Jutland, see our separate article here.
George was not the only one of his family to be serving King and Country. On 11th June 1915, the Dartmouth Chronicle recorded that no fewer than five members of the family were on active service, and three (including George) were in the Navy:
Light W J, Stoker, HMS Devonshire
Light R H, Stoker, HMS Adventure
Light Geo, Cook's Mate, HMS Revenge
Light A C, 8th Batt Devon Regt
Light J H RFA 4th Wessex
Walter joined the Navy in June 1904, being appointed to HMS Devonshire on 2nd April 1912 as Stoker 1st Class. On 22nd March 1916, he was rated Leading Stoker. At that time, Devonshire was with the Grand Fleet, and was involved in numerous patrols and sorties in the North Sea. However, in April she was assigned to the Channel Blockade, at the Nore, so she did not participate in the Battle of Jutland.
George's younger brother Robert joined the Navy in 1909, also as a Stoker. On 1st July 1913 he was sent to HMS Adventure, a scout cruiser at that time in the 6th Destroyer Flotilla based at Dover, where he remained for most of the rest of the war. He was rated Acting Leading Stoker on 1st April 1915. In May 1915, Adventure joined the 6th Light Cruiser Squadron on the Humber patrolling against Zeppelin raids on the east coast; and in July 1915 became the flagship at Queenstown (now Cobh, County Cork). She was not involved in the Battle of Jutland.
Alfred was amongst the earliest in Dartmouth to volunteer, enlisting on 1st September 1914. He joined the 8th Battalion Devonshire Regiment and was sent to France with the rest of the considerable contingent from Dartmouth on 25th July 1915 (for their story, see the entry for Andrew Prettyjohn, who died on 8th September 1915, our article on the Battle of Loos, 25th - 29th September 1915, and the entry for George Burnell who died on 10th February 1916).
Finally, John had joined the Territorials in 1912, whilst working as a stableman for "Mrs Elliott", at Swannaton. Unusually, his Army records survive. By his own account, when called up at the outbreak of war he went to his headquarters at Paignton and "was sent to that depot to be attached to the 1st/3rd Battery 4th Wessex Brigade and in September 1914 ... to Larkhill Salisbury Plain where our OC asked for volunteers for India and I was one who proudly volunteered for India ... but I being what was termed as Waiting Man was not required for that draft". Eventually he was sent to France on 23rd June 1916 in "C" Battery, 303 Brigade Royal Field Artillery.
Death
On 16th June 1916, the following announcement appeared in the Dartmouth Chronicle:
Light - In loving memory of George Light, who went down on HMS Defence during the Battle in the North Sea on May 31st, 1916, aged 28 years.
He gave his life for King and Country.
"Jesus came to him, walking on the sea".
Commemoration
George is commemorated in Dartmouth on the Town War Memorial, the St Saviour's Memorial Board, and the St Petrox War Memorial.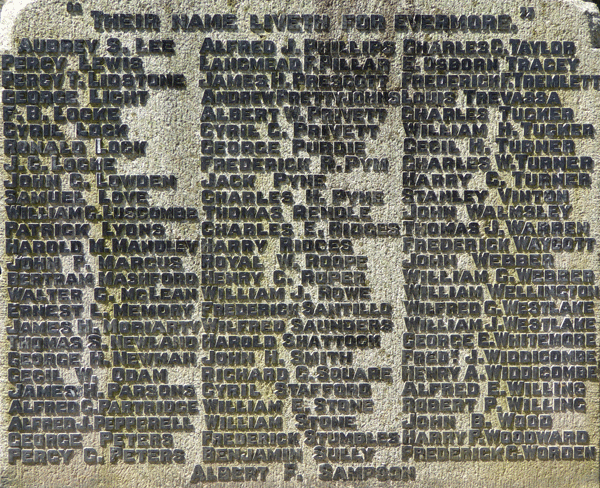 Dartmouth Town Memorial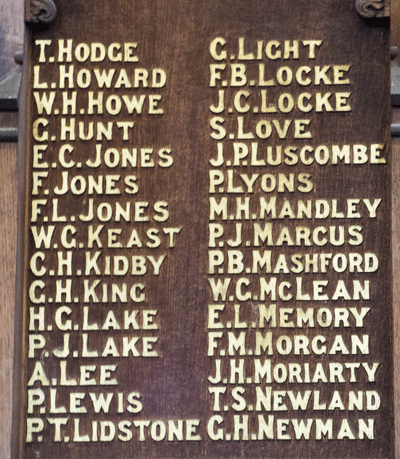 Memorial Board in St Saviour's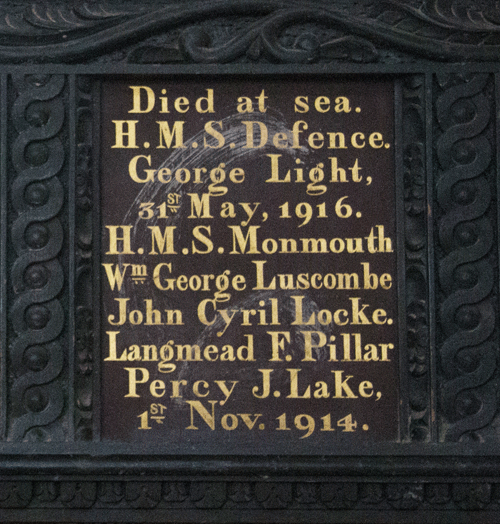 Memorial Board in St Petrox
Like all those who sailed from Plymouth who were lost at sea with no known grave, George is also commemorated on the Plymouth Naval Memorial.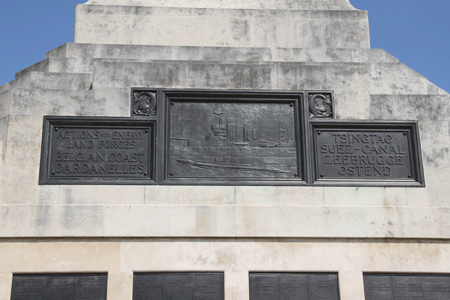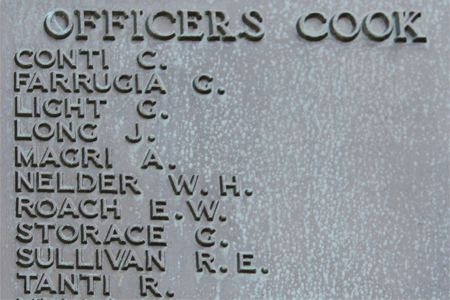 Plymouth Naval Memorial
George's brothers all survived the war. Alfred was discharged on 23rd November 1918 due to wounding, having remained with the 8th Battalion throughout. John served in France, Salonica, Egypt and Palestine, and was demobilised in 1919. Walter and Robert both remained in the Navy after the war was over, but Robert died of "heart failure following lead poisoning" on 4th October 1920, whilst serving on HMS Mistley, a minesweeper. He was buried on 11th October 1920 in Barton Road Cemetery, Torquay, where his grave is marked by a Commonwealth War Graves Commission headstone. He married Selina Bibbings in 1915.
Walter, meanwhile, was sent to HMS Centurion on 20th August 1922, in the Mediterranean. On 4th April 1923 he died of septic pneumonia at the Royal Naval Hospital Malta and was buried at Kalkara Naval Cemetery. He married Rhoda Eliza Bright at St Saviour's on 8th March 1915.
Sources
Naval service records available for download from The National Archives, fee payable:
Malta Family History: Kalkara Naval Cemetery
Information Held on Database
| | |
| --- | --- |
| Surname: | Light |
| Forenames: | George |
| Rank: | Officer's Cook 3rd Class RN |
| Service Number: | L/5490 |
| Military Unit: | HMS Defence |
| Date of Death: | 31 May 1916 |
| Age at Death: | 28 |
| Cause of Death: | Killed in action |
| Action Resulting in Death: | Battle of Jutland |
| Place of Death: | North Sea |
| Place of Burial: | Commemorated Plymouth Naval Memorial |
| Born or Lived in Dartmouth? | Yes |
| On Dartmouth War Memorial? | Yes |
| On St Saviour's Memorials? | Yes |
| On St Petrox Memorials? | Yes |
| On Flavel Church Memorials? | No |
| In Longcross Cemetery? | No |
| In St Clement's Churchyard? | No |
| On a Private Memorial? | No |
| On Another Memorial? | No |
---
This information was last updated on Monday 30 May 2016 at 23:08:32.