William George Keast
William George Keast was not a native of Dartmouth, though he came from close by. According to census and birth registration records, he was born in Torcross in 1881. He was the only son of Samuel Philip Keast and his wife Elizabeth Jane Kellond.
Samuel Keast came from Tywardreath, Cornwall. He had begun his working life as a miner, but in 1870, aged 18 (according to his naval record) he had joined the Royal Navy as an Ordinary Seaman, on a ten year continuous service engagement. He progressed quickly, demonstrating "exemplary" conduct, and by 1877 he had achieved the rank of Petty Officer 2nd Class.
In 1878 he transferred to the Coast Guard service, which had been taken over by the Admiralty some twenty or so years earlier, essentially to provide a reserve for the Fleet. The historic function of the service was to counter smuggling, but by this period, the duties of the service were focused upon assistance to vessels in danger, taking charge of wrecks, operating life saving apparatus, and active participation in manning lifeboats stationed around the coasts, in association with the Royal National Lifeboat Institution.
His first six months with the Coastguard Service were spent at Hope Cove, near Salcombe, but on 31st January 1879 he moved to Rickham, at Gara Rock, near East Portlemouth. While serving there he married Elizabeth Jane Kellond, from Stokenham, the daughter of George Kellond and his wife Hannah Cherry. George was a fisherman (though later records also show he worked as an agricultural labourer). Samuel and Elizabeth Jane's first child, Blanche, was born while the family were living in Rickham, and baptised at Stokenham on 11th January 1880. Shortly after, Samuel signed on for a further ten years of service, to qualify for a pension.
On 30th November 1880 the family moved to the Coast Guard station in Salcombe, where the 1881 Census recorded them living in the town in Robinson's Row, alongside several other members of the Coast Guard service. William was born whilst Samuel was based in Salcombe - perhaps Elizabeth was with her parents in Stokenham at the time, accounting for the registration in the Kingsbridge district.
In 1882 Samuel was promoted to Commissioned Boatman and (assuming they went with him) the family left Salcombe for Scotland. From September 1882 to November 1883 he was appointed to the station at Rothesay, on the Isle of Bute. The demands of the service then sent them back down literally to the other end of the country to Samuel's native county of Cornwall. He served first at Pendeen Cove and then Sennen Cove, at Lands End. Here, tragedy struck. Their daughter Blanche died, aged 4, and was buried on 26th February 1884, at Sennen (the family's address was recorded as St Buryan, a village a few miles away). Then, Samuel himself also died, on 12th July 1884. His naval service record gave the cause of death as "congestion of the lungs". He was buried in Sennen the following day, aged 32.
Elizabeth Jane and William appear to have returned to Devon after Samuel's death, and evidently she looked for work to support them both. But the work she found meant she could not make a home for William, who was recorded in the 1891 Census living with Elizabeth's parents, George and Hannah, in Torcross. Elizabeth was recorded in the house of John H Bridges, in Kingswear, where she was the "resident domestic servant".
On 26th May 1892, at St Thomas of Canterbury Kingswear, Elizabeth married again. Her second husband was Joseph Milton, a stone mason. Joseph had been widowed four years earlier. He also had a son, Sydney, born in Kingswear a few years later than William.
Joseph and Elizabeth settled in Kingswear, and on 10th December 1895, their son Frank was born. He was baptised at St Thomas of Canterbury on 26th January 1896. Whether William remained with his grandparents, or came to live with his mother, stepfather, stepbrother, and new half-brother, is not known.
On 10th February 1900, William joined the Navy as a Stoker 2nd Class, signing on for twelve years. He overstated his age, giving his date of birth as 19th August 1880, and gave his place of birth as Dartmouth. The Navy recorded that his previous occupation was as a labourer, that his height was 5' 6", and that he had light brown hair, grey eyes and a "fresh" complexion.
He may have given his place of birth as Dartmouth because his mother was living in the town. In the 1901 Census, Elizabeth, Joseph, their son Frank, and Joseph's son Sydney, were recorded living in Mariner's Place, Dartmouth.
Service
After his first six months of training at Devonport, William's first ship was HMS Amphion, a Leander class cruiser, which had just completed a refit at Devonport. Her engines and boilers were reported to be "in capital condition". She was due to return to the Pacific Station, where her beat covered the western seaboard of North and South America, "showing the flag" and providing short term assistance in various troublespots.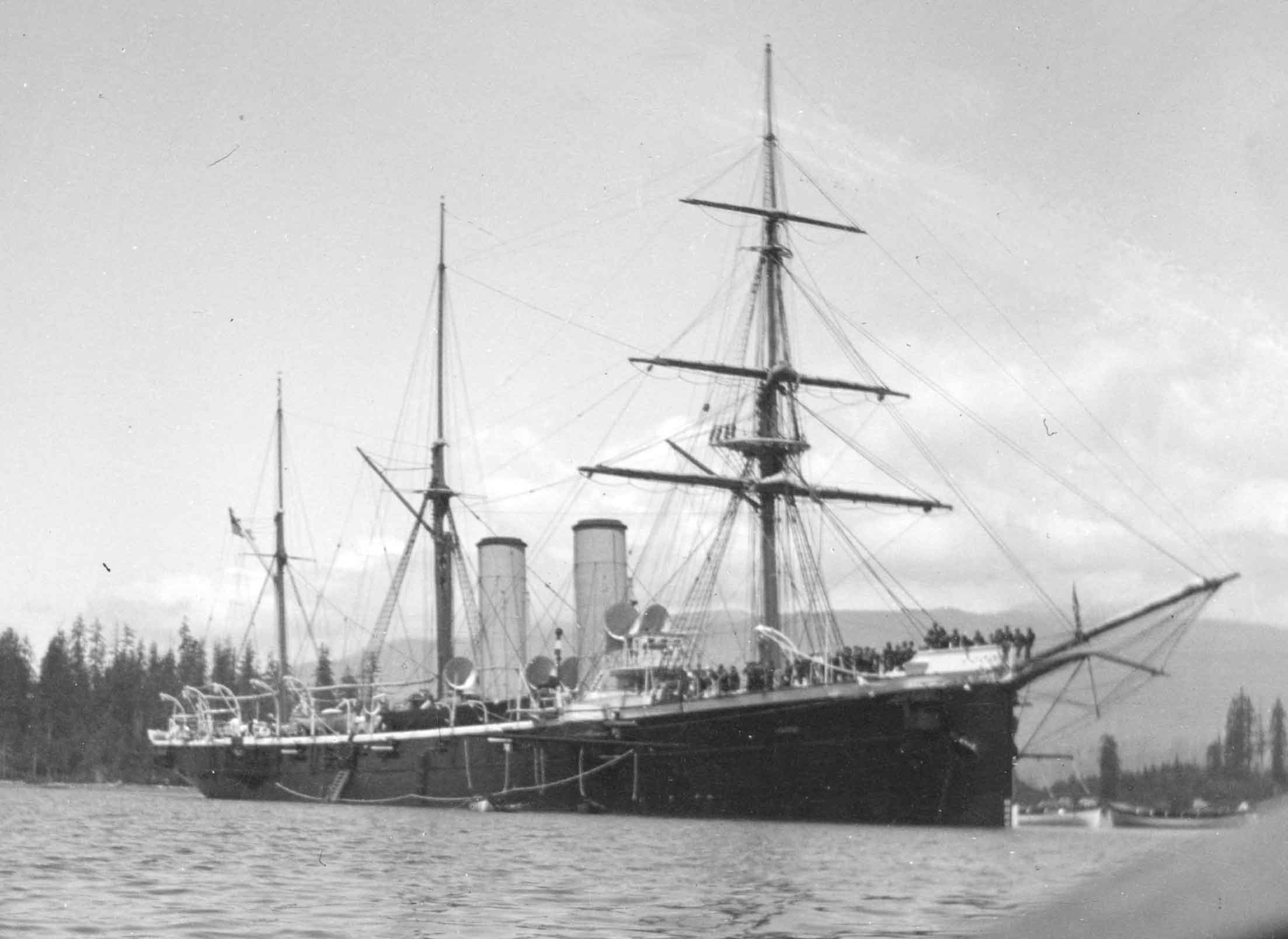 HMS Amphion in Canada
While serving on Amphion, he may well have met Frederick Santillo, who was also on the Pacific Station at this time, and served on several ships, including the Amphion. Frederick is also on our database and was commemorated on 9th June 2015.
William and Amphion returned from the Pacific to the UK after nearly four years away, in May 1904. His next appointment was much closer to home, at HMS Britannia, until January 1906, after which he joined HMS Duke of Edinburgh, a new armoured cruiser which had only just been completed. She was assigned to the 2nd Cruiser Squadron of the Atlantic Fleet. While serving on board he was rated Stoker 1st Class, on 1st July 1906.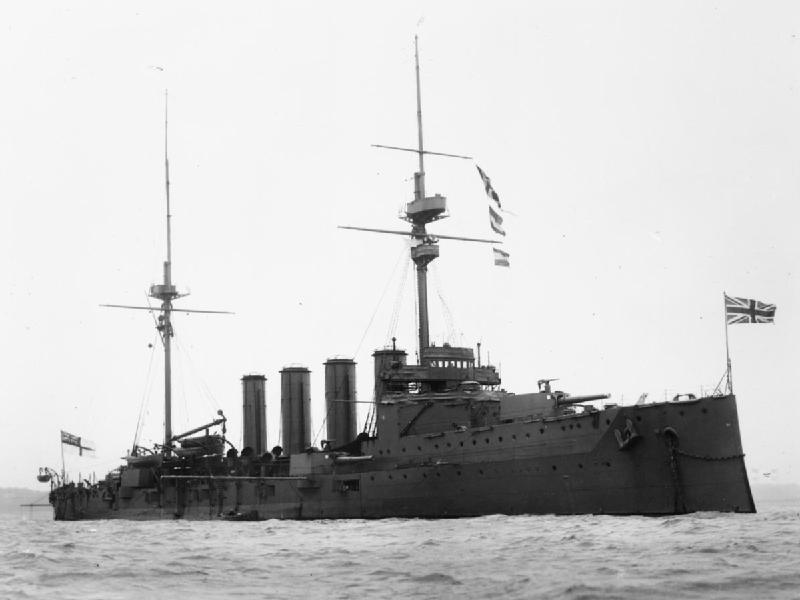 HMS Duke of Edinburgh
William's naval service record shows his next two appointments as HMS Leander and HMS Blake. Both of these were older ships which were by this time serving as destroyer depot ships, so it is likely that his appointment was in fact to one or more of the destroyers. Certainly at the time of the 1911 Census he was on board HMS Liffey, at that time in the Second Destroyer Flotilla of the Home Fleet. Liffey was a River-class destroyer built by Cammell Laird, completed in 1905. With a complement of only 70 officers and men, she would have provided William with a considerable contrast to the much bigger ships he had served on previously.
Whilst with HMS Blake and her destroyers, William was able to get sufficient home leave to get married. His bride was Beatrice Maud Ferris, the daughter of Charles Ferris and his wife Jessie Ann Lavers. Beatrice was born and brought up in Dartmouth; with her twin sister Jessie she was baptised at St Saviour's on 1st February 1885. Charles Ferris ran the Town Arms in Dartmouth, which he had taken over from his father Thomas around 1890.
William and Beatrice married at St Clement's Townstal on 21st November 1910. He had been rated Leading Stoker in March 1908, just before his appointment to HMS Leander. Beatrice seems to have continued to live at home after their marriage, at least while William was still at sea - she was recorded as a "boarder" in her parents' house in the 1911 Census. William's mother Elizabeth Jane, and her family, in the meantime had left Dartmouth, and by 1911 were back in Torcross, at no 1, Coastguard Cottages, living with William's grandparents, George and Hannah.
William and Beatrice's son, William Harold Ferris Keast, was born on 4th October 1911, while his father was on HMS Devonshire. Devonshire was an armoured cruiser by then about seven years old, and at that time, assigned to the reserve Third Fleet at Devonport. Towards the end of his service on Devonshire, William decided to sign on for a further ten years continous service, to qualify for a pension.
On 6th March 1912, after a period ashore (presumably including some home leave) William joined HMS Argyll. He had "passed educationally for Petty Officer" the previous day, and three months into his time with the ship, on 1st June 1912, was rated Petty Officer 2nd Class. He was still serving with Argyll when war was declared. Also on Argyll by the beginning of the war was fellow Stoker Petty Officer John Pyne, of Dartmouth, though he joined the ship later than William, in March 1914.
HMS Argyll was another Devonshire-class armoured cruiser, launched in 1904. She was assigned to the Third Cruiser Squadron, which operated in support of the Grand Fleet, patrolling around the Shetland Islands and in the Norwegian sea. She had an uneventful war until October 1915. After a refit, she left Plymouth en route for the rest of her squadron at Rosyth. Weather and sea conditions were very bad as, having taken the northern route around Scotland to avoid German submarines in the North Sea, she approached the Forth estuary on 27th October, in the middle of the night.
The Bell Rock lighthouse, marking dangerous reefs on the approach to Rosyth, was not lit at night, though it was manned. Lighthouses were thought to provide assistance to enemy ships and submarines in navigation and were also a target. It could be lit, however, by special request.
As there was no direct radio contact with the lighthouse, Captain Tancred signalled headquarters at Rosyth asking for the lighthouse to be lit for his approach. On receipt of his message, a boat was sent to the lighthouse, but due to the extreme weather conditions, was forced to turn back before reaching it. On hearing the boat had failed to reach the lighthouse, Rosyth headquarters signalled the battleship HMS Queen Mary, asking for her help in contacting the lighthouse; however, even the Queen Mary was unable to help, due to the conditions. The lighthouse was therefore not contacted, and remained unlit - and no message was sent to Argyll to let her know. Although a course had been set to pass the lighthouse by eight miles, the conditions were such that Argyll grounded on the reef, at 4.30am.
Argyll was very badly damaged. She had grounded at high water and in all likelihood would break up completely when the tide fell. Even if she was able to drift off, it was highly likely she would sink. The ship therefore sent out emergency messages for assistance, and in the meantime attempted to contact the lighthouse keepers, but were unable to reach them. When the keepers awoke, and attempted to help, they got caught up in the line which had been established between the ship and the lighthouse and nearly drowned themselves.
Three lifeboats were sent out but had to turn back due to the heavy seas. But two destroyers, HMS Hornet and HMS Jackal, were able to reach the ship, and managed, in very difficult conditions, to take off the crew; Jackal was able to get the ship's boats in her lee and escort them to shore. Despite the extremely dangerous conditions, there were no casualties - other than the ship herself, which was blown up by the Navy (after recovering anything of value) to prevent her becoming a navigational aid for enemy ships.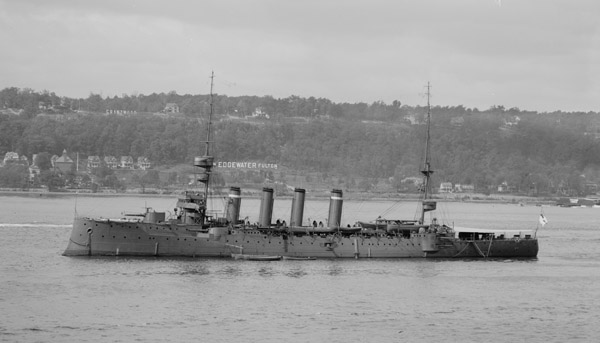 HMS Argyll in calmer conditions
The crew were accommodated at the Dundee Sailors Home, where they were very well looked after by Mrs McLean and her staff, to whom they presented a solid silver carriage clock as they left at the beginning of December.
Death
It would seem that several of the crew of Argyll were transferred to HMS Arabis. Certainly, both William Keast and John Pyne joined her on 11th December 1915. Here, the luck that had stayed with them during their rescue from Argyll, ran out.
HMS Arabis was one of 72 minesweeping sloops built during 1915 to meet the increasing demand for this capability. They were designed in such a way that orders could be placed simultaneously with a large number of private firms, even those not normally involved in working for the Navy. All were named after flowers - the first 36 were the "Acacia" class, and the second 36, the "Arabis" class. Arabis herself was built in Glasgow and was launched on 6th November 1915.
Arabis was set to the dangerous task of minesweeping in the North Sea to keep the approaches clear for the Grand Fleet, should they need to concentrate against the German High Seas Fleet. On 18th January, the command of the German Fleet was assumed by Admiral Scheer, who was keen to take a more aggressive approach with the assets at his disposal. On 10th February, German torpedo boat flotillas were sent to intercept British shipping. Instead, they met Arabis and three of her companion sloops, Buttercup, Alyssum and Poppy, in the course of their minesweeping duties, east of the Dogger Bank. According to the Official Naval History:
On the previous day [the sloops] had run into Bridlington bay for a few hours and had put to sea again before the Admiralty got the alarm [that a raid was expected]. As a rigid wireless silence had been ordered for fear of alarming the High Seas Fleet, which was then believed to be coming out, they could not be reached. All day on the 10th they continued sweeping, and at nightfall marked their progress with a lighted dan buoy. The Arabis was ordered to stand by it while the other three steamed on and off. In so doing towards midnight they were aware of the tracks of torpedoes passing through the line, and they turned away. At the same time the Arabis was engaged with three destroyers. There was a sharp fight, but her steam-pipe was soon cut and her wireless disabled, so she could neither manoeuvre nor call up her consorts ... Presently she was attacked by six destroyers, which soon brought her to a standstill and sank her with torpedoes.
Fifty four members of the crew, including William Keast and John Pyne, lost their lives. Twenty-nine, including the Commanding Officer, Lt Cdr Robert Hallowell-Carew, were picked up and taken prisoner, one of whom died the following day in Germany. The other British sloops all escaped, and the German Navy returned to their base.
Commemoration
William is commemorated on the Plymouth Naval Memorial as one of those who was lost at sea with no known grave. His date of death was recorded by the Navy as 11th February 1916.
In Dartmouth, he is commemorated on the town War Memorial, and on the St Saviour's War Memorial Board.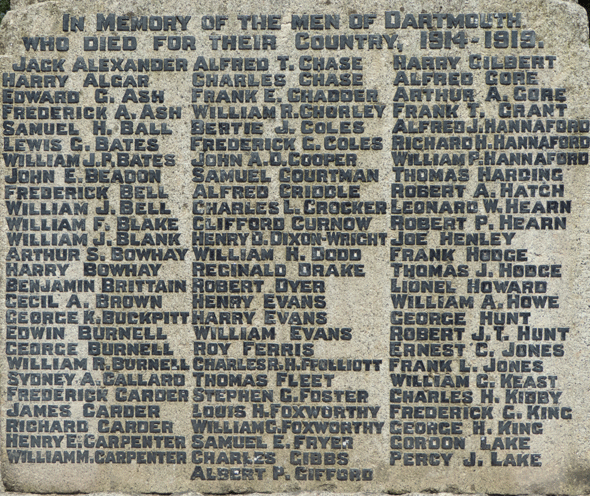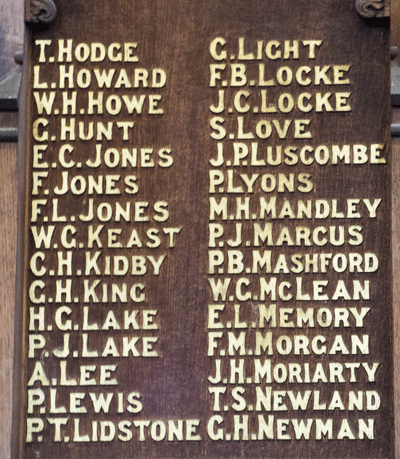 Sources
The Naval service record for William George Keast is available for download from The National Archives (fee payable), reference ADM 188/476/294824
The Naval service records for Samuel Keast are available for download from The National Archives (fee payable), references ADM 188/49/65216 and ADM 139/813/1282
History of the Great War, Naval Operations Vol III, by Sir Julian S Corbett, pub Longmans, London, 1923, Second edition, 1940, accessed online
Naval casualty figures from naval-history.net, dated 10th and 11th February 1916
Information Held on Database
| | |
| --- | --- |
| Surname: | Keast |
| Forenames: | William George |
| Rank: | Petty Officer Stoker RN |
| Service Number: | 294824 |
| Military Unit: | HMS Arabis |
| Date of Death: | 11 Feb 1916 |
| Age at Death: | 34 |
| Cause of Death: | Killed in action |
| Action Resulting in Death: | HMS Arabis torpedoed and sunk whilst minesweeping, Dogger Bank |
| Place of Death: | North Sea |
| Place of Burial: | Commemorated Plymouth Naval Memorial |
| Born or Lived in Dartmouth? | Yes |
| On Dartmouth War Memorial? | Yes |
| On St Saviour's Memorials? | Yes |
| On St Petrox Memorials? | No |
| On Flavel Church Memorials? | No |
| In Longcross Cemetery? | No |
| In St Clement's Churchyard? | No |
| On a Private Memorial? | No |
| On Another Memorial? | No |
---
This information was last updated on Thursday 11 February 2016 at 01:10:07.