John Pyne (Jack)
Family
John Pyne's origins have proved difficult to pin down with certainty. According to his naval service record, he was born on 24th August 1875, in Dartmouth; and according to the record of his marriage (see below) he was the son of James William Pyne, who had by then died.
William Pyne, sometimes called by his children William James, sometimes James William, and sometimes, apparently, William Henry, was born in Blackawton, near Dartmouth, in 1840, being baptised just plain "William". His father, John's grandfather, another William Pyne, was a Master Mason, and at least two of his sons, including John's father, went into the same trade.
We have not been able to trace William's marriage to John's mother Ellen, nor is there any clue as to how, or where, they met. She came from Datchet, near Windsor, and the couple's first child, Ellen, or Helen, Ada, was baptised in Datchet in 1868. However, William and Ellen returned to Blackawton to live, and three children were born there: James William, William Henry, and Charles Henry. William was recorded as a "journeyman mason" in Blackawton in the 1871 Census - most likely he worked with and for his father. Sometime between 1873 and 1875 (according to Census records) the family moved to Dartmouth; William's younger brother James, who also worked as a mason, had moved to the town at about the same time.
Sarah Victoria was born in 1875 and John about 1877, according to census records. The next addition to the family was Emily Mabel. She was apparently the only one of the children born in Dartmouth to be baptised in infancy, and the ceremony took place privately, perhaps because she was not expected to live long. She was buried in the St Saviour's extension to Dartmouth cemetery on 3rd March 1881.
Albert followed in 1882 and Emily Rebecca in 1884. But some time between then and the 1891 Census, William died (we have not been able to trace the date of his death more precisely). Ellen presumably relied for support on those of her older children still living at home - the 1891 Census recorded William Henry working as a baker, Charles as a general labourer, and John, aged 14, as a "blacksmith's boy". Only the two youngest children, Albert and Rebecca, aged 8 and 6, were at school. John's eldest brother, James William, had gone into the family trade as a mason. He had married in 1889 and had settled in Dartmouth. Later in life he worked as a coal-lumper; and Charles and Albert also went into this line of work. William Henry became a gardener. All four brothers, and Sarah, married and settled in Dartmouth. Ellen, the oldest sister, married a London policeman; Rebecca's husband was in the Royal Garrison Artillery, a career soldier.
Service
On 30th January 1895, John joined the Navy as a Stoker 2nd Class on a twelve-year engagement. According to his service record, he was 5' 6' tall, had light brown hair, blue eyes and a fair complexion. Perhaps the attractions of the Navy were less to do with the excitement of seeing the world and more a matter of securing a steady income, for towards the end of the same year, whilst still in training, he married Mary Jane Norris, at All Saints Brixham, on 3rd November 1895. The marriage register shows that they were both aged only 19. Mary Jane was the sixth of twelve children of William Norris, a fisherman from Brixham, and his wife, Charlotte Phillips, also from Brixham.
John and Mary Jane's first son, John William Norris Pyne, was, apparently, a honeymoon baby, born in Brixham on 12th August 1896, and baptised at All Saints Brixham a few weeks later, on 5th September. Only six days later, John was appointed to HMS Hermione, and Mary Jane found herself facing the habitual role of the naval wife, bringing up the baby largely on her own while John was away at sea.
HMS Hermione was a "protected cruiser" launched in 1893 (a cruiser with armoured decks but no side armour - thereby offering protection with less compromise on speed or range). When John joined her she was part of a new squadron of warships called "the Flying Squadron", set up earlier that year to respond to a war scare in Europe. As war did not develop, the Squadron was disbanded at the end of the year. John was with the ship until January 1898.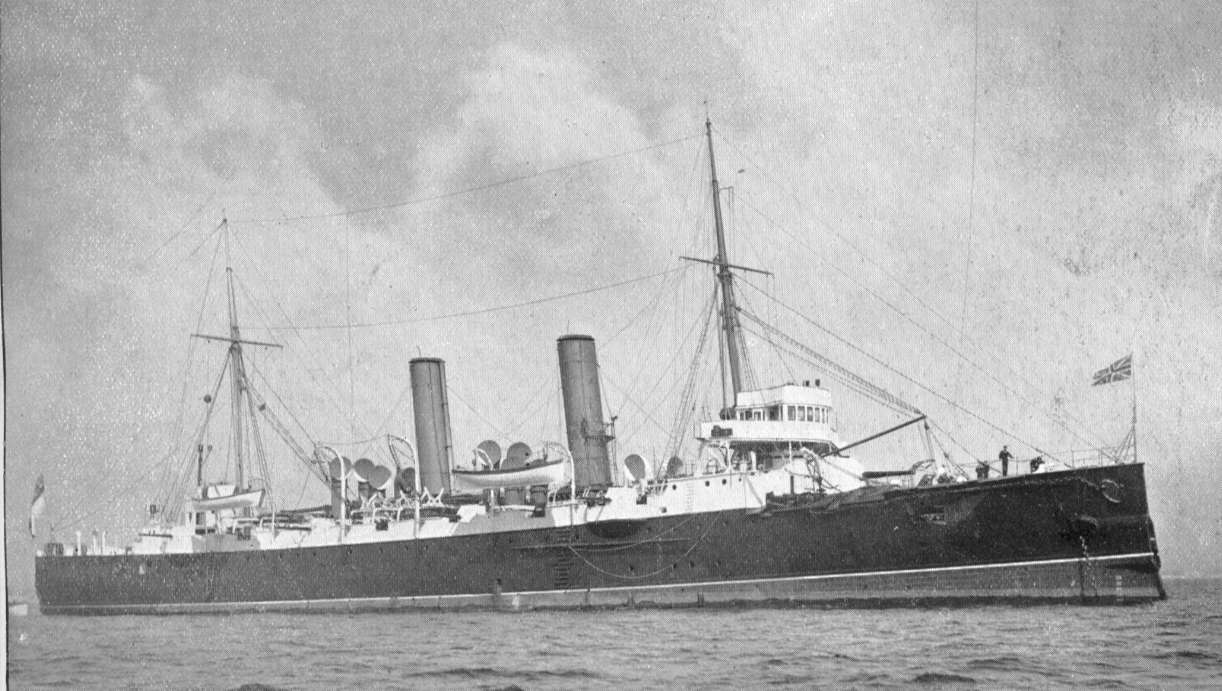 HMS Hermione
After a period ashore he was sent to Malta (HMS Hibernia) for six months; and then from April 1899 to November 1901 was at the Stokers and Engine Room Artificers School at Devonport, indicating perhaps that he had been singled out for advancement. This shore posting gave him the opportunity to spend time at home with Mary Jane and the baby, and fairly soon, John William was joined by Charles Edward Dunn, born on 18th July 1900 and baptised at Brixham All Saints on 9th September of that year. "Home" at this time was still in Brixham, close to Mary Jane's family, at Westcliff Terrace. By the time of the 1901 Census, however, John and his family had moved to Devonport. The Census shows him twice: with Mary Jane and the two children, living in 4 Monument St; and also at the Royal Naval Barracks.
On 24th November 1901, he was appointed to HMS Snipe, a river gunboat on the China Station. The crew travelled out to China on HMS Amphitrite. From Snipe he transferred to HMS Mutine, a new sloop, which had arrived in the Far East in March 1902. He remained with Mutine for nearly two and a half years, during this time being rated as Leading Stoker. While John was away in the Far East, Mary Jane had moved with the family to Torpoint, across the River Tamar from Plymouth. Reginald Samuel James was born there on 16th March 1902, and baptised at the parish church two months later. The family's address at the time was 32 Fore Street.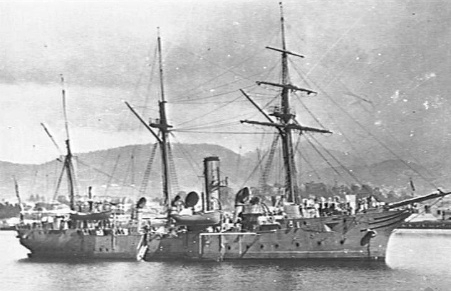 HMS Mutine
In 1905 John returned to England and in July was appointed to HMS Indus, the Stoker training school (actually HMS Valiant, an old armoured frigate, converted for the purpose). Here he was rated Stoker Petty Officer 2nd Class on 1st July 1906. Naval life clearly suited him and six months later he signed on for a further ten years service, to qualify for a pension.
On 25th March 1907, he was back on board HMS Mutine. By this time she had left the China Station and, after two years on the Australia Station, had taken up a new role as a survey vessel. During the period he was on board, she undertook a voyage to Ascension Island, enabling the Hydrographer of the Navy and the Astronomer Royal to arrange for a new and more accurate value for the Greenwich-Cape longitude to be calculated. She also undertook surveys along the coast of West Africa.
By September 1909 she was back in Devonport surveying Torbay because HMS Hannibal had grazed a rock which was unmarked on Admiralty charts, though well known to local fishermen, probably including John's father in law, William Norris. John left HMS Mutine soon after, in October. He had evidently done well on ths ship - he was rated as Stoker Petty Officer on 28th July 1907, and he had already been assessed as "qualified to take charge of a stokehold when steaming" - a key stage in the process of getting to Chief Stoker.
In November 1909 he was appointed as Stoker Petty Officer to HMS Theseus, which was by then a tender to HMS Vivid for the use of the Gunnery School at Devonport, and Mary Jane and the family moved to Plymouth. But this appointment was fairly short - on 4th October 1910 he was appointed to HMS Gloucester, a new Town-class light cruiser, which had just been commissioned. Two weeks later, on 18th October, John's daughter Vera Eileen was born. She was baptised at St Matthew Stonehouse, Plymouth, on 22nd December 1910. The family home was at 26 Adelaide Street, in Stonehouse, where they lived in two rooms. Mary Jane was recorded there in the 1911 Census with Charles, Reginald and the baby Vera, five months old. She declared on the form that there had been five children born to the marriage, one of whom had died. We have not been able to trace this birth and death.
John's eldest son, John William Norris, was not at home, for he had been awarded a place at the Royal Hospital Schools, Greenwich, which was open to the sons of petty offiers and seamen in current service (priority being given to orphans or those whose fathers had died while in service). Admission to the Lower School imposed no condition on future service, but admission to the Upper School required an agreement from parents or guardians that the boy would go to sea. John and Mary Jane had evidently taken this decision because John William was 14 at the time he was recorded at the school in the Census.
John's new ship, HMS Gloucester, was one of the Navy's newest cruisers, and so was assigned to the 1st Battle Squadron. However, an early priority was to pay a visit to Avonmouth, to receive a presentation plate and bowl from the City of Gloucester. The Gloucester Journal was invited aboard, and described John's world thus (Saturday 14 January 1911):
The two things that first strike one upon descending into the boiler rooms are the remarkable economy of space and the extraordinarily intricate arrangements of pipes, wires, tubes, shaftings etc ... The bewildering tangle of tubing and the network of mechanical devices which go to connect the main arteries of the vessel are the outward sign of the conquest of two great forces by human ingenuity - for steam and electricity are driven together in double harness ... In the engine rooms there is not an available inch which is not utilised ... and over it all is the never to be forgotten odour of warm oil... There are three boiler rooms with four Yarrow water-tube boilers in each, adapted for coal and oil consumption.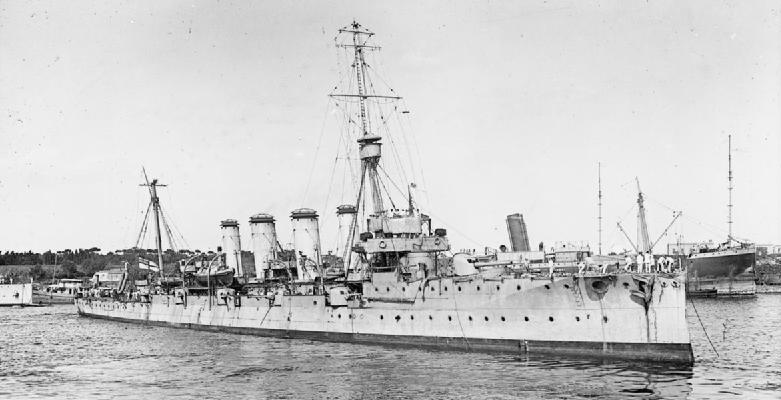 HMS Gloucester
Not content with giving the ship a presentation plate and bowl, the citizens of Gloucester then gave the men a pedigree bull terrier dog, called Bounce, who apparently became a great favourite with the crew, particularly during physical drills round the deck. Appropriately for a representative of the "bulldog breed", he also terrorised any foreign dogs when allowed ashore. History does not record his behaviour when the ship entertained King Albert of Belgium in 1912 in Antwerp.
John left Gloucester, and Bounce, in January 1913. While he was away, his son, John William, had joined the Navy on 7th February 1912. He followed a different career path to his father's, however, choosing (or being chosen) to join the Medical Branch as a Sick Berth Attendant. His early training therefore shows several periods at Plymouth Hospital.
John's next appointment was a brief stay on the books of HMS Caesar, a Majestic-class pre-dreadnought battleship at that time in reserve, followed by nearly a year on HMS Diana, another older cruiser which had been recommissioned in 1913 just before he joined her, and was part of the "Third Fleet" - older ships maintained prior to the war by a nucleus crew, to ensure that they were ready for mobilisation if, or when, the time came.
Death
On 17th March 1914, John joined HMS Argyll. Amongst her crew was Stoker Petty Officer 2nd Class William Keast, who had joined the ship two years earlier. Both men were still serving on Argyll when war was declared, and both transferred to HMS Arabis on 11th December 1915. For the rest of John's story until his death on HMS Arabis, please therefore see William Keast's story.
When HMS Arabis was sunk, some of the crew were picked up by the German Navy and taken prisoner. It appears from newspaper reports about other members of the crew that the delay in notification was caused by the time it took to get information from Germany about who had survived and been taken prisoner. Consequently, it was not until two months later that the following short notice appeared in the Dartmouth Chronicle, on April 14th 1916:
Deaths:
Pyne - In loving memory of John Pyne, stoker 1st Class PO, who was drowned by the sinking of the Mine Sweeper Arabis in the North Sea in February. Sadly missed by his brothers and sisters.
Safe in our Father's home above,
"Thy will be done".
Commemoration
John is commemorated on the Plymouth Naval Memorial as one of those who was lost at sea with no known grave. His date of death was recorded by the Navy as 11th February 1916.
John's brothers and sister still living in Dartmouth ensured that he was commemorated on the Town War Memorial as "Jack". He appears on the St Saviour's War Memorial Board as J Pyne.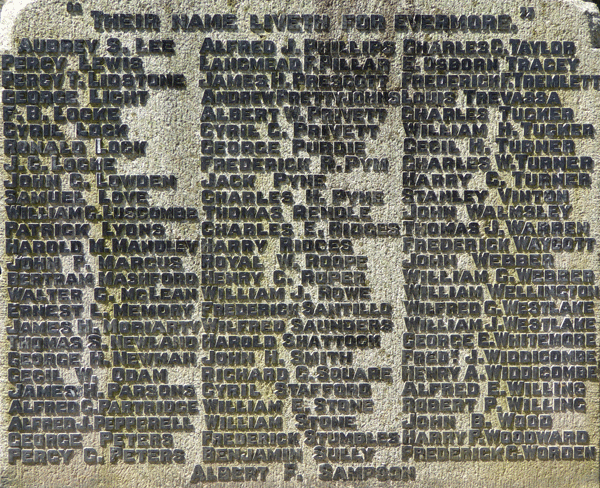 Dartmouth Town Memorial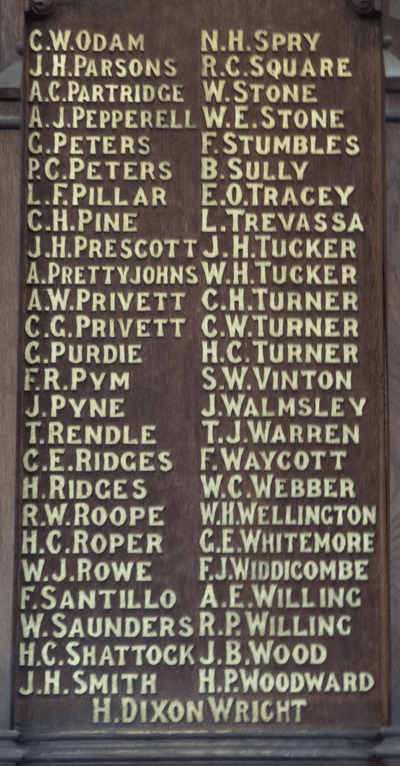 St Saviour's Memorial Board
John's son, John William, spent almost the entirety of the war aboard HMS Conqueror. She fought at Jutland but sustained no damage, nor any casualties. He continued to serve in the Navy and during the 2nd World War also, reaching Warrant Rank in the Medical Branch.
Sources
Naval service record for John Pyne available to download from The National Archives, fee payable, reference ADM 188/445/279235
Naval service record for John William Norris Pyne available to download from The National Archives, fee payable, reference ADM 188/1026/4183 and ADM 363/435/90
Note: There may be a distant family connection between John Pyne and Charles Henry Pyne, also on our database. However, Charles Henry Pyne was not John's brother of the same name.
Information Held on Database
| | |
| --- | --- |
| Surname: | Pyne |
| Forenames: | John |
| Alternative Forenames: | Jack |
| Rank: | Petty Officer Stoker, RN |
| Service Number: | 279235 |
| Military Unit: | HMS Arabis |
| Date of Death: | 11 Feb 1916 |
| Age at Death: | 40 |
| Cause of Death: | Killed in action |
| Action Resulting in Death: | HMS Arabis torpedoed and sunk whilst minesweeping, Dogger Bank |
| Place of Death: | North Sea |
| Place of Burial: | Commemorated Plymouth Naval Memorial |
| Born or Lived in Dartmouth? | Yes |
| On Dartmouth War Memorial? | Yes |
| On St Saviour's Memorials? | Yes |
| On St Petrox Memorials? | No |
| On Flavel Church Memorials? | No |
| In Longcross Cemetery? | No |
| In St Clement's Churchyard? | No |
| On a Private Memorial? | No |
| On Another Memorial? | No |
---
This information was last updated on Saturday 13 February 2016 at 18:03:40.