Frederick John Santillo
Frederick John Santillo was born in Dartmouth in 1872. He was the eldest surviving son of Frederick Henry Griffin Santillo and his wife Ann Dawe, and was the third generation of his family to join the Navy. The family had no previous connection with Dartmouth but came to the town when Frederick Henry Santillo was appointed to HMS Britannia.
Family
Frederick's grandfather, Pietro Vincenzo Santillo, was born (according to the 1861 Census) in Palermo, Sicily, around 1796. According to family records, sometime around 1820 he joined the Royal Navy in Naples, and the Navy brought him to England, where on 25th February 1825 in Alverstoke, Hampshire, he married an English girl, Mary Munday. At the time of his marriage he was serving on HMS Aurora, previously the French Navy ship Clorinde, captured in 1814 and brought into Royal Navy service.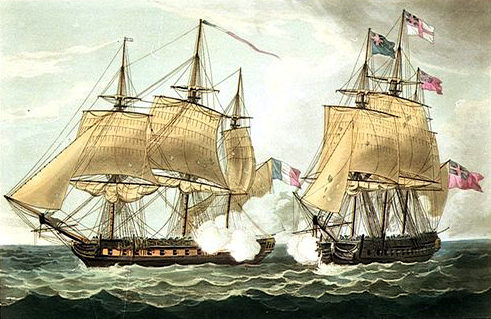 Eurotas and Clorinde
Mary was the daughter of Isaac Munday, a baker, of Alverstoke, and his wife Frances Byerley. The couple made their home first in Hampshire. Their first two children, Sarah and Peter, were born there in 1825 and 1827. By the time of Frederick Henry Griffin's birth in 1832 the family had moved to Devon, where the 1841 Census recorded Mary and the three children living in Stoke Lane, St Andrews parish, Plymouth. The couple's last child, Mary Louisa, was born in 1842 and baptised in St Andrew's, Stoke Damerel in 1843.
The 1851 Census recorded Mary living at 81 Stoke Lane, with her two daughters, Sarah and Mary. With her husband away (presumably at sea - his whereabouts are not known), she was working as a greengrocer and Sarah was a dressmaker. Peter (junior) had married and was working as a cork cutter in Plymouth; Frederick had joined the Navy as a Boy 2nd Class on 30th January 1848.
The following year, 1852, Mary died; and five years later, in 1857, Peter (senior) married again. By this time he was a Royal Naval bandsman, living at 3 Clarence Street, Devonport. His second wife, Eliza Frederick(s) (née Davis) was a widow with three children. Two years after they married, Peter and Eliza had a son, Edward, born in 1859; in 1861 the family was recorded at 25 Quarry Street, Devonport. Peter's occupation was given at that time as "Musician". In addition, the family also took in lodgers to supplement his naval pay - the 1861 Census recorded eight lodgers living with them.
Peter died four years later on 3rd September 1865, of "paralysis nine months" - presumably after a stroke. His occupation was recorded as "naval pensioner (late a bandsman in HMS Impregnable)" - from 1862, a training ship at Devonport.
In the meantime, his son Frederick Henry Griffin had continued to pursue his naval career. On 14th December 1852 he was rated Ordinary Seaman 2nd Class and the following March was appointed to HMS Cockatrice, a six-gun schooner, on which he spent four years. On 30th October 1857 he was appointed to HMS Ajax, rated Able Seaman; Ajax, originally a 74 gun third rate wooden sailing ship, had by this time been converted to a floating battery, for guardship duties at Kingstown, Ireland (now Dun Laoghaire). From Ajax he went to HMS Exmouth, a 90 gun screw propelled two-decker, at that time a Devonport guard ship. Three weeks after joining her, he signed up on 23rd February 1858 for a ten year continuous service engagement (these had been introduced in 1853). The form recorded that he was 5ft 1in, with brown hair, hazel eyes and a fresh complexion.
On 10th September 1861 Frederick Henry Griffin married Ann Dawe at St Winifred's Branscombe, Devon. According to the marriage register entry, Ann was the daughter of William Dawe, a "mariner" (however, see further below). How the couple met is not known. At that time Frederick had completed two years service on the St Jean d'Acre (where he was recorded on the 1861 Census) and four days later was appointed to HMS Aboukir.
The couple's first child, named for Frederick's elder sister, Sarah Ann Santillo, was born in 1863, on the Isle of Wight, but died within a few weeks; and their second child, Frederick Samuel Santillo, baptised in St Peter Plymouth on 19th November 1866, also lived only a very few weeks. This must have been very difficult for Ann for at that time Frederick was away at sea, on HMS Ocean.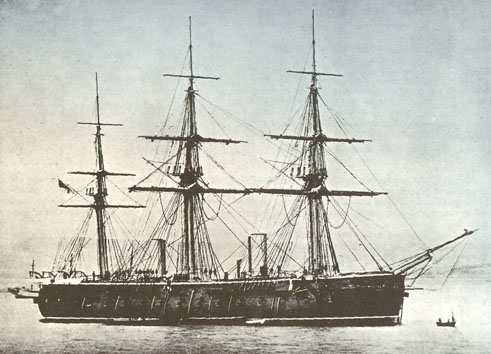 HMS Ocean in 1862
Ocean had been built in Devonport Dockyard as a wooden two-decker, but during construction she was cut down to one deck, lengthened, and converted to an armoured frigate. She was powered by both steam and sail. She was completed on 6th September 1866, a month after Frederick joined her. She was first allocated to the Channel Fleet, then to the Mediterranean, and then in April 1867 transferred to the Far East where she served on the China Station until 1872. Frederick served on her until 13th April 1868, when he transferred to the troopship HMS Tamar for the journey home, being discharged from her on 23rd July 1868.
On 17th August 1868, Frederick signed for a further engagement for the time necessary to qualify for a pension. Although he had joined twenty years previously, he had by that point totalled 16 years 117 days of adult service and to obtain a pension he needed to have done at least twenty years. He was appointed to the wooden steam frigate HMS Bristol on the same day, and served on her until 27th January 1871. Bristol was briefly appointed to the "Flying Squadron", a squadron of unarmoured screw ships which undertook extended world-wide cruises for training and to "show the flag", under command of a Rear Admiral. The Squadron was an economy measure intending to replace ships permanently based on foreign stations. Bristol left Plymouth with the Squadron in June 1869 but left them at Bahia in August and returned to England. She then resumed duties as a naval cadet training ship.
On 28th January 1871, according to his naval service record, he was appointed to HMS Britannia, in Dartmouth. However, the 1871 Census recorded him on board HMS Royal Adelaide, flagship of the Port Admiral, Devonport. He was also recorded living with Ann and his baby son William, at 3 Quarry Street, East Stonehouse. William Frederick Santillo was born in 1869.
Living apparently separately from the family, with his maternal aunt Elizabeth Dawe, at 8 Higher Portland Place, Stoke Damerel, was another child, Charles, or "Charley" Santillo, whose birth in Teignmouth was registered in the first quarter of 1868. Assuming this to be accurate, it is difficult to reconcile the timing of Charley's birth with Frederick's period of service on HMS Ocean.
By the time of Frederick John's birth (registered April-June 1872) the family had moved to Dartmouth. Frederick (senior) was rated Leading Seaman on 1st April 1872 and completed his naval service for a pension at HMS Britannia on 8th April 1873. He had served for twenty years and 353 days.
The couple's remaining children were born in Dartmouth; Henry (Harry) in 1874; Albert Edward in 1876; and Amy, their only surviving daughter, in 1879. But very sadly, they lost a third child during this period; William died aged 8 on 12th March 1878 and was buried in St Clements Townstal.
In 1881 the family was recorded living at Sandquay Mill House, Dartmouth. Frederick's occupation was shown as "naval pensioner". With him and Ann were Charles, 13, Frederick (John), 9, Harry, 6, Albert, 4 and Amy, 2. But a little over a year later, Frederick (senior) had himself died, prematurely, aged 49, on 13th June 1882. He was buried at St Clements Townstal, with William, on 18th June 1882.
On Christmas Day, 1884, in St Saviour's, Dartmouth, Ann Santillo married again. Her second husband was a 39 year old bachelor called Albert Gale, an engine driver, the son of William Gale, a farmer and butcher from East Ogwell, near Newton Abbot. Ann also described herself as a farmer, and, this time, her father's name was given as James Dawe, also a farmer.
But sadly Ann herself died on 15th January 1890 and was buried in St Clements Townstal on 19th January. Her children remained with Albert, who married again only a few months later - his second wife was Isabella Hoare, from Bridgerule, Devon. The 1891 Census recorded Albert and Isabelle living at "Gale's Cottage", Townstal, Dartmouth (though it gave her name as Elizabeth), and living with them were Frederick, Henry, Albert, and Amy Santillo (recorded by the enumerator as Emma). Frederick was working as a boilermaker. Henry and Albert were both described as "sailor". Amy was at school.
Frederick John Santillo thus began his adult life in difficult circumstances and his difficulties did not diminish. In 1893 he lost his elder brother Charley, who had been in the Navy for nearly ten years, and had reached the rate of Leading Seaman, when he died at the Royal Naval Hospital Stonehouse from "Remittent Fever and Pneumonia" (according to his naval service record). Charley was buried in St Clements Townstal on 17th September 1893.
Service
Frederick joined the Navy as an Acting Engine Room Artificer in July 1897. He seems to have understated his age by a year as his naval records give his year of birth as 1873 - this was perhaps because the entry age was 21 to 28. He was at this time 5ft 3ins, with dark brown hair, blue eyes and a "dark" complexion. Kings Regulations 1913 give the prior requirement as: "engine fitter, boilermaker, smith, or a coppersmith, and occasionally a pattern maker and moulder may be accepted". It is not known where Frederick worked as a boilermaker before he joined the Navy but the various shipbuilding and engineering firms in Dartmouth would have provided the ideal training ground.
Frederick completed his probationary period in November 1898 and remained at Devonport for some time before his first posting. He took the opportunity to marry early in 1900. His wife was Emma Jane Ball, the eldest daughter of James Ball, a guard on the Great Western Railway, and his wife Louisa. She had been born and brought up in Plymouth.
Frederick's first appointment was on 17th September 1900 to HMS Warspite, at that time flagship on the Pacific Station. He seems to have remained in the Pacific until April 1903, serving on various ships in the squadron - Amphion, Phaeton, Egeria, Grafton (which took over from Warspite as the flagship), and then Amphion again.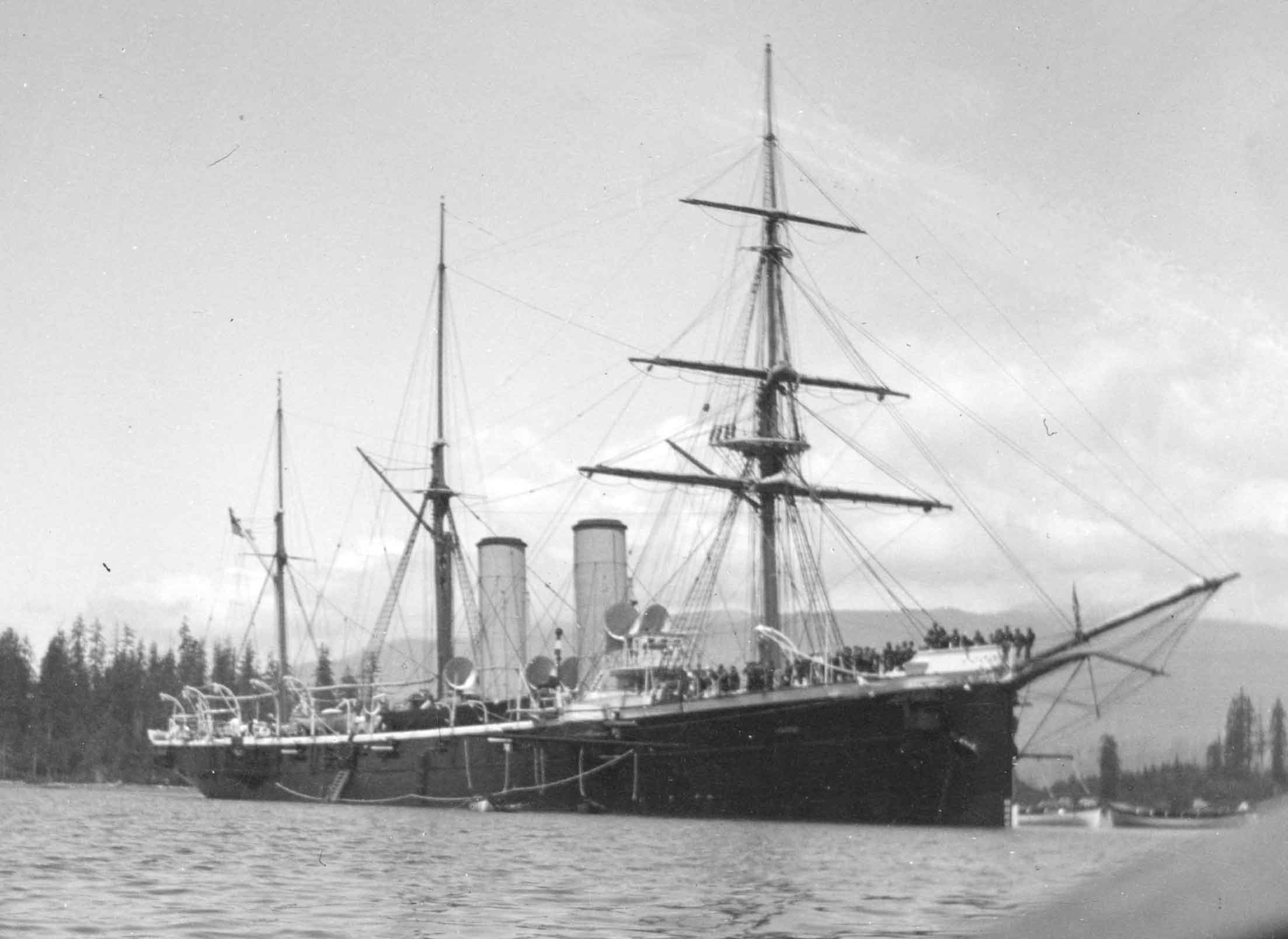 HMS Amphion in Canada 1900
He was next appointed to HMS Amphitrite, on the China Station followed by HMS Tamar, on which his father had served while it was a troopship. By 1903 HMS Tamar was permanently stationed in Hong Kong as the base ship. Frederick spent eight months in Hong Kong before returning to England in February 1904.
HMS Tamar
He had progressed to Engine Room Artificer 3rd class in 1901 and by November 1904 he had been rated Engine Room Artificer 2nd class. On 1st January 1905 he was appointed to HMS Europa, in reserve at Devonport, and so presumably was able to spend at least some time at home with Emma. On 2nd January 1906 he was appointed to HMS Argyll, which was a new armoured cruiser, completed only the previous December, assigned to the Channel Fleet; he remained with her until February 1910, achieving the rating of Engine Room Artificer 1st Class on 7th July 1909. On that date, he signed on for a further ten years service.
Frederick's next ship was HMS Sapphire, a relatively new cruiser completed in 1905. However, it seems that while serving on her (from February 1910 to October 1911) he was able to spend sufficient time to come home to complete the 1911 Census form, which recorded him and Emma living in 114 Wilton Street, Stoke, Devonport (a property shared amongst three households). The form also records that there had been no children born to the marriage.
From Sapphire Frederick went to HMS Attentive, a cruiser of similar vintage, followed by six months on HMS Caesar, a Majestic-class pre-dreadnought battleship by then in reserve. His final appointment was to HMS Dublin, on 11th March 1913.
HMS Dublin
HMS Dublin was a light cruiser commissioned in March 1913 as Frederick joined her. She was powered by four Parsons steam turbines, with twelve Yarrow boilers, and giving a maximum speed of 25.5 knots.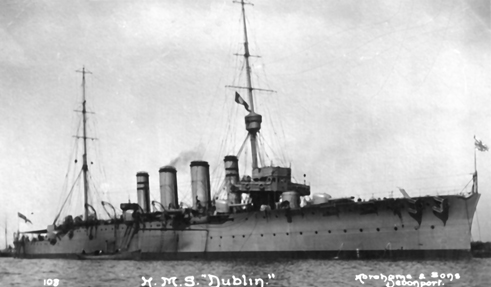 HMS Dublin
In 1914 she was part of the Mediterranean Fleet and so took part in the unsuccessful pursuit of the two German cruisers Goeben and Breslau just before the outbreak of war. She was then involved in the first bombardment of the outer forts of the Dardanelles in November 1914 (see our Gallipoli timeline).
On Christmas Day 1914, the Dartmouth Chronicle published a letter from C H Pillar, serving on HMS Dublin with Frederick.
Dartmouth Men at British Naval Bombardment
Following is a copy of an interesting letter, dated November 6th, received by Mr J C Connelly, 1 Lyndhurst Villas, Peverell, Plymouth, from C H Pillar, 1st Class Plumber, serving in HMS Dublin
Please to say I received your letter, also paper. The paper came in very handy here as the job we are on is very monotonous and dreary. We have been constantly patrolling up and down here for nearly three months, and now that we are at war with Turkey, goodness knows when we will leave. We opened proceedings on Tuesday by bombarding the forts at the entrance, but as the range was long we couldn't see what damage we did, but I should think that the 12 inch shells from the battleships must have played havoc with them. As you are aware the Goeben and the Breslau are up here, but up to date they haven't showed out, although we have had several "spasms" that they were coming out, but it came to nothing. Today we thought for certain that something was on the way as we had to leave our anchorage in a hurry, but it ended as before. They had a look and went back again. The Germans seem to be doing some damage with their submarines, but with the gunfire they are not in it. In the ordinary course of events we should be looking forward to coming home next March, but now there is no knowing when, as I suppose we shall remain up here until the war is over. Little did I think when we were doing the Austrian cruise last May that we should be at war against them in so short a time. We laid at Trieste for a week. This is a fine big city, and would be worth capturing. The British Colony, assisted by some Austrian ladies and gentlemen, gave us athletic sports there, and we had a fine time; they seemed to be very nice people. We also laid at Pola. This is their big ship building port, and seems to be well fortified. They had a fine fleet there, but they are like the Germans now, they won't leave there.
I see that the Chronicle has a list of the inhabitants serving in the Navy and Army. There are three of us in this ship, viz F Santillo, ERA, R Jarwood, blacksmith, and myself, all boys we were together. Thanks for sending it on. It seems good to have a look at it sometimes, but I hardly know anyone there now.
We left Malta on the 23rd August, and have had no leave since. We are coaling ship again tomorrow; this is a job we get every four days.
Dublin's activities in the Dardanelles became less "monotonous and dreary" as the naval operation developed. On 25th February 1915, when the bombardment of the outer forts was once again resumed (following further attempts on 19th February), the Dublin assisted the Queen Elizabeth by "spotting" for the battleship so she could get the range. She then assisted when Royal Marine landing parties destroyed the heavy guns at the outer forts. On March 7th, 1915, whilst keeping watch on the forts at Bulair, she was hit four times, but not seriously (according to the naval history), and on March 10th she shelled and "apparently demolished the barracks in Fort Sultan".
During the all-out naval attack on the narrows on 18th March 1915 her role was to watch the fort at Yeni Shehr to attempt to prevent fire from that source; then, when the French ship Gaulois was badly holed, Dublin was asked to come inside the narrows and stand by her as she returned to the British line.
On 25th April she provided support to the Implacable, which was covering the landing on "X" beach, and later in the day bombarded an attempted Ottoman counter-attack at "Y" beach, with the Goliath, Sapphire, and Amethyst. On 12th May, during the second Battle of Krithia, Dublin supported the landing by Ghurka forces, which once again secured "Y" beach for allied forces.
In late May, however, Dublin was withdrawn from the Dardanelles and sent to Brindisi, as part of the Adriatic fleet established by "The Italian Convention" - the Anglo-French-Italian agreement which brought Italy into the war on the Allied side. The Adriatic fleet was to be mainly Italian but was reinforced by four battleships and a squadron of four light cruisers, one of which was the Dublin.
Death
On 8th June 1915, Dublin carried out a sweep of the Albanian coast with French and Italian destroyers. While returning to Brindisi on 9th June, she was attacked by the Austro-Hungarian submarine U4, which was able to avoid her supporting destroyers and fire two torpedoes at 500 yards. Dublin was able to avoid one torpedo by turning towards the submarine, having seen the periscope at the last moment, but at 9.34am the other torpedo struck the port side in A-Boiler room. There were thirteen men killed by the explosion, including Frederick John Santillo. However, HMS Dublin was able to take further evasive action and return to Brindisi for repair.
On 16th June 1915 she landed a funeral party for the funeral of twelve of the men killed, including Frederick. The remaining casualty was buried on 23rd June 1915 as his body was not recovered from "A Stokehold" until after the others.
Commemoration
Dublin's redeployment from the Dardanelles to the Adriatic was not known in Dartmouth. On 18th June 1915 the Dartmouth Chronicle carried a short item:
Killed in action - We regret to have to record that Mr Frederick Santillo, ERA, HMS Dublin, who formerly resided at Dartmouth, was killed in action in the Dardanelles on the 9th inst.
Also appearing was an announcement in similar terms in the "Deaths" column, presumably placed by Emma Jane.
Frederick was buried at Brindisi Communal Cemetery. However, in 1981, 85 First World War burials at Brindisi were brought into the War Cemetery at Bari, including all thirteen men killed on HMS Dublin on 9th June 1915.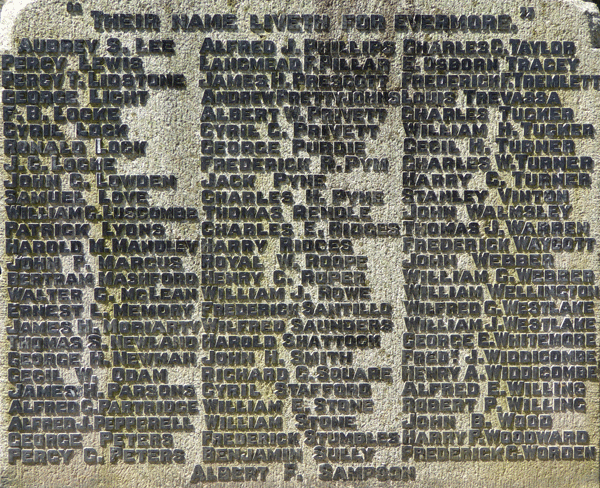 Frederick is commemorated in Dartmouth on the Town War Memorial and on the St Saviour's Memorial Board.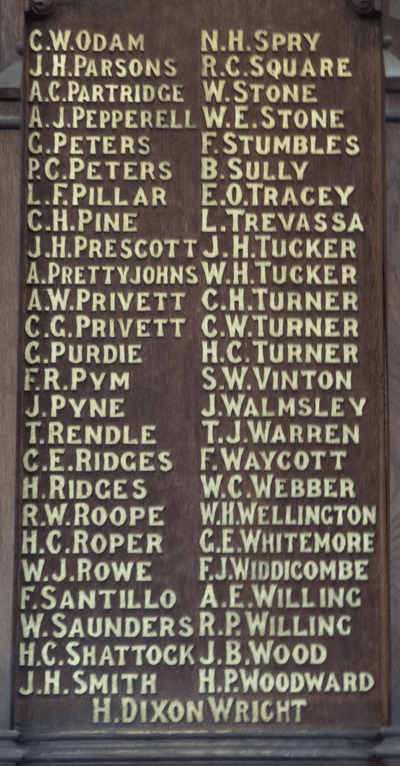 The wider Santillo family sustained two further losses in May 1915 in the Dardanelles:
Alfred Ernest Santillo (junior), Officers Cook 1st Class, died on HMS Goliath 13th May 1915.
Harry Allen Santillo, Canteen servant (civilian), died on HMS Majestic 27th May 1915.
They were brothers, the sons of Alfred Ernest Santillo (senior) and grandsons of Peter Vincent Santillo, who was the older brother of Frederick Henry Griffin Santillo.
They are commemorated on a memorial at St James' Church, Torpoint, Cornwall.
Sources
Naval service records are available for download from the National Archives (fee payable):
Frederick Santillo, ADM 139/365/36476 and ADM 139/869/6864
Frederick John Santillo, ADM 188/431/269048
Charley Santillo, ADM 188/172/128909
Information Held on Database
| | |
| --- | --- |
| Surname: | Santillo |
| Forenames: | Frederick John |
| Rank: | Engine Room Artificer 1st Class, RN |
| Service Number: | 269048 |
| Military Unit: | HMS Dublin |
| Date of Death: | 09 Jun 1915 |
| Age at Death: | 43 |
| Cause of Death: | Killed in action |
| Action Resulting in Death: | Ship torpedoed |
| Place of Death: | Adriatic Sea off Albania |
| Place of Burial: | Bari War Cemetery, Italy |
| Born or Lived in Dartmouth? | Yes |
| On Dartmouth War Memorial? | Yes |
| On St Saviour's Memorials? | Yes |
| On St Petrox Memorials? | No |
| On Flavel Church Memorials? | No |
| In Longcross Cemetery? | No |
| In St Clement's Churchyard? | No |
| On a Private Memorial? | No |
| On Another Memorial? | No |
---
This information was last updated on Tuesday 01 November 2016 at 15:19:43.